About
Our entire team is dedicated to providing you with the personalized, gentle care that you deserve. All our staff is dedicated to your comfort and prompt attention as well.
...more
Our entire team is dedicated to providing you with the personalized, gentle care that you deserve. All our staff is dedicated to your comfort and prompt attention as well.
More about RLKC Hospital & Metro Heart Institute
RLKC Hospital & Metro Heart Institute is known for housing experienced Orthopedists. Dr. Sunny Chopra, a well-reputed Orthopedist, practices in Delhi. Visit this medical health centre for Orthopedists recommended by 89 patients.
Timings
Location
Pandav Nagar, Naraina road
Shadipur
Delhi,
NCT of Delhi
-
110008

Get Directions
Videos (3)
Doctor in RLKC Hospital & Metro Heart Institute

MS - Orthopaedics, MNAMS (Membership of the National Academy) (General Surgery) , DNB (Orthopedics), MBBS
Orthopedist
Book appointment and get ₹125 LybrateCash (Lybrate Wallet) after your visit
Services
Submit Feedback
Submit a review for RLKC Hospital & Metro Heart Institute
Your feedback matters!
Write a Review
Patient Review Highlights
"Professional"
4 reviews
"Well-reasoned"
2 reviews
"Thorough"
1 review
"Practical"
2 reviews
"knowledgeable"
7 reviews
"Sensible"
2 reviews
"Caring"
2 reviews
"Very helpful"
16 reviews
RLKC Hospital & Metro Heart Institute Feeds
A neck strain and sprain is not a serious injury. However, they can still cause significant dysfunction and pain.
Causes of Neck Strain
The anatomy of the cervical spine is such that it not only houses, but also protects the spinal cord. Along with this it supports the head and allows it for mobility and motion. But this area, which allows the spine to be flexible can also leave it vulnerable for injury.
Triggers for the onset of neck muscle strain can be:
1. Too much time spent in an uncomfortable position, such as humping over the steering wheel while driving, bending over the computer monitor, talking on the phone while placing it in the crook of the neck.
2. Sleeping on a very high or too firm pillow can lead to an uncomfortable position of the head thus leading to the strain of the neck
3. Carrying heavy objects on one side of the body
4. Any trauma that might have impacted the neck, such as an accident, whiplash or a fall that might have had a head landing
Most events of a neck muscle strain or the soft tissue sprain, such as the tendons and ligaments lead to stiff neck along with pain in shoulders. There is also pain and difficulty in moving the neck or head.
Neck muscle strain remedies
Minor strains in the tendons, ligaments and muscles of the neck usually heal within a day or two. But till the symptoms subside, there are a few self care remedies that are effective in reducing the stiffness and pain. These are:
1. Application of cold or ice packs: The cold reduces the inflammation, which in turn allows the strain to heal. This ice pack should be applied for 20 minutes interval in the first 24 hours.
2. Application of heat: Heat helps in bringing the nutrient rich blood to the affected area in order to stimulate a healing response. Moist heat as well as heat from a hot shower or bath can be used. Some people might find relief from applying heat wraps such as thermacare.
3. Over-the-counter or OTC medications: Anti-inflammatory medication, such as naproxen and ibuprofen reduces inflammation, thereby leading to the reduction in pain. Pain relieving medicines such as acetaminophen can also be taken as this reduces the perception of pain.
4. Massage of the affected area: A gentle massage in the affected area helps in stimulating the blood flow of the area which in turn helps in a quick healing.
1
person found this helpful
From marathon runners to footballers, amongst athletes, 'pulling a hamstring' is the most common type of injury. The hamstring is a group of four muscles at the back of your thigh. When one of these muscles gets overloaded or begins to tear, it is known as a hamstring injury. While a hamstring injury is painful, it does not indicate the end of an athlete's career.
Minor hamstring injuries may heal by themselves. In cases where one of the muscles is torn, surgery is required to repair and reattach the muscles. Recovery time depends on the severity of the injury. Stretching and exercising the muscles of the leg are the most important parts of rehabilitation.
The healing of a hamstring injury can be divided into four stages.
1. Acute phase: The first five days after a hamstring injury is known as the acute phase of rehabilitation. The aim of treatment at this phase is to reduce inflammation and keep the other muscles from atrophy. For minor hamstring injuries resting the leg, using ice packs and keeping the leg elevated can accelerate the healing process. Once the pain and swelling has decreased, patients can use a cane or crutch to exercise the leg.
2. Subacute phase: From the fifth day to the 3rd week after the injury, the focus of the treatment shifts from minimizing swelling to strengthening the leg and increasing the range of possible motions. At this time, an athlete can resume cardiovascular training. Swimming and other forms of aquatic training are said to be especially beneficial to the treatment of hamstring injuries.
3. Remodeling phase: The remodeling phase continues upto 6 weeks after the injury. Strengthening the leg is the focus of this stage of treatment. Using ankle weights can be beneficial towards strengthening the leg muscles. It is important to be careful about the weight being used and to gradually increase this weight to avoid an added injury.
4. Functional stage: This stage can last upto 6 months until the athlete can regain full function of his or her leg. As the athlete's gait gets back to normal, they may start jogging and short sprints. Gradually, more sport specific exercises may be added to the workout.
There is no fixed time when an athlete can return to active sports after a hamstring injury. While players with minor injuries may return to the field after 3 weeks, athletes with muscles tears may take upto 6 months to recover completely. Hamstring injuries tend to reoccur and hence before they can get back to active sports, an athlete must pass an isometric strength test and flexibility test. This ensures that there are no subtle after effects of the injury that can increase the risk of a repeat injury.
5054
people found this helpful
Elbow pain may be caused due to a variety of reasons from injuries to fractures and ligament pulls or tears. This is most commonly experienced by people who are into sports, including those who play tennis, golf and other such sports that require intense arm movements.
So, let us look at the six most common reasons behind elbow pain:
Medial Epicondylitis: This condition creates pain in the inner tendon within the elbow and is usually termed as 'golfer's elbow'. It basically occurs due to the constant swinging and throwing motion that a sports person may indulge in. When these movements are repeated on a constant basis, there is wear and tear as well as acute pain in the area. Also, an injury to the wrist can cause this pain in the elbow.
Lateral Epicondylitis: This condition is commonly known as 'tennis elbow'. The affected area under this condition includes the outside tendons of the elbow. This is caused due to swinging, hitting, hammering and punching motions that are repeated too often. It is commonly experienced by cooks, artists, carpenters, automobile workers, and plumbers and people who use heavy tools.
Olecranon Bursitis: This condition is also known as 'student's elbow' and usually occurs due to constant writing and gripping motion which affects the bursae. These are small fluid filled sacs that lubricate the joints even as the protection happens. The symptoms include swelling and pain. There is also risk of infection and redness in this condition.
Osteoarthritis: The cartilage of the joints gets affected in this condition which is the connective tissue that exists in the joints. This condition causes wear and tear of the joints and bones which leads to pain in the various areas including the elbow. Medication and physiotherapy are good measures for treatment.
Fracture: Sometimes, dislocation or fracture may lead to pain in the outstretched arm or elbow. Dislocation may take place when a bone moves from its aligned spot. The symptoms will include obvious swelling and acute pain in the elbow.
Ligament Damage: Strains and sprains in the ligaments within the elbow joint can lead to this damaging condition. Torn or stretched ligaments are the most common outcomes in this kind of injury and damage.
To find out which reason may be the culprit behind your elbow pain, you will need to see a general physician or an orthopaedic specialist who will run you through a series of tests and examinations including X rays, MRI scans and others in order to ascertain the cause and treatment. A sports injury specialist can also help in diagnosis and treatment.
4751
people found this helpful
Your shoulder is one of the most overused joints in the body and thus is at a higher risk of contracting an injury. Shoulder pain may lead to mobility issues where moving your arms may become extremely difficult. The shoulder consists of three parts, viz. the shoulder blade, collarbone and the upper arm bone. Shoulder pain may result from an injury to any of these areas.
The various causes of shoulder pain are:
Impingement: Impingement of the shoulder muscle occurs when the top of the shoulder impinges on the rotator cuff muscles. This condition can lead to severe pain in the shoulder.
Bursitis: Bursa is a fluid filled sac that cushions the bones and help in preventing friction. Bursitis is a disorder that results in inflammation of the bursa, thus resulting in shoulder pain.
Tendinitis: Tendinitis is a condition that is characterized by gradual wear and tear of the tendon. Usually the rotator cuff tendons in the shoulder are affected by this condition.
Instability of the shoulder: Shoulder instability is a disorder of the shoulder wherein the upper arm bone dislocates from its socket. This can cause excessive pain in the shoulder.
Fractures: A fracture in the bones of the shoulder results in excruciating shoulder pain.
Arthritis: Arthritis is a disorder that leads to inflammation in the joints, thus resulting in pain and impaired movement of the joint.
Treatment
The treatment for shoulder pain consists of medications and physiotherapy. You may also be asked to discontinue any strenuous activity that requires shoulder movement. Medications such as NSAIDs are prescribed to help in controlling the pain. Various stretches of the shoulder are also recommended to improve shoulder flexibility and mobility.
Tips
Do exercises such as the overhead press with light weights to improve your shoulder strength. Also make sure to include certain external rotation exercises to strengthen the rotator cuff muscles.
4539
people found this helpful
Our spinal disk resembles a jelly donut, wherein the softer insides are protected by the hard exterior. Sometimes, as a result of some injury or an accident the jelly slips out, leading to an extremely painful condition which in medical parlance is known as herniated disc. The pain that you are subjected to, during herniated disc, occurs as the nerves nearby are damaged due to the concussion.
Apart from pain, herniated disc is preceded by other symptoms, some of them are:
1. Pain in the arm or the leg
Depending on which part of the body you have suffered the herniated disc, in the neck or in your lower back, this condition is succeeded by intense pain either near the buttocks or near the shoulders. It goes without saying that this pain increases sharply with movement.
2. Numbness
That part of the body where the nerves are damaged due to herniated disc often becomes numb and has no sensation whatsoever.
3. Weakness
Due to herniated disc, the muscles become weak that considerably impairs and curbs mobility.
However, there are various ways by which you can prevent a herniated disc. Some of them are-
1. Exercise
Exercise in any form and even for a short while yields several benefits. Your body invariably gains momentum and agility. If you exercise daily, your spine becomes more stable and strong, thereby preventing a possible herniated disc.
2. Maintaining the right and good posture
A lot depends on the way you sit and walk, in fact more than you can imagine. If you sit badly, it exerts a pressure on the spine and the discs. Subsequently, a good posture does the very reverse and curbs chances of a herniated disc in the future.
3. Keep a tab on the weight
It is always healthy to maintain the right weight, the one that keeps you away from the onset of various diseases. If you are overweight, it puts more pressure on the spine disk, thereby increasing the risk of developing a herniated disc.
4981
people found this helpful
The way we sit, walk, bend or stand is hugely dependent on one very vital organ of the human body; the spine. The spinal column provides strength and support to your entire framework. It has nerves, muscles, bones and tendons; all of which enhance proper functioning of your body. The human brain sends signals to the nerves in your spinal cord- a mass of nerve fibers and tissues ensconced within the spine- that further prompts every single part of your body to perform minute and notable actions all the same. A spine injury can thus impair your health; in many cases it can even turn out as fatal. Care should be taken to avoid sources of spine shock or injury. If an injury has already been acquired, it should be treated either through exercising or through medical assistance.
A few postures to reap the benefits of a fit spine:-
1. Twist your spine either early in the morning or after a tiring day- Fold one leg while the other leg remains perched on the folded one. If the left leg is folded the left elbow should be rested on your perched right knee and the right palm should be placed on the yoga mat behind your right hip. This posture can be repeated by folding the right leg as well. It increases spine mobility by twisting it to the end of its range sideways. Muscular spine aches can be remedied by following this posture once each day.

2. Do not slouch but sit straight- Some people are in the habit of slouching when they sit or stand. This is an absolutely wrong thing to do if your spine health is of any concern to you. Stretch out your shoulder blades and remain erect while standing and the same should be followed while sitting. Bending one's spine, unless it is necessary, can be very harmful.

3. Stretch your spine in three directions- This exercise is a good way to allay the tension your spine has to undergo every day. Sit with folded legs, intertwine your fingers and stretch your arms upward, in front and at the back to expand your spine to the full.

4. The downward doggy posture can relieve back pain- In this yoga posture, one is expected to stretch his or her legs according to the width of the person's back and stoop forward by placing the palms on a yoga mat. Knees and elbows should not bend.

Slip disk is a condition of the spinal column which consists of a stack of vertebras from the cervical, thoracic and the lumbar spine.The bones of the spine are cushioned by disks that are present to absorb shocks. Trauma to the spine may cause the disk to bulge or be ruptured. This may lead to pain in the neck and the back.
Causes of slip disk
Slip disk is caused when the jelly like substance present in the disks bulges out. The damaged disk thus puts pressure on the adjacent nerve causing excruciating pain. The various causes of a slipped disk are:
1. Incorrect form during exercise
If you are into weight lifting, it is important that you use proper form during exercising. Moves like barbell squat and deadlifts can put pressure on the spine and lead to disk problems, if not done correctly. Make sure you work on your core strength and keep your lower back straight while exercising.
2. Smoking
Smoking causes the disks to lose their flexibility and thus, increases the risk of slipped disk.
3. Ageing
Ageing decreases the content of water in the spine, thus leading to inflexibility.
Symptoms
The symptoms of slip disk are:
1. Pain on one side of the body that tends to aggravate over time
2. Activities such as sitting and coughing may lead to pressure on the spine causing pain
3. Your range of motion on certain movements may be restricted
4. Pain in the neck while moving it
5. Numbness in the shoulder and the neck region
6. You may experience tingling sensations in the genitals, hips and the legs
7. You may have muscles spasms which lead to sudden contraction of the muscles
8. It may also lead to partial paralysis of the lower body
Prevention
1. If you are overweight, try to reduce weight and then focus on maintaining healthy weight levels
2. Maintain proper posture while sitting or standing
3. Exercise on a regular basis to build strength and keep your joints healthy
4. Don't remain in seated position for an extended period of time. Take small breaks in between to stretch
4129
people found this helpful
Quadriceps exercises & hamstring strengthening exercises avoid squatting and sitting cross leg tab rosiflex trio bd morning and eveningtab meganac th4 bd morning and evening tab calgel ds afternoon tab mocal d3 once a week collamax sachet once a day with a glass of water tab pantocid dsr bbf high protein diet hot water fermentation with dynupar qps spray.
Bones are quite literally the support system of the body, so it's super important to keep them strong and healthy. Strength is not a goal you achieve in a day, week or month. It is a way more rigorous process that has to go on for years. The growing age of your life matters the most; it is at this point that you can make your bones strong. Bone strength should also be maintained in certain ways. Child or adult, you must aim for both mental and physical strength.
Here are some tips to make deposits in your bone bank for a healthier future.
1.Know your family history:As with many medical conditions, family history is a key indicator of bone health. Those with a parent or sibling who has or had osteoporosis are more likely to develop it. So, how's your bone density, Grandma?might seem like an awkward question at Thanksgiving dinner, but ask anyway before she passes the gravy.
2.Boost calcium consumption:When most people think bones, they think calcium. This mineral is essential for the proper development of teeth and bones. But calcium isn't the end-all, be-all bone loss cure. The key might be to help the body absorb calcium by pairing calcium-rich foods with those high in vitamin D. Foods that are good sources of calcium include yogurt, cheese, milk, spinach and collard greens.
3.Don't forget the vitamin D:Where there's calcium, there must be vitamin D: the two works together to help the body absorb bone-boosting calcium. Boost vitamin D consumption by munching on shrimp, fortified foods like cereal and orange juice, sardines, eggs (in the yolks) and tuna, or opt for a vitamin D supplement. The body also produces vitamin D when exposed to the sun - 10 to 15 minutes of exposure three times per week will do. Vitamin D's importance to bone health has been proven in studies on "seasonal bone loss" - elderly people can lose more bone mass during the winter because of lack of sun exposure.
4.Make exercise a priority:Seriously regular exercise is to keep a number of health issues at bay, and bone health is no exception. In fact, living a sedentary lifestyle is considered a risk factor for osteoporosis. What type of exercise is most effective? Weight-bearing exercises like running, walking, jumping rope, skiing and stair climbing keep bones strongest.
5.Consume less caffeine:Caffeine does have some health benefits, but unfortunately not for our bones. Too much of it can interfere with the body's ability to absorb calcium. Drinking more than two cups of coffee per day accelerated bone loss in subjects who also didn't consume enough calcium. Also more than 18 ounces of coffee per day can accelerate bone loss by negatively interacting with vitamin D. So enjoy the java, but keep it in moderation and consume enough calcium, too.
6.Quit smoking:Here's yet another reason to lose the cigarettes: multiple studies have shown that smoking can prevent the body from efficiently absorbing calcium, decreasing bone mass.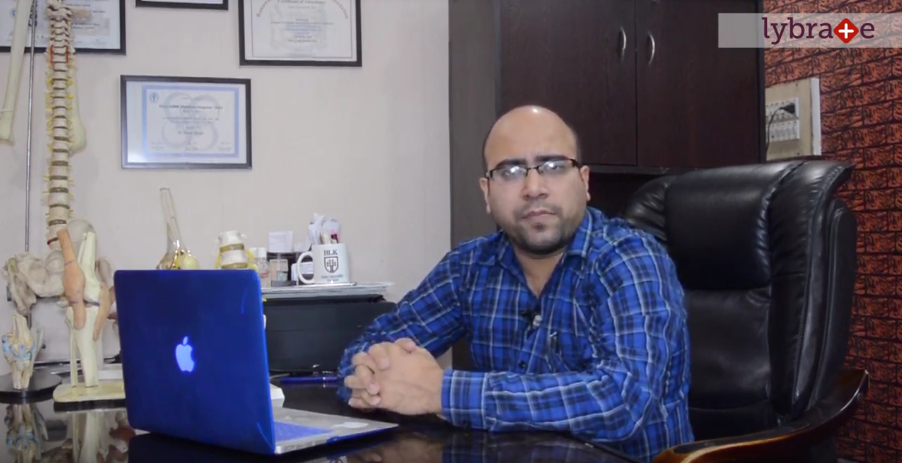 Hi friends,
I am Dr. Sunny Chopra. Today we will discuss about knee problems. In today's era we have seen that many problem occur in the knee. In young age we having a sports injury in the knee like ACL tear, meniscal tear, ligament tear. In middle age we having a osteoarthritis, chondromalacia patella and in more elderly age group we having a severe arthritis of the knee that leads to difficulty in walking, bearing weights, squatting, sitting cross legged. We go step by step in all these cases. Next will discuss of sports injury first as I am sports injury specialist, we work even toward the minimal invasive orthopaedic surgeries and all that. So this is our knee joint. This is a ligament which is known as ACL ligament. Mostly sports injuries like cricketer, basketball player, volleyball player we having that ligament get torn and that leads to instability in the knee, instability doing sporty activity, difficulty in walking, running, climbing stairs and patient having complaint of more of knee instability rather than pain in the knee. So, we don't get to scare off these cases, we having a good ro material of knee orthoscopically. We through the orthoscopically, we reconstruct this ligament and we doesn't do many and we doesn't do so much muscle cut, we doesn't do so much of blood loss. We use the knee arthroscopy technique, minimally invasive knee technique and we reconstruct this ligament and we put the patient on rehabilitation next day, we walk the patient next day and more importantly patient within the span of 4-6 weeks start jogging and start climbing stairs and after 12-24 weeks patient can go for daily day to day activity and over a period of 6 months to 1 year, patient can resume his sporty activity and all that. In a knee, we having a one more problem is of that meniscal tear is there. We repair the meniscal, we try to preserve the meniscus and if the meniscus is unrepairable, complex tear is there, we do the meniscectomy, sub-total meniscectomy.
Basically meniscal act as a shock absorber, it basically distribute the force; dissipate the force over the tibia. So meniscal having a balancing. Definitely there are tear which are we can't handle, which has to be do the meniscectomy. In those cases we do all this technique through the arthroscopy technique. Then we having a PCL behind. We do the PCL reconstruction via the minimally invasive knee arthroscopy surgeries. Then we come to middle age patients who having osteoarthritis but not so severe arthritis in that cases in those cases if the patient having a grade 1, grade 2 osteoarthritis knee in that cases we tried to preserve the joint, we do the joint preservation surgeries, we initially put the patient on rehabilitation, knee physiotherapy. We just start the viscous supplementation also; we give the lubricants and all that. Some injection are they are time bearing, they just we apply the injection in the knee joint at the age of 45-50 years to buy the time for the joint preservation surgeries.
There are Synvisc one, there are visco-supplementation many injection, they are mostly of sodium hyaluronic acid and many patients of this grade 1 and grade 2 arthritis, they get benefits of that. Then patient who are in the Kellgren-Lawrence grade 3 and grade 4 classification who having a severe arthritis, patient can't walk even for 100 steps, patient can't bend his knees, patient having difficulty pain for that grade 3 and grade 2, we do joint inflammation surgeries, we do osteotomy of the knee joint like there is osteotomy, proximal fibular osteotomy and definitely through the knee arthroscopic debridement and lavage and then we do the proximal fibular osteotomy. In that cases we achieve many good result of grade 2 and grade 3 arthritis. Even in cases they having uni-compartment involvement, deformity not as such in that cases also we do uni-compartmental knee replacement. Only the involved compartment knee replace, for that the patient as thin lean patient and activity range of motion should be full, no deformity less than 50 degree deformity is there, for that cases we need to do the uni-compartment knee replacement. In both the compartment involved, patellofemoral joint is also involved, patient deformity also there, age is 65-70 years, then we go for total knee replacement. This is the total knee replacement. These just do the shape guard of the joint which is destructed. We remove the joint, we put a femoral component, we put a tibular component, we allow the patient to walk next day in uni-compartment.
In uni unicondylar knee, we walk the patient next day immediately 24 hours after the surgery. We rehabilitate up 2-3 weeks and in bi compar in in both knees in both knees we allow the patient to walk 48-72 hours. We do both knees simultaneously also. We do one by one knees also. It depends on the patient, pre-anaesthesia condition, if the patient is having diabetes, patient is hypertensive or patient having a other co morbidities. We do the one stage procedure one knee and then 6 months after 2nd knee. If the patient having a no co morbidities, patient is fine, patient having more knee crippling so we can do the both knee knee replacement in the same sitting also. Don't get scared of knees treatment and all that from the Doctor Chopra spine joint solution, we having a diversity of the knee treatment from young age, from sports injury, from the middle age, from the old age. So don't get panic, don't get disheartened that we having a sports injury, we having a old age disease, we having a middle age disease, we having a complete solution from young age to old age of knee. Thanks to all listening and thanks to our God almighty.
Thank you
4288
people found this helpful