Avocado Oil
Avocado oil is an edible oil that is used as food oil and cooking oil. This oil is made from avocado fruit which is known as 'Persea Americana'. This oil is used in lubricants and cosmetics. The key benefit of this avocado oil is its moisturizing and regenerating features as compared with other oils. The high smoke point of unrefined and refined oil makes it a very good cooking oil and the smoke point of the refined oil depends on the quality of its refinement.
Nutritional Value of Avocado Oil
100 grams of avocado oil contain 680 calories and the fat content in the oil is divided into three factors, namely mono saturated, poly saturated and saturated fat. 70% of the oil comprises of mono saturated fat, while 13% is poly saturated fat with 12% being saturated fat.
The pufa content in the avocado oil is small and this makes it a better and healthy choice. Carotenoid absorption in the body is increased by using this oil on a regular basis. Levels of multiple antioxidants, such as tocopherol and polyphenol all make the oil a good choice for health.
The presence of lutein is an important factor for using this avocado oil as it has been proved by research studies that lutein is beneficial for eyes. The presence of vitamins, such as vitamin A and vitamin E makes this oil beneficial for direct consumption.
Nutritional facts Per 100 grams
Health Benefits of Avocado Oil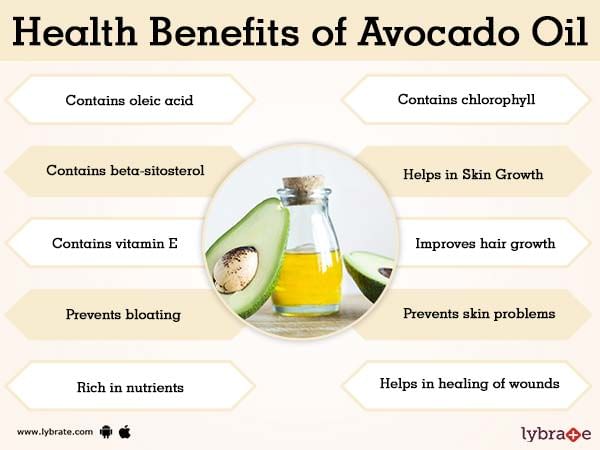 Mentioned below are the best health benefits of using Avocado Oil. You can use this oil to fulfill different purposes, use this oil in cooking to make delicious dishes. This oil contains various important nutrients like omega 6, Vitamin E, and oleic acid used to get different advantages. Here we also discuss some side of using avocado oil and also get more information regarding its cultivation process and origin.
Avocado oil oleic acid content
Avocado oil comes from the avocado fruit and being natural oil, is a rich source of oleic acid. It is a healthy fat that is known as a mono saturated omega-9 fatty acid. The benefits of oleic acid are that it helps reduce flare-ups that may be caused in the body due to autoimmune deficiency.
Avocado oil is also found to inhibit the growth of cancer-causing cells. The cell regeneration is speeded up with oleic acid, and also found beneficial in the healing of wound. Microbial infections can be controlled by this acid and is useful for preventing oxidation of the oil. This means that avocado oil will not become rancid and hence be used in high-temperature cooking like stir-fry and sauté. The oil will also not break down and lose its benefits.
Avocado oil contains beta-sitosterol
Large doses of beta-sitosterol are present in avocado oil. This helps in keeping the heart healthy and it is this good cholesterol which is needed by the body to keep the heart healthy. The conversion of healthy fats will be slowed down and this would benefit the body as a whole.
Avocado oil is anti-inflationary and this in turn benefits the arterial walls thus preventing the formation of plaque inside the body. Blood pressure is regulated with the consumption of this oil and would keep the body healthy.
Avocado oil vitamin e content
Vitamin E is a vital part of our diet. This vitamin is not supplemented in our daily food. Wheat germ is one food that has an abundance of vitamin E. Avocado oil is another food that has vitamin E in it. This Vitamin E is essential in keeping the skin oily. This vitamin also helps prevent infertility in men and women.
In men, this Vitamin E prevents the coagulation of sperms. In women, this vitamin helps in the development of the egg. This vitamin also improves the health of the eye, along with memory and mental function of a body. The damage against free radicals is also improved. This Vitamin E helps in keeping the body clean against the growth of radicals. The digestive tract is kept clean using this oil.
Prevents bloating
People suffer from bloating after eating their food. Some even suffer from heart burns. This condition of indigestion is prevented by using avocado oil in cooking. There would be improved energy levels in the body after using this oil, and this would bring health benefits also. The chances of diseases occurring due to poor indigestion are low.
Avocado oil rich in fatty acid
Avocado oil is full of nutrients and this means that the body uses these nutrients to keep our body healthy by converting fats. This oil is therefore used in salad dressings, and has been found beneficial for the body.
Avocado oil contains chlorophyll
Chlorophyll is present in abundance in the form of magnesium which is present in avocado oil. This helps in detoxifying the body. The liver and kidney are loaded with heavy metals such as lead and mercury that enter the body through environmental pollution. For such a situation, avocado oil helps in removing these toxic elements from the body and keeping the body clean.
Helps in Skin Growth
The growth of new skin is facilitated by the use of avocado oil as it is rich in potassium and lecithin in abundance when compared to other oils.
Avocado oil for hair growth
Hair growth is improved to a higher level when avocado oil is used on the scalp. This oil can be applied alone to the scalp or be mixed with other oils and applied on the scalp.
Avocado essential oil benefits for skin
Many skin diseases such as inflammation and itching can be reduced by regular use of avocado oil. This oil is useful in the treatment of dandruff too. Applying this oil can heal cracked heels and insect burns. Also, eczema is healed using this oil.
Psoriasis and sunburns are brought under control when this avocado oil is applied to the infected area. This oil is thick, and won't soak as fast as other oils. This oil is highly beneficial for skin diseases like eczema.
Avocado oil have healing properties
Healing of wounds occurs faster with regular use of avocado oil. The skin knits faster when applied on bug bites or other insect bites.
Avocado oil improve eyesight
Avocado oil is beneficial for the eyes it is high in lutein content. The common age-related problems such as cataract and other muscular degeneration can be brought under control when this oil is used. This lutein is not produced by the body and should be supplied to the body by following a proper diet. Avocado oil is used extensively to remove black marks under the eyes.
Avocado oil help in inflammation
The painful inflammation that occurs in joints (known as arthritis), can be kept under control by regular use of avocado oil. This is beneficial for reducing the stiffness that occurs in the joints. The property of avocado oil reducing painful inflammation also benefits in the prevention of gum diseases, such as bleeding and reddening of gums etc.
Uses of Avocado Oil
Avocado oil not only used for cooking but also for cosmetic purposes. Avocado oil is used extensively in making skin ointments. This is because, it penetrates the skin easily, has a high absorption rate. Its thickness also suits the treatment of skin diseases, such as skin eczema. Avocado oil can be used as an eye, skin cream to remove dark circles under the eyes. Avocado oil is used as hair oil - as standalone oil or when mixed with other oils too.
Side-Effects & Allergies of Avocado Oil
For some people, avocado oil has been found to cause allergies to the skin, and there is itching that has been caused on the skin. In some cases, people have developed red rashness on many parts of their skin. People who are prone to hypersensitivity and women who are pregnant are advised to avoid avocado. Some people develop fever and gastrointestinal disorder due to intake of avocado. Latex sensitive people are also advised to not use avocado oil.
Origin And Cultivation of Avocado Oil
Avocado oil is an edible oil, extracted from the fruit of Persea Americana. It originates in Mexico and Central America. Avocado is a thick-skinned fruit, considered as a berry which has a single large seed. It's a year-round crop. Avocado oil can also be used as a food oil, as an ingredient in your cooking. It is also used in cosmetics products due to its regenerative and moisturizing property.
In the 1990s, a new cold press procedure was developed for extracting avocado oil in New Zealand, especially for the cookery use. The process of extracting involves, deskinning and destoning the avocado and then mashing its pulp.
Then, the pulp is mechanically creased and kneaded to release its oil at a temperature of 122°F (50°C). The temperature then splits the oil from solid and water, thus giving the purer form of avocado oil, without any chemical solvent or the extreme heat.