About
Our mission is to blend state-of-the-art medical technology & research with a dedication to patient welfare & healing to provide you with the best possible health care.
...more
Our mission is to blend state-of-the-art medical technology & research with a dedication to patient welfare & healing to provide you with the best possible health care.
More about Sant Parmanand Hospital
Sant Parmanand Hospital is known for housing experienced Orthopedists. Dr. Shekhar Srivastav, a well-reputed Orthopedist, practices in Delhi. Visit this medical health centre for Orthopedists recommended by 61 patients.
Timings
Location
No.18, Sham Nath Marg, Civil Lines, New Delhi
Civil Lines
Delhi,
Delhi
-
110054

Get Directions
Photos (3)



Videos (4)
View All Videos
Doctor in Sant Parmanand Hospital

MBBS Bachelor of Medicine and Bachelor of Surgery, MS - Orthopaedics
Orthopedist
Book appointment and get ₹125 LybrateCash (Lybrate Wallet) after your visit
Health Packages
7 Days validity
•
Medicines included
₹2500
Services
Submit Feedback
Submit a review for Sant Parmanand Hospital
Your feedback matters!
Write a Review
Reviews
Verified
Feb 12, 2018
Excellent
Verified
Apr 10, 2019
Good
Feed
MBBS Bachelor of Medicine and Bachelor of Surgery, MS - Orthopaedics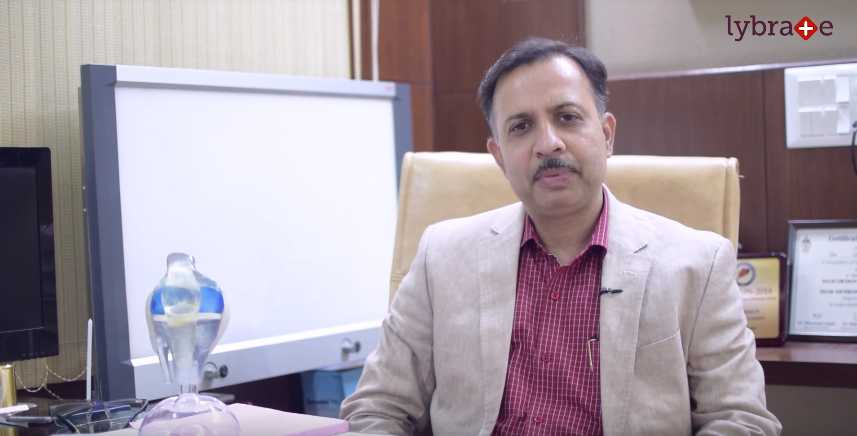 The knee acts as hinge joint and allows flexion (bending) and extension (straightening). The knee is formed by the tibiofemoral joints, where end of the femur (thigh bone) glides over the top of the tibia (shin bone) and the patellofemoral joint where the kneecap glides over the end part of the femur. The gliding surfaces of the knee are covered with articular cartilage which helps the joint to glide smoothly.
2381
people found this helpful
MBBS Bachelor of Medicine and Bachelor of Surgery, MS - Orthopaedics
Skin is one of the most obvious parts of our body which ages with an increase in the number of candles on our birthday cakes. As you age, joints tend to become stiffer and less flexible. The body does not recover from bumps and bruises as easily as it did before, and it becomes difficult to stand for extended time intervals. This is caused mostly by a breakdown of cartilage and inflammation of the synovium.
What is cartilage?
Cartilage is a flexible connective tissue. It connects the ends of two bones in a joint. It is softer than bone tissue but less flexible than muscle tissue. Cartilage is responsible for the smooth movement of joints.
With age, cartilage begins to degenerate. As the cartilage gets thinner, movement becomes more and more difficult. If left untreated, the cartilage may completely wear off leaving no buffer between the bones. This is one of the leading causes of knee replacement surgery.
What is synovium?
Synovium is a membrane responsible for keeping the cartilage healthy. It produces a thick fluid that keeps the cartilage and joint lubricated. In cases of osteoarthritis, this membrane can swell up and produce excess fluid. This in turn causes the joint to swell as well.
Along with age, factors like being overweight, genetics, gender and lifestyle also play a role in the condition of your joints. Being obese points towards a sedentary lifestyle and puts extra pressure on joints, leading to the thinning of cartilage. While men have higher chances of becoming osteoarthritis patients before 45, women have higher chances of developing this disease after 50. A healthy lifestyle is the easiest way to ensure that your joints work well even when you're old and grey.
Exercise-
Movement of the joints keeps the fluid in them moving. It also prevents the cartilage from shrinking and stiffening up. Exercise also makes the bones stronger, and slows the rate of bone tissue deterioration. Stretching exercises are also a good way to maintain the flexibility of joints.
Healthy diet -
Foods that are known as natural anti histamines, antioxidants and foods that fight inflammation promote healthy joints. Some of these are:
1. Green tea: It prevents the breakdown of collagen and cartilage
2. Nuts and seeds: These are rich in omega 3 fats that are essential for good bone health
3. Ginger: It relieves pain and joint swelling
4. Yogurt: It helps soothe tender joints and fights inflammation
5. Pomegranate: It protects the cartilage against damage

Hot and cold therapy can also help relieve joint pain and reduce inflammation. As you get older, avoid putting too much pressure on your joints and give them adequate rest. Lastly, avoid smoking, as people who smoke have an increased risk of cartilage loss.
2530
people found this helpful
MBBS Bachelor of Medicine and Bachelor of Surgery, MS - Orthopaedics
Whether you are an athlete or a ballet dancer, you will appreciate the importance of having a stable kneecap. Medically known as the patella, the kneecap is a triangular bone that connects the upper thigh to the lower half of the leg. It sits in a groove in the bottom of the femur (thigh bone). When the leg is bent, it stays within the groove. When the leg is extended, it provides support to the quadriceps muscles.
That being the case, a dislocation of the kneecap is a very common injury. Subluxation is a state where there is partial movement of the kneecap out of its position, thereby making the patient's kneecap unstable. When it completely moves out of its place, it is known as dislocation. Whether you fall on your knees during a sport or have a fall from a bike or get injured during dance or aerobics, it is common to have a dislocated kneecap. Some people are prone to repeated dislocations.
The initial injury is very painful and there might also be damage to the surrounding structures. Other symptoms include:
Buckling of the knee, where your legs cannot support your body weight

Sliding of the kneecap to a side

Catching of the knee in the groove when trying to move it

Pain in the front of the kneecap with any activity

Painful while sitting

Swelling and/or stiffness of the knee joint

Crackling/creaking sound when trying to move the knee joint

Inability to straighten the leg
Treatment:
Though these sound scary, the good news is that in 90% of the cases, the knee returns to its position spontaneously. However, putting it back into its place is a simple and safe procedure and can be done by almost any seasoned medical practitioner. The first step is to confirm that the kneecap is indeed dislocated. This can be done by a combination of physical exercise and x-ray. If required, MRI can be used, but it is not required in most cases. Initial treatment would include the following steps in sequence:
Immobilizing the knee with splint by keeping the leg in a straightened position.

Calling for medical assistance immediately. They can replace the knee back in its position carefully (reduction). An injured kneecap can cause what is known as foot drop by putting pressure on the peroneal nerve. The toes drag on the ground, making it difficult for you to walk.

Use ice in the affected area for 15 to 20 minutes, and repeat after three to four hours throughout the day to reduce pain and swelling.

Surgical correction may not be required, if there is a damage to the ligament.

Flat femur and/or tissue laxity can cause repeated dislocations, where physiotherapy and strengthening exercises are useful.
2590
people found this helpful
MBBS Bachelor of Medicine and Bachelor of Surgery, MS - Orthopaedics
Shoulder impingement occurs when there is impingement or change in the position of the tendons or a bursa (fluid filled sac or cavity, which causes friction in the joints) in your shoulder. Repeated overhead exercises or intense physical activity concentrated around your shoulder is a common risk factor for shoulder impingement. The examples of such activity would include playing outdoor sports like tennis, swimming etc. or painting for long hours.
How it may affect your daily life?
Shoulder impingement pain is severe in many cases and may affect your everyday activities. In fact, any activity, which involves your shoulders can cause intense pain. You should consult a doctor or a professional medical facility to get relief from pain as well as to avoid aggravating the injury.

Symptoms of shoulder impingement:
1. You will have difficulty in completing tasks which involve your back.
2. There may be a weakness in your shoulder muscles.
3. Pain associated with overhead use of your arm. Anytime you lift your arm there would be pain and would make many day to day activities difficult.
4. Intense injury to the tendons can cause them to tear into two and would result in a rotator cuff injury and would make your arm movements next to impossible.
Diagnosis of shoulder impingement:
Physical exam and review of medical injury previously sustained on some other occasion is the first step of treatment. Your doctor may also diagnose shoulder impingement by X-rays or MRI of shoulder to see changes in the bone that may indicate any injury. Other changes in the normal contour of the bone may also be checked which may help in further diagnosis and treatment.
Treatment of shoulder impingement:
NSAIDs are anti-inflammatory medicines that are commonly prescribed for shoulder impingement syndrome. These are prescribed for two weeks. Shoulder impingement requires a long time to heal and would require regular consultation with your doctor. If the medications fail to provide any relief in a span of maximum two weeks it may compel your doctor to change the course of treatment. Shoulder impingement is a serious injury and requires proper rest for your shoulder as well as patience as it may take quite some time to come back to normal.
Physiotherapy for Impingement:
Physiotherapy is usually the first line of treatment for subacromial impingement (tendonitis, bursitis) of the shoulder; along with anti-inflammatories and analgesia. It is very successful in treating shoulder impingement syndrome. You will work with your physical therapist to devise a treatment plan that is specific to your condition and goals. Your individual treatment program may include:
Pain Management
Manual techniques, such as gentle joint movements, soft-tissue massage, and shoulder stretches to get your shoulder moving properly.
You will learn exercises and stretches to help your shoulder and shoulder blade move properly.
Strengthening Exercises
The therapist will teach you the proper posture which is an important part of rehabilitation
4271
people found this helpful
MBBS Bachelor of Medicine and Bachelor of Surgery, MS - Orthopaedics
Knee replacement is a surgery wherein an artificial joint is used to replace a diseased, damaged or worn out knee. This surgery is common among people who fall in the age group of 60-80, but recent trends seem to suggest that younger people are opting for this surgery as well. The lifetime of the artificial knee joint is around 20 years, provided the knee is well cared for.
Why do you need knee replacement?
Most common reason is "high grade osteoarthritis" due to wear and tear of the knee joint. The pre-hospital study of the Knee joint is mandatory and would decide what kind of Replacement is suitable to the patient. If there is diabetes or hypertension associated with this, then it should be controlled well before undergoing surgery. Hemoglobin of at least 10 gm% is required.
If the mobility in your knee joint is reduced leading to impaired functioning of the knee joint, then you might need a knee replacement surgery. You may experience pain while walking, sitting and, in some cases, resting as well.
Some of the common reasons why you may opt for this particular surgery are:
Gout, where, small crystals are formed inside the joint.
Rheumatoid Arthritis, an autoimmune disorder, wherein the immune system of the body attacks the body's healthy tissues.
Hemophilia, wherein, the blood ceases to clot normally.
Injuries to the knee.
Disorders that cause unusual bone growth (bone dysplasias).
Death of bone in the knee joint following blood supply problems (avascular necrosis).
Knee deformity with pain and loss of cartilage.
Unusual growth of bones in the knee joint.
Knee replacement surgery is classified into:
Partial Knee Replacement: In this surgery, only one part of the joint is replaced.
Total Knee Replacement: Total knee replacement surgery involves replacement of both sides of the knee joint.
The usual hospital stay period is around 2-3 days after the surgery is completed. Initially, you will require the help of crutches to walk for at least 2 months. You may also be asked to do gentle knee strengthening exercises. It may take up to 3 months to recover completely from a knee replacement surgery.
2557
people found this helpful
MBBS Bachelor of Medicine and Bachelor of Surgery, MS - Orthopaedics
Shoulder pain can be a persistent dull and nagging sensation in the upper arm or shoulder area. It can be easily differentiated from neck pain as it is related to the movement of shoulders i.e. it will increase and decrease with shoulder movements, especially overhead activities. The other signs to identify shoulder pain is if your shoulder movements are reduced.
If you find it difficult to scratch / wash your back, comb your hair or reach your back pocket, it clearly shows you are suffering from shoulder pain. Shoulder pain can happen due to various reasons, it varies from person to person depending on the activities he/she is involved in, for e.g. sports, manual job etc. It can be a single major injury or multiple small injuries due to repetitive usage patterns. Also, degenerative changes in various parts of the shoulder can lead to shoulder pain.
In case of middle to old age, injuries that can cause shoulder pain are:
Biceps Tendonitis
Acromio-clavicular Joint arthritis
Scapular Dyskinesia
Trapezitis
Suprascapular nerve entrapment In young age, injury due to sports or gym activity can cause shoulder pain
Superior labral anterior/posterior (SLAP tear)lesion
Also, traumatic or repeated dislocations of shoulder can cause shoulder pain due to:
Diagnose Shoulder Pain
Shoulder pain can be diagnosed only after thorough history taking and clinical examination. However, some imaging studies can be very helpful like:
X-rays: Through an x-ray one can view the shoulder in many different views.
Ultrasound: With an ultrasound, you can also check the damaged caused to the tendons and muscles of the shoulder but the quality of reporting depends upon the expertise of the doctor.
MRI: MRI gives a clear picture of the shoulder as it shows everything related to a shoulder joint that is joints, vessels, tendons and muscles that too from different angles.
Diagnostic Arthroscopy: A surgical procedure often used by orthopaedic surgeons to diagnose and treat issues inside a joint. Arthroscopy has the big advantage that one can use it to diagnose as well as treat at the same time.
Treatment for Various Types of Shoulder Pain
For Shoulder Impingement or Rotator Cuff tear: Give rest to the shoulder for a few days only Dedicated Physiotherapy Protocol Bursal injections If these fail then, (Surgery)Arthroscopic sub-acromial decompression If Cuff tear is found, then one can go for Arthroscopic/Mini-open repair
Labral Lesions: For anterior Labral lesions (Bankart's) following anterior shoulder dislocation then surgery in the form of Arthroscopic Bankart's repair is the only option to reduce risk of recurrence and degeneration.
SLAP Lesions
Pain relief and physiotherapy as first step If this fails then following surgical options are available
Arthroscopic debridement or repair of labrum
Biceps tenotomy or tenodesis
Arthritis
In this case, the joint is already destroyed and has to be resurfaced for pain relief and to maintain ROM. If Rotator cuff muscles are working, then Shoulder resurfacing hemiarthroplasty (preferred in young people), that has a life of 10 to 15 years, Total shoulder replacement (preferred in middle aged to old people) has a life of 10 to 15 years. But, if rotator cuff muscle are not working then Reverse Geometry Shoulder replacement is recommended, that has a life of 10 years.
It is always advisable to get yourself diagnosed properly in case of shoulder pain as management changes depending on clinical situations. Neglecting shoulder conditions can lead to bigger problems later on.
4275
people found this helpful
MBBS Bachelor of Medicine and Bachelor of Surgery, MS - Orthopaedics
A shoulder dislocation is a shoulder injury which is characterized by the upper arm bone popping out of the socket of your shoulder blade. The shoulder joint is the most mobile among all the joints in the body, making it the most prone to dislocation. The dislocation of the shoulder joint can either be partial or complete depending on the injury. In a partial dislocation, the head of the upper arm is partially shifted out of the socket whereas in a complete dislocation, the head comes out of the socket in its entirety.
Symptoms-
The symptoms of shoulder dislocation are:
Deformed shoulder.

Excruciating pain in the shoulder region.

Mobility of the joint is greatly reduced.
Apart from these symptoms, there may be tingling, numbness and weakness in the affected region.
There can be multiple ways in which a shoulder can be dislocated because of its ability to move and swing in all the directions. The fibrous tissues that connect the bones of your shoulder may also get stretched or torn. These injuries occur due to a sudden blow or a strong force exerted on the shoulder joint.
It is caused by:
Trauma to the Shoulder Joint: Hard blows to the shoulder joint such as one suffered from a vehicle accident can lead to shoulder dislocation.

Sports Injuries: In contact sports such as hockey and football, the sudden forceful contractions of the shoulder region may lead to dislocation of the shoulder.

Falls: Tripping or falling from an elevated place and landing on the shoulder can cause shoulder joint dislocation.
Treatment-
The treatments for shoulder dislocation are –
Medication: Medications such as pain relievers can be prescribed by the doctor to reduce pain.

Surgery: Surgery of the shoulder joint can help in treating chronic shoulder dislocations. Surgery is also required if the blood vessels or the nerves along the shoulder joint are damaged.

Immobilization: This process involves attaching a sling or a splint to the affected area to prevent it from moving. This allows the shoulder joint to heal and recuperate faster.
2474
people found this helpful
MBBS Bachelor of Medicine and Bachelor of Surgery, MS - Orthopaedics
Did you know that osteoporosis causes more than 8.9 million fractures worldwide every year? What is frightening is many of these fractures are now taking place among the youth due to deficit diet and poor lifestyle coupled with genetic predisposition. Both osteoporosis and osteopenia are two forms of bone loss conditions, with the latter being a precursor to the former. To distinguish between the two a bone mineral density test is usually performed.
What is difference between Osteoporosis and Osteopenia?
A BMD (bone mineral density) T-score between -1 SD and -2.5 SD indicates osteopenia with a high chance of osteoporosis. On the other hand, a T-score of -2.5 SD and below stands for osteoporosis. A higher bone density (above -1SD) is usually indicative of stronger bones. Fragility index is more accurate way to assess risk of fractures.
In osteoporosis the bone loss or weakening of bones take place over a long period of time, and results in unexpected fractures and severe bone problems. Disfigurement, fractures in the spine, loss of mobility and independence are usual characteristics of this bone disease once it progresses further.
Prevention is better than cure, ALWAYS!
To keep bones strong and healthy, calcium and phosphate is continuously absorbed by the body. But after 30, the body's ability to absorb calcium slows down and there's a decrease in the production of new bones. In contrast, bone desorption (the process of transferring calcium from the bone to the blood) continues unabated.
When the body starts absorbing the store of calcium in the bones to meets its needs, it leads to calcium depletion and is one of the causes of weakening of the bone.
At present, the age limit (50-60 years) for osteoporosis has seen a drop with many younger people increasingly suffering from the ailment. Factors like unhealthy lifestyle, late-night shifts, smoking and alcohol consumption have been found to be the culprits behind the rise in osteoporosis cases among the young. Recent studies have identified vitamin D deficiency as a major factor for poor bone health and bone mass density in the young.
How to keep your bones strong and healthy? And manage Osteo - penia/porosis complications:
Bone loss can be prevented by adopting these very simple but effective ways:
- Exercising can help in building strong bones and muscles, while preventing bone loss.
- Maintaining a calcium intake of 1000 mg for pre-menopausal women and 1200 mg for women post menopause.
- Staying out in the sun for 20 minutes to produce requisite amount of Vitamin D for calcium absorption and using supplements of vitamin D.
- There are many safe medicines available to prevent and treat osteoporosis like alendronates, calcitonin, Parathyroid , teriparatide preparation etc.
- In osteoporosis induced /associated fractures we have to to modify implants to negate weak purchase of implants in bone and improve mobility.
We have been using these modifications in established osteopenia/porosis case in fractures treatment/joint replacement/ arthroscopic fixations and MIS spine fracture management.
In case you have a concern or query you can always consult an expert & get answers to your questions!
3997
people found this helpful
MBBS Bachelor of Medicine and Bachelor of Surgery, MS - Orthopaedics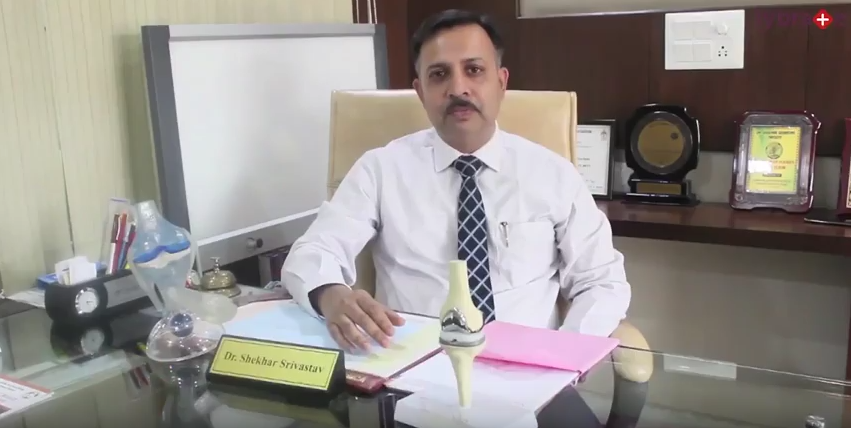 Dear friends,
I'm Dr. Shekhar Srivastav. I'm senior consultant of orthopedic at Sant Permanand hospital and I have clinic at Jagriti Enclave name Prime Specialty Clinic.
Today I ll be speaking on knee arthritis and its management, the causes of knee arthritis and how do we manage it. Now if we see the knee is compose of these two bones, this is a thigh bone and this is a leg bone and this forms a knee joint. Now the knee joint's end of the bone is covered with cartilage. Now cartilage are cushion like structures which helps in shock absorptions and helps in smooth motion of the knee joint. Now when this cartilage get destroyed you get arthritis. So there are many causes of arthritis like infection it can be any inflammatory cause, trauma. But the most common cause is aging process. As we age due to wear and tear the cartilage gets destroyed and start getting this arthritis. So the patient will first complain of pain and stiffness while walking. Then he will have difficulty in climbing up the stairs or having difficulty walking long distances as the problem increases you will have problem in getting up from sitting position, complain of pain, stiffness and swelling in the knee joint and in the severe stages there will be the deformity of the knee. You must have seen your neighbors or your parents having bow legs which is because of advance form of arthritis of the knee joint the osteoarthritis of the knee joint. Now there are many factors which contribute to arthritis of the knee joint. The most common being is aging process i.e. because of wear and tear but we also see arthritis more in females or there is also some sort of family tendency it means that if your parents were having arthritis then there is slightly higher chance that you may develop arthritis. How can we prevent it? So there are various things which you can do to prevent the symptoms of arthritis.as you know that it is an aging process so it can't be stopped but the pain or disability arising from it can be prevented. First of all you have to maintain your weight so, obesity is one of the major causes of the arthritis so you should prevent obesity, you should keep your muscles strong by doing exercises, you should keep your joints flexible by exercising by stretching exercises and then there are also some medications. Physiotherapy, medications they all helps in preventing arthritis. But if you don't get better with that means arthritis is severe then in that case sometimes you need injections. Now injections are given inside the knee joints and if given judiciously they will give very good relief.in very severe cases when the joint is totally destroyed, the joint is deformed, the limb is not align properly then in that case surgery is needed. There are different type of surgeries for arthritis which will be decided by your orthopedic surgeon. Now we have arthroscopy which is just a key ball incision surgery or we can have alignment surgery. One of the most common procedure we perform is knee replacement. Now people have misconception that in knee replacement whole of the knee is removed, it's not done in that way. We just gave shape at the end of the bone and we put cap over it just like this so you just gave shape at the end of the bone and you applied a cap over it similarly for the leg bone also. You put the cap over it and in between there is a plastic type thing which allows smooth motion of the knee joint. So these are the various causes and treatments of arthritis. The treatment varies according to the grade of arthritis and that is decided by your orthopedic surgeon.
If you want to know more about the problem or if you have any problem or if you want to contact us, you can contact me at lybrate or you can contact me at Sant Permanand hospital or in my clinic Prime Specialty Clinic at Jagriti Enclave. Thank you!
2565
people found this helpful
MBBS Bachelor of Medicine and Bachelor of Surgery, MS - Orthopaedics
If you are experiencing joint stiffness in your hip along with pain and tenderness, you could be suffering from hip arthritis or osteoarthritis. Osteoarthritis accounts for being the most common form of arthritis. It is referred to as degenerative joint disease and old-age arthritis and usually, occurs because of age-related issues. The condition occurs when injury and inflammation of a joint lead to the breakdown of the cartilage tissue, causing pain, swelling, and deformity.
How hip arthritis affects the hip joint?
People who are affected by osteoarthritis of the hip may have difficulty in walking properly. Diagnosis in the early stage is difficult as pain may occur in various locations such as the thigh, groin, knee or buttocks.
The underlying causes
The factors responsible for osteoarthritis include increasing age, joint injury and excess body weight. Some other factors may also be responsible. They are as follows:
When the joints have formed improperly.
In case of inherited defects in the cartilage.
When a person puts excess stress on the hip joint because of being overweight or due to certain activities and motions.
How it can be detected?
The different symptoms of hip arthritis or osteoarthritis are as follows:
Joint stiffness, especially after waking up in the morning.
Joint stiffness after sitting for a long period.
Swelling, pain, and tenderness in the hip joint.
A crunching feeling or sound of bones rubbing against one another.
The inability to move the hip for carrying out daily activities.
Treatment
The aim of osteoarthritis treatment is to improve the patient's ability to move about so that his regular life is less affected. The function of the hip and pain management are other targets of treatment for this condition. The different treatment plans are as follows:
Proper joint care and rest
Using a cane while walking for taking weight off your hip
Losing excessive weight
Non-drug pain relief measures for controlling pain
Regular exercise
Several medicines, including NSAIDS and other prescribed pain medication
Alternative therapies
Hip replacement surgery
This is a surgical procedure used for osteoarthritis treatment when all other treatment plans fail. The damaged ball of the hip joint is replaced with a metal ball in this surgical procedure. The hip socket is resurfaced by using a plastic liner and metal shell. Apart from the mentioned treatment procedures, hip resurfacing is another surgical option for osteoarthritis treatment, which helps in giving relief when a hip replacement surgery is delayed. In this procedure, the affected hip joint surfaces are surgically removed and are replaced with metal.
In case you have a concern or query you can always consult an expert & get answers to your questions!
2471
people found this helpful
View All Feed