About
Our goal is to offer our patients, and all our community the most affordable, trustworthy and professional service to ensure your best health.
...more
Our goal is to offer our patients, and all our community the most affordable, trustworthy and professional service to ensure your best health.
More about Jain Child and Maternity Hospital Pvt Ltd
Jain Child and Maternity Hospital Pvt Ltd is known for housing experienced Gynaecologists. Dr. Surekha Jain, a well-reputed Gynaecologist, practices in Delhi. Visit this medical health centre for Gynaecologists recommended by 51 patients.
Timings
Location
Courtsey Consultant La Femme & Depatment of Gynaecology and Obstetrics, AE-7, Shalimar Bagh
Shalimar Bagh
Delhi,
Delhi
-
110088

Get Directions
Photos (9)









View All Photos
Videos (2)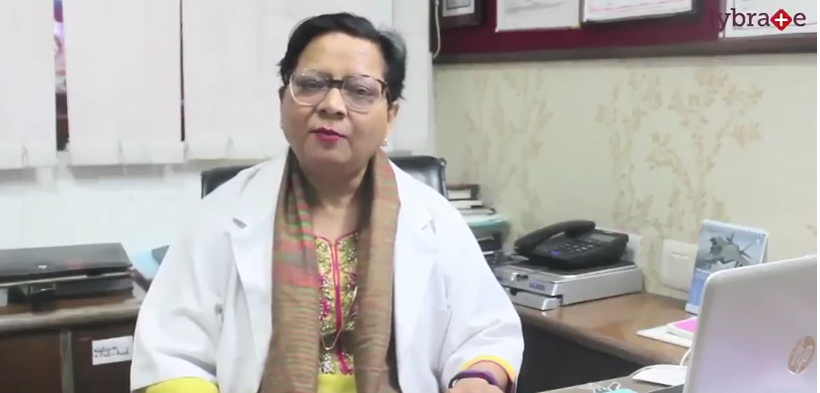 I am Dr Surekha Jain, I am practicing since last 38 years in Shalimar Bagh Delhi. And I am curtsy consultant to Shalimar Bagh Fortis hospital. Today I am going to talk about a very important hormone which is known as pregnancy hormone or beta HCG. Why it is called pregnancy hormone because this hormone beta HCG is the first hormone to increase and which can diagnose pregnancy very early. Why we should diagnose pregnancy very early, now days in a era of assistant reproductive techniques like IVF, ETSY, IUI etc. We want to know whether our patient is pregnant or not very early so that we can support her and we can give her certain medications which will help her to continue her pregnancy. This is a pregnancy hormone which starts as soon as when embryo is form that is 14 to 15 days after your ovulation or egg pick up. We can detect up to 100mIU's of Beta HCG on the 14th day after ovulation, if pregnancy is occur. So to know the welfare of the pregnancy or to know first of all whether you are pregnant or not, we do your beta HCG. Anything about 10mIU/ML is taken as positive, it is just positive but to know whether the patient is doing fine or not, we can repeat this hormone every 48 to 72 hours that is every third day and it should almost double up every third day which shows that now the pregnancy is going fine and now we are assured. And we keep on following the patient. When the beta HCG levels they reach around 1000 to 1500 International unit the gynaecologist or your doctor should be able to see by Trans vaginal sonography at least sack. If she cannot see the sack at 1000 to 1500 International unit then there must be something wrong either blighted over or anything else. Now how can you test a beta HCG there are two methods to test beta HCG one is urine and other is blood, urine beta HCG is very simple to test anybody can test it at home. You can buy a simple strip from any chemist and then you can put fresh clean urine in the small socket formed on the slide 3 drops of fresh urine and wait for about 3 to 5 minutes. What you can see on the slide is either a one single line of about red or violet colour which shows that you are not pregnant but you have done your test alright. But if you see 2 parallel lines of equal strength you are happy because indicates that you are pregnant and your pregnancy is fine. But in case you don't see any of the lines, it shows that you have not done that test correctly or you are suffering from some severe urinary tract infection or your urine is very diluted. You have taken it after lot of consumption of water or some liquids. So Urine Pregnancy Test is very easy the drawback with Urine Pregnancy Test is it just tells you that you are pregnant, it doesn't tell you what will happen or what time of the pregnancy it is. Now the second method to test beta HCG is blood, it's very important definitive and very good test to know about the conception and its progress and the time of weeks. So if you get your blood beta HCG done in your blood as I told you anything about 10mIU/ML is positive test and then you follow it every third day to find out that it becomes double or not and then when it is about 1000mIU/ML then it should be seen in the trans vaginal sonography. What is the use of this hormone, why this hormone is there it is with some purpose the purpose of this particular hormone is that when you conceive and after just fertilizations 8 to 10 days after fertilization the embryo goes and implants in the uterus and there it is formed by the plasanta, this sends a message to the ovary that corpus luteum has to keep on working because corpus luteum give the hormone progesterone which is very-very necessary for the pregnancy. Now once the corpus luteum is giving progesterone and gradually the plasanta develops. When the plasnta develops it takes so what the corpus luteum, see the nature's method tell the Corpus luteum to maintain the corpus luteum in pregnancy the beta HCG is keep on increasing till 8 to 10 weeks it is the highest it around 10 weeks its level is about 100, 1000 international unit but as soon as the plasnka takes over the work of making progesterone corpus luteum is no more required. And hence the beta HCG also keeps on reducing and it makes effective Plateau at around 20 weaks its only 20000 then it goes to Plateau and it remains at the same level till full top. Beta HCG other than telling you about the welfare of the pregnancy has certain other many important jobs to do. First of all if your beta HCG is not corresponding with the weeks of pregnancy shown in your lab report, it shows that either your pregnancy is not progressing well or you might be having ectopic pregnancy that is your pregnancy might be other than the in the uterus. It can be it outside the uterus which is very dangerous for the health of the patient. Second it shows if it is very high it shows either you are having multiple pregnancy or some pregnancy related cancers which are known as trophoblastic disease of the pregnancy. Which are also again very dangerous and followed by beta HCG test and thirdly this test is also done to know about the welfare of the foetus in the first trimester of your pregnancy that is known as double marker. So it's a very-very important hormone and is related to all the pregnancy welfares, miscarriages, blighted ovum, ectopic, twins, cancer-related pregnancy that's all, ok.
read more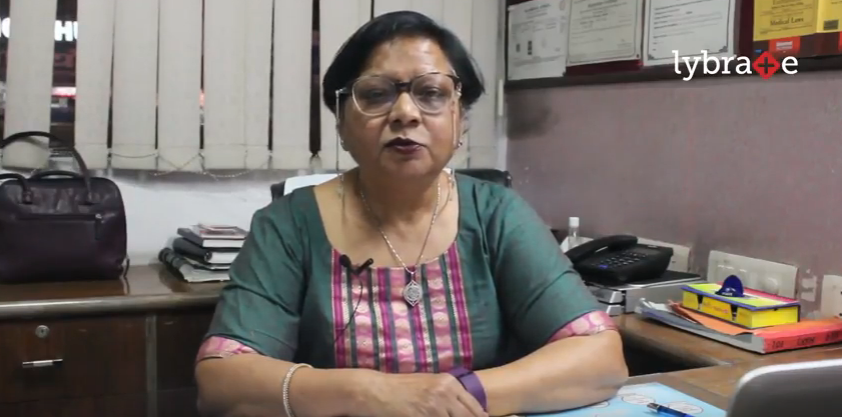 Causes, symptoms and diagnosis of Thyroid
Hello friends. I am Dr. Surekha Jain practicing as a gynecologist and obstetrician since last 40 years. I own my own hospital at Shalimar Bagh with the name of Jain Child and Maternity Hopsital Pvt. Ltd. I am also attached with the Fortis Hospital, Shalimar Bagh as a Senior Gynecologist and Obstetrician. Today, I am planning to tell you about Thyroid Diseases during Pregnancy. The reason for choosing this topic is that it is very common nowadays to find thyroid disease during pregnancy and the smallest variation in the thyroid organ can really affect your pregnancy. The thyroid disease is present in two forms: Hyperthyroidism and Hypothyroidism. Hyperthyroidism means over active thyroid and Hypothyroidism means which is under active thyroid.
Thyroid is an organ which is located in the front of your organ like a butterfly and it releases hormones which control metabolism of your body it controls even single cell of your body. Thyroid affects the whole body. During pregnancy, why we are worried about the thyroid disease that if you already know that you have hyperthyroidism or hypothyroidism at the very first consultation of your pregnancy, you should tell your obstetrician that you are either Hyperthyroid or hypothyroid and what drugs you are already taking. So that the doctor can help you adjust those medications. In case you do not know the status of your thyroid at very first visit the doctor will you investigations to be done and thyroid status is one of them.
Why is it so important to do early? Because the thyroid functions are more important in the first trimester of pregnancy to control the development of the baby. You very well know that during the very first three months of your pregnancy, the child being made, all the organs, all the systems are developed and after that the child only grows inside so the first three months are very crucial. And thyroid controls the activities in the mother and the baby. So, you should know the status of thyroid. Now, let us know what are the most important irregularities you can have in thyroid? Hyperthyroidism, even though it is rare, in early pregnancy signs and symptoms they quite mimic hyperthyroidism like excessive vomiting, nausea, irritability, giddiness and irregular heartbeat, even nervousness. So, these are very common in pregnancy as well as in hyperthyroidism.
So, if they are in a moderate amount, you can think of having these symptoms because of pregnancy. But, in case there is excessive, your doctor will definitely test you for hyperthyroid by doing certain blood tests and manage you accordingly on anti-thyroid drugs. The second most important is hypothyroidism. Hypothyroidism being more common than hyperthyroidism, therefore, it is very important to manage hypothyroidism in early pregnancy. In first, seven to nine weeks, the fetus doesn't have any thyroid function in itself. So whatever it is getting it is from the mother. If the mother is deficient, the child will also become deficient and later on it can have multiple problems of nervous system, skeletal system, and developmental problems. Now, how do you diagnose the thyroid disease? It is very simple. Only by blood test you can diagnose thyroid. Three blood tests are there, TSH (Thyroid Stimulating Hormone), T3 and T4. These are the hormones which are released by thyroid and thyroid stimulating hormone is the controlling hormone which keeps adjusting itself according to the hormone. Only by test you can come to know whether you are youth thyroid that is normal thyroid or you are hypothyroid or hyperthyroid.
If thyroid is not controlled properly during pregnancy then there can be multiple things which can happen to the mother and the baby. Now, if it not controlled in the first trimester, then developmental problems can be there. Baby can have certain congenital birth defects but later on it can lead to prematurity, and high blood pressure. Now, how can you come to know you are suffering from symptoms only? Hyperthyroidism can lead to severe nausea, vomiting, and slight tremors in your body, trouble sleeping, weight loss, or low weight for pregnant women. How can you know about hypothyroidism? Symptoms of hypothyroidism are such as extreme tiredness, weight gain, confusion, constipation, concentration and memory problems.
So, once your doctor knows whether you are hypo or hyper, they will treat you accordingly. If you want to know more, you can contact me through Lybrate, Dr. Surekha Jain. I am a certified thyroid disease treatment giver to the patients so you can contact me by chat, telephone, by putting your questions directly to me through Lybrate. They know my telephone number, my address. You can contact me, come to me, you can chat with me and even have video chat with me. Thank you.
read more
Doctor in Jain Child and Maternity Hospital Pvt Ltd

MS, MBBS
Gynaecologist
Book appointment and get ₹125 LybrateCash (Lybrate Wallet) after your visit
Health Packages
Services
Submit Feedback
Submit a review for Jain Child and Maternity Hospital Pvt Ltd
Your feedback matters!
Write a Review
Patient Review Highlights
"Professional"
6 reviews
"Prompt"
4 reviews
"Well-reasoned"
7 reviews
"Helped me impr..."
2 reviews
"Nurturing"
2 reviews
"Thorough"
1 review
"Practical"
3 reviews
"knowledgeable"
24 reviews
"Sensible"
1 review
"Caring"
6 reviews
"Very helpful"
35 reviews
"Saved my life"
3 reviews
"Inspiring"
3 reviews
Reviews
Abhishek
Feb 13, 2017
Dr. Surekha Jain provides answers that are very helpful, helped me improve my health and professional. Wll b in touch shortly
Tanya
Apr 3, 2018
Dr. Surekha Jain provides answers that are saved my life, knowledgeable, very helpful and well-reasoned. Thanks alot
Krishna K Singh
Feb 27, 2017
Dr. Surekha Jain provides answers that are very helpful. Mam..i hav done the way u hav adviced ..n it was helpful
Soni Singh
Oct 17, 2016
I found the answers provided by the Dr. Surekha Jain to be well-reasoned. Thank u so much Mam.I am relieved.
Neethu
Aug 29, 2018
Dr. Surekha Jain provides answers that are knowledgeable. Thanks doctor.
Ashish Pachnanda
Aug 10, 2017
Really found doctor helpfuland caring As inconsulted it for my sister
Feed
It should be more of vegitables fruts and dry fruts her milk, nariyal pani tulsi 5 peces and kishmish colourd fruits and vegitables are good.
3
people found this helpful
Urinary infection is one widespread disorder that most of the human beings face in the later stages of their lives. The infection is experienced mostly by half of the women and according to statistical data, it has been noted that about 40% of women and 12% of men get infected with urinary infection. Women who are sexually active have more possibilities to get this infection. It is an infection suffered by many people and, which is more vulnerable to children and women.
The symptoms that are identified for a person with urinary infection are frequent urination and burning sensation at the time of passing urine. In certain cases, women even experience leaking of urine while sleeping. It is advised not to take this condition casually as it can lead to further complications, and medications need to be taken to reduce the discomfort caused.
Main Causes of Urinary Infection:
- The main reason why urinary infection is caused is due to a bacterium that moves from the urinary duct into the urinary bladder.
- The other main reasons for urinary tract infection are due to sexual intercourse, pregnancy and diabetes.
- There are chances to get urinary infection if a person has sex with many partners
- In most women urinary infection is caused due to hormonal imbalance after menopause
- Women should not hold back the urge for urinating frequently, as it can weaken the bladder and makes it prone to urinary infection.
Treatment for Urinary Infection:
There are simple and helpful home remedies that can be used for the treatment of urinary infection, and these include
- It is very necessary to drink a lot of water, as it would help flush the bacteria from the bladder that causes the infection. It is advisable to drink at least 80 ounces of water on a daily basis.
- It is advisable to eat foods rich in Vitamin C as they are helpful in making the urine more acidic, and it inhibits further growth of the bacterium in the urinary tract.
- It is very important that spicy foods and bladder irritants like caffeine, carbonated drinks and artificial sweeteners be cut from the diet to reduce the irritation.
- It is very important to include healthy foods in your diet, and that are rich in high-fiber carbohydrates and helpful in digestive health of your body.
- Herbal remedies can be opted for treatment of urinary tract infection, and the leaves of bearberry are used for this purpose.
- Most importantly, it is very necessary to adopt healthier habits and quit smoking. Women should wear loose clothing and make use of personal hygiene products that are free from any fragrance.
3313
people found this helpful
Weather you conceived or not is not possible to detect but it is possible to find out weyher you ever deliverded or not or if you got your pregnancy terminated at such an advancedstage that you already had permanant changes of pregnancy than it can be detected.
1
person found this helpful
Keep on feeding the baby every time he is hungry even if you have to feed hourly the more feed youngive to baby more will come.
During the natural course of events, a women's body starts its reproductive phase with menarche and at about 50 years of age, attains menopause. This is when the reproductive function ceases and the ovaries stop producing the hormone estrogen and progesterone. In some cases, for various reasons including medical, the ovaries stop functioning earlier, and this is medically termed early or premature menopause. Menopause that occurs before 40 years of age is termed premature menopause; it is due to primary ovarian insufficiency and occurs in 1% of the women. If it occurs between 45 to 50 years, it is termed early menopause.
Causes:
Normal ageing, family history, genetic disorders, autoimmune disorders, toxins, and surgery are some reasons that could lead to premature menopause.
Effects:
Estrogen and progesterone have a lot of beneficial effects on a women's body. Reduction in their levels leads to some of the below changes:
- Emotional changes like mood swings, irritability, and in some cases depression, especially in premature menopause.
- Irregular cycles before complete cessation of the menstrual cycles.
- General mucosal dryness leading to vaginal dryness, dry skin, dry eyes.
- There also would be urinary incontinence and reduced sex drive due to reduced hormone levels.
- For women who still would want to have children, infertility would be a big cause for concern. This could lead to other emotional issues, worsening the depression.
- Osteoporosis - Bones lose their density and get weak and are more prone to fracture.
- Cardiovascular health - Post menopause, women are more prone to heart attacks and stroke. Though not fully proven, this is believed to be true as the good role that estrogen plays on blood vessels is negated with menopause.
- Accelerated ageing - Menopause leads to accelerated damage of genetic structures, thereby leading to faster ageing. This also leaves a feeling in the women of being less attractive and less desirable.
There is also a good news, that after menopause women are at lesser risk of cancer - especially breast and ovarian.
It is not easy for women to handle premature menopause. The body undergoes some changes much earlier than expected, and it requires a lot of support and caring and comforting to come to terms with it - especially if associated with infertility or chemotherapy for cancer. Emotional issues of not being able to have children and feeling less attractive require frank talks to boost the person's confidence and increase self-worthiness.
It is easier said than done, but one of the key ways to handle premature menopause is an open discussion.
3765
people found this helpful
Infertility is a condition where a couple trying to conceive in a natural way is not able to do so even after one year of trying. It is also a matter of worry for patients who are over the age of 35 years and those who are not able to conceive naturally even after 12 months of trying constantly. So here are the causes, risks and treatment for this condition.
* Causes: There are many causes of infertility. It may be down to a condition present in one or both partners. As per a medical study, 20% of the cases of infertility are due to males, while 40% to 50% cases are due to problems in the female partner. 30% of the cases suffer from infertility due to problems in both males and females. Ovulation and fertilisation are the main elements of the conception process, and any condition in the female or male can upset either function which can make it difficult to conceive.
While abnormal sperm production and transport may be a common condition that leads to infertility in males, other factors like side effects of cancer treatments and too much exposure to toxins and chemicals can also play an important role in this regard. For females, the causes of infertility may range from ovulation disorders, uterine and fibroid tumours, uterine and cervical anomalies, damage to or blockage of the fallopian tubes, endometriosis, primary ovarian insufficiency and pelvic adhesions. Also, factors like thyroid, cancer and medication leading to temporary infertility may be at play.
* Risk: There are a number of factors that put a male or a female at risk of infertility. Being in your mid 30s usually has an adverse effect on the ovulation and production of well functioning sperm. Further, smoking and tobacco are among the main causes of infertility in either partner. Excessive alcohol consumption may also lead to this problem. Being overweight or underweight can also make a person infertile. Further, not getting enough exercise and routine activities out of your day, can lead to this condition as well.
* Treatment: Male patients can go through treatment for any existing infections, hormonal injections and medication, surgical options like vasectomy reversal, and ART or assistive reproductive technology. Female patients can turn to medication that will stimulate ovulation, Intrauterine Insemination, and surgical processes to correct a uterine septum and remove endometrial polyps, or even a hysteroscopy surgery.
If these methods fail, the patient or the couple can always turn to methods like In Vitro Fertilisation. For other mild reasons, lifestyle changes along with a stress free environment can help in increasing the chances of conception.

Once you have consive you can cansive again but investigation shuld be done. Why did you aborte 5 month?
1
person found this helpful
View All Feed
Near By Clinics
4.6
(

97

ratings)
Shalimar Bagh, Delhi,
Delhi
View Clinic
4.6
(

400

ratings)
Shalimar Bagh, Delhi,
Delhi
View Clinic