Benefits of Tamarind Leaves And Its Side Effects
Tamarind leaves has a myriad of benefits chief of them being providing relief from malaria. Its medical benefit though is not confined to just that as it can also cure jaundice and diabetes, helps cure scurvy, treats ulcer, inhibits genital infections, protects the whole body from infections and provides relief from hyper tension. It has anti-inflammatory properties and can also be used to provide relief from menstrual cramps.
Tamarind Leaves
Tamarind has been used in Indian cuisines since centuries to give that classic sour taste but not just the fruit, the leaves too have featured in cuisines and Ayurveda since ages ago. Tamarind leaves are green in colour and is longitudinal in shape. In cuisines, it is used both in fresh and dried form.
The benefits of tamarind leaves are versatile. They contribute as much to medicine as they do to cuisines. Its cathartic, astringent and antiseptic properties makes it an important element in Ayurveda while the light tart flavour that its leaves impart makes it a viable ingredient in Indian cuisines
Nutritional Value of Tamarind Leaves
Vitamins and Minerals
Health Benefits of Tamarind Leaves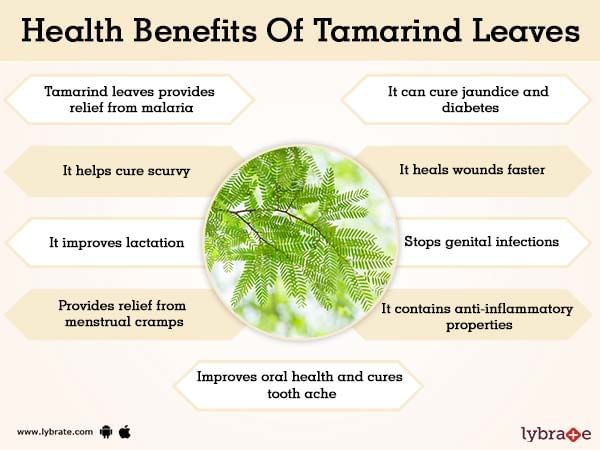 Mentioned below are the best health benefits of Tamarind Leaves
India is a country with pretty low environmental hygiene. Most of the places have stagnant water where mosquito breeds. Hence malaria is widespread. Malaria is caused by the female Anopheles mosquito. These mosquitoes carry plasmodium falciparum which causes malaria. Tamarind leaves extract inhibit the growth of plasmodium falciparum thus providing relief from malaria
It can cure jaundice and diabetes
India is unfortunately the diabetes capital of the world. There are two types of diabetes-Type 1 and Type 2. Type 1 diabetes occurs when the body does not produce insulin and Type 2 diabetes happens when the body does not produce enough insulin for proper functioning.
A concoction of tamarind leaves not only helps control the level of blood sugar in the body but also increases insulin sensitivity. Tamarind leaves have also been seen to cure jaundice.
Scurvy, also known as Sailor's disease, occurs due to the deficiency of Vitamin C. The symptoms of scurvy are bleeding gums and nails, fatigue and so on. Tamarind has high ascorbic level acid content that mitigate scurvy.
Tamarind leaves are useful in healing wounds thanks to the antiseptic properties present in it. When the juice of tamarind leaves are applied on the wound, it tends to heal faster. Not only that, the juice also serves to prevent infections and parasitic growth which are common in wounds.
Breast milk is very important towards the growth of an infant. It is the most nutritious intake of a person's life and is very important as it ensures proper physical development of the child. The quality of breast milk is improved when a lactating mother consumes tamarind leaves extracts.
Genital infections are common if proper hygiene is not maintained.
Tamarind
leaf extracts does not only stop genital infections but also provide relief from its symptoms.
Menstrual cramps are terrible and makes menstruation a very uncomfortable experience. What is worse is that it is recurring phenomena. Tamarind leaf extracts can dampen the cramps as they are analgesic. Efficiency of the leaves can be increased if they are mixed with papaya leaves, salt and water but care should be taken that too much salt is not added to the mixture.
Joint inflammations are painful and can restrict movement heavily. It is also a source of massive discomfort that prevents you from going about your day to day life smoothly. Tamarind leaves have anti-inflammatory properties that help cure joint pain and other inflammations
Improves oral health and cures tooth ache
Maintaining oral hygiene is very important . Two of the most common oral problems faced by people are bad breath and tooth ache. Tamarind leaves are an ideal treatment for both these oral problems.
Uses of Tamarind Leaves
Tamarind leaves are powdered and used in various dishes. Tender tamarind leaves are used in coconut chutney. It is also used in the preparation of dal.
Side-Effects and Allergies of Tamarind Leaves
There are no such noted adverse effects of using tamarind leaves
Cultivation of Tamarind Leaves
Tamarind trees originated in tropicals areas of Africa, India and South East Asia. The fruit was common in ancient Egypt and Greece thus indicating that the cultivation of tamarind started quite early. Leaves of tamarind has been used in South East Asian cuisines since centuries. As its places of origin suggest, tamarind trees and consequently its leaves, require a hot climate to survive and grow.