Content Details

Written By
PhD (Pharmacology) Pursuing, M.Pharma (Pharmacology), B.Pharma - Certificate in Nutrition and Child Care
Pharmacology

Reviewed By
B.Sc (Home Science), Post Graduation Diploma in Dietetics and Public Health Nutrition
Dietitian/Nutritionist
Table of Content
Geranium
Nutritional Value of Geranium
Health Benefits of Geranium
Blood clot activator
Boosts metabolism
Relieves stress and fatigue
Assists detoxification
Rejuvenates skin
Cures Athlete's Foot
Cures respiratory problems
Anti inflammatory property
Dementia averter
Effective painkiller
Uses of Geranium
Side-Effects & Allergies of Geranium
Cultivation of Geranium
Geranium
Geranium oil is extracted from the aromatic leaves of Pelargonium spp. There are several species of geranium such as P. odoratissimum, P. roseum, and P. Radula but the most popular one is P. graveolens. Geranium oil is nearly without hue and it contains several compounds like linalool, geraniol, nerol, citronellal, limonene, etc. It has anti-inflammatory, antidepressant, and antimicrobial properties. Geranium oil is mostly known for aromatherapy and is beneficial for skin health.
Nutritional Value of Geranium
The stem, flowers and leaves excluding the roots are used to produce geranium oil through steam distillation. Geranium oil is also known as 'poor man's rose' because it has almost identical qualities like rose essential oil and it is cheaper. Geranium oil contains around 67 compounds. The main components of geranium oil are citronellol and geraniol. The sweet-smelling geranium oil is commonly used in several treatments to enhance physical, mental and emotional health. Egyptians used geranium oil abundantly for promoting radiant skin.
Health Benefits of Geranium
Mentioned below are the best health benefits of Geranium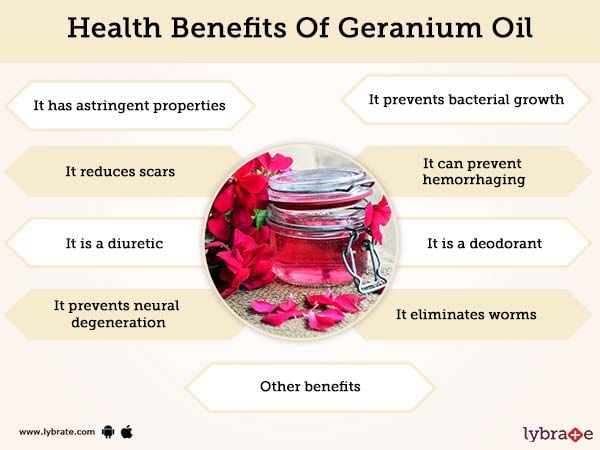 Blood clot activator
Geranium oil helps to stop blood flow through wounds as it causes the blood vessels to contract as well as it quickens the formation of blood clots which helps the wound healing faster. Geranium oil also restrains toxins from entering the body. Its styptic andhemostatic properties also help to prevent hemorrhoids.
Studies have proved that one of the beneficial properties of geranium is that it is cytophylactic. It can proficiently boost metabolism which is vital for upholding the health and the growth of a body and reproductive cells. It also helps in recycling of dead cells present in the body.
Relieves stress and fatigue
Inhaling the aroma of geranium oil can act as a pick-me-up for one's soul and reduce fatigue. It also has a positive impact on the mind and body. The effect of geranium on the nervous system is remarkable and it's been used in this way since the days of yore. The leaves of the plant can be brewed to make tea which has soothing properties and helps to calm nerves down. Geranium oil has several organic compounds that keeps endocrine system healthy and balances hormone that causes stress.
Assists detoxification
Geranium oil has diuretic property which is extremely helpful when it comes to detoxifying body as it is a strong antioxidant. Sometimes toxins are produced within the body during metabolic processes out of which some are eliminated by means of the digestive tract, and perspiration. It eradicates the noxious free radicals that lurk along with vital nutrients from the body. It also helps in detoxification by levelling the rate of urination. This process of elimination does not only flush out toxins but also helps the digestive function.
Rejuvenates skin
Geranium oil is astringent in nature; it generates contractions in many parts of the body and helps to fight with wrinkles by clenching facial skin and curbing the effects of aging. This aromatic oil is a natural cleanser thus it radiates skin. Furthermore it is a cicatrisant that removes acne and scars.
Geranium oil is well known for being one of the most widely studied oils in the market. It is amongst the best natural alternatives versus the creams and lotions that doctors recommend to combat fungal infections like athlete's foot.
Cures respiratory problems
Geranium isn't known as a health booster in general for a reason. It is useful and cures ailments for several organ systems. It is very helpful to the respiratory system which is prone to weather changes. Several such ailments can be treated with the help of geranium.
Anti inflammatory property
Research shows, inflammation is correlated with every third health condition. Thus, researchers are investigating persistent inflammation's effects on body and preventive measures for it. It is scientifically approved that geranium oil has the capability to enhance the effect of anti-inflammatory drugs. Geranium oil obstructs the inflammatory responses in the skin which aids the body to fight health issues.
Dementia averter
Geranium oil generates microglial cells that discharge pro-inflammatory agent that enables inflammation in sensory paths, preventing the development of neuro-degenerative ailments. Geranium oil performs reactions with the chemistry of the brain that helps to prevent alarming conditions like dementia, amnesia, Alzheimer's, etc. that lead to memory loss.
Effective painkiller
Geranium oil is very efficient in alleviating pain caused due to nerve disturbance arising through diabetes or several other ailments as in sclerosis and lupus. Compressed nerves cause unbearable pain which can be lessened by applying geranium oil on the skin and also the shingles caused due to herpes virus.
Uses of Geranium
Geranium oil provides comprehensive physical and emotional health benefits due its astringent, hemostatic, cicatrisant and diuretic properties. Though essential oils have been used since generations they are not regulated by the food and drug department. Geranium oil can be used to relieve stress, alleviate pain due to wounds and is also used for premenstrual problems, nausea, diarrhea, gall stones, etc.
Side-Effects & Allergies of Geranium
It is vital to keep in mind that only rose-scented geranium can be safely consumed and one should be thoroughly certain about the type ones using for herbal remedies. Also, one should consult a medical professional before adding Geranium oil to their diet. As it is hypo-allergic, it should be tested on an area before being used and must be diluted with carrier oils.
Cultivation of Geranium
Ancient Egyptians used geranium oil for treatment of cancerous medicine. Later on it become popular during the Victorian age in Europe. During this time freshly plucked geranium leaves were set on formal tables and geranium oil finger bowls were in trend. Though it originated in South Africa, now geranium can be found all around the world. The biggest producers of geranium oil today are Egypt and Russia.