About
Customer service is provided by a highly trained, professional staff who look after your comfort and care and are considerate of your time. Their focus is you.
...more
Customer service is provided by a highly trained, professional staff who look after your comfort and care and are considerate of your time. Their focus is you.
More about Umang Nursing Home
Umang Nursing Home is known for housing experienced Gynaecologists. Dr. Jyotsna Patel, a well-reputed Gynaecologist, practices in Mumbai. Visit this medical health centre for Gynaecologists recommended by 67 patients.
Timings
MON-SAT
08:30 AM - 10:30 AM
08:30 PM - 10:30 PM
Location
No.1/Lacreme CHS, Road No.7, Kondivitta, MIDC, Andheri East, Landmark : Near Akruti Trade Centre & Near Kalpesh Shop
Andheri East
Mumbai,
Maharashtra
-
400093

Get Directions
Photos (2)


Videos (3)
Doctor in Umang Nursing Home

MD - Obstetrics & Gynaecology, MBBS
Gynaecologist
Book appointment and get ₹125 LybrateCash (Lybrate Wallet) after your visit
₹300 online
08:30 AM - 10:30 AM
08:30 PM - 10:30 PM
Services
Submit Feedback
Submit a review for Umang Nursing Home
Your feedback matters!
Write a Review
Feed
One ailment that affects a large number of women all over the world is that of breast cysts. Breast cysts are essentially benign abscesses that grow on and around the mammary glands. These cysts primarily develop on account of hormonal changes and are often assumed to develop naturally along with the development of breasts. These cysts are generally filled with fluids which can be traced around the milk ducts.
Cysts are usually reported among women approaching menopause. While some cysts are of temporary kind, there may be others with a more prolonged run. Early diagnosis and prompt medication ensure that their growth gets arrested at the earliest. Although it is necessary to be vigilant about these eruptions, one need not fear any further exacerbation. Most cysts are harmless in nature and do not proceed to breast cancer. The symptoms as well as the causes of the latter are completely disparate.
However some classes of cysts are more threatening than the others. These mostly comprise suspended solid elements besides the regular fluid content. Some might even have thicker walls compared to the others. Accordingly, they are called complicated and complex cysts. In these cases, one must exercise caution and get them treated immediately. Some of the most popular remedies include drainage through needle aspiration.
On certain occasions, physicians also recommend biopsy. Wherein a different mode of treatment ensues. Other ways of tackling breast cysts are ultrasound guidance using local anesthesia. In most cases however, depending upon the traits of the cysts, physicians leave them unaltered. One might choose to remove them for cosmetic as well as comfort purposes. Women come to such decision because breast cysts prove to be painful during menstrual cycles and some might even resent its appearance.
One unavoidable repercussion of needle aspiration is that the cysts tend to come back periodically. Dealing with it then becomes a fairly tedious task. This has known to cause anxiety and depression in a lot of women. Counselling and support group can prove beneficial here. But, the most crucial factor in learning to deal with breast cysts would be generating more awareness with regard to the causes and effects of breast cysts.
3362
people found this helpful
Miscarriage is termed as the loss of the fetus in or before 20th week of pregnancy. Medically, miscarriage is known as spontaneous abortion though the word spontaneous is more of a keyword as it is not an abortion.
Symptoms of Miscarriage are weakness, back pain, fever, abdominal pain along with severe cramps and bleeding which starts from slow to heavy.
Common cause of miscarriage is when the fetus is known to have fatal genetic problems and these are not related with the mother. The other causes are:
- Infection, medical problems like thyroid and diabetes, immune system rejection, hormonal imbalance, abnormalities of the uterus, and physical problems of the mother.
If a woman is over 35 years of age, has thyroid and diabetes and has had an earlier miscarriage then that woman is at a high risk of getting a miscarriage.
Sometimes a miscarriage might take place due to the cervical insufficiency. This is due to the weak cervix, also known as the incomponent cervix, which is unable to hold the pregnancy. A miscarriage in this condition usually occurs in the second trimester. Though there are a very few symptoms in this but there might be a feeling of sudden pressure that the water is going to break and tissues from the placenta and fetus are released without any pain. This can however be treated by a stitch in the cervix at 12 weeks.
This stitch helps to hold the cervix until the full term is completed. If it is first pregnancy and cervical insufficiency is diagnosed then also a stitch can be applied thus resulting in full term and avoiding miscarriage.
- The doctor does a pelvic test, an ultrasound and blood tests to confirm a miscarriage
- Blood tests are done to analyze the pregnancy hormone hCG. This is monitored regularly if miscarriage is suspected
- Genetic tests, blood tests and medication are important in women who have a history of prior miscarriages
- Pelvic ultrasound and hysterosalpingogram are tests which are done when there are repeated miscarriages
- Test like hysteroscopy is also done. In this the doctor observes the inside of the uterus with a device which is thin and like a telescope. This is inserted in the vagina and cervix.
- If the cervix is dilated, then the woman might be diagnosed with an incompetent cervix and this can be corrected by cerclage - a procedure done to close the cervix.
- If the blood type of the pregnant woman is Rh negative, she is prescribed a blood product called Rh immune globulin (Rhogam). This prevents from forming antibodies which could turn to be harmful for the baby.
A woman's vagina makes discharge that's usually clear or slightly cloudy. In part, it's how the vagina cleans itself. It doesn't really have a smell or makes you itch. How much of it and exactly what it looks and feels like can vary during your menstrual cycle? At one point, you may have only a small amount of a very thin or watery discharge, and at another time of the month, it's thicker and there's more of it. That's all normal.
3164
people found this helpful
Fetal pole and fetal heart usually comes by 6 wks ,so you can wait and watch .for bleeding you need to see nearby gynaec.
1
person found this helpful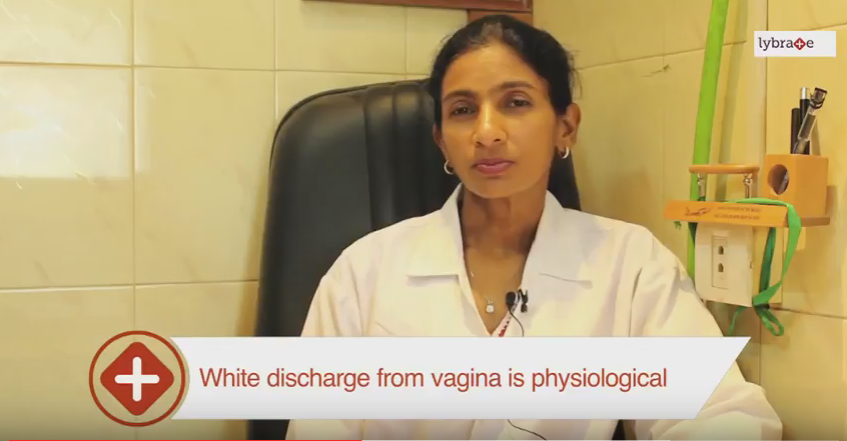 I am Dr Jyotsna Patel, Practising Gynaecology and obstetrics in Andheri East at Umang Maternity and surgical home. Today I am going to talk about the common problem that is white discharge which we encounter in women as far as the gynaecologist concern.
There are a lot of myths about white discharge. People say that it gives weakness, it makes you fat, it will make you thin, it will give you back ache. But all this is a wrong information. Like we have saliva in our mouth, in the similar way we have white discharge from the vagina which is physiological which is the mouth of the womb which is called cervix produces some discharge which is mucoid discharge. This is a normal white discharge, it is sticky, it is not foul smelling, and at some phases of the month, it can be little excessive. So it should not be considered abnormal.
What we call abnormal white discharge is when the white discharge is associated with itching, giving you lot of irritation down or a lot of redness down. That can be called as a vaginal infection. This could be a fungal infection and mixed infection for which you need to consult a gynaecologist.
Treatment- This white discharge is to be treated with anti-fungal infections and we have other antibiotics that we give to treat the vaginal infection.
Any other issues you have, you can contact me through Lybarte.com.
Thank you.
3739
people found this helpful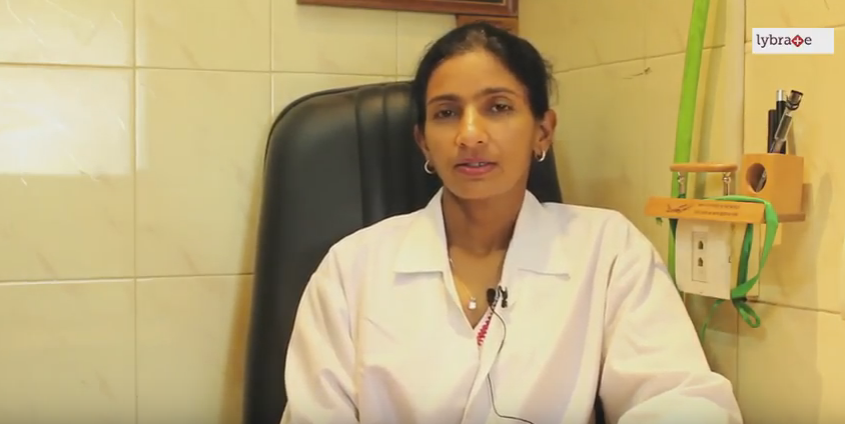 How to manage delayed Menstrual Cycle?
I'm Dr. Jyotsna Patel, practicing gynecologist and obstetretician at Uma Maternity and Surgical Nursing Home, Andheri East, Mumbai.
Today would like to talk on a topic which I encounter practically everyday in my practice that is young patient in the age group of 18-30yrs coming with the problem of delayed periods.
Now, delayed periods is something which bothers everybody. Again delayed period, first thing we need to rule out pregnancy. I've now encountered a lot of young girls, even unmarried girls who're now sexually active and they come with a history of delayed periods and they're very anxious and panicky. Now, once you've a delayed period first thing you need to see if you're sexually active is rule out pregnancy, and that thing can be done with either urine test or there are blood tests available for that. Once that has been ruled out then comes as to why the periods have been delayed and how often have you been getting this delayed periods.
If it's one of the random episode you're having then you need not bother, you just need to maintain a menstrual calender and see that how often your periods are delayed.
Now mind you in periods, plus or minus 8 days is considered normal. So 3-4 days of delay or 3-4 days of getting early period should not bother you. And once you're sure that the urine pregnancy test is negative and it is becoming a regular pattern that you're getting everytime 10 days delay, then 15 days delay then in that case you need to undergo some investigation or consult a gynecologist as to whta is the reason of delay, because most cmmon reason of delay is hormonal imbalance which we're finding very common because of the lifestyle changes that is happening- lot of stress, lots of junk food, then having obesity, this all is giving rise to hormonal imbalance causing the delayed periods as well as menstrual irregularities. So you'll need to undergo some hormonal tests specially thyroid tests, FHM, LH test and there are a lot of other hormones that you need to check and consult gynecologist. The second as I said, the first thing you need to do is rule out pregnancy, again if the pregnancy test is positive it's mandatory that you consult an obstetrician or gynecologist and don't try t get rid of the pregnancy, specially if you're not married by you know, listening to your friends, or going to quax out of fear.
For anything else you need to know about this you need to contact me on Librate.com .
3531
people found this helpful
Near By Clinics