Benefits of Shankhpushpi (Convolvulus Pluricaulis) And Its Side Effects
Shankhpushpi (Convolvulus Pluricaulis)
Shankhpushpi is a perennial plant that grows in the wilderness amongst the grass. The leaves are broad at the base and taper towards the tip. The flowers are white or dark pink in colour and are round in shape. The fruits are brown in colour and are small, oily and shiny. The whole plant is covered in small violet coloured hairs.
Nutritional Value of Shankhpushpi (Convolvulus Pluricaulis)
Shankhpushpi contains Carbohydrate- D glucose, maltose, ramnose and sucrose. Besides it is also rich in glacial acetic acid, sclopoetin, Kaemferol, Convoline and B-Sito Serol.
Health Benefits of Shankhpushpi (Convolvulus Pluricaulis)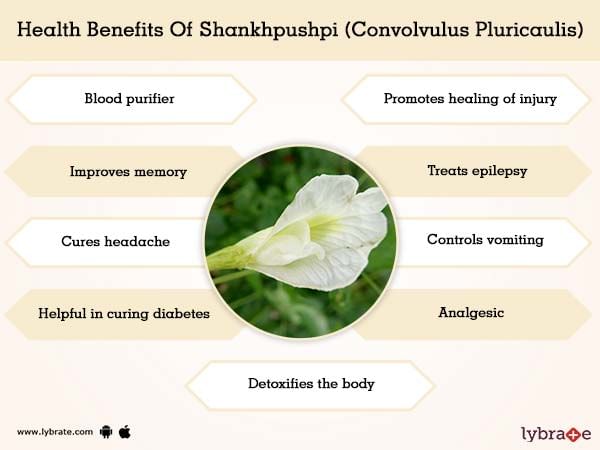 Mentioned below are the best health benefits of Shankhpushpi (Convolvulus Pluricaulis)
Improves memory
Consume 3-6 grams of Shankhpushpi powder with sugar and milk every morning to improve memory power. The power taken along with bach makes children intelligent, sharp and bright. It promotes overall intelligence.
Treats epilepsy
Shankhpushpi is beneficial to epilepsy patients. Consuming 2gms. of its juice with honey twice a day would provide relief to epileptic patients. Having Shankhpushpi with bach and penny wort cures epilepsy and anxiety disorders
Cures headache
In case of a headache, mix 1gm of Shankhpushpi powder with 250gms. of ajwain in warm water. Have it and headache will disappear within five minutes.
Controls vomiting
If you feel like puking, add 2 tablespoons of Shankhpushpi juice to honey and throw a pinch of pepper in it. Drink this repeatedly to control vomiting
Helpful in curing diabetes
Juice of Shankhpushpi can alleviate the weakness associated with diabetes. 2-4gms of its powder taken with cow milk treats diabetes
Analgesic
Shankhpushpi has analgesic properties. Its painkiller properties help in dealing with other painful diseases like arthritis, rheumatoid arthritis and osteoarthritis.
Induces sleep
Shankhpushpi induces sleep. Sleep is necessary for us to function properly. This herb fights sleeps disorders like insomia ad induces sleep.
Uses of Shankhpushpi (Convolvulus Pluricaulis)
Shankhpushpi is used purely for medicinal purposes especially for brain tonics
Side-Effects of Shankhpushpi (Convolvulus Pluricaulis)
Shankhpushpi is a natural product that has no side effects. In case of brain tonics, care must be taken to see that they are consumed in optimum amounts
Cultivation of Shankhpushpi (Convolvulus Pluricaulis)
It is generally found in North India and neighbouring countries like myanmar.