Green Tea
The popularity of green tea is very much in full swing, with the young, the not so young and pretty much everyone jumping aboard the green tea train.
It is a thrilling scenario to see green tea finally taking up lots of well-deserved place in our lives. Emerging from China, but enjoyed all over the world, this wonder leaf has captured all imaginations.
The love affair with green tea has grown with time and some of the most exquisite varieties of green tea are available in the market, which has enchanted our minds.
All credits to the impressive levels of polyphenols and friendly antioxidants for the unique health benefits. Green tea is no more monochromatic!
It's being blended into lattes, infused into chocolate, dusted onto cheesecakes and even mixed in bourbon & cocktails.
Types Of Green Tea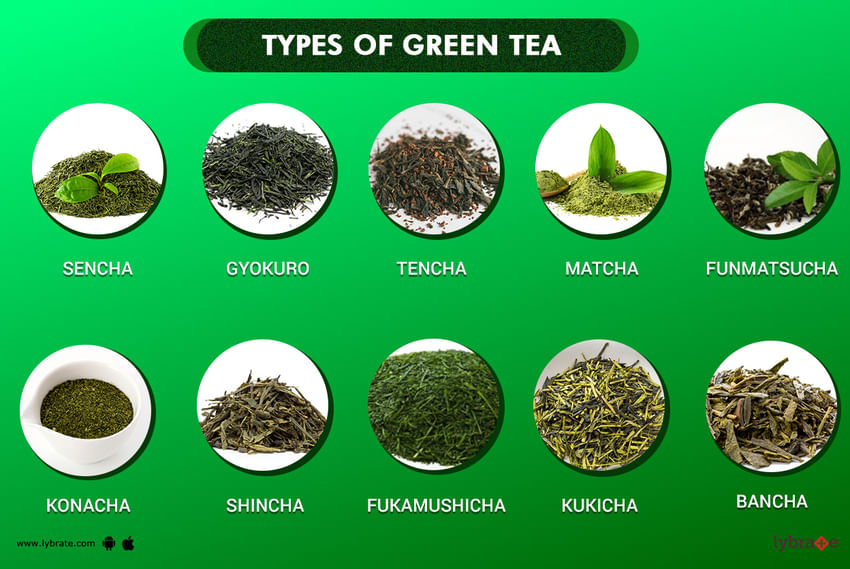 Green Tea is one of the most diverse tea groups out there-its farming has spread across different regions, creating different varieties and types of green tea. If you fancy dipping your toes into the world of green tea, these could just be your new favourite brew:
Sencha: Needled-like shape leaves, Intense flavour, top-notch quality, High content of Vitamin C
Gyokuro: Sweet flavour, Rich taste, Stimulates healthy skin & tissue growth
Tencha: High level of minerals & vitamins, Boosts metabolism, Rejuvenate the body
Matcha: Conventional green tea, Powdered form, Has medicinal attributes, Cleanses the body
Funmatsucha: Bitter flavour, Thick taste, High content of potential antioxidants, Fights against common cold & headaches
Konacha: Small bits of roasted leaves, Strong aroma, Robust flavour
Shincha: Best quality green tea, Bitter taste, Rich in amino acids, Soothes the stomach
Fukamushicha: A blend of various green tea leaves, Deeper colour, Light flavour, Rich taste
Kukicha: Made with twigs & stems, Yellow in colour, Light fragrance
Bancha: Bitter taste, High levels of fluoride, Effective against oral problems
Know More About: 6 Popular Green Tea Flavours Everyone Loves
Green Tea Nutrition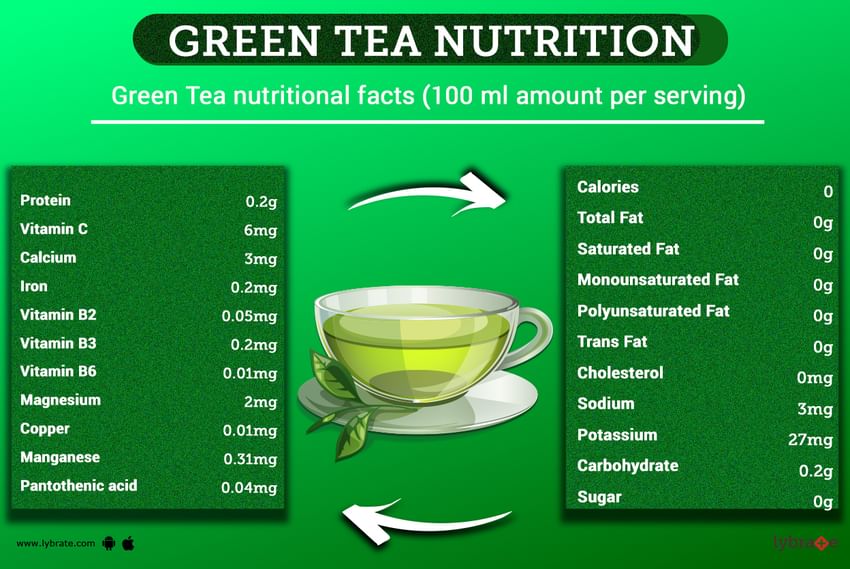 The nutritional composition of green tea is incredible!
The most vital of all ingredients are polyphenols (catechins), a powerful antioxidant.
Unsweetened brewed green tea is a zero-calorie drink. A relatively small trace of caffeine (approximately 30-50 milligrams per 8-ounce cup) is present in green tea.
The green brew has no amount of fats or sugar.
It is a rich source of several minerals & vitamins.
The amount of vitamin C (ascorbic acid) in green tea is comparable to that of a lemon.
Best Time To Drink Green Tea
Touted as the healthiest drink, Green tea is enjoyed worldwide for its astonishing health benefits. Perhaps surprisingly, timing matters when obtaining the benefits from green tea.
The drink has mind-sharpening ability and improves brain function. Hence, many individuals prefer having a cup of green tea right in the morning to enhance focus and alertness.
Green Tea confers benefits if consumed before working out. It can speed up the recovery process after an intense workout and reduces muscle damage at the same time.
Green tea should ideally be consumed in-between-meals to make use of the entire goodness it has! This implies, the best time to drink green tea is at least two hours before or two hours after the meal.
Drink green tea in the morning around 10:00 to 11:00 AM or early at night.
Know More About: 4 Best Times to Drink Green Tea
How Much Green Tea Should You Drink Per Day?
Anyone can be tempted into drinking more and more cups of green tea every day, with the whole buzz around this drink.
However, to intensify the health benefits, it is important to identify when to stop! After all, with all those powerful antioxidants green tea has, what if we run short of oxidants?
One can decide how much green tea is safe on the grounds of their age, health conditions and lifestyle. Studies reveal, for adults, 3 to 4 cups of green tea are adequate and should suffice.
Health Benefits Of Green Tea
Is green better for you than black? Can green tea help ward off disease? Well, yes it can! Loaded with many essential nutrients & antioxidants, green tea is a healthy drink that you can befriend this season.
Instead of opting for unhealthy sugary drinks, why not swap it with the wholesome green tea for a change? If you switch fizzy beverages for iced or hot green tea, you are ultimately cutting a huge number of calories from your diet.
Green tea keeps stress at bay and calms you down.
It gives our body a good daily dose of antioxidants to eliminate free radicals – the dreadful molecules that destroy our healthy cells.
Green tea has amazing detoxing power
It has an ability to reduce cholesterol & blood pressure.
Overall, the green brew has some excellent healing qualities. Below are the health benefits of green tea explained :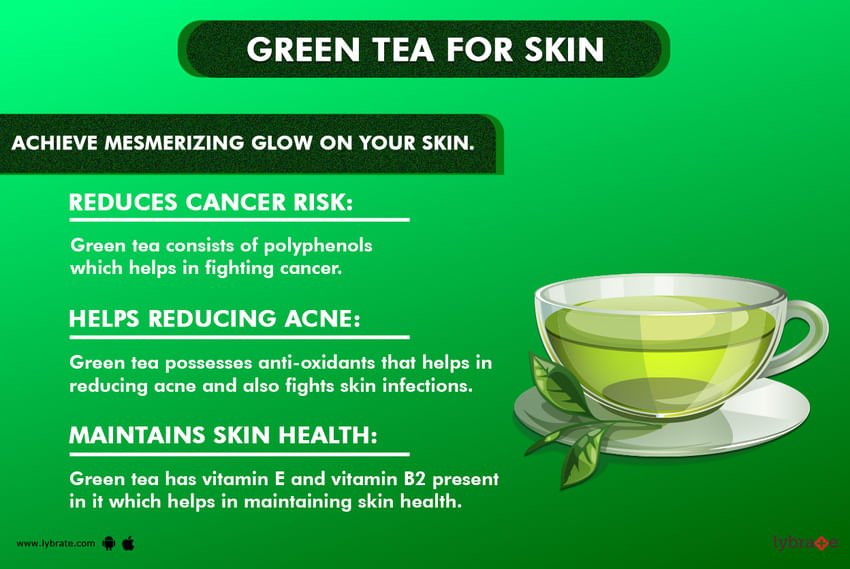 When it comes to skincare, green tea is a superstar! green tea for skin acts as a potent ingredient that combats signs of ageing. Drinking or applying green tea also fights skin cancer by limiting the damage caused by harmful UV rays.
Thanks to the high content of polyphenols, Green Tea is chock full of anti-inflammatory & anti-bacterial characteristics, meaning that it is a useful tool for fighting bacterial infection, acne & redness to maintain healthy skin.
Know More About: Green Tea for Skin Whitening
You probably know that consuming green tea is great for you, but do you know green tea for face is equally good and helps you achieve a healthy glow! The abundant amount of antioxidants present in green tea fights damage caused by removing impurities.
The secret lies in a little ingredient naturally present in green tea termed as tannin. It's an antibacterial agent that stops the growth of bacteria, fungi and viruses.
The next time you are finished sipping your green tea, apply the leftover tea bag right away to your face and rub gently in a circular motion.
Know More About: How to Use Green Teabag for Dark Circles?
Forget expensive skincare products, green tea is a secret to clearer skin! It is an alleged acne-buster that helps against clogged pores, excess oil production and free radicals- all enemies of clear skin.
Green tea contains substances that are known to fight these problems, including flavonoids, caffeine, and polyphenols. It also has some antibacterial properties, thanks to the polyphenols coupled with green tea's antioxidant power.
You can't soak up all the benefits just from a teabag. You can use green tea for acne in a variety of forms including extract, dietary supplements and topical treatments.
There are primarily two ways to use green tea for acne: systemically and topically. So, you can either drink it up or slather green tea on the skin directly.
Know More About: Green Tea Benefits for Acne
While including green tea for hair care regime is still uncharted for many, it's benefits cannot be overlooked. When it comes to strengthening your hair, green tea holds potent benefits.
It maintains the balance of natural oil production in the scalp and stimulates new hair growth. We all desire to have shiny & glossy hair and spend a lot of money on it. However, only a few of us realize, what we consume plays a key role in managing the health of our hair.
Green tea is one such beverage that prevents hair loss because of its growth-promoting properties. Apart from consuming it regularly, you can also spray the tea rinse all over your hair, from root to tip!
This is a super-easy way to nourish, protect and fortify your hair. You can even mix it with aloe vera, coconut oil or any other ingredient of your choice to prepare a nice hair mask.
Know More About: Benefits of Applying Green Tea for Hair Growth
When it comes to sipping tea for diabetes, Green tea is a clear winner! This super drink is loaded with substances that can beat diabetes and help control blood sugar levels.
Peach green tea extract is especially beneficial for diabetes associated with obesity. When coupled with a healthy lifestyle, green tea for diabetes patients is a promising natural remedy to balance their blood sugar levels.
Know More About: Green Tea Benefits for Diabetes
There's no harm in enjoying a cup or two of Green Tea During Pregnancy. However, consuming green tea in excess may prevent the absorption of Folic acid.
Folic acid is an important nutrient needed by women particularly during the first 12 weeks of the pregnancy to prevent birth-related defects.
Green tea also has a little amount of caffeine that might raise the heart rate & blood pressure. It might all be ok at first, but as the pregnancy progresses, your body's capacity to break down caffeine slows down. This can cause trouble to sleep, make you feel jittery or experience heartburn.
Menstrual cramps and premenstrual syndrome is a real drag and super painful for women to deal with! Luckily, you can overcome and fight back symptoms associated with menstruation by following a healthy diet regime.
If you're in a mood to sip a hot drink, try green tea during periods, instead of reaching out to your traditional coffee! Green tea promotes blood flow and soothes menstrual cramps.
On top of that, the green brew is packed with friendly antioxidants that might help to keep you hydrated.
Know More About: Can We Drink Green Tea During Periods?
Green tea is definitely a secret behind small waistlines! A lot of people swear by a hot cup of green tea for weight loss alongside a healthy diet and exercise routine.
The obesity epidemic is not new. From flooding your body with antioxidants to soothing your digestive system, green tea definitely aid in weight loss!
You can take the responsibility of your lifestyle choices and can switch to green tea to keep a check on extra calories. So, incorporate green brew in your diet and accelerate the weight loss process.
Know More About: Best Green Tea for Weight Loss
Go green for healthy teeth and gums! While green tea gets most of the attention for its benefits to skin and hair, it is gradually gaining newfound popularity-oral care. It contributes to oral health by improving the pH levels in the mouth.
Research confirmed that those who drink green tea for oral health care have superior periodontal health and remain protected from cavities and tooth decay.
Green tea helps fight plaque by breaking down the bacteria and lowering the acidity of saliva. It is a useful tool for a healthy smile!
Know More About: Green Tea for Healthy Gums
Green tea does not undergo a lot of processing and hence retains a ton of its nutrients. It is rich in substances termed polyphenols that are known for their anticancer activity.
Studies reveal that polyphenols interfere with the process of cell multiplication and destroy tumour cells. Green tea is also packed full of flavonoids that prevent cancer and rejuvenates damaged cells.
Common cold and cough is a common problem in winters. Drinking a warm cup of green tea is an excellent home remedy to combat cough. It can help to soothe a sore throat and at the same time, loosen up the mucus.
You can also combine honey with green tea to enhance the taste. The antibacterial nature of honey assists antioxidant-rich green tea to provide relief from throat infection and flu.
Side Effects Of Green Tea
Green tea is a health elixir that has taken the world by storm. While consuming green tea is thought to be innoxious, there are a few side effects that might show up.
Most of these side effects occur when green tea is consumed in excess amount. The key compound in green tea that generates adverse reactions is caffeine.
It's essential to understand that most of these side effects can be avoided by consuming green tea in moderate amount.
Few side effects from excessive consumption of green tea are:
Anxiety
Stomach problems
Sleeplessness
Anaemia
Vomiting
Dizziness
Bleeding disorders
Liver problem
Irregular heartbeat
Headaches
Best Green Tea Brands
Sipping the green goodness can be a salutary part of the modern lifestyle. Many claims they don't like the flavour of green tea, however, this is because they're purchasing the mediocre quality or probably brewing it inaccurately.
Mass-produced green tea bags leave you with a bitter aftertaste, however, a good quality green tea is sweet, tantalizing and light.
So, carefully pick the top-notch green tea from the best green tea brands to enjoy the most incredible green tea experiences. Welcome to the world where green really is the new black!
Know More About: Top 10 Best Green Tea Brands In India For Good Health