Benefits of Lodhra And Its Side Effects
Lodhra serves for several health benefits, such as; cures acne, blemishes, white and black heads; Beneficial in gynaecological or female disorders, Cures eye disorders, Cures dental problems, Treat Ulcers, Heals wound, Stop haemorrhage, Reduces heaviness in the body.
Lodhra
Lodhra is a very important Ayurvedic herb. It is an evergreen medium sized tree. Its. Leaves are 3 to 4 inches in length, circular or oval shaped, leaf stalk is small and it is velvety to touch. Its Flowers are cream coloured, small in size and are mostly found in clusters.
Flowering generally occurs in the month of November and continues till the month of February. The fruits of Lodhra are Purple blackish in colour and are about 1.5 inches long, leathery, and contains 1 to 3 seeds. .Bark is light brown in colour.
Nutritional Value of Lodhra
Lodhra contains alkaloids namely, Loturine – 0.25%, Colloturine – 0.02%, Loturidine – 0.06% along with glycosides.
Health Benefits of Lodhra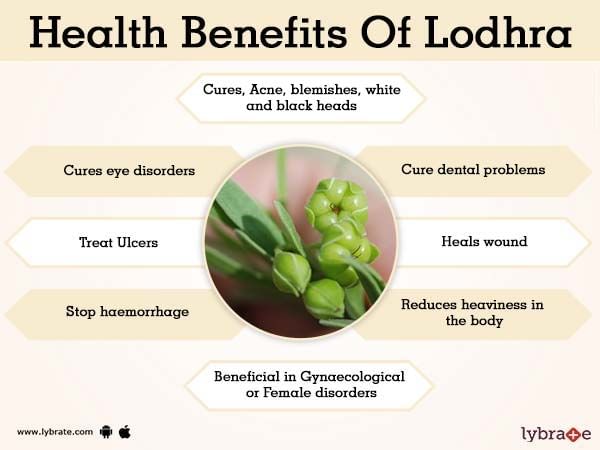 Mentioned below are the best health benefits of Lodhra
Cures, Acne, blemishes, white and black heads
In acne, paste of lodhra and sphatika should be applied. In pimples, paste of lodhra, dhanyaka and vaca is useful. Being an astringent, it can clear the face of blemishes, black and white heads. It can also dry up the acne quickly.
Lodhra offers several benefits in the case of Gynaecological or female disorders. These are-
Lodhra helps to check out progesterone, and estrogen levels in the post and pre-menopausal phases.
Lodhra regulates FSH and LH thus supporting pubertal maturation and other reproductive processes of the body.
It is also very helpful in normalizing Menorrhagia.
Lodhra also aids the activation of ovulation and the development of Corpus leuteum.
Lodhra bark significantly alleviates the symptoms of PCOS by decreasing testosterone levels.
Lodhra shows anti-androgenic effects by preventing ovarian cell dysfunction in PCOS.
Lodhra regulates the menstrual cycle by maintaining the ratio between progesterone and estrogen.
Lodhra helps to treat the inflammation of the uterus and improves fertility too.
Phytoestrogens are one of the contents of Lodhra which ameliorates mild to moderate pre and post-menstrual depression by acting on the serotonergic systems
Using it in various recipies lodhra benefits for eyes in many ways
White lodhra and Madhuka fried in ghee, powdered finely and softened with breast milk and applied, alleviates conjuctivitis caused by pitta and rakta.
White lodhra fried in ghee and powdered finely is kept in a cloth pouch and mixed with hot water. Seka with this water removes pain.
Aschyotana with lodhra fried in ghee and mixed with rocksalt, pounded with sour gruel and kept in cloth piece – removes itching, burning and pain.
Aschyotana with putapakwa lodhra wrapped in nimba leaves and mixed with woman's milk allievates netrarogas due to pitta, rakta and vata.
The anti-bacterial property of lodhra helps to cure oral problems. To cure it, after bloodletting paste of lodhra, musta and rasanjana mixed with honey should be applied.
Anti-ulcer property of lodhra protects against ulcers.Powder of dhataki and lodhra promotes wound healing. Lodhra, nyagrodha bud, khadira, triphala and ghrta made into a paste provides looseness and softens the wounds. Application of fine powder of lodhratwak promotes wound healing.
Powdered formation of the bark lodhra is used to heal wounds. Lodhra actually lowers the PH of the body; due to which inflammation process is fasten which gradually leads to increased wound healing process.
Lodhra is used in epistaxis (raktpitta ), the people who have high pitta generally experiences nose bleeding, the absorbing quality of lodhra helps in thickening of blood to stop haemorrhaging (bleeding).
Reduces heaviness in the body
Lodhra is Grahi ( absorption enhancing) Sheeta ( cooling ) and Laghu ( light ) which itself is a unique combination, which makes it very useful in reducing inflammation and heaviness in the body.
Uses of Lodhra
According to Ayurvedic texts the main indication of lodhra is to maintain the pitta (Agni) and the kapha (phelgum) in the body. Lodhra contains khashay ras (Astringent) due to this it's formulations made from the bark are generally used to soothe the pitta and its ill effects in our body. The bark and leaves of lodhra are used in dyeing. Yellow dye is extracted from the bark and leaves.
Allergies and Side Effects & of Lodhra
Lodhra has direct effect on female hormones .It decreases testosterone and cholesterol levels and increases estrogen and progesterone levels. It is not suitable for males for long term use as it has anti-androgen effect and reduces male sex hormones such as testosterone.
Lodhra is not recommended to take on empty stomach as it can cause abdominal heaviness, nausea & constipation in individuals prone to gastrointestinal upsets.
Cultivation of Lodhra
Lodhra is generally found in Nagpur, Manipur, Burma, Assam and Pegu regions of India. It can grow in full sun or shade and can tolerate dry soil.
How to use Lodhra
Lodhra can be used in many ways, such as-
Capsules, powder, or root extracts are to be applied topically after mixing with ghee or water
The powdered bark of Lodhra is used to prepare vaginal wash after the decoction
Lodhra root powder is mixed with water to form a paste
Compress is produced from Lodhra powder
The eyewash can be prepared by mixing hot water in Lodhra powder, etc
People can use Lodhra in any of the above-stated forms according to their needs.