About
About Us Fortis Hospital, Noida is a premier state-of-the-art facility with over 200 beds including 7 operation theatres. The hospital is positioned as a Centre of Excellence in oncolo...
...more
About Us Fortis Hospital, Noida is a premier state-of-the-art facility with over 200 beds including 7 operation theatres. The hospital is positioned as a Centre of Excellence in oncology, orthopaedics, neuroscience, liver transplant, kidney transplant, and with a key focus on cardiac sciences and emergency trauma care services. The hospital is the only corporate facility in Uttar Pradesh that covers an entire array of specialities from diagnostics to organ transplant (kidney & liver). The second mega hub hospital, in the Fortis Healthcare group, it caters to the special needs of patients and their families. The hospital has been designed and developed to deliver patient care with maximum ease, warmth and effectiveness. Since it began operations in 2004, the hospital has become the prime tertiary healthcare Centre in the city. It addresses a wide range of healthcare needs and prides itself in performing many first procedures in India and U.P. The Cardiac Centre for Excellence at Fortis Hospital, Noida has carved a name for itself in the medical fraternity. The hospital is known for its high standards in excellence and cardiology and cardiac surgery amongst others. A professional and highly experienced team of cardiologists, duly supported by the latest medical technology makes it possible to offer patients the best possible medical attention. The hospital has also emerged as one of the leading referral Centre for renal science across the country. It is equipped with a spacious state-of-the-art dialysis unit that minimises the risk of infection to ensure a safer dialysis process for our patients. It offers comprehensive and superior cardiac care to the patients. Commitment toward the patient welfare and to providing quality healthcare is reflected in the unique design attributes of the hospital. The NABH accredited hospital has an allocation space that exceeds the current Indian norm of 800-900 sq.ft/bed. This allows for better flexibility to adapt and accommodate future requirements of patient care. Hospital's approach is based on patient centricity, state-of-the-art emergency response, integrity, teamwork, ownership and innovation, combines compassionate patient care with clinical excellence, to achieve a single-minded objective-- "Saving and Enriching lives." Close PATIENT CARE & SERVICES Admission Process
Timings
Location
B - 22, Sector 62, Gautam Buddh Nagar
Sector-6
Noida,
Uttar Pradesh
-
201301

Get Directions
Photos (4)




Videos (3)
Amenities
Pharmacy
Parking
Credit Card
Online Appointments
Diagnostic Lab Service
Reception
Cafeteria
Waiting Lounge
Ac Rooms
Travel Desk
Radiology
Ambulance
Emergency Service
Specialities
General Surgery
Offers extensive care to patients suffering from abdomen related medical issues
Cardiology
Aims to provide effective diagnosis and treatment related to cardiac and circulatory problems
Neurology
Offers specialized healthcare to patients suffering from disorders of the nervous system
Orthopaedics
Concentrates on efficient treatment of injuries and problems of the musculoskeletal system
Rheumatology
Offers specialized healthcare in the treatment for arthritis and rheumatism
Urology
Offers cumulative treatment of problems of the Urinary tract and male reproductive organs
Oncology
Offers high quality care to patients with tumours, especially those that are cancerous
Hematology
Offers qualitative care to patients suffering from blood related disorders
General Physician
Aims to provide best quality care to patients with acute and chronic problems
Ear-Nose-Throat (ENT)
Aims to offer special care to patients with conditions related to the ear, nose and throat
Cosmetic/Plastic Surgery
Offers various surgical and non-surgical procedures to patients willing to enhance their appearance
Gastroenterology
Offers qualitative care to patients suffering from stomach and intestine problems
Internal Medicine
Deals with the careful understanding and treatment of adult diseases
Bariatrics
Determines causes and offers quality treatment for obesity, including measures of prevention
Network Hospital
Patient Review Highlights
"Professional"
2 reviews
"Practical"
1 review
"knowledgeable"
8 reviews
"Caring"
2 reviews
"Very helpful"
3 reviews
Reviews
Bhanumati
Apr 3, 2017
He is very talented and seasoned doctor. Fortis Hospital Noida has all the latest technology in place to handle severe cases. I am so much benefitted with his treatment, that i am perfectly fine now. All of sudden I developed this gallstones and didn't know what to do. I searched this Nitin Jha online and saw his reviews. In order to diagnose my problem completely he asked me a number of questions. The staff was very attentive to my needs.
Bhawna Arora
Jan 9, 2018
Dr. Arvind Jain is a great doctor. Talking to him makes you feel extremely comfortable and your problem seems smaller. He is super confident of what he does even though the patient may be scared of small issues pre or post surgery. We consulted him for my husband's finger crush injury and it has been a smooth journey so far. The support staff at Eternity hospital is also good and caring. We give them as a team 10 out of 10.
Janarththanan
May 8, 2017
Due to my hernia i was feeling very depressed and had no hope. I was suffering from hernia, but the symptoms were not very visible. From quite some time i was suffering from pain, but never gave much importance to it. I stareted feeling pain then I chose to consult Dr Nitin Jha. On the very first day he identified my problem and started the treatment which benefitted me alot.
Geetika
Mar 20, 2017
I am really grateful as Dr Nitin's hemorrhoids treatment has give me a ray of hope. I never get sick, but then last year i started developing these symptoms. I was shocked to experience the symptoms of hemorrhoids. Many people gave very positive feedback for thisdoctor. He is quite knowledgeable doctor. With the help of his treatment , I am feeling so great.
Arjit
May 8, 2017
My father developed an overnight chest pain, we doubting it for a heart attack took him to the nearest hospital ie Fortis Hospital in Noida sec 62. There he was treated by Dr Nitin jha and it turned out to be a case of acidity.Doctor nitin is experienced, responsible, knowledgeable and concerned doctor. thanks to him for being calm and composed.
Ghanashyam
Jun 15, 2017
I used to suffer from night cramps which became a bad dream for me. I could not sleep properly. I consulted Dr Nitin Jha who is a well known doctor in Noida. He treated my cramping issue. Though it took time for getting completely cured but I am absolutely fine now. I am gkad that I visited him for the treatment.
Devarsh
Mar 19, 2017
I was diagnosed with the problem of Anal Fissure. I went to dr Nitin Jha at Fortis Hospital in Noida for my treatment. In the very first sitting, he clearly told us the problem and the what the treatment procedure will be in future.I am so much benefitted with his treatment, that i am perfectly fine now.
Vishesh Ahlawat
Dec 12, 2017
He is very kind very supportive he elaborates your problem and tell you exact problem.He never misguided me .He is very polite very gentle and one of the bestest doctor out there
Nitu Phukan
Jul 12, 2016
Dr.Arvind Jain Ji good morning. Ur as like as God for me. You save my life so many times. SO I love you and respect you for ever until my last breath Nit Phukan Assam
Ajay
Jun 15, 2018
Dr. Ajay is lack of knowledge.. not recommending to anyone.. He unable to answers of patient ..
Amit Sing
Oct 10, 2018
Though he is very experienced surgeon, but for fistula treatment I won't recommend him.
Verified
Jul 24, 2018
She is humble and listen carefully.
Verified
Oct 1, 2018
Well very much satisfied
Verified
Sep 14, 2017
Nice & friendly doctors
Rasham
Aug 22, 2018
Excellent doctor
Verified
Mar 27, 2018
Good Experience
Verified
Jan 11, 2017
Good experience
Verified
Dec 13, 2017
Excellent
C P Malik
Apr 26, 2018
Excellent
S R Bist
Sep 18, 2016
Excellent
Mala
Aug 8, 2018
Very nice
Pooja Mittal
Nov 20, 2018
Great
Feed
Shared 3 weeks ago • Featured Tip
A stinging pain in the neck that makes you feel broken from the neck joint could be a reason to worry. It is often accompanied by an aching head or a throbbing shoulder joint. Neck pain, such as this occurs due to an injury in the area resulting from sudden back and forth movement of the neck. It is referred to as whiplash as the nature of the pain and subsequent discomfort resembles the snapping of a whip. The pain is more like a sprain, but not exactly so. This can affect athletes or even any person in general who has faced an accident in recent past. Whiplash is characterized by a tearing of ligaments and tendons that connect one bone to another.
1. Sports that involve contact- Any extracurricular activity involving collisions or other forms of physical contact can cause neck injuries. Football and rugby players frequently suffer from Whiplash.
2. Road accidents- Public transport has a host of disadvantages. Reckless driving can make the tendons of your neck tear. Auto accidents cause immense strain on your neck; it can also lead to Whiplash.
3. Any kind of physical abuse- If you have gotten into a violent fight with someone your neck could suffer from a Whiplash. Instances of physical abuse where the neck is jerked or punched at can also result in neck strains. Domestic violence often leads to instances of neck strains.
Symptoms related to this condition:
1. You may or may not suffer from tinnitus. Tinnitus is a physical disorder where you hear ringing sounds. It is quite distracting.
2. Your vision might get blurry.
3. You can experience irregular sleep patterns.
4. You can find it hard to concentrate on any one thing for more than a while.
5. You can grow irritable at the drop of a hat.
6. Your memory may fail you. You might find it next to impossible to trace back a day's activity.
Some of the other direct symptoms are:
1. Your neck might turn stiff preventing you from moving it left, right, up or down.
2. Pangs of pain can be felt in and around your shoulders.
3. Your upper arms can grow numb and tender.
4. Your head can spin repeatedly or you could feel dizzy.
5. Whiplash can also result in serious fatigue.
4968
people found this helpful
Shared 1 month ago • Featured Tip
Metabolic Bone Disease is a term used for various conditions of the bones that can be caused by a number of different disorders. Most of these disorders are developed due to nutritional deficiencies, defects in the bone metabolism procedure or due to hereditary defects in the skeletal structure. Conditions that fall under the category are osteoporosis, osteomalacia, rickets, Paget's disease, parathyroid conditions, chemotherapy induced bone loss and menopause induced bone loss.
Causes of Metabolic Bone Diseases:
Imbalance in the level of calcium : Too much calcium or too little calcium can cause bone diseases. While the overabundance of calcium (hypercalcemia) in the body will lead to calculi formation, which can be harmful for the body, the lack of calcium (hypocalcemia) causes weakness, bone pain and restricted growth.
Deficiency of phosphorus: Low phosphorus in blood (hypophosphatemia) leads to softening of the bone tissue and bone loss. Osteomalacia is commonly caused by phosphorus deficiencies.
Deficiency of Vitamin D: Vitamin D is essential for the body to absorb calcium. Cells called osteoblasts need vitamin D in order to absorb calcium and secrete the bone tissue proteins. A deficiency of vitamin D can lead to a number of metabolic bone diseases like rickets and osteoporosis.
Over or under secretion of the parathyroid hormone:The parathyroid hormone (PTH) stimulates the secretion of an enzyme, which converts the inactive circulatory form of vitamin D into its active usable form. The hormone can also increase the circulation of free or ionized calcium (Ca2+), which is not attached to proteins. Both underproduction and overproduction of the hormone causes skeletal problems.
Symptoms of Metabolic Bone Diseases:
The symptoms of most of the Metabolic Bone Diseases are similar, such as
A dull, throbbing pain in the bones is the most common symptom. The pain is frequent and lasts for a long amount of time, but unlike muscular pain, the exact region of bone pain cannot be specified.
Severe joint pains accompanied by stiffness and swelling of the joints. The patient experience pain during regular physical activities, especially during cold weather conditions.
Frequent fractures are caused by most bone diseases because the bone mineral density decreases drastically. Severe bone injury may be caused by mild trauma.
Defects in the bones can cause bowed out legs and a bent backbone.
A general feeling of exhaustion is often caused by bone diseases.
Kidney stones are an associated complication of metabolic bone diseases.
4603
people found this helpful
Shared 1 month ago • Featured Tip
Muscle contusion is a condition that is characterized by bruising in the muscles. It generally tends to occur in athletes who play a lot of contact sports. Repetitive blows in any part of the body may cause damage to the underlying muscle tissues. These blows may lead to internal bleeding, resulting in blood clot formation. The most common site where it occurs are the quadriceps.
The various causes of this condition are:
Direct repetitive blows to a part of the muscle in contact sports such as football
If you fall on a hard surface
It may also occur if the muscle comes in contact real hard with sports equipment like soccer balls
The symptoms of a muscle contusion are:
You may experience swelling of the muscle
Excessive pain
Decrease in range of motion in the concerned body part
It may lead to leaking of blood vessels
You may also experience hematoma where a lump is formed over the affected spot
Symptoms of broken bones, dislocations and fractures may also occur
Complications: This disorder may also lead to various complications such as compartment syndrome, which leads to compression of blood vessels resulting in pain.
Treatment: The basic treatment for this condition is the RICE protocol which is rest, ice, compression and elevation. You should rest the muscle, then apply ice to the affected area to reduce the pain. You can also take NSAIDs (non steroidal anti-inflammatory drugs) to reduce the pain. In severe cases, the doctor may drain the lump surgically.
It is advisable to not return to your normal sports routine in order to allow the muscle to recover. If you carry on with your regular routine, it may result in further complications like the formation of scar tissue. You may undergo various stretching exercises to relieve the pain and make a gradual return to your normal sporting activities.
4396
people found this helpful
Shared 2 months ago • Featured Tip
Your shoulder is one of the most overused joints in the body and thus is at a higher risk of contracting an injury. Shoulder pain may lead to mobility issues where moving your arms may become extremely difficult. The shoulder consists of three parts, viz. the shoulder blade, collarbone and the upper arm bone. Shoulder pain may result from an injury to any of these areas.
The various causes of shoulder pain are:
Impingement: Impingement of the shoulder muscle occurs when the top of the shoulder impinges on the rotator cuff muscles. This condition can lead to severe pain in the shoulder.
Bursitis: Bursa is a fluid filled sac that cushions the bones and help in preventing friction. Bursitis is a disorder that results in inflammation of the bursa, thus resulting in shoulder pain.
Tendinitis: Tendinitis is a condition that is characterized by gradual wear and tear of the tendon. Usually the rotator cuff tendons in the shoulder are affected by this condition.
Instability of the shoulder: Shoulder instability is a disorder of the shoulder wherein the upper arm bone dislocates from its socket. This can cause excessive pain in the shoulder.
Fractures: A fracture in the bones of the shoulder results in excruciating shoulder pain.
Arthritis: Arthritis is a disorder that leads to inflammation in the joints, thus resulting in pain and impaired movement of the joint.
Treatment
The treatment for shoulder pain consists of medications and physiotherapy. You may also be asked to discontinue any strenuous activity that requires shoulder movement. Medications such as NSAIDs are prescribed to help in controlling the pain. Various stretches of the shoulder are also recommended to improve shoulder flexibility and mobility.
Tips
Do exercises such as the overhead press with light weights to improve your shoulder strength. Also make sure to include certain external rotation exercises to strengthen the rotator cuff muscles.
4292
people found this helpful
Shared 2 months ago • Featured Tip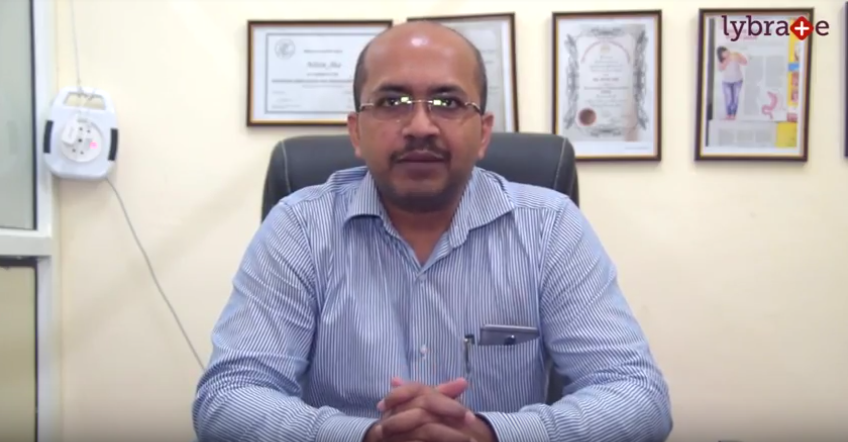 Acidity occurs when the gastric glands produce a large amount of acid, more than what is needed for the digestion process. Few common symptoms include - difficulty in swallowing,indigestion,restlessness and so on. There are few simple changes that we can make in our daily living in order to avoid such problems.
2952
people found this helpful
Shared 2 months ago • Featured Tip
What is Osteoporosis?
Osteoporosis is a disease concerning the bones. Decreased strength of the bones poses a risk for them to break. Osteoporosis is very common among older people, whose bones become brittle with age. The most common bones affected by this disease include the backbone, forearm bones and the hip bone. There are no such symptoms until a broken bone occurs. The bones weaken to such an extent that a break may happen in case of very minor stress. Usually, a broken bone is followed by chronic pain and the disability to perform daily activities. Surveys show that 15% of white people in their 50s and 70% of white people in their 80s are affected by osteoporosis.
What are the common causes and symptoms of osteoporosis?
- May occur due to the lowering of the "peak bone mass index".
- In women, bone loss increases after menopause stage due to lowering down of estrogen level.
- Also occurs because of another disease or previous treatments. This includes alcoholism, surgical ovary removal, hyperthyroidism, anorexia or any form of kidney disorder.
- Anti-seizure medicines, chemotherapy, selective serotonin reuptake inhibitors and taking of performance-enhancing drugs like steroid increase the bone loss rate.
- Lack of regular exercise may lead to osteoporosis.
- Osteoporosis is defined as a "bone density of 2.5 standard deviations below than that of a young adult".
- Osteoporosis is hereditary in nature. People having a family history of osteoporosis are at a high risk of getting the disease.
- More than thirty genes are linked with osteoporosis development.
- If you have had a fracture before, you are at a risk of a repeat.
- Early menopause in women is also responsible for osteoporosis.
- People with a small structure and body build are at a risk of getting osteoporosis.
- Protein and vitamin deficiency makes your bones weak and makes you vulnerable to osteoporosis.
- Phosphoric acid present in soft drinks is another threat, which may cause the disease.
- People suffering from malnutrition are likely to get osteoporosis.
- Over replacement of L-Thyroxine may lead to osteoporosis.
- Use of heparin and warfarin for a long time decreases the bone density.
How can Osteoporosis be prevented?
The best way to avoid getting osteoporosis in the future is to maintain a preventive lifestyle.
- Exercise regularly.
- Indulge in natural calcium sources.
- Maintain intake of Vitamin D and Vitamin K.
- Do not smoke and consume alcohol.
- Don't undertake stressful physical activities.
- Go for regular health checkups.
- Stay fit and stay away from obesity.
4429
people found this helpful
View All Feed