About
About Us Fortis Hospital, Noida is a premier state-of-the-art facility with over 200 beds including 7 operation theatres. The hospital is positioned as a Centre of Excellence in oncolo...
...more
About Us Fortis Hospital, Noida is a premier state-of-the-art facility with over 200 beds including 7 operation theatres. The hospital is positioned as a Centre of Excellence in oncology, orthopaedics, neuroscience, liver transplant, kidney transplant, and with a key focus on cardiac sciences and emergency trauma care services. The hospital is the only corporate facility in Uttar Pradesh that covers an entire array of specialities from diagnostics to organ transplant (kidney & liver). The second mega hub hospital, in the Fortis Healthcare group, it caters to the special needs of patients and their families. The hospital has been designed and developed to deliver patient care with maximum ease, warmth and effectiveness. Since it began operations in 2004, the hospital has become the prime tertiary healthcare Centre in the city. It addresses a wide range of healthcare needs and prides itself in performing many first procedures in India and U.P. The Cardiac Centre for Excellence at Fortis Hospital, Noida has carved a name for itself in the medical fraternity. The hospital is known for its high standards in excellence and cardiology and cardiac surgery amongst others. A professional and highly experienced team of cardiologists, duly supported by the latest medical technology makes it possible to offer patients the best possible medical attention. The hospital has also emerged as one of the leading referral Centre for renal science across the country. It is equipped with a spacious state-of-the-art dialysis unit that minimises the risk of infection to ensure a safer dialysis process for our patients. It offers comprehensive and superior cardiac care to the patients. Commitment toward the patient welfare and to providing quality healthcare is reflected in the unique design attributes of the hospital. The NABH accredited hospital has an allocation space that exceeds the current Indian norm of 800-900 sq.ft/bed. This allows for better flexibility to adapt and accommodate future requirements of patient care. Hospital's approach is based on patient centricity, state-of-the-art emergency response, integrity, teamwork, ownership and innovation, combines compassionate patient care with clinical excellence, to achieve a single-minded objective-- "Saving and Enriching lives." Close PATIENT CARE & SERVICES Admission Process
Timings
Location
B - 22, Sector 62, Gautam Buddh Nagar
Sector-6
Noida,
Uttar Pradesh
-
201301

Get Directions
Photos (4)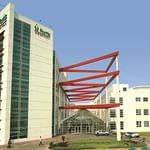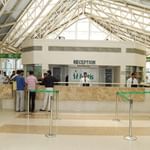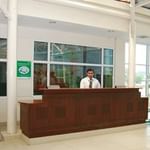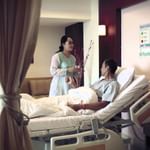 Videos (4)
View All Videos
Amenities
Pharmacy
Parking
Credit Card
Online Appointments
Diagnostic Lab Service
Reception
Cafeteria
Waiting Lounge
Ac Rooms
Travel Desk
Radiology
Ambulance
Emergency Service
Specialities
General Surgery
Offers extensive care to patients suffering from abdomen related medical issues
Cardiology
Aims to provide effective diagnosis and treatment related to cardiac and circulatory problems
Neurology
Offers specialized healthcare to patients suffering from disorders of the nervous system
Orthopaedics
Concentrates on efficient treatment of injuries and problems of the musculoskeletal system
Rheumatology
Offers specialized healthcare in the treatment for arthritis and rheumatism
Urology
Offers cumulative treatment of problems of the Urinary tract and male reproductive organs
Oncology
Offers high quality care to patients with tumours, especially those that are cancerous
Hematology
Offers qualitative care to patients suffering from blood related disorders
Pulmonology
Offers specialized care in the treatment of pulmonary diseases and conditions
General Physician
Aims to provide best quality care to patients with acute and chronic problems
Ear-Nose-Throat (ENT)
Aims to offer special care to patients with conditions related to the ear, nose and throat
Cosmetic/Plastic Surgery
Offers various surgical and non-surgical procedures to patients willing to enhance their appearance
Gastroenterology
Offers qualitative care to patients suffering from stomach and intestine problems
Internal Medicine
Deals with the careful understanding and treatment of adult diseases
Gynaecology
A branch of medicine reserved especially for treating female conditions of the reproductive system
Bariatrics
Determines causes and offers quality treatment for obesity, including measures of prevention
Network Hospital
Patient Review Highlights
"Professional"
3 reviews
"Well-reasoned"
1 review
"Practical"
1 review
"Thorough"
1 review
"knowledgeable"
12 reviews
"Caring"
4 reviews
"Very helpful"
9 reviews
Reviews
Bhanumati
Apr 3, 2017
He is very talented and seasoned doctor. Fortis Hospital Noida has all the latest technology in place to handle severe cases. I am so much benefitted with his treatment, that i am perfectly fine now. All of sudden I developed this gallstones and didn't know what to do. I searched this Nitin Jha online and saw his reviews. In order to diagnose my problem completely he asked me a number of questions. The staff was very attentive to my needs.
Bhawna Arora
Jan 9, 2018
Dr. Arvind Jain is a great doctor. Talking to him makes you feel extremely comfortable and your problem seems smaller. He is super confident of what he does even though the patient may be scared of small issues pre or post surgery. We consulted him for my husband's finger crush injury and it has been a smooth journey so far. The support staff at Eternity hospital is also good and caring. We give them as a team 10 out of 10.
Arpita
Apr 12, 2017
I was suffering from ear pain, but Dr Savyasachi Saxena was able to handle it with ease. He is very talented and seasoned doctor. The Yashoda superspeciality Hospital is designed in such a manner that all requirements of patients are taken care of. Our family physician personally recommended Dr Savyasachi Saxena. I am so happy that I chose this Savyasachi Saxena for my treatment as now I am perfectly fine.
Anika
Mar 17, 2017
I was looking for Ear lobe correction sincle 6 months . For that I was searching for a well known and knowledgeable ENT specialist. One of my firnds recommended to visit Dr Savyasachi Saxenaa With the help of her treatment for ear lobe correction I am feeling so great. The overall atmosphere in the Yashoda superspeciality Hospital is very soothing. She is not just friendly, but also is very motivating.
Janarththanan
May 8, 2017
Due to my hernia i was feeling very depressed and had no hope. I was suffering from hernia, but the symptoms were not very visible. From quite some time i was suffering from pain, but never gave much importance to it. I stareted feeling pain then I chose to consult Dr Nitin Jha. On the very first day he identified my problem and started the treatment which benefitted me alot.
Geetika
Mar 20, 2017
I am really grateful as Dr Nitin's hemorrhoids treatment has give me a ray of hope. I never get sick, but then last year i started developing these symptoms. I was shocked to experience the symptoms of hemorrhoids. Many people gave very positive feedback for thisdoctor. He is quite knowledgeable doctor. With the help of his treatment , I am feeling so great.
Himani
Apr 5, 2018
Very helpful n experienced. I visited other ENT doctor n was advised I have a critical issue which can be resolved by operation only. Dr Savyasachi heard my issue n dignosed the real issue n resolved promptly. I m thankful that I visited him n avoided the unrequired operation that was recommended. He will be my families only choice of ENT forever now
Arjit
May 8, 2017
My father developed an overnight chest pain, we doubting it for a heart attack took him to the nearest hospital ie Fortis Hospital in Noida sec 62. There he was treated by Dr Nitin jha and it turned out to be a case of acidity.Doctor nitin is experienced, responsible, knowledgeable and concerned doctor. thanks to him for being calm and composed.
Lakshyaa
May 12, 2017
I was in so much pain due to my sinusitis. I am so thankful to Dr Savyasachi for giving me the best advice and I am now finally able to get back to my normal self. With great ease he explained us the problem and how the treatment will be carried out. It was an amazing experience as everyone in the Yashoda superspeciality Hospital is so nice.
Ghanashyam
Jun 15, 2017
I used to suffer from night cramps which became a bad dream for me. I could not sleep properly. I consulted Dr Nitin Jha who is a well known doctor in Noida. He treated my cramping issue. Though it took time for getting completely cured but I am absolutely fine now. I am gkad that I visited him for the treatment.
Devarsh
Mar 19, 2017
I was diagnosed with the problem of Anal Fissure. I went to dr Nitin Jha at Fortis Hospital in Noida for my treatment. In the very first sitting, he clearly told us the problem and the what the treatment procedure will be in future.I am so much benefitted with his treatment, that i am perfectly fine now.
Devin
Apr 9, 2017
The complete process of throat ache treatment was so painless and quick, and i am so relieved that I chose to consult Dr Savyasachi. The guidance she gave me has helped me immensely with my situation. I owe her a big thanks for making me fine again.
Ikshwak
Feb 15, 2017
I found the answers provided by the Dr. Savyasachi Saxena to be very helpful. I got my ear cleaned today, Ent doctor said it was acute otitis media. Now i can hear from that ear and taking antiallergics. Thanks for your reply. It was helpful.
Swati Kaushik
Jun 4, 2018
It was wonderful, doctor patiently listen everything, gave us full time and solved our queries. Special stars to lybrate because this is the first time when I didn't wait for my turn in any clinic. My appointment was dead on time.
Anosh
May 13, 2017
I consulted dr Savyasachi Saxena at Yashoda superspeciality Hospital in Delhi for anxiety attacks. His Counselling helps to reduce it and keeps your mind calm. The treatment is good and effective. Doctor is friendly and polite.
Dhriti
May 31, 2017
Thanks to Dr Savyasachi for the Tinnitus treatment she gave. She has an expert knowledge in ENT. She listened to my problem patiently and then started the treatment. I am quite benefitted with her guidance.
Vishesh Ahlawat
Dec 12, 2017
He is very kind very supportive he elaborates your problem and tell you exact problem.He never misguided me .He is very polite very gentle and one of the bestest doctor out there
Nitu Phukan
Jul 12, 2016
Dr.Arvind Jain Ji good morning. Ur as like as God for me. You save my life so many times. SO I love you and respect you for ever until my last breath Nit Phukan Assam
Ajay
Jun 15, 2018
Dr. Ajay is lack of knowledge.. not recommending to anyone.. He unable to answers of patient ..
Verified
Sep 23, 2017
Very good doctor.. Nice hospitality too... Hope for the best.. For the disease to be cured
Pravin Prabakar
Jan 27, 2017
I found the answers provided by the Dr. Savyasachi Saxena to be caring. Thank you
Manisha
Jan 29, 2017
Dr. Savyasachi Saxena provides answers that are very helpful. Thanks
Feed
Shared 1 month ago • Featured Tip
These Gallstones don't cause any problems in most cases. But prompt treatment is required if stones block ducts and cause infections and inflammation in the pancreas. This may lead to the removal of the gallbladder through a surgery, known as cholecystectomy, which further includes techniques such as laparoscopic (keyhole) cholecystectomy or open surgery.
Although it is a less vital organ, the body can cope up even after removal.
Procedure of surgery:
The surgery involves removal of gallbladder and gallstones through several incisions in the abdomen. In order to see clearly, the surgeon inflates the abdomen with air or carbon dioxide.
A lighted scope attached to a video camera is inserted into one incision near the belly button. The video monitor is used as a guide for inserting other surgical instruments into the other incisions to remove the gallbladder.
Intraoperative cholangiography is the X-ray procedure which shows the anatomy of bile ducts. This is done before the surgeon removes the gallbladder.
Bile flows from the liver through the common bile duct after the surgery into the small intestine. As the gallbladder has been removed, the gallbladder can no longer store bile between meals but has no effect or little effect on digestion.
In case of open surgery, the surgeon reaches the gallbladder through a large, single incision in the abdominal wall.
Complications after gallbladder surgery:
This surgery carries some degree of risk like any other surgery. Complications such as internal bleeding, infection, injury to nearby digestive organs, injury to the bile duct and injury to blood vessels.
Types of gallstones:
There are three main types of gallstones. They are
Mixed stones: They are made up of cholesterol and salts. They tend to develop in batches.
Cholesterol stones: Mainly made of cholesterol, which is crucial to many metabolic processes. They can grow large enough to block the bile ducts.
Pigment stones: The colour of bile is greenish-brown, due to some particular pigments.
Medical factors to consider before cholecystectomy:
The most important factor is a consideration of your medical history. This is because the pre-existing conditions influence decisions on surgery and anaesthetic and information about any bad reactions or side effects from any medications would be helpful for surgery.
Self-care after the surgery:
Taking rest is the most important thing after surgery. Avoid things such as heavy lifting and physical exertion. The usual recovery period after the surgery is one week.
In case you have a concern or query you can always consult an expert & get answers to your questions!
2830
people found this helpful
Shared 3 months ago • Featured Tip
Irritable bowel syndrome is a disorder of the large intestine. It may cause abdominal pain, bloating, diarrhea and constipation. The condition is not life threatening in nature and does not make you susceptible to colon disorders such as Crohn's disease, ulcerative colitis and colon cancer, however, symptoms of IBS may act as deterrents in leading a normal life.
Symptoms
The symptoms of irritable bowel syndrome are -
You may experience symptoms of constipation
Frequent episodes of diarrhea
Abdominal cramps especially on the lower part of the abdomen
Constant bloating
Abnormal stool structure
You belly might stick out
In some cases, you may experience sexual problems and urinary problems. In addition, if you also suffer from stress related disorders then it might aggravate the symptoms.
Causes
The primary cause is that the colon becomes very sensitive such that small stimulation may cause it to react. When the food passes through the colon, it tends contract strongly and leads to complications such as bloating and constipation. It may also lead to weak contractions of the colon which leads to hardened stool.
There are certain things which may symptoms of IBS, they are -
Stress: Any type of stress tends to aggravate symptoms of irritable bowel syndrome.
Foods: Certain foods such as chocolate, spices, cabbage, milk and carbonated beverages may trigger symptoms of IBS.
Hormones: Hormonal changes such as the ones during menstrual cycles may aggravate symptoms of IBS.
Illnesses: Various illnesses such as diarrhea or conditions such as overproduction of bacteria in the intestines may lead to symptoms of irritable bowel syndrome.
Women are more likely to be affected by symptoms of IBS as are people who are below 45 years of age. If someone in your family has irritable bowel syndrome, then you are also likely to develop this disorder. It may also aggravate symptoms of hemorrhoids, along with aggravating symptoms of stress.
In case you have a concern or query you can always consult an expert & get answers to your questions!
1854
people found this helpful
Shared 3 months ago • Featured Tip
With the recent number of breast cancer cases on the rise, it is important that we should get the examination done on a regular basis as a preventive measure. Even if someone is suffering from it, it is important that we should make an effort and learn about.
If you have breast cancer then a surgery will be part of your treatment. Based on the condition, surgery will be carried out due to any of the following reasons:
1. To remove the cancerous tissues from the breast
2. To reconstruct the breast once the cancer is removed
3. To check whether the cancer has spread to the lymph nodes below the arm
4. To treat symptoms of cancer that has progressed to an advanced stage
Breast cancer surgery may be classified into two types
1. Mastectomy: Mastectomy involves removing the entire breast; tissues in the adjoining region may also be removed. A double mastectomy is a procedure where both the breasts are removed.
2. Breast-conserving surgery: In this surgery, only parts of the breast affected by cancer are removed. The area of the breast that is to be removed will depend on the severity of the cancer. Some healthy tissues may also be removed in this surgery.
Usually, if a woman is in the initial stages of cancer then she may opt for the latter as it entails removing parts of the breast. They may also undergo radiation therapy along with these surgeries.
For checking if the cancer has spread to the lymph nodes below the arm, the lymph nodes are removed from the body. Once they are removed, they are studied under a microscope to check if it has spread, if yes then the extent of their damage. This procedure is carried out along with the surgery to remove the cancer.
Once the mastectomy procedure is completed, you can opt for a breast reconstruction surgery to rebuild the area. You may opt for this procedure at the time of breast cancer removal or at a later stage. If you are considering breast reconstruction surgery then you should discuss it with your surgeon.
Surgery is sometimes not used to treat cancer, but in slowing the progression of cancer or even reducing its symptoms.It is important you talk to your surgeon before the procedure to understand the goal of the surgery.
In case you have a concern or query you can always consult an expert & get answers to your questions!
2568
people found this helpful
Shared 5 months ago • Featured Tip
Gastro oesophageal reflux disease, or GERD, as it is commonly known is a digestive disorder that is caused primarily due to intestinal distress. GERD is the caused in the muscle that lies between the oesophagus and the stomach, when the acid produced in the stomach starts to flow backwards. For patients suffering from GERD, the acids flow back into the oesophagus instead of the stomach, causing symptoms like severe heartburn, chest pain and nausea, amongst others.
So what does one do to deal with GERD? Here's a brief list!
Obesity: Being overweight and obese are two of the most important factors that contribute to discomfort in GERD patients. Working towards a healthier weight is a sure shot way of dealing with this ailment.
Alcohol and smoking: The LES or the muscle ring that can be found between the stomach and the oesophagus relaxes with the intake of alcohol or with smoking, which prevents it from closing to stop the stomach's juices from reaching the oesophagus. So, giving up both substances would be a good idea if you are a GERD patient.
Go gluten free: Adopting a gluten free diet can help you cut out ingredients including grains and dairy products that contain more protein than what your digestive tract can handle.
Other dietary measures: In order to handle GERD effectively, you will need to remove or reduce chocolate, fatty food, spicy food, and even oily and fried food from your diet. You may need the help of food with extra fibre, like fruit so that food can pass through the digestive tract faster.
Smaller and well-timed meals: Eating meals regularly and dividing them into smaller meals that can be digested quickly and more efficiently is one of the best ways of dealing with GERD to prevent the onset of backward flowing stomach acids.
Exercise: Ensuring that you do not take a nap or lie down right after a meal and putting in a small amount of exercise everyday will also help in doing away with the uncomfortable and painful symptoms of this disease.
Making lifestyle changes is one of the best ways to deal with GERD. Yet, it would be best to see a doctor regarding severe cases where the symptoms do not abate and medication may be required.
In case you have a concern or query you can always consult an expert & get answers to your questions!
1872
people found this helpful
Shared 5 months ago • Featured Tip
Thyroid surgery is performed with the partial or complete removal of the thyroid gland when the patient is diagnosed with thyroid cancer, abnormal cyst formation, goitre, hyperthyroidism or painful thyroid nodules. There are 3 types of thyroid surgery which are performed – lobectomy (removal of part of the thyroid gland), subtotal thyroidectomy (characterized by the removal of the whole thyroid gland but presence of some of the thyroid tissues) and total thyroidectomy (removal of the whole thyroid gland and thyroid tissues).
The surgery is performed on the patient under local anaesthesia with a small cut over the skin and the subsequent compression of the tissues and muscles to expose the thyroid gland for operation. The factors on which recovery depends mainly include the age of the patient, the type of surgery performed and the extent to which the cancer has spread.
Here are the reasons because of which thyroid surgery is performed:
Surgery might be performed if there is an abnormal enlargement of the thyroid gland, known as goitre, which obstructs common functions such as chewing foods, breathing and talking because of throat blockage.
Surgery is a go-to respite for people suffering from hyperthyroidism as this disorder is impossible to diagnose by means of medications or radioactive iodine. Hyperthyroidism occurs because of a side-effect of another disorder called Grave's Disease. This disease makes the antibodies attack the thyroid gland, as a result of which the gland tends to overproduce hormones.
The most common reason for getting a thyroid surgery is the presence of abnormal cysts or nodule formation in the thyroid gland. While most of the nodules are usually non-malignant in nature, some of them can be cancerous. The benign nodules can also cause significant obstruction with normal bodily functions if they are not treated on time.
Risks
Like any other major surgery, thyroid surgery has its own share of risks, which are:
Severe bleeding, infection and allergic reactions to local anaesthetics.
Significant damage to the parathyroid glands (which are responsible for controlling the calcium level of the body) and the laryngeal nerves (situated adjacently to the vocal chords).
These risks can be prevented by prescribed dosage of supplements. In case you have a concern or query you can always consult an expert & get answers to your questions!
2521
people found this helpful
Shared 6 months ago • Featured Tip
Ever heard of that phrase "I can taste bile at the back of my mouth"? It is generally used to express disgust. However, in medical parlance, 'bile', the English synonym for disgust, plays an important role in the digestive system. It helps in the digestion of fats (breaks the fats down to smaller particles) and contains the waste products of the blood. Bile is secreted from the gallbladder which is a small organ (sac-shaped) present below the liver.
Gallbladder surgery is carried out to treat gallbladder related problems such as gallbladder stones. Presence of gallstones in the gallbladder can hamper bile production. The symptoms that you may experience include feeling unwell and fatigued, the color of the skin turning yellow and an intense tummy ache. The first method of treatment for gallstones is to dissolve them with the help of natural means. However, if this does not work, then gallbladder surgery is done.
Pre-surgery
A pre-surgery assessment is carried out by the doctor a few weeks prior to the surgery. A general health check and blood tests are carried out to determine the procedure of the surgery. Your concerns regarding the surgery are addressed by the doctor; he/she also advises you on how to prepare for your surgery.
Procedure
Gallbladder surgery can be performed in two ways; an open surgery or a laparoscopic surgery. The type of surgery you will undergo will depend on your tests.
Laparoscopic surgery: In this procedure, an incision is made on the belly button (naval region). Following this, two or three other incisions are made on the right side of the stomach. Carbon dioxide is then pumped into the stomach to make the abdomen inflated and a laparoscope is then inserted to see the insides of the abdomen. Through the other incisions, surgical instruments are inserted to remove the gallbladder. Once the removal procedure is completed, the carbon dioxide is pumped out and the incisions are closed.
Open surgery: In an open surgery, a larger incision (as compared to laparoscopic surgery) is made in the abdomen, right below the ribs. The gallbladder is removed using surgical instruments and then the incision is closed.
Post-surgery: In case of laparoscopic surgery, the recovery period is shorter; around two weeks. An open surgery, on the other hand, requires a longer recovery period of 6-8 weeks. You can live a normal life without the gallbladder, as the bile will then directly travel to the digestive system. Mild symptoms of diarrhea and bloating may be experienced. However, they should be temporary and subside within a few days.
In case you have a concern or query you can always consult an expert & get answers to your questions!
2445
people found this helpful
Shared 8 months ago • Featured Tip
3618
people found this helpful
Shared 8 months ago • Featured Tip
Ear discharge may occur due to several reasons. Injury or trauma to the ear canal, a ruptured ear drum or an infection in the middle ear may be the most common causes of ear discharge. Eczema, swimmer's ear and other skin irritations may also lead to this problem.
It is a common phenomenon in children and adults alike. Most ear infection results in discharge from the ear. This ear discharge is medically known as otorrhea, and it is any fluid that comes out of the ear, mainly in the form of pus.
Causes
1. Most of the time, any fluid leaking out of an ear is ear wax.
2. A ruptured eardrum can cause a white, slightly bloody, or yellow discharge from the ear. Dry crusted material on a child's pillow is often a sign of a ruptured eardrum. The eardrum may also bleed. Causes of a ruptured eardrum include:
Foreign object in the ear canal
Injury from a blow to the head, foreign object, very loud noises, or sudden pressure changes (such as in airplanes)
Inserting cotton-tipped swabs or other small objects into the ear
Middle ear infection
Other causes of ear discharge include:
3. Eczema and other skin irritations in the ear canal
4. Swimmer's ear -- with symptoms such as itching, scaling, a red or moist ear canal, and pain that increases when you move the earlobe
Treatment
While there are some simple home remedies to treat this disorder, always consult an ENT specialist if the discharge does not stop after the application of those treatments. Let us look at some common ways to treat this disorder.
Ear Drops: There are antibiotic ear drops, and there are antiseptic ear drops. Antibiotic ear drop will dry your ear and stop the discharge in your ear. It mainly kills the bacteria that have caused the infection. There are certain side-effects of using antibiotic ear drops, which include dizziness, itching in the ear, earache or yeast infection. However, these side-effects are extremely mild and go away as soon as you stop using the antibiotic drops. The antiseptic ear drops are not as effective as the antibiotic ear drops, and hence, these aren't used that much to treat any infection.
Antibiotic Tablets: Antibiotic tablets are also an option to treat ear infections, but again these are not that effective as the antibiotic ear drops have proven to be.
Surgical procedures: An operation called myringoplasty or tympanoplasty is conducted to repair the hole in your eardrum which has been discharging the pus. This operation has a greater chance to improve your hearing abilities. Doctors resort to this option only when your infection cannot be treated by ear drops.
When to Contact a Medical Professional
Call your health care provider if:
The discharge is white, yellow, clear, or bloody.
The discharge has lasted more than 5 days.
The discharge is the result of an injury.
There is a loss of hearing.
There is severe pain.
The discharge is associated with other symptoms, such as fever or headache.
There is redness or swelling coming out of the ear canal.
In case you have a concern or query you can always consult an expert & get answers to your questions!
4606
people found this helpful
Shared 9 months ago • Featured Tip
Achalasia is a very rare disease. Normally, your esophagus squeezes food down by making the muscular valve in between the stomach and esophagus relax. Achalasia occurs when this muscular valve is unable to relax and thus the esophagus is unable to squeeze the food down. The most common reason why this happens is because the nerves in your esophagus are damaged. The nerves most commonly get damaged because of abnormalities in the way your immune system responds. Till now, there is no cure to achalasia; however surgery or minimally invasive therapy can make the symptoms of achalasia more manageable. Here are all the causes and symptoms of achalasia:
Symptoms
Difficulty swallowing: The difficulty you face when swallowing food is the most common symptom of achalasia. Both liquid as well as solid food will be hard to swallow.
Regurgitation: If the food is regurgitating in the night, then the lungs may have been inhaling some food. This is very serious and you should see the doctor immediately if this occurs.
Chest pain: You may suddenly experience chest pain from a completely unknown cause.
Weight loss: You may also suffer from sudden weight loss if you have achalasia. This is due to the reduced amount of food you will be consuming.
Heartburn: Heartburn is when you have a very intense burning pain in your chest just behind your breastbone which is most commonly caused by regurgitation in your esophagus.
Causes
The exact cause of achalasia is not yet known. However, there are some theories on what causes achalasia. Here they are.
Genes: The most common cause of achalasia is genes.
Autoimmune disease: An autoimmune disease is when your immune system attacks your body's own cells. Achalasia is a type of autoimmune disease.
Infection: There have also been a lot of claims that infections are the cause of achalasia.
In case you have a concern or query you can always consult an expert & get answers to your questions!
1887
people found this helpful
Shared 9 months ago • Featured Tip
Have you undergone a thyroid removal surgery recently or planning to go for one, then you should know some important things that should be kept in mind. After undergoing the surgery, it is essential that you should allow your body some time to recover. Your health care provider will educate you regarding the activities and exercises that can help in recovering from the surgery faster. It is worthy of mention here that the recovery process is dependent on the extent and type of surgery you have undergone. It would generally take a longer time to recover from traditional surgery than minimally invasive procedure.
What to do right after the surgery?
In the days following the surgery, you are required to take care of the incision area. You may or not be allowed to take a bath depending on the dressing on the wound. You are likely to experience slight swelling around the scar. Even though this is normal, you should report to your doctor without further delay. The scar may start feeling hard three weeks after the surgery, and you may apply an unscented moisturizer to prevent dryness while healing.
When to start daily activities after the thyroid gland removal surgery?
You are free to resume most of the normal activities the day following the surgery. But you should wait for at least 10 days or until your doctor allows you to engage in physically strenuous activities. Your throat is likely to feel sore for a couple of days. You can also take an over-the-counter pain medicine like acetaminophen or ibuprofen for relieving soreness. In case these drugs are not offering desired relief, your doctor may prescribe you to take narcotic pain medicine. It is a common outcome of the thyroid removal surgery to develop hypothyroidism. In case this happens to you, your doctor may recommend you to take some form of levothyroxine for bringing down the hormone levels.
Is there any physical restriction after the thyroid removal surgery?
Most surgeons recommend that patients should limit all sorts of physically strenuous works after the thyroid removal surgery. This is recommended for reducing the risk of postoperative neck hematoma and breaking open of the wound closure. These limitations are temporary and brief and are generally followed by a quick transition to unrestricted activity. You are free to take part in heavy lifting or swimming or other exercises two to three weeks after the surgery.
Is it possible to lead a normal life after the thyroid removal surgery?
Once you have recovered from the effects of thyroid surgery, you can do anything you feel like. Post-surgery your thyroid levels will be monitored through regular follow-ups. If the surgery were carried out for thyroid cancer, your doctor would also check for recurrence of cancer during your visits. It is essential to stick to this schedule and report if you notice any suspicious changes or experience discomfort so that proper care can be given and you can lead a normal life. Consult an Expert & get answers to your questions!
2804
people found this helpful
View All Feed