About
Has Popularized concept of PREVENTIVE DIABETOLOGY through various seminars, workshop for Pharma companies, Doctors and all persons with diabetes in India. ...
...more
Has Popularized concept of PREVENTIVE DIABETOLOGY through various seminars, workshop for Pharma companies, Doctors and all persons with diabetes in India. On the basis of Evidence Based Medicine and Research has strongly emphasized on primary prevention, secondary prevention and tertiary prevention with life style modification and supporting treatment to maintain quality of life in all persons with diabetes Is Life member of prestigious International Diabetes Federation. Has participated in more than 30 international and national conferences organized by American Diabetes Association ( ADA ), International Diabetes federation ( IDF ), European Association for study of Diabetes ( EASD ), Research Society for Study of Diabetes in India ( RSSDI ) , National congress on Diabetes ( Raheja Hospital ) on regular basis. Has written articles, and abstracts on Diabetes in various national and International publications. Has an active interest and involvement in Epidemiological Studies and Research in all persons with Diabetes in INDIA.
More about Om Diabetes Research Centres& Clinics (Mulund)
Om Diabetes Research Centres& Clinics (Mulund) is known for housing experienced Endocrinologists. Dr. Jagruti Parikh, a well-reputed Endocrinologist, practices in Mumbai. Visit this medical health centre for Endocrinologists recommended by 60 patients.
Timings
Location
No-1, Keshav Bhuvan, M.G. Road, Above Suvernaplaza Jewellers Showroom, Mulund West
Mulund
Mumbai,
Maharashtra
-
400080

Get Directions
Photos (1)

Videos (1)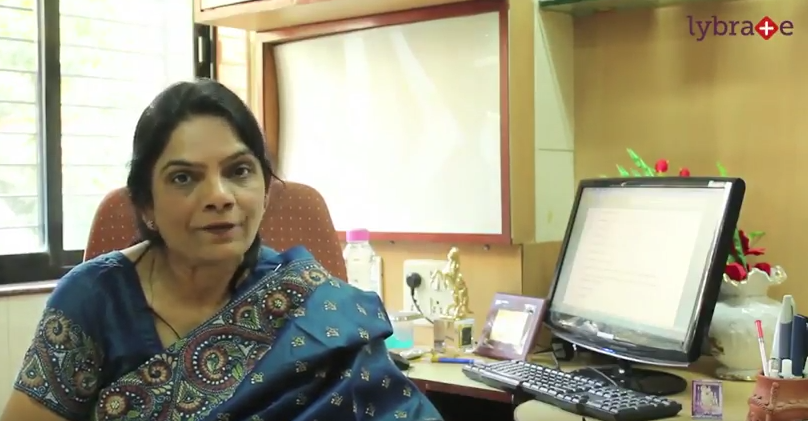 Hello,
I am Dr. Jagruti Parikh practicing Endocrinologist, concentrating on diabetes and thyroid in Mulund and Thane at Om Diabetes Research Centres.
Today I am going to talk on diabetes in childhood, there are two types of childhood diabetes in childhood one is Type 1 and one is Type 2. Previously we thought Type 1 is the only or the most commonest variety of diabetes in childhood well the presentation is normally excessive hunger, excessive thirst, excessive urination children going to washroom very frequently in the school that is the commonest complaint. Bedwetting ends around child sleeping area or ends around child playing area, falling frequently sick or requiring medical attention very frequently are the commonest presentation of Type 1 Diabetes in children. The other variety that is what we see now very often in last 10 to 15 years is the Type 2 variety which was not seen 15 years back. Why sudden change, the changes because of change in Lifestyle in last 10 to 15 years and as a change in Lifestyle that means there is a change in eating habits children are eating more junk food, a fast food they need to make they need to serve food with a lot of preservatives and food with a lot of processing. In addition to that there is lack of daily routine exercise, increase in sitting timing or increase in the tuition timings, lack of external sports activity, more concentration on TV, television, computer games, mobile games all that reducing the regular activities or exercise in day to day life of children resulting into the insulin resistance, obesity and resulting into Type 2 diabetes or term which we face diabesity. Many times in Type 2 diabetes presentation is not similar to Type 1 diabetes that means very often, it is very very difficult for parents or doctors to suspect that because most of the time the investigations are done are CBC, urine routine or subjective relation testing. However, if blood sugar fasting post lunch is also including in the children who are having a frequent sickness, frequent illness or acquiring medical attention very regularly then possibilities said that this Type 2 diabetes can be detected earlier in absence of classical symptoms of diabetes. How to differentiate whether a child is having Type 1 Diabetes or Type 2, there are some special investigations done which can rule out whether the child is having Type 1 Diabetes or type 2. This investigation is C peptide, serum insulin testing, anti-insulin antibody test and Islet Cell antibody test, these are the test which is very common in Type 1 Diabetes and sometimes you can extract history of childhood measles, mumps rubella or somewhere infection in early childhood. So if a child is a sonography or CT scan of the abdomen is normal and one of this parameter that is C- Peptide or serum insulin levels are abnormal then the possibility of Type 1 Diabetes is there and it can be confirmed by doing additional testing. But if a sonography or a CT scan of the abdomen is normal and blood sugar fasting, PP are abnormal and C peptide levels are normal then in that situation we usually label that child to having Type 2 Diabetes and this Type 2 Diabetes can be treated with Lifestyle modification and if required oral antidiabetic drugs and sometimes even insulin can be given for a short period. However, if a diagnosis is Type 1 Diabetes then probably these children are required insulin lifelong at least as on today. So today I have discussed the presentation of Type 1 Diabetes and type 2 diabetes in early childhood, how to investigate and diagnose and what are the different modalities of treatment.
If you wish to know further you can log on to Lybrate.com or you can contact me through lybrate.com.
read more
Doctor in Om Diabetes Research Centres& Clinics (Mulund)

M.D. Internal Medicine
Endocrinologist
Services
Submit Feedback
Submit a review for Om Diabetes Research Centres& Clinics (Mulund)
Your feedback matters!
Write a Review
Patient Review Highlights
"Professional"
1 review
"Prompt"
1 review
"Well-reasoned"
9 reviews
"Helped me impr..."
1 review
"Practical"
8 reviews
"Thorough"
3 reviews
"knowledgeable"
13 reviews
"Sensible"
2 reviews
"Caring"
8 reviews
"Very helpful"
39 reviews
"Saved my life"
2 reviews
"Inspiring"
1 review
Reviews
Gulika
May 29, 2017
I am really grateful as herdiabetic diet counseling has give me a ray of hope. One of my cousin's referred to Jagruti Parikh. Almost all doctors suggested injections for it, but I did not wanted to go for it . All the staff members were very helpful. Jagruti Parikh has so much knowledge that for everything my family takes herreference. The waiting area in the OM DIABETES CENTRES (THANE) is very comfortable for elderly patients. Due to my diet i was feeling very depressed and had no hope. She is not just friendly, but also is very motivating.
Angleen
May 5, 2017
It's been so long, I have lost all hope, as I was suffering from Hypothyroid but then I met Dr Jagruti Parikh and I am hopeful again that I will be fine. Initially the symptoms of hypothyroid treatment were not that severe but then it became worse. She is a very practical doctor. Thanks to her that the hypothyroid treatment she gave me has given brilliant results.
Indu
Apr 24, 2017
The hyperthyroidism was increasing day by day. I consulted Dr Jagruti. She is not just friendly, but also is very motivating. The doctor and staff were very helpful. I was quite impressed with her concept of holistic healing. Her advice and counselling has helped me immensely. The Om Diabetes clinic is decorated very nicely and doesn't look like a hospital.
Kamali
Mar 27, 2017
I was suffering from hypophysectomy due to which my life was suffering. My husband took me to Dr Jagruti who is a known Endocronology. She is not just friendly, but also is very motivating. I have had this problem from quite some time. The overall atmosphere in the Om Diabetes Research is very soothing. I owe her a big thanks for making me fine again.
Abhinav Choubey
Jun 13, 2018
Dr. Jagruti Parikh provides answers that are knowledgeable, very helpful, well-reasoned, practical and caring. Thank you Madam for your valuable feedback.
Nawazish
Feb 18, 2019
I found the answers provided by the Dr. Jagruti Parikh to be very helpful. Mam please at the time of consultion can we talk in hindi
Sudhmamomal
Jul 3, 2017
Dr. Jagruti Parikh provides answers that are very helpful and knowledgeable. 100% dr answar right....i some q ....pls help me
Maria Fernandes
Sep 26, 2018
She gave my husband a detailed explanation of how to deal with his problems. A caring soft spoken person.
Dhanashree Kolkhede
Mar 9, 2018
Dr. Jagruti Parikh provides answers that are very helpful and knowledgeable. Thank you so much Doc.
Niranjan L Karkera
Feb 27, 2018
Doctor is excellent n she listens to all factors
Feed
Usually HbA1C above 10% in newly detected diabetic patient is indication for starting insulin therapy However some times it may not be necessary. Since You have not mentioned your BSF/PP it becomes difficult to advise you. Usually in newly detected diabetics we usually do all routine investigations like Lipid profile CBc -ESR, SGOT, SGPT, S. Alkaline phosphatase, S. Creatinine, Urine R, urinary microalbumin/urinary creatinine ratio, s. CA, S. Uric acid, TSH, VitD etc.
1
person found this helpful
Usually in newly detected diabetes I continue insulin injections minimum for three months till Hba1c is corrected to below 7% Then insulin injections are slowly discontinued and started ion oral hypoglycemic agents. This way minimum drugs are required to control blood sugars and in 3 months patient learn proper lifestyle modification with diet and exercise. In over weight patients I encourage weight reduction this again ensures minimum drugs for diabetes control.
If this is the first time you have detected to have high TSh then I think you need to wait and repeat the Thyroid function after 1 month as some times other systemic infections like sore throat, typhoid, viral fever - flue etc can all so transiently increase your TSh values. Once you recover from these illnesses many times TSh may become normal without any medications.
3
people found this helpful
Diabetes refers to a medical condition where the glucose level in your blood increases. It usually happens if there is an excess amount of glucose in your body and your body is unable to utilize it efficiently. In this condition your pancreas either stops producing insulin or fails to produce the requisite amount and hence prevents glucose from entering the cells of your body. This in turn affects your blood glucose level. Millions of people around the globe are affected by diabetes irrespective of their gender or age. For most people diabetes is generally a lifelong medical condition and can affect your health seriously if it gets severe. There are many stages and types of diabetes, such as Type 1 diabetes, Type 2 diabetes, Gestational diabetes, Pre-diabetes, Diabetes Mellitus and Diabetes Insipidus. Not all diabetes can be prevented but some of the above mentioned ones can be prevented with proper care. Below mentioned are tips to prevent diabetes-
1. Eating the right portion: The primary key for preventing diabetes is choosing the right amount of food. Eating the right portions can help you to stay away from diabetes. Consider seeking advice from a nutritionist or dietician for knowing the exact portion size you should eat according to your age.
2. Exercise on a regular basis: Exercising regularly for at least half an hour a day can help you to prevent diabetes. You may consider walking or running exercises.
3. Choose the right food: Opt for whole grains as this can help you to maintain your blood sugar level and keep diabetes at bay. Also, try and avoid red meat as it contains high levels of iron which can affect insulin production and increase your chances of developing diabetes.
4. Get rid of obesity: If your BMI is more than thirty then you are suffering from obesity. Obesity increases your chances of developing diabetes. So in order to prevent diabetes you should work at maintaining a balanced weight.
5. Avoid carbonated drinks: Carbonated drinks contain high levels of sugar. This can increase your chances of developing diabetes. So you should try and avoid drinks like colas.
Following the above mentioned tips can help you to avert diabetes.
4172
people found this helpful
It is important for you to know how pregnancy affects your thyroid gland. The thyroid hormone plays an important role during pregnancy in the development of the baby and also regarding the health of the mother. If you suffer from thyroid problems during pregnancy, you should take medicines and certain thyroid function tests.
How pregnancy affects normal thyroid function?
The pregnancy hormones known as human chorionic gonadotropin or hCG and estrogen lead to increased thyroid hormone levels in your blood. The hCG made by the placenta stimulates the thyroid to produce excessive hormones. Increased estrogen leads to higher levels of the thyroxine binding globulin, which transports the thyroid hormone in the blood.
Because of these normal hormonal changes, thyroid function tests are difficult to perceive during pregnancy. The thyroid hormone is very important for the normal development of a baby's nervous system and brain. During the first trimester of pregnancy, the foetus depends on the supply of thyroid from the mother via the placenta.
In healthy women, the thyroid enlarges during pregnancy. An enlarged thyroid can indicate a thyroid disease, which should be diagnosed immediately. Thyroid problems are difficult to diagnose during pregnancy because of the increased hormone levels, increased thyroid size, fatigue and other factors.
Hyperthyroidism in pregnancy
Hyperthyroidism may occur in pregnancy because of Graves' disease where enough thyroid hormones are not produced. Graves' disease is an autoimmune disorder in which the immune system attacks the cells and organs of the body instead of fighting bacteria or viruses. With Graves' disease, an antibody is released by the immune system called the thyroid stimulating immunoglobulin or TSI. This causes the thyroid gland to produce excess thyroid hormone. In many cases, the antibody is also associated with eye problems like bulging, irritation and puffiness. Graves' disease commonly appears during pregnancy, but women with this disease from before may actually observe improvements in the symptoms during the second and third pregnancy trimesters. The remission or the disappearance of the symptoms of Graves' disease may occur due to the general suppression of the immune system, which occurs during early pregnancy. The disease is likely to recur and worsen in a few months after the delivery. It is important for pregnant women with Graves' disease to be monitored carefully.
Hypothyroidism during pregnancy may lead to a developmental delay in the child. Sometimes, hormone therapy is given to women who are at the borderline stage in thyroid function during pregnancy or just before pregnancy. The treatment of the condition aims at maintaining a proper and balanced thyroid hormone level in the body. In case you have a concern or query you can always consult an expert & get answers to your questions!
3970
people found this helpful
Diabetes is a serious disease, but if properly managed is not life threatening. Diabetes can be explained as the body's inability to regulate insulin production. This leads to fluctuations in blood sugar levels. This disease affects every part of the body including the skin. For some people, a rash is among the first few symptoms of diabetes. Most diabetic patients suffer from a skin condition at some point or the other. Here are a few common skin ailments that affect diabetic patients.
Bacterial infections: A weakened immune system makes diabetics more vulnerable to bacterial infections than normal. These bacterial infections can be typically seen in the form of styles on the eyelid, boils, carbuncles and nail infections. They usually make the skin around the infected area red, inflamed and painful. Most skin bacterial skin ailments can be treated with antibiotic creams and pills.
Fungal infections: One of the most common fungal infections that diabetic patients suffer from is known as Candida albicans. This ailment is characterised by a red, itchy rash that is surrounded by small blisters. It is caused by yeast-like fungus and usually found in moist areas like the armpits or between the toes. Other fungal infections that affect diabetic patients include ringworm, jock itch, athlete's foot and vaginal yeast infections.
Itchy skin: Diabetics often suffer from itchiness that could be triggered by yeast infections, dry skin and poor circulation. People with poor circulation will find their calves and feet to be the itchiest part of the body, While poor circulation and yeast infections may need medical attention, dry skin can be easily treated by keeping the skin internally and externally hydrated along with the use of a mild moisturising soap.
Vitiligo: This is a skin condition where the melanin producing cells in the skin are destroyed. This leads to a patchy appearance that can be typically seen on the hands, face and chest. Vitiligo is considered to be an autoimmune disease like diabetes and has no known cause or cure. Sunscreen is a must for diabetic patients suffering from vitiligo as the unpigmented skin has no protection from UV radiation.
Diabetic blisters: Patients with severe diabetes may also suffer from diabetic blisters. These blisters usually occur on the extremities of the body and resemble blisters caused by burns. They are usually pain-free and heal on their own.
Disseminated granuloma annular: This condition is characterised by a ring or arc shaped areas on the skin. They can usually be seen on the fingers and ears but may also occur in the chest and abdomen. This rash may be reddish or skin coloured. Medical treatment is not generally required for this condition.
3944
people found this helpful
Probably you may need to reduce your dosage. I am sure the doctors had advised you for sonography of thyroid gland to find out underlying pathology. Many times vitamin and mineral deficiency can also cause thyroid dysfunction. Hashimoto thyroiditis is very common in female patients - I am sure you have done anti TOP antibodies. Ideally once hypothyroidism found you need to consult and do thyroid function testing every 4 monthly if not possible then at least 6 monthly.
2
people found this helpful
Commonest idiopathic Hypothyroidism can be controlled with suitable medicine and patient can lead near normal life for rest of like - that includes successful married life, successful normal pregnancies and normal children. It requires proper diagnosis of hypothyroidism adjustment of dosage of medicines periodically. Some variety of hypothyroidism are autoimmune and many times it runs in families and can affect at any age. If you still wish to discuss further you can consult me privately.
1
person found this helpful
Usually when patients are having very high sugars and diabetic acidosis first priority is control of sugar Usually no operations or major procedure are during diabetic ketoacidosis unless it is life saving. It is usually safer and better to operate or do any procedure once the patient is stable and blood sugars are below 140 mg %.As your brother's case is highly complicated it is advisable to take proper endocrinologists advise to diagnose the type of diabetes, reason for ketoacidosis and suitable insulin dosages. If you wish you can consult me privately.
1
person found this helpful
Yes she can take.In India VIt D, Vit B12 deficiency is very common especially in vegetarian. So it is advisable to do her Vitamin/cbc levels and give as she may require more than that. Some diabetic drugs like metformin prevents absorption of Vit B12 from diet causing B12 def.
1
person found this helpful
View All Feed
Near By Clinics

4.6
(

220

ratings)
View Clinic