About
It is important to us that you feel comfortable while visiting our office. To achieve this goal, we have staffed our office with caring people who will answer your questions and help you ...
...more
It is important to us that you feel comfortable while visiting our office. To achieve this goal, we have staffed our office with caring people who will answer your questions and help you understand your treatments.
Timings
Location
Ramtirtha Appt. 2nd Floor, Ram Mandir Road, Babhai Naka Borivali West
Borivali
Mumbai,
Maharashtra
-
400092

Get Directions
Photos (5)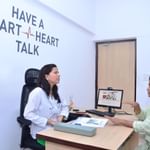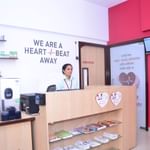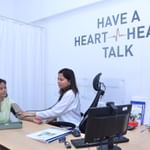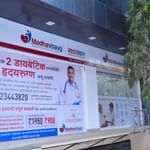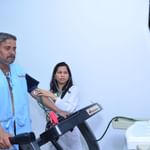 Videos (2)
Symptoms and diagnosis of Coronary Artery Blockage
Hello everybody. This is Dr. Rohit Sane, medical Director, Madhavbaug. I've done my MBBS, I've done my fellowship in Cardiac Rehabitilation from Apollo Hospital. Today we'll be talking about the blockages in the coronary artery and the fate of these blockages in the coronary artery.
Many a times we're afraid by only the term Blockages. We need to understand the science of the whole disorder as such so as to treat it on good terms. Now what can a blockage do in my coronary artery, is a simple question. This blockage can either give me symptoms of chest pain or else the second symptom a blockage can give, a blockage patient can present with is breathlessness on exertion. So one is chest pain and other is breathlessness on exertion. Now, we need to know exactly what this blockage is affecting our heart muscles by, whether it's reducing down the blood supply and resulting into my angina or else chest pain or whether it has reduced down the efficiency of my cardiac muscles and leading to breathlessness on exertion.
To diagnose this what are we supposed to do after an angiography has been done is a very simple test called as the stress test. From a stress test we need to identify whether these blockages has lead to two different disorders, which of them has been started in our body is needed to be understood by a simple stress test. Now, these two disorders, one is angina which is a systemic heart disease and second is breathlessness on exertion called as chronic heart failure.
Now when we conduct a stress test you just need to walk about 9 minutes in a Bruss's protocol or else 15mins on a modified Bruss's protocol on a treadmill while the ECG is monitored by the doctor. When you walk on this treadmill for a specified protocol, for a specified duration of time, the ECG is monitored for ECG changes. If at all while walking you feel chest pain ir ECG changes that means the blockages are creating some problems with the blood supply to your heart muscle. But many a times you walk on the treadmill without getting chest pain, without getting ECG changes but at the same time while walking you feel a different type of symptoms called as breathlessness as you walk.
Consider you should be able to walk for 15mins in the treadmill and maybe after 9th minute you start feeling breathless on the treadmill and we've to stop it because of your breathlessness, then what do we infer from this is that your blockages are leading to a disease condition called as chronic heart failure, where in your heart muscle is not able to pump so as to commensurate with the requirement of your body. Hence, only diagnosing a blockage is not a complete diagnosis. Once a coronary angiography has been done and you've been diagnosed with blockages, the next thing that is needed to be done is to perform a normal exercise tolerance test by which you come to know what is the exact fate of these blockages. These blockages as I said earlier can either lead to angina or can lead to chronic heart failure which represents as breathlessness due to exertion. So, as soon as we conduct the stress test the right type of treatment whether on chronic heart failure or whether on systemic heart disease can be performed as to relieve you out of your symptoms.
So, for more information log onto Lybrate. Thank you.
read more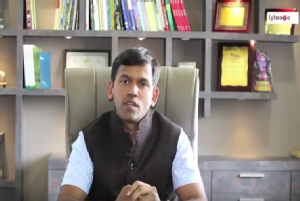 How to treat Coronary Artery disease?
Hello. This is Dr. Rohit Sane, Medical Director of Madhavbaug. I've done my MBBS, I've done my fellowship in Cardiac Rehabitilation from Apollo Hospital. Today we'll be talking about blockages and the available treatment options on this disorder. Normally we call this as blockages but the medical term for this is atherosclerosis or else coronary artery disease. Now whenever a blockage has been identified in you coronary artery the search for n number of treatment options begins. We need to understand what all treatment options are available for treating a blockage coronary artery. Now, as all of us know there are many invasive options in which we can invade the coronary artery with angioplasty or else we can open the whole thorasic cavity with bypass surgery. Or else there are non invasive therapies also.
Now we need to understand what to take as a decision when a coronary artery has been blocked. What will lead to our decision are typical simple parameters that we need to assess. Consider that I've been diagnosed with a coronary artery blockage. The next thing I'm supposed to do is to perform a stress thallium. Angiography helps me to diagnose whether I've a blockage in my coronary artery or not. Now once I've been diagnosed with a coronary artery the next thing I'm supposed to do is to undergo a stress thallium. Now, the question arises why. Stress thallium will give you two inferences, the first one whether this blockage has resulted into any damage in your coronary artery or not. And second whether this blockage is really blocking your blood supply to your heart muscles or not. Based on these two parameters we can take the next option whether to go for invasive therapy or whether to go for non invasive therapy.
Talking about non invasive therapy can the blood supply to the myocardium be increased with it? Yes. there are n number of invasive therapies which can help you to increase blood supply to the heart muscle. The only thing that decides whether to go for invasive or non invasive therapy would be some type of stress thallium or a normal stress test. A simple stress test where in you have to walk for about 15mins on a modified Bruss's protocol or else 9mins on Bruss's protocol with a typical ECG which is monitored by the doctor. If at all you get this stress tolerance test, whether it be thallium or a normal stress test, if you get your stress tolerance test done, based on this report we'll be able to take a decision whether to go for invasive or whether to go for non invasive therapy.
So, a simple parameter which is called as MET value, which is nothing else but the exercise tolerance capacity of your heart muscle. As your MET value is a clear indicator of your exercise tolerance capacity of your heart muscle, this will help us to decide whether to go for invasive or whether to go for non invasive treatment options. Thus, if at all a coronary blockage is identified in your heart with angiography the next thing you got to do is get a stress tolerance test done which will help you to take a good decision in the future.
For more information log onto Lybrate. Thank You.
read more
Amenities
Pharmacy
Parking
Credit Card
Online Appointments
Reception
Doctor in Madhavbaug Clinic - Borivali West

Bachelor of Ayurveda, Medicine and Surgery (BAMS)
Ayurveda
Specialities
Cardiac Care
Aims to provide effective diagnosis and treatment related to cardiac and circulatory problems
Diabetes Management
Offers quality care to patients with medical problems related to the endocrine glands and diabetes control
Obesity Management
Expertly offers advice in dietetics, including recommendations on planned diets to patients
Blood Pressure Management
Aims to provide effective diagnosis and treatment related to blood pressure problems
Services
Heart Failure Reversal Therapy (HFRT) Programme
Ischaemia Reversal Programme (IRP)
Blood Pressure Management
Obesity Management Program
Cardio Protective Therapy
Heart Health Checkup & Assessment
Network Hospital
Patient Review Highlights
"Professional"
1 review
"knowledgeable"
2 reviews
Reviews
Jatin
Apr 29, 2017
I was quite concerned, as my high blood pressure issue was increasing day by day, but due to Dr Madhavbaug Clinic and the high blood pressure treatment I didn't lose hope. He is one of the best physicians in city. I was shocked to experience the symptoms of high blood pressure. I was in too much pain because of high blood pressure, but I am not so much relieved from the pain.
Aatmaja
Jan 19, 2017
I was facing many problems due to hole in the heart. I consulted Dr Madhavbaug. Finally with his treatment. I am so much benefitted with his treatment, that i am perfectly fine now. The nurses at the Madhavbaug Clinic were really helpful. In the very first sitting, he clearly told us the problem and the what the treatment procedure will be in future.
Mohnish
Apr 28, 2017
The overall outlook of the Madhavbaug Clinic - Dadar West was very nice. Overall diabetes management was very effective. I was suffering from diabetes. I have consulted so many doctors but nobody till now was able to understand my concern properly, until i went to Madhavbaug Clinic. Everything was just spick and span there.
Anandani
Mar 24, 2017
Due to my hypertension my daily activities were suffering. One of my cousin's referred to Dr Madhavbaug Clinic. With great ease he explained us the problem and how the treatment will be carried out. The overall atmosphere in the Clinic is very soothing. He is not just friendly, but also is very motivating.
Aahna
Jul 10, 2017
I was having this irregular heartbeat problem. Over the period of time I noticed a number of changes in myself after their treatment. I am so happy with the results of my treatment, that I will surely recommend Madhavbaug Clinic to anyone gladly.
Mrs Mrunalini Gadkari
Nov 6, 2017
doctors seem knowledgeble.Confident in explaining decease,causes & treatment.Reception & other staff very courtieous
Surekha Mule
Feb 26, 2018
Overall good
Verified
Jun 3, 2018
Very good
Verified
Oct 25, 2017
Good
Feed
Shared 8 months ago • Featured Tip
Your heart gives you warning signs before the onset of a major problem. You may not even know that you are at risk of one or more heart diseases if you fail to notice these small signs that your heart sends out. Even a minor symptom, like chest pain, can indicate that your heart may be in trouble. While there could be many causal factors for a heart condition, here some symptoms, which are possible indications of a heart disease and should not be ignored in any case.

1. Chest pain or discomfort - This symptom is the most common one, which indicates that your heart is not healthy. It usually comes in the form of a pain, pressure or tightness in the chest and may happen due to a blocked artery. This may be an early warning sign of a heart attack and you should seek professional advice before it turns into a major problem.

2. Excessive sweating - If you often sweat without any valid reason, it might be a sign to be concerned for. The sweating experienced will feel more like the one that arises due to stress rather than common perspiration experienced due to any vigorous physical activity.

3. Difficulty in breathing - Shortness of breath is an indication that you are at high risk of getting a heart attack. The symptom includes having difficulty in breathing and feels similar to the panting experienced after a long run.

4. Nausea and frequent stomach problems - If you experience nausea, heartburn, indigestion or abdominal pain frequently, it may be the result of an unhealthy heart. Of course, these signs may be due to other diseases as well, but if you experience any of the other symptoms of heart problems too, it's highly probable that your heart is in trouble.

5. Exhaustion - If you fall into the high-risk zone of being a potential heart patient, you may feel exhausted after doing some simple chores, which didn't tire you earlier. Common examples may be climbing the stairs or carrying something from your doorstep inside the house to name a few.
3542
people found this helpful
Shared 9 months ago • Featured Tip
A heart attack is caused if the blood flow to the heart is obstructed. The disruption in the flow of blood destroys a part of the heart muscle and may prove to be fatal if not treated right on time.
Not every heart attack starts with a sudden crushing pain in the chest. In fact, about 30 per cent of the cases haven't yielded any such symptom. However, the signs may vary from one person to another:
Heart attack might start slowly causing only mild discomfort or pain initially. The symptoms happen to be sudden and intense, persisting for several hours.
Mostly heart attack induces pain on the left side or the center of the chest. The discomfort generally persists for a few minutes. It can even result in a feeling of indigestion or heart burn, fullness, squeezing and pressure which can turn from mild to severe.
One might also experience an aching sensation in the upper stomach, jaw, neck, shoulders, back or both of the arms.
Shortness of breath is one of those very common symptoms.
Other common symptoms include excessive sweating, exhaustion, vomiting, nausea, sudden dizziness or light-heartedness.
How can you tell a heart attack from a mere panic attack?
Panic attack occurs even more suddenly and induces intense fear, extracting extreme reactions for something relatively harmless. Once the attack subsides, one usually feels week on the knees and tender near the gut. Some of the symptoms exclusive to a panic attack include a feeling of detachment, numbness, hot flashes, chills and tightness experienced in and around the throat, tremors (primarily of the hands) and a constant fear of losing control or of an impending danger.
Although many indications of a heart attack might happen to overlap with those of a panic attack, there are still a few noteworthy differences between the two. Watch out for those signs and get yourself diagnosed properly.
3532
people found this helpful
Shared 9 months ago • Featured Tip
Pre-diabetes is a serious medical condition which puts you at higher risk for getting type 2 diabetes. But, there are a number of things that you can do, changes that you can make like avoiding certain foods, controlling the portions of your meal and the number of hours you exercise in a week that will help you prevent type 2 diabetes.
Without pulling any punches, let us say this very clearly that any healthy changes that you make during pre-diabetes will save you from an extremely serious disease called diabetes which kills due to various complications.
Type 2 Diabetes and Pre-Diabetes
What happens when you have type 2 diabetes is that your body does not produce enough insulin, the hormone that metabolizes sugar or is not able to use it properly. Your blood sugar therefore, shoots up alarmingly causing all the diabetes symptoms we already know of.
Pre-diabetes is a condition when your fasting blood sugar level is above normal. It is diagnosed through a blood test after you have fasted overnight.
Normal fasting sugar is 60 to 99 milligrams per deciliter and in pre-diabetes, it is 100 to 125 mg/dl, whereas diabetes sugar is 126 mg/dl or higher on 2 occasions.
If you have pre-diabetes, your doctor will counsel you about developing a lifestyle plan to reduce your risk of getting type 2 diabetes.
Most recommendations hover around losing 5-10 percent of your body weight if you are obese, more exercise and control of your portion size.
Portion size control for pre-diabetics
You will be advised to cut your calorie intake by 250 to 500 hundred calories per day if you are overweight.
Certain foods which are basically carbohydrates will go off your plate forever. Carbohydrates are high glycemic index foods as they convert to sugar very fast in the body and trigger insulin.
This means sweets, rice, cookies, pasta, chips, desserts, tortillas and even a few fruits which are high in sugar like Litchis and mangoes have to be excised from your pre-diabetes diet plan.
And, so should sodas, cold drinks, smoothies, fruit juices alcohol, tea and coffee with sugar…
Remember, proper serving size is crucial to preventing full-blown diabetes.
Let's take a look at how you can do this as a pre-diabetic-
Essentially, portion control for pre-diabetics is geared towards managing
Calorie intake, especially important for those carrying extra body weight
Carbohydrate intake
Managing calorie intake
Pre-diabetics should keep the calories from carbs to the minimum. They should get their maximum calories from proteins and fats.
Which means their plates should have more lean meats and eggs, less fats and minimum amounts of carbs, like wheat.
This has a number of benefits for blood glucose control. Eating more fat and protein-based foods will limit the uptake of sugar from your bloodstream. Fat is insulin-neutral and so are proteins. This means they don't trigger insulin.
Since an increased waist size is associated with decreased sensitivity to insulin, keeping your calories down by eating moderate portions of food is the best way to stop progression to full-blown diabetes.
Managing carbohydrate intake
Pre-diabetes means that your body doesn't tolerate carbohydrates. Think of it like this, in a meal, having half a banana is all your body can tolerate in terms of carbs.
Use can also use the plate method which involves dividing up your plate into sections for different food groups. It helps you to keep control of portion sizes as well as helping you to enjoy a well balanced diet. If you wish to discuss about any specific problem, you can ask a free question.
3202
people found this helpful
Shared 9 months ago • Featured Tip
Having bradycardia implies that your heart beats very slowly. For the vast majority, a heart beats from sixty to hundred pulses a minute while very few are viewed as ordinary. In case your heart beats under sixty times each minute, it is slower than usual. A moderate heart rate can be ordinary and solid. On the other hand it could be an indication of an issue with the heart's electrical framework.

For a few people, moderate heart rate does not create any issues. It can be an indication of being exceptionally fit. Sound youthful grown-ups and sports persons frequently have heart rates of fewer than sixty beats a minute. In other individuals, bradycardia is an indication of an issue with the heart's electrical framework. It implies that the heart's regular pacemaker isn't working right or that the electrical pathways of the heart are disturbed.

A moderate heart rate may make you:
Feel blurry eyed or woozy.
Feel short of breath and feel that it's harder to work out.
Feel tired.
Have neck pain or an inclination that your heart is beating or rippling (palpitations).
Feel bewildered or experience difficulty concentrating.
Black out, if a moderate heart rate causes a drop in pulse.
A few people do not have side effects, or their indications are mild to the point that they think they are quite recently part of getting more seasoned. You can discover how quick your heart is beating by checking your heart rate. In case your pulse is moderate or uneven, talk to a specialist.

How bradycardia is dealt with depends on what is causing it. Treatment likewise relies on symptoms. Given below are some of the symptoms:
In case harm to the heart's electrical framework causes your heart to pulsate too quickly, you will presumably need a pacemaker. A pacemaker is a gadget put under your skin that revises the moderate heart rate. Some people might have a kind of bradycardia that requires a pacemaker.
In case another medical issue, for example, hypothyroidism or an electrolyte irregularity, is bringing about a moderate heart rate, treating that issue may cure the bradycardia.
In case a medicine is making your heart to pulsate too gradually, your specialist may change the dosage or recommend an alternate drug. In case you can't quit taking that medicine, you may require a pacemaker.
Bradycardia is frequently the aftereffect of another heart condition, so finding a way to carry on with a heart-solid way of life will enhance your general health. This may include:
Showing at least a bit of restraint and dedication to a good diet routine that includes a considerable amount of organic products, vegetables, whole grains, fish, and low-fat or nonfat dairy foods.
Being gradually on most, if not all, days of the week. Your specialist can let you know what type of exercise is okay for you.
Getting more fit in case you have to, and maintaining a solid weight.
Not smoking.
Overseeing other medical issues, for example, hypertension or elevated cholesterol. If you wish to discuss about any specific problem, you can consult a Cardiologist.
3248
people found this helpful
Shared 9 months ago • Featured Tip
Weight loss is a major area of concern for many. From exercise to diet, sleep to lifestyle, everything needs to fall in order in order to ensure a safe and quick weight loss. While diet plays a crucial role in the weigh-loss process, there are some long-standing myths that are associated with the same. In this article, we will explore some of the myths.
All calories are the same: All calories contain the same amount of energy. A different source of a calorie has a different effect on the body. Calories take different metabolic paths and have unique effects on the hunger and hormone of the body. While some calories are feeling, some are not. Some boost metabolism, some curb hunger. The notion that all calories are the same is untrue.
The process of weight loss is linear: Many are of the belief that the process of losing weight is linear, which is not. There are weeks when the body weight increases instead of decreasing. This is entirely normal. The stomach might support more food or the process of work out can support more water than earlier. These are the few reasons that can lead to weight gain.
Supplements help to lose weight: While the fat supplement industry is massive, their effect on the body is still doubtful. The main reason why people opt for these is the placebo effect. The best of supplements helps to curb hunger, thereby helping an individual to intake less amount of food and ensure weight loss. This being said, there are very few supplements which can directly help to reduce weight.
Moving more and eating less leads to weight loss: This is yet another myth associated with weight loss. To lose calorie, it is imperative to sweat out as much as once can. Even eating less is a logical move to ensure weight loss happens. However, this process is most likely to fail. The weight lost via this process eventually comes back. The long-term solution for weight loss, therefore, is a diet plan and a sustained workout plan.
Carbs result in weight gain: This is yet another myth related to weight loss. The truth is that not all carbs are bad. While refined carbs are directly related to weight gain, there are carbs from whole grain foods that are extremely healthy and can become an essential part of the weight loss program for the long run.
High protein diet is efficient for weight loss: It is common myth that high protein diet is effective in weight loss as on a regular basis getting your calories from high protein foods like meat, eggs, and cheese is not a balanced eating plan. As, these foods are equally high in fat and cholesterol and consuming it can cause heart problems. When you consume high protein diet you tend to consume less of fruits, vegetables and whole grains, which may lead to constipation due to lack of dietary fiber and can cause lack of essential vitamins and minerals. Following a high protein diet can also make you feel nauseous, tired and weak.
FAD Diet is the ultimate way to lose weight: Fad diets are not the best way to lose weight and keep it off. These diets often promise quick weight loss if you strictly reduce what you eat or avoid some types of foods. These diets may help you lose weight at first, but they are hard to follow. Most people quickly get tired of them and regain any lost weight.
Eating late or just before going to bed tends to make you gain weight: It's not true. When it comes to weight gain or loss, it is not the time of day that makes the difference — it's what you are consuming.
"Low-fat /No-fat" diet is equal to "Low calories/No calories": The fact is that you have to count your calories more than the amount of fat in your food. So if you are having something rich in calories, it doesn't matter whether it is low in fat. A lot of these fat-free products actually contain a lot of sugar, and frequent sugar spikes can lead to visceral fat deposition. Furthermore, you should not avoid fatty foods because they provide you with a sense of fullness.
Dieting is the only way to lose weight: Combining exercise with a healthy eating plan is the right way to lose weight and keep it off in a healthy way. Regular exercise helps reduce your appetite and burns calories more efficiently. You should incorporate weight-training exercises to build lean muscle. This will act as your own built-in furnace to help you burn calories and lose body fat.
Potatoes make you fat!: It was once thought that the key to weight loss was eliminating all high-carbohydrate foods, including pasta, rice and potatoes. We now know that carbohydrates are the body's preferred energy source. Eating a potato, or any type of carbohydrate-rich food, won't automatically make you fatter.
"Magical Foods" help you lose weight: Some foods, such as grapefruit or kelp, are said to burn off body fat. This is not true. Dietary fibre comes closest to fulfilling this wish, because it provides a feeling of 'fullness' with minimal kilojoules. High-fibre foods such as fruit, vegetables, wholegrain breads and cereals, and legumes also tend to be low in fa
The key to weight loss is portion-control and maintaining the desired calorie balance by living a healthy lifestyle. If you wish to discuss about any specific problem, you can ask a free question.
3538
people found this helpful
Shared 9 months ago • Featured Tip
Palpitations is the feeling that you experience when your heart beats abnormally. Heart palpitations can be felt in the form of rapid, fluttering or pounding heartbeats. They can be frightening as when you palpate, you heart beats so hard that it even skips a beat and the sensations are so strong that they can be felt all through your chest, neck, and throat.

Palpitations are also common especially in young people because of abnormal electrical circuits in heart from birth. However, they may have normal hearts on Echo. Such palpitations are curable by a nonsurgical methods called Radiofrequency Ablation.

Palpitations can be triggered as a result of a number of reasons like stress, certain medications, exercise etc.

Here are a few prominent causes of heart palpitations.

Causes unrelated to the Heart -

- Anxiety, fear, and stress
- Consumption of alcohol and drugs like caffeine, nicotine etc.
- Consumption of street drugs likes cocaine, amphetamines etc.
- Certain medical conditions such as thyroid, anemia, dehydration, low blood pressure and low sugar levels etc.
- Hormonal changes that occur as a result of menstruation, pregnancy, menopause etc.
- Certain nutritional and herbal supplements
- Certain medications like asthma inhalers, diet pills etc.
- Abnormal levels of electrolyte
- Sensitivity to certain food items like some carbohydrates

Causes related to the Heart -

- Coronary artery disease
- Prior instances of heart attack
- Congestive heart failure (a condition wherein your heart's chambers get affected)
- Problems associated with the heart valves or the heart muscles

Immediate Relief Mechanisms-
It is crucial to go to the most easily available doctor to get an ECG done during palpitations as ECG will give an exact diagnosis, which helps in identifying the clear line of treatment. It is also advised to visit your healthcare provider/cardiologist to get an ECG done during palpitations. An ECG would give an exact diagnosis, which helps in identifying the clear line of treatment.
To know the exact reason causing palpitations ,Visit your nearest Madhavbaug Clinic and get a Stress ECG done with our expert medical guidance at affordable price !
Here are a few techniques that can help you in getting immediate relief from heart palpitations until you are able to visit a doctor in case of a serious condition.

- Cough it out
- Splash cold water on your face or take a cold shower
- Practice slow, deep breathing exercises
Consult an Expert & get answers to your questions!
3969
people found this helpful
View All Feed