Benefits of Psyllium Husk (Isabgol) And Its Side Effects
Psyllium Husk (Isabgol)
Psyllium husk commonly known as isabgol is a common household product. It grows on a small herbaceous plant called planovate whose seeds are arranged in the same way as that of wheat. Its leaves resemble aloe vera are narrow and long. Its husks are a very important component of Ayurveda.
Health Benefits of Psyllium Husk (Isabgol)
Mentioned below are the best health benefits of Psyllium Husk (Isabgol)
Nutritional facts Per 1-tablespoon
Uses of Psyllium Husk (Isabgol)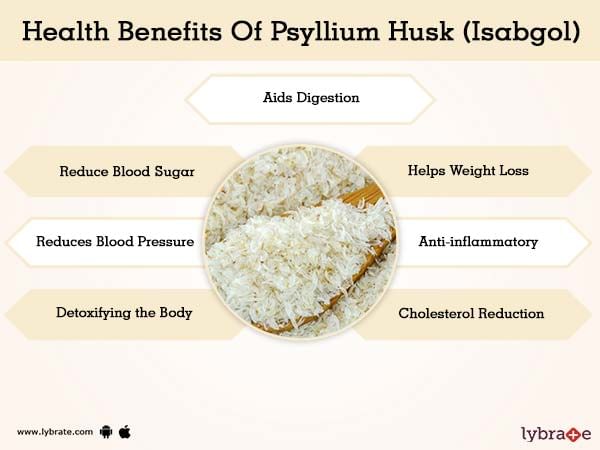 Psyllium is used mainly for medicinal purposes. Apart from this there are a few other uses as well. They are as a thickening agent in manufacturing ice creams and other frozen desserts. It is also used for calico printing, setting lotions and in the food industry. Transplanting in woody plants uses technical-grade psyllium as a hydro-colloidal to improve water retention.
Side-Effects & Allergies of Psyllium Husk (Isabgol)
Side Effects and allergies are extremely rare with isabgol. But those who suffer from swallowing difficulty and intestinal blockages should avoid having this as it may aggravate the problem. Rhinitis and anaphylaxis are the common side effects of isabgol but they happen rarely.
Cultivation of Psyllium Husk (Isabgol)
Psyllium is a native to India and is now also grown in parts of west Asia, USA, Mexico and Russia. This plant is a rabi crop and requires a cool, dry and sunny weather to grow. Isabgol needs a sandy or loamy soil that is well drained and does not let water to stagnate. It takes 5 to 6 months for the plants to be ready for harvesting. India is the largest producer of Psyllium.