Personal Statement
I believe in health care that is based on a personal commitment to meet patient needs with compassion and care.
...more
I believe in health care that is based on a personal commitment to meet patient needs with compassion and care.
More about Dr. Chetan Anchan
Dr. Chetan Anchan is one of the best Oncologists in Marine Lines, Mumbai. He is currently practising at Bombay Hospital & Medical Research Centre in Marine Lines, Mumbai. Book an appointment online with Dr. Chetan Anchan on Lybrate.com.

Lybrate.com has a number of highly qualified Oncologists in India. You will find Oncologists with more than 37 years of experience on Lybrate.com. Find the best Oncologists online in Thane. View the profile of medical specialists and their reviews from other patients to make an informed decision.
Info
Languages spoken
English
Hindi
Location
Book Clinic Appointment with Dr. Chetan Anchan

Cadbury Junction, Eastern Express Highway, Service Road Landmark : Next To Viviana Mall

,

Thane
Get Directions





+22






















Services
Submit Feedback
Submit a review for Dr. Chetan Anchan
Your feedback matters!
Write a Review
Feed
Nothing posted by this doctor yet. Here are some posts by similar doctors.
Shared 1 year ago • Featured Tip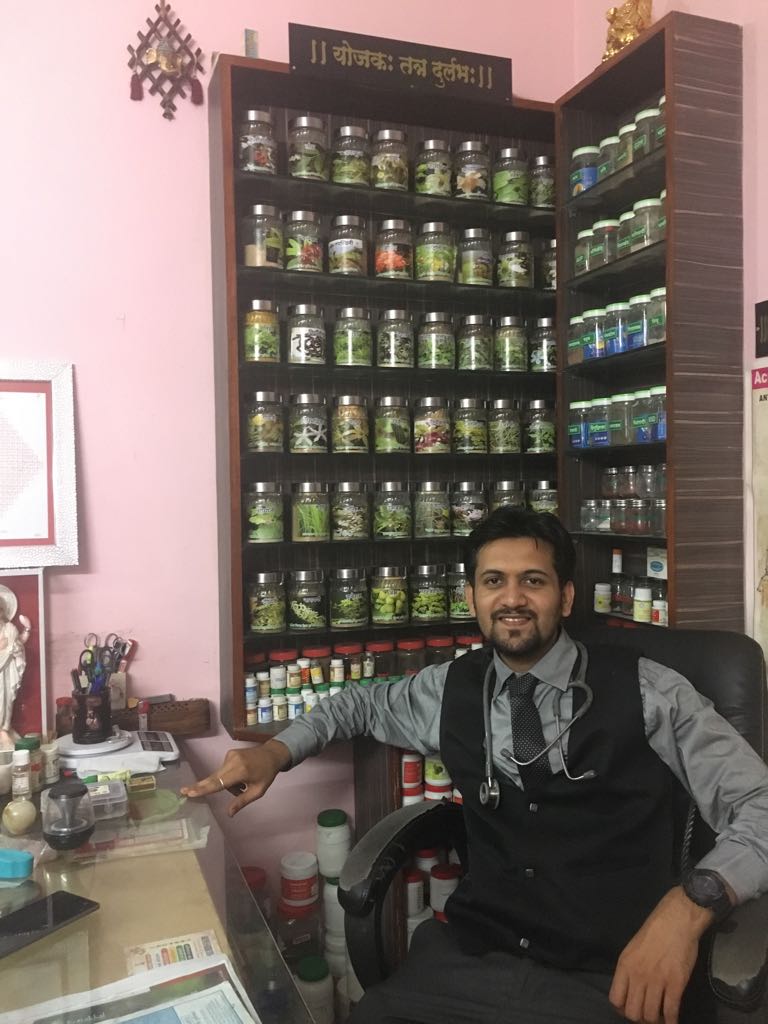 According to the American Cancer Society and Colon Cancer Alliance, colon cancer, which is also referred to as colorectal cancer is regarded as the third most commonly diagnosed type of cancer, as well as the second most important reason of cancer deaths in the U.S. affecting both men and women. But thankfully, colon cancer can be prevented by changing the food habits. It is also important to get regular screenings through colonoscopy, which will help you to determine the early or precancerous stage that can be treated with the removal of cancerous cells.
Colorectal cancer is deemed to be cancer, related to the food habits and it can be prevented by correcting the same. Here are the top ways through which you can help your condition naturally:
Reduce the amount of red meat consumption: Health studies reveal that people who eat red meat on a regular basis are more prone to developing colon cancer. This is because the chemicals required to digest this food damage the DNA material which in turn is the main reason behind the cause of cancer.

Increase the amount of garlic intake: By consuming more garlic, you can reduce the risk of developing different types of cancer, particularly those of the gastrointestinal tract. Garlic is rich in anti-bacterial properties that can block the pathway of cancer causing elements and boost the repair as well as reduce the proliferation of cells. It is also high in selenium and sodium content which are beneficial for the overall health.

Consume all types of plant antioxidants: The bright-coloured fruits and vegetables, as well as herbs and spices, can greatly contribute to adding a wide array of antioxidants in your regular diet. Foods that are rich in antioxidants include carrots, pomegranates, cranberries, kale, broccoli, tomatoes, apples, cabbage, turmeric, sage, rosemary, saffron, purple and red grapes.

Cook foods in sesame oil: The many health benefits of sesame seeds are due to its nutritional content, including vitamins, minerals, natural oils, and organic compounds which consist of calcium, iron, magnesium, phosphorous, manganese, copper, zinc, fiber, thiamin, vitamin B6, folate, protein, and tryptophan.

Increase the consumption of Omega-3 fatty acids: It has been reported by several types of research that a diet rich in omega-3 fatty acids can reduce the occurrence of colon cancer and therefore you must eat a lot of salmon, cod, mackerel and sardines for decreasing the pro-inflammatory levels in your body.

Go For Ayurvedic Panchakarma Therapy: Panchakarma is the ultimate mind-body healing experience for detoxifying the body, strengthening the immune system and restoring balance and well-being. It is one the most effective healing modality in Ayurvedic Medicine. It promotes Detoxification and Rejuvenation. It is recommended on a seasonal basis, as well as when an individual feels out of balance or is experiencing illness. According to Ayurveda, good health depends upon our capability to fully metabolize all aspects of life, assimilating that which nourishes and eliminating the rest. When we can't completely digest our food, experiences, and emotions, toxins accumulate in our bodily tissues, creating imbalance and – ultimately – disease. Panchakarma is an elegant cleansing process that releases stored toxins and restores the body's innate healing ability.
These few alterations to your food habits can greatly help you in preventing colon cancer and you can consult your doctor for a detailed analysis and recommendation based on your individual health condition.
6254
people found this helpful
Shared 1 year ago • Featured Tip

Blackheads can cause a lot of social embarrassment and anxiety for many people as they look like ugly blemishes on your skin. Although blackheads are a skin problem, they could be manifestations of other internal problems as well. There are many topical remedies to tackle blackheads but a holistic approach such as the one provided by Ayurveda will be a more effective solution.
Why do we get blackheads?
If you have oily skin, this is a serious problem for you. The oil secreting glands on your face and nose known as the sebaceous glands produce oil to protect the skin and keep it hydrated. Excess production of this oil clogs the pores of the skin and expands them. As more oil keeps pouring, it gets clogged in the pores even more and then becomes hardened when it reacts with air forming blackheads. These blackheads may make you look weak and tired and the only solution is to take regular skincare, so that they don't come back.
Some natural ayurvedic treatments of blackheads which you can follow:
Use Tomato Paste: The easiest option is applying tomatoes on the affected area. They have antiseptic ingredients which have a good impact on your blackheads. Apply some tomato pulp on your skin and leave it overnight. Wash the face in the morning with lukewarm water and see the results.

Mashed Potatoes: Mash some raw potatoes and rub it on the affected area. Keep it on as a mask and then wash it off. Regular usage of this will heal the skin and reduce the problem of blackheads greatly.

Oatmeal Powder and Rose Water Mix: Mix oatmeal powder and rose water and leave it on the area prone to blackheads for 15-20 minutes. Rinse it with cold water. Regular usage should show results quite quickly.

Lemon Juice: Lemon juices are effective in killing blackheads. However they may make your skin quite dry. Hence use groundnut oil to dilute it and keep the skin hydrated. Use this mixture on your face and wash after 15 minutes.

Apple Cider Vinegar and Cornstarch: These is an excellent combination to get rid of blackheads. You can apply it on your face, keep it overnight and then wash it off with warm water soaked in a soft cloth.
These are some of the natural Ayurvedic tips to get rid of your blackheads. In order to make sure that they don't recur, drink lots of water to flush out the toxins. Clean your skin regularly with a mild face wash regularly. It is also important to ensure that your lifestyle remains healthy and balanced or else these problems may keep coming back. If you wish to discuss about any specific problem, you can consult an ayurveda.
5404
people found this helpful
Shared 1 year ago • Featured Tip

MD - Oncology
Oncologist, Hubli-Dharwad
Testicular cancer is mostly witnessed among young adults in the age range of 24–35. It results from the growth of abnormal cells in the testes. It is not the most common type of cancer found in the body, but can pose a serious threat to an individual if not treated early. The cure rate is one of the highest among all kinds of cancer found in the body. This being said, the rate of cure is totally dependent on the stage of detection.
Risk Factors for Testicular Cancer
The historical trend of testicular cancer suggests that white men are prone to this type of cancer than their African, Asian and Latino counterparts. A person with a family history of testicular cancer of HIV is at higher risk of getting this disease. Some other risk factors include Klinefelter's syndrome and cryptorchidism.
Protection from Testicular Cancer
There is no hard and fast rule of protection. It is suggested that the testicles get evaluated while routine medical check-up. A person with a family history of testicular cancer should opt for a periodic checkup after every three months. In case a patient has already recovered from testicular cancer, routine medical tests are a must to ensure non-recurrence.
Symptoms of Testicular Cancer
The common symptom is a swelling in the testicle. It feels like a thickening of the testicle and is mostly painless. Minor discomfort in the swelling region is often reported. Some other symptoms include back pain, ache in the scrotum and groin, change in the size of the testicle, bloating of the lower abdomen and heavy sensation of the scrotum. There is a rare form of this cancer, which produces a female hormone called estrogen in a man's body. This disease results in a lack of sexual desire, lump in the affected area, etc. Even less serious testicular cancer might show these symptoms. An oncologist should be immediately consulted if one or more of these symptoms surfaces.
What are the treatment options?
Testicular cancer is mostly cured with the help of a surgery. A follow-up radiation and chemotherapy is suggested by doctors to destroy the surrounding cells. It is done to ensure that the cancer cells do not spread easily and the chance of recurrence is minimal. The rate of cure depends on early detection.

Does testicular cancer affect sexuality?
In most of the cases, testicular cancer is detected in one testicle. If this is the case, the other testicle produces all the hormones needed for sexual drive. It also does not affect sex drive, beard and muscularity. There is also a large section of patients who reported of a difficult sexual life after the surgery. There can be some discomfort in the scrotum as well.
If you wish to discuss about any specific problem, you can consult a specilized oncologist and ask a free question.
1813
people found this helpful
Shared 1 year ago • Featured Tip

Being diagnosed with cancer is something no one looks forward to and Gynaecological Cancer is every woman's worst nightmare. However, if diagnosed in time, it can be treated. Cancer in any part of a woman's reproductive system is termed as gynecological cancer. It is of five types:
Vulvar cancer and
Paying attention to your body and understanding its natural rhythm can help you recognize signs of gynecological cancer. This is because signs of gynecological cancer can be difficult to identify unless you know your body. Here are a five signs to watch out for-
Abnormal Vaginal Bleeding: Bleeding in between periods is okay once in a while but if it happens continuously over a period of 2 to 3 months, do not ignore it. Vaginal bleeding after menopause should also never be ignored. Abnormal bleeding could be triggered by a number of conditions including cancer of the lining of the uterus. Sudden changes in your menstrual blood that persist for over 2 cycles such as heavy bleeding can also be a symptom of uterine cancer. Heavy bleeding can be defined as a period that lasts for over 7 days.

Changes in the Vulva: Any change in colour of development of bumps, sores of thickened skin should be immediately shown to a gynecologist. Any form of vulvar itching or burning should also not be ignored. These conditions could be symptoms of vulvar cancer. Hence, it is important to know what your vulva looks like normally.

Bloating: Persistent bloating that lasts for over a fortnight can be a sign of ovarian cancer. This is especially true in cases of bloating accompanied by sudden weight loss or between-period bleeding.

Change in Bathroom Habits: Due to the proximity of the bladder to the reproductive organs, a tumour or swelling in the reproductive organs can trigger symptoms similar to those of a urinary tract infection. This includes pain while urinating, difficulty passing urine, diarrhea or constipation. Urinary incontinence could also a sign of gynecological cancer.

Abdominal or Back Pain: In rare cases, lower back pain could be a sign of ovarian cancer or uterine cancer. Pain in the lower abdomen or pelvic area can also be a sign of ovarian cancer.
The above could also be signs of other health disorders. The only way of knowing for sure is by consulting a doctor. Hence, understand your body and if you notice any of these symptoms consult your gynecologist at the earliest.
2385
people found this helpful
Shared 1 year ago • Featured Tip

MBBS, MS - General Surgery, DNB (Urology)
Only men have prostate gland and it surrounds that part of the tube which carries urine out of the body from the bladder. When cells in this gland start growing without any control and get clumped with each other, they form tumors. It is then the chances of prostate cancer arise in the men's body. These tumors can be malignant, and they can kill the healthy tissues of your body and spread to other body parts.
Chances of getting prostate cancer
The chances of getting prostate cancer are among men who are over 65 years of age. The ratio of getting prostate cancer is one among six men. It is more common in black men compared to white men, Hispanic men and Asian men. Moreover, when there is history of prostate cancer in your family, the chances of having prostate cancer increases.
Now, let's find out the symptoms that will let you know that you may have prostate cancer.
Symptoms of prostate cancer
There are different stages of prostate cancer and depending upon the stage you can get to know various symptoms.
However, the problem is that in the early stages there are no specific symptoms of prostate cancer. Certain urinary symptoms may suggest that you are suffering from prostate cancer. Such symptoms are:
Frequent urination
Difficulty with starting urine flow
Urination that burns
Blood in the urine
Weak flow, or 'dribbling'
These symptoms always do not mean that you are suffering from prostate cancer, as these symptoms may be there when your prostate gland gets enlarged.
Another symptom associated with prostate cancer is pain in different parts of the body. When the cancerous cells spread they cause pain around the prostate gland. There can be pain in the hips, pelvis, and lower back or upper thighs.
Prostate gland also plays a major role in the male reproductive system. Thus, if there is any sexual dysfunction, there are chances that it may be due to prostate cancer. If you are having a problem in getting an erection or maintaining it also becomes difficult, one problem can be prostate cancer. Sometimes you may experience painful ejaculation, which also points towards chances of having prostate cancer.
Thus, if you experience any of the above mentioned symptoms, its right time to get to your physician. Remember that as there are no early symptoms, the moment you find any of these symptoms, you should pay a visit to your Doctor.
Related Tip: "Prostate Cancer and Its Psychological Impact"
3666
people found this helpful
Shared 1 year ago • Featured Tip

Skin Diseases Cancer Heart Diseases Musculoskeletal Disorders Male Sexual Disorders AIDS, Hypertension Diabetes Mellitus Blood Disorders Respiratory Disorders, Gastrointestinal Disorders Endocrine Disorders ENT Disorders, Gynecological Disorders Opthalmic Disorders Psychiatric Disorders Urological Disorders
The oral cavity consists of the lips, gums, teeth, cheeks (buccal mucosa), the frontal 66% of the tongue, the hard top of the mouth (hard palate), the floor of the mouth beneath the tongue and the region behind the wisdom teeth (retromolar trigone). Development of oropharyngeal cancer occurs in the region of the throat behind the mouth, called the oropharynx. The oropharynx starts where the oral depression closes.
The World Health Organization states that oral cancer ranks eleventh in terms of the common cancer around the world. It is commonly found in men and its spread is slightly higher in developing countries. Excessive consumption of alcohol and tobacco contributes to around 90% of oral cavity cancer cases.
Cancerous oral growth is dealt with procedures which are similar to treatments of different cancers i.e. with the assistance of surgery followed by radiation treatment. In radiation treatments, patients may need to manage the various side effects. Specialists at the Rajiv Gandhi Centre for Biotechnology (RGCB) along with the Regional Cancer Centre in Kerala have made a mouthwash utilizing herbal substances, as recommended in Ayurveda, which can help in diminishing the intense amount of pain in patients experiencing radiation therapy for oral cancer.
Other important Ayurvedic remedies may entail the following:
Lemon: A deficiency of vitamin C is experienced in the body once you are diagnosed with oral cancer. Therefore, consuming fresh lemon juice, which is rich in vitamin C, around 3 to 4 times a day, is very helpful
Carrots: Carrots are rich in 'beta-carotene' which is considered to be an anti-cancer nutrient. It is recommended for patients suffering from oral cancer since it is a source of antioxidants. Consumption of at least 1 glass of carrot juice per day helps in fighting this form of cancer.
Grape Seed: The seeds of the grapefruit are rich in antioxidants which help to destroy the radical cells. These radical cells damage the cells present in the mouth, thus causing oral cancer. The vitamin E, C and beta-carotene present in grapes strengthen the immunity system. The grapes should be crushed to form a paste and the liquid should be strained to form a juice. Consume this juice 3-4 times in a day.
Bitter gourd: It is rich in alpha eleostearic acid, which helps in elimination of cancerous cells without affecting the normal ones.
5932
people found this helpful

Dear, Diabetes is often called the silent killer. Diabetes, is a metabolic disease in which sugar does not get metabolized properly in the body. This means that the blood sugar levels continue to be high, threatening the normal functioning of the body. According to Ayurveda There are 20 forms of Diabetes : 4 are due to Vata, 6 result from Pitta, and 10 are caused by Kapha. But Diabetes (MADHUMEHA) is.Mainly kapha dosha disease. Poorly managed diabetes can lead to a host of long-term complications like :- Heart attacks, Strokes, Blindness, Nerve damage, Amputation of Limb. Impotency in men.Visit us at www.Malhotraayurveda.Com

MBBS, M.S. General Surgery, M.R.C.S. England, M.Ch. Surgical Oncology, DNB Surgical Oncology, FEBS Surgical Oncology, DNB General Surgery, MNAMS, FMAS, FIAGES, FAIS, FICS, FEBS Breast Surgery, FACS, Fellowship IFHNOS & MSKCC USA, Fellowship in breast and oncplastic Surgery
Depends on the stage of the cancer. Usually only surgery is sufficient for early stage disease. If advanced, may need chemotherapy before surgery and chemo radiation or radiation afterwards.
1
person found this helpful
Shared 1 year ago • Featured Tip
Uterine cancer is also known as endometrial cancer. It is a cancer which begins in the lining of the uterus. The uterus is the part of a woman's body where the fetus develops. Uterine cancer is one of those rare cancers in India, which can be diagnosed in its early stages. This is because excessive vaginal bleeding occurs, thus making it a very serious and an apparent symptom. It is also one of the few forms of cancer which can be cured as removing the uterus is often more than enough to cure the patient of uterine cancer.
Here are the causes, diagnosis and treatment of uterine cancer:
Causes
The exact cause of uterine cancer is not yet known, however, there is a theory on what causes uterine cancer. Hormones in a woman's body have been thought to increase the chances of getting uterine cancer. This is because it has long been thought that having high levels of estrogen is the cause of uterine cancer. Increased estrogen thickens the endometrium and thus, increases the likelihood of uterine cancer.
Diagnosis
There are several tests used to diagnose whether you have uterine cancer including:
1. Pelvic exam: This is an examination in which the vagina, bladder, rectum and uterus are scanned for lumps. If they are found, it might be due to uterine cancer.
2. Pap test: A pap test is a special test designed to scan for uterine cancer.
3. Transvaginal ultrasound: A transvaginal ultrasound uses high-intensity sound waves so that pictures of the uterus can be taken.
4. Biopsy: During a biopsy, the doctor will remove tissue from the endometrium and it will then be analyzed for cancerous growths.
Treatment
1. Surgery: This is the most common treatment as it removes the entire uterus and prevents the spreading of the cancer.
2. Chemotherapy: Chemotherapy involves giving drugs which kill cancerous cells. They are given through either an intravenous line or even in pill form.
3. Hormone therapy: This is a therapy in which either progesterone levels are increased or estrogen levels are decreased.
4. Radiation therapy: In this treatment, high energy laser beams are used to destroy cancerous cells.
3755
people found this helpful
View All Feed