Personal Statement
I believe in health care that is based on professional commitment to meet patient needs with compassion and care
...more
I believe in health care that is based on professional commitment to meet patient needs with compassion and care
More about Dr. Ganesh Mhetras
Dr. Ganesh Mhetras is one of the best Nephrologists in viman nagar,kharadi,wagholi,nagar road area of Pune. He has experience of more than a decade. He studied nephrology from India's premiermost institute PGI,Chandogarh. He has worked in prestigious hospitals like Apollo hospital,Mysore,Wockhardt,Goa.His areas of interest include mangement of chronic kidney disease,care of hemodialysis patients,kidney transplantation.You can consult Dr. Ganesh Mhetras at COLUMBIA ASIA HOSPITAL in Sainath Nagar, Pune. Don?t wait in a queue, book an instant appointment online with Dr. Ganesh Mhetras on Lybrate.com.


Info
Education
DM - Nephrology - PGI CHANDIGARH - 2009
MD - Internal Medicine - TOPIWAL NATIONAL MEDICAL COLLEGE MUMBAI - 2006
MBBS - Shivaji University - 2001
Languages spoken
English
Hindi
Professional Memberships
INDIAN SOCIETY OF NEPHROLGY
Location
Book Clinic Appointment with Dr. Ganesh Mhetras
KHARADI

,

Pune
Get Directions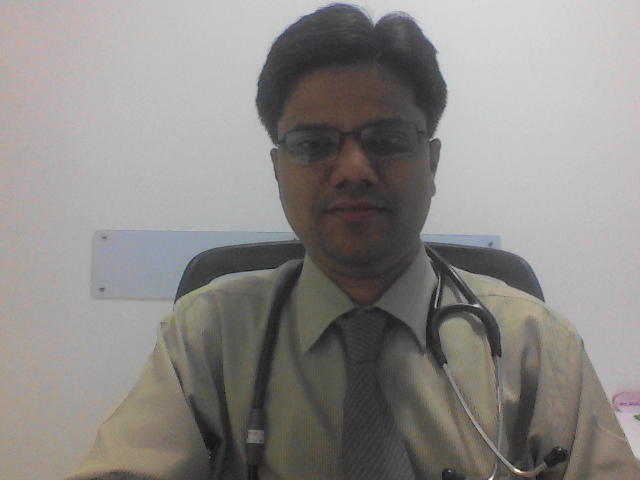 Services
Submit Feedback
Submit a review for Dr. Ganesh Mhetras
Your feedback matters!
Write a Review
Feed
Nothing posted by this doctor yet. Here are some posts by similar doctors.
Shared 2 years ago • Featured Tip

MCH-Urology, M.S. (General Surgery) , MBBS
If there is blood in your urine, it is a sign of renal illness. While this could be happening because of various reasons, it is advisable to see your doctor soon.
Following are the causes of blood in your urine:
An enlarged prostate - An enlarged prostate is a common cause of the appearance of blood in the urine in men who are in their middle ages or older. Enlargement of the prostate gland causes the urethra to be compressed. This prevents the urethra from getting fully emptied while urination.
Cancer - A cancerous kidney, bladder or prostate gland can also cause blood to appear in the urine. It is another major cause of hematuria but usually occurs in older patients.
Infection - Infections like urethritis, pyelonephritis, cystitis or infection in any other body organ along the urinary tract is one of the most common causes of hematuria. Such bacterial infection in the urethra can also infect the kidneys and the urinary bladder. It results in the urge to urinate frequently and also causes blood to appear in the urine.
Kidney stones and bladder stones - Another reason that can cause blood to appear in the urine is the presence of stones in the kidney or bladder. These stones are crystallized minerals that are formed in the kidney or the bladder but fail to pass through the urinary tract. They cause blockage and pain and result in hematuria.
Polycystic kidney disease - PKD is a kidney disorder in which cysts filled with fluid form in the kidneys and impair the kidneys, causing them to fail entirely at times. It is an inherited disease and causes blood to appear in the urine.In children who are between 6-10 years of age, kidney disorder after streptococcal glomerulonephritis can be a possible cause of hematuria.
4213
people found this helpful
Asked for male, 61 years old from Bangalore

MBBS, MD - General Medicine
General Physician, Ahmedabad
Sir, if possible you can go for an abdominal ultrasound to look for bph (benign prostatic hypertrophy) or cystitis. Also go for a urine test- routine and microscopic examination and then consult your family physician
1
person found this helpful
Asked for male, 49 years old from Chennai
C.S.C, D.C.H, M.B.B.S
General Physician, Alappuzha
You can take medicines with the advice of your nephrologist as based your general health, kidney functions and the medicines used and or its effect on kidney.
2
people found this helpful
Asked for female, 24 years old from Bangalore

MBBS
General Physician, Mumbai
Dear Lybrateuser, - Weakness can be there after the infection - have plenty of oral fluids including 8-10 glasses of water - have a well balanced diet with more of fruits & vegetables, whole grains, protein foods - sleep well & do regular exercise to keep fit.
2
people found this helpful
Shared 1 year ago • Featured Tip

Bachelor of Ayurveda, Medicine and Surgery (BAMS)
Ayurveda, Lakhimpur Kheri
किडनी हमारे शरीर के महत्वपूर्ण अंगों में से एक है. ह्रदय द्वारा पम्प किए हुए रक्त का 20 प्रतिशत किडनी द्वारा साफ़ किया जाता है. फिर इसमें से निकले विषैले और अपशिष्ट पदार्थों को मूत्र के जरिए बाहर कर दिया जाता है. दुर्भाग्य से हमें किडनी में होने वाले इन्फेक्शन की जानकारी इसके पहले चरण में नहीं हो पाती है. कई बार तो ऐसा होता है कि जब तक हमें पता चलता है तब तक बहुत देर हो चुकी होती है. इसलिए हम आपको इसके कुछ लक्षण बताने जा रहे हैं ताकि इस समस्या से निजात पाई जा सके.
1. पेशाब में रक्त या प्रोटीन का आना
जब पेशाब में खून आने लगता है तब तो हमें आसानी से पता चल जाता है. लेकिन पेशाब के जरिए प्रोटीन के बाहर आने का पता लगाना ज़रा मुश्किल है. इसके लिए आपको लगातार निरिक्षण करते रहना होता है. दोनों ही स्थितियों में आपको तुरंत चिकित्सक के पास जाकर उन्हें पूरी बात बतानी चाहिए.
2. भूख का कम लगाना या वजन घटना
हमारे शरीर को लगातार काम करते रहने के लिए उचित पोषण और ऊर्जा की जरूरत होती है. जाहिर है ये ऊर्जा और पोषण हमें भोजन के जरिए ही मिलता है. लेकिन यदि भूख ही न लगे तो इसका एक कारण किडनी की कोई बिमारी भी हो सकती है. इसलिए जरुरी है कि किसी डॉक्टर को दिखाएँ.
3. उच्च रक्त चाप
उच्च रक्तचाप तो अपने आप में एक समस्या है. लेकिन कई बार इसका कारण किडनी में इन्फेक्शन भी हो सकता है. दरअसल होता ये है कि शरीर की क्षमता में कमी आने से हमारा ह्रदय तंत्रिका तंत्र के विभिन्न कार्यों को करने के लिए तेजी से रक्त पम्प करना शुरू कर देता है. ऐसे में जब दिल ज्यादा काम करता है तो उच्च रक्तचाप की समस्या हो जाती है.
4. त्वचा में रैशेज
जैसा कि हमने आपको बताया कि किडनी का काम भी खून से विषैले पदार्थों को बाहर निकालना है. लेकिन जब किडनी में संक्रमण हो जाता है तो अपशिष्ट पदार्थ बाहर नहीं आ पाते हैं. इसकी वजह से त्वचा पर चकत्ते और खुजली जैसी समस्या उत्पन्न हो जाती है.
5. थकान और सांस लेने में समस्या
शरीर से अपशिष्ट पदार्थों को बाहर निकालते समय किडनी इरिथरोपोटीन नामक हार्मोन का उत्पन करता है. ऑक्सीजन को लाल रक्त कोशिकाएं बनाने में इस हार्मोन की ही भूमिका होती है. इसलिए जब किडनी में कोई समस्या आती है तो इरिथरोपोटीन का उत्पादन प्रभावित होता है. इससे शरीर में ऑक्सीजन के वितरण के लिए जिम्मेदार लाल रक्त कोशिकाएं कम पड़ जाती हैं और सांस लेने में भी दिक्कत होने लगती है. इसके साथ ही हमारा दिमाग, मसल्स और पूरा शरीर जल्दी ही थक जाते हैं. इसे रक्ताल्पता भी कहते हैं.
6. जी मितलाना और चक्कर आना
किडनी के काम न करने पर शरीर में अपशिष्ट पदार्थों के अधिकता हो जाती है. जिसकी वजह से जी मितलाना और उल्टी जैसी परेशानियाँ भी उत्पन्न होने लगती हैं. इसके अलावा रक्ताल्पता की वजह से भी चक्कर आने या एकाग्र न कर पाने जैसी समस्याएं उत्पन्न हो सकती हैं.
7. मासपेशियों में ऐंठन
कई बार ऐसा भी हो सकता है कि किडनी में आने वाली परेशानियों की वजह से मांसपेशियों में गंभीर रूप से ऐंठन और दर्द उत्पन्न हो सकता है. ये दर्द शरीर के विभिन्न भागों में उत्पन्न हो सकता है.
8. बार-बार पेशाब आना
किडनी में संक्रमण के कई लक्षणों में से एक बार-बार पेशाब आना भी है. इसकी वजह से आपकी यूरीन की मात्रा और आवृत्ति में पबदलाव आ सकता है. खासतौर से रात में यूरीन में ज्‍यादा वृद्धि हो सकती है. इसमें आपको कम या ज्‍यादा मात्रा में यूरीन पीले रंग के साथ भी हो सकता है. ये भी हो सकता है कि पेशाब करने में समस्या आए और ये समस्या लगातार बनी रहे.
9. हाथ पैर या टखने का सूजन
किडनी इन्फेक्शन की पहचान का ये भी एक मुख्य लक्षण है. जब किडनी संक्रमित हो जाती है तो शरीर से विषैले तत्‍व बाहर नहीं निकल पाते हैं. इसलिए इससे कई तरह की समस्याएं आने लगती हैं. शरीर में इकठ्ठा होने वाले अतिरिक्त तरल पदार्थ हाथ, पैर, चेहरे और टखनों में सूजन का कारण बनते हैं.
10. टेस्ट
अंतिम और सबसे ज्यादा भरोसेमंद उपाय के रूप में आप इन लक्षणों के आधार पर टेस्ट करा सकते हैं. किडनी इन्फेक्शन में किडनी की कार्यक्षमता का अंदाजा लगाने के लिए क्रिएटिनिन के स्तर का पता लगाया जाता है. इसके लिए साधारण-सी जांच की जाती है. इसके अतिरिक्त पेशाब और स्‍क्रीनिंग के द्वारा भी किडनी के रोग की जांच होती है.

13
people found this helpful
View All Feed