Videos (1)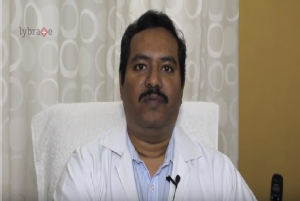 Get Rid of Varicose Veins with Laser Treatment
Hello! I am DR. Sudhir, consultant interventional radiologist and varicose vein specialist. I have been working the treatment of varicose veins for the past 10 years. I have been running DR. Sudhir Scan centers and varicose vein clinic Hyderabad.
First of all what are varicose veins? Veins are the blood vessels that carry blood vessels from the legs back to the heart. They have multiple valves. Whenever these valves are filled, the veins dilate and are called as varicose veins. Usually these veins occur in the leg because of the long length there. The main valves, veins affected are the great saphenous veins and the short saphenous veins. This problem can occur at any age group, however women are more commonly affected than men.
Coming to what happens after you are diagnosed with varicose veins and what should be the treatment? Treatment used to be previously surgery. You know surgery has its own problems. First of all they had to give general anesthesia. General anesthesia in which the patient is put to sleep has its own problem and the other alternative was spinal anesthesia. Also the procedure was called stripping wherein the entire vein was cut open and removed. And this led to a lot of loss of blood as well as a lot of pain, swelling and the patient was out of work for almost a month. So now the modality is not yet used. Now we are using the latest treatment called the Endovenous laser treatment.
As you know now in all medical and surgical specialties we are only using lasers to the latest modality of treatment. Lasers give the advantage of reduced bleeding and reduce downtime. Like that similarly in varicose veins specialty also we are using the lasers. In this the entire process is formed and done under local anesthesia. The laser fiber is inserted by a small needle into the vein and once the laser fiber is inserted we check the position of the fiber using ultrasound and then the laser is activated and the vein is obliterated. Once the vein is obliterated in time, the diffused vein will close and the blood will flow back to the heart via another means. The other modality which we use is Insculerio Therapy. The Insculerio therapy is only used for the side branch vein and when there is excess twisting of veins. If there is excess twisting of vein, we cannot insert a laser fiber, so we use Insculerio therapy in those conditions. So regarding laser most patients are having a misconception that they cannot undergo the treatment because of their ill health. However, this is a very safe procedure and almost anyone can do.
In fact the only people who we do not do are patients who are pregnant, because many people develop varicose veins during pregnancy. And once the pregnancy is finished the varicose veins disappear by themselves. So we wait until the pregnancy is done so that we can treat varicose veins. Other contradictions are the presence of active clots in the way we do not want to dislodge any clots from the vein which can travel to the heart. So we do not put anything into the vein when there is an active clot. Old patients, diabetic patients, people with heart problems, asthma all can be treated with the laser treatment. So why us? Our clinic is centrally located in Hyderabad and also we have everything under the same roof. I am a consultant radiologist and I can do Doppler scanning by myself. This will help me to get a better idea about the position of the way and other problems and so this helps me to give a better treatment for my patient.
Also we use the latest equipment, the 1419 NM equipment. This 1419 NM equipment will target the blood vessel wall itself and not the blood. The older wavelengths which were used in the laser, used to cause the clotting of the blood. Now with this new wavelength, instead of clotting of the blood we have direct shrinkage of the blood vessel and this gives a better result. Also we have all the facilities including a lab tilting table. We also have various surgical and skin specialists also here under the same roof who will help in treating of the varicose ulcers. Also we provide attractive treatment packages with up to 6 months duration for the follow-up. So that even ulcers which are long-standing can be treated under the same city.
This is DR. Sudhir Pudi located at Ameerpet Hyderabad. You can contact me through lybrate or walk into my clinic anytime. Thank you.
read more
Personal Statement
Dr. Sudhir is a third generation doctor in his family. He did his MBBS from the Tamilnadu Dr M G R Medical university, Chennai. He has worked in the United Kingdom, after his graduation a...
...more
Dr. Sudhir is a third generation doctor in his family. He did his MBBS from the Tamilnadu Dr M G R Medical university, Chennai. He has worked in the United Kingdom, after his graduation as a general surgeon. Pursuing his core interest in Radiology and imaging sciences he returned to India to pursue his career in Radiology and completed his DNB degree from Kamineni Hospitals. He is certified by the National Board of Examinations. Dr Sudhir always had a passion for imaging, particularly ultrasound. While doing his course he has noticed a lacuna in the investigation and treatment of varicose veins and felt that most patients get sub-optimal care. He therefore has pursued specialized, advanced training in the mapping of varicose veins with doppler ultrasound, ultrasound guided sclerotherapy and endovenous laser ablations. Dr Sudhir is also highly proficient in all ultrasound scans including pregnancy scans, besides practicing all facets of radiology, including CT scans, MRI, Brain, head and neck, body and spine imaging.
More about Dr. Sudhir Pudi
Dr. Sudhir Pudi is based in Balkampet in Hyderabad and is a noted radiologist and interventional radiologist with 16 years of experience behind him. He conducts his private practice at the Dr. Sudhirs Scan Center and Varicose Vein Clinic located at Balkampet in Hyderabad. Dr. Sudhir Pudi graduated with MBBS from the noted Tamil Nadu Dr. M.G.R. Medical University (TNMGRMU) in Chennai back in the year 2000. He pursued his DNB in Radio Diagnosis in the year 2009 from the Kamineni Institute of Medical Sciences. Dr. Sudhir Pudi plays an active part in the radiology experts community and is a treasured member of the Indian Radiological and Imaging Association. Dr. Pudi specializes in treatments like Colour Doppler Ultrasound, Varicose Veins Endovenous laser ablation, fetal imaging amongst various other functions of radiology. Dr. Pudi has the distinction of presenting a large number of papers in conferences held at the national level and even won an award for the best presentation in the year 2008. In the past, he has held the position of Consultant Radiologist at Vijaya Diagnostics in Hyderabad as well as Poulomi Hospital and Dhruv Medical Centre. His patients hold him in the highest regard and he provides a comprehensive service.
Info
Education
DNB (Radio Diagnosis) - National Board Of Examination - Kamineni Hospitals - 2009
MBBS - Dr. M.G.R. Medical University - 2000
Awards and Recognitions
Best Resident Award
Professional Memberships
Indian Radiological and Imaging Association
Location
Book Clinic Appointment with Dr. Sudhir Pudi

Ground Floor, 7 - 1 - 220/46 Sravya D Estates. Landmark: Opposite Nature Cure Hospital

,

Hyderabad
Get Directions



Health Packages
3 Days validity
•
Medicines included
₹500
15 Days validity
•
Medicines included
₹1800
15 Days validity
•
Medicines included
₹600
5 Days validity
•
Medicines included
₹95000
5 Days validity
•
Medicines included
₹58000
Services
Submit Feedback
Submit a review for Dr. Sudhir Pudi
Your feedback matters!
Write a Review
Patient Review Highlights
"knowledgeable"
7 reviews
"Very helpful"
4 reviews
"Caring"
2 reviews
"Well-reasoned"
5 reviews
"Inspiring"
2 reviews
"Thorough"
2 reviews
Reviews
Verified
May 19, 2017
Dr. Sudhir pudi is a person with good and polite with a lot of patience. He is Expertise in varicose veins treatment. I was suffering from discoloration and leg ulcers for both of my legs since 6 months. I came to Dr Sudhir's clinic , he diagnosed the root cause of my leg ulcer problem associated with varicose veins and have successfully undergone endovenous laser treatment with reasonable cost. It's been 1 week now I have taken the treatment and I can see that the ulcers started showing the signs of healing which I really give my Heartful thanks to Dr. Sudhir pudi. I recommend to those who is suffering from Venous or varicose problems. Please consult Dr.. Sudhir Pudi.
Samen
Jan 28, 2017
Dr Sudhir Pudi is very courteous and behaves very aptly with elder patients. During the complete enlarged prostate treatment program he always supported and motivated me. I owe him a big thanks for making me fine again. The enlarged prostate was increasing day by day. I was quite impressed with Sudhir Pudi concept of holistic healing. Even in case of long queues, the staff was managing people in a very positive manner. The suggestions he gave benefittde me to a great extent .
Arshi
Jan 2, 2017
It has been quite some time that i was suffering from heel pain. I visited a radiologist, Dr Sudhir Pudi. His treatment helped me immensly to deal with an issue. He ensures that he listens to his patients. Finally with his treatment, I am completely cured from the disease.
Dakshayani
May 29, 2017
Dr Sudhir is very calm and listens to patients problem properly. I have benefitted with hertreatment a lot. He is simply one of the best doctor in Hyderabad
Mehak Gupta
Sep 6, 2016
Dr. Sudhir Pudi provides answers that are caring, well-reasoned and inspiring. Thanks doc. I ll discuss with her
Lincy George
Nov 21, 2016
I found the answers provided by the Dr. Sudhir Pudi to be knowledgeable. Thanku sir
Feed
Asked for female, 20 years old from Patna
Small veins seen on the leg can be a sign that there are larger varicose veins in deeper parts of the leg. It is better to get a doppler scan for veins to rule out frank varicose veins. If you have varicose veins then it is better to get it treated. Treatment included 1. Weight loss 2. Stockings 3. Surgery or laser treatment 4. sclerotherapy.
1
person found this helpful
Shared 9 months ago • Featured Tip
Many people all over the world often suffer from chronic back pain due to various reasons. Persisting for weeks together, this type of acute pain in the back can even cause severe damage to one's daily work schedule. It is often the neck or the lower back or upper or middle back that cause such pain and forces one to look for medical assistance. And it is this necessity for obtaining a cure or treatment solution that radiology becomes extremely helpful in dealing with chronic back pain. Read further to have a better idea of how radiology can be of great help in getting relief from the annoying and distressing chronic back pain.
What is radiology?
Radiology refers to a branch of medicines which dealing with radiant energy, helps in the proper diagnosis as well as treatment of a disease. This specialty specifically uses medical imaging for diagnosing a disease or the root of illness and treating it. This field is divided into two major areas, one is interventional radiology, and the other is diagnostic radiology.
Radiology and chronic back pain
Radiology is known to be an ideal solution for getting relief from the constant suffering of chronic back pain. Whether it's a pain in the spine or the hip, radiology helps in ensuring accurate treatment while reducing the chances of inappropriate treatments which often is performed due to the lack of knowledge about the root problem. With the image-guided injections and the accurate diagnosis, radiology reaches to the root of the back pain and helps the medical professionals have a better understanding about what's ailing the patient.
How is radiology effective in treating back pain?
While the majority of the back pain can be dealt with proper rest, anti-inflammatory medications and physiotherapy sessions, when it turns out to be a chronic pain, proper diagnosis is the best option for dealing with the pain. Using different radiological imaging services such as CT or computerized tomography, MRI or magnetic resonance imaging and X-ray, the location of the pain can be easily identified and then is treated properly. And treating the back area with different therapeutic injections becomes necessary, such as nerve root injections or facet joints injections or epidural injections, for dealing with the chronic back pain, again it's radiology that turns out to be an irreplaceable part of successful treatment.
Chronic back pain being one of the most common reasons for visiting a doctor, opting for the right diagnosis procedure becomes crucial for identifying the main underlying reason which is causing the pain. And there's no doubt that it is with the help of the latest imaging facilities of radiology that accurate diagnosis as well as managing the pain can be possible. If you wish to discuss about any specific problem, you can consult a Radiologist.
5503
people found this helpful
Shared 10 months ago • Featured Tip
Radiology is a special branch of medical science that uses various techniques of imaging for the diagnosis and the treatment of several types of diseases in the body. The different types of imaging techniques used in radiology are X-rays, Computerised Tomographic scan (CT Scan), ultrasound, Magnetic Resonance Imaging (MRI) and nuclear medicine which includes Positron Emission Tomography(PET).

Role played in evaluating hip replacement
Hip replacement surgeries have become extremely common in the recent times, and radiological evaluation remains the mainstay of the overall hip replacement procedure. Thus, the role played by radiology is quite significant in such situations. All the specific anatomical landmarks and the measurements are used to make sure the placement is perfect during the hip replacement surgery. Radiological imaging helps in the assessment of the following conditions that are as discussed below.

The length of leg
The inequality in the length of the two legs is prevalent after a hip replacement surgery which can create a great deal of discomfort and inconvenience to the patients. A greater difference in the length of the two legs increases the chances of dislocation, and this is a situation where radiological evaluation plays a crucial role. With the help of radiological imaging, the length of the legs can be made almost equal.

The horizontal center of rotation
In this case, horizontal center of rotation helps in the assessment of the acetabular component of the prosthesis. This is calculated by the measurement of the distance between the center of the head of the femur and the acetabular teardrop. This distance should be bilaterally equal, and it is just not possible without the help of the imaging techniques of radiology.

Acetabular inclination
The acetabular inclination is the angle formed between the face of the cup and the transverse axis. If the angle is less, then it results in a stable hip, but the abduction is limited. On the other hand, if the angle increases then there are high chances of dislocation of the hip. Thus, with the help of radiological evaluation, proper and effective angular inclination is given which is optimum for the patient.

The stem positioning of the femur
The main aim of the stem positioning of the femur in a hip replacement surgery is placing the stem in a position which is neutral within the shaft. To get a proper idea of the positioning, the imaging techniques are of utmost importance which cannot be achieved perfectly without the imaging.

Thus, the crucial role the different techniques of radiological imaging plays during the overall procedure of a hip replacement surgery can be perceived. With the use of the different imaging techniques, the results obtained are closer to perfection. If you wish to discuss about any specific problem, you can consult a Radiologist.
5562
people found this helpful
Shared 1 year ago • Featured Tip
MRI or Magnetic Resonance Imaging is a process of reproducing images from the structures & organs of the insides of the body on the computer screen with the help of energy pulses generated from the radio waves using a magnetic field placed inside a special machine.
MRI is used to diagnose various medical conditions like internal injuries or bleeding, rupture of blood vessels & other internal infections. However, an MRI scan is also useful for diagnosis of brain tumors, brain strokes, spinal tumors, bone tumors, ruptured ligaments, breast cancers, aneurysm etc. MRI scan is also used to detect problems in liver, gallbladder, kidneys, eyes and ears that are otherwise unrecognisable.
On comparing it with other similar imaging processes like ultrasound imaging, CT scans & X-rays, you will come across the following facts:
MRI can effortlessly produce images from different directions & orientations of one particular structure.
MRI is also helpful for getting detailed & precise images of soft tissues in comparison to similar imaging processes.
MRI provides a macroscopic overview of the body in contrast to other imaging processes like ultrasound which concentrates on a minute examination of your body parts.
MRI is also useful to determine the limit to which cancer has spread in the body.
MRI can be useful to detect health issues when other imaging processes fail, because of its multi-faceted image recording technique. If you wish to discuss about any specific problem, you can consult a Radiologist.
5716
people found this helpful
Asked for Female, 28 years old from Chennai
Fibroids by themselves usually have no symptoms. However they can cause the following symptoms - 1. If they undergo degeneration they can become painful. 2. They can abut the lining of the uterus and cause pain due to uterine spasms and also cause increased bleeding during menstruation. If your mother is post menopausal (stopped having cycles) then for such a small fibroid you can leave it alone. However if she is having bleeding issues also then she may need surgery. Best assessed by a gynaecologist with all accompanying reports.
2
people found this helpful
Asked for male, 38 years old from Kolkata
Papillary carcinoma is one of the well curable cancers known. It is a slow growing tumor and complete resection will give a good chance of cure. However Due to long life expectancy there is a 35%chance of relapse over 40years after the surgery.
1
person found this helpful
Shared 1 year ago • Featured Tip
Gone are the days when bone ailments and damages were detected based on the experience and superficial conversations made by the physicians. These days with the advent of radio waves, medical science has made significant progress that has enabled a detailed overview of what exactly is going on inside your body and what should be the most relevant treatment in that regard. Magnetic Resonance Imaging or more commonly known as MRIs are a boon when it comes to diagnosing orthopedic and musculoskeletal complaints.
Common Uses of the Procedure:
MR imaging is usually the best choice for examining the:
body's major joints.
spine for back pain
soft tissues (muscles, tendons and ligaments) and bones of the extremities.
MR imaging is typically performed to diagnose or evaluate:
degenerative joint disorders such as arthritis.
tears of the menisci, ligaments and tendons (knee) or rotator cuff and labrum (shoulder and hip).
fractures (in selected patients).
spinal disk abnormalities (such as a herniated disk).
the integrity of the spinal cord after trauma.
sports-related injuries and work-related disorders caused by repeated strain, vibration or forceful impact.
infections (such as osteomyelitis).
tumors (primary tumors and metastases) involving soft tissues around the joints and extremities (such as muscles, bones and joints).
pain, swelling or bleeding in the tissues in and around the joints and extremities.
congenital malformations of the extremities in children and infants.
developmental abnormalities of the extremities in children and infants.
congenital and idiopathic (developing during adolescence) scoliosis prior to surgery.
tethered spinal cord (abnormal stretching in the spinal cord) in infants and children.
The Process:
In this process, X-rays and radio waves are subjected upon the affected region to examine the conditions of the bones, tissues, muscles and also detect the presence of tumours. This is majorly a non-invasive test and is painless. It does not use ionizing rays and therefore does not harm the body in any which way. The MRIs capture a detailed picture of the organs and the internal body structures and then transmit them onto a computer screen for the physician to monitor the inside story.
The Benefits:
MRI is an imaging technique that does not require exposure to radiation.
MR images of the soft-tissue structures of the body (particularly muscles, bones and joints) are often clearer and more detailed than with other imaging methods. This detail makes MRI an invaluable tool in early diagnosis and evaluation of many conditions, including tumors.
MRI can distinguish abnormal tissues from normal tissues much more accurately than most other imaging tests (x-ray, CT, etc.).
MRI enables the discovery of abnormalities that might be obscured by bone with other imaging methods.
The contrast material used in MRI exams is less likely to produce an allergic reaction than the iodine-based contrast materials used for conventional x-rays and CT scanning.
MR images allow the physician to clearly see even very small tears and injuries to tendons, ligaments and muscles and some fractures that cannot be seen on x-rays and CT. If you wish to discuss about any specific problem, you can consult a radiologist.
5057
people found this helpful
View All Feed