Videos (5)
View All Videos
Personal Statement
Dr. Neeraj is well trained and has wide experience in the management of vitreoretinal conditions. He has worked as vitreoretinal consultant at the Shroff Charity Eye Hospital, Artemis Hos...
...more
Dr. Neeraj is well trained and has wide experience in the management of vitreoretinal conditions. He has worked as vitreoretinal consultant at the Shroff Charity Eye Hospital, Artemis Hospital and Centre For Sight, Gurgaon and has numerous achievements to his credit.He is performing around 60 FFA and 75 Lasers treatment in OPD in a month.He is actively involved in ROP screening and treatment awareness programmes.
More about Dr. Neeraj Sanduja
Dr. Neeraj Sanduja is a reputed eye specialist with 18 years of rich experience as a Vitreoretinal Consultant. Dr. Sanduja completed his MBBS degree from PGIMs Rohtak and MS in ophthalmology from the same institute. Currently, Dr. Sanduja works as a Senior Consultant-Ophthalmology (Vitreoretinal) in Paras Hospitals, Gurgaon. His previous experience includes a stint at William Beaumont Hospital, Michigan, the USA as a Visiting Fellow in Paediatric Retina.
Dr. Sanduja has been involved in the organisation of various national and international conferences on subjects such as Diabetic Retinopathy, AMD and Retinopathy of Prematurity. Dr. Sanduja has always excelled in his profession as well as academics. He has multiple fellowships like FICO (UK), FRCS (Glasgow) & FAICO (Retina). He was awarded the Best Ophthalmologist in Delhi/NCR (2015) by the IMA. He has published numerous papers in various national and international publications. His area of expertise includes Vitreoretinal Laser Surgery, Disease of Retina and UVEA, Diabetic Retinopathy, Retinal Detachment, Ocular Trauma, Retinopathy and Macular Hole.
Info
Education
MS - Ophthalmology - Rohtak Medical College - 1997
MBBS - PGIM - 1993
FRCS - Royal College of Surgeons - 2015
Languages spoken
English
Hindi
Awards and Recognitions
Global Quality Award 2015 by Times Global for Excellence in Ophthalmic Healthcare
Twelve chapters in various national and international books on Vitreoretina
Received Academic Excellence Award at Annual conference for Haryana Ophthalmological Societ
...more
Over hundred and fifty Presentations as Free Papers, Guest Faculty, Chief Instructor in various Regional, National and International Meetings
Best Ophthalmologist Award in Delhi/NCR 2015 by IMA president
Publications in peer reviewed journals both National and International
Recipient of Best paper award at North Zone Ophthalmological Society Annual Conference
Professional Memberships
All India Ophthalmological Society
Delhi Ophthalmological Society (DOS)
Vitreoretina Society of India
International Council of Ophthalmology
North Zone Ophthalmology Society
Uveitis Society of India
Haryana Ophthalmology Society
UP State Ophthalmology Society
Ratan Tata Fellowship in Phacoemulsification, Sankara Nethralaya, Chennai
Visiting fellow - Pediatric Retina, William Beaumont Hospital, Michigan - USA
FACS - Glasgow
FAICO - Retina
Fico - UK
Location
Book Clinic Appointment with Dr. Neeraj Sanduja

UG-4, Central Square Mall, Opposite Hong Kong Bazar, Suhant Lok-2

,

Gurgaon
Get Directions





+2



Sector - 44, Opposite HUDA City Centre

,

Gurgaon
Get Directions




Consult Online
Text Consult
Send multiple messages/attachments. Get first response within 6 hours.
7 days validity
•
₹200 online
Consult Now
Phone Consult
Schedule for your preferred date/time
5 minutes call duration
•
₹1000 online
Consult Now
Services
Submit Feedback
Submit a review for Dr. Neeraj Sanduja
Your feedback matters!
Write a Review
Reviews
Ashish
Mar 21, 2019
I called and got booked in for a same-day appointment with the wonderful Dr. Neeraj. Despite a misunderstanding regarding the appointment time, he saw me as soon as possible and was immensely helpful, thorough, and understanding of my situation (conjunctivitis). I couldn't recommend a better eye specialist in delhi to visit in an emergency!
Pooja Ranjan
Mar 22, 2019
Well organized, great staff from start to finish. Dr. Neeraj was really Good. explains everything and listens.
Sagar Reddy
Sep 2, 2018
Dr. Neeraj is well understanding and provided the instructions to clear dryness of my eyes
Nawal Kishor Mittal
Sep 2, 2018
Doctor suggested to dilate the eye and revisit next visit
Nawal Kishor Mittal
Sep 2, 2018
Doctir advised to dilate your eye revisit next week
Sanket Gupta
Aug 6, 2018
Nice
Feed
Eyeglasses and contact lenses are both used for vision correction. Both of the options have their advantages and disadvantages but a number of factors like lifestyle, comfort and age etc. are important while deciding which one to choose. Here is a list of the fundamental differences between using spectacles and using contact lenses:

1. Distance from the cornea-
Lenses are worn directly on the eye and are in constant physical contact with the cornea while glasses are worn over the eyes. Contact lenses may cause infections in the eye because the user has to touch the eye in order to wear them and to take them off.

2. Difference in vision-
Since the lenses of the spectacles are a little distance away from the eye, vision can be slightly distorted but contact lenses can provide natural and accurate vision. Also, side vision is not improved by glasses as you have to turn your head to see what is beside you. The contacts move around with your eyeballs and the peripheral vision is in focus.

3. Ease of use-
Some people find eyeglasses difficult to use because of the constant weight on the face and the obstruction caused by the frames of the glasses. There may also be a constant need to adjust the frames. Often eyeglasses slip down the nose when you sweat or engage in rigorous physical activity. Contacts are free from all these hassles- they not distracting or obstructive and so they are extensively used by dancers and athletes. Spectacles are very uncomfortable to wear during the rains or in humid weather because they fog up.

4. Infections and complications-
Contact lenses can get displaced inside the eye and they can be difficult to reposition. They also cause the eyes to itch and water if you wear them for a very long time at a stretch or if tiny dust particles enter your eyes. The use of eyeglasses is far more flexible in this respect- they can be removed in case your eye itches or burns, but regular use of glasses causes dark circles and bags under the eyes.

5. Aesthetic differences-
People often prefer contact lenses as they do not change the physical appearance- they help you to look natural and you can also use colored lenses to change the color of your eyes. Glasses may look slightly unnatural but some people also prefer them for the fashion quotient.
1
person found this helpful
Vision is one of our most important senses. Reduced vision that triggers the need for corrective glasses is one of the most common disorders associated with the eyes. Crossed eyes are another such common disorder that affects the eyes. In medical terms, it is also known as Strabismus. This condition is a result of miscommunication between the brain and the eye muscles that result in misalignment of the eyes. It is largely a hereditary condition and should not be confused with a lazy eye syndrome.
Crossed eyes can cause double vision and disorientation. Your depth perception may also be affected. It also causes eye strains and headaches that affect the quality of your life. This condition is seen mostly in children. If not treated in time, it can continue into the adult years as well. The development of crossed eyes in adults who have not suffered from this condition as children is usually a sign of a serious condition such as a stroke.
Some symptoms characteristic of this condition are:
1. Independent movement of eyeballs
2. Tilting the head to a side
3. Squinting
4. Varied points of reflection in each eye
5. Frequently bumping into things as a result of impaired depth perception.
Treatment for this condition can be surgical as well as non-surgical. Non-surgical treatment aims at strengthening the eye muscles and treating the visual system as a whole. The aim is to not allow the eye to become lazy or amblyopic. Wearing an eye patch over the strong eye and forcing the weak eye to be used is one of the most common forms of this treatment. Corrective glasses can also be used to treat this condition in cases where it has been triggered by excessive farsightedness. In some cases, medication may also be injected into the eye to relax the eye muscles.
Surgery to correct this disorder involves correcting vision by strengthening or weakening the eye muscles. To do this, a surgeon must first make a small incision in the outer layer of the eyeball to reach the affected muscles. To strengthen the muscle a small section is removed from the muscle and the remaining part is then rejoined. This makes the muscle shorter and forces the eye to turn towards that side. Alternatively, the doctor may make a partial cut across the muscle to elongate it and let the eye turn further away from it.
2911
people found this helpful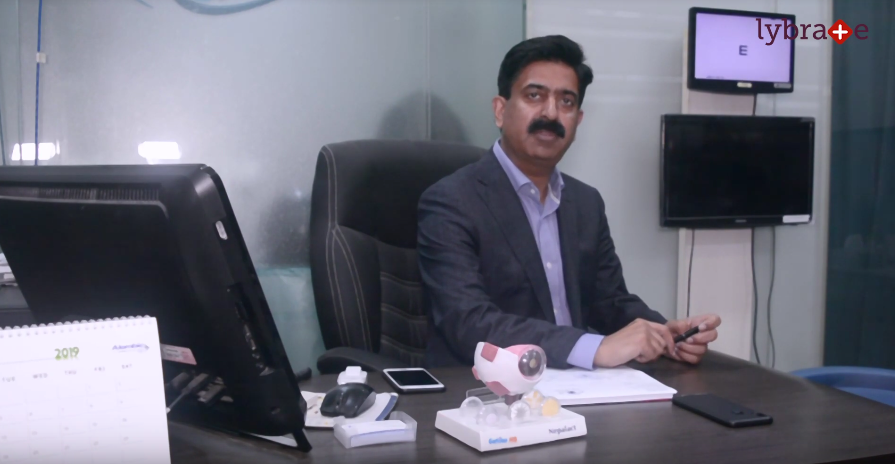 Eyes are very important organs as they provide you with the ability to process visual detail and detect light. However, because your eyes are exposed to harsh climate and pollutants, they can get spoilt.
3264
people found this helpful
There are many common measures people take to improve their eyesight or improve their vision, including wearing glasses, lenses and many more. Here are some effective exercises which can prove to be highly beneficial to improve your eye health:
1. Stretching
This is the most common and also one of the easiest to do. It requires you to just look up, hold for two seconds, look down, hold for two seconds and then repeat this procedure for each corner of your eye, which means top-left, top-right, bottom-left and bottom-right corners.
2. Flexing
This is simply rotating your eyes in circles. Roll your eyes in the clockwise direction for one minute and then roll your eyes in the anti-clockwise direction for one minute.
3. Focus switching
This particular eye exercise is probably the most useful one to improve eye health. In this eye exercise, you have to hold something at a reading distance and cover the other eye. You then have to find something that is at least twenty feet away and trace its shape with one eye closed. With one eye closed, trace more shapes which are twenty feet away.
4. Palming
This exercise is also very simple to perform. All you have to do is cover your eyes with your palms. Once you have done this, just wait and see that there are no bright flashes of light. If you see that there is a bright flash of light, just wait till they go. This is used primarily to distress the eyes.
5. Deep blinking
This is also an incredibly useful exercise for distance vision. What you have to do is to place some large letters at a fair distance and then sit on a chair. You have to then close your eyes and tighten all your muscles for 5 seconds. After 5 seconds are over, you have to open your eyes and then you have to see the letters for a second or two. The more you do this, the more you will be able to see the letters after reopening your eyes.
However, these eye exercises are not universally accepted by all doctors.
4518
people found this helpful
Eye problems that are caused due to the computer can be termed as Computer Vision Syndrome. Staring a computer screen has become a part of our daily lives, for many of us. Work and pleasure both include using a computer or a tablet. Looking at this screen for prolonged periods can cause many problems including strain, pain and stress due to the repeated eyeball movements and non-blinking nature of the work that we do when we stare at a screen for many hours. Let us find out more about the causes of computer vision syndrome or CVS.
Repeated Movements: When the same motion is carried out on a continuous basis, it can lead to stress based injuries due to the strain and stress caused in that part of the body. Much like carpal tunnel syndrome and other injuries like tennis elbow and shoulder joint problems, this condition is also caused due to the constant and repetitive movements which are known to lead to stress injuries. The longer you continue the activity, the worse it is bound to get.
Focus: When you sit in front of a computer screen and work, one of the most important things that you are doing is called focus. When you focus on a screen on a continuous basis, to align your eyes with what you need to read or see, you are causing long term damage if this activity is carried out for too many hours on a daily basis. This back and forth motion that makes us focus can lead to pressure and strain on the eyes, which should be broken by concentrating on other activities like writing on a paper or reading from a book.
Eye Muscles: These types of movements and activities can actually put a lot of pressure and undue strain on the muscles of the eyes. Also, things become even more difficult for the delicate eye muscles with the glare and blue light emanating from the computer screen which also has other elements like a flicker. This causes the eyes to align themselves by putting pressure on the eye muscles, which makes working on a computer that much more challenging than reading a book.
Wrong Glasses or Lenses: If you have nearsightedness or farsightedness, then these problems can become even more severe due to this kind of condition. Also, if you are wearing the wrong prescription glasses or lenses, your eyes are bound to suffer even more when you stare at a screen for such a long time.
Apart from all these factors, working on a computer gets even more challenging after a certain age like your forties.
4027
people found this helpful
If you've ever played Blind Man's Buff you know how helpless it can feel to be unable to see. While some people are born blind, others lose sight as a result of health issues, accidents etc. Imagine how a person would feel to be able to see something for the first time or to regain their sight?
Every human being with sight can choose to donate their eyes after their death and gift another person vision. When it comes to eye donation, there is no restriction on the person's age or overall health. Even a person who has had surgery on their eyes can choose to donate them as long as the cornea is unaffected. It is not only noble but the thought of being able to give some a chance to see the world with your eyes can give you immense joy.
However, just a thought is not enough, there are few other facts to be kept in mind before going for eye donation:
Eyes need to be donated within 6 hours of a person's death: For your eyes to be viable for a donation they must be harvested within 6 hours of death. Thus, if you choose to be a donor, it is important for you to inform your family and friends of this decision. Eye donation can also be authorized by the deceased's next of kin.
Donation does not cost money: There are no costs involved in donating your eyes. Profiting by buying and selling human organs and tissues is a criminal at and can be punishable by law.
The whole eye is not transplanted: The most common cause of blindness is a damaged or diseased cornea. Thus, only this area is transplanted to enable a person to see. The cornea is a thin, transparent flap located in front of the colored part of the eye. Thus, donating eyes does not disfigure the deceased person in any way.
Even people who wear spectacles can donate their eyes: Short sightedness or far sightedness are conditions caused by irregularities with the lens inside the eye and do not affect the cornea. Thus these conditions do not interfere with their ability to donate their eyes after death. Even people who have been operated upon for cataracts, retinal detachments or glaucoma may choose to donate their eyes. It is even possible for a person who has received a corneal transplant to donate their eyes as long as the cornea is healthy and clear.
Corneal Transplants have a high success rate: There is no blood supply to the cornea and hence there is a very low risk of the body rejecting a donor cornea. In many cases, this rejection can be treated and suppressed with medication.
Though over 30,000 corneas are donated and transplanted each year, there is still a long waiting list at eye banks. Thus, it time you take a pledge to make someone else's life beautiful. Do not think twice about donating your eyes and encourage people around you to do so as well.
3760
people found this helpful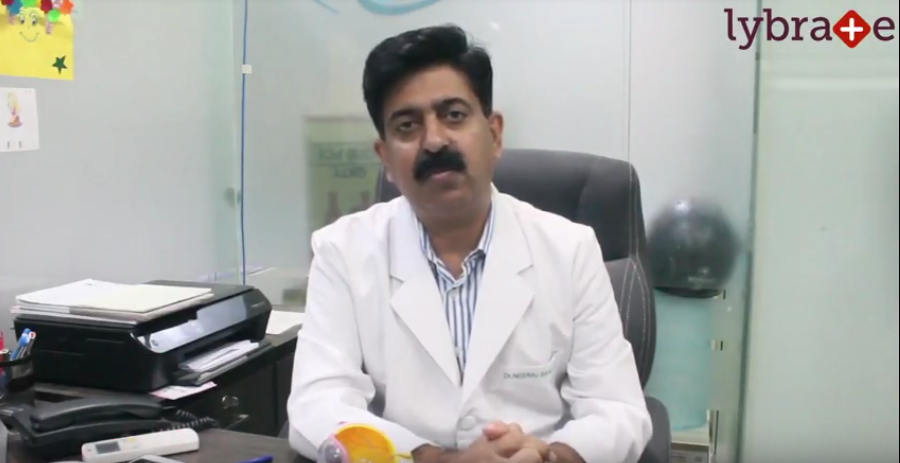 Hi,
My name is Dr. Neeraj Sanduja and me aaj apko age related macular degeneration ke bare btaunga. Basically ye retina ki problem hoti hai jo age ke hisab se kisi me bhi dekhi ja skti hai. Iske 2 stages hote hain: dry or wet. Dry me roshni kam hoti hai. Wet me bleeding ho jati hai or patient ko center me ek black patch dikhne lag jata hai or akshar thode tede mede dikhte hain. Durr ka nhi dikhta hai or jhan bhi dekhta hai, vhan center se kala or side se nazar aata hai. Iske kuch risk factors bhi hote hain jaise ultraviolet rays kafi role play krti hai. Diet me agar anti-oxidants nhi hai, us se bhi iske risk hote hain. Genetics bhi iska ek karan hai. Patient jab hmare pas aat hai to ek routine eye check-up hota hai.
Jisme agar hum dekhen ki dry hai to hum use anti-oxidants capsule dete hain. Vo in dhabbon ki rok tham krta hai. Or bleeding hone se rokta hai. Agar ye wet hota hai to isme khas injections lgaye jate hain kuch test krne ke baad. Injections bleeding ko rokte hain but ye injection 1 month ke lia hi kam krta hai. To isme hume 3 injections lgane hota hain 3 months ke treatment ke lia. Isme kayi medicines bhi use ki jati hain. Isme vision ya to ruk jati hai or kuch cases me improve bhi hoti hain. 100% improvement nhi hogi. Isme hum patient ko ek chart bhi dete hain jis se vo dusri aankh ko bhi monitor krta hai. Patient ko hum 4-6 months me review krte hain. Agar bich me koi problem aaye to patient hume aake dikha skta hai.
Thank You.
3531
people found this helpful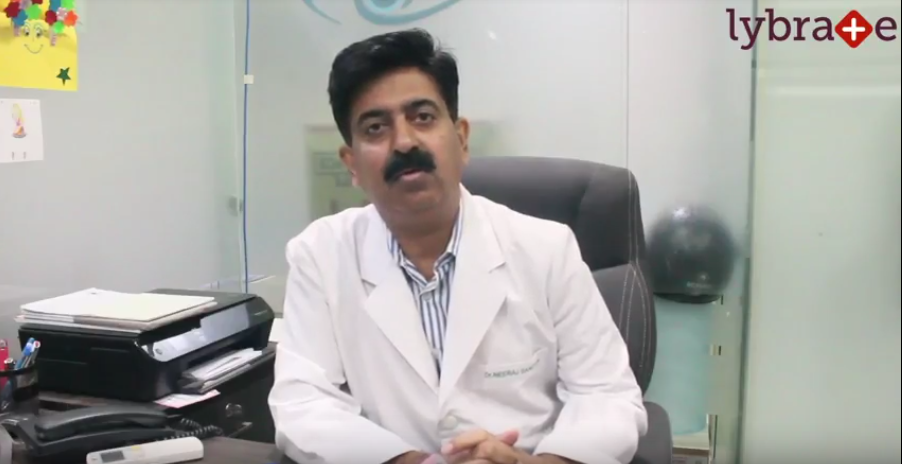 Hi,
My main is Dr. Neeraj Sanduja and me aaj apko btanne ja rha hun vo hai cataract ke bare me. Cataract or safed motiya hota kya hai? Hmari aankh ki banavat ek camera ki trha hoti hai. Isme aage putli hoti hai, bich me lens hota hai, or piche retina hota hai. Jo image hai vo cornea ke through jati hai or retina pe focu hoti hai. Motiya me aankhon ka lens safed hone lag jata hai or ise hum cataract bolte hain. Iske kayi karan hai. Pehla karan hai age. Umar ke hisab se sab logon me ye problem milti hai. Iski shurat 50 saal ke bad hoti hai. Lekin kuch logon me cataract jldi aa jata hai jaise ki diabetics me ya injured eye ho. Even bachon me bhi cataract paya jata hai jise hum congenital ya developmental cataract bolte hain.
Question ye hai ki cataract ke symptoms kya honge? Pehle hai ki apki aankhon ki roshni kam hone lag jati hai. Kayi baar apki aankhon ki roshni din me kam ho jati hai or shaam ke time jyada ho jati hai. Even light ke around hellos nazar aane lag jate hain. To ye iske symptoms hain. Cataract rokne ke lia koi bhi medicine nhi bani hai jis se ye roka ja ske. Cataract age ke sath aata hai like after 50, 60 or 80. Surgery apko tbhi hi suggest ki jati hai jab apko day to day acclivity me problem ho. Pehle ke time according apka cataract remove tab kia jata tha jab vo badh jata tha lekin aaj kal treatment bhut advance hain. Aaj kal ki surfgery immature cataract me hi jki jati hai.
Jab apki roshni chashme ki help se bhi nhi badh rhi hai. Cataract surgery me jo latest treatment hai vo hai phocoemulsification technique. Jisko normal language me laser waves bolte hain. Iske throught hum bhut hi chote incision se andar jake cataract ko dissolve kar dete hain. Or ek fine lens apki ankhon me hum lag dete hai. Or is se aap apni ankho ki roshni ko restore kar lete hain. Lens jo aankh ke andar lgaya jata hai, ultrasound A-scan ke through power ko control kia jata hai or machine se lens ko aankh ke andar fir kar dia jata hai. Eyes ke anadar jo lens lgaye jate hain vo 2-3 types ke hote hain. Monofical lens ya to durr ki roshni ko thik krta hai ya paas ki nazar ko. And multifocal lens apke nazadik and durr ki roshni ko thik krte hain.
Lekin maximum time monofocal lens lgaye jate hain quki ye crystal clear hote hain. Is s night driving me dikkat nhi aati hai. Kuch logon ko multifocal lens ke sath chashma bhi lagana pad jata hai. Surgery ke baad kuch precautions leni hoti hain. Apko 1-2 weeks aankh me pani nhi dalna hota hai. Garam pani se eyelids ko clean krna hota hai taki koi infection na ho. Or hum apko eye drops bhi dete hain jo 4-6 weeks chalti hain. Or kuch lubricants drops 2 months ke lia chalti hai. Ye bhut hi simple surgery hai jo day in and out ka kam hai. Patient aata hai, surgery krata hai or fir ghar chala jata hai. To 2 hours ke andar apka sab kam ho jata hai.
Thank You.
3552
people found this helpful
Diabetes is a condition characterized by an elevated level of the blood glucose due to the insufficient production of the Insulin by the Beta cells of the pancreas. The high blood glucose level can also be an outcome of the inability of the body cells to utilize or respond to the insulin produced - a condition termed as Insulin Resistance.

Today, Diabetes has become a raging problem affecting almost every second individual, irrespective of their age, sex or ethnicity. What is even worse is the fact that the metabolic disorder affects a host of the vital body organs including the eyes. In many diabetic patients (diabetes left unmanaged and uncontrolled for long), the high blood sugar or Hyperglycemia can give rise to many eye complications such as:
Diabetic Retinopathy (Hyperglycemia that triggers progressive damage of the blood vessels of the retina that can eventually even lead to blindness).
Thus, it becomes essential to carry out the preventive measure to deal with diabetes-related eye problems and the associated complications.

Protecting the eyes from Diabetes
Controlling Diabetes: Amongst different eye care or preventive measures, foremost is to make sure that diabetes and the blood glucose level are within control. A glucometer can help to monitor the blood glucose levels at home. Regular lab tests for Fasting and Post prandial(FBS, PP2BS) blood sugar tests should be done at a frequency advised by treating physician along with HbA1c. Eliminating the underlying factor can work wonders to avoid the various eye problems resulting from diabetes.
Regular eye-checks: People with diabetes need to be careful. Consult your family physician or a specialist at the earliest for discomforts and symptoms such as a headache, watery eyes, blurred, distorted or double vision. Regular eye-checks and screening tests are equally important to safeguard the eyes from the harmful consequences of diabetes.
Keep a check on other medical disorders: Conditions such as Hypercholesterolemia (elevated levels of blood cholesterol), high blood pressure, along with diabetes, are the worst nemesis that can result in a myriad of eye disorders. Make sure the blood pressure is within the control (to avoid complications, try to maintain a blood pressure below 140/80) and so is the level of bad cholesterol or LDL (Low-density lipoprotein).
Keep your body moving: Exercises and physical activities (morning or evening walks, jogging) can play a pivotal role in keeping diabetes under control, thereby shielding the eyes from problems such as cataract, glaucoma. Keeping the body weight within the healthy and recommended range can also work towards managing the blood glucose level.
Healthy dietary modifications: Diabetic patients should be careful with their choice of foods. Dark chocolates, lean meat, whole grains, fish, cinnamon, turmeric, fruits and vegetables such as broccoli, blueberries, spinach, walnuts, sweet potatoes, asparagus, apricots, apples, to name a few are healthy options for a diabetic patient.
Smoking can spell doom for the eyes and is best avoided.
3749
people found this helpful
The cornea is the transparent layer of the eye that acts as a protective shield. The cornea, in combination with the sclera, protects the eyes from various harmful microorganisms and particulate matter, including the harmful UV radiations (to some extent). The cornea is made up of three important layers, the Endothelium, Stroma, and the Epithelium.
Endothelium: The inner layer of the cornea, the endothelium helps to maintain a clear vision by removing the excess fluid absorbed by the stroma. The mitochondria-rich single celled layer functions more like a pump.
Stroma: The middle corneal layer is extremely thick (~90% of the total corneal thickness) and composed mainly of proteins and fluids. Like the endothelium, the stroma, too, plays a pivotal role in the normal eye vision.
Epithelium: Being the outermost layer, the epithelium functions as a defensive shield, protecting the eyes from harmful germs, bacteria and any matter that can harm the eye. Most importantly, the epithelium absorbs the essential nutrients and oxygen (present in the tears). The cornea, thus, plays a pivotal role in the normal vision of the eye. However, an injury or an infection can interfere with the corneal functioning, affecting a person's vision as well as giving rise to other complications (the eyes may appear itchy, watery and red. There may also be light sensitivity).
Some of the common cornea problems include
Keratitis: Injury or microbial (bacteria, virus or fungi) infiltration of the cornea can trigger this condition resulting in corneal infection and inflammation. Some of the symptoms characteristic of keratitis include extreme light sensitivity, blurred vision. The inflammation can also result in redness, pain (moderate to severe) and watery eyes. Antifungal, antiviral or steroidal eye drops may provide relief from the associated symptoms.
Shingles (Herpes Zoster): This condition mainly affects people who have suffered from chickenpox. In some cases, the virus though inactive may still be present in the body (in the nerves). However, at a later period, certain factors may trigger its activation. Once active, the virus can affect different parts of the body, including the cornea. Shingles can cause corneal soreness and inflammation. Old people and those with a weak immunity are more likely to suffer from shingles. People with shingles may benefit from the administration of steroidal (tropical) and antiviral eye drops.
Ocular Herpes: This is a viral infection triggered by Herpes Simplex Virus I (HSV I) or Herpes Simplex Virus II (HSV II) resulting in herpes of the cornea. The condition gives rise to corneal inflammation and sores. Here too, the patient can get some relief by using antiviral or steroidal eye drops.
Keratoconus: This is a degenerative disorder of the cornea that results in thinning of the cornea. The condition can also alter the corneal shape, resulting in swelling, pain, and loss of vision (partial to complete, particularly the night vision).
Fuchs' Dystrophy: This is a corneal dystrophy whereby the corneal endothelial cells break down at a slower rate than usual. As a result, the stroma may be waterlogged resulting in swelling and blurred vision.
In case you have a concern or query you can always consult an expert & get answers to your questions!
3549
people found this helpful
View All Feed