Videos (1)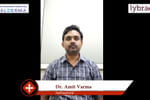 Personal Statement
Our team includes experienced and caring professionals who share the belief that our care should be comprehensive and courteous - responding fully to your individual needs and preferences.
...more
Our team includes experienced and caring professionals who share the belief that our care should be comprehensive and courteous - responding fully to your individual needs and preferences.
More about Dr. Amit Varma
Dr. Amit Verma is a dermatologist with an experience of over 16 years. He completed his MBBS from Maulana Azad Medical College, New Delhi in 2000 and MD in Skin and Venereal Diseases from the University College of Medical Sciences and GTB Hospital, New Delhi in 2005. He is a specialized dermatosurgeon and cosmetologist. Dr Amit Verma is a professional member of the Indian Association of Dermatologists Venereologists and Leprologists (IADVL). Dr. Amit Verma is a very eminent doctor in the field of dermatology and believes in providing the best possible care and treatment to his patients. He works along with his teams who are extremely cooperative and look after the requirements and preferences of every individual patient. If you have any skin related issues you can visit him at Maya Clinic, Indirapuram, Ghaziabad.
Info
Education
MD - MD- Skin & VD - University College of Medical Sciences & GTB Hospital, New Delhi - 2005
MBBS - Maulana Azad Medical College, New Delhi - 2000
Languages spoken
English
Hindi
Professional Memberships
Indian Association of Dermatologists Venereologists and Leprologists (IADVL)
Location
Book Clinic Appointment with Dr. Amit Varma

SE-169, Jaipuria, Sunrise Greens, Ahinsa Khand-1, Indirapuram

,

Ghaziabad
Get Directions





+4




Consult Online
Text Consult
Send multiple messages/attachments. Get first response within 6 hours.
7 days validity
•
₹300 online
Consult Now
Phone Consult
Schedule for your preferred date/time
10 minutes call duration
•
₹400 online
Consult Now
Video Consult
Schedule for your preferred date/time
10 minutes call duration
•
₹400 online
Consult Now
Services
Submit Feedback
Submit a review for Dr. Amit Varma
Your feedback matters!
Write a Review
Patient Review Highlights
"Very helpful"
1 review
Reviews
Verified
Nov 24, 2017
He is a very sweet, humble answer knowledgeable. He shows compassion and empathy towards his patients which is mostly lacking these days.
Root India Healthcare Ltd
Aug 3, 2018
He is best doctor in Indirapuram. He is gentle, kind and prescribed effective medicine. Regards Root India Healthcare
Verified
Aug 3, 2017
He is attentive, understanding and very thorough with his diagnosis and explanation of the treatment.
Verified
Sep 15, 2018
Its was an excellent experience with him. He is such a great doctor. Explains everything on detail.
Verified
Nov 11, 2017
Satisfied with the consultation
Verified
Mar 13, 2018
experience
Ratan Lal Muir
Aug 11, 2018
Excellent
Verified
Sep 5, 2018
Very nice
L M Sanwal
Sep 22, 2018
Good
Feed
Shared 8 months ago • Featured Tip
A healthy skin can slow down the aging process and prevent skin problems. Diet and exercise are key factors that keep the skin healthy. A healthy skin also has aesthetic benefits apart from being disease resistant.
Given below are 6 ways to keep the skin healthy:
Regular exercise and Hydration: Regular cardio exercises such as jogging and swimming pump the blood that carries nutrients and oxygen to the skin. Exercise causes loss of water in the body which needs to be replenished. Water keeps the skin healthy and prevents skin problems such as acne and dry skin.
Sun protection: Constant exposure to sun rays can cause a host of skin problems such as skin cancer, wrinkles and age spots. The main culprits are the ultraviolet rays of the sun which can cause damage to the skin when it is exposed. Using sunscreen and wearing full-sleeves can help protect the skin against UV rays.
Intake of antioxidants: Exposure to sun, pollution and other environmental factors give rise to free radicals in the skin. These free radicals damage cells in the skin by oxidation. Foods rich in antioxidants such as fruits and vegetables can limit the damage caused by free radicals.
Stress management: Stress can trigger the skin sensitivity which causes it to be acne prone. Thus managing stress is beneficial for maintaining a healthy skin.
Smoking: Smoking narrows the blood vessels in the skin that deliver oxygen and nutrients. Hence, it should be avoided to stay clear of these problems.
Collagen supplements: These collagen supplements, especially in peptide form, reduces wrinkles considerably and keeps the skin firm and resilient.
In case of a concern or query, consult an expert & get answers to the questions!
3493
people found this helpful
Shared 10 months ago • Featured Tip
Monsoon comes with a relief after those scorching hot summer days. You feel relieved and in this enjoyment, forget about your skin. Yes, this damp weather may let you feel easy but does your skin feel the same? The answer is perfect NO! There are a lot of problems that arise along with the monsoon.
The good news is that if you take some care, you will be able to enjoy the season along with keeping your skin healthy and glowing.
Here are certain tips for your skin care during monsoon:
Tips for skin care:
There are mainly three types of skin which are oily skin, dry skin and combination skin. Depending upon your skin you should follow a different regime, but discussed here are certain tips that will be useful for all skin types during monsoon.
Wash your face at least 3 to 4 times a day. If you have dry skin, then do not overdo it as it may dry it up more. Use soap-free cleansers to keep your face clean and moist all the time.
Use scrubbers at regular intervals as it helps in exfoliating your skin and unclogging the pores. Even one's with oily skin will also find it useful.
After cleansing and scrubbing use alcohol free toner so that the open pores that are caused by high humidity are closed. Too many open pores are not good for oily or combination skin.
It's a habit of most individuals to stop the use of a sunscreen as it starts showering. Do not do that, keep using it even when the climate cools down and the sun is behind the clouds.
Avoid using heavy makeup during the monsoon. Even if you have to apply some, go for waterproof makeup.
For keeping your skin hydrated and brightening it, you can use lotion based serum that will help to keep your face moist.
Avoid bleaching in monsoon as it is more harmful to your skin during this season.
Take care of your lips by applying some milk cream on it. If you find them slightly cracked you can apply coconut oil. Try to avoid deep colored lipsticks. Go for natural shades during monsoons.
Keep your skin clean and for that do pedicure and manicure regularly. It is always recommended more during the monsoons.
After reaching home wash your feet, hands and face properly. During the monsoon, there are more germs everywhere so it is necessary that keep them clean.
Drink as much water as you can to be hydrated.
Follow these tips as these will keep your skin glowing even during this dull season. However, if you still feel odd, it's better to get expert advice on skin care during the monsoon. In case you have a concern or query you can always consult an expert & get answers to your questions!
2829
people found this helpful
Shared 11 months ago • Featured Tip
Botox is a wrinkle treatment, but is used for treating a range of medical conditions. It has been in use for well over 18 years and is considered to be safe when performed under the guidance of a medical practitioner. Apart from aesthetics, a range of other facial, migraine and dermatological problems can be addressed by Botox.
Myth #1
Botox limits facial expression: The primary objective of a Botox treatment is to enhance the look of a person and not the contrary. When administered by a skilled physician, you can still smile and animate like before. Botox in no way affects the sensory nerve. The muscle beneath the point of injection gets relaxed and remains active. The apprehension of limited facial activity is baseless.
Myth #2
Botox travel through your body: This again is a myth. Botox diffuses not more than 1cm into the skin. Due to its localized nature, it does not affect any other parts of the body other than the intended area.
Myth #3
Botox has toxic content: Botox, like any other drug, is safe when taken under supervision. Like other drugs, it too gets scanned by the drug regulatory authorities. It is neither dangerous nor contains any toxic substance.
Myth #4
Dermal fillers involve intense pain: Dermal fillers are not as painful as advocated by many people out there. It does have its fair share of discomfort but a medical practitioner always uses a topical anesthetic and other anxiety related medications during the treatment.
Myth #5
Downtime for Botox is fairly long: Botox is known as the afternoon injection for its convenience and easy procedure. Botox procedure has no downtime at all. Doctors often suggest against lying down for a good 2-3 hours after the injection. Dermal fillers might result in minor swelling but there are medicines to counter that too.
Myth #6
Botox is permanent in nature: Botox effects lasts for 4-6months. For people who take Botox shots regularly, it tends to last longer.
Myth #7
Dermal fillers and Botox are the same: While people these days use them interchangeably, they are not the same. For instance, Botox lessens the effect of wrinkles by relaxing the facial muscle whereas dermal fillers add volume to the tissue and restores the muscle.
Myth #8
Botox is applied only when Facial lines are visible: This is not necessarily true. If the family of an individual has a history of facial lines, it makes sense to start Botox for facial line prevention. This delays the actual facial line appearance and requires fewer Botox shots going forward.
In case you have a concern or query you can always consult an expert & get answers to your questions!
2775
people found this helpful
Shared 11 months ago • Featured Tip
Healthy skin is a sign of overall good health and vitality. Skin problem is one of the most persistent problems encountered by people. It is imperative therefore, that you take care of your skin to avoid skin disorders. Various factors, such as pollution, smoking, eating processed food and a sedentary lifestyle contribute to unhealthy skin.
There are certain habits, which can be followed by you on a regular basis to restore the health of your skin. Some of them are:
Exercise regularly: Exercising on a regular basis improves your skin health as it increases blood circulation in the body. Consequently, it helps in delivering various nutrients to the skin, which in turn defers aging. Daily exercises also prevent the onset of various skin disorders.
Keeping it clean: You should keep your skin clean to prevent the buildup of dirt. This prevents clogging of the pores and enables the skin to breathe.
Intake of vitamin C in various forms: Vitamin C is used in the collagen production process by amino acids. One of the most convenient ways of maintaining the glow of your skin is to introduce fruits and vegetables which are rich in vitamin C.
Quit smoking: The pursuit of healthy skin necessitates immediate disengagement with smoking. This fatal habit should be avoided at all cost, as it triggers and facilitates the aging process. It also aggravates the production of free radicals in the skin which in turn adversely affects the skin.
Less exposure to the sun: Exposure to ultraviolet rays of the sun may damage the collagen structure of the skin. It also causes tanning and increases your chance of developing skin cancer.
Avoid sweet food: Consumption of sweets may lead to the formation of various substances, which threaten to damage the collagen structure and subsequently aggravates the aging process.
Antioxidants: Fruits and leafy vegetables are generally packed with antioxidants. A potential damage of the skin can be deterred by including them in the diet.
Massage: Skin massages facilitate blood circulation on the skin and eradicates the damaging effect of the free radicals. This ensures that you have healthy and refreshed skin.
In case you have a concern or query you can always consult an expert & get answers to your questions!
2769
people found this helpful
Shared 1 year ago • Featured Tip
Every living thing goes through a cycle of birth, growth, development, aging, and based on its lifespan, die. Be it an insect with a lifespan of few hours to the giant tortoise who live for more than 150 years. Now what causes ageing has been debated about widely. It is a combination of gradual wear and tear of the body combined with gradually declining pace of replacement of the worn out/missing parts. When younger, the body's ability to replace lost skin or bone is strong and it gradually declines with age.
Recent studies have shown that there is a strong genetic component to ageing. We all have noticed how not everybody ages at the same pace - while some continue to look younger than their biological age, the reverse is also true. Intrigued by this finding, a lot of research have gone into what contributes to ageing. It has been discovered that a lot of ageing factors are inherited, especially from the mother.
Now, a little bit of cellular details. There is a part of the cell that is called mitochondria, which is the energy production unit within each cell. It has been discovered that the DNA of the mitochondria which is mDNA has a lot to do with how a person ages, specifically what is inherited from the mother. If this has undergone mutation, the inherited mutated mDNA accelerates the ageing process.
To add to this, there is also a lot of research studying the details of how young genes look different from old genes. The idea is to study this difference and then find out the difference and then see how we can make the older ones look more like the younger ones. This will indirectly reduce the aged look and produce a younger outlook.
Since the most obvious and apparent ageing is seen on the skin, research is being conducted how the cellular membranes called aquaporins act. These are important for regulation of water movement to and from the cell. It is well known that younger skin is more hydrated compared to older skin, and ways are being identified to keep the older skin more hydrated and thereby produce a younger look.
There is also a lot of correlation between nutrition and environmental factors and the overall ageing process. Genetic mutations are produced by these factors which also lead to accelerated ageing.
While everybody tries to maintain the younger looks, ageing is something inevitable. While we can do a lot of things by modifying our lifestyle and with chemical support, it cannot be completely halted. While we can try to manage the diseases related to old age, ageing may not be something that can be stopped completely. If you wish to discuss about any specific problem, you can consult a Dermatologist.
2549
people found this helpful
Shared 1 year ago • Featured Tip
Monsoon is a season that brings respite from the sweltering heat and ushers in joy. But at the same time the season also brings along diseases and a threat to the skin and hair. However, all it requires is a little effort from your part to keep your skin glowing and healthy. Some of these are:
Wash your face daily: The pores of your skin tend to get clogged with dirt and pollutants during monsoon causing the outbreak of pimples and rashes. Therefore, it is imperative to wash your face two to three times a day to avert these eruptions. You can also use a toner in case you have dry skin to keep the pores clean.
Use moisturizer: Though using a moisturizer is almost always associated with winter, it is equally important to use it during monsoon especially during the nights. Night is the time when the skin tries to repair itself on its own, therefore applying moisturizer helps in averting the wrinkles and maintains the glow of the skin.
Exfoliation of the skin: Monsoon is the time when your skin requires the most pampering, therefore, an exfoliation at least once in every week will help you to keep the dead cells away, consequently helping you to keep your skin glowing and soft.
Apply sunscreen: Similar to a moisturizer, a sunscreen is a product whose benefits are strictly associated with summer. But that is not rather should not be the case. During monsoon, even though the rays of the sun may not seem harsh, it can as well damage your skin; therefore applying a sunscreen should be something you must not miss.
Eat green vegetables: Your skin reflects not only the benefits of the cosmetic products that you apply on it, but also what you eat. Eating oily and junk products show their mark on the skin sooner than later, therefore the trick is to stay away from them and indulge in green vegetables. Your skin will inevitably show the benefits soon.
Eat fruits: The benefits of eating green vegetables and fruits go hand in hand. Rich in antioxidants, fruits help in maintaining the luster of your skin.
Drink lots of water: Water has plenty of advantages and it takes care of the skin, health as well as hair. Drinking plenty of water during monsoon takes care of the skin and keeps the glow. If you wish to discuss about any specific problem, you can consult a Dermatologist.
2538
people found this helpful
Shared 1 year ago • Featured Tip
3618
people found this helpful
Shared 1 year ago • Featured Tip
The skin is exposed to many things, which causes it to lose its luster and appear dull. Apart from the external factors certain internal factors also cause skin darkening. Internal factors, such as what you eat and how much you exercise also affect its condition and thus in turn, affects how you look. Your skin may develop dark spots, blemishes and tan. Let's look at some of the ways this can be tackled resulting in fairer skin.
Changing lifestyle habits and your daily routine:
Protection from the sun: Many of the blemishes and spots on your skin are due to the exposure you have had to the sun. Thus ensure that you have sufficient UV protection with the best possible SPF levels that suit your skin. Generally, in Indian climate, an SPF count of 30 is recommended. However, the correct SPF count would depend on one's skin texture. Wear hats as well as sunglasses while outside to prevent tanning as well as dark circles. Apart from SPF, PA /star rating are also important espacially if you don't want tanning. Sun screen should have at least PA +++ or Boot Star rating of *****
Exfoliate regularly: This is an important step as most of the dead skin cells on your body are darker in skin tone than the newer cells beneath them. If you exfoliate regularly, then this layer of dead skin cells will be removed making you fairer. However, don't exfoliate more than two times a week as it would lead to excessively dry skin.
Homemade lightening treatments for your skin:
Turmeric paste: You can make turmeric paste with either olive oil or milk and then make it into a mask. Apply it and kece body and hands and keep it there for 20 minutes or so. Apply moisturizer and don't go out in the sun immediately. Do this for a few days a week and you should see results quickly.ep it for 20 minutes and then wash it off with warm water. Doing this for a few days should result in noticeable results.
Lemon juice rinse: Mix equal amounts of lemon juice from half a lemon with water in a glass. Then dab this mixture on your fa
Potato rub: Cut a potato into thick slices and ensure that you rub it over the face or on areas where you want to lighten the skin.
Other treatments: Other home remedies also include, green coconut water rinses, honey lemon masks and papaya masks among others. If you wish to discuss about any specific skin problem, you can consult a dermatologist
3113
people found this helpful
Shared 1 year ago • Featured Tip

Boils are a bacterial infection that inflames the hair follicles. They are usually painful and filled with pus. Boils appear as red lumps and quickly fill with pus as days go by. They eventually rupture and drain. A cluster of boils at the same place or in patches is known as a carbuncle. In case a single boil makes an appearance in any part of the body, it should not rupture as it can quickly spread the infection in other parts of the body as well.
Symptoms:
Boils mainly occur in areas such as armpits, thighs, face, neck and buttocks. Their appearance mainly occurs in places covered with hair and tends to sweat a lot. Some of the common symptoms include red bump the size of a pea, reddish appearance of the skin near the bump, increase in size of the structure and eventually rupturing.
When to consult a doctor?
A doctor must be visited when there is more than one boil in a particular area. Some other areas of concern include:
If the size of a boil is more than 5 centimetres.

If the boil causes fever.

If the boil doesn't heal in more than a couple of weeks.

If the boils increase in size and become extremely painful.

If the boil appears on the face.
Risk Factors of Boils:
Boils are caused by a bacterium known as Staphylococcus aureus. They get entry to the skin where it is broken. Some of the common risk factors of this infection include diabetes, long-term infection, weakened immune system and other skin infection such as eczema, and acne.
Diagnosis:
A doctor is likely to diagnose boils just by having a look at it. In the case of any confusion, he might send the sample to a pathology lab for the purpose of testing. It is most likely to happen when the boil isn't responding to any treatment. In case the boil becomes resistant to standard treatment, a doctor might take a different course of action.
Treatment:
Boils can be treated at home itself with a warm compressor. It not only relieves pain but helps in natural damage. If the boil doesn't go away, a dermatologist must be consulted. On consultation, the dermatologist can make an incision in the infected area in order to drain the pus. For deep infections, the pus is drained with the help of sterile gauze. In case the boil is severe in nature, a doctor prescribes antibiotics to heal the infected area. For prevention, it should be ensured that the hand is washed frequently and especially so before a meal. The wound should be covered at all times and personal belongings should not be shared.
2781
people found this helpful
Shared 1 year ago • Featured Tip
Why do feet stink?

Smelly feet can be a cause of great embarrassment and discomfort for anyone. Also known as bromodosis, the primary cause of smelly feet is the sweat glands in your feet. This part of the human body has more sweat glands than anywhere else in the body. Additionally, compared to sweat glands in the other parts of the body that secrete to control your body temperature when exposed to hot weather or while exercising, the sweat glands in your feet produce perspiration all the time.

When this happens, bacteria living on your skin break down the perspiration that oozes from your skin pores and a cheese-like smell is produced as the sweat gets broken down by the bacteria.

Apart from the explanation of the origin of this kind of smell, the causes that lead to you having smelly feet are:

- Wearing the same footwear on a daily basis and not letting them dry
- Poor hygiene habits like not washing your feet and drying them thoroughly
- Changes in the body's hormones level especially during pregnancy and puberty
- Too much
stress
- Hyperhidrosis (a condition wherein you sweat excessively)
-
Athlete's foot
(
infection
of the soles of the feet and between the toes)
3081
people found this helpful
View All Feed