Personal Statement
I pride myself in attending local and statewide seminars to stay current with the latest techniques, and treatment planning.
...more
I pride myself in attending local and statewide seminars to stay current with the latest techniques, and treatment planning.
More about Dr. C. P. S. Chauhan
Dr. C. P. S. Chauhan is a renowned Radiologist in Tis hazari, Delhi. You can meet Dr. C. P. S. Chauhan personally at Dr. C. P. S. Chauhan@St Stephens Hospital in Tis hazari, Delhi. Book an appointment online with Dr. C. P. S. Chauhan and consult privately on Lybrate.com.

Lybrate.com has an excellent community of Radiologists in India. You will find Radiologists with more than 33 years of experience on Lybrate.com. You can find Radiologists online in Delhi and from across India. View the profile of medical specialists and their reviews from other patients to make an informed decision.
Info
Languages spoken
English
Hindi
Location
Book Clinic Appointment with Dr. C. P. S. Chauhan

St. Stephen's Hospital Landmark : Near kashmiri Gate

,

Delhi
Get Directions





+6




Services
Submit Feedback
Submit a review for Dr. C. P. S. Chauhan
Your feedback matters!
Write a Review
Feed
Nothing posted by this doctor yet. Here are some posts by similar doctors.
Shared 1 year ago • Featured Tip
The spinal cord is like a cable consisting of millions of nerves that transmit messages in the form of electrochemical signals from the brain to the rest of the body, and also sensations from the body back to the brain. We are able to perceive pain and move our limbs because of messages sent through the spinal cord.
The spinal cord is soft and vulnerable to injury. It is protected by the bony structure of the vertebral column. A spinal cord injury can happen if there is a fracture of the spine. Sometimes, even if the vertebral column is intact, violent shaking can cause cord contusions. It's an extremely serious type of injury that is likely to have a lasting and significant impact on most aspects of daily life.
If the spinal cord sustains an injury, some or all of these impulses may get blocked. The result is a loss of sensation and mobility below the level of injury. A spinal cord injury closer to the neck will typically cause paralysis throughout the body, while one in the lower back may affect the legs but spare the hands.
Causes:
A spinal cord injury is often the result of violent trauma. Events like spontaneous hemorrhage, infection, tumors or autoimmune diseases can also cause spinal cord damage. Some causes of traumatic injury to the spinal cord are :
trauma during a car accident (specifically, trauma to the face, head and neck region, back, or chest area)
falling from a significant height
head or spinal injuries during sporting events
electrical accidents
a violent attack such as a stabbing or a gunshot
Diving head first into water that's too shallow and hitting the bottom
Symptoms-
Some symptoms of a spinal cord injury include:
Neck or back pain
Weakness of particular muscle groups in focal injury, to complete paralysis in severe injury.
Clumsiness during finer actions using the hands.
Unsteadiness or loss of balance while walking.
Loss of control of the bladder or bowels You must take immediate precautions
If there is the slightest suspicion that someone has a back or neck injury:
Call 911 or your local emergency medical assistance number
Do not move the injured person – permanent paralysis and other serious complications may result.
Place heavy towels on both sides of the neck or hold the head and neck to prevent them from moving until emergency care arrives • Provide basic first aid, such as stopping any bleeding and making the person comfortable, without moving the head or neck
If movement is absolutely necessary, arrange a cervical collar, then log-roll onto a stiff spine board or flat surface, taking care that all parts of the body move together and that any relative movement between one part of the spine to the next is avoided.
Prevention-
Because spinal cord injuries are often due to unpredictable events, the best you can do is reduce your risk. Some risk-reducing measures include:
always wearing a seatbelt while in a car
wearing proper protective gear while playing sports
never diving into water unless you've examined it first to make sure it's deep enough and free of rocks
increase protective measures to avoid falls from height
Treatment:
Seek the opinion of a Neurosurgeon or an Orthopedic spine surgeon as soon as possible. X-rays, CT scan or MRI scans may be advised for assessing bony or soft tissue injuries of spine. Minor injuries require only immobilization and rest. Severe injuries, however, may require steroid injections and surgical intervention. Time is of essence, and an early surgery in certain situations may save a limb that would otherwise be paralyzed for life.
3186
people found this helpful
Asked for male, 35 years old from Delhi
Not necessary that what shows in MRI is significant. What is more important is your clinical presentation and symptoms. You need to get yourself assessed properly.
Shared 1 year ago • Featured Tip
The pain which a person experiences as a result of having a herniated disc can be quite debilitating, to tell you the truth. However, taking into due account the fact that all a person in such a situation would want would be to be up and running as soon as possible.

In order for this to happen, as would be expected, he or she would need to go through the options which are available for treatment of a herniated disc. There are various types of herniated disc treatments which are available though it can be said that conservative treatments are preferred as these treatments do not require surgery to be carried out on the person who is suffering from the issue.

The course of this sort of treatment lasts somewhere between one month to one and a half months. The aim of conservative treatment is to reduce or minimise the pain that is automatically associated with a herniated disc. There is a strategy to help a person improve by which he or she is provided with medicine for the purpose of pain relief while physiotherapy is made use of to make the underlying condition better.

Surgical treatment may be required, if the case is such that the person has lost a great degree of function and is in pain that seems to be pretty much unbearable. `If the person has a lumbar herniated disc, then the conservative treatment for this sort of case would require him or her to apply ice and heat from a warm source to provide relief to the area. If the pain is very bad yet the person is determined not to undergo surgery then the answer would be to consume some oral steroids or narcotic pain medications. One should surely keep in mind that this is only to carried out as per the prescription of a doctor who is trained and experienced to a sufficient degree.

If surgery is required for this sort of herniated disc, then it is likely to be a lumbar decompression surgery which aims to allow for the growth of the spine back to health as a result of removing the herniated disc.
When it comes to cervical herniated disc treatment, conservative solutions include using drugs like
ibuprofen
and physical therapy; similar to solving lumbar herniated discs. However, surgical treatment for cervical herniated discs warrants anterior cervical decompression; where the disc is removed from the front of the neck. If you wish to discuss about any specific problem, you can consult a
Physiotherapist
.
5591
people found this helpful
Do the cat/cow stretch. Get on all fours, with your arms straight and your hands directly under your shoulders; your knees hip-width apart.
Shared 1 year ago • Featured Tip
You know that feeling after a long day when your feet are so sore or swollen that you can't bear the thought of standing on them for any longer? once you take off your shoes and sit down, or even soak them in a warm bath, it's still an unpleasant experience. Luckily, I've collected 10 natural remedies for such an occasion and I want to share them with you.

Important: regular swelling vs potential health risks
When experiencing swelling in the feet and legs, apply pressure to the area with a finger. If the dimple created by the finger remains for more than a couple of seconds, it may indicate oedema, which can be the result of heart, liver, or kidney problems. When this occurs, see a doctor at the first possible opportunity.
If you experience swelling in one leg but not the other, you should also see a doctor as this may be an indication of deep venous thrombosis (a blood clot blocking the blood vessels).
If the swelling is accompanied by shortness of breath, fever, bluish skin, and chest pains, get immediate medical attention.

10 natural remedies:
1. Soak your feet in epsom salts
Pour 250g of epsom salt into a hot bath, and take a nice long soak. You can also add essential oils to the mix for enhanced relaxation. Your feet will thank you, your body will thank you, and you'll emerge from that bath a happier person.
2. Massage the area
Massaging the painful area increases blood flow and moves the fluids that accumulate and cause the swelling. If you want to indulge, get someone to massage your feet for you, preferably with hot essential oils.
3. Stop smoking
If you smoke tobacco (cigarettes, cigars, etc.), you should know that one of the many negative effects of nicotine is constriction of blood vessels, which can lead to sore feet.
4. Stay hydrated
When the caffeine and sodium we consume accumulate in the body, they can cause swelling and pain in the limbs. The best way to dilute them and flush them out is by drinking water. If you want to maximize the efficiency of hydration, squeeze a lemon or lime into the glass of water for a boost of vitamins and antioxidants.

While we need salt for our body to function well, when we overdo it, it can have adverse effects. Reduce the amount of salt you consume every day, and consider cutting down on caffeine as well.
6. Elevate the legs
If you're suffering from chronically sore legs/feet, try keep your legs elevated for 30 minutes, three times a day. You will notice a difference within a couple of days. Also, when you're in bed, use a couple of pillows to prop up your feet. Elevating the legs helps to drain the excess fluids that causes the swelling and pain.
7. Avoid sitting for prolonged periods
Whether you're flying, taking the bus, or just sitting in an office all day, keeping your legs stationary can lead to pain and swelling. If you know you're going to sit for a long period of time, make sure to stand up, stretch, and walk around every 20 minutes or so.
8. Use compression socks when traveling
If you're going to fly overseas, another excellent solution is to use compression socks. These socks apply pressure to your feet, preventing fluid from building up – the main cause of swelling and pain in the feet.
9. Exercise
Exercise will help boost your cardiovascular system, which in turn will reduce the possibility of swelling in the limbs. Exercise increases blood-flow in the body and reduces weight.
10. Take magnesium supplements
Magnesium is essential for our body's function. That said, many people suffer from a magnesium deficiency. By adding magnesium to your system, you will improve your overall health, reduce
hangover
symptoms and suffer less pain in your extremities
3
people found this helpful
Shared 1 year ago • Featured Tip
If you are concerned about breast cancer, you should know about the steps you can take to prevent the condition. Breast cancer is a type of cancer developing from the breast tissue. Symptoms such as a lump in the breast, fluid flowing from the nipple, changes in the shape of the breast and occurrence of red scaly patches on the breast denote breast cancer.
You need to make certain lifestyle changes in order to prevent breast cancer. The ways you should adopt include the following:
Limit your alcohol intake: The more you consume alcohol, the more you put yourself at the risk of getting breast cancer. It is recommended for you not to drink more than one drink per day. Small amounts of alcohol increase the risk of breast cancer as well.

Abstain from smoking: There is a direct link between tobacco smoking and breast cancer, and the risk is even more in premenopausal women. You should quit smoking to reduce the risk of breast cancer along with many other conditions, which can develop because of the ill-effects of smoking.

Control your weight: Obese women are more prone to breast cancer when compared with women with a healthy weight. This is especially true when obesity occurs at a later stage in life, after menopause.

Keep physically active: Regular physical activity is essential for you to maintain a healthy weight, which is important for preventing breast cancer. 150 minutes of moderate aerobic exercises or 75 minutes of vigorous exercises are recommended along with strength training.

Breastfeed: Breastfeeding plays an important role in preventing breast cancer. The more you breastfeed your baby, the more protected you are from breast cancer.

Limit the dosage and duration of hormone therapy: If you undertake combination hormone therapy for more than three to five years, you are at a higher risk of developing breast cancer. In case you are taking hormone therapy for menopausal symptoms, you should talk to your doctor about alternative options such as non-hormonal therapy and medications. If you still require hormonal therapy, you must use the lowest dose that will be effective.

Avoid exposure to radiation and pollution: Certain medical imaging procedures like computerized tomography involves radiation of high doses. There is a link between breast cancer and radiation exposure. Thus, you should abstain from getting exposed to radiation and avoid taking such tests if it is not very urgent.
Maintaining a healthy diet also helps in reducing your risk of developing breast cancer. You should include food items which are plant based in your regular diet, such as fruits, vegetables, nuts, whole grains and legumes. Also, consume healthy fats such as olive oil instead of red meat and butter. If you wish to discuss any specific problem, you can consult an oncologist.
3021
people found this helpful
Shared 1 year ago • Featured Tip
Step 1: Begin by looking at your breasts in the mirror with your shoulders straight and your arms on your hips.

Here's what you should look for:
Breasts that are their usual size, shape, and color
Breasts that are evenly shaped without visible distortion or swelling
If you see any of the following changes, bring them to your doctor's attention:
Dimpling, puckering, or bulging of the skin
A nipple that has changed position or an inverted nipple (pushed inward instead of sticking out)
Redness, soreness, rash, or swelling

Step 2: now, raise your arms and look for the same changes.
Step 3: while you're at the mirror, look for any signs of fluid coming out of one or both nipples (this could be a watery, milky, or yellow fluid or blood).

Step 4: next, feel your breasts while lying down, using your right hand to feel your left breast and then your left hand to feel your right breast. Use a firm, smooth touch with the first few finger pads of your hand, keeping the fingers flat and together. Use a circular motion, about the size of a quarter.
Cover the entire breast from top to bottom, side to side — from your collarbone to the top of your abdomen, and from your armpit to your cleavage.
Follow a pattern to be sure that you cover the whole breast. You can begin at the nipple, moving in larger and larger circles until you reach the outer edge of the breast. You can also move your fingers up and down vertically, in rows, as if you were mowing a lawn. This up-and-down approach seems to work best for most women. Be sure to feel all the tissue from the front to the back of your breasts: for the skin and tissue just beneath, use light pressure; use medium pressure for tissue in the middle of your breasts; use firm pressure for the deep tissue in the back. When you've reached the deep tissue, you should be able to feel down to your ribcage.

Step 5: finally, feel your breasts while you are standing or sitting. Many women find that the easiest way to feel their breasts is when their skin is wet and slippery, so they like to do this step in the shower. Cover your entire breast, using the same hand movements described in step 4.
1
person found this helpful
Shared 6 months ago • Featured Tip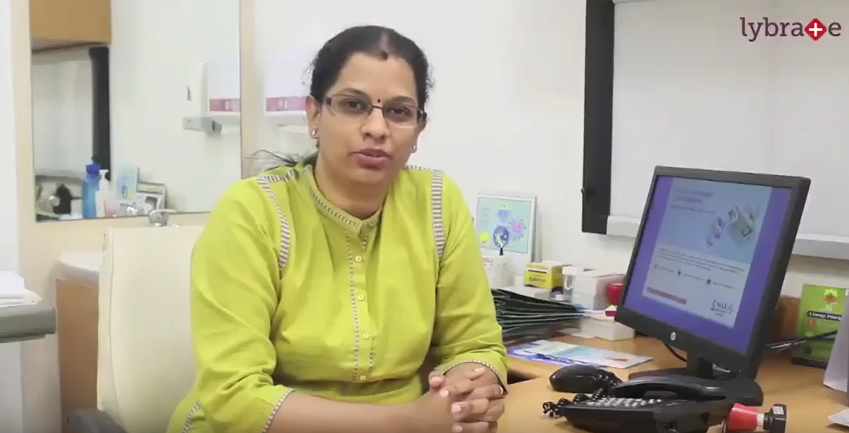 I am dr Veda. The breast cancer surgeon surgical oncologist who specialises in breast cancer treatment.
Today we just want to give a message on breast cancer treatment is as of today in India. So breast cancer is one of the most common cancer amongst women. All over the world it is a number one can amongst Indian all over the world and even in India initially 10 years back it used to be survival cancer. But nowadays we have a lot of breast cancer is coming up and it has replaced cervical cancer to take the number one position in the above sentence even in the rural centres.
For an exception of few sentences for cervical cancer does more than the rest of the centre breast cancer has topped the charts as of 2018. The recent WHO on ICMR surveys that have come up the state that breast cancers the most common one and one of the square 25 to 30 women in India are at risk of developing breast cancer in the west such as US the numbers of Huge it's about 1 and 8 women are at risk of developing breast cancer. But that does not that should not make us more satisfactory or complacent because a population is huge so for a population as huge as Indian population number of breast cancer 8 March 5 so per year we see about 1.5 Lakh cases of new cases of breast cancer.
What is more worrisome is that is one population is large second is the population of people with breast cancer come at an advanced stage as compared to be used in the West president stage 1 and stage 2 where is in India breast cancer stage 3 and 4 in which it is less advanced. Second thing women in India the great of for tomorrow's find the Biology is not so good and much more aggressive treatment so that makes it different the scenario is different as of the west.
The second thing because of the highest age of presentation to cure rates of survival rates also slightly lower when compared to the west that means out of 1.5 Lakh woman who been duly diagnose breast cancer every year only 50% of the episode 75000 make it be cure in five years of diagnosis only one and two women diagnosed with breast cancer come to the come to Healthcare get proper treatment and get cured. So what we have to understand this we need to know the symptoms of breast cancer treatment of breast cancer to cast an early to make effect cost-effective treatment and to improve the survival rates the second message that I want to pass whatever treatment.
Whatever standard of care of breast cancer treatment is available all over the world is very much available in India is very much available in Delhi and it is very much available in the affordable cost and acceptable for everyone 10 years back treatment for breast cancer would be the removal of entire breast to mastectomy but now mastectomy is for very old people one simple surgery could take care of the rest of it 12 simple surgery to take care of the rest of its population surgery to take care of the rest of us even less population reconstruction plastic breast surgery cost of breast cancer treatment we come along way and with the recent advances in technology parsley second major advancements in interprocess of breast cancer management.
In the West a number of people are picked up even before they have the lump that is because of the screening mammography their lesion are picked up lump is leas than 1cm in India we also have a section of people who come very early they get picked up in a Mammogram even before patient is able to feel the lump in the asymptomatic face pedicure rates are very high the second major advance is genetic testing all of you and Angelina Jolie story and so we do have about 10% of people of hereditary breast cancer in home the bracket genes are involved and Bracket genetic testing is very much available in India at an affordable rate and if it is present then prophylactic surgeries may be option which certain people might opt for so the message for today's breast cancer is one of the very much curable cancers of all most of the cancers and of all the character of amongst women so the message for today is breast.
2668
people found this helpful
Hello, From the very precise history what you have given you have been diagnosed with intervertebral disc prolapse with cord compression. Now this is like a mechanical block obstructing the spinal cord (or nerve root), which cannot be removed or decreased with only medicines. The meds what you have taken help reduce the nerve irritation and the nerve swelling caused due to disc prolapse that's the reason why your symptoms have reduced. Every time there is stress on the back, your symptoms will reappear again because the prolapsed disc is still persists. Surgery is adviced depending on how much of a cord compression is there and your symptoms. If the compression is not severe, then life style modification is adviced. Reducing your weight also helps for your height of 182 cm your about 20 kg over weight. Back strengthening exercises will help. I would be in a better position to advise if I could see the MRI SCAN.
View All Feed