About
Our medical care facility offers treatments from the best doctors in the field of Pediatrician . We like to think that we are an extraordinary practice that is all about you - your poten...
...more
Our medical care facility offers treatments from the best doctors in the field of Pediatrician . We like to think that we are an extraordinary practice that is all about you - your potential, your comfort, your health, and your individuality. You are important to us and we strive to help you in every and any way that we can.
More about Dr. Ajatshatru Narayan Clinic
Dr. Ajatshatru Narayan Clinic is known for housing experienced Pediatricians. Dr. Ajatshatru Narayan, a well-reputed Pediatrician, practices in Delhi. Visit this medical health centre for Pediatricians recommended by 89 patients.
Timings
Location
#E-211, Lajpat Nagar,Near Central Market,RAmpur Shani MAndir Delhi -110024
Lajpat Nagar
Delhi,
Delhi
-
110024

Get Directions
Photos (1)

Doctor in Dr. Ajatshatru Narayan Clinic

Diploma in Child Health (DCH), MBBS, MD
Pediatrician
Services
Submit Feedback
Submit a review for Dr. Ajatshatru Narayan Clinic
Your feedback matters!
Write a Review
Feed
Nothing posted by this doctor yet. Here are some posts by similar doctors.
Shared yesterday • Featured Tip

Master in Audiology & Speech language Pathology
While it is sheer joy for a parent to see his/her child respond to questions and discussions, some children may not be able to do so, as they cannot hear what the parent is saying or asking. This condition of hearing loss can be either seen at birth (congenital) or it may develop after a few years (acquired). While it is difficult identifying hearing loss before 6 months of age, earlier detection can be extremely helpful in terms of improving the prognosis. Though not common, congenital hearing loss affects about 1.4 per 1000 births, while acquired loss affects about 5 per 1000 births.
Causes:
Congenital:

Premature birth
Complications at birth including herpes infections
Maternal diabetes
Use of medications which are toxic to the ear (NSAIDs for example)
Heredity

Acquired:

Perforation of the eardrum
Infections like meningitis or mumps
Serious head injury
Constant exposure to loud noise
Recurrent middle ear infections
Severe trauma to the middle ear (as a result of head injury)
Signs to identify hearing loss:
Takes time to respond to your call often
Repeatedly asks you to repeat what you just said
Tries to keep the ear closer to the source of the sound, either people or things
Asks for the volume of TV and music to be higher than normal
The child talks louder to be clear and understood
The teacher at school complains about lack of attention
Appears to be not paying attention to what said, and says, "didn't hear you"
Appears to lip-read by looking at the lips intently to see what you said
Could have ear pains or ringing in the ears
Reluctant to use phone or strains to hear over the phone
Treatment:
Before proceeding to treatment, the first step is to confirm hearing loss. A thorough physical exam and audiogram can help identify the reason for the hearing loss, so treatment can be planned accordingly.
In some children, severe wax buildup and middle ear infections can also cause hearing loss. All it requires is clearing of wax and a course of infection treatment to restore hearing. With medical advances, tests which are painless and non-invasive can be done in children as young as 6 months to confirm hearing loss.
Hearing aids: With aesthetics being a major concern, there are discreet devices which can be completely hidden. Even severe hearing loss can be managed with these.
Cochlear implant: Where there is a nervous problem, cochlear implants are used.
Speech therapy: For kids who have had a delay in picking up speech and language, additional speech therapy may be required.
Confirmation of hearing loss, is done by audiologist & speech language pathologist who are specialized in dealing with hearing and speech related problems and their management. So, its always advised to follow the specialist. In case you have a concern or query you can always consult an expert & get answers to your questions!
1
person found this helpful
Asked for female, 22 years old from Bareilly

All drugs are potentially dangerous to small babies and should be given based on body weight. Action of this drug reduces after 5-6 hours.
1
person found this helpful
Shared yesterday • Featured Tip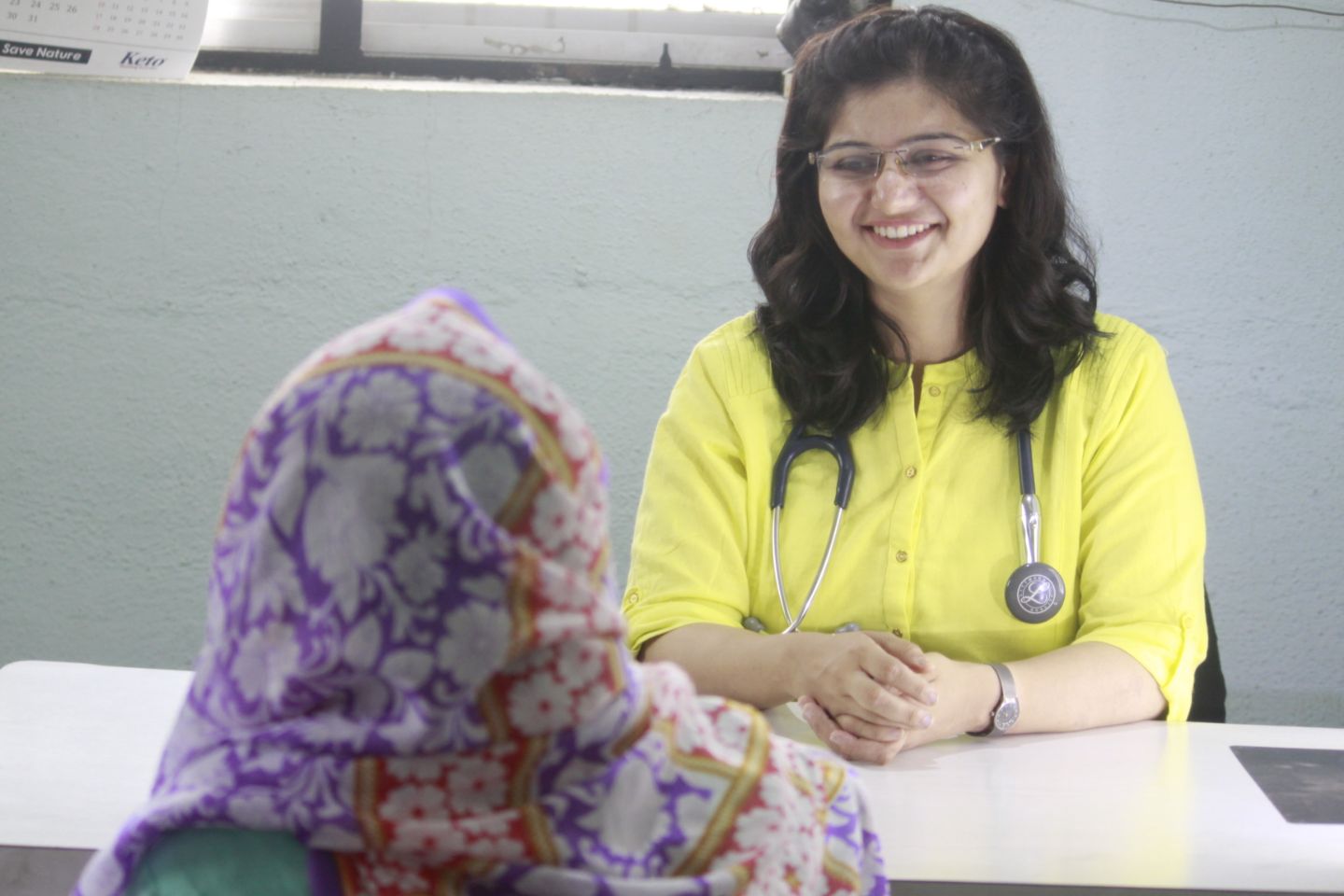 Homoeopathy: the science of healing from within

The unique way of treatment optimises the patient's ability to heal its body, thus making homoeopathy universally applicable to all kinds of diseases.

A homoeopathic doctor has a different way of exploring the patient.

A homoeopathic-practitioner aims at an overall, comprehensive approach towards each one of its patients. An excellent homoeopathic practitioner not only should aim at taking steps in understanding and curing the disease, but also be learning about the patient's lifestyle, thought-processes, and psychological make-up that may affect the medical conditions. Homoeopathic physicians, like any other doctor, ask you about your health history, clinically examine you, and conduct investigations.

Keen to know you

A homoeopath may not only ask you questions about your physical health but also your mental health. There may be psychological treatments first, as homoeopathic doctors believe that it is crucial to know the psychological status of the patient; what is one going through in the personal life, and such aspects that affect the patient's medical conditions. The doctor will take a keen interest in knowing the patient as an individual, including the unique way in which the patient presents its symptoms.

Homoeopathic consultation includes questions about the person's lifestyle, eating habits, sleeping patterns, and approach towards a stressful situation. Considering all these factors, a homoeopath will select the most appropriate medicine that will stimulate the patient's ability to heal itself. This method helps a homoeopath to prescribe the medication in a particular potency. This medicine is either in pills/globules form or dilution in a liquid form.

Is homoeopathy capable of treating every disease?

Homoeopathy applies to all kinds of diseases, all acute as well as chronic conditions that can be treated with other medicines. May it be a simple cough and cold, urinary tract infection, or chronic diseases such as asthma, arthritis, pcod (polycystic ovary disease; affecting one in 10 women), diabetes, and many more.

Following is a list of diseases that homoeopathy can effectively treat:
Infections: acute rhinitis (inflammation of the nose membrane), conjunctivitis, urinary tract infections, gastroenteritis, amoebiasis, and a few more.
Pediatric illnesses: repeated respiratory tract infections, bronchitis, acute and chronic otitis media, and adenoid hypertrophy.
Skin illnesses: urticaria, psoriasis, eczema, warts, and more.
Female-specific disorders: menstrual irregularities, pcod, menopause related complaints, complaints during pregnancy and lactation.
Disease of psychosomatic origin: a migraine, irritable bowel syndrome, and more.

Is there any specific age group? can a child be treated with homoeopathy?

For homoeopathic treatment, there is no specific age limit. You can be of any age and may simultaneously take some other treatment; homoeopathy has suitable solutions for your complaints. These medicines have no restrictions even during pregnancy and lactation whereas other medications may have.

Why should one choose a homoeopathic treatment over other pathies?

Homoeopathic medicines are tested on healthy human beings; repeated trials are conducted, before application in patients. These are safe medicines for patients, including during pregnancy and lactation.

These medicines are pleasant to taste and hence can be used for any generation; from infants to geriatric groups. Oftentimes, they are not costly and affordable to all. They have no side effects, and homoeopathy does not have any habit-forming medicines.

How does one know that the medicine has expired?

One cannot consume the medicine if the globules have changed their colour from white to yellow. If the drug in liquid form has changed its colour or has turned into sediments, it is considered as expired. On purchasing the new medicines, they may have a smell of alcohol as they are freshly medicated. This smell reduces with time, but do not worry the loss of alcohol-smell does not affect the medicine's power to cure a disease. Homoeopathic medicines need to be stored in a cool and dry place away from sunlight.
2
people found this helpful
Shared 2 days ago • Featured Tip

Often people think that homeopathy is only about sweet medicine good for minor ailments, but magic of homeopathy goes beyond that, effective in treating asthma, bronchitis, eczema, tonsillitis, acne, renal stones and the list goes so on. Especially great results with children who are often to fed with bitter medicines.
12
people found this helpful
Shared 2 days ago • Featured Tip

Diploma In Gastroenterology, Diploma In Dermatology, BHMS
How Long To Breastfeed To Get Benefits?
There is no fixed duration to breastfeed. When considering the duration you wish to feed your baby, do take note of the following points:
Exclusive till six months: Pediatric and medical experts throughout the globe recommend exclusive breastfeeding up to six months and then breastfeeding in combination with solid food for up to 12 months.
Continue after 12 months: The AAP recommends breastfeeding beyond the first birthday and encourages mothers to do so. A toddler may get most of his nutrition from solid food, but he still enjoys added benefits of breastmilk that contains unique substances such as antibodies.
Can extend to two years and beyond: The World Health Organisation (WHO) recommends breastfeeding up to two years and even beyond if the mother and toddler wish to do so. WHO states that breastmilk is a "natural food". Even when the baby is a year-and-a-half old, breastmilk is capable of providing a third of the toddler's nutritional requirements.
What Are The Benefits Of Breastfeeding For The Mother?
Here are some scientifically proven benefits of breastfeeding a baby.
Health benefits:
While your baby benefits from the breastmilk, you gain health advantages as well.
Quick postpartum recovery: Mothers who breast-feed recover faster post-delivery even if it is a Cesarean-section. It happens because suckling of the nipples releases the hormone oxytocin, which speeds the recovery of the uterus, letting it regain its original shape.
Breastfeeding can help you lose pregnancy fat: Producing milk uses additional calories that body sources from the body fat accumulated during pregnancy. It means, mothers, who exclusively breastfeed, tend to return to their pre-pregnancy shape and weight faster.
Lower risk of breast and ovarian cancers: The chances of getting breast and ovarian cancers are lower in women who breastfeed. Researchers found that a woman can reduce her risk of breast cancer by 50% if she breastfed for two years in life. Other studies noted a reduced chance of having ovarian cancer if the mother breastfed at least for a year. These benefits last a lifetime thus making breastfeeding a form of natural health insurance for a woman.
Lowers the risk of high blood pressure, cardiovascular disease, and diabetes: Extensive research has proven that when you breastfeed, you invariably reduce the chance of developing hypertension (high blood pressure), cardiovascular diseases such as heart attack, and type 2 diabetes.
Shared 2 days ago • Featured Tip

DHMS (Diploma In Homeopathic Medicine and Surgery), DIHom (London)
Homeopathy mainly belongs to the system of alternative medicine and its practices, generally to avoid drugs that may cause side effects. It was introduced in the year 1796 by Samuel Hahnemann on the principle that symptoms of disease in a healthy person can cure the diseases in a similar situation of a sick individual. The important therapy here is the placebo effect.Though the method is based on pseudoscience, it has shown some signs of cure in individuals. Similarly, homeopathy has shown shady evidences of cure in young children and even infants. Let's overview a few of such usage of homeopathy in children and its relaxation on the safety.

Significance of homeopathy

Homeopathy remedies can prevent one from shock, excessive side effects, and bruises while undergoing it's suitable medication. It works as an impressive tear soother as well. No doubt, this study field of medicine is indeed based on pseudoscience and placebo effects, however it does comprise some very important theory of medical sciences which holds a strong factor in curing diseases. Therefore, homeopathy as a field of medicine cannot be completely ignored, even though the sheer evidences are rare.

How safe is homeopathy for children?

Homeopathic medicines have shown effectiveness in various cases and are indeed very secure alongside curing diseases of your children. We all know that children should be undergoing a very active life. During this phase, they do tend to become more susceptible to even minor common illnesses. Before undergoing homeopathy medications, several clinical trials had already been conducted to prove how efficient such homeopathic medicines actually were, which has shown positive results.
Thus, you need not get frightened regarding its side effects, which is minimal compared to other sources of medication. The homeopathic medicines which are presently in practice have amazing efficacy, and are also gentle to your child's health at the same time. Now a days, this is highly developing as the children are showing positive results to its dosage. Also, the kids are more fond of homeopathy sweet pills, tasty fluids, and whitish powders. In fact, they are more accepting to these sources whereas have often shown reluctance towards the allopathic mode of medicine.
Even the infants are easily convinced about the sweet pills. Immunity system has also shown a boost regarding its suitability. With due knowledge, to some extent chronic illness can be handled by the homeopathic experts too or sometimes can prevent further spreading.

Visiting an homeopathic expert for your children

Before choosing a homeopathic doctor, you need to ensure that the doctor is an expert in the field. The homeopathic expert needs to keep a check on a complete family history of the child before referring medicines. Also, diagnosis should be done in a particular manner. The child should be first prescribed small dosage of medication before jumping into conclusions. Hence, homeopathy, if induced rightly, is indeed very safe for children and has the calibre to cure certain diseases in which often other sources fail. Of course a trial once for mild illness wouldn't do much harm. In case you have a concern or query you can always consult an expert & get answers to your questions!
245
people found this helpful
View All Feed
Near By Clinics

4.3
(

41

ratings)
Lajpat Nagar, Delhi,
Delhi
View Clinic