About
We will always attempt to answer your questions thoroughly, so that you never have to worry needlessly, and we will explain complicated things clearly and simply.
...more
We will always attempt to answer your questions thoroughly, so that you never have to worry needlessly, and we will explain complicated things clearly and simply.
More about Curewell clinic
Curewell clinic is known for housing experienced Gynaecologists. Dr. Renuka, a well-reputed Gynaecologist, practices in Delhi. Visit this medical health centre for Gynaecologists recommended by 49 patients.
Timings
MON-SAT
10:00 AM - 01:00 PM
06:00 PM - 08:00 PM
Location
K-138, Gupta Apartment, Kalkaji
Kalkaji
Delhi,
Delhi
-
110019

Get Directions
Doctor in Curewell clinic
10:00 AM - 01:00 PM
06:00 PM - 08:00 PM
Services
Submit Feedback
Submit a review for Curewell clinic
Your feedback matters!
Write a Review
Feed
Nothing posted by this doctor yet. Here are some posts by similar doctors.
Hello, Chromosomal karyotype test is a test to detect any genetic abnormalities. It's done to find out if your child has any risk of having genetic disorder. It's recommend if the male partner has no sperm in his semen or an extremely low sperm count. The female partner has been diagnosed with primary ovarian dysfunction. You've been unable to conceive for more than a year. You've experienced two or more consecutive miscarriages. You've experienced a stillborn birth.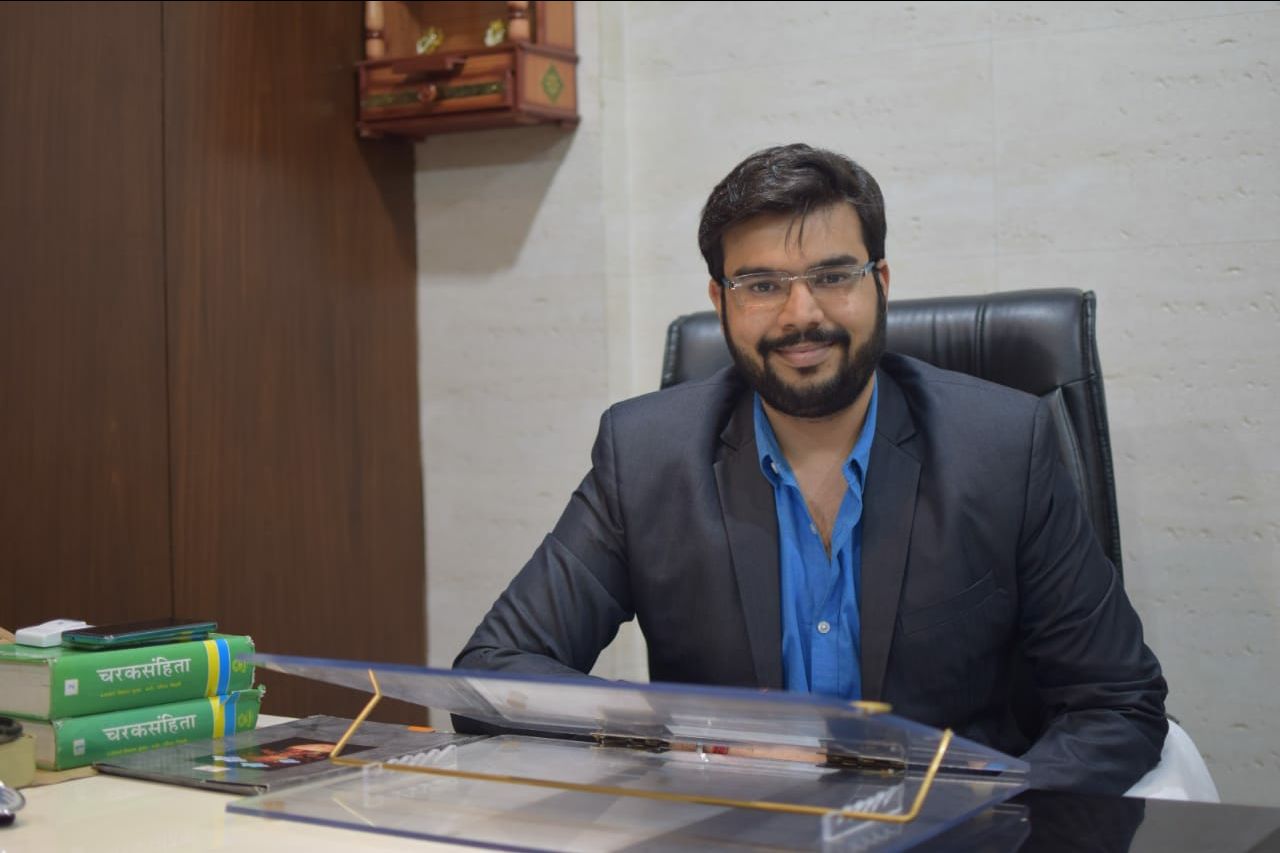 Diploma In Naturopathy, M.D. Alternative Medicine, Bachelor of Ayurveda, Medicine and Surgery (BAMS)

MS - Obstetrics & Gynaecology, CCT - Gynecologic Oncolgy, Fellowship in Gynaec Oncology
Recurrent miscarriage is a condition when there has been three or more successive pregnancy losses. It is different from infertility as, infertility is the inability to conceive.For many cases, cause of a recurrent miscarriage has not always been found. A number of factors can cause recurrent miscarriages of which some are treatable.It may not always be possible to identify a cause for recurrent miscarriage in a couple even after extensive research and treatment procedures. Some of the common causes of recurrent miscarriage are described below:
1.Chromosomal abnormalities
Incompatible chromosomes can result into pregnancy losses. When an egg and a sperm meet, of which one of them is faulty, they can't line up properly resulting into chromosomal abnormality. Such conditions lead to miscarriages.
2.Uterine abnormalities or Incompetent cervixes
Miscarriages occur if the uterus is abnormally shaped since the embryo is not properly implanted or even if it gets implanted, it may not get sufficient nourishment to survive. If the woman has a weak cervix, it cannot hold the developing embryo, leading to miscarriage.
3.Immunologic disorders
Under rare cases, the embryo itself is not accepted by the body. Antiphospholipid antibodies are antibodies which attack self-tissues such as embryos and prevent them from building up. This leads to miscarriages.
4.Untreated thyroid problems
Conditions such as thyroid or uncontrolled diabetes result in uterine conditions which make it tough for the embryos to survive.
5.Polycystic ovary syndrome
Women with polycystic ovary syndrome tend to have high levels of male hormones which result in irregular menstruation and ovulation. This can prevent the lining of the endometrium from maturing that is required for holding the embryo.
6.Bacterial infections
There may be presence of a number of micro-organisms inside the reproductive tract that may be harmless for the person. But there may be certain bacteria lined up in the reproductive tract which can prevent development of embryo, thus leading to miscarriages.
7.Lifestyle
Smoking and drinking are harmful lifestyle habits which may increase chances of miscarriages to a great extent. It is always advised to avoid smoking or drinking when you wish to conceive. Other lifestyle conditions, such as working in certain environments like hospital environments, farms, laboratories, etc, may lead to miscarriages; however, the exact reason has not been identified yet.

Menstrual disorders are caused by a variety of factors and affect every woman in a different manner. In most cases, it manifests itself in the form of fluctuations in menstrual flow and irregularity in the monthly cycle. Certain disorders are not too severe and can be easily alleviated. Others are more complicated and require the immediate attention of a gynaecologist.
As mentioned, there are different specific causes of different kinds of disorders resulting from a range of factors such as hormone levels, functioning of the central nervous system, health of the uterus, etc.
Some of the most common causes of menstrual disorders are as follows:
Fluctuating hormone levels in the body have a direct impact on the menstrual cycle. These fluctuations can be caused by dysfunction in the pituitary gland, thyroid gland or adrenal gland. It can also be a result of a malfunction in either or both ovaries and the secretion of hormones originating there.
- Anatomic problems
One-fourth menstrual disorders are caused by problems of the anatomy. These include various gynaecological issues like the presence of uterine fibroids and polyps, reduced uterine contractile strength, adenomyosis (intrusion of uterine tissue into the muscular wall of the uterus), a uterus with an excessively large surface area, and endometrial cancer.
- Clotting irregularities
Abnormality in clotting is a cause of heavy menstrual bleeding in women. It leads to exceeding blood loss from minor cuts and gashes and makes one easily prone to bruising. This may also include medical conditions such as thrombocytopenia (platelet dysfunction) and Von Willebrand disease.
- Medications and supplements
There is a wide range of medications and nutritional or hormonal supplements which often cause menstrual disorders in women and lead to fluctuations in the menstrual cycle. These include medicines such as aspirin, ibuprofen, estrogen pills, Vitamin E supplements etc.
- Miscellaneous factors
These are comparatively rare and require a greater degree of medical attention. It includes conditions such as cervical cancer, ovarian tumors, liver and kidney diseases, uterine infections, extreme psychological stress, obesity, etc. Incidents such as miscarriages and unsuspected pregnancies are also known to cause abnormal menstrual bleeding.
MBBS, MS - Obs and Gynae, MRCOG(London), DNB, Fellowship In Uro Gynaecology
If you've had unprotected sex, that is, sex without using contraception, or think your contraception might have failed, you can use emergency contraception. There are different types of emergency contraception.
The emergency intrauterine device (IUD).
An emergency contraceptive pill with the active ingredient ulipristal acetate (UPA).
An emergency contraceptive pill with the hormone levonorgestrel. There are different brands.
Emergency contraception can be very effective, but it's not as effective as using other methods of contraception regularly. The emergency IUD is the most effective emergency contraception.
An emergency contraceptive pill needs to be taken as soon as possible after sex to have the best chance of working.
Emergency contraception is not required for the first 21 days after giving birth.
Does emergency contraception cause an abortion?
No. Emergency contraception may stop ovulation (releasing an egg), fertilisation of an egg, or a fertilised egg from implanting in the uterus (womb). It prevents pregnancy and is not abortion.
How will I know if my emergency contraception has worked?
Do a pregnancy test to make sure you're not pregnant if:
You haven't had a normal period within three weeks of taking an emergency contraceptive pill or having the emergency IUD fitted
You started a method of hormonal contraception soon after using emergency contraception; you should do a test even if you have a bleed.
A pregnancy test will be accurate if the test is done three weeks after the last time you had unprotected sex.
Am I protected from future pregnancy?
You can continue to use the IUD as your regular contraceptive method if you want to. It will be highly effective at preventing pregnancy. The emergency contraceptive pill won't continue to protect you from pregnancy. If you have unprotected sex again you're at risk of pregnancy. Seek advice – you may need emergency contraception again.
Can I take the emergency pill more than once in a menstrual cycle?
You can take the same type of emergency pill more than once in any menstrual cycle if you need to, but it may not be possible to take a different type of pill in the same cycle.
Emergency contraceptive pills aren't as effective as using other methods ofcontraception regularly. It's important to start an effective method of contraception after using the emergency contraceptive pill.

MBBS, DNB (Obstetrics and Gynecology), Fellowship in Reproductive Medicine, Diploma In Ultrasound
IVF Specialist, Bangalore
Are you one of those couples who has been diagnosed with infertility? Then you would know that it is impossible for people on the outside to understand the level of suffering and struggle you go through. You make desperate efforts to overcome the problem, but with technology advancements, there are procedures that can help deal with the condition effectually. IVF or In Vitro Fertilization is a medical fertilization process where an egg is combined or fertilized by a sperm outside of the living organism or the body or 'in vitro' environment.
In IVF, which is a kind of ART or Assisted Reproductive Technology, once the embryo or embryos are formed, they are transferred into the uterus. Since its invention, IVF has helped over millions of couples conceive and enjoy complete happiness.
To know more about how IVF can help people, continue reading.
Couples can have a baby despite having Infertility issues: Whether a couple suffers from low sperm counts, any damage or issues with the fallopian tubes or the uterus, endometriosis, irregular ovulation or any other infertility problems, IVF still makes healthy and successful pregnancy possible. With having a reliable success record, the advanced technology of IVF is also safer.
IVF boosts the chance of healthy pregnancy as well as a healthy baby: PGD or Pre-implantation Genetic Diagnosis being possible in IVF, it not only makes pregnancy possible but also ensures the health of the child. This diagnosis helps in identifying whether the embryo has any chromosomal deficiencies or not before it is implanted inside the uterus.
IVF lets couples have more control over WHEN they want a baby: While to get pregnant naturally, couples have to try for years, IVF lets couples have more control over the time when they want a baby. Be it the gap between the two or more children or planning the birth of a child at a certain time or getting pregnant at the right time, IVF offers everything and makes it rather easy.
IVF lets couples enjoy more options of having babies: When it comes down to having babies, IVF simply gives aspiring parents more options. From allowing women the chance to have children even after menopause, to storing the sperm and eggs for future use, IVF helps people in materializing their dream of having children in every possible way.
IVF also lets same-sex couples and single women to have babies: IVF has made it possible for single women and same-sex couples to have children of their own. Yes, it is IVF, which gives such people the opportunity to become parents with the help of donor sperms or donor eggs. Especially, for those who fail to acquire satisfactory results through IUI, IVF turns out to be the next best option for potential patients to fulfil their dream of becoming parents.
One must also remember that opting for IVF doesn't always mean success as the ultimate accomplishment of this assisted reproductive technology depends on various factors, such as health and quality of the eggs, the fertility of the sperm and a healthy uterus that can carry the embryo successfully. Consult with an IVF specialist in case you lack any of the necessary variants, as IVF still may have a solution for you.
The vagina is a tube-like muscular structure of the female genital tract that extends from the cervix to the vulva. It is a delicate organ which is prone to injuries and infections. Complications related to urination, menstruation and sexual intercourse- all affect the vaginal health. Here are five questions associated with vaginal problems that are commonly experienced but rarely discussed:
1. Why does it feel itchy before menstruation?
The hormonal cycle reduces the amount of estrogen secreted right before the period starts. This reduces the moisture content of the inner membranes of the vagina; the skin becomes thinner and slightly dry. This can cause itching. However, if the itching and burning sensation are too severe, it could be an infection and should be checked out.
2. What is the white discharge?
The greasy white discharge is due to the ovulation cycle. It usually occurs once a month because the amount of secretion increases right before ovulation. Some women may experience this discharge more frequently but it is nothing to worry about unless there is an unpleasant odour. Odorous discharge could be a sign of bacterial infection.
3. How often should you have a vaginal examination?
You should get a vaginal examination at least once a year. This is important for a general health assessment and the prevention of sexually transmitted diseases. If you are using birth control medication, there might be an irregularity in the hormonal cycles and this can lead to a number of conditions- another reason to get an annual vaginal examination.
4. Does it smell differently at different times?
It usually smells differently for every woman and even that unique smell changes with the cycles of ovulation and menstruation due to changes in the pH level of the vagina. The normal vaginal pH value is between 3.8 and 4.6. Before menstruation, it may smell acidic followed by a bitter smell for a few days after menstruation. It may also smell differently after a workout (due to sweat) or after sex (due to lubrication). However, a foul smell accompanied by discharge might be a cause for concern.
5. Why does it feel dry sometimes?
Vaginal dryness is normally experienced by women after the age of 45 or after pregnancy. However, dryness is also common just before menstruation. It also happens in women who use anti-allergy medications or birth control pills because they cause dryness in all the mucous membranes of the body.

Bachelor of Ayurveda, Medicine & Surgery (BAMS), PG Dip Panchakarma, PG Dip Ksharsutra For Piles, Pilonidal, Sinus & Fistula Management, Post Graduate Diploma In Hospital Administration (PGDHA), Certificate In Diabetes Update
Ayurveda is an age-old life science that is known to work medical marvels. The best part about this field of medicine is that it enters the everyday with remedies that touch the root cause of the issue before curing the same. Aging is an aspect that plagues one and all with its various signs hitting the skin, senses, body and hair. So how can you use Ayurveda to turn back the aging clock of your system? Read on to find out!
- Herbs and Vayasthapana: Vayasthapana or the anti ageing effect is a herbal formula with herbs like Gotu Kola which is known for its anti-ageing properties in the field of Ayurveda. Ashwagandha is also used in this concoction. Other herbs like Amla, ginger, turmeric and Galanga are also used to create this anti-ageing effect. The oil of cloves can also be used on the massage table for anti-ageing.
- Radiance and Varnya: Varnya is the Ayurvedic effect of maintaining or bringing out the glow or radiance of the skin. The Varnya herbs include flame of forest, silk cotton tree, rose petals and Indian redwood. This concoction can help you retain a youthful glow on your skin, which will also keep fine lines at bay.
- Deep Healing and Branropana: With the help of Gotu Kola and other sensitive herbs, one can heal the body deeply and also enhance (Twacha). The herbs used here can also help in strengthening one's digestive system so that there is no Ama or toxin build up. The other herbs one can use here are turmeric, rose petals and cotton silk tree.
- Yoga: Yoga is a known method of keeping the body and senses vital and well functioning. There are a number of Yogic postures and poses that can help in the anti-ageing process. These include equal standing for better balance, the tree pose, the squat pose, the downward dog pose, the plank pose for core strength and the seated twist.
- Diet and Lifestyle: Ayurveda is a science that touches the everyday in order to effectively heal and prevent. So, it is important to follow the Ayurvedic tenets of following a proper balance of eating, resting and activity even as you ingest regular meals at a set time with all the food groups in perfect balance.
Ayurveda can be used in order to take good care of the body even if you are not suffering from any ailments. The herbs can be ingested on a daily basis as a seasoning for your food while Yoga can be practised routinely. This will help you in delaying the ageing process.
It is very common for patients with nasal obstruction to develop clogged ear as well. The back of the nose opens into a tunnel also known as the Eustachian tube. This tube goes up to the ear. In case the ears get clogged the pressure is released by popping of the ears. This is achieved by swallowing, yawning, and trying to blow the nose. When ear pops the tunnel opens and allows the pressure to release from the ear.
Reasons why nasal obstruction causes clogged ears:
1. Mucosal Swelling: When the nose is obstructed, the nasal lining might swell thus making it difficult to breathe. This might also lead to swelling in the tunnel of the ear causing it to shut down. Sometimes an ear pop does not happen in this condition and this is called as Eustachian tube dysfunction.

2. Negative Pressure inside the Nose: In nose obstruction when the patient tries to breathe through the nose there is negative pressure. This might build up near the opening of the Eustachian tube or the back of the nose. This pressure gets transmitted to the ear and results in a negative pressure in the ear which leads to the clogging of the ear.

3. Bernoulli's Principle: This principle states that in the case of an inviscid flow, an increase in speed of the fluid happens side by side with a pressure decrease.

Causes of nasal obstruction:
Obstruction or congestion of the nose leads to a stuffy and inflamed nose. In minor illnesses like fever, cold, sinus infection and flu stuffy nose can happen. This congestion might last for a week. In case the congestion is long term then the causes for it are:
Allergies and hay fever
Chemical and environmental irritants
Septum deviation
Chronic sinusitis that has lasted for too long
Nasal polyps and benign tumors
Symptoms of nasal decongestion are the runny or stuffy nose, painful sinus, and swollen nasal tissues along with mucus buildup.
Treatment for nasal decongestion:
Once the nasal congestion has been found and the cause behind it has been analyzed, then treatment is a must. Treatment usually includes prescription medication or over the counter drugs. Medication of the nasal decongestion involves the following:
Oral antihistamines: These are helpful in treating allergies. Common ones are loratadine (Claritin) and cetirizine (Zyrtec)
Nasal sprays: Nasal sprays which contain antihistamine like azelastine (Astelin, Astepro)
Nasal steroids: Examples of this are mometasone (Asmanex Twisthaler) or fluticasone (Flovent Diskus, Flovent HFA)
Antibiotics
Over the counter or prescription decongestants
View All Feed
Near By Clinics