About
About Fortis Malar Hospital- At A Glance Fortis Malar Hospital, formerly known as Malar Hospital, is one of the distinguished multi super-specialty corporate hospitals in Chennai provi...
...more
About Fortis Malar Hospital- At A Glance Fortis Malar Hospital, formerly known as Malar Hospital, is one of the distinguished multi super-specialty corporate hospitals in Chennai providing comprehensive medical care in areas of cardiology, cardio-thoracic surgery, neurology, neurosurgery, orthopedics, nephrology, gynecology, gastroenterology, urology, pediatrics, diabetics and so on. Established in 1992, Malar Hospital became a household name for tertiary care hospital services in Chennai over the years. Late 2007, Fortis Healthcare – India's fastest growing hospital network, led by the vision of late Dr. Parvinder Singh of creating an integrated healthcare delivery system in India acquired stakes Malar Hospital Limited. Thus, paving the way to superlative healthcare services! Fortis Malar Hospital has a vast pool of talented and experienced team of doctors, who are further supported by a team of highly qualified, experienced & dedicated support staff & cutting edge technology. Currently, more than 160 consultants and 650 employees work together to manage over 11000 inpatients in the last year alone. The hospital today has an infrastructure comprising of around 180 beds including about 60 ICU beds, 4 Operation theaters, state-of-the-art digital flat panel Cath lab, an ultra-modern dialysis unit besides a host of other world-class facilities. With unparalleled medical expertise supported by state-of-the-art infrastructure, Fortis Malar today is undoubtedly the most preferred healthcare destinations in Chennai catering to healthcare needs of people across the world. Conveniently located in South Chennai, approximately 12 kilometers away from Central Railway Station & Egmore Railway Station and 13 kilometers away from the Domestic & International Airport, it gives an excellent accessibility to both domestic and international patients.
Timings
Location
No. 52, 1st Main Road, Gandhi Nagar, Adyar
Adyar
Chennai,
Tamil Nadu
-
600020

Get Directions
Photos (3)



Videos (1)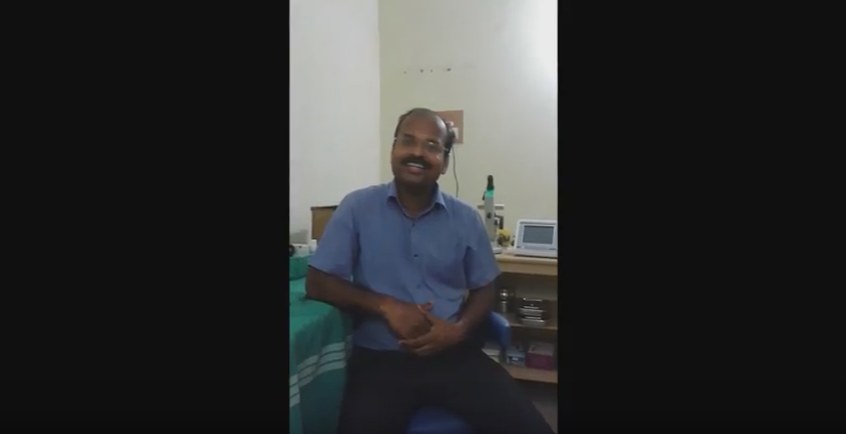 Benzoyl Peroxide is the treatment of choice for mild acne (whiteheads, blackheads, or pimples). 
read more
Amenities
Reception
Pharmacy
Parking
Credit Card
Online Appointments
Diagnostic Lab Service
Cafeteria
Waiting Lounge
Ac Roooms
Travel Desk
Radiology
Ambulance
Emergency Service
Specialities
Nephrology
Deals with the diagnosis and treatment of conditions affecting the kidneys
General Surgery
Offers extensive care to patients suffering from abdomen related medical issues
Oncology
Offers high quality care to patients with tumours, especially those that are cancerous
Urology
Offers cumulative treatment of problems of the Urinary tract and male reproductive organs
Gynaecology
A branch of medicine reserved especially for treating female conditions of the reproductive system

Diabetology
Cardiology
Aims to provide effective diagnosis and treatment related to cardiac and circulatory problems
Internal Medicine
Deals with the careful understanding and treatment of adult diseases
Pediatrics
Aim to offer the best form of childcare to infants and children up to 18 years
Pulmonology
Offers specialized care in the treatment of pulmonary diseases and conditions
Ear-Nose-Throat (ENT)
Aims to offer special care to patients with conditions related to the ear, nose and throat
Psychiatry
Offers specific care to patients with any kind of mental illness or behavioural disorders
Gastroenterology
Offers qualitative care to patients suffering from stomach and intestine problems
Dermatology
Aims to deliver the highest quality of care to patients with skin disorders
Neurology
Offers specialized healthcare to patients suffering from disorders of the nervous system
Orthopaedics
Concentrates on efficient treatment of injuries and problems of the musculoskeletal system
General Physician
Aims to provide best quality care to patients with acute and chronic problems

Laparoscopic Surgeon

Vascular Surgery
Neurosurgery
Aims to deliver cumulative healthcare for disorders related to the brain and spinal cord
Dentistry
Offers excellent dental care to patients with various oral and tooth conditions

Pediatric Surgery
Hematology
Offers qualitative care to patients suffering from blood related disorders
Cosmetic/Plastic Surgery
Offers various surgical and non-surgical procedures to patients willing to enhance their appearance

Infectious Disease Physician

Cardiothoracic Vascular Surgery
Ophthalmology
Concerns itself with the treatment of diseases related to the eye
Network Hospital
Patient Review Highlights
"Very helpful"
23reviews
"Thorough"
1review
"knowledgeable"
10reviews
"Well-reasoned"
9reviews
"Professional"
4reviews
"Helped me impr..."
3reviews
"Sensible"
6reviews
"Prompt"
1review
"Inspiring"
1review
"Practical"
8reviews
"Caring"
7reviews
Fortis Malar Hospital - Chennai Reviews
Sharan
May 12, 2019
Visited Promed for consultation with Orthopedist, Dr. Vivek AN there. Would surely recommend the doctor. Pleasant experience with the doctor. Patient enough to give me a very satisfactory and clear explanation with sufficient details for me to understand and make decisions. A different approach, which I was happy with - actually wrote down the name of the illness and asked me to check on Internet if wanted to while warning me to be wary of wrong or unnecessary information as well. Allowing the patient to understand the illness well enough was something I really liked. All the best to the doctor!
Chakori
Sep 1, 2017
He is very courteous and behaves very aptly with elder patients. Vivek A with great ease handled my wife's serious case with ease. It was getting very difficult for me to cope us with my neck pain. The overall atmosphere in the Vitamed Clinic ECR is very soothing. I was quite depressed due to my condition, but my Vivek A guided me to change my attitude. I thought that post treatment it won't happen again, but then after sometime, the symptoms re appeared. With the help of his treatment for neck pain I am feeling so great.
Bhagyashri
May 16, 2017
It has been quite some time that i was suffering from knee pain. He is very patient with all his patients. Even though the problem was not so big, but still the other doctors were not able to treat it. Then I consulted Dr Vivek. The overall atmosphere in the Vitamed Clinic is very soothing. By chance, I approached him for second opinion and thank god, i did because, he treated me without any surgery and all.
Arundhathi
Jun 13, 2017
Even though I was fit and fine, it was shocked when I got to know that I needed orthopedic surgery for my pain. Thanks to him I am much better now. Hygiene is very important, and I must Vitamed Clinic was extremely clean. Our family physician personally recommended Dr Vivek. During the treatment, he supported me a lot. He is very courteous and behaves very aptly with elder patients.
Adrut
May 11, 2017
Due to my hip pain, my daily activities were suffering. I consulted Dr Vivek, he is very courteous and behaves very aptly with elder patients. I am so much benefitted with his hip pain treatment, that i am perfectly fine now. Even though the doctor is not from our city, he is still very famous, so we consulted him. His guidance has helped me immensely with my situation.
Fortis Malar Hospital - Chennai Feeds
Asked for male, 36years old from Noida
Psychologist help you to understand your current problem you are facing by taking brief evaluation done by the expert. It's about how you see the world or situations. Happiness is within you. Check what is disturbing you we all have our highs and ...
1
person found this helpful
Asked for female, 56years old from Korba
Hi, lybrate-user I can totally understand your problem I suggest you to please consult a psychiatrist as soon as possible for drug addiction your son required proper treatment for over come with drugs after that your son need clinical psychologist...
3
people found this helpful
Hi lybrate-user I understand your problem I suggest you that please consult with Gastroenteroogist for brief history need a proper evaluation done by the expert. They are specialists who treat conditions of the entire digestive system. For stress ...
3
people found this helpful
Asked for male, 28years old from Guwahati
Hi, lybrate-user I need more information about your smoking habit. How many Drugs powder cigarette a day do you smoke? Quantity of drugs powder you are taking? From how many years you are taking this need brief evaluation. 'Dangers of Smoking Drug...
3
people found this helpful
Shared 3 years ago• Featured Tip
Simple ways to show courtesy. 1. Don't break up with someone over text messages. 2. In case you miss a call, drop a message as soon as possible if you're unable to call. 3. Pay back borrowed money as soon as possible no matter how little the amoun...
3
people found this helpful
View All Feed