Diabetic supplements are formulated based on some specific formula associated with the glycemic index to manage blood glucose levels. The versatile and potent supplements work in synergy with insulin in the body.
There are certain vitamins and minerals present in these supplements which are clinically proven to be effective for Diabetes patients. Some of the top-notch and authentic diabetes-friendly supplements are listed here:
1. Aadar Jeevani For Blood Sugar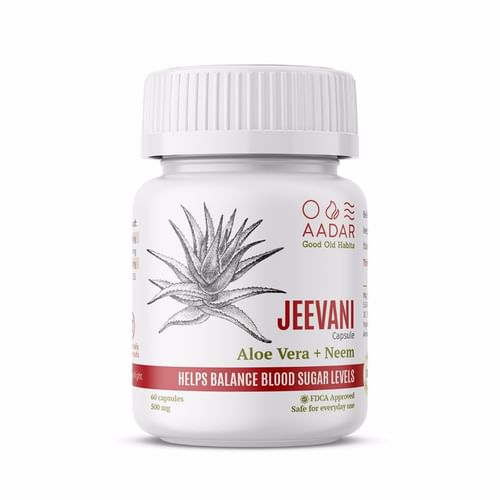 An amazing blend of Aloe Vera, Neem and Haritaki (HAARAD), Aadar Jeevani for blood sugar helps in the proper management of blood sugar levels in diabetics. It is specially formulated to support the natural insulin system of the body.
Aadar Jeevani for Blood Sugar acts as a natural detox for the body and keeps a check on the glycemic index. This product is safe to incorporate in your regular diet and has no reported side effects.
How to consume:
It is advised to take 2 capsules with warm water on an empty stomach.
Benefits:
Made up of natural ingredients
Helps in maintaining the blood sugar level
Regulates the insulin level
Works as a natural detox
2. Nestle Resource Diabetic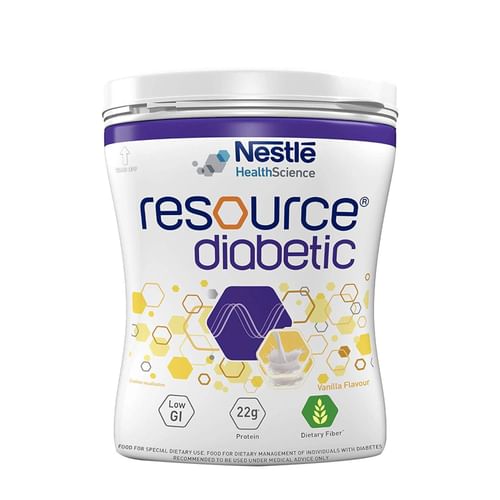 Especially formulated keeping in mind the dietary requirement of diabetics, Nestle Resource Diabetic helps in managing the glucose level. It is high in protein and contains low levels of Glycemic Index, thus aiding in diabetes management. It is best to consume this product right in the morning, at the time of breakfast.
How to consume:
Take about 200 ml of water and put 6 scoops of NESTLE Nestle Resource Diabetic in it. Stir it properly and it's ready.
Benefits:
Manages blood sugar level effectively
Helps in proper digestion
Aids in weight management
Low glycemic index
Helps in regulating insulin level
3. Butterfly Ayurveda Pancreofly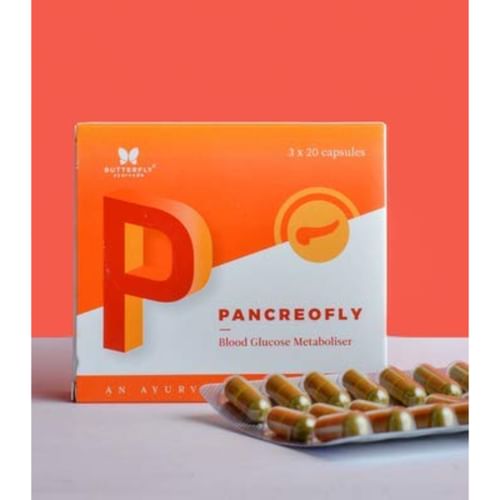 Clinically tested and specifically formulated, Butterfly Ayurveda Pancreofly serves as an ayurvedic remedy for those who suffer from type 2 diabetes. Butterfly Ayurveda Pancreofly helps in regulating the blood sugar level of the body and at the same time, manages the bad cholesterol level.
The product is rich in ingredients like Methi, Haldi, Gudmar and Trikatu. Regular consumption of these capsules helps in maintaining a healthy lifestyle and promotes healthy pancreatic functions.
How to consume:
It is best to take 2 capsules about half an hour before your meals with warm water.
Benefits:
Helps in lowering down the blood sugar level
Reduces the insulin resistance
Helps in increasing the metabolism
Reduces the toxicity level of body
Helps in the alleviation of type 2 diabetes
4. Lowkal Stevia - Safe sweetening option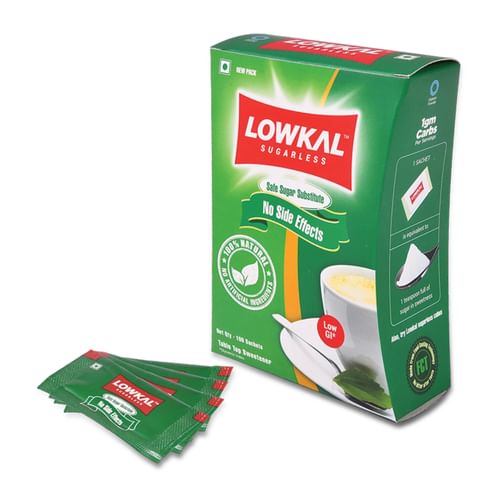 An appropriate alternative for diabetic patients, LOWKAL Stevia is a safe sweetening substitute for regular sugar. Extracted from the leaves of the stevia plant, it is natural and suitable for all.
The product also acts as a calorie controller. Lowkal Stevia is free from preservatives and you can include it in your conventional dietary regime.
How to consume:
Put 1 sachet of stevia in a cup of tea or coffee and stir properly.
Benefits:
Maintains the blood sugar level
Cuts down the calorie intake
A safe alternative to sugar
Helps in maintaining the bad cholesterol levels
5. Nutriorg Diabetic Care Juice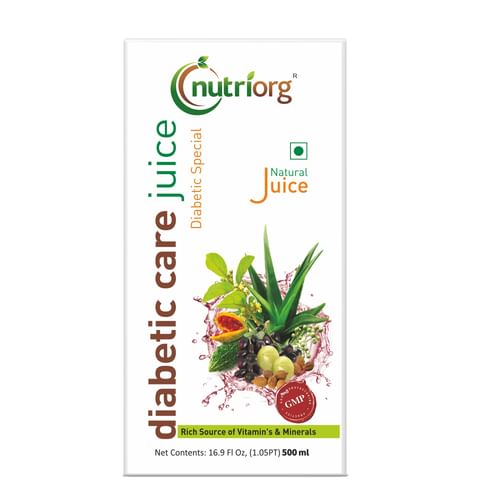 A healthy blend of wholesome ingredients including Triphala, Gurmar (Gymnema Sylvestra), bitter gourd, black plum (Jamun) and aloe vera, Nutriorg Diabetic Care Juice helps in keeping diabetes under control.
Rich in anti-diabetic properties, this juice contains an insulin-like compound called Polypeptide-p that efficiently reduces blood sugar levels. The drink also promotes better immune and kidney function.
How to consume:
Take about 15 to 30ml of Nutriorg Diabetic care juice with a glass of lukewarm water. Consume it twice a day.
Benefits:
Contains multiple nutritional ingredients
Aids in controlling blood sugar levels
Natural blood purifier
Effective against skin-related infections
Keeps gastric problems at bay
Ensures a healthy gut
Fights kidney-related disorders
6. Butterfly Ayurveda Diabe Choice Cookies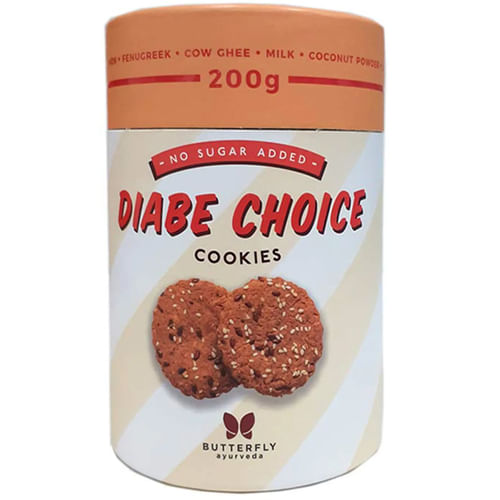 Butterfly Ayurveda Diabe Choice Cookies is a perfect munching option for diabetics. These cookies are sugar-free and can also be consumed by those who want to cut sugar out from their dietary regime. Diabe Choice Cookies are a rich source of fibre, protein, calcium, vitamin C and antioxidants.
The key ingredients of Butterfly Ayurveda Diabe Choice Cookies include linseed, sesame seeds, turmeric, barley flour and cow ghee. These cookies are made using 100% natural and wholesome ingredients and are FSSAI certified.
Benefits:
High in calcium and fibre
Rich source of antioxidants
Sugar-free product
Boosts the heart health
Aids in maintaining blood sugar levels
Syounaa Diabetic Socks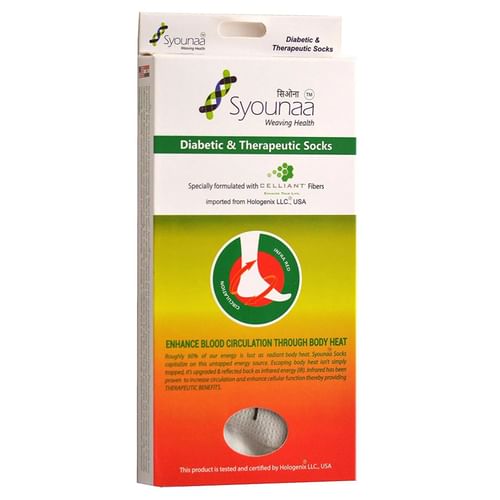 Syounaa Diabetic Socks offer therapeutic advantages to patients suffering from diabetics. These socks function by enhancing the supply of oxygen to your feet.
Diabetic socks help in controlling problems like ingrown toenails, hammertoes, fungal infections, bunions, calluses and skin dryness. Diabetic socks by Syounaa are created with an excellent seamless toe feature, to not suffocate your feet.
Benefits:
Reduces the irritation and swelling around the feet
Increases the supply of oxygen to the feet
Regulates the blood sugar level of the body
Keep the feet dry & free from infections
Conclusion:
Diabetic supplements can fill in the nutritional gaps in the diet of patients suffering from diabetes. These supplements can make a big difference in the health of diabetics as they aid in effective diabetes management by improving insulin function and at the same time, contributing to weight loss. Managing diabetes by following a strict dietary regime is very effective, however, some people need extra support. For them, diabetic supplements can help keep glucose and insulin levels under check.
4
people found this helpful