Personal Statement
I'm a caring, skilled professional, dedicated to simplifying what is often a very complicated and confusing area of health care.
...more
I'm a caring, skilled professional, dedicated to simplifying what is often a very complicated and confusing area of health care.
More about Dr. Chirag Mukhi
Dr. Chirag Mukhi is a trusted Radiologist in Ulhasnagar, Thane. You can meet Dr. Chirag Mukhi personally at Chirag clinic in Ulhasnagar, Thane. Book an appointment online with Dr. Chirag Mukhi on Lybrate.com.

Lybrate.com has a number of highly qualified Radiologists in India. You will find Radiologists with more than 32 years of experience on Lybrate.com. Find the best Radiologists online in Thane. View the profile of medical specialists and their reviews from other patients to make an informed decision.
Info
Languages spoken
English
Hindi
Location
Book Clinic Appointment with Dr. Chirag Mukhi
Shop No 2, M P Tower, Ulhasnagar No 3,Landmark:- Near Ulhasnagar Municipal Corporation, Thane

,

Thane
Get Directions
Services
Submit Feedback
Submit a review for Dr. Chirag Mukhi
Your feedback matters!
Write a Review
Feed
Nothing posted by this doctor yet. Here are some posts by similar doctors.
Shared 1 year ago • Featured Tip

M Ch. Ortho, MS - Orthopaedics, MBBS
A Herniated disc also known as a slip disc or prolapsed disc and it refers to the problem where one of the discs located in between the bones of the vertebrae(backbone) gets damaged and stacks itself upon the nerves. The tender inner portion of the disc gets protruded over the outer ring. Herniated disc causes severe neck pain and back pain. It occurs when the outer ring gets weak and tears down. The most common symptoms include pain and numbness, especially on one side of the body. The pain extends down to the arms and legs. It worsens during nighttime. The muscles become weak. Overweight people are likely to have this disease, as the discs carry extra weight. Old people are vulnerable to a slip disc.
Effects of Herniated Disc:
An untreated case of Herniated disc may cause permanent damage to the nerves.
In certain cases, a Herniated disc is capable of cutting off nerve impulses to the "caudal equine"nerves, present in the lower back and legs. This leads to loss of bladder control or bowel control.
Saddle anaesthesia is another long-term effect. Nerves are compressed by the slip disc, causing loss of sensation in the inner portions of your thighs, the back of your legs and surrounding the rectum region.
Symptoms may improve or worsen.
Diagnosis of Herniated Disc:
Treatment or diagnosis of Herniated disc or slipped disc can be either conservative or surgical in nature. The nature of treatment is determined according to your discomfort level and the kind of pain you are experiencing, or how much the disc has slipped out.
The pain caused by Herniated disc can be relieved by undertaking an exercise schedule, which includes stretching and strengthening the spine and its surrounding muscles.
A physiotherapist should be appointed for recommending the types of exercises.
Taking pain relievers also soothes the pain.
Stronger medicines prescribed by doctors include-muscle relaxants, narcotics to deal with the pain, medicines for nerve pain such as "gabapentin" or "duloxetine".
In case of the symptoms not subsiding within a span of six weeks, a surgery may be recommended by your doctor. The surgeon may have to remove the damaged part of the disc. This surgery is called a microdiscectomy. If you wish to discuss about any specific problem, you can consult an orthopedist.
2587
people found this helpful
Shared 10 months ago • Featured Tip

Cancer that originates in the bones of a human body is referred to as bone cancer. Any bone could come under the threat of this disease, but generally the longer bones of your body, so to say the bones of your limbs, are at a greater risk.
A few factors that might push you an inch closer to bone cancer are:
Genes could jinx your health: A few typical genetic syndromes could increase a person's chances of contracting bone cancer. These syndromes could have been active in any person belonging to your lineage. One such syndrome is Li-Fraumeni.
Treatment for one kind of cancer can make you prone to some other kind: Radiation affects your bones adversely. A patient of breast cancer might be undergoing radiation therapy that further increases his or her risk of contracting bone cancer in future.
Paget's disease can have unfavorable implications: Paget's disease is a disease that affects elderly people. This condition, if left untreated, can turn into bone cancer at a later stage.
Several symptoms of bone cancer can be found below:
Sudden loss of weight: If you lose a considerable amount of weight in a few weeks time without having made any effort at all, you should probably be worried about the health of your bones. Bone cancer can result in sudden and unintentional weight loss.
Unexpected bone fracture or breakage: Cancer of the bones is known to gnaw at the strength of your bones. Weakened and diseased bones can break or get fractured very easily. An unexpected fracture should not be overlooked so as to prevent chances of anything more harmful.
Long spans of unyielding exhaustion: Constant fatigue and sleepiness might be hinting at a more serious underlying problem. The bones in your body hold you together; cancerous bone cells can make you feel exhausted without much exertion as your bones lose their inherent potency.
Persistent pain in the bones: Excruciating cramps or pangs of stinging pain in a person's bones either continuously or at odd hours, could be indicative of bone cancer. Such instances require the advice and guidance of an experienced oncologist.
Bone swelling: The area affected by bone cancer can grow big and tender or the bone itself can swell up.
In case you have a concern or query you can always consult an expert & get answers to your questions!
5498
people found this helpful
Shared 10 months ago • Featured Tip

MBBS, MD - Oncology, DNB - Super Speciality, Immuno Oncology
Symptoms and diagnosis of Uterine cancer
2648
people found this helpful
Asked for male, 36 years old from Mumbai
You must consult orthopaedic surgeon, get mri done than we can decide whether you can be treated conservatively treated or to get operated.
Shared 11 months ago • Featured Tip

MS - Obstetrics and Gynaecology
The uterus is a muscular structure held in place inside your pelvis with the help of muscles, ligaments, and tissues. These muscles weaken in women due to pregnancy, childbirth or delivery complications and can lead to severe complications. One such complication is a uterine prolapse. Uterine prolapse occurs when the uterus sags or slips from its normal position into the vaginal canal.

The causes of uterine prolapse are varied and include:

- Delivering a large baby
- Pregnancy
- Difficulty in labor and delivery
- Reduction in estrogen levels post menopause
- Traumatic childbirth
- Loss or weakening of the pelvic muscle
- Conditions which lead to increased pressure in the abdominal area such as a chronic cough, straining, pelvic tumors or accumulation of fluid in the abdomen
- Loss of external support due to major surgery in pelvic area

Uterine prolapse can be complete or incomplete depending on how far the uterus sags into the vagina. Women who have minor uterine prolapse may not have any visible symptoms. However, if the condition worsens, it manifests itself in visible signs.

Symptoms of moderate or severe prolapse are:

1. A feeling of fullness or pressure in your pelvis when you sit
2. Seeing the uterus or cervix coming out of the vagina
3. Vaginal bleeding or increased discharge
4. Painful sexual intercourse
5. Recurrent bladder infections
6. Continuing back pain with difficulty in walking, urinating and moving your bowels
Without proper attention, the condition can cause impairments in the bowel, and can also affect bladder and sexual function.
In case you have a concern or query you can always consult an expert & get answers to your questions!
4833
people found this helpful
Shared 7 months ago • Featured Tip

MBBS Bachelor of Medicine and Bachelor of Surgery, MD - General Medicine, DM - Nephrology
Kidney cancer or renal cancer is when kidney cells grow uncontrollably and form a tumour. Kidney cancer often begins in the tubules (tiny tubes in the kidneys). The prognosis may depend on the stage of the kidney cancer.
Different Stages of Kidney Cancer
The TNM system helps to categorize each stage of the kidney cancer.
Tumour (T) – Describes the size and location of the tumour.
Node (N) – Describes the spread of cancer to lymph nodes.
Metastatis (M) – Describes the spread of cancer to other body parts.
These results combined with the five stages (0 and 1 to 4) can help to identify the right treatment option for every patient. Zero stage describes no cancer presence. For instance –
Stage 1 – Here the tumour is confined to kidneys and its size is smaller than 7 centimetres. (T1 or T1, N0, M0)
Stage 2 – Here the tumour is confined to kidneys and its size is more than 7 centimetres. (T2)
Stage 3 – Here the tumour is in kidneys or blood vessels or fatty tissues but also a lymph node; cancer spreads to major veins but doesn't extend beyond renal or Gerota's fascia (connective tissues surrounding adrenal glands and kidneys). (T3)
Stage 4 – Here the cancer is in the fatty tissues surrounding kidneys and adjacent lymph nodes; has spread to other nearby organs and beyond renal fascia. (T4)

Treatment and management of kidney cancer
Once your doctor has determined the staging of your kidney cancer, a treatment plan can be formulated for you.
Surgery

Simple nephrectomy removes the affected kidney.
Radical nephrectomy is a common surgery for kidney cancer. It removes all affected parts such as the kidneys, adrenal gland, lymph nodes and surrounding tissues.
Partial nephrectomy is for small tumours and removes the kidneys and the surrounding tissues.

Interventional radiology: This is a surgery aided by real-time images. An advanced surgery using a nano knife is minimally-invasive and is effective for inoperable kidney tumours.
Targeted therapy: Drugs target specific tumour cells and destroy them.
Immunotherapy: Used for kidney cancer that has spread to other organs, this therapy may use different types of drugs to either help immune cells find cancer growth or regulate the immune system activity to stop or slow cancer growth.
Arterial embolization: It is a procedure to stop blood supply to the kidney tumour, in order to shrink it in size prior to surgery.
Cryotherapy: This procedure involves using extreme cold to kill cancer cells.
Chemotherapy is not very effective for treating kidney cancer. Talk to your doctor about all possible treatment options for your cancer. You can lower your risk of kidney cancer by eating healthy, maintaining your ideal body weight and managing your blood pressure. In case you have a concern or query you can always consult an expert & get answers to your questions!
2233
people found this helpful
Shared 2 months ago • Featured Tip
MBBS, MD - Radiotherapy, DM - Medical Oncology
Detecting a lump on your breasts can be stressful for any women. Breast cancer is a common type of cancer and is said to affect primarily affect women though 1% of breast cancer cases affect men. Breast cancer can be categorized into different types based on their capability to affect surrounding tissues.
The most common amongst these are:
Ductal carcinoma in situ
Invasive ductal carcinoma
Invasive lobular carcinoma
Breast cancer is caused by mutations of a person's DNA cells. This could be inherited from one's parents or acquired by an unhealthy lifestyle. These DNA mutations cause cells in the breast tissue to multiply rapidly and turn cancerous. The risk factors for breast cancer can be categorized as modifiable and non-modifiable.
Modifiable risk factors:
Excessive alcohol consumption
Lack of exercise
Non-modifiable risk factors:
Age
Family Medical History
Personal Medical History
Atypical hyperplasia
Early start of menstruation cycle
Presence of dense breast tissue
Inherited genetic mutations
As with any other type of cancer, the earlier it is diagnosed, the easier it is to treat. In its early stages, breast cancer is not painful and has negligible symptoms. In most cases, it is detected only by finding a lump on the breast or through a mammography. This lump may also be present in the armpit or above the collar bone. Some of the other symptoms of breast cancer include:
Nipple inversion
Discharge from the nipples
Changes in the colour and texture of skin covering the breast
Breast cancer has five stages beginning from 0 and going up to 4. This is based on the size of the tumour, involvement of lymph nodes and whether or not metastasis has occurred.
Stage 0: At this stage, the tumour does not affect the lymph nodes and has not metastasized. Thus at this stage, it is noninvasive.
Stage I: In this case the tumour is smaller than 2 cm in diameter and has not spread to any of the surrounding tissues.
Stage II: In this stage, the cancerous tumours are still fairly small in size but also affect the surrounding lymph nodes.
Stage III: These tumours are larger than 5 cm in diameter and involve the lymph nodes to a greater extent.
Stage IV: This is also known as metastatic breast cancer. In this stage, the cancer cells metastasize to other parts of the body.
Surgery is the most preferred form of treatment for breast cancer. This may be combined with radiation, chemotherapy, targeted therapy or hormone therapy depending on the stage and type of cancer, the patient's overall health, age and personal preferences. In case you have a concern or query you can always consult an expert & get answers to your questions!
2772
people found this helpful
Shared 1 year ago • Featured Tip

The symptoms caused due to herniated disc can be very severe and can also cause a bit of disability. The disc of the spine is like a cushion and separates the set of bones on the backside. The discs are shock absorbers of the spine and are mainly composed of 2 parts, a soft jelly centre called the nucleus and a tough outer covering called the annulus.
Effects of Herniated Disk
A herniated or cracked disc is a severe condition and it seems to happen most commonly in the lower back. It happens when a fraction of the soft centre gets pushed through the destabilized area due to degeneration, trauma or by putting pressure on the spinal cord.
Nerves are located precisely at the back of every disc and are responsible for controlling everything in our body. While a disc gets herniated, the external covering of the disc tears and creates a bulge. The soft jelly gets shifted from the centre of the disk to the region where the damage has occurred on the disc. Most commonly, the bulge occurs in areas where the nerve is located and it causes strain on the affected nerve. It has been observed that individuals do not feel any painful sensations even if their disc gets damaged.
When is Surgery Recommended for Herniated Disc?
Surgery for herniated disc is recommended only after options like steroid injections, pain relievers, exercise and non-steroid anti-inflammatory drugs do not work. If the pain persists even after these options, then it becomes important to go for surgery. There are certain risks involved in this surgery like infection, bleeding or nerve damage.
There are chances that the disc may get ruptured again if it is not removed. If you are a patient suffering from degenerative disc disease, then there are chances that problem occurs in other discs. It is very important that a patient maintains healthy weight to prevent any further complications.
The main factor that increases the risk of herniated disc is excess body weight, which causes a lot of stress on the lower back. A few people become heir to a tendency of developing this condition. Even individuals with physically demanding jobs are prone to this condition.
Activities like bending sideways, pushing, twisting, repetitive lifting can increase the risk of a herniated disk. At times, emergency surgery is also required to avoid paralysis in a patient. If you wish to discuss about any specific problem, you can consult an orthopedist.
3513
people found this helpful
Shared 7 months ago • Featured Tip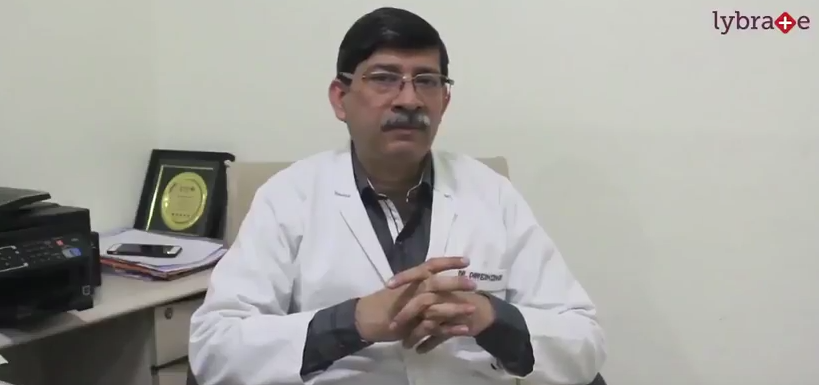 Good morning, I am Dr Dinesh Singh I am director predation oncology at Max hospital, Vaishali and today I will be talking about the most common cancer of women in India, it is breast cancer and there is no age bar. We have seen patients as young as 17 to 18 years and as old as 80 to 90 years. So every woman is at risk of getting the breast cancer, now which are the ladies which are more prone to get breast cancer when those ladies who do not have the breastfed their child, those who are very obese or those who have history of a breast cancer in their first relative like in the father, mausi, sister they are at higher risk, but then any population is at risk of developing cancer. What we need to understand is that we should be aware about our body and we should do a self breast examination every month, so that we know the change which happens in our breast over a period of time and once you notice that there is a lump in the breast, usually, pain is not initial symptom of Cancer any cancer in the body and whenever you notice that there is a lump in the breast then it has to be further investigated. The age is less than 40 years we go for an ultrasound of the breast which is more than 40 years we go for mammography of the breast. And then further investigation like a biopsy of the lump and if it is found cancerous, then we do for the test to see whether it is spread to another part of the body or not. Well, that tells us about the stage the breast cancer is and then depending upon the stage the treatment is decided. That let us say that we diagnose breast cancer at a very early stage that means it is less than 3 to 4 cm and at that time we do not need to remove the entire breast of the person to cure the person, we can remove only a portion the cancerous portion plus a little bit of arching around the tumor and in the axilla we have to do surgery to get out the nodes. For that now it is a sentinel node biopsy is done what happens in that is that we identify the draining lymph nodes we take them no we study them then and there when the patient is still under anaesthesia and if they are not cancerous then we do not take out the further lymph nodes of the axilla, if they are cancerous then we take them out. After that then the further treatments depends upon the final histopathology report of the tumor, if the tumor is very small If in case very sensitive to hormones these patients don't need any chemotherapy, radiotherapy becomes a part of the every breast conservation surgery and if that tumor is larger or it is not sensitive to hormones then we have to give chemotherapy. In chemotherapy now very latest medicines are available there are called targeted therapy and the cure rates have become very high. All the cancers especially breast cancer the side effects are very minimal, we have all the medicines which can take care of the vomiting, the infection and other side effects which are happening along with the chemotherapy. And regarding radiotherapy, the latest technology is targeted radiation or image-guided radiation along with other things we are able to do a very pinpoint radiation to the area where it should go. So that it saves the underline normal structures from getting exposed to radiations the cure rates become very high and the side effects are very low. So I will say that all the girls and all the ladies they should do a self-examination try to be familiar with their normal body oncology, diagnose cancer early to treat it properly and be the cure of cancer. Thank you.
3068
people found this helpful
View All Feed