About
Customer service is provided by a highly trained, professional staff who look after your comfort and care and are considerate of your time. Their focus is you.
...more
Customer service is provided by a highly trained, professional staff who look after your comfort and care and are considerate of your time. Their focus is you.
More about Amulya Pet Specialty Clinic
Amulya Pet Specialty Clinic is known for housing experienced Veterinarians. Dr. Amarnath Muthukrishnan Tvc : 3771, a well-reputed Veterinarian, practices in Salem. Visit this medical health centre for Veterinarians recommended by 41 patients.
Timings
MON-SAT
05:30 PM - 09:00 PM
09:30 AM - 02:30 PM
Location
No. 321/3, 109-c , sri venkatachalapthy street, MG ROAD,
Fairlands
Salem,
Tamil Nadu
-
636016

Get Directions
Photos (4)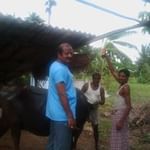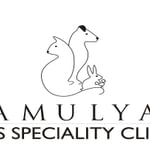 Doctor in Amulya Pet Specialty Clinic

Master of sciences, B.V.Sc. & A.H.
Veterinarian
Services
Submit Feedback
Submit a review for Amulya Pet Specialty Clinic
Your feedback matters!
Write a Review
Patient Review Highlights
"Professional"
2 reviews
"Prompt"
1 review
"Well-reasoned"
3 reviews
"knowledgeable"
4 reviews
"Sensible"
1 review
"Very helpful"
12 reviews
"Caring"
2 reviews
Reviews
Dr. Sheetal Verma
Aug 25, 2015
He is completely amazing and very helpful doctor. Words would fall short to describe my experience with Dr.Amarnath. Just with the history he got the diagnosis and our pet showed immense improvement with his treatment. He is quick to help and respond to our queries. He is also a very good human being and take care of his patients extremely. I would recommend him to all the people who are having problems with their pet as this doctor knows his job too well. God bless Dr. Amarnath. The best veterinary doctor I ever came across.
Srinjana
Mar 18, 2015
thank you doctor.but i have given a food supplement containing omega 6 or omega 3 and the tonic was called "nutricoat".His hair quality had improved but he still had a lot of shedding of hair due to dandruff.and I brush his hair regularly but there are no infections.he only has dandruff.His meal is like that rice and pressure cooked meat soup at 10 am,2 biscuits at 6pm and 5 rotis with the meat soup at 7 pm.Is not that good enough?The meat used is chicken.please help.
Nridev
Aug 7, 2017
The veterinary treatment given by Dr Amarnath was great. My pet is perfectly fine now. I was very worried about my pet's condition but now I am glad that I chose to consult him. He ensures that he gives enough time. He is not just highly qualified, but has years of experience in handling high risk cases.
Geetika
May 18, 2017
My previous experiences were not so good, but Dr Muthukrishnan has completely changed my opinion as he is very helpful and humble. i go to him for my dogs pet grooming. I read about him on one of the social media platform. All the staff members were very helpful.
Harshita
Jun 30, 2017
The veterinary surgery given by Dr Amarnath was great. My pet is perfectly fine now. The staff was very attentive to all needs. He ensures that he gives enough time. He is not just highly qualified, but has years of experience in handling high risk cases.
Gopesh
May 22, 2017
My 4 year old labrador started having fits one day. We rushed him to dr Amarnath Muthukrishnan at Amulya Pet Specialty Clinic in Salem. he is an excellent doctor, humble ..very fair in his practices .one can really trust him blindly with their pets.
Paritosh
Aug 7, 2017
I took my pet for veterinary services to Dr Amarnath. The entire Amulya Pet Specialty Clinic was spotlessly, clean. He is very courteous and behaves very aptly. The Amulya Pet Specialty Clinic have proper facilities .
Chakshan
Apr 1, 2017
My pet dog was injured very badly. i took him to Dr Amarnath, he is a veterinary specialist. He treated my dog very nicely and did a small surgery. Now its been more than 3 months and my dog is perfectly fine.
Kiran Raj
Dec 16, 2015
Thank you for the wonderful care and compassion you have given to my beloved Bond, and to me and my family. You all are the BEST of the BEST!! Sincerely, Kiran raj
Sadhuj
Apr 9, 2017
Dr Amarnath has broad knowledge in Veterinary. He is really a great doctor and has sympathy towards animals. The traetment for birds he gave was great.
Rakesh
Dec 4, 2016
I found the answers provided by the Dr. Amarnath Muthukrishnan to be very helpful, well-reasoned, caring, prompt and professional. helpful a lot
Lalith
Mar 27, 2017
Dr. Amarnath Muthukrishnan provides answers that are very helpful. Thank u sir
Feed
Shared 1 week ago • Featured Tip
Common Causes of Upset Stomach
There are many reasons Dog/Cat may have a disturbed stomach, however there's one normal cause: he ate something he shouldn't have. Vomiting and diarrhea are signs that a dog's body is trying to expel something that shouldn't be in their system. In a healthy dog, it's a protective mechanism of the body that's totally normal.
Stress may also trigger an upset stomach, as can bacteria imbalances in the gut and food sensitivities, which are most likely caused by dog's diet. Diarrhea and vomit are the most obvious signs that dog's stomach isn't feeling right, but you should also keep an eye out for fatigueand loss lost of appetite. Your dog may gulp a lot to combat reflex, lick his lips, or even lick the air or objects, too. If he's nauseous, you may also see him eat grass in order to soothe his stomach or try to induce vomiting.
An upset stomach once in a while is normal in dog, but when a dog suffers often, it could signal that something is wrong in his gastrointestinal tract.In that case look at your dog's diet and staying away from foods that may create inflammation because of a food hypersensitivity, like chicken, lamb and venison. Instead, choose meats like beef, buffalo, and fish that shouldn't irritate your dog's GI tract. To maintain a healthy dog gut, you can also consider giving him a pre and probiotic.
Treatment
When dog's stomach is trying to get rid of something, it can be helpful to stop putting more things in his stomach for 12 to 24 hours. Fasting for that long is absolutely fine for the dog.
When dog is vomiting or has diarrhea, you want to make sure he stays hydrated, however, giving him too much water may make his stomach even more upset.
Remove his water bowl from his reach, and give him ice chips every 2 to 3 hours, if he can keep that down, then give him some more ice cubes and a couple teaspoons of water.
One of the most powerful things you can give to dog to soothe and healhis stomach while keeping him hydrated is bone broth. Once the meat falls off the bone, continue to simmer the bones until the minerals and marrow are released into the water. Bone broth takes at least a day to make, so you'll need to make this meal before your pet actually gets sick. If you make it ahead, however, you can skim off the fat and freeze it, then you can give your dog bone broth ice cubes when he's sick.
When fighting indigestion, canned pumpkin is a vital. It has a low glycemic index, so it slowly absorbs, which helps with upset stomach and digestion. Make sure to get canned pumpkin, and not pumpkin pie mix, as you don't want to feed dog spices. Smaller dogs (approximately five pounds) can be fed ½ teaspoon of canned pumpkin, while larger dogs (approximately 75 pounds) can be fed 1 tablespoon. Add a tiny bit of ginger to the canned pumpkin.
Asked for female, 1 year old from Noida
Leave it as free roaming. If hey like each other and time is perfect they mate. Or you need asst to do th eprocess.
Asked for female, 36 years old from Gurgaon
Yes safe to feed your dog with boiled chicken as by birth they care carnivores and for hair shedding please give him omega fatty acids to control shedding or fish oil.
1
person found this helpful
Shared 1 year ago • Featured Tip
Name of the pet : Kristy , pug , three years approx female
Name of the Owner : manager TMB bank now in chennai

It's history of case showing dullness and lethargic for more than few months and some times passing blood in urine and also tend to lick its genitalia very frequently

As they were in chennai : suggested oral medicine was normal and started same symptoms again when drug stopped

They travel to salem to get sorted it out

On February month 2017 it was confirmed that its urinary caliculi two numbers and bit size varry from 7.5 mm -12mm

Started medicine and gave them a chance that Amulya pet hospital can try with oral remedies for maximum of 3 months and if not resolved then need to go for surgery to remove as the stones nature and size may some time take longer to dissolve on oral medicine

Today MAY 2017 they have came for checkup from chennai to salem and X-ray shows very thin or very less or microscopic stones and the big stone has vanished totally with our oral medication itself without surgery

This our 23 rd client getting satisfied results for urinary caliculi ......

Thank Kristy parents ( 98424 27827) for supporting and taking my advice for so many days using the drugs I have given , Thank them once again ...
Asked for male, 37 years old from Mumbai
Nothing to worry, if her feeding habits and other things are normal, play lot like a kid for few weeks.
1
person found this helpful
Shared 1 year ago • Featured Tip
8 Things You Can Do to Protect Your Dog in the Summer
Never, ever leave your dog in the car;
Make sure your dog has unlimited access to fresh water;
Make sure your dog has access to shade when outside;
Take walks during the cooler hours of the day;
When walking, try to stay off of hot surfaces (like asphalt) because it can burn your dog's paws;
If you think it's hot outside, it's even hotter for your pet – make sure your pet has a means of cooling off;
Keep your dog free of external parasites (fleas, ticks) and heartworms – consult your veterinarian about the best product for your pet;
Consider clipping or shaving dogs with long coats (talk to your veterinarian first to see if it's appropriate for your pet), and apply sunscreen to your dog's skin if she or he has a thin coat.
3
people found this helpful
View All Feed
Near By Clinics

View Clinic