Videos (3)
Personal Statement
My experience is coupled with genuine concern for my patients. All of my staff is dedicated to your comfort and prompt attention as well.
...more
My experience is coupled with genuine concern for my patients. All of my staff is dedicated to your comfort and prompt attention as well.
More about Dr. Jyotsna Patel
Dr Jyotsna Patel has had an illustrious career as a gynaecologist and lactation consultant over the past 20 years and is currently based and operates out of Andheri East in Mumbai. She did her MBBS from the prestigious Maharashtra Medical Council and did her MD in Obstetrics & Gynaecology from the University Of Mumbai. Dr Jyotsna Patel has also over the years played an active role and been a member of the Association of Fellow Gynaecologist, Association of Medical Consultants, Indian Medical Association (IMA), Indian Cancer Society, Federation of Obstetric and Gynaecological Societies of India (FOGSI) and Obstretic & Gynacology (MOGS). Her treatment style is fact based and patient oriented where she analytically treats the ailments of those approaching her. Despite being at the top of her field in Mumbai, Dr Jyotsna Patel is accessible to all her patients and her friendly demeanour ensures that her patients open up to her, something which is extremely important in the medical field. Umang Maternity & Surgical Nursing Home in Andheri East is one of the esteemed hospitals Dr Jyotsna Patel works at in Mumbai.
Info
Education
MD - Obstetrics & Gynaecology - University Of Mumbai - 1997
MBBS - Maharashtra Medical Council - 1994
Languages spoken
English
Hindi
Professional Memberships
Indian Medical Association (IMA)
Federation of Obstetric and Gynaecological Societies of India (FOGSI)
Member of Obstretic & Gynacology (MOGS)
Association of Fellow Gynaecologist
Association of Medical Consultants
Indian Cancer Society
Location
Book Clinic Appointment with Dr. Jyotsna Patel

1st Floor, Canvera Building, JP Road, Seven Bunglow Garden,

,

Mumbai
Get Directions





+5





No.1/Lacreme CHS, Road No.7, Kondivitta, MIDC, Andheri East, Landmark : Near Akruti Trade Centre & Near Kalpesh Shop

,

Mumbai
Get Directions


Consult Online
Text Consult
Send multiple messages/attachments. Get first response within 6 hours.
7 days validity
•
₹300 online
Consult Now
Phone Consult
Schedule for your preferred date/time
10 minutes call duration
•
₹700 online
Consult Now
Video Consult
Schedule for your preferred date/time
10 minutes call duration
•
₹700 online
Consult Now
Services
Submit Feedback
Submit a review for Dr. Jyotsna Patel
Your feedback matters!
Write a Review
Feed
Hypertension during pregnancy can be a problem for both baby and the mother. Thus it is of utmost importance that during pregnancy a good health should be maintained along with controlled blood pressure and cholesterol levels. With an increase in multiple births and women of older age the risk of hypertension during pregnancy has increased. But if proper care is taken it can be avoided.
Types of Pregnancy Hypertension:
There are three prominent forms of hypertension that can be seen during pregnancy. The pregnant ladies should be aware of the same. These are:
- Preeclampsia - This is the most common and serious hypertension during pregnancy. This hypertension can only be controlled by delivering the fetus which usually involves complications like death of the mother or child. This occurs 20 weeks after pregnancy.

- Gestational Hypertension - This form is only prevalent during pregnancy and is not a problem for the mother or baby after delivery. This usually occurs in the last leg of the pregnancy

- Chronic Hypertension - This form forms either prior to the pregnancy or before 20 weeks of the pregnancy.

Management of Pregnancy Hypertension:
Hypertension during pregnancy can be handled by the following:
- In case of severe hypertension, blood pressure medication should be continued during pregnancy

- If you are on ACE inhibitor-type medication, then the medication is changed to one that is even safe for the baby

- Your doctor might like to monitor you daily and can advise hospitalization for a few days

- If medication is missed, it might lead to uncontrolled life-threatening hypertension. Thus the medication should not be missed at any time

- In case of mild hypertension and absence of other diseases like diabetes and kidney disorders, the doctor might stop the medication or reduce the dose. Also, being off medicine does not cause any problem in mild hypertension.

- Irrespective of the hypertension being mild or severe, the prenatal appointments should not be missed, so that the doctor can monitor you and the baby. If any problems, like rise in blood pressure, poor fetal growth, and signs of preeclampsia can be spotted and steps can be taken for the same.

- In case there is some form of hypertension present the prenatal visits and lab tests will be more

- Apart from the usual second trimester ultrasound, there will be periodic ultrasounds in the third trimester to monitor the baby's growth and the amniotic fluid.

- Also regular fetal tests and Doppler ultrasounds will be done to track the baby's growth.

- Lifestyle changes should be made. Salt intake should be limited, fresh food instead of processed food should be consumed.

- If blood pressure is high then doctor might ask you to avoid exercise especially if you never did before pregnancy.
Trichomonas Vaginalis, a virus, which affects almost 7.4 million men and women each year. This virus can cause a sexually transmitted disease upon contact with a person who may be carrying the same. This condition is more common in women than it is in men and causes a variety of symptoms. Let us learn more about this infection.
Symptoms
This disease does not have any obvious symptoms until the problem becomes pretty severe. The symptoms for men include irritation inside the penis, discharge, and a burning sensation upon urination and ejaculation. The symptoms for women include a strong odour filled discharge that may also be greenish yellow in colour, pain in the lower abdomen in case the infection is extremely severe, itching and irritation in the vagina, and pain or discomfort during sexual intercourse.
Diagnosis
The gynaecologist or the general physician will usually carry out the diagnosis with the help of blood and urine samples that will be sent to the lab for testing. These tests will help in determining the spread and severity of the infection. The doctor will also use vaginal or urethral fluid in order to diagnose the issue with the help of further lab tests. Most doctors will tell you that it is harder to detect the presence of the virus in women, than it is in men.
Treatment
The treatment of this disease is done with the help of metronidazole, which can be used to treat trichomoniasis in case the patient is pregnant. It is usually recommended that the sexual partner of the patient should also be treated for the infection so as to stem its spread. Also, the doctors will recommend abstinence from sex for the duration of the treatment. Antibiotics will also be prescribed for both partners. Usually, one will be asked to wait for all the symptoms to disappear before becoming sexually active again.
There is a risk of contracting the HIV virus in case pregnant women do not get treated for this disease on time. It can also cause premature rupture of the various membranes that protect the foetus, which can in turn, lead to premature delivery of the baby. Further, women who are suffering from this disease are at higher risk of passing on the HIV virus to their partners. This happens when the woman is also infected with the HIV virus.
Prevention
There are various ways to prevent this disease including the proper use of condoms and limiting the number of sexual partners. Genital inflammation and pain should be checked by a doctor immediately to rule out the possibility of this STD. Also, one must take the necessary precautions to avoid catching and spreading this disease.
3502
people found this helpful
One ailment that affects a large number of women all over the world is that of breast cysts. Breast cysts are essentially benign abscesses that grow on and around the mammary glands. These cysts primarily develop on account of hormonal changes and are often assumed to develop naturally along with the development of breasts. These cysts are generally filled with fluids which can be traced around the milk ducts.
Cysts are usually reported among women approaching menopause. While some cysts are of temporary kind, there may be others with a more prolonged run. Early diagnosis and prompt medication ensure that their growth gets arrested at the earliest. Although it is necessary to be vigilant about these eruptions, one need not fear any further exacerbation. Most cysts are harmless in nature and do not proceed to breast cancer. The symptoms as well as the causes of the latter are completely disparate.
However some classes of cysts are more threatening than the others. These mostly comprise suspended solid elements besides the regular fluid content. Some might even have thicker walls compared to the others. Accordingly, they are called complicated and complex cysts. In these cases, one must exercise caution and get them treated immediately. Some of the most popular remedies include drainage through needle aspiration.
On certain occasions, physicians also recommend biopsy. Wherein a different mode of treatment ensues. Other ways of tackling breast cysts are ultrasound guidance using local anesthesia. In most cases however, depending upon the traits of the cysts, physicians leave them unaltered. One might choose to remove them for cosmetic as well as comfort purposes. Women come to such decision because breast cysts prove to be painful during menstrual cycles and some might even resent its appearance.
One unavoidable repercussion of needle aspiration is that the cysts tend to come back periodically. Dealing with it then becomes a fairly tedious task. This has known to cause anxiety and depression in a lot of women. Counselling and support group can prove beneficial here. But, the most crucial factor in learning to deal with breast cysts would be generating more awareness with regard to the causes and effects of breast cysts.
3362
people found this helpful
Miscarriage is termed as the loss of the fetus in or before 20th week of pregnancy. Medically, miscarriage is known as spontaneous abortion though the word spontaneous is more of a keyword as it is not an abortion.
Symptoms of Miscarriage are weakness, back pain, fever, abdominal pain along with severe cramps and bleeding which starts from slow to heavy.
Common cause of miscarriage is when the fetus is known to have fatal genetic problems and these are not related with the mother. The other causes are:
- Infection, medical problems like thyroid and diabetes, immune system rejection, hormonal imbalance, abnormalities of the uterus, and physical problems of the mother.
If a woman is over 35 years of age, has thyroid and diabetes and has had an earlier miscarriage then that woman is at a high risk of getting a miscarriage.
Sometimes a miscarriage might take place due to the cervical insufficiency. This is due to the weak cervix, also known as the incomponent cervix, which is unable to hold the pregnancy. A miscarriage in this condition usually occurs in the second trimester. Though there are a very few symptoms in this but there might be a feeling of sudden pressure that the water is going to break and tissues from the placenta and fetus are released without any pain. This can however be treated by a stitch in the cervix at 12 weeks.
This stitch helps to hold the cervix until the full term is completed. If it is first pregnancy and cervical insufficiency is diagnosed then also a stitch can be applied thus resulting in full term and avoiding miscarriage.
- The doctor does a pelvic test, an ultrasound and blood tests to confirm a miscarriage
- Blood tests are done to analyze the pregnancy hormone hCG. This is monitored regularly if miscarriage is suspected
- Genetic tests, blood tests and medication are important in women who have a history of prior miscarriages
- Pelvic ultrasound and hysterosalpingogram are tests which are done when there are repeated miscarriages
- Test like hysteroscopy is also done. In this the doctor observes the inside of the uterus with a device which is thin and like a telescope. This is inserted in the vagina and cervix.
- If the cervix is dilated, then the woman might be diagnosed with an incompetent cervix and this can be corrected by cerclage - a procedure done to close the cervix.
- If the blood type of the pregnant woman is Rh negative, she is prescribed a blood product called Rh immune globulin (Rhogam). This prevents from forming antibodies which could turn to be harmful for the baby.
A woman's vagina makes discharge that's usually clear or slightly cloudy. In part, it's how the vagina cleans itself. It doesn't really have a smell or makes you itch. How much of it and exactly what it looks and feels like can vary during your menstrual cycle? At one point, you may have only a small amount of a very thin or watery discharge, and at another time of the month, it's thicker and there's more of it. That's all normal.
3164
people found this helpful
Fetal pole and fetal heart usually comes by 6 wks ,so you can wait and watch .for bleeding you need to see nearby gynaec.
1
person found this helpful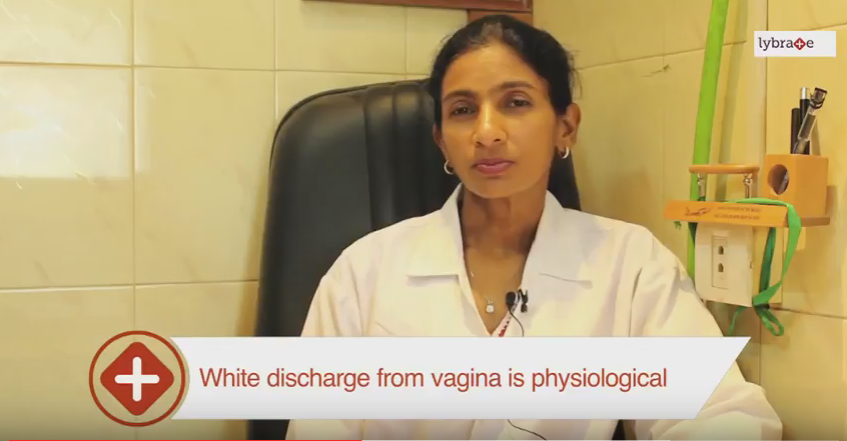 I am Dr Jyotsna Patel, Practising Gynaecology and obstetrics in Andheri East at Umang Maternity and surgical home. Today I am going to talk about the common problem that is white discharge which we encounter in women as far as the gynaecologist concern.
There are a lot of myths about white discharge. People say that it gives weakness, it makes you fat, it will make you thin, it will give you back ache. But all this is a wrong information. Like we have saliva in our mouth, in the similar way we have white discharge from the vagina which is physiological which is the mouth of the womb which is called cervix produces some discharge which is mucoid discharge. This is a normal white discharge, it is sticky, it is not foul smelling, and at some phases of the month, it can be little excessive. So it should not be considered abnormal.
What we call abnormal white discharge is when the white discharge is associated with itching, giving you lot of irritation down or a lot of redness down. That can be called as a vaginal infection. This could be a fungal infection and mixed infection for which you need to consult a gynaecologist.
Treatment- This white discharge is to be treated with anti-fungal infections and we have other antibiotics that we give to treat the vaginal infection.
Any other issues you have, you can contact me through Lybarte.com.
Thank you.
3741
people found this helpful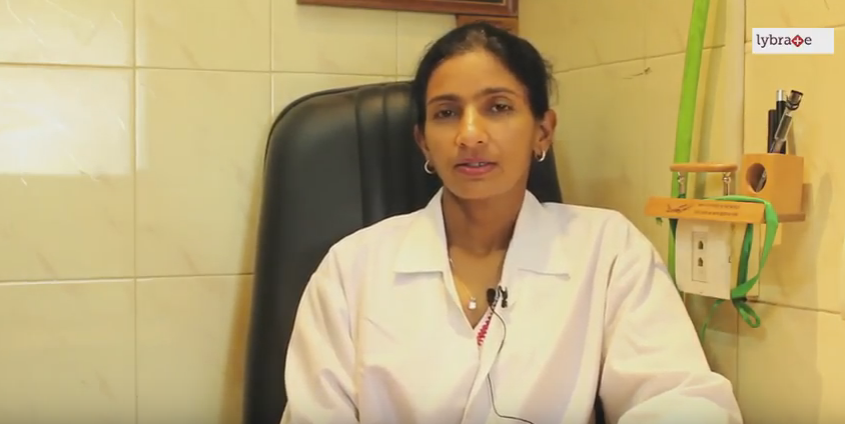 How to manage delayed Menstrual Cycle?
I'm Dr. Jyotsna Patel, practicing gynecologist and obstetretician at Uma Maternity and Surgical Nursing Home, Andheri East, Mumbai.
Today would like to talk on a topic which I encounter practically everyday in my practice that is young patient in the age group of 18-30yrs coming with the problem of delayed periods.
Now, delayed periods is something which bothers everybody. Again delayed period, first thing we need to rule out pregnancy. I've now encountered a lot of young girls, even unmarried girls who're now sexually active and they come with a history of delayed periods and they're very anxious and panicky. Now, once you've a delayed period first thing you need to see if you're sexually active is rule out pregnancy, and that thing can be done with either urine test or there are blood tests available for that. Once that has been ruled out then comes as to why the periods have been delayed and how often have you been getting this delayed periods.
If it's one of the random episode you're having then you need not bother, you just need to maintain a menstrual calender and see that how often your periods are delayed.
Now mind you in periods, plus or minus 8 days is considered normal. So 3-4 days of delay or 3-4 days of getting early period should not bother you. And once you're sure that the urine pregnancy test is negative and it is becoming a regular pattern that you're getting everytime 10 days delay, then 15 days delay then in that case you need to undergo some investigation or consult a gynecologist as to whta is the reason of delay, because most cmmon reason of delay is hormonal imbalance which we're finding very common because of the lifestyle changes that is happening- lot of stress, lots of junk food, then having obesity, this all is giving rise to hormonal imbalance causing the delayed periods as well as menstrual irregularities. So you'll need to undergo some hormonal tests specially thyroid tests, FHM, LH test and there are a lot of other hormones that you need to check and consult gynecologist. The second as I said, the first thing you need to do is rule out pregnancy, again if the pregnancy test is positive it's mandatory that you consult an obstetrician or gynecologist and don't try t get rid of the pregnancy, specially if you're not married by you know, listening to your friends, or going to quax out of fear.
For anything else you need to know about this you need to contact me on Librate.com .
3535
people found this helpful