Personal Statement
I pride myself in attending local and statewide seminars to stay current with the latest techniques, and treatment planning.
...more
I pride myself in attending local and statewide seminars to stay current with the latest techniques, and treatment planning.
More about Dr. Jayanta Roy
Dr. Jayanta Roy is an experienced Neurologist in Mukundapur, Kolkata. He has over 15 years of experience as a Neurologist. He has done Fellowship in Stroke, DM - Neurology, MD - General Medicine, MBBS. You can meet Dr. Jayanta Roy personally at AMRI Hospitals, Mukundapur, Kolkata in Mukundapur, Kolkata. Book an appointment online with Dr. Jayanta Roy and consult privately on Lybrate.com.

Lybrate.com has a number of highly qualified Neurologists in India. You will find Neurologists with more than 44 years of experience on Lybrate.com. Find the best Neurologists online in Kolkata. View the profile of medical specialists and their reviews from other patients to make an informed decision.
Info
Education
MBBS - Calcutta National Medical College - 1991
MD - General Medicine - Utkal University - 1997
DM - Neurology - Bangur Institute of Neurosciences and IPGME&R, Kolkata - 2001
Fellowship in Stroke - University of Calgary, Canada - 2005
Languages spoken
English
Hindi
Professional Memberships
American Academy of Neurology
Indian Academy of Neurology
Indian Stroke Association
American Stroke Association
World Stroke Organization
European Stroke Organisation
Location
Book Clinic Appointment with Dr. Jayanta Roy

230 Burkhola Lane, Mukundapur, Kolkata

,

Kolkata
Get Directions





Services
Submit Feedback
Submit a review for Dr. Jayanta Roy
Your feedback matters!
Write a Review
Patient Review Highlights
"knowledgeable"
1 review
"Very helpful"
1 review
"Practical"
3 reviews
"Thorough"
1 review
"Well-reasoned"
1 review
"Prompt"
1 review
"Caring"
1 review
"Saved my life"
1 review
Reviews
Pujan
May 12, 2017
With the help of his treatment for muscle disorder I am feeling so great. During the complete nerve and muscle disorders program he always supported and motivated me. As someone I knew, consulted this Jayanta Roy and they referred us. I was suffering from muscle disorder for such a long time. The facilities available in the AMRI Hospitals are very nice. I have consulted so many doctors but nobody till now was able to understand my concern properly, until i consulted Jayanta RoyI was in so much pain due to my muscle disorder. No matter how critical be the situation, he is always very calm.
Sarala
May 5, 2017
Never thought I will suffer from something radiofrequency neurotomy like this. He is a very practical doctor. Even though the problem was not so big, but still the other doctors were not able to treat it. The I consulted Jayanta Roy. Everything was just spick and span in the AMRI Hospitals. Jayanta Roy has so much knowledge that for everything my family takes his reference. I saw Jayanta Roy clinic's advertisement in newspaper and that is how we referred him. The interior of the AMRI Hospitals was no nicely done, it was so clean. Thanks to him I am totally satisfied with the results.
Kajri
May 18, 2017
One of my colleague referred Dr Jayanta Roy. He is not just friendly, but also is very motivating.Dr Jayanta Roy has in depth knowledge and ensures that he explains the problem in detail. I was diagnosed with epilepsy. The AMRI Hospitals is designed in such a manner that all requirements of patients are taken care of. It was so quite pleasant in the AMRI Hospitals. It's been so long, I have lost all hope, but then I met Dr Jayanta Roy and I am hopeful again that I will be fine.
Himani
Apr 24, 2017
I was panicked, because I never thought I will suffer from brain injury like this. I was quite depressed due to my condition, but Dr Jayanta guided me to change my attitude. I was admitted to the AMRI Hospitals in case of emergency, but not once did any of the nurses panicked. He is very talented and seasoned doctor. He is not just highly qualified, but has years of experience in handling high risk cases. I am so much benefitted with his treatment, that i am perfectly fine now.
Maulik
May 22, 2017
I was shocked to experience the symptoms of fibromyalgia. Dr Jayanta Roy ensures that he gives enough time to each patient. I am so much benefitted with his fibromyalgia treatment, that i am perfectly fine now. One of my colleague referred Dr Jayanta Roy. The overall atmosphere in the AMRI Hospitals is very soothing. During the complete fibromyalgia treatment program he always supported and motivated me. Thanks to him I am much better now.
Luvya
Aug 14, 2017
I was diagnosed with neurological problems. Jayanta Roy has a very positive attitude towards all the patients. The AMRI Hospitals is designed in such a manner that all requirements of patients are taken care of. Even though it's been more than a year, still if I sometimes feel pain and call him, and Jayanta Roy still takes my call in case of any emergency. Jayanta Roy has expert knowledge in the field.
Divyana
May 31, 2017
From quite some time i was suffering from pain, but never gave much importance to it. By chance, I approached Dr Jayanta Roy for second opinion and thank god, i did because, he treated me without any surgery and all. I am so much benefitted with his treatment, that i am perfectly fine now. It was an amazing experience as everyone in the AMRI Hospitals is so nice.
Verified
Dec 29, 2017
My mother(Shamsa Iqbal) had a stroke 2 years back and she was under treatment by Dr Jayanta Roy. He had been quite a savior for us and helped her recover quite fast. We visit the doctor for routine consultations. He is very skilled in his field augmented with excellent skills in dealing with patients in a very patient and motivating way. HIGHLY RECOMMENDED!!!
Janavika
Aug 17, 2017
Dr Jayanta is not just friendly, but also is very motivating. She has broad knowledge in the field of Neurology. Never thought I will suffer from something like muscle disorder. With the help of his treatment for muscle disorder I am feeling so great. The atmosphere in the AMRI Hospitals is always so positive and full of life.
Maneet
Aug 24, 2017
Even though I was fit and fine, it was shocked when I got to know that I have migraine.It has been quite some time that i was suffering from migraine. Thanks to Dr Jayanta, I am totally satisfied with the results. I was quite impressed with her concept of holistic healing. I am feeling much better now.
Md Asif Sardar
Nov 10, 2018
I never ever seen one doctor like Jayanta Roy. He is next to God to our family.
Mukesh Rawat
Feb 19, 2017
Dr. Jayanta Roy provides answers that are very helpful. Many thanks to docotor
Swapan Chakraborti
Jun 7, 2018
Fantastic, Brilliant,Great
Feed

MBBS, MD - General Medicine, DM - Neurology, Fellowship in Stroke
Epilepsy is a disorder of the central nervous system, thus it is basically a neurological disorder. In this the nerve cell activity of the brain is disrupted and causes seizures along with episodes of unusual behavior along with the loss of consciousness. The symptoms of the seizure can vary and some people with epilepsy just stare blankly for few seconds when a seizure takes place, while some twitch their arms and legs repeatedly.
Symptoms of Epilepsy:
As epilepsy is caused by the abnormal activities in the brain cells, seizures affect the processes with which the brain coordinates. Some signs and symptoms are:
Staring blankly
Confusion which is temporary
Uncontrolled jerking movements of the legs and arms
Loss of awareness and consciousness
Psychic symptoms
Mostly the symptoms vary depending on the type of the seizure. The seizures are further classified into focal and generalized depending on which part of the brain shows abnormal activity.
Focal seizures
When seizures are due to the abnormal activity of the cells in just one area then it is known as focal seizures. These seizures are of two types:
Simple partial seizures or the focal seizures without loss of consciousness. These seizures basically alter the emotions and the things like change in smell, look, sound and taste. These also result in the involuntary jerking of the body like the legs and arms, with spontaneous sensory symptoms like the tingling and flashing of the lights.
Complex partial seizures or the focal dyscognitive seizures. These seizures have a loss of awareness and consciousness. One might just stare blankly into space in this seizure and performs repetitive activities like swallowing, chewing, walking in circles and chewing.
Generalized seizures
There are six types of generalized seizures. These are:
Absence seizures, also known as petit mal seizures, are commonly seen in children and are characterized by subtle body movements like lip smacking and eye blinking and staring blankly into space. These also cause loss of consciousness.
Tonic seizures lead to stiffening of the muscles. These affect the muscles of the legs and arms and also cause to fall to the ground.
Atonic seizures are also called as drop seizures. These cause loss of control in the muscles, thereby leading to collapse or fall.
Clonic seizures are the rhythmic and jerking muscle movements. These affect the arms, face and neck.
Myoclonic seizures appear as twitches in the arms and legs.
Tonic-clonic seizures also known as grand mal seizures are very dramatic and lead to body stiffening, abrupt loss of consciousness, shaking and loss of bladder control and tongue biting.
In case you have a concern or query you can always consult an expert & get answers to your questions!
2110
people found this helpful

MBBS, MD - General Medicine, DM - Neurology, Fellowship in Stroke
Epilepsy is a neurological disease which is characterised by recurring epileptic seizures. These seizures can be brief or can persist for prolonged periods. Vigorous episodes which last long can result in physical injuries such as broken bones. Mention that 6th February is International epilepsy day.
Causes of Epilepsy
The cause of this condition isn't very evident; however, most medical practitioners attribute epileptic seizures to brain injury, tumours, infections in the brain or birth defects. Some doctors believe that epilepsy is caused due to genetic mutations and is an outcome of abnormal activity of cells in the brain. Other causes for this condition can be alcohol or narcotics withdrawal and electrolyte problems.
Symptoms
Repeated seizures
Impaired memory
Bouts of fainting
Short spans of blackout
Sudden bouts of blinking and chewing
Inappropriate repetitive movements
Types of Seizures
A seizure, also known as fit, is usually a brief episode characterised by uncontrollable jerking movement and loss of awareness due to abnormal neuronal activity in your brain. A collective occurrence of these seizures causes epilepsy.

There are three types of seizures an epileptic person usually encounters.
Idiopathic: This kind of seizure has no apparent cause
Cryptogenic: The doctors believe that there is a cause for the seizure but cannot detect it
Symptomatic: These seizures occur due to a reason.
Treatments
Medication: Medication is the most common treatment in case of epilepsy. Drugs taken on a regular basis can stop the seizure partially. But in very severe cases, they seem to have no effect at all.
Surgery: For symptomatic seizures which are caused due to abnormal brain function, surgery can be a way to get rid of seizures. In some minor cases, nerve stimulation in the brain and special diets can be prescribed to control the epileptic seizures.
Five facts about epilepsy you need to know:
Epilepsy is not psychosis or madness and can be treated easily
Popular celebraties with epilepsy include Aristotle, Alfred Nobel, Alexander the great, Sir Isaacs Newton, Martin Luther and Julius Caesar etc.
Woman with epilepsy can have a normal pregnancy
Newer medicines for epilepsy are effective and very safe
Surgery can cure epilepsy in some patients.
In case you have a concern or query you can always consult an expert & get answers to your questions!
2147
people found this helpful

MBBS, MD - General Medicine, DM - Neurology, Fellowship in Stroke
A brain stroke can affect anyone at any point of time when the supply of blood to the brain is interrupted. It can threaten major physical functions and can prove to be fatally dangerous at times. The brain stem which is placed right above the spinal cord controls the breathing, heartbeat and levels of blood pressure. It is also in charge of controlling some elementary functions such as swallowing, hearing, speech and eye movements.

What are the different types of strokes?
There are three main kinds of stroke: ischemic strokes, hemorrhagic strokes and transient ischemic attacks. The most common type of brain stroke is the ischemic stroke is caused by narrowing or blocking of arteries to the brain, which prevents the proper supply of blood to the brain. Sometimes it so happens that the blood clot that has formed elsewhere in the body have travelled via the blood vessels and has been trapped in the blood vessel which provides blood to the brain. When the supply of blood to a part of the brain is hindered, the tissue in that area dies off owing to lack of oxygen. The other variant of brain stroke is termed as hemorrhagic stroke is caused when the blood vessels in and around the brain burst or leak. Strokes need to be diagnosed and treated as quickly as possible in order to minimize brain damage. Remembering the F.A.S.T. acronym can help with recognizing the onset of stroke (Face, Arms, Speed, Time - explained below).
What are the common symptoms of a brain stroke?
The symptoms of the brain stroke are largely dependent on the area of the brain that has been affected. It can interfere with normal functioning, such as breathing and talking and other functions which human beings can perform without thinking such as eye movements or swallowing. Since all the signals from the brain as well as other parts of the body traverse through the brain stem, the interruption of blood flow often leads to numbness or paralysis in different parts of the body.
Who is likely to have a stroke?
Anyone is at a risk of developing brain stroke although ageing is directly proportional to the risk of having a stroke. Not only that an individual with a family history of brain stroke or transient ischemic attack is at a higher risk of developing stroke. People who have aged over 65 accounts for about 33 percent of all brain strokes. It is important to point here that individuals with high blood pressure, high blood sugar, cholesterol, cancer, autoimmune diseases and some blood disorders are at a higher risk of developing brain stroke.
There are a few factors which can increase the risk of developing stroke beyond any control. But there are certain lifestyle choices as well which aids in controlling the chances of being affected by stroke. It is crucial to refrain from long-term hormone replacement therapies as well as birth control pills, smoking, lack of physical activity, excessive use of alcohol and drug addiction. A brain stroke is a life-threatening medical condition, and when an individual has symptoms that resemble that of stroke, it is crucial to seek immediate medical help.
Treatment for stroke
Treatment depends on the type of stroke.
Ischemic strokes can be treated with 'clot-busting' drugs.
Hemorrhagic strokes can be treated with surgery to repair or block blood vessel weaknesses.
The most effective way to prevent strokes is through maintaining a healthy lifestyle.
What is TPA?
TPA is a thrombolytic or a "Clot Buster" drug. This clot buster is used to break-up the clot that is causing a blockage or disruption in the flow of blood to the brain and helps restore the blood flow to the area of the brain. It is given by intravenous (IV). This can be given only within 4.5 hrs of the onset of symptoms
Time is brain
Remember Every second Loss means brain cells die.
Rush to the nearest Stroke Centre whenever you experience such symptoms.
U can save the brain cells dying if you reach within 4.5 hrs by the CLOT BUSTER.
Endovascular procedures
Another treatment option is an endovascular procedure* called mechanical thrombectomy, strongly recommended, in which trained doctors try removing a large blood clot by sending a wired-caged device called a stent retriever, to the site of the blocked blood vessel in the brain
Stroke prevention
The good news is that 80 percent of all strokes are preventable. It starts with managing key risk factors, including
High blood pressure,
Cigarette smoking,
Physical inactivity.
More than half of all strokes are caused by uncontrolled hypertension or high blood pressure, making it the most important risk factor to control.
Rehabilitation
The best way to get better after a stroke is to start stroke rehabilitation ("rehab"). In stroke rehab, a team of health professionals works with you to regain skills you lost as the result of a stroke.
In case you have a concern or query you can always consult an expert & get answers to your questions!
2010
people found this helpful

MBBS, MD - General Medicine, DM - Neurology, Fellowship in Stroke
Headaches and migraines can vary drastically depending on their duration, specific symptoms and the person they are affecting. The more you know about your specific type of headache or migraine, the better prepared you will be to treat them—and possibly even prevent them. The two types of migraine are-
Migraine without aura: The majority of migraine sufferers have Migraine without Aura.
Migraine with aura: Migraine with Aura refers to a range of neurological disturbances that occur before the headache begins, usually lasting about 20-60 minutes.
Symptoms of migraine vary and also depend on the type of migraine. A migraine has four stages: prodrome, aura, headache and postdrome. But it is not necessary that all the migraine sufferers experience all the four stages.
Prodrome: The signs of this begin to appear a day or two days before the headache starts. The signs include depression, constipation, food cravings, irritability, uncontrollable yawning, neck stiffness and hyperactivity.
Migraine Aura: Auras are a range of symptoms of the central nervous system. These might occur much before or during the migraine, but most people get a migraine without an aura. Auras usually begin gradually and increase in intensity. They last for an hour or even longer and are
Visual: Seeing bright spots, various shapes, experiencing vision loss, and flashes of light
Sensory: Present in the form of touch sensations like feeling of pins and needles in the arms and legs
Motor: Usually related with the movement problems like the limb weakness
Verbal: It is related with the speech problems
Headache: In case of a migraine attack one might experience:
Pain on both sides or one side of the head
Pain is throbbing in nature
Sensitivity to smells, sound and light
Vision is blurred
Fainting and lightheadedness
Postdrome: This is the final phase of the migraine. During this phase one might feel fatigued, though some people feel euphoric.
Red flags that the patient may be having underlying serious disorder not migraine
Onset of headaches >50 years
Thunderclap headache - subarachnoid haemorrhage
Neurological symptoms or signs
Meningism
Immunosuppression or malignancy
Red eye and haloes around lights - acute angle closure glaucoma
Worsening symptoms
Symptoms of temporal arteritis
These patients require CT scan / MRI or CSF examination. Most Migraine patients do not need these tests.
Diagnosis of Migraine: Usually migraines go undiagnosed and thus are untreated. In case you experience the symptoms regularly then talk to the doctor, who evaluates the symptoms and can start a treatment. You can also be referred to a neurologist who is trained to treat the migraines and other conditions. During the appointment the neurologist usually asks about the family history of headaches and migraines along with your symptoms and medical history.
The doctor might advise for some tests like:
Blood Tests: These reveal problems with the blood vessel like an infection in the spinal cord and brain.
CT scan: Used to diagnose the infections, tumors, brain damage, and bleeding that cause the migraines.
MRI: This helps to diagnose the tumors bleeding infections, neurological conditions, and strokes.
Lumbar Puncture: For analyzing infections and neurological damages. In lumbar puncture a thin needle is inserted between the two vertebrae to remove a sample of the cerebrospinal fluid for analysis.
Treatments
Migraine treatments can help stop symptoms and prevent future attacks.
Many medications have been designed to treat migraines. Some drugs often used to treat other conditions also may help relieve or prevent migraines. Medications used to combat migraines fall into two broad categories:
Pain-relieving medications. Also known as acute or abortive treatment, these types of drugs are taken during migraine attacks and are designed to stop symptoms.
Preventive medications. These types of drugs are taken regularly, often on a daily basis, to reduce the severity or frequency of migraines.
Your treatment strategy depends on the frequency and severity of your headaches, the degree of disability your headaches cause, and your other medical conditions.
Some medications aren't recommended if you're pregnant or breast-feeding. Some medications aren't given to children. Your doctor can help find the right medication for you. If you wish to discuss about any specific problem, you can consult a Neurologist.
1951
people found this helpful

MBBS, MD - General Medicine, DM - Neurology, Fellowship in Stroke
When it comes to the brain and IQ, is bigger better? Does size really matter? Is there really a connection between the size of your brain and intelligence? With the help of findings by neurologists and scientists, we seek to find out!
Ailments and the brain: Scientists have found that children with autism have a brain that has grown in a disproportionate manner in the very first year of their life. This prevents the child from making connection in a normal manner. On the other hand, children and adolescents who suffer from Attention Deficit Hyperactivity Disorder or ADHD show sign of having a much smaller brain size. Many scientists have shown that the size of the brain shrinks as we age and this does not have any visible effect on our cognitive abilities.
It's all relative: The size of the brain does not really have a bearing on the way a person's cognition gets shaped. Even large mammals like elephants and whales are finally hunted and tamed by humans who have smaller brains in comparison. The brain is made up of billions of neurons, which need to function properly. It may be seen that scientists consider the brain mass in relation with the rest of the body so as to speculate about the cognitive abilities of the person. Why is this required? Large animals need a well functioning and proportionate brain size to control and run their organs with proper cognition for satisfactory results, which is what we humans seem to have done.
Neanderthal brain: Historically, the earliest man or the Neanderthals are said to have had larger brains than we do. These people are believed to have brains that are at least 10% larger than the brains that we have in our modern times. The shape of their brain was different too. They were also heavily muscled people which had a bearing on the size and shape of the brain and bodies as well as the lean tissue within the brain. They also survived very successfully for a period of over 200,000 years, which obviously points to some form of elevated cognition, as per many scientists.
Animals: While animals with small brains like lizards and reptiles do not perform too well on IQ tests, the animals with bigger brains like elephants and dolphins perform much better. But the medium sized brain of monkeys, lemurs and other animals are said to perform in the best manner. The correlation between the body size and the brain does not seem to hold good here, as per various researches.
So the verdict as per medical science and research stands divided! If you wish to discuss about any specific problem, you can consult a Neurologist.
2245
people found this helpful

MBBS, MD - General Medicine, DM - Neurology, Fellowship in Stroke
Getting Hallucinations is a mental condition where a person sees, feels, hears, and tastes things that actually don't exist beyond one's heightened imagination or delusion. It involves the experience of perceiving something not present. Hallucinations can be pleasing or frightening. However, there is almost always an identifiable cause behind it.
They can be triggered by:
Taking hallucinogenic or psychotropic substances
Mental conditions like dementia and schizophrenia
Neurological conditions like Alzheimer's disease or Parkinson's disease
Macular degeneration, leading to loss of vision
Migraines and brain tumor can also lead to such delusions
Some of the signs of hallucinations:
Hearing voices: The medical term for hearing voices is called an 'auditory hallucination'. A person may sense sounds or noises coming from inside or outside of their mind. The noise might be random or disrupting. One might also feel the voices talking to each other or trying to tell them something. Most of the times, these voices come from inside the person's mind; or in some cases, one's heightened perception may make a normal noise delusional.
Seeing things: This is also called visual hallucinations. For instance, one may see unnatural things like a floating chair in thin air. It all depends on a person's perception. Sometimes these hallucinations appear as bright flashy spots or rays of light.
False sense of taste and smell: Technically these are known as gustatory and olfactory hallucinations respectively. One may feel a kind of odor coming from one's body or surrounding; or a person might feel that something he/she is drinking or eating has an odd taste. This is again heightened mal-perception causing delusional sensory activities.
Tactile hallucinations: This is when a person feels things that don't exist. One may feel that he/she is being touched or tickled even when no one else is around or that insects are crawling beneath the skin. One may experience strange sensations, which are not a part of a reality. If you wish to discuss about any specific problem, you can consult a Neurologist.
1855
people found this helpful

MBBS, MD - General Medicine, DM - Neurology, Fellowship in Stroke
If your doctor has decided to stop the drug, it must be after considering your risk is low for recurrence. Normally we don't see any problem after levipil is withdrawn. But report to your doctor once you are facing them.
2
people found this helpful

MBBS, MD - General Medicine, DM - Neurology, Fellowship in Stroke
Some disease condition may cause burning feet even in young, like some vitamin deficiency disease, alcohol addiction etc.
3
people found this helpful
Near By Doctors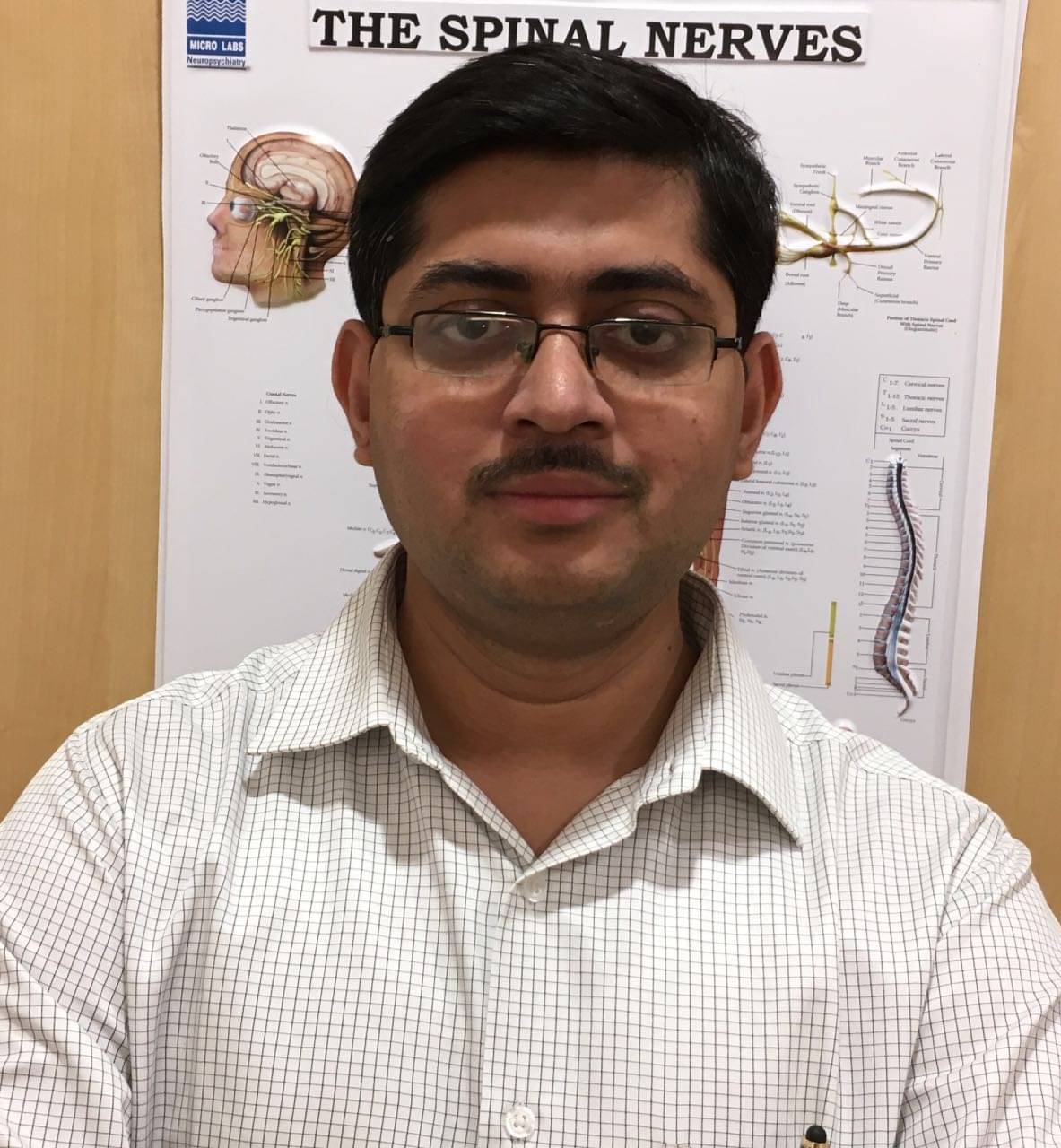 DM - Neurology, Fellowship in Stroke Neurology, MD - General Medicine, MBBS Bachelor of Medicine and Bachelor of Surgery
Neurologist
AMRI Mukundapur Hospital,
Book Appointment