About
Our medical care facility offers treatments from the best doctors in the field of Dermatologist/ Cosmetologist.We like to think that we are an extraordinary practice that is all about you...
...more
Our medical care facility offers treatments from the best doctors in the field of Dermatologist/ Cosmetologist.We like to think that we are an extraordinary practice that is all about you - your potential, your comfort, your health, and your individuality. You are important to us and we strive to help you in every and any way that we can.
More about Dr Hawelia's Skin Clinic
Dr Hawelia's Skin Clinic is known for housing experienced Dermatologists. Dr. Dinesh Hawelia, a well-reputed Dermatologist, practices in Kolkata. Visit this medical health centre for Dermatologists recommended by 102 patients.
Timings
Location
245/A, 1st Floor, Landmark : Near To Girish Park Metro Station Gate No.2
Chittaranjan Avenue
Kolkata,
West Bengal
-
700006

Get Directions
Videos (1)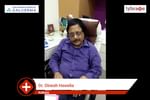 Doctor in Dr Hawelia's Skin Clinic

MBBS, MD - Dermatology, Venereology & Leprosy
Dermatologist
Book appointment and get ₹125 LybrateCash (Lybrate Wallet) after your visit
Services
Submit Feedback
Submit a review for Dr Hawelia's Skin Clinic
Your feedback matters!
Write a Review
Reviews
Naman Agarwal
Jan 25, 2018
It was really nice talking to him . He is really experienced and the way he talks makes things really easier
Verified
Jan 3, 2018
It was overall good experience. Good for all skin type problems.
Verified
Aug 29, 2018
He was awesome..nice person to talk with.. Expert in detecting
Verified
Jun 5, 2018
Very good doctor, friendly and approachable.
Verified
Dec 28, 2017
Nice meeting with doctor and also staff..
Ayshik Bhuniya
Aug 29, 2018
Vry good
Verified
Oct 6, 2018
Nice...
Verified
Nov 28, 2018
Good
Verified
Jan 6, 2019
Good
Feed
Eczema of the scalp, which results in itching, flaking, or crusting of the scalp, is called scalp peeling or is commonly referred to as "dandruff". This condition causes increased shedding of normal scalp skin cells. Dandruff may also be caused by a fungal infection, other than just dehydration of the scalp.
The causes of an extremely dry scalp, thereby causing dandruff or even bigger flakes falling from the head onto shoulders and clothes, may be due to scalp psoriasis, eczema, poor nutrition, generalized dehydration, exposure to too much direct heat, and using too much of shampoo.

The three types of dandruff that need to be treated are those resulting from fungal growth, dry scalp and the one resulting from product build-up.
Fungal growth: This kind of dandruff is a chronic condition, caused by increased oil content on the scalp or an off-balance pH of the scalp. It may also be due to poor cleansing habits, or even an allergic reaction to the hair products one uses. Try switching shampoos, conditioners, or styling products to sulfate-free formulas to cure this condition.
Dry scalp: Sometimes, the skin of the scalp is literally so parched and dry that it is flaky and falls away like snakeskin. People with this kind of dandruff usually have drier hair and notice a tightness in their scalp. To treat dry-scalp dandruff, it is wise to indulge one's hair with moisturizing and hydrating shampoos, cut down on or space out harsh chemical treatments like relaxers, permanents, or dyes, and take in more moisture from the inside - drink at least 8 eight-ounce glasses of water a day, and your skin (including your scalp) will show you results that you want. Eliminating sulfates from your shampoos or other hair care products will also help with dry scalp, since these ingredients help strip away natural oils. Brushing hair or massaging the scalp - either with bare fingertips or a few drops of oil - is another great treatment, since massage helps stimulate circulation and bring blood, nutrients, and oxygen to the scalp and hair.
Product buildup: The most common type of dandruff is due to product buildup. This is what happens when people with otherwise healthy manes and scalps use too many styling products, such as layering gels, hair serum, hairspray, wrap lotions, scalp oils, heat-protecting serum, and so on. Dandruff caused by product buildup usually looks more like small clumps or balls of dirt. It may have a brownish color, since all those products attract and trap plenty of dirt and sweat. Product-buildup dandruff also tends to appear sporadically, only when hair is in need of a wash, whereas other types of dandruff show up more quickly and regularly.
To treat this kind of dandruff, one should wash hair more often or simply aim for using minimum chemical-rich hair products.
2578
people found this helpful
Are you planning on undergoing hair transplantation because of extensive hair loss? A hair transplantation surgery is effective in making up your lost hair, but there are several facts you should know before undergoing the procedure. There are certain strict do's and don'ts associated with hair transplantation, both before and after the process.
Before hair transplantation
Do's
Wash your hair well before the surgery day on the morning of the surgery.
Wear clothes which do not need to be pulled off over your head after the surgery.
Arrange for transportation for going back home.
Don'ts
Do not take aspirin or other anti-inflammatory medicines for seven days before the procedure.
Do not consume alcohol, take vitamin B, E supplements for seven days before the surgery.
Do not smoke for three days before, and on the day of the surgery.
After hair transplantation
Do's
Remember all instructions given by the surgeon for care after the procedure. Although there are general guides for care, you should listen to your surgeon and his guidelines.
Try keeping your scalp dry on the first day after transplantation, which enables your skin to heal.
Keep your scalp clean during the recovery process. Soreness and numbness may be felt, and you should not put anything on your scalp that may cause side effects.
Take proper care of your scar. Scarring and itching are likely and you should deal with these using topical creams prescribed by your surgeon.
You may take painkiller medications to ease discomfort and pain, three to four hours after the procedure.
Don'ts
Avoid exposure to direct sunlight immediately after the hair transplantation, and also for the next few days.
Avoid touching or fidgeting with your grafted scalp. Picking and rubbing your sore scalp may cause the new grafts to fall out before getting the chance to grow.
Do not take alcohol for the first five days after the hair transplantation procedure.
Abstain from smoking for one month after the procedure as it disrupts the flow of blood to your hair follicles.
Do not involve yourself in any form of sports activity or exercise right after the procedure. You may resume working out after a period of ten days, and you must wait for one month to get back to other physical activities and sports.
Avoid engaging in activities which result in intense sweating. Sweating enhances the risk of infections to your grafted scalp. You should also avoid steam baths or sauna treatments for one month after the procedure.
In case you are a diabetic, you need to talk to your surgeon about ways of handling your diet and insulin management, before and on the day of the hair transplantation procedure. In case you have a concern or query you can always consult an expert & get answers to your questions!
2629
people found this helpful
Gycolic peels can significantly improve the appearance of the skin. This is a type of treatment that involves applying a chemical solution that makes the skin blister followed by peeling it off. The new skin that generates is less wrinkled and smoother. This treatment can successfully reduce lines under the mouth and the eyes, treat acne, improve scars, treat skin damaged by sun burn and wrinkles, improve the look and feel of the skin. It must be noted that the skin becomes very sensitive after a gycolic peel treatment. It, therefore, makes sense to wear sunscreen and refrain from direct exposure to UV rays.

Who is an ideal candidate for a gycolic peel?
Both fair-skin and dark-skinned people are suited for this treatment. The success rate and the effectiveness of this treatment depend on the condition for which a candidate being treated for. People with extremely dark complexion may not be well suited for this treatment.

How to get started?
Before going ahead with the treatment, it makes sense to discuss any underlying condition with the dermatologist. A history of cold sores and scarring should be discussed. If a person is undergoing any medication, it should be informed to the doctor prior to the treatment. A dermatologist often stops other medicine and prescribe skin meds such as Retin-A, Renova etc. to prepare the skin for the treatment. Furthermore, certain antiviral and antibiotic medicine can be prescribed to treat the certain underlying condition before resuming the treatment. An open discussion with the doctor about the depth of the peel is necessary to set the expectation straight.

How is the procedure performed?
Gycolic peel is an outpatient procedure. An overnight stay at the hospital is not necessary. The skin is thoroughly cleaned. The skin is then applied with a solution such as
salicylic
acid, glycolic acid, trichloroacetic acid, carbolic acid etc to a very limited area of the skin. It results in a controlled
wound
and the new skin fill up the wound within hours. A burning sensation can be felt for a span of 10 minutes followed by a sensation of stinging. A doctor might prescribe
pain
medication and suggest cool compressor to reduce the uneasiness.
What to expect after the procedure?
A sunburn-like reaction is witnessed after the procedure. This is followed by scaling that lasts for about a week. Peels can be repeated within weeks to get the exact look a person seeks. The procedure might result in crust, blister, and patches. The area is bandaged after the procedure is performed. Sunlight needs to be strictly avoided since the new skin very fragile and sensitive to the powerful rays of the sun.
In case you have a concern or query you can always consult an expert & get answers to your questions!
2505
people found this helpful
Loss of hair can have adverse effects on your physical as well as mental health. Not only does hair loss affect your self-esteem or appeal, it also hints at an underlying health problem. There could be many reasons for the loss of hair. 'Alopecia areata' is a condition wherein sudden loss of hair begins with one or more circular bald patches that might or might not overlap.
Some of the common cosmetic treatments for hair loss include:
Hair Grafting or Transplant: Hair transplant or grafting is a procedure that uses surgery to move hair follicles from one spot in the body to another and is mainly used to treat male pattern baldness. The transplantations are carried out in outpatient form, with local anaesthesia and mild sedation. Harvesting of hair follicles is done using various methods, each with its own advantages and disadvantages. Some of the common harvesting techniques are:
Strip Harvesting: A strip of skin from the scalp or from any other spot where there is good growth of hair is harvested by the surgeon.
Follicular Unit Extraction (FUE): Follicular Unit Extraction is a procedure which involves the singular extraction of each hair follicle without any removal of strip of tissue.
Follicular Unit Transplant (FUT): Follicular Unit Transplant involves the removal of a small strip of tissue from the rear part of the head. The donor hair follicles would be extracted from this strip.
Robotic Hair Restoration: The devices associated with Robotic Hair Restoration utilize robotic arms and cameras to provide assistance to the surgeon during the FUE procedure.
Scalp Reduction: This cosmetic procedure involves removal of skin (non-hair-bearing) from the scalp, which ensures that the remaining skin (hair-bearing) can be extended to the area that it is capable of covering the bald spots on the head. This procedure is effective in covering bald areas on the back as well as top of the head. However, it is not favourable for the hairline in the frontal areas of the head
2676
people found this helpful
With the growing importance on how a person looks, everybody is obsessed with trying to look younger and prettier. Skin that is flawless, glowing, and clear is not just something celebrities want but is every person's dream. It is no wonder that the cosmetic industry has grown by leaps and bounds in terms of technology and chemical based treatments.
Talking of cosmetic skin treatments, two of the most common methods are chemical peels and microdermabrasion. Read on to know about these skin exfoliation techniques.

Why exfoliate?
The skin has multiple layers, and with constant exposure to the environment, the top layers are constantly exposed to pollution and dust and sunlight. This makes the skin very dull and weary. There are also dead cells on the top, which need to be removed so that fresh cells from the underlying layers surface up to give the skin a fresh, glowing look. This is known as skin exfoliation.

Chemical peels
Due to various reasons, when skin does not repair naturally, the role of chemical peels comes in play. This helps in removing these top layers, thus, in turn, removing the rough, dry layers and giving the skin, a good texture.
What is done?
Skin is cleansed and a chemical is applied which penetrates the skin. These are usually enzymes from the fruits or vegetables or alpha hydroxyl acid or phenols
The process is repeated multiple times with gaps of few days to help in fresh skin generation, depending on expected results
Topical moisturizer and sunscreen should be used post treatment.
Microdermabrasion
This is a physical exfoliation technique, in that the top layers are manually cleared of debris and dead cells. This produces instant results, but cannot be used in acute cases where the skin is inflamed or sensitive.
What is done?
A crystal or diamond tip which has fine aluminum or diamond particles is used to abrade the skin
This removes any dead cells and debris
These are suctioned away
The result is velvety, smooth skin which is soft, bright, and glowing
Can also be combined with other rejuvenation procedures like laser
Should be repeated on a monthly basis for optimal results
It also helps penetration of topical creams and lotions, making them more effective.
While both are well-proven techniques for exfoliation, the treatment option is decided by the doctor by consulting the patient. Each person's response to such treatments is different, so choose the treatment that will be most beneficial and effective for you.
In case you have a concern or query you can always consult an expert & get answers to your questions!
2387
people found this helpful
PRP is a latest, state of the art technology that employs non-surgical methods to stimulate hair growth in case of hair loss.
Advancements in research have enabled scientists to make new inroads in the field of wound and tissue healing. The result of these researches is PRP, which is a natural way to rejuvenate your scalp, skin and stimulate your hair growth.
How does PRP Work?
The presence of mesenchymal stem cells and autologous blood products in human blood contain specific growth factors that assist in tissue regeneration and healing. PRP has been used to heal skin and wounds for over two decades now. Apart from this, it finds use in oral surgery, cosmetic surgery and neurosurgery as well. It is also the promising treatment to promote hair growth.
Benefits:
It is a progressive healing treatment that doesn't require surgery.
Simple, rapid and highly effective system.
Autologous (from patient's own blood).
The system is biocompatible and xeno-free, so there shouldn't be any safety concerns.
An increase in the concentration of platelets can be observed.
It helps in the elimination of undesired erythrocytes, which significantly decrease the fibroblast proliferation.
Contains growth factors that help in the stimulation of growth of the hair follicles.
Can be performed preoperatively, intraoperatively, or post operatively.
PRP Facial (Vampire Facial)
The vampire facial involves topical application of the PRP combined with aeration of the skin with Micro Needling. The platelet-derived growth factors stimulate a healing response that reduces the appearance of fine lines and wrinkles while improving the skin's tone and texture. PRP naturally improves all aspects of skin health:
Reduces fine lines and wrinkles
Improves skin's texture and tone
Naturally increases collagen production
Pore refinement
Creates a natural glow
Reduces acne scars
PRP Hair Restoration
PRP Hair Restoration is a non-surgical solution for hair loss in both men and women. Platelet Rich Plasma contains growth factors that naturally stimulate the development of new hair follicles while improving the health of existing hair follicles.
What to expect:
First, a blood sample is obtained and processed to extract the Platelet Rich Plasma. A topical anesthetic is applied to numb the area being treated. The PRP is then administered with a fine needle in a series of injections on the scalp.
Mild swelling and redness can be expected 1-2 days following the treatment. It is recommended to avoid vigorous activity until the swelling has subsided. There is no other downtime following the procedure. New hair growth can be seen as early as 2 months, but is typically evident between 5-8 months and will continue to improve up to a year after treatment.
Who should Not Have PRP treatment?
Those with heavy drug and smoking issue should avoid PRP. Also, those who drink a lot of alcohol should avoid PRP. Those suffering from platelets related ailments, sepsis, chronic liver disease, thrombocytopenia, hyperfibrinogenemia, systemic disorders and cancer should also stay away from PRP.
Conclusion
At length, PRP is a boon for all those who aren't fans of surgery or the ones who prefer a more aggressive but non-surgical approach for treatment to their ailments. The results might vary from patient to patient, but it is certainly one of the most promising technologies to stimulate hair growth and rejuvenate your skin, and the results are quite convincing. So decide wisely!
In case you have a concern or query you can always consult an expert & get answers to your questions!
2476
people found this helpful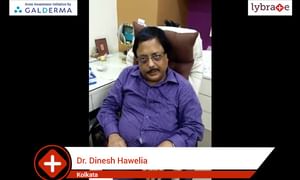 Lybrate | Dr Dinesh Hawelia speaks on IMPORTANCE OF TREATING ACNE EARLY
3116
people found this helpful
Near By Clinics
4.4
(

120

ratings)
Girish Park, Kolkata,
Kolkata
View Clinic

4.6
(

71

ratings)
Girish Park, Kolkata,
Kolkata
View Clinic