About
Our goal is to provide a compassionate professional environment to make your experience comfortable. Our staff is friendly, knowledgable and very helpful in addressing your health and fin...
...more
Our goal is to provide a compassionate professional environment to make your experience comfortable. Our staff is friendly, knowledgable and very helpful in addressing your health and financial concerns.
More about Poddar Hospital
Poddar Hospital is known for housing experienced Pediatricians. Dr. Mohit Poddar, a well-reputed Pediatrician, practices in Jaipur. Visit this medical health centre for Pediatricians recommended by 98 patients.
Timings
Location
3510AB, Langar Ke Balaji Ka Rasta,, Gangori Bazar, Chandpole Bazar. Landmark: Behind Nahargarh Road Police Station, Jaipur
Jaipur,
Rajasthan
-
Jaipur

Get Directions
Doctors in Poddar Hospital

MBBS, MD - Paediatrics, Diploma in Allergy and clinical Immunology
Pediatrician
MBBS
Cosmetic/Plastic Surgeon
Services
Submit Feedback
Submit a review for Poddar Hospital
Your feedback matters!
Write a Review
Feed
Nothing posted by this doctor yet. Here are some posts by similar doctors.
Itching may be due to worms. You need to do regular deworming. Give him nutritious well balanced small diets at regular intervals.
1
person found this helpful
Dear lybrate-user, Go for pregnancy teat for confirming pregnancy. If it is negative then go for USG of pelvic region on 3rd -7th day of menses, for ruling out any pelvic disease. It could be just harmonal imbalance OR pelvic disease.In both conditions, you need treatment. So take prepaid on-line consultation through Lybrate so that I can help you through medicine.
गुड़हल के फूल का वैज्ञानिक नाम रोजा साइनेसिस है. गुड़हल के फूल में कई तरह के पोषक तत्व जैसे कि फाइबर वसा कैल्शियम विटामिन सी आयरन आदि भरपूर मात्रा में पाए जाते हैं. इसलिए गुड़हल का फूल हमें कई बीमारियों से निजात दिलाता है. गुड़हल का फूल हमारे यहां धार्मिक रुप से काफी महत्वपूर्ण है. कई तरह के पूजा-पाठ और देवी देवताओं को चढ़ाने के लिए गुड़हल के फूल का इस्तेमाल हम करते रहते हैं. लेकिन आज हम बात करेंगे इससे होने वाले फायदे अन्य फायदों की. तो आइए इस लेख के माध्यम से हम गुड़हल के फूल के फायदे को जानें.

1. वजन कम करने में
गुड़हल के फूल को वजन कम करने के लिए इस्तेमाल किया जा सकता हैं. गुड़हल की पत्तियों से बनी चाय पीने से आपके शरीर में ऊर्जा का संचार होता है. इसलिए हमें काफी देर तक भूख नहीं लगती है. इसके अलावा गुड़हल के फूल का सेवन भी भूख लगने से रोकता है. यही नहीं इसे खाने से हमारी पाचन क्रिया भी समृद्ध होती है. इससे शरीर में अनावश्यक चर्बी नहीं जमा हो पाती है, और वजन कम होता है.

2. सर्दी जुकाम में
सर्दी-जुकाम की समस्या को दूर करने के लिए भी गुड़हल के फूल का प्रयोग किया जाता है. इसकी पत्तियां जिसमें विटामिन सी की प्रचुरता होती है, को यदि हम रोजाना खाएं तो इससे सर्दी जुकाम में काफी राहत मिलती है. आप चाहें तो इसका चाय भी बना कर पी सकते हैं.

3. जवान बने रहने के लिए
गुड़हल की पत्तियों से होने वाले कई लाभों में से एक यह भी है कि ये एंटी-एजिंग है. यानी कि आपकी बढ़ती उम्र के असर को काफी हद तक कम करता है. दरअसल गुड़हल की पत्तियों में शरीर के फ्री रेडिकल्स को हटाने की क्षमता होती है. इस वजह से ही हमारी त्वचा की बढ़ती उम्र के लक्षणों से लड़ पाता है.

4. बालों के लिए
गुड़हल के फूल का प्रयोग हम बालों की कई समस्याओं के लिए भी कर सकते हैं. गुड़हल की पत्तियों को जैतून के पत्तों के साथ मिलाकर बने पेस्ट को 10 से 15 मिनट के लिए सिर पर लगाकर रखें इसके बाद इसे गुगुने पानी से धो लें. इससे आपके बाल घने दिखाई देने लगेंगे. इसके अलावा गुड़हल की पत्तियों को पीसकर इसमें नारियल तेल मिलाकर थोड़ा गर्म कर लें. अब इस तेल को अपने सिर पर मालिश करने के लिए प्रयोग करें. इससे आपके बालों में चमक और मजबूती आती है. बालों लिए गुड़हल के फूल का प्रयोग हम बालों की कई समस्याओं के लिए भी कर सकते हैं. गुड़हल के पत्तों और फूलों से बना पेस्ट प्राकृतिक कंडिशनर का काम करता है.

5. कोलेस्ट्राल कम करने के लिए
कोलेस्ट्राल के स्तर को नियंत्रित करने के लिए भी गुड़हल का प्रयोग किया जाता है. ये धमनी में पट्टिका को जमने से रोकती है. इसतरह ये कोलेस्ट्राल को नियंत्रित करने में मददगार साबित होती है.

6. गुर्दे की पथरी के लिए
गुर्दे की पथरी से परेशां व्यक्ति गुड़हल के फायदे का इस्तेमाल कर सकता है. इसका कारण ये है कि इसमें विटामिन सी प्रचुर मात्रा में पाया जाता है. इसके लिए आपको बस गुड़हल की चाय पीनी होती है.

7. पीरियड्स के दौरान
पीरियड्स को नियमित करने में गुड़हल काफी महत्वपूर्ण साबित होता है. पीरियड्स के दौरान महिलाओं के शरीर में ऐस्ट्रोजेन की कमी होने से हार्मोन्स का संतुलन गड़बड़ा जाता है. गुड़हल इसे नियमित करता है.

8. उच्च रक्तचाप के लिए
गुड़हल की पत्तियों से बनी चाय के तमाम फ़ायदों में से एक ये भी है कि ये उच्च रक्तचाप में भी लाभदायक साबित होता है. इससे हृदय की गति भी सामान्य होती है.

9. खून की कमी में
खून की कमी यानि एनिमिया की समस्या में भी गुड़हल लाभदायक होती है. इसके लिए लगभग 40 से 50 गुड़हल के फूल की कलियों को अच्छे से पीसकर उसके रस को एक टाइट डिब्बे में बंद कर लें. सुबह-शाम इसके सेवन से आपकी एनीमिया में राहत मिलती है.

10. त्वचा के लिए
गुड़हल की पत्तियों मेन ऐन्टी-ऑक्सीडेंट, आयरन और विटामिन सी की मौजूदगी इसे त्वचा के लिए महत्वपूर्ण बनाती है. इससे आपके चेहरे के दाग-धब्बे, मुंहांसे और झुर्रियां आदि जैसी कई समस्याएँ खत्म होती हैं. इसके लिए गुड़हल की पत्तियों को पानी मेन उबालकर इसे अच्छी तरह पीस लें और इसमें शहद मिलाकर इसे चेहरे पर लगाएँ.

MBA-HR, MBA-Finance, Diploma in Dietetics, Health and Nutrition (DDHN), Diploma in Nutrition and Health Education (DNHE))
Dietitian/Nutritionist, Delhi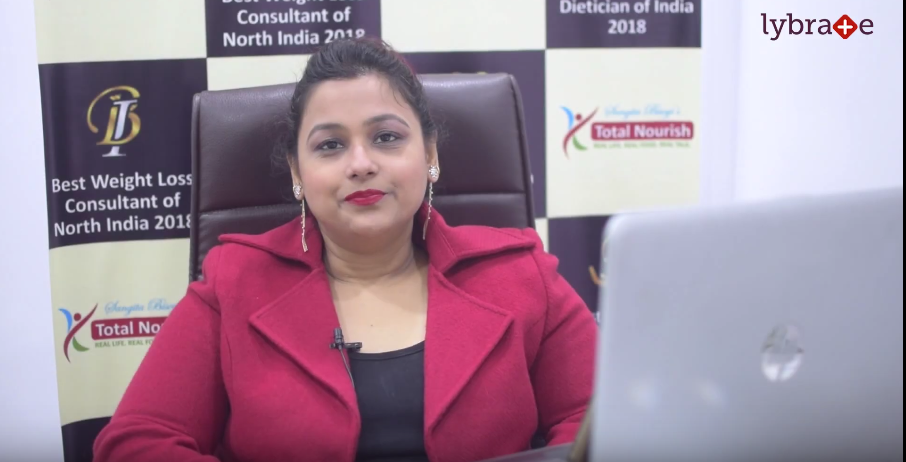 A healthy diet is one which will improve not just your physical health, but your mental health as well. It is essentially concerned with healthy nutrients and essential amino acids, fatty acids, vitamins and minerals. A healthy diet can be obtained by consuming the correct proportion of vegetarian and non-vegetarian foods.
270
people found this helpful
Sir from what you have mentioned, it seems like Cradle cap which is a collection of sebacious material on scalp. It is a normal condition with babies and usually will resolve on it's own but if there is too much of foul smell ,please consult. It would shed of on it's own. Do maintain hygiene and avoid application of excessive oil on scalp I hope I am able to address your concerns. Thank you.
1. Don't Overeat 2. Don't take tea empty stomach. Eat something like a banana (if you are not diabetic) or any seasonal fruit or soaked almonds and a glass of water first thing in the morning (within 10 mins of waking up). No only biscuits or rusk will not do. 3. Take your breakfast every day. Don't skip it. 4. Have light meals every 2 hours (in addition to your breakfast, lunch n dinner) e.g. Nariyal paani, chaach, a handful of dry fruits, a handful of peanuts, any fresh n seasonal fruit, a cup of curd/milk etc 5. Finish your dinner at least 2 hours before going to sleep. 6. Maintain active life style. This is most important n non negotiable part 7. Avoid fast foods, spicy n fried foods, Carbonated beverages 8. Take a lot of green vegetables n fruit. 9. Drink lot of water. 10. Curd is good for u. 11. Everyday preferably sleep on same time For more details you can consult me.
1
person found this helpful

MS - Gynaecology, MBBS Bachelor of Medicine and Bachelor of Surgery
Some worm infestations and vaginal infections seem to be there. Better consult your doctor in person.
Hi Lybrate user, For better & healthy hairs follow some ayurveda tips - -Ayurvedic Oils to Give your Scalp a Hot Oil Massage. -Hair becomes more prone to breakage when it is wet. So, you must avoid combing your just after a bath. - take atleast 7 hours sound sleep in night, avoid day sleep. It is during sleep that most of the tissues are regenerated and rejuvenated. - avoid using hot water to wash hairs. - Anuloma viloma pranayam is also useful for healthy hairs. - take natural calcium suplements, avoid hot air hair blower to dry your hairs. You can consult online for better guidance & medicines.
1
person found this helpful
View All Feed
Near By Clinics