About
Our medical care facility offers treatments from the best doctors in the field of Cosmetologist, Dermatologist.We are dedicated to providing you with the personalized, quality health care...
...more
Our medical care facility offers treatments from the best doctors in the field of Cosmetologist, Dermatologist.We are dedicated to providing you with the personalized, quality health care that you deserve.
More about UC Skin Glow Clinic
UC Skin Glow Clinic is known for housing experienced Dermatologists. Dr. Vikash Mahla, a well-reputed Dermatologist, practices in Jaipur. Visit this medical health centre for Dermatologists recommended by 101 patients.
Timings
Location
F-109, Behind MTS Tower, In Front of Mini Punjab Dhaba, Amrapali Circle
Vaishali Nagar
Jaipur,
Rajasthan
-
302021

Get Directions
Doctor in UC Skin Glow Clinic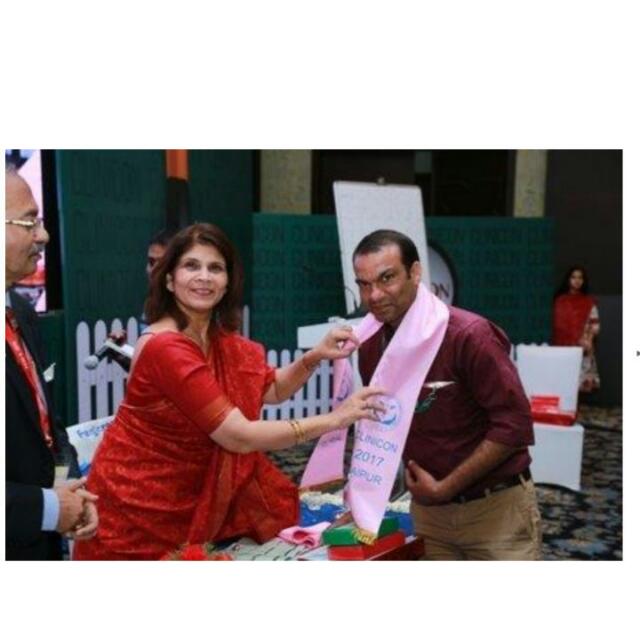 MBBS, Md ,Skin And Vd
Dermatologist
Submit Feedback
Submit a review for UC Skin Glow Clinic
Your feedback matters!
Write a Review
Patient Review Highlights
"Professional"
1 review
Reviews
Verified
Feb 5, 2018
V true and good counselling
Verified
Feb 5, 2018
V best and economic
User
Mar 9, 2018
I must say he is very humble person. He thoroughly understood my problem and provided me the best treatment which showed great effect. I am very satisfied with the provided treatment.
Ishu
Oct 8, 2018
I tried at many places but got best TT by dr Vikas mahla
Tanu
Oct 13, 2018
V v economic and effective treatment
Rajneesh
Oct 16, 2018
Good counseling and treatment
Preeti
Apr 12, 2018
V satisfaction and economic
Verified
Mar 13, 2018
Good place and economic
Preeti
Oct 8, 2018
Very very useful
Surendra Singh
Oct 11, 2018
V satisfied
Aliya
Jun 8, 2018
V amazing
Dinesh Sihag
Nov 14, 2018
Very friendly environment...... Best diagnosis and world class treatment......feeling treated in just a day
Ravi
Nov 15, 2018
Totally satisfied and v economic treatment
Aasha
Nov 22, 2018
Got relief in two sessions
Sakshi
Oct 27, 2018
Highly recommended by me
Vishnu Tyagi
Oct 25, 2018
Satisfied completely
Ragini
Nov 15, 2018
V v humble person
Kailash Gora
Nov 11, 2018
V v friendly
Surendra Singh
Dec 2, 2018
V satisfied
Raju
Nov 28, 2018
Satisfy
Feed
Shared 4 months ago • Featured Tip
Acne is a skin condition that leads to breakouts like pimples and other eruptions on the skin, including white heads and black heads. In very severe conditions, an acne breakout may come with pus filled boils too. An acne breakout happens due to various reasons. Inflammation of an infected sebaceous gland leads to this breakout. This infection and consequent inflammation can take place due to hormonal changes, poor diet, as well as high testosterone levels and polycystic ovarian syndrome (PCOS). Dirt and grime that clog the pores and dead cells that have not been washed off properly can also cause these breakouts. So what kind of skin care regimen can you have in order to prevent acne? Read on to know more.
Cleaning Acne Prone Areas: You must wash the acne prone areas with soap and warm water at least twice a day. If your case has been very severe in the past, you can even use a medicated soap to wash the neck, shoulders and back as sometimes, acne spreads to these areas as well. Concentrate on the face and remember to clean it to remove dust, grime and other irritants that come from pollution. If this is not done on a regular basis, the particles can block the pores and lead to infection where the dead skin cells play a major role.
Make Up: If your skin is acne prone, you can use non oily make up or avoid it on a daily basis, if you can. Non oily make up does not irritate the sebaceous glands, which can end up secreting excessive oil leading to acne breakouts. Non oily make up and skin care products are known as non comedogenics which do not clog the pores. Also, you must remember to remove your applied make up carefully before you go to bed so that the pores are clean and get a chance to breathe rather than getting infected. Further, your old make up needs to be thrown out regularly even if the products do not come with an expiry date. Invest in new make up every few months and clean your brushes regularly too.
Sweat: After a particularly intense work out session or after a run, you must remember to wash you face and take a shower so that the sweat and oil is can be removed, as these lead to breakouts if they are allowed to gather on the skin's surface and enter the pores.
Taking care of your skin with a proper cleaning and hydrating routine is as important is getting the right nutrition as well.
7
people found this helpful
Shared 6 months ago • Featured Tip
There are so many reasons people get inked. For some, a tattoo is a form of expression for other, a reminder of incidents and people. Since a tattoo is permanent, it needs to be carefully thought about. Today, you may think having your girlfriend's name inked onto your skin is a way of declaring your love but what if tomorrow, you break up. Ex lovers names are probably the most common tattoos that people ask to be removed. Yes, tattoos can be removed but it isn't as easy as it sounds.
What makes a tattoo permanent is the depth the ink permeates to. Unlike writing on your skin with a pen, ink in a permanent tattoo is placed in the dermis. This layer of skin lies under the epidermis and cannot be easily accessed. Thus using a cream or ointment will not help you remove a permanent tattoo. It may help bleach the pigment slightly but will scar your skin leaving the area looking worse than it was before. Using an acid to remove tattoos is also not advisable as this will scar the skin.
The only way to effectively remove a tattoo without scarring is with laser treatment. The laser penetrates the skin and breaks up the ink particles. This makes the body's immune system recognize the ink as alien elements and removes them through the lymphatic system. This leaves the rest of your skin undamaged. Laser treatment to remove a tattoo is not a onetime procedure and may need to be repeated a number of times depending on the number of colours, size of tattoo and quality of ink used.
A single laser cannot be used to treat all the colours in your tattoo. Lasers of different wavelengths are used to remove different colours. Thus, the more colours in a tattoo, the longer it will take to be removed. In some cases, even with laser treatment, the tattoo cannot be completely removed and a shadow may remain. Fluorescent colours are the most difficult to remove. Contrary to popular belief, black and red pigments are the easiest to remove. Laser treatment can also be used on any skin colour though it may take a few extra sessions to remove tattoos on dark skin. The location of your tattoos also plays a great role in determining how easy it will be to remove. The closer the tattoo is to your heart, the better the results.
In most cases, removing a tattoo takes 5-12 laser treatment sessions. This can take from 6 to 12 months as the dermatologist will probably ask you to wait a month between sittings. Each laser treatment session is expensive and hence removing a tattoo is much more expensive than getting one. Hence, think before you ink.
In case you have a concern or query you can always consult an expert & get answers to your questions!
3
people found this helpful
Shared 9 months ago • Featured Tip
The word surgery has always been associated with the use of scalpel. However a new form of surgery called the laser surgery has developed, which instead of using the orthodox method uses laser to cure the infirmity. In this form of surgery, laser tuned to specific wavelengths, is emitted on the concerned area with the purpose of vaporizing the tissues that have high water content for the purpose of rectification. It is commonly used in:
Dermatology and plastic surgery
Eye Surgery
Endovascular surgery
Foot and ankle surgery
Oral and Dental Surgery
Though the technique involves risks, it has over the years gained immense popularity due to multiple reasons. Few among them are:
Provides immediate results. This is one of the main reasons why laser surgery is preferred to conventional methods. Commonly used in the eye, laser surgeries result in significant improvement in vision, allowing the concerned person to do away with the dependence on spectacles.
Precision involved. Using the laser instead of the scalpel allows the method to be more precise and effective than the traditional method. Minimum damage is done to the tissue as there are smaller cuts involved.
Less time. Due to the technique used, the time involved in laser surgeries is reasonably less, providing more time for recuperation than what is generally allowed in the traditional methods.
Provides more career options and opportunities. The laser surgery, owing to its technique, offers corrective measures which the traditional method does not. This aspect of the surgery allows the patients to consider and explore other professions which were previously not possible. Professions like air force and the army have stringent rules regarding the vision of the candidates. Laser surgery which provides an individual the freedom to operate without glasses and contact lenses also allows him or her to consider such professions.
In case you have a concern or query you can always consult an expert & get answers to your questions!
6
people found this helpful
Shared 11 months ago • Featured Tip
The small, red itchy spots that appear on your skin during the hot summer months or after contact with hot temperatures are known as prickly heat, and cover areas of your body such as the neck, back, face, thighs and chest.

So, what causes this form of skin rash?
Prickly heat typically occurs when you sweat excessively, such as usually in a hot and humid environment. The heavy sweating along with the bacteria present on the skin and the dead skin cells causes the blocking of sweat glands. This results in the buildup of sweat underneath your skin and the characteristic bumps that you see. When these bumps burst open to release the sweat that is buildup within, it causes a prickly sensation, giving it its name.
Certain factors can also increase your chances of contracting prickly heat like:
Being obese or overweight
Sitting too close to a fire or heater
Being dormant due to illness
Wearing too much clothing
How to prevent it?
Heat rashes usually clear up on its own if the affected spot is kept clean and dry. However there are certain things that you can do to prevent it and these are:
Staying away from excessive heat and humidity - Heat and humidity are the main causes of heat rash. They cause you to sweat more alongside a worsening of your rash. Sitting in a shade or keeping yourself hydrated is the best way to prevent prickly heat rash from occurring.
Selecting the right clothes - Wearing cotton clothing in hot temperatures is one of the best ways to keep heat rash at bay. Cotton being a natural fiber doesn't trap the heat, compared to nylon and polyester fabrics.
Keeping the skin hydrated - Keeping your skin cool by sitting under the fan or in an air-conditioned room is another way of preventing itchy skin rash from occurring.
Avoid strenuous physical activity - Keeping yourself away from the strenuous physical activity of any kind can help in preventing excessive sweating. If you have to indulge in strenuous workouts, keeping yourself hydrated is a must to avoid instances of dehydration.
In case you have a concern or query you can always consult an expert & get answers to your questions!
10
people found this helpful
Shared 1 year ago • Featured Tip
Chemical peeling is a skin treatment which involves the peeling of the old skin and its replacement by a new layer of skin. It is generally done on the face, neck or arms and the process involves the application of a chemical solution over the skin in order to improve the overall appearance. The chemical peeling process is generally used to treat common skin disorders like - acne, wrinkles, scars, and such others.

Common uses

The chemical peeling process is mostly used to treat skin ailments in general. Some of the most common uses of a chemical peeling are as follows:
Reducing fine lines on the face
Curing and preventing certain types of acne
Removing light to mild scars
Treating wrinkles on the face
Healing damages caused due to sun burns
Reducing age spots, dark patches and freckles on the face
Improving the softness and overall quality of skin
What should you keep in mind before opting for a chemical peel?

A chemical peel is a huge step towards the treatment of your skin, thus, you should always consult a dermatologist before actually opting for a chemical peeling process. It is a highly recommended measure because chemical peeling in some cases might not suit your skin. So, a complete skin diagnosis by a doctor helps to minimize the possible side effects related to the chemical peeling process. In general, this process is preferred in cases of people having a fair toned skin accompanied by a light hair growth. Before you get a chemical peel done, your doctor might just examine your medical history in order to stop certain medications that you are taking currently. Additionally, the doctor might also prescribe you certain medications, such as Retin-A, Renova, or glycolic acid to boost up the peeling process. The doctor may also prescribe antibiotics or antiviral drugs to ensure that the process is not having any side effects.

How is it actually done?
Chemical peels
are usually done after a proper cleansing of the skin and then choosing the appropriate type of peel to suit your skin type. After cleansing of the skin the doctor usually applies a chemical solution such as glycolic acid, trichloroacetic acid,
salicylic
acid,
lactic
acid, or carbolic acid (phenol) - to small areas of your skin. The peeling process usually lasts for a few minutes and the chemical helps in making controlled wounds on the skin in order to damage the old skin and allow the new skin to grow.
In case you have a concern or query you can always consult an expert & get answers to your questions!
10
people found this helpful
Shared 1 year ago • Featured Tip
The market is replete with various facial scrubs that are favoured by men and women of all ages. These are especially helpful if you are facing dust and pollution every day, or are exposed to the sun for prolonged hours. Using facial scrubs is a form of exfoliation that helps in rubbing the granules into the skin so as to remove dead cells and give the skin a more supple tone. Yet, too much use of facial scrubs can also lead to a variety of skin troubles. So, how can you tell if you are overdoing our facial scrubbing routine?
Redness and Peeling of the Skin: When you over exfoliate or use facial scrubs too often, you may find redness on your skin due to the constant abrasive action. Also, you may experience too much of skin peeling and flaking due to the same reason, instead of a mere clean up of the dead skin cells. In such cases, you will need to halt your process of constant buffing.
Products with Green Tea Extracts: Using tea tree oil or green extracts can help in better exfoliation with a gentle action on your skin. This can soothe the skin and even prevent skin cancer, as per a variety of scientific and medical studies. Licorice root extract as well as cucumber based scrubs can also help in making the skin softer.
Inflammation: Inflammation is another sign that you may be overdoing your facial scrubbing routine. You can use a scrub with bisabobol which usually comes from Chamomile. This can help in reducing inflammation due to constant exfoliation and facial scrubbing.
Scrubbing Gear: Using a washcloth to clear away those dead skin cells or a scrubber or brush can turn out to be too harsh for your soft facial skin to handle. You must restrict the use of these tools to about once a week so that your skin does not get too dehydrated or wear a scrubbed look which does not have a glow.
Testing a New Product: Test a new scrub over a small patch of your skin before using it to watch out for tell tale signs like rashes or other eruptions. Also, when you are using a seed or dry fruits based scrub, you must limit the use and not rub it around the delicate areas of the eyes and mouth so that the skin does not get rubbed too much, which can leave it loose.
Using facial scrubs should be limited and used only when you feel like there is too much build up of dirt and grime. If you wish to discuss about any specific problem, you can consult a Dermatologist.
2607
people found this helpful
Shared 1 year ago • Featured Tip
3
people found this helpful
Near By Clinics
4.5
(

197

ratings)
Vaishali Nagar, Jaipur,
jaipur
View Clinic