About
Our medical care facility offers treatments from the best doctors in the field of Ayurveda, Ayurvedic Specialist.We are dedicated to providing you with the personalized, quality health ca...
...more
Our medical care facility offers treatments from the best doctors in the field of Ayurveda, Ayurvedic Specialist.We are dedicated to providing you with the personalized, quality health care that you deserve.
More about PILES & PAIN MANAGEMENT
PILES & PAIN MANAGEMENT is known for housing experienced Ayurvedas. Dr. R.N. Yadav, a well-reputed Ayurveda, practices in Jaipur. Visit this medical health centre for Ayurvedas recommended by 52 patients.
Timings
Location
No.40, Vivek Vihar, Nandpuri, Near Shiv Mandir, P.O. Malviya Nagar, Jagatpura
Jagatpura
Jaipur,
Rajasthan
-
302017

Get Directions
Doctor in PILES & PAIN MANAGEMENT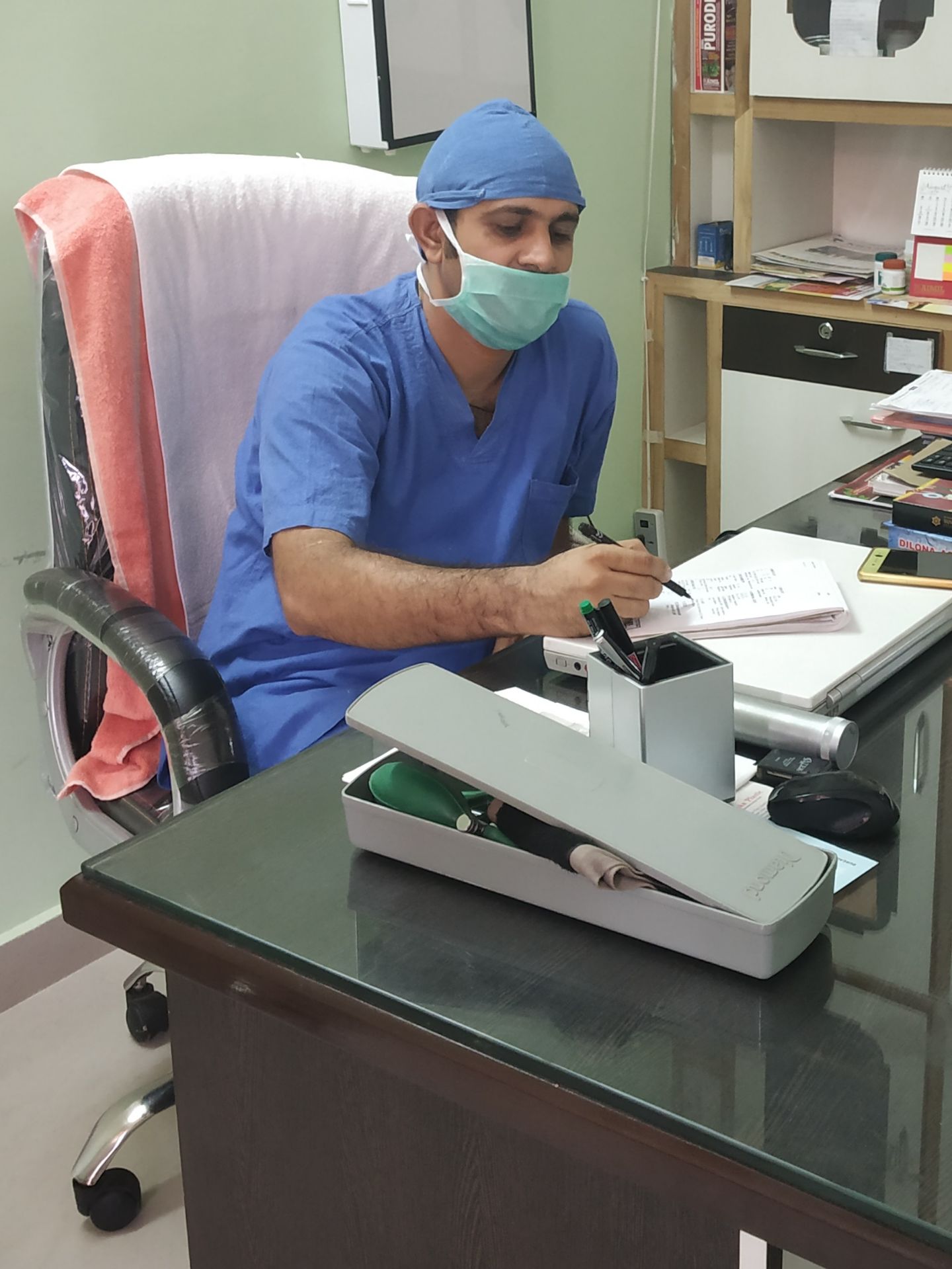 BAMS, MS - Ayurveda
Ayurveda
Book appointment and get ₹125 LybrateCash (Lybrate Wallet) after your visit
Services
Submit Feedback
Submit a review for PILES & PAIN MANAGEMENT
Your feedback matters!
Write a Review
Patient Review Highlights
"Prompt"
1 review
"Thorough"
2 reviews
"Practical"
1 review
"knowledgeable"
4 reviews
"Sensible"
1 review
"Very helpful"
5 reviews
PILES & PAIN MANAGEMENT Reviews
Amita Poswal
Aug 8, 2018
Very professional and caring doctor. Got relief from the problem. He also advises certain exercise and life style changes auditoriums quite helpful.
Lakshman
Aug 5, 2018
Excellent services with total dedication. Real professional approach to the problem and treated well.
Lovely
Aug 12, 2018
Very Reliable and Economical.
PILES & PAIN MANAGEMENT Feeds
Ayurveda is a renowned life science that has been credited with changing lives since ancient times. Not only can it prevent diseases and ailments, but it can also cure them with its combination of herbal medication, everyday routine and yogic poses.
Weight management is a field that also enjoys various Ayurvedic remedies. Some of them are as follows.
- Herbs: Herbs are a way of healing used by Ayurveda, and the use of various herbs can help in hastening the metabolism for healthy weight management.
- Taste: Ayurveda recognises six distinct tastes that should be incorporated into one's daily diet. These tastes include salty, pungent, sour, sweet, bitter and finally, astringent. Each of these tastes has several properties that balance the various hormones and health factors in one's body. These tastes form the various counterpoints to alleviate all kinds of health problems, which finally help in effective weight management. Also, one must eat all the seasonal fruits and vegetables to keep the body and hormones in good balance.
- Exercise: While a daily routine of exercise is a must in any life science, Ayurveda too propagates the devotion of at least 45 minutes to one hour towards some form of exercise. Walking is said to be the most important and effective forms of exercise, followed by several yoga poses that can help in better weight management. Also, as per Ayurveda, it is important to move after each and every meal, so that a routine of eating and activity is built into the system.
- Sleep: Ayurveda recognises sleep or rest as one of the most important aspects of a healthy lifestyle. While good eating habits and exercise form one side of it, sleep or rest completes the triangle. One can also practice the Savasana or resting pose for a period of rest. And at least six to seven hours of sleep is a must as per Ayuveda.
- Meditation: This practice helps in focussing the awareness which can instil the desired function like weight management in the body. Being mindful of what your body needs can also help in eating and exercising right.
Weight management is a lifelong process in Ayurveda.
3355
people found this helpful
Nightfall is normal procedure so don't worry about it,this is due to hormonal change,you should change your lifestyle,food habits,mental status,do regular yoga meditation and read good books.use of avala and alovera daily.if you need to take medicine and guidelines counslt me definitely your problem will solved.
1
person found this helpful
Liver is power house of our body, if it is not working properly it's affected to other organ also, in this condition only ayurved medicine is can cure it but in this stage it is deficult but possible. Minimum 1 year need to medicine. If you want to take medicine take aapointmet, medicine will be send by courier.
1
person found this helpful
Acording to w.h o fistifa-in-ano, piles, fisssure, p,sinus are anorectal disease that almost always demands surgical intervention. But even after surgery, the recurrence rates are high. Kshara sutra (medicated threaedic surgy. D therapy) is a simple, safe, effective and minimally invasive para surgical day care procedure for these problems. Thus kshara sutra has been a hallmark of ayurveda surgery.
A number of factors, such as physical ailments, stress, anxiety and even relationship problems can cause sexual problems. Relationship concerns where intimacy and the culmination of the various phases of sexual activity from stimulation to excitement and peak, cannot be possible in a satisfactory manner. So what are the routine sexual problems recognised and treated as per Ayurveda? Read on to know more.
1. Erectile Dysfunction: This condition is also known as impotence and it usually occurs when male patients cannot muster up and retain an erection for long enough to enjoy sexual intercourse. This problem can be fixed with various herbs and condiments including Sanda Oil massage on the testicles and nearby areas in order to increase the blood flow. Also, one can have ginger, honey, drumsticks, milk and other such ingredients for better achievement and retention of an erection for a prolonged period of time during sexual intercourse.
Sanda oil is not available in its pure form and simple branding of this name is not useful. Sanda is a wild reptile, which was boiled in ancient times and fats taken out to make Sanda oil. This is not possible now a days. Instead various 'Tilas' (penis massage oils) prepared by valuable herbs and vegetable oils such as Sesame oil should be used. Tila using Mall (purified arsenic) and egg are also effective. Preparation and use should be as per instructions in classic Ayurveda. Tila is selected as per history, present condition and duration of specific problem
OTC or advertisement products are general products, which do not benefit all. Post application directions are also important otherwise there may be adverse effect of Tila application
2. Premature Ejaculation: Premature ejaculation is a condition when the male patient may face ejaculation as soon as the intercourse begins, or upon insertion. This happens in an unplanned way and is a sudden occurrence that usually puts a damper on the sexual mood and activity. In Ayurveda, there are various herbs including Ashwagandha and a variety of oil massages that can help in treating this problem.
3. Sexual Weakness: Sexual weakness is a condition when the female or male patient may not have the energy to go through with sexual intercourse and may even complain of pain during intercourse. This problem is especially common among women, and may be caused due to fatigue, stress or even low pelvic strength following childbirth or miscarriage. The best way to treat this issue is with the help of proper counselling and therapy that will help in introducing Yogic poses that can strengthen the pelvic area so as to have better sexual strength.
4. Infertility: This problem may be found in both men and women. Ashwagandha, Vasant Kusumakar Ras, Shilajit and Labub Kabir are some of the herbs and concoctions that can help in increasing virility and the chances of conception by creating better sperm quality and quantity, as well as more effective ovulation.
Most of the sexual problems in Ayurveda are recognised as factors that arise from stress and anxiety. These are recognised as temporary issues that can be fixed with the help of a proper routine of eating, resting and exercising, as well as a healthy diet where the patient stays away from smoking, excessive drinking as well as drug abuse. Before taking any herbal medicines, one will have to consult the doctor and find out about side effects for patients suffering from chronic ailments like diabetes, cardiovascular diseases and others.
3200
people found this helpful
Obesity has emerged as one of the most common and serious health problems today, affecting all and sundry. Children, in particular; are the worst affected. Obesity is an amalgamation of sedentary lifestyle, unhealthy eating habits and certain medical conditions. If neglected, it can create havoc. Diabetes, high blood pressure and hypertension are some of the major health complications that obesity can lead to. Thus, one needs to control and check this menace at the earliest. Maintaining a healthy body weight is the best way to control obesity. Many surgical and non surgical options are available to lose weight. Weight loss the Ayurvedic way is not only effective, but 100% natural.
Ayurvedic tips for weight loss
The following Ayurvedic tips, if practiced diligently, can give you a lot to cheer about. For an effective treatment, one needs to understand their body type well. Ayurveda classifies people in two categories. People of the Vata Type (more of ember and air in their system), those who can eat like a glutton and yet have a figure to die for. On the contrary, people having more of earth and water in their system (Kapha Types) can put on weight at the drop of a hat.
Exercise your way to fitness: The benefits of exercise are immense. Start your day with a 30-45 minute exercise to feel the difference. Jogging or brisk walking will be very beneficial. It will give you the extra zeal to fight the unwanted fats in your system.
Yoga and pranayams: Our body is made up of seven chakras. Proper activation and functioning of the chakras are important to enjoy sound health. Yoga and pranayams are instrumental in activating these chakras. Meditation also rejuvenates a person mentally and physically. A sound mind and body positively responds to the various Ayurvedic weight loss programmes.
Healthy Sleeping Habits: Early to bed and early to rise can indeed make a person, healthy, wealthy and wise. People with unhealthy sleeping habits are more likely to be obese. Work is important, but not at the expense of one's health. A 10.30 pm-4.30 am sleep schedule is highly recommended.
Eat healthy: Unhealthy eating habits contribute significantly to obesity. It should be noted that starving will do you more harm than good. A healthy practice is to have small meals at regular intervals. Do not keep your stomach empty. Reduce the carbohydrate and fat intake. Include lots of vegetables, fruits, lean fish, and low fat dairy products in your diet. Ayurvedic medicines like, Triphala churan, guggulu, Triushanaadi loha, shilajit, swarnmakshik bhasm and Medhohar guggul are very effective. However, these medicines should be taken under medical supervisions.
Avoid sedentary lifestyle: Try and avoid a sedentary lifestyle as much as possible. If your work requires you to sit for a long period of time, a short break every one hour can prove to be beneficial.
Panchkarma treatment like lekhan Basti, Dry Abhyang, swedan, Lepa, Deep heat therapy can help in weight loss.
Ayurveda goes a long way to keep obesity and the associated health complications at bay.
The fast pace of modern life and sedentary work lives are affecting the physical health and posture of most people. As a result, persistent issues of back pain and slipped discs have emerged in the public health discourse. Health experts note that age remains a prime factor behind such health conditions; however, smoking and the consumption of alcohol can also aggravate these conditions in most people. In addition, obesity and excess body weight can trigger back pain and slipped disc.
Symptoms of slipped discs
Slipped discs manifest themselves in shoulder pain and uneasiness in the neck and arms. Patients that suffer from this condition also experience numbness in the upper arm. Back pain remains the primary symptom of this problem and tends to worsen at night. Also, patients may experience muscle weakness at night and a sensation of burning pain in the affected area. Advanced stages of slipped discs make it impossible for patients to walk short distances.
Conventional treatment
Medical intervention seeks to diagnose the symptoms and relieve the discomfort caused by slipped discs. Doctors also recommend methods to prevent recurrence. Conventional allopathic treatment advocates the use of painkillers or traction. This line of treatment can trigger side effects; in certain cases, treatment may not meet with much success.
The benefits of opting the Ayurvedic way
Ayurvedic treatments can help patients to avoid surgery. This form of traditional Indian medicine is safe and effective for patients of all age groups. The treatment is 100% natural and therefore, it does not cause any unwanted side effects or discomfort in the body. Ayurveda stresses on holistic healing; the practitioners of Ayurveda often create a detailed treatment plan for all patients that seek their help. However, patients must be advised to take consultations from a trained medical practitioner.
Resort to Ayurveda for a complete cure-
Patients can seek Ayurvedic treatments because these offer a tangible alternative for the treatment of prolapsed discs. According to Ayurveda, slipped disc problems may be triggered by the imbalance of the Vata element in the human body. Ayurvedic treatment targets this imbalance, and helps restore the basic function and strength of the healthy human body. Ayurvedic treatment also targets weaknesses in the lower part of the body.
Ayurvedic medications comprise herbal tablets, capsules, decoctions, and oils. These applications remain very effective in providing relief to patients suffering from mild to moderate back pain and the associated symptoms of slipped discs.
Patients suffering from chronic back pain with severe intensity may be required to undertake Ayurvedic therapies like Swedana or Sudation therapy. Abhyanga therapy can also be applied through the use of medicated oils. Shodana therapy, which helps to detoxify the body, is also a recommended course of treatment. These interventions are used to heal the nerves so that the symptoms of a herniated disc and muscular spasms are alleviated.
Ayurvedic treatments such as Basti chikitsa, Kati basti, Pneuropanchkarma can help to treat slip disc problem.
If the back pain has been a nagging concern for a while now, it is time, you consult an Ayurvedic practitioner, and take the way to complete recovery from the pain.
3274
people found this helpful
Sir you have chronic ACIDITY and indigestion problem, for this you should change your lifestyle, take more water in empety stomach, avoid junk food, spicy food, dahi ,chach. Take more fibrous food, fruits,vegitables. Regular take avala, alovera,giloy etc. More information take appointment.
1
person found this helpful