Personal Statement
Our team includes experienced and caring professionals who share the belief that our care should be comprehensive and courteous - responding fully to your individual needs and preferences.
...more
Our team includes experienced and caring professionals who share the belief that our care should be comprehensive and courteous - responding fully to your individual needs and preferences.
More about Dr. Hemlata Shrivastava
Dr. Hemlata Shrivastava is a trusted Ophthalmologist in Wright Town, Jabalpur. She has helped numerous patients in her 44 years of experience as a Ophthalmologist. She has done MS - Ophthalmology . She is currently practising at Dr. Hemlata Shrivastava Clinic in Wright Town, Jabalpur. Save your time and book an appointment online with Dr. Hemlata Shrivastava on Lybrate.com.

Lybrate.com has a nexus of the most experienced Ophthalmologists in India. You will find Ophthalmologists with more than 39 years of experience on Lybrate.com. You can find Ophthalmologists online in Jabalpur and from across India. View the profile of medical specialists and their reviews from other patients to make an informed decision.
Info
Education
MS - Ophthalmology - Jabalpur University - 1974
Languages spoken
English
Hindi
Location
Book Clinic Appointment with Dr. Hemlata Shrivastava
Services
Submit Feedback
Submit a review for Dr. Hemlata Shrivastava
Your feedback matters!
Write a Review
Feed
Nothing posted by this doctor yet. Here are some posts by similar doctors.
Shared 2 months ago • Featured Tip
आँखों का हमारे चेहरे पर ख़ास महत्व है. हो भी क्यों नहीं आखिर इन्हीं आँखों से तो हम इस दुनिया को ठीक से अनुभव करते हैं. आँखें हमें देखने में मदद करने के साथ ही हमारे चेहरे की सुन्दरता को भी बढ़ाने का काम करते हैं. इसके अलावा आँखों और चेहरे के हाव-भाव से कई भंगिमाओं को व्यक्त किया जा सकता है. इसलिए आँखों की देखभाल की भी आवश्यकता है. आँखों के नीचे होने वाले कालापन आपके चेहरे के सौन्दर्य को प्रभावित करता है. सबसे पहले तो आप इसे समझिए कि आखिर आँखोंन के नीचे कालापन होता क्यों है? लेकिन यदि ये हो भी गया है तो आपको इसे इग्नोर करने के बजाय इसके उपचार की विषय में सोचना चाहिए. आँखों के नीचे बनने वाले ये डार्क सर्कल आपके स्वास्थ्य के बारे में भी सूचना देते हैं. इसलिए आइए इस लेख के माध्यम से हम आपको आँखों के नीचे के कालापन को दूर करने के लिए कुछ उपाय बताएं.
टमाटर है उपचार
टमाटर का इस्तेमाल हमलोग सब्जियों और सलादों को स्वादिष्ट बनाने में खूब करते रहे हैं. आपको ये जानकार हैरानी होगी कि टमाटर आपके आँखों के नीचे के डार्क सर्कल को दूर करने के लिए भी बहुत उपयोगी है. यही नहीं टमाटर के इस्तेमाल से त्वचा भी कोमल और ताज़ी बनी रहती है. यदि आप टमाटर का इस्तेमाल और कारगर तरीके से करना चाहते हैं तो इसमें नींबू की कुछ बूंदें डालकर इस्तेमाल करें.
आलू के इस्तेमाल से
आलू की सब्जी तो सबने ही खायी होगी क्यों सब्जी में आलू बेहद कॉमन है. लेकिन इसका औषधीय इस्तेमाल भी है. आलू की सहायता से आप अपने डार्क सर्कल्स को दूर कर सकते हैं. इसके लिए आपको आलू का रस निकालना होगा. इसके बाद आलू के इस रस में नींबू की कुछ बूंदें मिलानी होंगी. फिर इसे रुई से धीरे-धीरे आँखों के नीचे काले घेरों पर लगाएं. ऐसा करने से ये घेरे समाप्त हो जाएंगे.
टी-बैग्स की सहायता से
टी-बैग्स का इस्तेमाल केवल चाय पिने के लिए ही नहीं बल्कि इसकी सहायता से कई अन्य काम भी किए जा सकते हैं. इन्हीं में से एक है आँखों के नीचे से काले धब्बों को खत्म करने में इसका इस्तेमाल. इसके लिए आपको टी-बैग को कुछ देर पानी में डुबोकर रखना होगा. उसके बाद इसे कुछ देर तक फ्रिज में ठंडा होने के लिए रखें. फिर इसे निकालकर आंखों पर रखकर लेट जाएं. करीब 10 मिनट तक नियमित रूप से ऐसा करने से लाभ मिलता है.
कच्चे दूध की मदद से
कच्चे दूध के इस्तेमाल से भी आँखों के नीचे के कालापन को दूर किया जा सकता है. कच्चे और ठंडे दूध की मदद से आप आंखों के नीचे का कालापन प्रभावी तरीके से दूर कर सकते हैं. इसके लिए पहले तो आपको कच्चे दूध को ठंडा होने के लिए रखना होगा फिर सूती कपड़े की सहायता से इसे आँखों के नीचे लगाना होगा. यदि आप दिन में दो बार ऐसा करें तो इससे आपको निश्चित रूप से फायदा होगा.
कारगर हैं संतरे के छिलके
संतरे के छिलके का इस्तेमाल कई तरह से सौन्दर्य प्रसाधनों के रूप में किया जाता रहा है. इसका इस्तेमाल आप आँखों के नीचे के काले घेरे को दूर करने के लिए भी कर सकते हैं. इसके लिए आपको सबसे पहले तो संतरे के छिलकों को धुप में सुखाकर पिसना होगा. फिर इसमें थोड़ी सी मात्रा में गुलाबजल मिलाकर इसे काले घेरों पर लगाएं. कुछ दिनों तक ऐसा करने से काफी लाभ मिलेगा.
क्या हो सकते हैं कारण
डार्क सर्कल होने के पीछे कई कारण हो सकते हैं. कई बार बहुत अधिक तनाव लेने की वजह से आंखों के नीचे काले घेरे बन जाते हैं. इसके अलावा कम सोने, हार्मोन्स में परिवर्तन होने, अव्यवस्थित लाइफस्टाल होने या फिर हेरेडेट्री होने की वजह से भी आंखों के नीचे काले घेरे बन जाते हैं.

4
people found this helpful
Shared 2 years ago • Featured Tip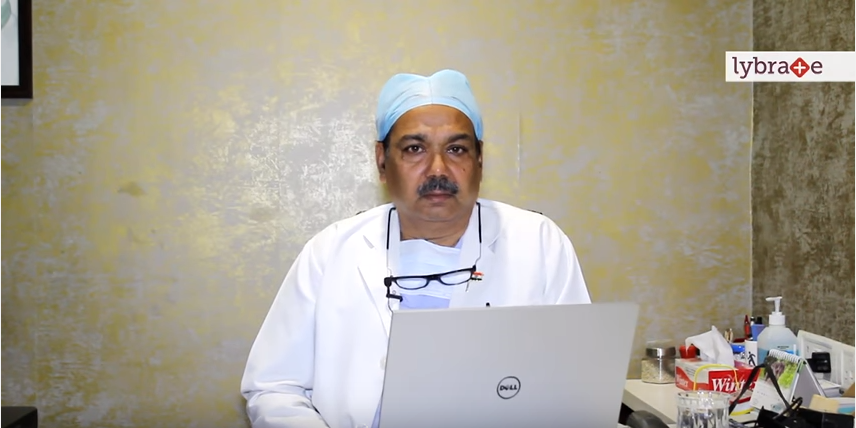 Here are some ways to care for your eyes
Namaskar i am Dr. S Bharti, founder and senior consultant in Bharti eye Foundation and Hospital. We have two centers one in east Patel Nagar and the other in greater kailash one and we provide very high quality eye care services and that is why both our centers are NABH accredited. Here I want to share some facts about the eye care basically for general public.
The first fact which I want to emphasize is the examination of the eye for a child should be done at the age of three years before the child enters the school so this is very important because some some of the times or most of the times the child is not able to tell you as to whether is or she is not seeing so well and only when the eye is examined at the age of three years. The parents come to know that the child has weak eyes the possibility of a child having a week eye is more in children whose parents are also having week eyes but in any case it is important to have the eye checkup for a child at the age of three years before going to the school.
The second fact which I want to emphasize is that today majority of people require computer in their routine work and there is an entity called computer vision syndrome. This computer vision syndrome is because when you are working on a computer your eye tends to blink less than normal and they can tend to get dry so it is very important to follow a room where you blink your eye. Every 20 seconds whenever you remember you get out of the area where you are working on the computer after every 20 minutes take your eyes off the computer after 20 minutes and also most of the times you will require to put some lubricant eye drop and working on the computer for a long time.
the third important thing is the cataract is not a disease it is a phenomena which happens with age. everybody will develop cataract if they live long enough sometimes the cataract start at the age of 50. For others the cataract may not start even at the age of 75 so you it is not that certain age you will definitely have cataract but there are changes which will happen to your lens and it will get opaque and that is what is called cataract and there is no medical treatment for cataract. It has to be removed and another lens has to be implanted in the eye for the treatment of cataract.
Thank you very much you can get in touch with me on lybrate.com. thank you.
3415
people found this helpful
Asked for female, 32 years old from Jaipur
Do the cat/cow stretch. Get on all fours, with your arms straight and your hands directly under your shoulders; your knees hip-width apart.
1
person found this helpful
Asked for male, 22 years old from Varanasi
Hello. There is no medication or food for improving eye sight or to get rid of glasses. Get your vision tested and wear glasses. If not interested in glasses then you can try contact lens or lasik as your age is now 20 years so your number will not increase now whether you wear glasses or not as number becomes stable at age of 18-20 yrs. Having said that I advise you to eat balanced diet including green vegetables and seasonal fruits for keeping eyes and body healthy.
1
person found this helpful
Shared 2 years ago • Featured Tip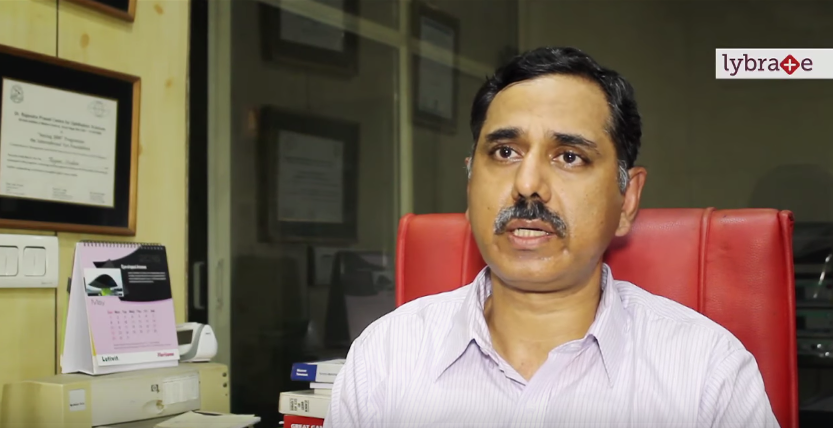 Here are some tips to manage cataracts
Tips to manage Cataracts
Hi! I'm Dr. Rajeev. I'm a Senior Consultant in Glaucoma Cataract and Defect Surgery.
Today, I'm going to inform you about Cataracts. Cataract is a condition wherein, there is a opacity in the normal crystalline lens.
The normal lens of the eye is transparent. Any opacity in the eye is called as cataract. Cataract is a word derived from an Egyptian word which means water fall. The fogginess of the waterfall is what a cataract means.
The most common cataract that we come across is called as senile cataract. It is easily treated. The cause of easily treated cataract is multifactorial. There is no single cause attributed to the cataract.
All cataracts may not be operated. Any cataract that affects the normal visual functioning is to be operated. There is no medical treatment for the cataracts.
Cataracts can easily be treated with surgery which is called as phacoemulsification or which involves giving a small incision in the cornea, in cornea and in which we cut and suck the cataract with the help of a pro and implant a lens in the space. It can be done under topical anesthesia or without injections and the patient starts seeing within the days' time.
Post operatively, some medications are prescribed some medications are given which need to be taken for two to four weeks. Glasses can be prescribed after four weeks and you can resume your normal functioning within a day's time.There are special lenses; there are wide range of lenses available for cataract surgery. This can be spherical, toric and multi-purpose lenses.
You can discuss it with your doctors depending on your need, he'll prescribe what you want and if you want any further information about cataract, you can talk to me on Lybrate or you can search me online through Lybrate.


3780
people found this helpful
Asked for male, 20 years old from Hyderabad
Diet for EYESIGHT Lutein and zeaxanthin are both important nutrients for eye health, 6 as both of them are found in high concentrations in your macula—the small central part of your retina responsible for detailed central vision. More specifically, lutein is also found in your macular pigment – known for helping to protect your central vision and aid in blue light absorption—and zeaxanthin is found in your retina. Estimated daily dose of lutein is 10 mg per day, and at 2 mg/day for zeaxanthin. Both lutein and zeaxanthin are primarily found in green leafy vegetables, although zeaxanthin is far scarcer than lutein. Kale and spinach are two of the most lutein-rich foods, but you'll also find it in carrots, squash, and other orange and yellow fruits and vegetables. Both lutein and zeaxanthin are carotenoids called xanthophylls, which give plants and vegetables their yellow-orange color, and the name" lutein" comes from the Latin word" luteus, which means" yellow. If you remember this, it may help you pick out vegetables that are likely to contain higher amounts of these two nutrients. Egg yolk is another source of both lutein and zeaxanthin that is well absorbed by your body Most of the dark green leafy vegetables, previously recommended for a higher intake of lutein and zeaxanthin, have 15-47 percent of lutein, but a very low content (0-3 percent) of zeaxanthin. Study shows that fruits and vegetables of various colors can be consumed to increase dietary intake of lutein and zeaxanthi It is also important to note that lutein is an oil-soluble nutrient, so if you eat the vegetables without some oil or butter your body can't absorb the lutein. Adding a little bit of healthy fat, such as olive oil, coconut oil, or raw organic butter, will maximize your lutein absorption. Lutein content in food FoodMg / serving Orange (Raw)0.2/1 large Egg0.2/1 large Spinach (cooked)20.4 / 1 cup Papaya (Raw)0.3/1 large Turnip greens (cooked)12.2 / 1 cup Green peas (cooked)4.1 / 1 cup Spinach (raw)3.7 / 1 cup Corn (cooked)1.5 / 1 cup Broccoli (raw)1.3 / 1 cup Broccoli (cooked)0.8 / 1/2 cup Green beans (cooked)0.9 / 1 cup.
1
person found this helpful
View All Feed