About
Our entire team is dedicated to providing you with the personalized, gentle care that you deserve. All our staff is dedicated to your comfort and prompt attention as well.
...more
Our entire team is dedicated to providing you with the personalized, gentle care that you deserve. All our staff is dedicated to your comfort and prompt attention as well.
More about Bukharia skin and mind clinic
Bukharia skin and mind clinic is known for housing experienced Dermatologists. Dr. Atishay Bukharia, a well-reputed Dermatologist, practices in Indore. Visit this medical health centre for Dermatologists recommended by 75 patients.
Timings
Location
Near mathurawala & gelda, Kalani Nagar square, aerodrum Road, Indore
Kalani Nagar
Indore,
Madhya Pradesh
-
452001
Photos (2)


Doctor in Bukharia skin and mind clinic

MBBS, MD - Dermatology , Venereology & Leprosy
Dermatologist
Services
Submit Feedback
Submit a review for Bukharia skin and mind clinic
Your feedback matters!
Write a Review
Reviews
Verified
May 19, 2017
He is a having good knowledge of his speciality...
Shri Jain
Jun 21, 2018
Super
Feed
Nothing posted by this doctor yet. Here are some posts by similar doctors.
Make up alone cannot hide your age. To truly look younger, you may want to shift your focus on anti-aging products and techniques, which are available in plenty of options. However, most people have a fixed mindset that all anti-aging products are expensive while it is not necessarily true.
So, here we have come up with a list of 7 budget friendly anti-aging treatment techniques:
Depending on the issues being addressed and the effects desired, each of these procedures may need to be performed more than once. This will affect the final price and hence it is essential to understand your treatment options completely before getting started with it.
Ayurveda, translated into science of life and longevity, has been practiced in India for more than 5000 years old and has gained worldwide popularity. It uses noninvasive and natural methods and produces minimal side effects and therefore is being widely accepted.
Ayurveda believes that the body is made of pitta, vata, and kapha doshas. Any disease is the result of imbalance between these or predominance of one over the others. Hair loss or alopecia is believed to be imbalance in the pitta dosha. This leads to slower hair growth, weak hair, and greater hair fall rate.
Something that affects image and self-esteem, many would like to cure or at least halt baldness. There are various treatment options that have a dual effect on baldness - reduce hair fall and promote hair growth, thereby providing a holistic treatment for baldness.
Bhringraj Oil (Eclipta Elba): Used since centuries ago, it promotes the normal hair growth cycle in an accelerated way. It activates a large number of hair follicles and therefore regular application is believed to help prevent alopecia (baldness).
Amla (Phyllanthus Emblica): While baldness has many reasons, dandruff is one of the most important and common causes. Amla is added to many hair oil formulations because of its proven effect to reduce dandruff. It acts on the fungi that thrive on the scalp and reduces inflammation of the scalp.
Shikakai (Acacia Concinna): Another very popular herb is the Shikakai. Used as a hair cleansing agent by many people, it is devoid of the chemical effect that shampoos carry. The pods are proven to prevent dandruff and promote hair growth.
Tectona Grandis: Another active ingredient of Ayurvedic formulations, the seeds of Tectona promote growth and development of hair follicles. Large number of follicles are activated, thereby producing thicker, fuller hair.
Cuscuta Reflexa : Another reason for baldness is hormonal imbalance, especially in males. Abnormalities with androgen, the male hormone, can trigger abnormal hair loss. Adding cuscuta has been proven to reverse baldness by promoting a better anagen/telogen ratio where hair follicle maturation happens. In baldness cases, maturation happens only in about 20% of the follicles. Cuscuta activates the follicles and increases follicular density. It also manages the hormonal imbalance by preventing conversion of testosterone into a variant called dihydrotestestone that is believed to cause the damage.
While these and various other substances are believed to reduce baldness and promote hair growth, it is always important to remember that each body will respond differently to these substances. Thorough physical examination and a detailed history should be done before starting any of these products.

Ingrown hair refers to a situation in which a part of the body hair which has been trimmed, shaved or tweezed grows back into the skin in a curled form. This sometimes causes painful and discomforting skin conditions such as swelling, bump formation and chronic pain in the area from where the hair was removed.

This condition is mostly common among people who have very tightly curled hair on their entire bodies. Among men the most affected areas are cheeks, chin and neck. Additionally they can also appear in cases of men who regularly shave their head. In case of women, ingrown hairs in common in areas like armpits, pubic region and legs.

The most common signs of this condition are enlisted below.
1. Small skin bumps (papules)
2. Small, pus-filled, blister-like lesions (pustules)
3. Hyperpigmentation (skin darkening)
4. Long lasting and chronic pain
5. Itching

Causes-
Ingrown hair might also occur if you do the following activities:
1. Pulling your skin while shaving your body hair can give rise to ingrown hair. This in turn allows the shaved hair particles to penetrate back into the skin without growing outwards.
2. Tweezing of hair can also lead to the hair particles to grow inwards instead of growing outwards

Complications-
Some common complications associated with this condition are:
1. Bacterial and fungal infections that usually happen from scratching of the affected area
2. Hyperpigmentation of the skin which involves an abrupt darkening of the skin areas
3. Permanent scarring of the tissue of the affecting skin

MBBS Bachelor of Medicine and Bachelor of Surgery, MD - General Medicine, Certificate Course in Management of Thyroid Disorder, Post Graduate Course In Diabetology
Hormones play a vital role in keeping our mind and body healthy. There are several disorders which are caused by and related to hormonal imbalance i.e. presence of too much or too little of any hormone in the body. They can lead to hair loss or excessive hair growth. Both of these are symptoms as well as effects of endocrine disorders.
Hair growth, either too much or too little, is more than often related to hormonal issues. Some of the most common ones include-
Hypothyroidism: It is a disorder which occurs when there is insufficient production of hormones by the thyroid gland. It leads to the thinning of hair and hair loss. Individuals suffering from hair loss due to hypothyroidism must take medication to optimize hormone production to improve hair growth.
PCOS: Poly Cystic Ovarian Syndrome or PCOS is a disorder seen in women. It is often associated with high levels of male hormone or testosterone in the body. PCOS leads to excess facial hair growth and loss of scalp hair. Controlling PCOS involves bringing about a change in lifestyle, eating healthy and taking medications as prescribed by a gynaecologist or endocrinologist to balance hormone production.
Low Oestrogen Levels in Women: Low level of a reproductive hormone called Oestrogen among women is a leading cause of hair loss in them. Women in their mid and late 40s often face hair growth issues because of an imbalance of this hormone during menopause. Hair growth can be improved during this time by following a balanced diet and ensuring that hair is nourished well. High Cortisol levels: Also known as the 'stress hormone', cortisol is that hormone which is produced by the adrenal glands. Excess stress in life increases the production of the cortisol hormone which triggers hair loss by reducing the production of two important skin elements hyaluronan and proteoglycans which are associated with hair growth.
Hair growth in the human body is regulated by hormone production. Thus, excessive hair growth and hair loss are both mostly related to some hormone imbalance. One must visit an endocrinologist to deal with the root cause of these problems.
Rosacea is a skin condition defined by redness and small, pus-filled red bumps all over the face. The main symptoms of rosacea include
red bumps that are swollen and filled with pus (these are often confused with acne)
visible blood vessels
flushed skin (redness)
thickened skin
Rosacea cannot be cured completely. Its symptoms come and go and is commonly treated with anti-acne medicines or antibiotics. Homeopathy can be a good alternative choice to treat rosacea. Rosacea has multiple symptoms and not all of them show up in a single person. Some may have redness but no visible blood vessels, some may have flushed skin, and so on.
Depending on symptoms, you can adopt the following remedies:
Flushed complexion: If your skin becomes red and itchy after exposure to cold air, then Agaricus muscarius is prescribed. But if the skin is hot and shiny, then Belladonna is employed.
Flushed complexion with acne like bumps: One form of rosacea is Acne Rosacea. In this form, pus filled acne like bumps appear on your nose, forehead and below the eyes. If the bumps do not have pus, then Psorinum is given. If pus is present, then Silicea is the best solution. But if the area of the skin in general has hardened and is painful, then Eugenia Jambos is employed.
Visible blood vessels: If your skin looks blue and the capillaries are visible, your skin has a marbled effect with cold sweat. Carbo vegetabilis is the most effective medicine in this case. However, if your skin is hot, not cold, then Lachesis mutus is prescribed.
Development of thick skin: If you leave your rosacea untreated for too long, then the area that were injured will start forming connective tissues over your skin. This leads to skin getting thicker. Hydrocotyle asiatica or Sarsaparilla officinalis is helpful in this case.
If your eyes get affected by rosacea: If your eyes are hot, watery and itchy, you might have Ocular Rosacea. Euphrasia officinalis, Bovista lycoperdon (if makeup exacerbates your symptoms) and Cantharis vesicatoria (if you were out in the sun for too long) will be prescribed by the homeopath.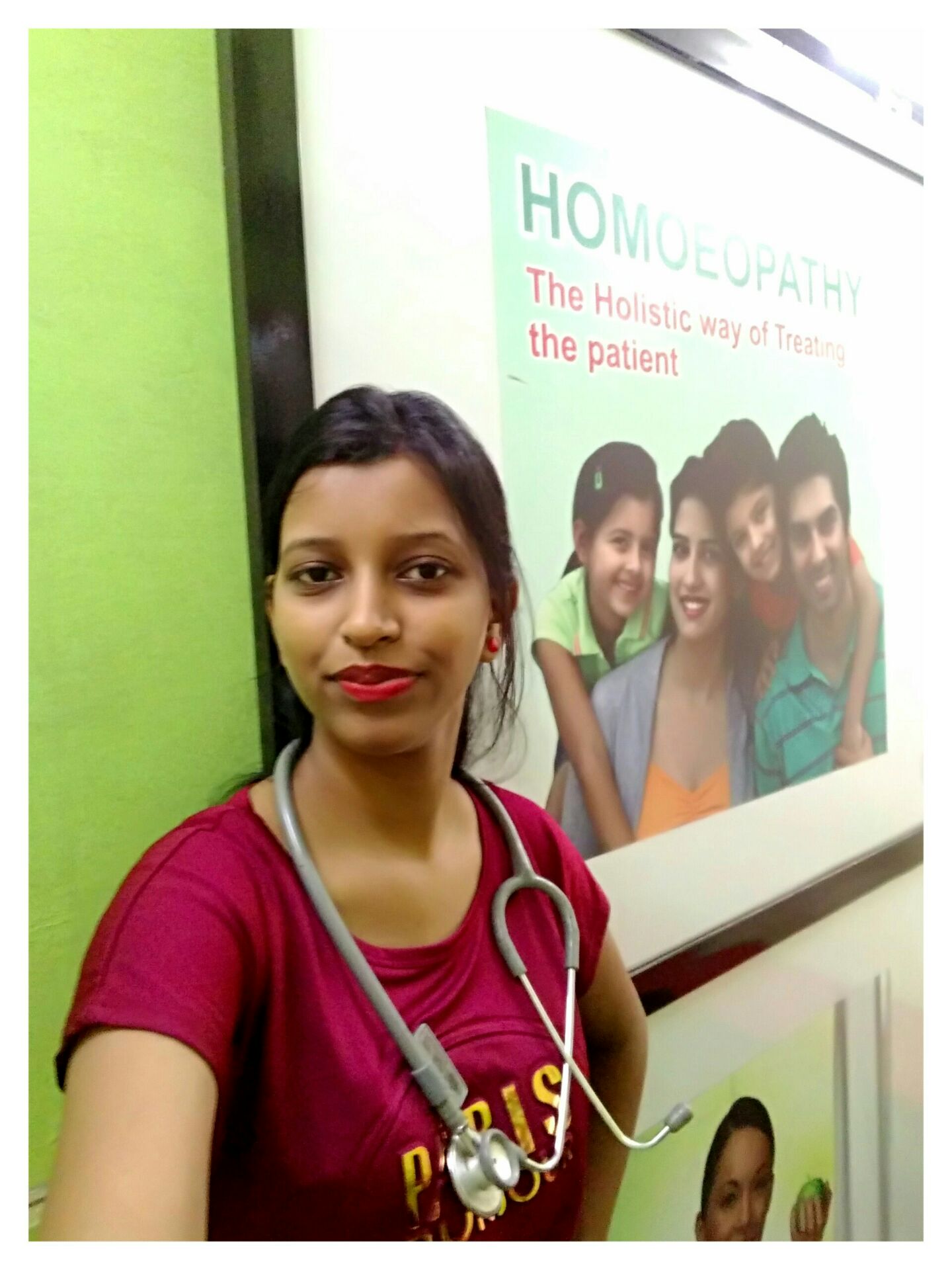 BHMS, Diploma In Nutrition & Diet Planning , ICR, M.D. Alternative Medicine
Hairfall can occur due to many reasons like harsh chemicals, nutritional deficiency or stress or hormonal imbalance. First finding out the root cause is needed and then treatment will vary accordingly.
1
person found this helpful
गुलाब जल एक ऐसा सौन्दर्य प्रसाधन है जिसका इस्तेमाल अक्सर कई कार्यों में किया जाता है. इसके विभिन्न गुणों के आधार पर आप इसे निस्संदेह सौंदर्य के लिए जादू की औषधि भी कह सकते हैं. किसी भी प्रकार के चेहरे के लिए गुलाब जल समान रूप से उपयोगी है. चेहरे की त्वचा तैलीय, ड्राइ या नॉर्मल हो, गुलाब जल हर त्वचा के लिए सुंदरता को बढ़ाने के काम आ सकता है. गुलाबजल में बहुत सारे अच्छे गुण होते हैं जिनकी मदद से यह त्वचा की देखभाल के लिए एक बहुत अच्छा उत्पाद है. इसका प्रयोग कई सौन्दर्य उत्पादों में भी किया जाता है. आइए इस लेख के माध्यम से हम गुलाब जल का चहर्रे पर उपयोग करने के विभिन्न कारणों पर एक नजर डालें ताकि इस विषय में लोगों की जानकारी बढ़ सके.

1. गुलाब जल मेकअप उतारने के लिए
गुलाब जल चेहरे से मेकअप उतारने के लिए इस्तेमाल किया जाता है. गुलाब जल में नारियल तेल की कुछ बूंदों को मिक्स कर लें और फिर रुई से अपना चेहरा साफ करें. यह मिक्सचर मेकअप को साफ करता है और साथ ही आपकी त्वचा को गहराई से साफ करने के लिए भी बहुत अच्छा काम करता है.

2. चेहरे की ताजगी के लिए
अपने चेहरे को साफ और चमकदार रखने के लिए गुलाब जल को अपने चेहरे पर स्प्रे करें. इसे आप मेकअप के उपर भी इस्तेमाल कर सकते है, यह आपके चेहरे को चमक प्रदान करेगा. आप रोजाना सुबह फ्रेश और हाइड्रेटेड रखने के लिए के लिए गुलाब जल का प्रयोग भी कर सकते है.

3. ग्लिसरीन और गुलाब जल है त्वचा क्लींजर
गुलाब जल का इस्तेमाल एक स्किन क्लींजर के रूप में भी किया जा सकता है. फेसवॉश से अपने चेहरे को अच्छे से धोने के बाद, ग्लिसरीन की कुछ बूंदों को 1 चम्मच गुलाब जल के साथ मिक्स कर लें और उसे अपने चेहरे पर लगाएँ.

4. गुलाब जल स्किन टोन के लिए
गुलाब जल स्किन टोन के लिए भी एक बेहतर प्राकृतक विकल्प है. ठंडे गुलाब जल में रुई को डुबोकर चेहरे पर लगाएँ. यह आपके स्किन को टोन कर में मदद करेगा. इसके हल्के कसैले गुण रोम छिद्र को टाइट और स्किन को टोन करने में मदद करते हैं. इस प्रकार यदि आप भी अपने चेहरे का स्किन टोन टाइट चाहते हैं तो आप गुलाब जल का इस्तेमाल कर सकते हैं.

5. गुलाब जल दिलाए सन टैन से छुटकारा
सन टैन से छुटकारा पाने के लिए 2 बड़े चम्मच बेसन को गुलाब जल और नींबू के रस के साथ मिक्स करें और एक पेस्ट तैयार करें. इसे अब 15 मिनट तक प्रभावित जगह पर इस्तेमाल करें. सन टैन से छुटकारा पाने के लिए भी आप गुलाब जल का इस्तेमाल कर सकते हैं.

6. गुलाब जल करे मुंहासों को दूर
मुहांसे से राहत पाने के लिए 1 चम्मच नींबू का रस और 1 बड़ा चम्मच गुलाब जल को एक साथ मिलाएं और इसे प्रभावित त्वचा पर लगायें और इसे 30 मिनट तक रहने दें और उसके बाद ताजे पानी से धोएं. इसके अलावा आप मुलतानी मिट्टी में गुलाब जल को मिक्स करके भी चेहरे पर लगा सकते हैं.
6
people found this helpful
M.Sc - Dietitics / Nutrition, B.Sc. - Dietitics / Nutrition
Dietitian/Nutritionist, Indore

MBBS Bachelor of Medicine and Bachelor of Surgery, Diploma In Dermatology And Venerology And Leprosy (DDVL), Fellowship in Aesthetic and Cosmetic Surgery
View All Feed
Near By Clinics
4.5
(

315

ratings)
M.G. Road, Indore,
Indore
View Clinic
4.3
(

30

ratings)
Yeshwant Niwas Road, Indore,
Indore
View Clinic

4.3
(

56

ratings)
A.B. Road, Indore,
Indore
View Clinic
4.4
(

401

ratings)
Race Course Road, Indore,
Indore
View Clinic