Personal Statement
I pride myself in attending local and statewide seminars to stay current with the latest techniques, and treatment planning.
...more
I pride myself in attending local and statewide seminars to stay current with the latest techniques, and treatment planning.
More about Dr. Laxman Gourlapadi
Dr. Laxman Gourlapadi is an experienced Pediatrician in Jeedimetla, Hyderabad. You can consult Dr. Laxman Gourlapadi at Laxman's Childern Hospital in Jeedimetla, Hyderabad. Book an appointment online with Dr. Laxman Gourlapadi on Lybrate.com.

Lybrate.com has a nexus of the most experienced Pediatricians in India. You will find Pediatricians with more than 27 years of experience on Lybrate.com. Find the best Pediatricians online in Hyderabad. View the profile of medical specialists and their reviews from other patients to make an informed decision.
Info
Location
Book Clinic Appointment with Dr. Laxman Gourlapadi
Plot No 3&4, Shapurnagar,Main Road,Jeedimetla, Land Mark: Near Shahpur Bus Stop, Hyderabad

,

Hyderabad
Get Directions
Services
Submit Feedback
Submit a review for Dr. Laxman Gourlapadi
Your feedback matters!
Write a Review
Feed
Nothing posted by this doctor yet. Here are some posts by similar doctors.
C.S.C, D.C.H, M.B.B.S
General Physician, Alappuzha
The treatment of Sweet syndrome is directed toward the specific symptoms that are apparent in each individual. In some cases, Sweet syndrome may resolve itself with no treatment, although this can take weeks to months. The mainstay of treatment is with systemic corticosteroids. In most cases, treatment with low doses of corticosteroids such as methylprednisolone or prednisone has proven effective in eliminating symptoms, sometimes rapidly resolving symptoms. However, Sweet syndrome often recurs periodically despite therapy. For isolated lesions, local therapy may consist of topical corticosteroids (creams of gels) or directly injecting corticosteroids into the lesion (intralesional corticosteroid).
1
person found this helpful

Please check for the presence of both the testes. If they are there in the scrotum nothing to worry about it's shrinkage.
1
person found this helpful
Asked for male, 39 years old from Indore

General Physician (AM)
Alternative Medicine Specialist, Chandigarh
Try giving him a little ginger as it reduces the formation of unpleasant gases in the stomach, thereby, helping in controlling loose motions, give a spoonful of mustard seeds with water as it brings remarkable change after sometime. Buttermilk is an excellent option as acid in it fights germs and bacteria and helps clear stomach. Consuming bananas with a little curd is the most traditional home remedy to stop loose and it works wonders. God bless.
Asked for male, 34 years old from Lucknow

I understand your concerns for your baby. Try to retract it gently on daily basis for a week or so. Donot be forceful. Normlly one should not retract before age of 2 years &It is normal till 2 years of age. If you are not successful even after 10-12 days then it needs to be operated. The condition is known as phimosis &operation is circumcision. Regards.
1
person found this helpful
Shared 1 year ago • Featured Tip
BHMS, Certificate in Sex Education & Parenthood, PG Dip (Preventive & Promotive Healthcare), Dip in LSM (Prescribing Exercises), Dip in LSM (Metabolic Disroders & Nutrition), Dip in Occupational health & industrial hygiene., MBA (Healthcare), Certificate in Good Clinical Practice, Dip in Healthcare Quality, Core Competency In Lifestyle Medicine
Eczema is a chronic skin disease, which presents itself in 4 ways, viz, redness, boils, discharge (clear or sticky), crusts or scales and cracks/ fissures.
Common types of eczema
atopic dermatitis: primary eczema characterized by itchy, inflamed, leathery skin
contact eczema: a localized lesion characterized by redness, itching, and burning,
When skin comes into contact with an allergen chemicals or metals like ornaments.
seborrheic eczema: inflammatory condition of skin presents yellowish, oily, scaly
Patches generally on the scalp, face, and occasionally other parts of the body
Covered by hair.
neurodermatitis: scaly patches of skin on the head, lower legs, wrists, or forearms
Characterized by itch.
dyshidrotic eczema: irritation of the skin on the palms of hands and soles of the feet
Characterized by clear, deep blisters that itch and burn
Common characteristics of eczema
A. Intense itching
B. Dry or moist (with or without discharge)
C. Rashes or boils of variant forms, eg; vesicular, papular,
D. Characteristic rash in locations typical of the disease
E. Chronic or recurrent symptoms
F. Personal or family history
#1;
Factors that aggravate eczema!
Many factors or conditions can trigger & intensify the symptoms of eczema, aggravating the itching-scratching and increasing damage to the skin. These aggravating factors can be
Classified into two main categories; irritants and allergens. Emotional factors and some infections can also influence eczema.
#1;
Common skin irritants to cause eczema
Irritants are substances that has a direct affect on skin, and when used in high concentrations for long duration can cause the skin to become red and itchy or to burn.
Specific irritants affect people with atopic dermatitis to different degrees. Over time, many patients and their families learn to identify the irritants that are most troublesome to them.
For example, wool or synthetic fibers may affect some patients. Rough or poorly fitting clothing can rub the skin, trigger inflammation, and prompt the beginning of the itchscratch
Cycle. Soaps and detergents may have a drying effect and worsen itching, and some perfumes and cosmetics may irritate the skin. Exposure to certain elements, such as
Chlorine, mineral oil, or solvents, or to irritants, such as dust or sand, may also aggravate the condition. Cigarette smoke may irritate the eyelids. Because irritants vary from one
Person to another, each person has to determine for himself or herself what substances or circumstances cause the disease to flare.
Common irritants
wool or synthetic fibers
soaps and detergents
some perfumes and cosmetics
substances such as chlorine, mineral oil, or solvents
dust or sand
cigarette smoke
What are allergens?
Allergens are substances from foods, plants, or animals that provoke an overreaction of the eczema immune system and cause inflammation (in this case, the skin). Inflammation can occur
Even when the person is exposed to small amounts of the allergen for a limited time. Some examples of allergens are pollen and dog or cat dander (tiny particles from the animal's
Skin or hair). When people with eczema come into contact with an irritant or allergen to which they are sensitive, inflammation- producing cells permeate the skin from elsewhere
In the body. These cells release chemicals that cause itching and redness. As the person scratches and rubs the skin in response, further damage occurs.
Certain foods act as allergens and may trigger eczema or exacerbate it (cause it to become worse). Food allergens clearly play a role in a number of cases of eczema, primarily in
Infants and children. An allergic reaction to food can cause skin inflammation (generally hives), gastrointestinal symptoms (vomiting, diarrhea), upper respiratory tract symptoms
(congestion, sneezing), and wheezing. The most common allergy-causing (allergenic) foods are eggs, peanuts, milk, fish, soy products, and wheat. Although the data remain
Inconclusive, some studies suggest that mothers of children with a family history of eczema should avoid eating commonly allergenic foods themselves during late pregnancy and (if
Breast feeding) while they are breast feeding the baby. Although not all researchers agree, most experts think that breast feeding the infant for at least 4 months may have a
Protective effect for the child. If a food allergy is suspected, it may be helpful to keep a careful diary of everything the patient eats, noting any reactions. Identifying the food allergen may be difficult if the
Patient is also being exposed to other allergens, and may require supervision by an allergist. One helpful way to explore the possibility of a food allergy is to eliminate the
Suspected food and then, if improvement is noticed, reintroduce it into the diet under carefully controlled conditions. A two week trial is usually sufficient for each food. If the
Food being tested causes no symptoms after two weeks, a different food can be tested in like manner afterwards. Likewise, if the elimination of a food does not result in
Improvement after 2 weeks, other foods may be eliminated in turn. Changing the diet of a person who has eczema may not always relieve symptoms. A change
May be helpful, however, when a patient's medical history and specific symptoms strongly suggest a food allergy. It is up to the patient and his or her family and physician to judge
Whether the dietary restrictions outweigh the impact of the disease itself. Restricted diets often are emotionally and financially difficult for patients and their families to follow. Unless
Properly monitored, diets with many restrictions can also contribute to nutritional problems in children.
What are aeroallergens?
Some allergens are called aeroallergens because they are present in the air. They may also play a role in eczema. Common aeroallergens are dust mites, pollens, molds, and dander
From animal hair or skin. These aeroallergens, particularly the house dust mite, may worsen the symptoms of eczema in some people. Although some researchers think that
Aeroallergens are an important contributing factor to eczema, others believe that they are insignificant. Scientists also don't understand the way in which aeroallergens affect the
Skin; whether the aeroallergen affects the person internally after being inhaled, or whether the aeroallergen actually penetrates the patient's skin.
No reliable test is available that determines whether a specific aeroallergen is an exacerbating factor in any given individual. If the doctor suspects that an aeroallergen is
Contributing to a patient's symptoms, the doctor may recommend ways to reduce exposure to the offending agents. For example, the presence of the house dust mite can be limited
By encasing mattresses and pillows in special dust-proof covers, frequently washing bedding in hot water, and removing carpeting. However, there is no way to completely rid
The environment of aeroallergens.
What other factors may play a role in eczema?
Eczema; in addition to irritants and allergens, other factors, such as emotional issues, temperature and climate, and skin infections can affect eczema. Although the disease itself is not caused
By emotional factors or personality, it can be exacerbated by stress, anger, and frustration. Interpersonal problems or major life changes, such as divorce, job changes, or the death of
A loved one, can also make the disease worse. Often, emotional stress seems to prompt a flare of the disease. Bathing without proper moisturizing afterward is a common factor that triggers a flare of
Eczema. The low humidity of winter or the dry year-round climate of some geographic areas can intensify the disease, as can overheated indoor areas and long or hot baths and
Showers. Alternately sweating and chilling can induce an attack in some people. Bacterial infections can also prompt or increase the severity of eczema. If a patient experiences a
Sudden onset of illness, the doctor may check for a viral infection (such as herpes simplex) or fungal infection (such as ringworm or athlete's foot).
Treating eczema in infants and children
give brief, lukewarm baths.
apply lubricant immediately following the bath.
keep child's fingernails filed short.
select soft cotton fabrics when choosing clothing.
consider using antihistamines to reduce scratching at night.
keep the child cool; avoid situations where overheating occurs.
learn to recognize skin infections and seek treatment promptly.
attempt to distract the child with activities to keep him or her from scratching.
Tips for working with your doctor
provide complete, accurate medical information about yourself or your child.
make a list of your questions and concerns in advance.
be honest and share your point of view with the doctor.
ask for clarification or further explanation if you need it.
talk to other members of the health care team, such as nurses, therapists, or pharmacists.
don't hesitate to discuss sensitive subjects with your doctor.
discuss changes to any medical treatment or medications with your doctor before making them.

Controlling eczema
prevent scratching or rubbing whenever possible.
protect skin from excessive moisture, irritants, and rough clothing.
maintain a cool, stable temperature and consistent humidity levels.
limit exposure to dust, cigarette smoke, pollens, and animal dander.
recognize and limit emotional stress.
Eczema and homoeopathy
The treatment of eczema is positively possible in homoeopathy, but according to principles of homoeopathy no patent medicine can be prescribed for it. Homoeopathy believes in individualization of a person. A man is known
By its habits, mental buildup, temperament, constitution, liking, dislikings, aggravation and amelioration of symptoms, color of skin, texture of skin etc etc. A homoeopath prescribes medicine for a patient to patient basis
Depending on the constitution, mental and physical symptoms. Clinically it has been proved that this is one of the best form of treatment of eczema or any other skin diseases because it removes the symptoms and cures it
Permanently. It is advisable for a patient to consult a qualified physician for his or her treatment. Once your eczema is cured, the same lesion should not reappear but it is possible that depending on the above factors, there may be chances of re-occurrences on rare occasions.
1
person found this helpful
View All Feed
Near By Doctors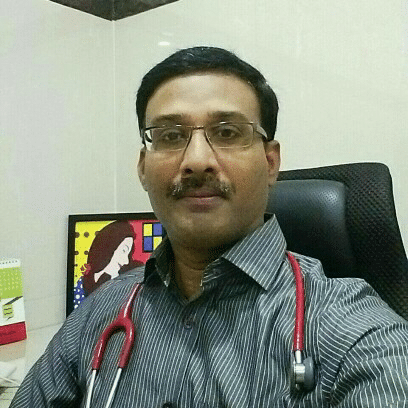 MBBS, Diploma In Child Health
Pediatrician
May Flower Hospital For Women And Children,
Book Appointment