Videos (3)
Personal Statement
I want all my patients to be informed and knowledgeable about their health care, from treatment plans and services, to insurance coverage.
...more
I want all my patients to be informed and knowledgeable about their health care, from treatment plans and services, to insurance coverage.
More about Dr. Balaji Ramagiri
Dr. Balaji Ramagiri is a well known cardiologist with an experience of over 26 years. He completed his MBBS from Sri Venkateswara University in 1990, did his specialization in cardiology from Dr. NTR University Of Health Sciences in 1995 and MD in 2000 from Osmania Medical College. Dr. Balaji Ramagiri is a professional member of prestigious institutions like Indian Medical Association (IMA) and the Cardiological Society of India (CSI). He has previously worked as a consultant doctor in Yashoda Hospital, Maxcure Hospital, Madhapur and at his self established clinic. Dr Balaji Ramgiri has successfully dealt with some very critical cardiological cases. He believes in making his patients well aware and informed about the treatment plans and the insurance coverage for their respective health conditions. Dr. Balaji Ramagiri is presently working in Pulse Health Centre situated in Chanda Nagar, Hyderabad.
Info
Education
MBBS - Sri Venkateswara University - 1990
DM - Cardiology - Dr. NTR University of Health Sciences - 1995
MD - Usmania Medical College - 2000
Languages spoken
English
Hindi
Telugu
Professional Memberships
Indian Medical Association (IMA)
Cardiological Society of India (CSI)
Location
Book Clinic Appointment with Dr. Balaji Ramagiri

G - 1 Opposite Anu Funiture, Adjacent to Vodafone Store Main Road Chandanagar

,

Hyderabad
Get Directions


Consult Online
Text Consult
Send multiple messages/attachments. Get first response within 6 hours.
7 days validity
•
₹300 online
Consult Now
Phone Consult
Schedule for your preferred date/time
15 minutes call duration
•
₹500 online
Consult Now
Video Consult
Schedule for your preferred date/time
15 minutes call duration
•
₹500 online
Consult Now
Services
Submit Feedback
Submit a review for Dr. Balaji Ramagiri
Your feedback matters!
Write a Review
Patient Review Highlights
"Very helpful"
22 reviews
"knowledgeable"
14 reviews
"Sensible"
3 reviews
"Caring"
3 reviews
"Saved my life"
2 reviews
"Professional"
4 reviews
"Thorough"
1 review
"Practical"
1 review
"Well-reasoned"
2 reviews
"Inspiring"
1 review
"Prompt"
1 review
Reviews
Chaitanya
Dec 11, 2015
I have had the opportunity to interact with Dr Balaji at Durgabhai Deshmukh Hospital between 2008 and 2009. At that time he was my visiting professor teaching Cardiology and also the cardiologist at the hospital. Not only is he well versed in his field,but he's also one of those exceptional doctors who uses a personalized approach to patient care. Given his momentous experience and a unique skill set, Dr. Balaji is highly indispensable and an invaluable asset to his current and future organization(s). I would highly recommend Dr Balaji to anyone seeking unsurpassed patient care and rest assured - you will not be disappointed.
Hirankshi
Aug 16, 2017
It was a bad case of palpitations. Many people gave very positive feedback for Dr Balaji . Finally with his treatment, I am completely cured from the disease. he has in depth knowledge and ensures that he explains the problem in detail. They took very nice care of me, i never felt that I am in a Balaji Heart Center. I was quite depressed due to my condition, but he guided me to change my attitude. No matter how critical be the situation, he is always very calm.
Dakshayani
Aug 28, 2017
I never get sick, but then last year i started developing these symptoms. he did my treatment of pacemaker. Never once that I felt that he is getting impatient, rather he has always responded to my each and every doubt with immense patience. The friendliness of staff is the best in the Balaji Heart Center. He is not just highly qualified, but has years of experience in handling high risk cases. Our family physician personally recommended Dr Balaji Ramagiri.
Deepak
Feb 28, 2019
Today 28th Feb 2019 visited Dr Balajee with all reports of my father Biswanath Nayak. He saw all previous reports angiogram explained very clearly well advised next line of treatment even ordinary patient also can understand. Doctor answered all queries. I bet you will not find the same way of good interaction between doctor and patient in any other hospital. I recommends others to visit this clinic doctor to feel the difference. Thank you Doctor.
Miland
May 31, 2017
Due to my high blood pressure i was feeling very depressed and had no hope. I consultwed Dr Balaji, He is very talented and seasoned doctor.I am so much benefitted with his high blood pressure treatment, that i am perfectly fine now. The friendliness of staff is the best in the Balaji Heart Center. Whatever tests he prescribed, were very correct and they gave us an exact idea about my condition.
Ashrikaa
Jan 21, 2017
From quite some time i was suffering from hypertension, but never gave much importance to it. I consulted Dr Balaji. He is not just friendly, but also is very motivating. I was quite concerned, as my health was degrading day by day, but due to the hypertension treatment I didn't lose hope. The friendliness of staff is the best in the Balaji Heart Center.
Sakal
Jul 20, 2017
One of the doctor suggested stent insertion in my heart as I was a heart patient. I was too much worried about m condition but Dr Balaji helped me calm down and made me believe to improvise my condition. I followed his advice and I am perfectly fine now. I owe him a big thank for the treatment.
Babita
Jun 7, 2017
I was suffering from heart disease for which I was taking treatment from Dr Balaji, he is famous cardiologist in Hyderabad. He definitely is aware about the latest and advanced ways to treat serious cases. The tips he gave me for staying healthy benefitted me greatly.
Dharti
Apr 12, 2017
I was suffering from excess cholestrol level. I was in search for cardiologist. I chose to consult Dr Balaji, he provided me the traetment for hypercholesterolemia, which benefitted me the best. I owe him a big thank for such a beneficial treatment.
Madhava Kumar.G
Dec 18, 2015
He is Pentastic. The way he is treating the patients really nice due to the relation made with them. Open talk with patients and encouraginthe tell the back ground of thier health. He is just Amazing..Great
Verified
Sep 5, 2017
It was great has full knowledge and provided irradiation steps and suggested few tests for confirmation if there is anything that is undetectable during physical examination.
Ayush Kumar
May 29, 2017
I found the answers provided by the Dr. Balaji Ramagiri to be knowledgeable and caring. The doctor replied very kindly.
Sukhminder Singh
Nov 23, 2016
Dr. Balaji Ramagiri provides answers that are knowledgeable. Very helpful in daily routine
Sambhunath Pandey
Oct 13, 2016
I found the answers provided by the Dr. Balaji Ramagiri to be very helpful. Helpful
Sundeep Singh
Oct 21, 2018
Dr. Balaji Ramagiri provides answers that are very helpful. Knowledgeable
Lalitha Lahari Pamphlis
Nov 28, 2015
U r the best doctor's I ever met. Thank u so much. God bless
Feed
If you are a heavy drinker and consume excess alcohol, you may face severe consequences related to short-term and long-term health. Alcohol has several negative impacts and affects on your heart. Although occasional drinking does not cause much harm, excess drinking may lead to many heart complications. There are chances of the development of cardiovascular diseases in an alcoholic person.
Alcohol affects the heart in several ways. Binge drinkers are more prone to face these complications. A person who drinks alcohol regularly, drinks very fast and drinks much more than the recommended consumption limit during a single session is called a binge drinker.
Here the ways in which alcohol affects your heart:
Alcohol weakens the heart muscles: Heavy drinking for a long span of time tends to weaken the heart muscles. A condition known alcoholic cardiomyopathy may be caused. When the heart gets weakened, proper contraction gets disrupted and the heart is unable to pump sufficient amount of blood. Due to this, a person may experience certain symptoms such as tiredness, irregular heart rhythm, shortness of breath and swelling of the feet and legs. This can also lead to a heart failure.
Alcohol affects your heart beat rate: Binge drinking and regular drinking over a long period of time may affect the rate of the heart beat or how quickly the heart beats. Alcohol may cause the heart to beat too fast, and irregular beating is observed. This is a condition known as arrhythmias, which may have grave consequences on your health. If you are not a regular drinker but drink too much in a day, you could face this condition.
Alcohol can lead to high blood pressure and also cause a stroke: Binge drinking leads to increased blood pressure, also known as hypertension. The blood vessels become stiff, and this causes the pressure to rise in the arteries and veins. Heavy consumption of alcohol may also trigger several stress hormones to be released, which cause a constriction in the blood vessels. This leads to increased blood pressure. Hypertension may lead to a heart attack or stroke.
In order to reduce the negative impacts of alcohol on your heart and overall health, you must practice drinking in moderation. You must not drink more than fourteen units of alcohol in a single week. Consume these fourteen units in three to four parts instead of consuming it all at once. You should give gaps and avoid regular drinking. If you wish to discuss about any specific problem, you can consult a Cardiologist.
4027
people found this helpful
A heart attack can be fatal for any person, and it is necessary for you to know about the signs and symptoms of a heart attack. This will enable you to act early in case you experience the symptoms. Heart attack, also known as myocardial infarction, is a severe condition defined by the death of the heart muscles due to the loss of blood supply. Blood loss commonly occurs due to the blockage of a coronary artery.
Signs of a heart attack
There are many symptoms and signs of a heart attack which you should know. The symptoms usually vary from person to person. Here is a list of the common signs of a heart attack:
Chest pain and discomfort: Chest pain is the basic heart attack symptom which occurs in different forms. The chest pain is likely to cause pressure, fullness and a squeezing sensation. It starts from the centre of the chest and may spread to other limbs of the body, such as the head, upper abdomen, back, shoulder, neck or throat. It may reoccur in the chest again.
Shortness of breath: A gasping sensation or feeling of shortness of breath may be experienced. Such difficult or laboured breathing is known as dyspnea. The shortness of breath may occur before or after the chest pain.
Nausea and vomiting: A feeling of nausea or sickness in the stomach may be experienced. It may be accompanied by belching or burping. In some cases, the heart attack may be associated with a feeling of indigestion. Nausea is commonly experienced by women. The nausea may lead to vomiting.
Sweating: Perspiration or sweating occurs during a heart attack and the patient experiences cold sweats in excessive amounts. The sweat will appear in spite of not being active or working out. Due to the clogged arteries, the heart needs to make extra efforts to pump the blood. This produces extra sweat for keeping the body temperature low. Cold sweats and night sweats are also likely symptoms, which indicate a heart attack.
Fatigue: Fatigue is another symptom of a heart attack. Exhaustion is caused by a heart attack because of the added stress on the heart for pumping of blood. Feeling tired without any reason might indicate some trouble. Fatigue is more common in women. Light-headedness and dizziness may also be associated with a heart attack.
Heart palpitations may also be experienced sometimes. You should consult a doctor immediately after experiencing any of these symptoms of heart attack.
4005
people found this helpful
If you are concerned about the health of your heart, one of the primary and most important things to do is quit smoking. Avoiding and abstaining from smoking will heal the nicotine damage caused to your heart. This will enable you to lead a long and healthy life. Here are the reasons why you should quit smoking for the sake of your heart:
Reduced risk of heart attack: The benefits of not smoking start hours after you quit, and the heart rate and blood pressure get normalised slowly. By quitting smoking, your chances of having a heart attack are reduced by 50%.
In case of women, quitting smoking has special benefits: Women generally have a smaller body frame than men, and the harmful effects of smoking on a woman's heart are considered to be more dangerous and concentrated. Female smokers under the age of sixty are more likely to experience a condition known as cholesterol plaque erosion, which is a fatal blood vessel condition. Women smokers are likely (seven times more than men) to develop heart complications due to smoking.
When you quit smoking, your heart is no longer exposed to harmful chemicals: Cigarette smoke contains toxins such as arsenic, formaldehyde and benzene. The chemical substances may be hazardous to the blood vessels in your body, and the heart muscles get damaged. Once you quit smoking, these chemicals will no longer enter your body, making your heart healthier.
Quitting smoking benefits other people as well: When children and people are exposed to tobacco smoke, their chances of having plaque in their heart's arteries are enhanced. This may cause a stroke.
Quitting smoking reduces the chances of getting hospitalised: A smoker may be at the risk for getting hospitalised because of several conditions such as congestive heart failure, chronic obstructive pulmonary diseases, much more than a non-smoker. After quitting smoking, the chances of being hospitalised decrease within five years.
Quitting smoking lowers the risk of having atherosclerosis: Atherosclerosis is a blood vessel disease which is caused due to inflammations all over the body. Because of this, the arteries may stiffen and thicken. Smokers face the risk of acquiring this condition three times more than non-smokers.
You can quit smoking most effectively by combining behavioural support along with prescribed medication. People using this type of multi-treatment are likely to become successful at quitting smoking. You should consult a specialist who is certified in tobacco treatment, who will provide you with a plan. It will include counselling, medicines and a nicotine replacement therapy. If you wish to discuss about any specific problem, you can consult a Cardiologist.
3931
people found this helpful
Atrial fibrillation is a form of irregular heartbeat or arrhythmia, which you may experience due to a problem in the electrical system of the heart. Such a problem causes the upper parts of the heart or the atria to fibrillate. Due to this quivering, the normal rhythm between the lower parts of the heart and the atria gets disrupted. The ventricles are likely to beat faster in an irregular rhythm. This is a severe condition where the blood may get collected in the atria; this could lead to the formation of blood clots. These clots can block the blood flow and lead to a stroke.
Causes
Several conditions cause strain and damage to the heart. These include the following:
Valvular diseases
Medical problems like heart failure, lung diseases, high level of thyroid or pneumonia
Heart surgeries
Excess consumption of alcohol
Symptoms
The primary symptoms of atrial fibrillation include the following:
Light-headedness and dizziness
Feeling weak and fatigued
Feeling as if the heart is pounding, fluttering or racing (known as palpitations)
Feeling that the beating of the heart is uneven
Chest pain and fainting
In many cases of atrial fibrillation, the symptoms may be absent.
Diagnosis
Conducting several tests, physical examinations and an analysis of your health history is the first step towards diagnosing atrial fibrillation. An electrocardiogram (ECG) needs to be carried out for the detection of this condition. This test is performed for checking problems regarding the electrical activity of the heart. Other laboratory tests and an echocardiogram maybe required as well. An echocardiogram helps in observing the pumping function of the heart and to check whether the valves have been damaged.
Treatment
The treatment options for atrial fibrillation depend on the cause, symptoms and the risks of getting a stroke. Several medicines are used for treatment along with other methods. They are as follows:
Blood thinning medicines for the prevention of a stroke.
Heart rate control medicines which will prevent irregular beating of the heart.
Rhythm control medicines for restoring the heart's rhythm to normal.
A process known as cardioversion may be used to bring the heartbeat to a normal rhythm. This can be carried out by medicines or an electric shock therapy known as electrical cardioversion.
In case of severe symptoms, ablation may be carried out where the affected areas of the heart are destroyed by the creation of a scar tissue.
For the best diagnosis and treatment of atrial fibrillation, you must consult a doctor as soon as you start experiencing the symptoms of the condition. A doctor will prescribe all that you need for an effective treatment.
4866
people found this helpful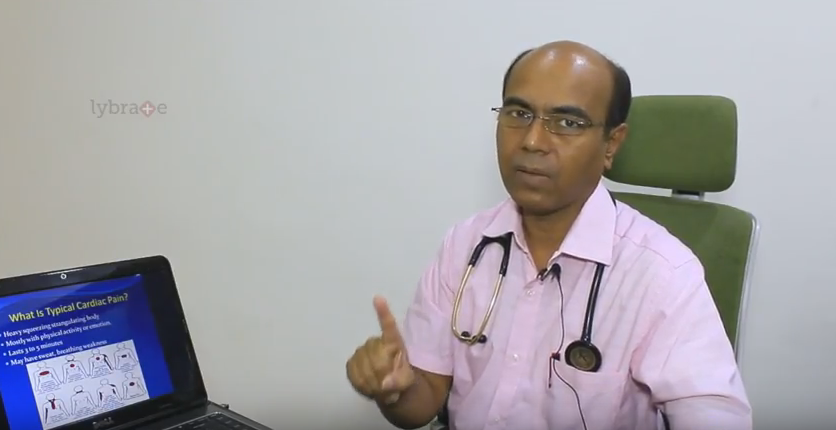 Symptoms of Heart Attack
Hello! Good day, I'm Dr. Balaji. I'm a cardiologist, practicing at city of Hyderabad. Today I'm going to briefly educate you about the Chest pain.
Chest pain is one of the commonest symptoms that I keep seeing in my daily OPD. Different spectrum of age groups come to me with chest pain from very small children to the elderly people. People are very confused about the origin of chest pain, what I mean, if it any kind of chest pain any place in the body they think it's something to do with the heart, they're going to get a heart attack, it's going to be a serious, life threatening condition and few of them come with a stricken of panic that they are going to collapse. Fortunately all chest pains are not heart pains and then today we are going to learn which kinds of pains are heart pains, which are not. When we need not go to a doctor, when we can just relax, when we need not get panicky and then probably we can also assure our friends, colleagues, family members if they have chest pain by gaining knowledge form this lecture.
See, once we have chest cage, the chest cage basically contains what? We have a skin, we have a hard tissue below that, we have a rib cage, we have a sternum, a vertical bone in the middle and we have nerves, we have arteries, we have lung tissue. We have lung tissue on either side and we have heart in middle and we have some blood valves coming from these. So, let us go one by one. Heart we know is important organ which gives pumping the blood all through our day and night and then the heart itself should get blood supply from arteries, these are called as coronary arteries. When these coronary are flowing and supplying the blood to the heart muscle then only the heart keeps pumping effectively without any pain.
So, let us just go to the, what are the causes of chest pain? What cause chest pain? The first thing I've said is the muscle symptoms. So, we know that the chest wall is made of muscles and when these muscles become sore, when they become sprained, strained. When you life a weight or you know you have some kind of trauma tissue, you joined the gym or you lie down on the bed and particularly in a bad posture you can get some kind of pain. So if somebody gets chest pain probably during these activities we think it is a muscle pain, one need not be panicky, it's not heart pain. Okay!
The second pain is joint pains, what is called costochondritis. This is one of the very common pains in the practice. This middle bone this is called the breast bone or sternum hinges at the ribs through a joint. That's how when we breathe, when we breathe our rib cage moves because our hinges have joints. So, this is called as costochondritis. This costochondritis is nothing but a joint inflammation. You see that red spots, these are the inflammations. That means if there is an inflammation in these joints you'll have pain, the pains are localized, there are in the area not more than fingertip. They increase with pushing or pressing the chest and also they increase with deep breathing. So, if these kinds of pains are there, this can be because of the viral illnesses, there are innumerable, unknown causes of these kinds of problems. Pushing the weights, lifting heavy weights, this can also cause these symptoms. So, don't worry, these are not heart pains.
The other problems now-a-days we're seeing more with the software professionals, the persons who works systems, the persons who sit and do a job like clerical jobs, is spondylosis pain. You know this is the spine, you know we have a spine, which comes from, goes up to the coccyx. This is the spine which is a series of a bones arranged one above other like boxes and from between these boxes you'll get the nerves. These nerves supply the chest in a manner where each nerve supplies a specific area for example these are the different colours you are seeing in this diagram. These are supplied by different nerve roots so each nerve root supplies an area of the chest. So, when these kinds of nerve roots gets compressed for example c5, c6 nerve root gets compressed you'll feel pain along the hand. So, many of the patients come with, you know these software professional come with the pain that just goes along the hand. So this pain and we know by convention that you know that heart pains can go to the hands and is a popular belief even though there is no complete truth in it that heart pain always goes to the hand.
Most of times somebody complains about only pain in the hand especially in the neck, especially here in this region, this is basically a nerve root compression because of cervical spondylosis. As you see this, as I've said the spine is a series of boxes of bone, from in between the nerve roots come. When they get compressed you feel this pain along the hand and also sometimes in the upper chest and also in the neck. If this series of nerves gets compressed they can have pain all around, and sometimes this pain can also goes to the chest and this causes confusion whether some heart pain is there, but this is not the heart pains. Please make sure that no, these kinds of pains are not heart pains and these kinds of pain does not cause a heart attack.
You see this, in these cervical spondylosis where does the pain go? See in this man the pain goes to the clavicle, this collar bone, it goes to the shoulder. It also can go along the chest. So, the pain can go all along left upper limb, sometimes right upper limb and maybe there, only in the shoulders not into the chest or to the hands or maybe go little down to the arms. These are all cervical spondylosis pains, nerve root pains not heart pains. One need not be worried about this kind of a pain.

3233
people found this helpful
In addition to pumping blood to various organs, the heart also has its own blood supply, through which it receives its oxygen and nutrient supply. In patients with coronary artery disease and atherosclerosis, there is a narrowing of the blood vessels which reduces the amount of blood flow to the target organs, including the heart.
When this happens in the heart, there is chest pain due to overexertion of the heart muscles. There could be two patterns to this chest pain. With regular exertion like exercise, there would be chest pain, and most patients are familiar with this pattern.
This is known as angina pectoris or stable angina. In some people or in some instances, chest pain occurs which is sudden and not of a predictable pattern. It could be related to extreme exertion or stress. This is known as unstable angina and can lead to heart attack and be life-threatening.
Stable angina or angina pectoris has a stable, predictable pattern which most patients get familiar with over a period of time and learn to manage. Read on to know more about the signs and symptoms and management techniques.
Signs and symptoms: Stable angina usually occurs after a round of physical exertion. The patient feels a feeling of tightness in the chest which feels like the chest being squeezed. The pain can gradually spread to the shoulder, arms and even the neck. The pain can also be induced by eating, exposure to cold, emotional stress. It lasts for about 15 minutes and is relieved by rest and sublingual nitroglycerin. The pain intensity does not change with position or coughing. In addition, the patient may also experience shortness of breath, fatigue, profuse sweating, nausea, and dizziness.

ECG
, echocardiography and stress testing. Features like cardiomegaly, altered ejection fraction would be detected based on the severity of the disease.
Treatment: Immediate treatment to relieve the pain includes resting and sublingual nitroglycerin. On an ongoing basis, the treatment would include 3 approaches – lifestyle changes, medications, and surgery.
Lifestyle changes: Regular exercise, smoking cessation, reduced fat intake, reduced alcohol consumption, weight loss, and stress management are some lifestyle changes to be made to improve symptoms.
Medications: A number of medications would be used depending on patient's symptoms. Aspirin to prevent clotting, medications to control blood pressure and cholesterol and diabetes.
Surgery: In patients with advanced coronary artery disease, revascularization methods may be required, which includes angioplasty and coronary bypass.
In a person with known risk factors, it is advisable to have regular checkups so that the disease progression can be controlled and symptoms managed with minimal intervention. If you wish to discuss about any specific problem, you can consult a Cardiologist.
3714
people found this helpful
Heart Blocks are a result of plaque buildup in your arteries, which blocks blood flow and circulation to the heart, causing heart muscle damage and heightens the risk for heart attack and stroke.
Arteries which have smooth and elastic walls become thick and restrict blood flow from the cholesterol deposits over the years. Blood clots can also block the arteries that supply oxygen rich blood to the heart. These can eventually lead to strokes and heart attacks.
Some warning signs that you may be at risk of heart blockage:
Have you had a mild stroke: Plaque that accumulates in the carotid artery supplying oxygen rich blood to the brain can cause a stroke. People who have had strokes are more prone to heart attacks.
Do you often feel fatigue and dizziness: Reduced oxygen from poor circulation and blood flow can result in fatigue and tiredness as well as dizziness.
Experiencing shortness of breath: Poor blood flow can lead to shortness of breath from even mild forms of exercise or even from carrying out daily chores or walking.
Sudden chest pain: Chest pain or angina result from reduced supply of blood to the heart. It can be felt as pressure, tightness in the chest, squeezing in the chest, numbness or burning.
Unexplained lower back pain: This can result from pressure in the spine as a result of pinched nerves due to compressed vertebrae discs as a result of poor blood flow.
Erectile dysfunction in men: If an erection becomes difficult or impossible, it could be a warning sign of clogged arteries. These arteries supply blood to the pelvis area and help achieve an erection.
Calf pain: Blocked leg arteries can cause calf pain, especially in smokers. This is an early sign of possible heart blocks.
Painful, numb and cold hands and feet: Plaque build up in the arteries of the extremities can cause numbness and coldness in the hands and feet.
Remember early detection is the key to prevent or delay heart attacks. If you wish to discuss about any specific problem, you can consult a cardiologist.
4820
people found this helpful
Risk factors associated with heart attack
So when do we get the heart attack? What kind of people gets the heart attack? Previously people used to think heart attack belongs to the elderly people, post-retirement people. No, the heart attacks are happening, like 20% of the heart attacks are happening in the 40s. Alarmingly we have seen last one week, the 30s, that is, the 30s are the new 40s. From age 30 onwards the heart attack incidents are increasing. So now we see that age is no longer a criteria or factor for heart attack, although overall we have seen that the elderly people are supposedly more prone to heart stroke more frequently than the younger people. The people with diabetes or sugar, with hypertension, people with high cholesterol, people who are obese, the people who are more than the normal weight, people whose family members had a heart attack at any age. For example, somebody's ancestors or father or mother, or elder brother or younger, or elder sister had a heart attack, at 60 or at any age, then the chances of a heart attack are more in the person.
And of course, cigarette smoking. Cigarette smoking is an important cause of heart attack in any people. Cigarette smoking is one of the worst habits anybody can have, and it is killing many of the young people. Cigarette smoking is an important cause of heart attack and you must quit smoking altogether. Also, lack of exercise, and stress, physical or mental stress, anxiety- These are some of the risk factors that can be getting you a heart attack. If you are diabetic, have a tight control of your diabetes, if you have hypertension, you will regularly check your BP, check your sugar, take control of both of them. You should check your cholesterol, from age 20 onwards. If your cholesterol is high, control your cholesterol with a change in lifestyle and if a doctor prescribes you a tablet. Regularly check your cholesterol and keep it in control. Regular exercise is important, at least 30-40 minutes regularly, is must for everybody. If you are smoking, please quit smoking. Smoking is the commonest cause of death in any people. Young heart attack victims, most of them are smokers. If they quit smoking, the incidence comes down significantly. Take a balanced, healthy diet. Take small portions and see that your physical activities, not only the 30-40 minutes of exercise but all through the day you are physically active.
Can heart attack happen in women? Many people think that heart attack is a disease of men. Contrary to that popular belief, a heart attack is a number 1 killer in women as well. It is not breast cancer, ovarian cancer, cervical cancer; it is not any other illnesses, that we think women suffer from. It is the heart attack, which is number 1 killer in women as well. So women beware, it is not just men's disease, it is your disease as well. And whatever I said about control, it applies to you all as well. Actually after age 50 onwards, after attaining menopause, women are more prone to heart attack than men. They have less prognosis, fewer survival rates, the chances of coming out of the hospital healthy is not equal to that of men. So women beware, you are more prone to heart attack than men, after age 50 than men. So as you see here, here is the evaluation; less than 30 years of age, heart attack rates are slowly increasing from 8.3 to 10.7, and as the year's progress, a number of young people are suffering a heart attack. It used to be a disease of the elderly more than 50 years of age, and now we are seeing the disease in the young people. And this is very, very alarming. Any victim, any heart attack victim, in families, small children fall prey to this disease, which is very, very alarming. You should have good knowledge of this condition and healthy lifestyle, and also, keep checking your parameters, your BP, and must keep checking or conducting tests, so that if something is happening (symptoms of heart attack) you can diagnose at an early age and prevent it.
What happens inside the heart when you get a heart attack? See, the cholesterol is here. There is no blood flow to the heart muscle. See this is a normal healthy heart, the heart muscles are reddish, but here it has become black when the heart attack is happening. That's the inside story of what is happening. So inside the blood vessels, that is the blood vessels of the heart, the cholesterol is building up, the cholesterol blocks and captures, it causes blood clots. The blood clots for a few minutes, that is why the heart attack comes all of a sudden. The build up cholesterol takes weeks or months, but the heart attack comes very fast. So how do we treat? We can give medicines, do an angioplasty stenting. We all know about the stent. When the vessel is blocked, we put a stent, and then the vessel here is normal, it is flowing well now. Or we can do a bypass surgery.
When blocks are there in different places (of the heart), we can take a new pipe from the leg or from the chest and stitch it here, so that the blood flows to the new pipe, as the old pipes are blocked. So friends, today we have briefly discussed what is chest pain? All chest pains we found out do not heart pains. What is heart pain? What are the symptoms of heart pain? What it looks like? How to differentiate it? May it be the day, night, any kind of circumstances, you need to transport the patient to the nearest hospital. After getting treated for heart disease, it is a lifelong discipline that you need to maintain, the drugs are for lifelong, the medicines etc are all lifelong. You need to continue following the doctor's advice and attend the doctor at periodic intervals. You have to quit smoking, you must take a healthier diet, you need to have an ideal body weight, you should exercise properly. And this knowledge, if you have gained anything, from my talk, then please spread to everybody; see that everybody is aware of this condition. As we discussed just now, that it is alarmingly true that the heart attack is happening in the 40s and the 30s, and that is an alarming situation.
You should make sure that everybody gets this knowledge and ultimately this knowledge will prevent this heart attack. Thank You very much- Dr. Balaji Rajamagiri, Cardiologist.

3716
people found this helpful
Are you experiencing irregular and fluctuating heartbeats? Is your heartbeat too fast or too slow? If yes, then it signifies that you are suffering from arrhythmias or abnormal heart rhythms. This is a disorder which affects the heart rate or heart rhythm and the heartbeat becomes irregular.
Causes of abnormal heart rhythms
Arrhythmias occurs due to problems with the electrical conduction system of the heart. In this case, abnormal signals might occur; the electrical signals might get blocked or slowed down, or the electric signals may travel in different paths throughout the heart. Abnormal heartbeats are commonly caused by the following:
Abnormal potassium levels in the body
Heart attacks or due to a damaged heart muscle, owing to a previous heart attack
Inborn heart diseases
Cases of an enlarged heart and heart failure
Overreaction of the thyroid gland
Several other substances or medicines may lead to arrhythmias, such as alcohol, stimulant drugs, caffeine, nicotine, and antidepressant medicines or blood pressure medicines.
Common symptoms of this condition apart from irregular heartbeat patterns include chest pain, fainting, dizziness and light-headedness, trouble in breathing and paleness.
Diagnosis of abnormal heart rhythms

Holter
monitor and the event monitor, or a loop recorder.
Other diagnosis tests which are required to be carried out include coronary angiography, ECG or electrocardiogram, and an echocardiogram. A test known as an electrophysiology can be undertaken for getting a closer look at the electrical system of the heart.
Treatment for abnormal heart rhythms
When a case of arrhythmias is severe, urgent treatment is required for restoring the heart's rhythm to normal. The different forms of treatment are as follows:
Electrical shock therapy such as defibrillation or cardioversion
Implanting of a heart pacemaker for a short term
Certain medications which are given through the veins or orally
A group of medicines known as anti-arrhythmic drugs is used for the prevention of recurrence of the condition and to keep the heart rate from fluctuating continually.
Cardiac ablation may be carried out for destroying some areas in the heart from where the rhythm problems are caused.
An implantable cardiac defibrillator is used in people who are at a risk of facing cardiac death.
In case you experience abnormal heart rhythm, you must consult a doctor immediately. You should only start taking medicines and follow a treatment after it has been recommended by a doctor.
3623
people found this helpful
3884
people found this helpful
View All Feed