About
Our medical care facility offers treatments from the best doctors in the field of Dermatologist, Dermatologist/Cosmetologist, Trichologist.Our goal is to offer our patients, and all our c...
...more
Our medical care facility offers treatments from the best doctors in the field of Dermatologist, Dermatologist/Cosmetologist, Trichologist.Our goal is to offer our patients, and all our community the most affordable, trustworthy and professional service to ensure your best health.
More about Dr. Vimala's Skin, Hair & Laser Clinic
Dr. Vimala's Skin, Hair & Laser Clinic is known for housing experienced Dermatologists. Dr. Vimala Manne, a well-reputed Dermatologist, practices in Hyderabad. Visit this medical health centre for Dermatologists recommended by 48 patients.
Timings
Location
Forst floor , above Sri Balaji pharmacy ,opposite MP Garden Function Hall , Amba Theatre road ,Mehdipatnam
Mehadipatnam
Hyderabad,
Telangana
-
500028

Get Directions
Videos (1)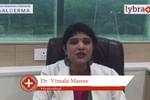 Doctor in Dr. Vimala's Skin, Hair & Laser Clinic

MD - Dermatology, MBBS
Dermatologist
Book appointment and get ₹125 LybrateCash (Lybrate Wallet) after your visit
Services
Submit Feedback
Submit a review for Dr. Vimala's Skin, Hair & Laser Clinic
Your feedback matters!
Write a Review
Patient Review Highlights
"Professional"
1 review
"Practical"
1 review
Feed
Acne or acne vulgaris is a medical condition characterized by the appearance of an ugly and vulgar scourge on the face. Acne can cause scars, which are lifelong and can affect the self-esteem and self-image of a person. Acne is more common in adolescents, but grown-up men too can suffer from acne. Acne in case of men is less severe, but still they are enough to spoil one's facial appearance.
Causes
Acne is caused because of several reasons, such as:
1. Overactive sebaceous glands: The trapped oil in the pores of the skin or follicles may result in blockage or blemishes. The sebaceous glands are responsible for creating oil, which helps in lubrication of the skin surface. Over secretion or overproduction of sebum from these glands may cause acne in men. Excess of oil stays in the pores, which blocks the sebaceous duct creating a follicle blockage. This causes acne.
2. Shedding of skin cells: The epidermis or topmost layer of the skin sheds dead skin cells and is replaced by new cells. When this process is hampered, extra skin cells are produced and the presence of lamellar granules in the skin gets lessened. This makes the skin prone to acne. More dead skin cells are produced, which are not shed properly and the cells remain stuck inside the follicles, which lead to acne.
3. Bacteria proliferation: A type of bacteria known as propionibacterium acne is found on the surface of the skin. When the propionibacterium acne grows out of control, acne are caused. Due to blockage caused by dead cells and excess oil, an anaerobic environment gets created and oxygen cannot pass through the pores.
Treatment
Treatment of acne is done by keeping the pores open. This is done by using various skin cleansers for exfoliation of the skin and removing dead skin cells.
Some medicines which are available over-the-counter stores can be used to treat acne. The peroxide and glycolic acid present in the medicines prevent the formation of blockages.
Chemical Peels: Chemical Peels work by removing dead skin cells and encouraging new ones to grow, leading to a fresher, more glowing you. A chemical formula is applied to the skin that removes the top layer of skin and reveals the softer, smoother skin beneath.
The procedure is used all over the world to treat skin problems such as wrinkles and lines, acne scars, hyper-pigmentation, and sun damage - the results can be life-transforming.
Several gels, lotions, pads and creams may help in exfoliation and cleansing of the skin. These products contain benzoyl peroxide, which helps in destroying bacteria responsible for triggering infection. They also contain Salicylic acid, which helps in unclogging of blockages.
Several antibiotics can be consumed or rubbed on the surface of the skin for controlling bacterial growth. Certain vitamin A derivatives called retinoids also help in unclogging of the follicles. Some anti-inflammatory medicines can also treat acne.
Acne is a condition which is not just confined to teens and may occur in grown ups and adult males.
In case you have a concern or query you can always consult an expert & get answers to your questions!
4726
people found this helpful
Acne breakout can ruin the look of healthy skin completely. Sometimes it gets very severe as the eruptions keep happening continually.
Acne occurs when oil, dead skin or bacteria block the pores on your skin. Though it is not dangerous, acne can be embarrassing and can leave scars on your skin. Severe acne can also be quite painful. Pimples in the form of blackheads and whiteheads are the main symptoms of acne.
Causes of Acne:
Stress: Stress is a major cause that makes your skin prone to acne. When the body is stressed, it produces excessive testosterone (a sex hormone) resulting in excessive oil production. Stress also impairs the immune system of the body so that it becomes vulnerable to acne.
Cosmetics: Some cosmetics (usually oil based) tend to clog the pores of the skin which may result in acne. Using harsh cleansing agents can dry and irritate the skin. Also, gentle washing of the skin is recommended to avoid breakouts.
Certain medications and drugs: Consumption of specific over the counter medicines like the ones containing bromide and use of recreational drugs like marijuana and cocaine can lead to the occurrence of acne as side effects.
Genetics: Certain genetic factors may also be responsible for someone being more prone to acne than others.
Treatment for Acne:
Cosmetic dermatology procedures can successfully help you do away with acne scars. Blue-light therapy is a procedure in cosmetic dermatology which can work wonders for acne scars. A narrow- band, but high - intensity Blue-light is used to counter Porphyrins released by bacteria causing acne. Porphyrins easily absorb Blue-light and the light leads to radical damage of Porphyrins when used in certain wavelengths.
There are also certain topical creams available, which can improve mild scarring, most of the acne scars are either depressed or raised type and need a combination of surgical procedures and skin resurfacing.
The therapeutic options that are currently available to treat acne scars include subcision, dermabrasion, microdermabrasion, derma rollers, chemical peels, TCA cross, ablative lasers, fractional lasers and dermal fillers.
In case you have a concern or query you can always consult an expert & get answers to your questions!
4233
people found this helpful
The skin produces a natural oil known as sebum from the sebaceous glands. This acts as a protective layer and is passed out through the multiple, minute pores. With the teenage years seeing excessive hormones, excessive sebum is produced which clogs the pores, and the underlying sebum may not be released from the glands. In some cases, there could also be bacteria trapped in these acne. In severe cases, there can be extreme pain and pus formation. The acne can be quite large in size and may leave marks, which often take a long time to disappear.
Causes
Though acne affects any age group, it is most common in the teenage years and is attributed to the hormones called androgens. In women, there is also a hormonal correlation where acne is more common with menstrual cycles, pregnancy and polycystic ovaries – all conditions associated with increased hormone levels.
Management
Before heading out for medical help, the following are some tips to manage acne.
Avoid touching it or picking it. Else it will result in a faster spreading of the infection to the surrounding areas.

Use ice cubes on the acne as they help reduce redness and swelling by lowering the blood supply.

Learn to keep calm as stress increases hormonal release and thereby acne.

Do regular exercises. A good workout routine helps by keeping your skin clean and the pores open. There is a more frequent clearing of sebum leading to reduced acne.

Maintain a healthy eating pattern. Avoid oily food items, which only add to the oiliness of the skin. Sugars again are proven to be harmful for acne.

Follow a proper sleep routine as it will relax your muscles and keep you calm.

Use mild detergents for washing pillow covers and towels, which are often used on the skin.

Frequent washing, regular moisturizing, and exfoliating should be a part of your skin care routine. Avoid heavy chemicals and adhere to one regimen with as many natural substances as possible.
Medical Management
Depending on the cause of acne and its severity, we prescribe topical creams or acne control face washes and give oral antibiotics or tablets which decrease sebaceous gland activity. The doctor may call you for sessions where chemical peels are done once in 3 weeks to 4 weeks. Chemical peel for acne control contains mild, plant extracts which are painless. In hormonal acne, thorough investigation to evaluate the cause is done and hormonal therapy is started.
Preventing scar formation is the main aim as severe scarring due to acne causes distress and psychosocial problems and hence meeting a dermatologist and getting treated for acne promptly helps the patients to have a flawless glowing skin.
In case you have a concern or query you can always consult an expert & get answers to your questions!
4400
people found this helpful
As complex as it may sound, Keratosis Pilaris is a harmless, non-contagious type of skin disorder, which primarily affects people with dry skin. This disease has the potential to convert a person's once smooth skin into skin as rough as sandpaper.
Symptoms
A number of light-coloured small bumps start appearing on the skin and in most cases, they tend to appear on the upper arms, thighs and buttocks of the affected person. In certain cases, there may be some swelling or redness, which comes along with the bumps. The skin loses its original glow and colour.
Causes
As mentioned above, people with dry skin suffer from Keratosis Pilaris. Also anyone with extra sensitive skin who is prone to be allergic to various substances tend to fall prey to this disease. Often Keratosis Pilaris is inherited from other family members as well. Persons suffering from asthma and eczema have higher chances of getting affected by Keratosis Pilaris.
But what leads to such a condition? A protein in our body called 'keratin', which protects our skin from various infections, is the main cause behind Keratosis Pilaris. Although there is no particular reason for excess building up of keratin in our body, too much of it under the skin leads to blockages of hair follicles and growth of rashes.
Treatment
For people who are scared of medical tests, it may be a relief to know that Keratosis Pilaris does not need any sort of testing. Treatment of Keratosis Pilaris is a time taking process and immediate results may not be seen after applying a particular lotion or cream. However, sometimes it gets cured on its own without any medication.
To start off, the amount of time which is spent in water should be limited. In addition to this, there are other steps which may be taken. For example, while taking a shower, hot water should be substituted by warm water. Also, it is vital to ensure that the skin is adequately moist. Two ways of going about doing this are using moisturizers and making use of a humidifier. Make sure you use mild soaps for regular hygiene and for your shower.
Who gets Keratosis Pilaris?
Anyone can get Keratosis Pilaris. It is estimated to affect between 50-80% of all adolescents and approximately 40% of adults. Females may be more frequently affected than males. Age of onset is often within the first 10 years of life and can particularly get worse during puberty. Keratosis Pilaris may however begin at any age. A large percentage of patients have other people in their family with the same condition. It has commonly been seen in twins. Keratosis Pilaris is also seen in atopic dermatitis patients and patients with very dry skin.
One big relief when it comes to having Keratosis Pilaris is the fact that there is little risk at all if a person has it as it is not threatening. That being said, the sooner it is under control, the better!
In case you have a concern or query you can always consult an expert & get answers to your questions!
4518
people found this helpful
Hair loss or Alopecia is a problem common to both men and women. It can leave you feeling very miserable. But rather than getting upset knowing the cause will help you tackle the problem efficiently. The following are few shocking causes of hair loss that you may not be aware of-
Hair Loss can be a hereditary problem for some people. It can be common to both men and women. Males may encounter male pattern baldness and females can encounter female pattern baldness.
Women can face hair loss problems for using hair styling tools. You must avoid hair strengtheners, curling irons and dryers in order to control hair loss.
Hormonal imbalances can lead to hair loss. Thyroid problems or levels of estrogen getting reduced in cases of women can cause hair loss.
Lack of protein in your diet can also result in hair loss. Insufficient protein intake according to your age may trigger hair loss.
Intake of too much steroids like birth control pills can also be a contributing factor.
Stress is also a major contributing factor for hair loss. Any form of prolonged anxiety or trauma can lead to hair loss problems.
Sudden and excessive weight loss also sometimes may be the cause for uncontrolled hair fall.
In order to combat the problem of hair loss you must consult a doctor and undergo the required treatment. The following are few treatments that can prove to be helpful for you-
Many clinics nowadays provide hair transplantation treatment. You may consider hair transplantation if you encounter hair loss at an alarming rate.
Increase the intake of proteins in your diet. Include food like fish in your diet which is high on protein.
Message hair oils like coconut oil, almond oil, amla oil as they will help nourish the roots of your hair.
Onion juice is proved to be very helpful in growing back hair on your scalp. Apply it on your scalp and it may help you to grow back your hair.
Applying henna at home can also increase the volume of your hair and make it look beautiful too.
Along with the above mentioned treatments, eating healthy and sleeping well will also help you to tackle your problem of hair loss. Normally a person sheds fifty to hundred strands of hair per day, but if it is more than that, consulting a doctor is highly recommended.
In case you have a concern or query you can always consult an expert & get answers to your questions!
4372
people found this helpful
Warts are infectious outgrowths that may appear on any part of the body. For example, the most common warts occur on fingers. They are caused by virus, most typically the Human Papilloma Virus (HPV) and several of its subtypes. They appear as dense painless rounded nodules of about 0.3- 1 cm in diameter. The mode of transmission of this virus is usually by contact. You can also contract warts by sharing objects like razors, towels or other personal items. They can be sexually transmitted if the warts are present on genitals.
Usually, they are benign outgrowths but sometimes, they may be cancerous if present on genitals.
How To Prevent Warts?
Earlier, the only way to prevent contracting warts was avoiding contact with infected people. But now-a-days, vaccines against HPV are present that are given in teen years to prevent genital warts and cancer caused by them.
How are they diagnosed?
Your doctor can easily tell if the outgrowth is a wart just by having a look at it. If it is not clear, your doctor may take a sample of your skin and look at it under the microscope to ensure that it is a wart.
Treating Warts-
CAUTERIZATION
Cauterization is a medical procedure wherein a part of the body is burnt in order to damage some tissue in order to prevent an outgrowth. Cauterization can be done by medicine, cryotherapy (using localised or general low temperatures to treat benign or malignant tissues), radio frequency cauterization or laser. The method applied depends on size and location of the outgrowth or the choice of you dermatologist as well.
It is recommended to get warts removed at its earliest to prevent spreading of the disease.
Several myths are present in the market that state cure to warts by various homemade remedies but these can do more harm than good. Treating warts must be done by practised medical personnel. Incomplete removal of warts can cause recurrence of warts due to secondary infection.
In case you have a concern or query you can always consult an expert & get answers to your questions!
4107
people found this helpful
As winter approaches, most people notice their skin turning dry and scaly. This can make fine lines and wrinkles more noticeable and can cause itchiness that may even be accompanied by bleeding. Dry skin is caused by a loss of moisture. Here are a few tips to help deal with dry skin.
Moisturize- To make up for the lack of moisture in the air, religiously apply moisturiser over your skin after having a shower. This helps hydrate the skin and keeps the moisture in your skin from escaping.

Right Moisturiser- In most cases, creams work better than lotions when dealing with dry skin. Creams that contain natural oils such as olive oil or jojoba oil work well to deep moisturise dry skin. Other ingredients your skin cream should contain are lactic acid, urea, lanolin, petrolatum, hyaluronic acid etc.

Shower Wisely- Limit your showers to a maximum of 10 minutes and try to use warm water instead of hot water. Though standing under a hot shower may feel good at the moment, it rids the skin of its natural oils and hence dries the skin.

Use Gentle Soaps- A cream-based soap that is fragrance-free is great for dry skin. This soothes the skin and moisturises as it cleanses.

Protect Your Skin- Limit your skin's exposure to natural elements in the winter. If you must step out, clad yourself well and be sure to put on a pair of gloves and socks. Limit tasks that need you to wet your hands.

Shave Smartly- Shaving not only removes unwanted hair but can also irritate the skin. The ideal time to shave is after a shower as this is when your hair is most pliable. Also, always use a sharp, clean blade and shaving cream or gel to protect your skin.

Get a Humidifier- A humidifier can help regulate humidity levels within your house. However, excessive humidity is not good either as it can also adversely affect your skin.

Apply Coconut Oil- Coconut oil is rich in fatty acids that make up for the loss of moisture in the skin. The ideal time to apply coconut oil on the dry skin is before going to bed or after having a bath.

Be careful about laundry detergents- The soap being used to wash your clothes may not always be completely washed off. This can irritate sensitive skin and cause itchiness and flaking. When choosing laundry detergents pick one that is hypoallergenic.

Wear fabrics that love your skin- Avoid synthetic fabrics that stick to the skin and instead, pick gentle fabrics like cotton or silk that allow the skin to breathe.
In case you have a concern or query you can always consult an expert & get answers to your questions!
4063
people found this helpful
Hi, lybrate-user you have to wash your face 4 times. And use oil control facewash. And use clear gel on your pimples in the night but still I suggest you to visit my clinic for better treatment.
3
people found this helpful
Acne is a skin condition that occurs when the openings of oil glands become clogged with oil and dead skin cells. Acne usually appears on the face, neck, chest, back and shoulders. The pimples and bumps heal slowly, and when one begins to disappear, others seem to crop up. Depending on its severity, acne can cause emotional distress and can also scar the skin. But what causes the recurrence of breakouts?

These are attributed to certain hidden causes, which are:

1. Your drug prescriptions

Steroids found in prescription drugs are a key offender, whether taken internally or topically. If taken internally, the offending ingredient will be listed as prednisone, which is the tablet form of steroid. Prednisone is used to treat inflammatory diseases like poison ivy, allergies and arthritis. If medications are taken topically, it could aggravate acne or cause steroid acne. Oral contraceptives are also a common cause of acne.

2. Your beauty routine

Acne caused by topical lotions, creams and makeup are known as acne cosmetica, commonly appearing on face, neck, hairline and scalp. Applying a product regularly to an acne-prone area can do more harm than good. Some people go to bed with ointments or oils in their hair that can get on the pillowcase and then rub on your face. It's best to put a clean towel over your pillowcase every night to prevent buildup.

3. Why do you get acne on the chin or lowe face?

Lower face acne is because of hormonal imbalances like polycystic ovarian syndrome . Women who are getting acne even after 25 years age or getting acne on lower face or on the chin have to meet a dermatologist and get evaluated and treated for hormonal cause of acne.

4. Using toothpaste to treat a zit
Certain toothpaste can actually cause you to develop acne or an acne-like eruption on the lower parts of your face, including your chin.
Fluoride
and other
whitening
and anti-cavity ingredients are quite abrasive and could potentially burn your skin, cause irritation and initiate breakouts.
5. Your workout gear
It's not the act of exercising that is causing breakouts but other issues. If you are using a communal
yoga
mat, you may be on the side that someone else's feet or perspiration had touched before, with the physical contact causing breakouts. It's best to put a clean towel over it before working out, even if it is your personal mat.
Also, workout gear that constantly rubs in a certain area can cause frictional acne. Constant rubbing ends up making you sweat, causing skin irritation and eventually developing into tiny red bumps. Though it looks like a heat rash, it is actually acne.
In case you have a concern or query you can always consult an expert & get answers to your questions!
2817
people found this helpful
Hair loss can affect just your scalp or your entire body. It can be the result of heredity, hormonal changes, medical conditions or medications. Anyone — men, women and children — can experience hair loss.
Baldness typically refers to excessive hair loss from your scalp. Hereditary hair loss with age is the most common cause of baldness. Some people prefer to let their baldness run its course untreated and unhidden. Others may cover it up with hairstyles, makeup, hats or scarves. And still others choose one of the treatments available to prevent further hair loss and to restore growth.
Before pursuing any hair loss treatment, it is highly recommended to talk with your doctor about the cause of the hair loss and the best treatment options. Symptoms Hair loss can appear in many different ways, depending on what's causing it. It can come on suddenly or gradually and affect just your scalp or your whole body. Some types of hair loss are temporary, and others are permanent.
Signs and symptoms of hair loss may include:
Gradual thinning on top of head.
Circular or patchy bald spots.
Sudden loosening of hair.
Patches of scaling that spread over the scalp.
When to see a doctor
See your doctor if your child or you are distressed by hair loss and want to pursue treatment. Also, talk to your doctor if you notice sudden or patchy hair loss or more than usual hair loss when combing or washing your or your child's hair. Sudden hair loss can signal an underlying medical condition that requires treatment.
Causes
The exact cause of hair loss may not be fully understood, but it's usually related to one or more of the following factors:
Family history (heredity)
Hormonal changes
Medical conditions
Medications
Risk factors
A number of factors can increase your risk of hair loss, including:
Family history
Age
Poor nutrition
Stress Treatments and drugs
Treatments for hair loss include medications, surgery, laser therapy, and wigs or hairpieces. Your doctor may suggest a combination of these approaches in order to get the best results.
Medication
If your hair loss is caused by an underlying disease, treatment for that disease will be necessary. This may include drugs to reduce inflammation and suppress your immune system, such as prednisone. If a certain medication is causing the hair loss, your doctor may advise you to stop using it for at least three months.
Minoxidil (Rogaine): Minoxidil is an over-the-counter liquid or foam that you rub into your scalp twice a day to grow hair and to prevent further hair loss. It may be used by men and women.
Finasteride (Propecia): This prescription drug is available only to men. It's taken daily in pill form. Many men taking finasteride experience a slowing of hair loss, and some may show some new hair growth. You need to keep taking it to retain benefits.
Platelet Rich Plasma Therapy: This is one of the latest treatments for hair loss and is especially good for patients who do not wish to go for surgery. In this, a sample of your blood is withdrawn from which platelets are separated using a centrifuge. These are then injected directly into the scalp. Platelets contain growth factors which promote the growth of new hair and reduce hair loss. This procedure requires multiple sittings over a period of 5 to 6 months. It is an outpatient procedure with no down time. You can resume your daily activities almost immediately.
Surgery
In the most common type of permanent hair loss, only the top of the head is affected. Hair transplant or restoration surgery can make the most of the hair you have left. During this procedure, your surgeon removes tiny plugs of skin, each containing a few hairs, from the back or sides of your scalp. He or she then implants the plugs into the bald sections of your scalp. You may be asked to take a hair loss medication before and after surgery to improve results. Surgical procedures to treat baldness are expensive and can be painful.
Wigs and hairpieces
You may want to try a wig or a hairpiece as an alternative to medical treatment or if you don't respond to treatment. It can be used to cover either permanent or temporary hair loss. Quality, natural-looking wigs and hairpieces are available.
Prevention
Eat a nutritionally balanced diet.
Avoid tight hairstyles, such as braids, buns or ponytails.
Avoid compulsively twisting, rubbing or pulling your hair.
Treat your hair gently when washing and brushing. A wide-toothed comb may help prevent pulling out hair.
Avoid harsh treatments such as hot rollers, curling irons, hot oil treatments and permanents.
If you wish to discuss about any specific problem, you can consult a dermatologist.
2413
people found this helpful
View All Feed
Near By Clinics