About
We will always attempt to answer your questions thoroughly, so that you never have to worry needlessly, and we will explain complicated things clearly and simply.
...more
We will always attempt to answer your questions thoroughly, so that you never have to worry needlessly, and we will explain complicated things clearly and simply.
More about Shri Krishna Homeopathic Clinic
Shri Krishna Homeopathic Clinic is known for housing experienced Homeopaths. Dr. Mallikarjun C Balikai, a well-reputed Homeopath, practices in Hubli-Dharwad. Visit this medical health centre for Homeopaths recommended by 70 patients.
Timings
Location
No.30, Second Floor, Swastik Central, Neeligin Road, Hubali-Dharwad
Hubli
Hubli-Dharwad,
Karnataka
-
580029

Get Directions
Photos (10)









View All Photos
Doctor in Shri Krishna Homeopathic Clinic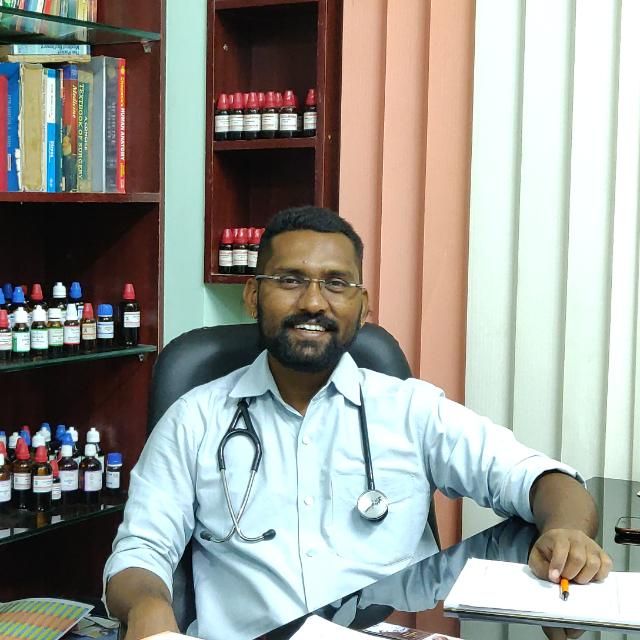 BHMS
Homeopath
Book appointment and get ₹125 LybrateCash (Lybrate Wallet) after your visit
Services
Submit Feedback
Submit a review for Shri Krishna Homeopathic Clinic
Your feedback matters!
Write a Review
Feed
Blessed are the people who enjoy a healthy, flawless and glowing skin with minimum effort, throughout their life. Of late, dermatological problems like acne, pruritus, psoriasis, dermatitis, eczema, have been affecting all and sundry. People, irrespective of their age, sex and occupation suffer from skin diseases. While some of the ailments are minor problems, others might be grave enough for one to seek an expert opinion. A number of factors, both internal as well as external, contribute to the skin ailments.

The dermatological problems, if not treated timely, can leave a person physically, mentally and emotionally drained out. In such cases, a person's self confidence is the worst affected. A lot of conventional and Allopathic options are available to treat the skin disease. Ointments, antihistamine tablets and antibacterial medications, though effective, often provide temporary relief. In many cases, it has been observed that in due course of time, the problem tends to relapse. The disease, thus, never really leaves the body, piling on the agony.

In this regard, Homeopathy has been a revelation, taking the medical world by storm. It works effectively to completely eliminate the dermatological problem out of your system, providing permanent relief. Homeopathy adopts a holistic approach in treating a disease. It lays great emphasis towards identifying and treating the underlying cause. Homeopathic treatment can be a little time consuming, but the time is worth waiting for. Over the past few decades, homeopathy has been the most sought after and reliable medication to deal with dermatological problems. Problems as grave as psoriasis and herpes can be completely cured; all thanks to the goodness of homeopathy.
Some of the homeopathic medications that have effectively dealt with skin diseases include:
- Natrum Muriaticum and Rhus Toxicodendron: Both the medications, Rhus Toxicodendron in particular, are very effective against eczema. Natrum Muriaticum has been found to soothe a person suffering from mental depression greatly.
- Thuja Occidentalis: Acne problems, warts, freckles, dry and itchy skin, ulcers (anogenital region) can throw life in jeopardy. Embrace the goodness of Thuja Occidentalis and the mentioned skin problems will be a thing of the past.
- Arsenicum: If psoriasis and chronic urticaria are giving you sleepless nights, Arsenicum is what you need. Arsenicum is equally effective against chronic eczema.
- Sepia: Herpes can make life miserable. Sepia is a powerful medication that gives one a lot to cheer about. People with psoriasis and dry skin can greatly benefit from Sepia.
- Cantharis: It provides great relief from blisters, skin eruptions and burns (second and third degree).

To enjoy the everlasting benefits, one needs to be a little patient with the treatment.

3068
people found this helpful
Homeopathy is a method of treatment which is based on the fact that symptoms of a certain disease, if induced in small quantities, may help cure the same disease in a sick person. Cardiological disorders are complications of the heart; they can range from various disorders such as a heart attack to irregular heartbeats.
Homeopathic remedies based on naturally occurring substances are given to the affected person in diluted form. These substances induces symptoms of the disease in small quantities which triggers the body to heal.
The various homeopathic treatments for cardiological disorders are:
1. Lactrodectus
This treatment is used to treat symptoms of precordial pain in the body.
2. Aurum metallicum
Aurum metallicum is used in treating symptoms of weakness in the muscles of the heart.
3. Aconitum
This treatment is used when a person is having a heart attack.
4. Spigelia
Spigelia is used in the treatment of irregular heartbeats which may cause sharp pain in the chest.
5. Cactus grandiflorus
This treatment is used in treating angina pectoris which is characterized by symptoms of pain caused by decreased blood flow to the heart.
6. Craetaegusoxyacantha
This homeopathic treatment is used in treating coronary insufficiency in people. This disorder causes problems in heartbeats.
7. Digitalis
This homeopathic treatment is used in treating cardiac muscle failure. This disorder causes palpitation, tightness in the heart muscles and a suffocating sensation.
8. Kalmia latifolia
This treatment is effective in treating cardiac hypertrophy which causes the heart muscle to thicken, resulting in size reduction of the ventricles. This treatment is very effective in treating cardiac hypertrophy that results after rheumatism.
9. Glonoinum
This homeopathic treatment is prescribed to treat symptoms of plaque buildup in the artery and hypertension.
1
person found this helpful
Homeopathy is a widely accepted alternative system of medicine which was discovered in the late 18th century. Homeopathy believes in the philosophy that the mind, emotions and the body are integrated together. On the basis of this philosophy, a homeopath provides remedies which can suit best to the physical and psychological conditions of a patient. Homeopathic remedies are certainly not very high dose. Its main purpose is to recognise and discard the cause behind the condition.
People hold many misconceptions about homeopathy. Following are some of the myths of homeopathy:
1. Homeopathic remedies work slowly: Many people believe that homeopathic remedies cure your medical condition very slowly. Fact is that it works very fast on diseases like cold, fever, etc. When the symptoms are chronic then only working process is slow. This is because at chronic condition the body takes little time to cure from insides. It is advisable to start the homeopathic remedies as soon as any symptom is seen.
2. Remedies are prescribed by doctors with no formal training: Many people believe that homeopathic remedies are prescribed simply on the basis of the visible symptoms and no diagnosis is done. Fact is that these remedies are prescribed by qualified medical professionals graduated from homeopathy medical colleges. They diagnose your medical condition before prescribing you any remedy.
3. Homeopathic remedies are not scientific: Many people consider homeopathic remedies to be unscientific. However, the bases behind homeopathy are pharmacological and clinical data. Vast studies and researches have been conducted on homeopathic remedies and treatment.
4. Strict dietary restriction is to be followed at the time of homeopathic treatment: Many people believe that they have to control their eating habits while undergoing homeopathic treatment. Fact is that for some patients, ingredients like garlic, onion, alcohol, coffee, tobacco etc. are to be avoided during the tenure of treatment. This is simply because these ingredients interfere with the homeopathic treatment.
5. Homeopathy can cure any disorder: Some people have a strong believe that homeopathic remedies can cure any disorder or any medical condition. Fact is that this remedy is completely ineffective in case of dental issues or any condition where surgery is the only remedy.

3151
people found this helpful
If he continues to smoke definitely there will be health issues. He can prevent it by stopping smoking, regular exercises, dietary modification.
Near By Clinics

4.6
(

273

ratings)
Hubli, Hubli-Dharwad,
Hubli-Dharwad
View Clinic