Personal Statement
Serving humanity with honest and humanly care. I believe in health care that is based on a personal commitment to meet patient needs with compassion and care.
...more
Serving humanity with honest and humanly care. I believe in health care that is based on a personal commitment to meet patient needs with compassion and care.
More about Dr. Vishal Khurana
Dr. Vishal Khurana is a Senior Gastroenterologist practising in the National Capital Region, currently associated with Metro Hospital, Sect 16 Faridabad. He obtained his MBBS and postgraduate MD degree in General Medicine from the Institute of Medical Sciences at Banaras Hindu University, Varanasi, in 2010. Subsequently, Dr. Khurana studied and trained at the School of Digestive & Liver Diseases, Institute of Postgraduate Medical Education & Research (IPGMER) in Kolkata for the superspeciality DM degree in Medical Gastroenterology, which he received from the West Bengal University of Health Sciences in 2014. Dr. Khurana treats all kinds of digestive system (oesophagus, stomach, small intestine, colon), liver, pancreas, spleen, gallbladder, bile duct, etc. diseases. He does all kind of diagnostic and therapeutic endoscopic procedures, like Upper GI endoscopy, Colonoscopy, ERCP, PEG, etc. He is a member of the National Academy of Medical Sciences, Indian Society of Gastroenterology and the Indian Academy of Geriatrics. He has many publications in various international and national journal. Some of his papers have been published in medical journals, including The Lancet and the Journal of Pancreas. He bagged best paper awards at GERICON on more than one occasion. He is editor of two international journals (Pancreas-Open Journal and EC-Gastroenterology and Digestive System)
Info
Education
MBBS - Institute of Medical Sciences, BHU - 2006
MD - General Medicine - Institute of Medical Sciences, BHU - 2010
DM - Gastroenterology - Institute of Postgraduate Medical Education and Research, WBUHS - 2014
MNAMS - National Academy of Medical Sciences - 2016
Languages spoken
English
Hindi
Punjabi
W-Bengali
Awards and Recognitions
2nd prize for Oral presentation in GERICON-2008
2nd prize for poster presentation in GERICON-2008
Best Paper Award. GERICON. - Nov 2010
...more
First in Zonal Round. TYSA 2014.
Professional Memberships
Indian Society of Gastroenterology
Indian academy of geriatrics
National Academy of medical sciences
Location
Book Clinic Appointment with Dr. Vishal Khurana

Metro Heart Institute with Multispeciality Sector 16 A, Faridabad (NCR)

,

Faridabad
Get Directions
Consult Online
Text Consult
Send multiple messages/attachments. Get first response within 6 hours.
7 days validity
•
₹200 online
Consult Now
Phone Consult
Schedule for your preferred date/time
5 minutes call duration
•
₹250 online
Consult Now
Video Consult
Schedule for your preferred date/time
5 minutes call duration
•
₹500 online
Consult Now
Services
Submit Feedback
Submit a review for Dr. Vishal Khurana
Your feedback matters!
Write a Review
Patient Review Highlights
"Very helpful"
4 reviews
Reviews
Ansana
May 11, 2017
Thanks to the expert care and guidance, I feel much better than before. earlier i took a treatment for my gastric problem I thought that post treatment it won't happen again, but then after sometime, the symptoms re appeared.Then I consulted Dr.Vishal Khurana and his staff were very helpful. With great ease Vishal Khurana explained us the problem and how the treatment will be carried out. I found the Sarvodaya Hospital & Research Centre itself quite pleasant.
Garima
Aug 30, 2017
I was suffering from intestine bleeding for which I consulted many doctors but I could not see satisfactory results in myself. I was in so much stress because of this problem and was not able to find any solution to it. As one of my colleague referred Dr Vishal. He not only treated my bleeding issue but also helped me to overcome with the stress. I appreciate the way he treated me. I am perfectly fine after the treatment.
Nipun
Aug 19, 2017
Thanks to Dr Vishal, overall swelling treatment was very effective. Over the period of time I noticed a number of changes in myself. He is an excellent doctor and I am benefitted with his treatment. Many people gave very positive feedback for this Vishal Khurana. His advice and counselling has helped me immensely. The overall cleanliness in the Sarvodaya Hospital was amazing.
Aryaman
May 13, 2017
Due to my acidity problem my daily activities were suffering. I consulted dr Vishal Khurana at Sarvodaya Hospital & Research Centrein faridabad.he is so nice that they even at odd hours one can call him in case of emergency. The treatment was very good and nice. dr vishal is my favorite person to go to now. Thanks Doc!!
Anushka
Mar 24, 2017
Many people gave very positive feedback for this dr Vishal Khurana for anal infection treatment. He has expert knowledge in the field.I am so happy with the results of my treatment, that I will surely recommend him to anyone gladly. He can be consulted at Sarvodaya Hospital & Research Centre in faridabad.
Grishm
May 22, 2017
I was suffering from peptic ulcer due to which my daily activities were suffering. I was so much tensed and was not getting any solution to this problem. Dr Vishal helped me alot to deal with this issue. He is one of the best gastroenterologist in the city and I am quite benefitted with his treatment.
Bansi
Jun 20, 2017
My boss referred me Dr Vishal as I was suffering from acute stomach ache from quite long. He has a very positive attitude towards all the patients. He with great ease handled my case with ease. After the treatment, i am completely fine and for that , Dr Vishal is the reason.
Verified
May 9, 2017
He is a very good dr.,very polite and good in behaviour.
Verified
Apr 22, 2018
Dr. Is good bur policy of hospitak ua not good
Feed
Shared 9 months ago • Featured Tip
MBBS, MD - General Medicine, DM - Gastroenterology, MNAMS
Gastroenterologist, Faridabad
Hepatitis B is a condition that causes inflammation of the liver because of the Hepatitis B Virus (HBV). In India, about one million people are at the risk of being infected with HBV every year. It is unfortunate that this number is huge given the fact that Hepatitis B is a preventable disease. You just need to be vaccinated to stay safe. Untreated Hepatitis B increases the risk of liver failure and liver cirrhosis. Your treatment would depend on whether your Hepatitis B infection is acute or chronic.
Seeing the doctor
If you have not gotten your Hepatitis B vaccine yet, visit your doctor and get your shot of the vaccine as early as you can. When in doubt, the vaccine helps keep you safer.
Common symptoms of the disease include abdominal pain, lack of appetite, darker urine, yellowing of the skin, fever, joint pain and so on. In such cases, take an appointment with a gastroenterologist or a hepatologist right away.
Treatment options
Not all infected people may need treatment. For acute infection which is not long lasting, your doctor might advise you to drink plenty of fluids and bed rest for recovery.
In case of chronic Hepatitis B, the treatment is long-term, depending on how strong the virus is inside the body. Treatment at the right time also prevents you from passing on the infection to people around. The common treatments practised are:
Letting the virus take its course - bed rest, intake of healthy food and fluids
Anti-viral medication - prevents multiplication of virus
Interferon alfa-2b injections – the manmade version of the substance your body creates naturally to ward off infections. This is a quicker way to get healthy and is chosen for people who do not prefer long-term treatments
Liver transplant – For extreme conditions with severe liver damage
Post-treatment care
No treatment is complete if you are not taking an effort to bounce back to normalcy. Once you have been diagnosed with Hepatitis B, do your bit to make things better.
Learn the right information about the disease and this way, you can reduce your level of stress and panic
Be in constant touch with your doctors and follow up as and when required
Casual contact with friends and relatives will not spread the infection. Do not cut yourself off from the society
Pick healthier fruits and vegetables, stay away from alcohol, drugs, and smoking and exercise regularly
Know all about vaccinations and get your shots on time. Practice safe sex and do not share intimate items including razors, needles, and toothbrushes. Getting help at the right time will help you recover sooner.
In case you have a concern or query you can always consult an expert & get answers to your questions!
3557
people found this helpful
Shared 9 months ago • Featured Tip
MBBS, MD - General Medicine, DM - Gastroenterology, MNAMS
Gastroenterologist, Faridabad
The liver is the second biggest organ in the human body an works through the day and night removing toxins, fighting infections, aiding digestion and lowering cholesterol levels. The over-consumption of alcohol (more than 20 units a week) can cause unnecessary stress to your liver and in long-term, result in Alcoholic Liver Disease (ALD).
Stages of ALD
There are three stages of ALD depending on the intensity of liver damage.
Fatty Liver: The excess accumulation of fat inside the liver cells is the first step towards ALD. This is a fairly common condition in men and women who are regular drinkers. The condition is preventable and reversible when the alcohol consumption is minimized. Doctors would get an ultrasonography to identify the extent of fatty deposits.
Alcoholic Hepatitis: This stage includes acute inflammation of liver because of prolonged over-consumption of alcohol. Liver scarring, destruction of individual liver cells and subsequent liver failure are further complications developed. Common symptoms would include jaundice, fever, enlargement in the liver and an abnormal increase in the white blood cell count. A liver biopsy would reveal how severe the condition is.
Alcoholic Cirrhosis: The normal liver tissue is completely replaced with scarred, fibrous tissue and regenerative nodules. The regular consumption of more than 60 g of alcohol in men and 20 g of alcohol in women increases the risk of developing acute cirrhosis. The symptoms include portal hypertension, excessive bleeding, kidney failure, an enlarged spleen and liver cancer. Experts will get a liver biopsy done to analyze the severity of the condition.
ALD prevention
Research mentions that people in India get affected by ALD at least a decade earlier than people in the west. Consumption of cheaper, bad alcohol and the lack of knowledge about the disease are some of the reasons why ALD is the third most common cause of death in the world. The below mentioned preventive measures help keep the disease at bay and will protect your liver.
Limit alcohol consumption to 10-12 units a week
For people in stages 2 and 3, stopping alcohol consumption is absolutely necessary
Take a detoxifying break for a couple of months a year. Abstain completely from alcohol and let the body recover from the toxins
For stress-related drinking problem, there are experts who can help deal with stress positively
Alcohol addiction needs immediate support from trained experts
Good food and right nourishment helps make the condition manageable
Mixing of different drinks can intensify ALD
Know your limits and consult a doctor if you find your alcohol consumption going overboard. When diagnosed early, you can reverse ALD and get back to normalcy quicker.
In case you have a concern or query you can always consult an expert & get answers to your questions!
3301
people found this helpful
Shared 9 months ago • Featured Tip
MBBS, MD - General Medicine, DM - Gastroenterology, MNAMS
Gastroenterologist, Faridabad
Eating good and healthy food always contributes to the overall wellbeing of a person. Same holds true for the patients suffering from ulcerative colitis (UC). Ulcerative colitis patients need certain dietary modification to bring about a change in their condition. Though this condition isn't directly caused by the food but the frequency of flare ups is influenced by the food taken. Below mentioned is the list of foods to eat and avoid.
Food to be Consumed
Usually, for ulcerative colitis, low fibre and low residue foods are considered the best since they are easy to digest. Here is a list of foods that can be included in the diet:
Vitamin D: This vitamin boosts the immune system to fight the risks of ulcerative colitis flare ups. Since the sun is the best source of Vitamin D, it is important that a person gets as much exposure to the sun as possible.
Probiotics: Maintain a balance between good and bad bacteria of the gut which in turn alleviates the symptoms of this condition.
Omega-3 fatty acids: Omega-3 fatty acids have an anti-inflammatory effect, which can help alleviate intestinal inflammation caused by ulcerative colitis. Salmon is one of the best sources of Omega-3.
Eggs: Eggs are typically easy to digest and offer a number of nutrients which makes them one of the best choices for the patients of UC.
Plenty of fluid: People with this condition need to drink extra fluid, as diarrhoea can lead to dehydration.
Supplements: Dietary supplements also help in balancing the nutritional needs of a patient.
And last but not the least there are many anti-inflammatory foods that help in reducing the ulcerative colitis flare-ups include turmeric, cloves, ginger and rosemary.
Foods to be Avoided
A patient should closely monitor what s/he is eating as the studies have revealed that the symptoms of ulcerative colitis are closely associated with diet. The following list will help you cut off the chances of UC flare ups.
High Fibre Food: Are difficult to digest so should be cut off from the diet. It's best to moderate the intake of fruits and vegetables with insoluble fibres.
Oily and Fatty Foods: The greasy food can aggravate the symptoms of UC as well as can cause diarrhoea.
Spicy foods: Spicy foods may disturb your bowel movements, so it is best to limit the intake of chillies, chilli powder, paprika, peppers etc.
Dairy products: Patients of UC are mostly lactose intolerant. So, these patients should avoid dairy products.
Seeds and nuts: Seeds and nuts are hard to digest, and it is best to avoid them if you are suffering from ulcerative colitis.
Ulcerative Colitis is just a disease which can be avoided by maintaining a proper diet and making few dietary modifications. One should eat smaller meals a few times per days instead of eating large ones.
In case you have a concern or query you can always consult an expert & get answers to your questions!
3610
people found this helpful
Shared 10 months ago • Featured Tip
MBBS, MD - General Medicine, DM - Gastroenterology, MNAMS
Gastroenterologist, Faridabad
The human body with its multiple organs is a highly complicated structure and one or more organs often malfunction for various reasons. However, for some, no reasons are identified for this problem. One such is irritable bowel syndrome or IBS as it is commonly referred to.
It is a common disorder affecting the large intestine leading to alternate bouts of diarrhea and constipation, abdominal cramps and a feeling of fullness. It is common in people younger than 45 years of age, affects women more than men, and though the exact reason is not known, the following are attributed.
Physical/Physiologic reasons:
1. Signal issues between the brain and intestines: For various or even unknown reasons, the brain may not be able to send the right signal to the stomach to process food, making the stomach to be hyperactive and have an increased sense of pain or sensitivity or discomfort. Neurotransmitters, which are chemicals responsible for sending signals to various organs also could be involved.
2. Hormonal connection: Menstrual periods tend to aggravate symptoms of IBS, while postmenopausal women are largely free of IBS symptoms.
3. Genetics: People with a family history of IBS are more likely to develop IBS too.
4. Aggravating foods: Foods rich in carbohydrates, spicy foods, fatty foods, caffeine and alcohol aggravate IBS symptoms. Ability to absorb sugar could be a cause too.
5. Infections: Some people with IBS have certain bacteria identified in their gut which produces excessive gas and this could lead to altered bowel movements.
6. GI Motility Issues: Alterations in the way the food passes through the stomach can lead to either constipation (slow movement) or diarrhea (quicker movement). There could also be spasms and contractions after eating, especially if the stress levels are high.
7. Psychological issues: Panic disorder, anxiety, depression, and posttraumatic stress disorder are common in IBS patients. It is possible that they are not able to express their psychological stress, it manifests as physical symptoms. Stress increases symptoms of IBS and vice versa.
Management:
1. Manage stress: Meditation, yoga, support groups, medication and even hypnosis in severely stressed people helps control stress, providing great relief in IBS symptoms.
2. Lifestyle changes: Reduce alcohol and smoking
3. Dietary changes: Avoid aggravating foods, increase the amount of fiber if you have diarrhea and space out meals to avoid intestinal overload
4. Herbal remedies: Probiotics, peppermint oil and a variety of herbal medicines are available.
5. Symptomatic medications: Based on presenting symptoms, different medications including antibiotics for infections and motility drugs can be used. Anti anxiety and antidepressants are also prescribed to manage the psychological issues.
In terms of causes, symptoms, or treatment, IBS requires a very individualized approach and your doctor is the right person to discuss this with and decide.
In case you have a concern or query you can always consult an expert & get answers to your questions!
3230
people found this helpful
Shared 1 year ago • Featured Tip
MBBS, MD - General Medicine, DM - Gastroenterology, MNAMS
Gastroenterologist, Faridabad
Also called gluten-sensitive enteropathy and celiac sprue, celiac disease is an autoimmune digestive disorder, wherein the consumption of gluten-based foods leads to damage of the tissues that line the small intestine. This hinders the ability of your body to absorb the essential nutrients from the foods you eat.

Causes
Under normal conditions, the immune system of the body offers protection against external intruders. When individuals diagnosed with celiac disease consume gluten-based foods, gluten resistant antibodies are formed by the immune system. This causes them to attack the linings around the intestines, thus causing irritation in the digestive tract and harming the villi (hair-like structures on the covering of the small intestine which absorb nutrients from the food). This impairs the nutrient absorbing capacity of the individual, thus increasing chances of malnourishment.

Symptoms
Celiac disease has symptoms that vary from patient to patient. Some of the common symptoms include:
A severe skin rash called dermatitis herpetiformis.
Digestive problems such as:
Musculoskeletal problems such as bone and joint pain as well as muscle cramps
Aphthous ulcers which are basically sores occurring in the mouth
Growth issues in children since they cannot absorb the required amount of nutrients
Irregular menstrual cycles
Other complications associated with celiac disease
In case you have a concern or query you can always consult an expert & get answers to your questions!
3194
people found this helpful
Shared 1 year ago • Featured Tip
MBBS, MD - General Medicine, DM - Gastroenterology, MNAMS
Gastroenterologist, Faridabad
The production of gas in the body is a natural process as long as it is within normal limits. Whether it makes you burp or causes flatulence, excessive gas can be embarrassing. Gas can also make you uncomfortable and can cause bloating. This is simply the buildup of excessive gas in the stomach before it is ready to be released. Here are a few simple tips that can help you prevent the buildup of excessive gas.
Avoid eating gaseous foods: Beans, broccoli, milk, cheese and fruits like pears and apples; these are some of the foods to avoid if you suffer from frequent bouts of gaseousness. This is because they contain fiber and sugar that is difficult to digest and creates gas. If you cannot avoid them completely, try steaming them instead of frying or baking them. Some people may also react to certain food combinations such as fruits and proteins by producing gas. Keeping a food diary may help identify such combinations.
Drink a glass of water before meals: Drinking water while you are eating can hinder digestion. When water mixes with solid food, it interferes with the way stomach acid breaks down food. Instead, drink a glass of water half an hour before your meals. In this way, the water flushes your system and prepares it for the digestion process.
Eat slowly: Grabbing a bite on the go is one of the leading causes of indigestion. When you eat anything, ensure that you chew it properly and do not swallow large bites of food. This prevents air from collecting in your stomach and thus prevents gaseousness.
Probiotics: Probiotics boost the production of 'good gut bacteria' that is essential for digestion. Probiotics can also help ease bloating. If you suffer from gas, try including probiotics like yogurt, pickles, kimchi and buttermilk in your diet or get yourself a probiotic supplement.
A cup of chamomile tea: Chamomile not only calms the body but can also fight indigestion and gas. A cup of chamomile tea after a heavy meal helps speed up the digestion process. This helps relieve bloating, as the faster the stomach is emptied, the faster gas can move out of the stomach and into the intestines. Fennel, dill, peppermint and ginger can also be used as alternatives to chamomile.
Digestive aids: Gas is a fairly common problem faced by a number of people and hence digestive aids are easily available over the counter. Look for medication that contains activated charcoal or digestive enzymes.
If gaseousness persists over a long period of time and is not eased by any of these remedies, consult a doctor at once.

3247
people found this helpful
Shared 1 year ago • Featured Tip
MBBS, MD - General Medicine, DM - Gastroenterology, MNAMS
Gastroenterologist, Faridabad
What is Pancreas?
The pancreas is an organ placed behind the stomach in abdomen. It produces: digestive juices (produce by exocrine pancreas, it help in digestion of food) as well as digestive hormones i.e. insulin and glucagon (produce by endocrine pancreas) which help in regulation of the level of glucose (sugar) in the blood.
What is pancreatitis?
Pancreatitis is abnormal swelling and inflammation of the pancreas. Once the gland becomes inflamed, the condition can progress to swelling of the gland and surrounding blood vessels, bleeding, infection, and damage to the gland. Normally, digestive enzymes secreted by the pancreas do not become active until they reach the small intestine. But when the pancreas is inflamed, digestive juices become trapped and start "digesting" the pancreas itself. If this damage persists, the gland may not be able to carry out normal functions.
What Are the Types of Pancreatitis?
Pancreatitis may be acute (new, short-term) or chronic (ongoing, long-term). Either type can be very severe, even life-threatening. Either type can have serious complications.
Acute pancreatitis usually begins soon after the damage to the pancreas begins. Attacks are mostly very mild, but about 20% of them are very severe. The onset of acute pancreatitis is often very sudden. The inflammation usually clears up within several days after treatment begins. An attack lasts for a short time and usually resolves completely as the pancreas returns to its normal state. Some people have only one attack, whereas other people have more than one attack, but the pancreas always returns to its normal state unless necrotizing pancreatitis develops and becomes life-threatening.
Chronic pancreatitis begins as acute pancreatitis. If the pancreas becomes scarred during the attack of acute pancreatitis, it cannot return to its normal state. The damage to the gland continues, worsening over time. Pancreatitis can come and go quickly, or it can be a chronic problem. Treatment will depend on whether your pancreatitis is acute or chronic.
What are the causes of pancreatitis?
Alcohol abuse and gallstones are the two main causes of pancreatitis, accounting for 80% to 90% of all individuals diagnosed with pancreatitis.
Gallstones form from a buildup of material within the gallbladder, another organ in the abdomen (please see previous illustration). A gallstone can block the pancreatic duct, trapping digestive juices inside the pancreas. Pancreatitis due to gallstones tends to occur most often in women older than 50 years of age.
Pancreatitis from alcohol use usually occurs in individuals who have been long-term alcohol drinkers for at least five to seven years. Most cases of chronic pancreatitis are due to alcohol abuse. Pancreatitis is often already chronic by the first time the person seeks medical attention (usually for severe pain).
The remaining 10% to 20% of cases of pancreatitis have various causes, including the following:

medications,
exposure to certain chemicals,
injury (trauma), as might happen in a car accident or bad fall leading to abdominal trauma,
hereditary disease,
surgery and certain medical procedures,
infections such as mumps (not common),
abnormalities of the pancreas or intestine, or
high fat levels in the blood.

In about 15% of cases of acute pancreatitis and 40% of cases of chronic pancreatitis, the cause is never known.
What are the risk factors for pancreatitis?
The major risk factors for pancreatitis are excessive alcohol intake and gallstones. Although the definition for excessive alcohol intake can vary from person-to-person, most health-care professionals suggest that moderate consumption is no more than two alcoholic drinks a day for men and one a day for women and the elderly. However, people with pancreatitis secondary to alcohol intake are usually advised to avoid all alcohol intake. Other risk factors include:
a family history of pancreatitis,
high levels of fat (triglycerides) in the blood,
cigarette smoking,
certain inherited disorders such as cystic fibrosis, and
taking certain medicines (for example estrogen therapy, diuretics, and tetracycline).
What Are the Symptoms of Pancreatitis?
Most people who have acute or chronic pancreatitis experience upper abdominal pain as their primary symptom. Some of those who have chronic pancreatitis may show inflammation on imaging scans, but otherwise may show no symptoms. Symptoms of pancreatitis may include:
upper abdominal pain: pain that wraps around the upper body and involves the back in a band-like pattern

Pain associated with pancreatitis may last from a few minutes to several hours at a time.
In severe cases, discomfort from chronic pancreatitis could become constant. Your pain is likely to increase after you eat or when you're lying down. Try sitting up or leaning forward to make yourself more comfortable.
Severe acute pancreatitis is a medical emergency. Severe acute pancreatitis may cause dehydration and low blood pressure. The heart, lungs, or kidneys can fail. If bleeding occurs in the pancreas, shock and even death may follow. People who have chronic pancreatitis may also experience steatorrhea, or fatty stools that give off a foul odor. Steatorrhea can be a sign of malabsorption. This means you're not getting all of your essential nutrients because your pancreas doesn't secrete enough digestive enzymes to break down your food.
How pancreatitis is diagnosed?
Your doctor will likely use a combination of blood tests and imaging scans to make a diagnosis. If you have acute pancreatitis, blood tests may show a rise in your level of pancreatic enzymes. During acute pancreatitis, the blood contains at least three times the normal amount of amylase and lipase, digestive enzymes formed in the pancreas. Changes may also occur in other body chemicals such as glucose, calcium, magnesium, sodium, potassium, and bicarbonate. After the person's condition improves, the levels usually return to normal. Ultrasound, MRI/MRCP, and CT scans can reveal the size of your pancreas and whether you have a blockage of the bile ducts.
How to treat pancreatitis?
Treatment for acute or chronic pancreatitis often involves hospitalization. In acute pancreatitis, the choice of treatment is based on the severity of the attack. If no complications are present, care usually focuses on relieving symptoms and supporting body functions so that the pancreas can recover. Treatment for acute pancreatitis includes intravenous (IV) fluids, and medications for pain, nausea and vomiting.
The pancreas is key to your digestive process and needs to rest to heal. No food or liquid should be taken by mouth for a few days. This is called bowel rest. By refraining from food or liquid intake, the intestinal tract and pancreas are given a chance to start healing.
For this reason, you may receive fluids and nutrition intravenously or through a tube that goes from your nose directly into your jejunum (part of small intestine), which is called a nasojejunal feeding tube. Restarting an oral diet depends on your condition. Some people feel better after a couple of days. Others need a week or two to heal sufficiently.
If needed, medications for pain and nausea are prescribed.
Those people who are having trouble breathing are given oxygen.
Antibiotics are given if the health-care professional suspects an infection may be present.
Some people may need a nasogastric (NG) tube. The thin, flexible plastic tube is inserted through the nose and down into the stomach to suck out the stomach juices. This suction of the stomach juices rests the intestine further, helping the pancreas recover.
If the attack lasts longer than a few days, nutritional supplements are administered through an IV line.
Surgery is sometimes needed to treat complications

If your doctor diagnoses gallstones or other blockages of the bile ducts, you may need surgery to correct these problems later on.
What are the complications of pancreatitis?
Some patients may develop complications. These complications are rare, but they're more common in people with chronic pancreatitis:
kidney damage
pancreatic infection
Patients who have acute pancreatitis may also be at risk for developing breathing difficulties.
Can pancreatitis be prevented?
The following recommendations may help to prevent further attacks or to keep them mild:
Completely eliminate alcohol because it is the only way to reduce the chance of further attacks in cases of pancreatitis caused by alcohol use, to prevent the pancreatitis from worsening, and to prevent the development of complications that can be very serious or even fatal.
Eat small frequent meals. If in the process of having an attack, avoid solid foods for several days to give the pancreas a chance to recover.
Eat a balanced diet high in carbohydrates and low in fats because may help individuals decrease the risk for pancreatitis since it is likely these actions will decrease the risk of gallstones, a major risk factor for pancreatitis.
If pancreatitis is due to chemical exposure or medications, the source of the exposure will need to be found and stopped, and the medication will need to be discontinued.
Don't smoke
Maintain a healthy weight
Exercise regularly. If you wish to discuss about any specific problem, you can consult a Gastroenterologist.
2964
people found this helpful
Shared 1 year ago • Featured Tip
MBBS, MD - General Medicine, DM - Gastroenterology, MNAMS
Gastroenterologist, Faridabad
Cirrhosis of liver is slow and gradual replacement of normal healthy liver tissue with scar tissue which results in poor liver function and blockage of flow of blood through liver which comes from intestines. As more scar tissue replaces normal healthy liver, liver begins to fail.
What causes cirrhosis?
Alcohol: Amount of alcohol which can cause liver damage varies from person to person, however those who consume alcohol for long in significant amount are more prone to develop liver damage.
Hepatitis B or hepatitis C: Caused by hepatitis B and C viruses, respectively, which are acquired by contact with contaminated blood (like needlestick injury, blood transfusion, injection drug abuser), sexual contact with infected person and from mother to child during childbirth.
Non-alcoholic fatty liver disease (NAFLD): Caused by presence of extra fat in liver (after excluding significant alcohol intake) which causes inflammation and scarring leading to cirrhosis. Usually seen in patients who are overweight or obese, having diabetes, high fat in blood, high blood pressure or metabolic syndrome.
Drugs causing liver injury.
Others: Autoimmune hepatitis (body`s own immunity acting against liver), Wilson disease (build up of copper in body), hemochromatosis (excess of iron in body), certain bile duct disorders, etc.
What are the symptoms of cirrhosis?
Early disease can present with nonspecific symptoms like weakness, fatigue (loss of energy), decrease wish to take food, vomiting or nausea, weight loss, etc.
Advanced disease can present with fluid accumulation in legs (edema) or abdomen (ascites), facial puffiness, yellowish discoloration of eyes or urine (jaundice), redness of palm (palmer erythema), decrease urine output, small red lesions on skin, easy bleeding following trauma, blood coming out of mouth/anus/other body site, black colored feaces, mental confusion, flapping tremors of hand, etc. In men it can cause impotence, breast enlargement and shrinking of testis.
What are the complication of cirrhosis?
Portal hypertension: It is a common complication of cirrhosis which is due to increased pressure in portal vein. Portal vein is main blood vessel which carries blood to liver from stomach, intestines, spleen, gallbladder and pancreas. Because of scar formation in liver the normal flow of blood from these organs to liver is hampered. As a result of blockage of blood flow to liver there are few complications which can arise like accumulation of fluid in abdomen (ascites) and legs (edema), formation of enlarged veins (varices) in food pipe (esophagus), stomach, etc., enlargement of spleen (splenomegaly), mental confusion/altered behavior/altered sensorium (hepatic encephalopathy), respiratory discomfort (hepatic hydrothorax or hepato-pulmonary syndrome) or decrease urine output/rise in creatinine (hepato-renal syndrome).
Increase risk of infection because of immune system dysfunction.
Development of liver cancer (Hepatocellular carcinoma)
Easy brusibility or bleeding following light trauma.
Gall bladder stone formation
Metabolic bone disease
What are the stages of cirrhosis?
Compensated cirrhosis: Liver damage is damaged but no abdominal swelling (ascites), blood in vomiting or black/red color feaces (variceal bleed), altered behavior/sensorium (hepatic encephalopathy), respiratory discomfort (hepatic hydrothorax or hepato-pulmonary syndrome) or decrease urine output/rise in creatinine (hepato-renal syndrome).
Decompensated cirrhosis: Presence of abdominal swelling (ascites), blood in vomiting or black/red color feaces (variceal bleed), altered behavior/sensorium (hepatic encephalopathy), respiratory discomfort (hepatic hydrothorax or hepato-pulmonary syndrome) or decrease urine output/rise in creatinine (hepato-renal syndrome).
How cirrhosis is diagnosed?
Your doctor will take good history and do proper physical examination. If there is suspicion of cirrhosis then he will subject you to some blood test, ultrasound abdomen, fibroscan/elastography, upper GI endoscopy and if needed CT scan or MRI of abdomen or liver biopsy.

Ultrasound of abdomen in cirrhosis may shows coarse liver echotexture, nodular liver surface, dilated portal vein or collateral, enlarged spleen or abdominal fluid (ascites).
How to prevent cirrhosis?
Best way to avoid development of cirrhosis from predisposing stage of liver illness is to recognize and treat early. Few advices to keep liver healthy are:
Dietary modification: Eat healthy balanced diet. Avoid high calorie food or drinks, saturated fat, sugar and refined carbohydrates. Keep yourself hydrated.
Lifestyle modification: Maintain healthy body weight. Avoid being overweight or obese. Aerobic exercise (like brisk walk 30-45min/day atleast 5days/week) regularly helps to lower liver fat.
Avoid: Avoid use of contaminated needles, sharing of items of personal hygiene (like shaving razors, toothbrush, nail clippers, etc), use of illicit drugs, self medication with over the counter drugs or using drugs beyond doctor`s advice.

Practice safe protected sex
Alcohol

Motivate others: to stop drinking and follow hand hygiene and doctor`s advice.
Hand hygiene: Wash hand with soap and water regularly before eating, after going to toilet and after touching dirty objects.
Vaccination: For hepatitis A or hepatitis B, if you are not vaccinated or not already infected or unsafe antibody titre. Transmission rate of hepatitis B from mother to child at birth can be reduced with vaccination and immunization of newborn starting within 12 hours of birth as well as by using antiviral drugs (if indicated).
Prevent others from getting infected from you if you harbor virus causing liver damage.
How to treat cirrhosis?
Treatment of cirrhosis is based on cause of cirrhosis and complication of cirrhosis. Main aim of treatment in early stage of cirrhosis is to slow the progression of cirrhosis and prevent complications development
Stop alcohol, antiviral drugs for hepatitis b or hepatitis C, proper sugar level if diabetes, steroid or other medications for autoimmune hepatitis, medications to reduce copper from body in patients with Wilson's disease, etc.
Drugs to lower portal pressure (beta-blocker or nitrates), drugs to remove fluid from body (diuretics), drugs to lower ammonia level for encephalopathy (lactulose and others), drugs to improve kidney function (albumin, terlipressin and others).
Opt for liver ransplant, If cirrhosis is life threatening or treatment of cirrhosis complication is ineffective.
Low salt high protein diet
Stop alcohol intake even if you have other cause of cirrhosis.
Stop smoking
Avoid over the counter drugs (especially pain killers)
Vaccinate if not done already or infected

If you wish to discuss about any specific problem, you can consult a gastroenterologist.
3010
people found this helpful
Shared 1 year ago • Featured Tip
MBBS, MD - General Medicine, DM - Gastroenterology, MNAMS
Gastroenterologist, Faridabad
Fatty liver is a condition where excess fat is deposited on this organ. Also called as steatosis, this condition happens when more than 5- 10 percent of the weight of the liver is made up of fat.
Fatty liver is a common condition among people. A study from coastal regions of India found ~ 25% of healthy persons had patients had fatty liver on ultrasound.
It can occur at all ages including childhood, highest prevalence is in 40–50 year age group. Prevalence more in patient who are obese and in diabetic patients.
Types of Fatty Liver
1 Alcoholic fatty liver: This condition occurs when there is a heavy consumption of alcohol. Gastroenterologists recommend abstention from alcohol for this condition to subside. If the patient continues to consume alcohol, then liver cirrhosis may develop.
2 Non alcoholic fatty liver (NAFL): One may develop a fatty liver even if one is not an alcoholic. The liver in some cases is unable to process the fat in cells causing them to build-up on the organ.
When more than 10% of the liver is made of fat then this condition is called Non Alcoholic Fatty Liver (NAFL).
Non alcoholic steatohepatitis (NASH): When fatty liver is associated with inflammation in liver patient is said to be having Non alcoholic steatohepatitis. NASH is a more advanced stage of NAFLD, and has a higher risk of progressing to liver cirrhosis or hepatocellular carcinoma (HCC). These condition display symptoms like jaundice, vomiting, nausea, loss of appetite and abdominal pain. Blood test (LFT) shows raised enzymes level. Approx 5-8% of the Indian population has NASH. Consult a doctor if you are experiencing any of these symptoms.
3 Fatty liver during pregnancy: Occurring mainly in the third trimester, the symptoms of this condition are vomiting, nausea, pain the right part of the abdomen and jaundice.
Symptoms
During the early stages (fatty liver) of the disease, patients usually have no symptoms directly related to liver disease. However, people may experience a vague abdominal discomfort. If their liver is inflamed (NASH) then they may display symptoms of poor appetite, weight loss, pain in the abdomen and disorientation.
What causes fatty liver?
The most common cause of fatty liver is alcoholism. When the human liver is unable to metabolize fat fast enough or when there is an excess accumulation of fat on the liver cells then the liver becomes fatty. However, intake of high-fat foods may not result in a fatty liver.
Predisposing factor:
2 Obesity or being overweight
3 Hyperlipidemia or the condition where there are high levels of fat in the blood
4 Genetic reasons
5 Rapid loss of weight
6 Drugs: Aspirin, steroids, tamoxifen, tetracycline etc. cause side effects which also leads to fatty liver
7 Nutritional status (eg, overnutrition, severe malnutrition, total parenteral nutrition [TPN], or starvation diet)
8 Other health problems (eg, Hepatitis C infection, celiac sprue and Wilson disease)
If you wish to discuss about any specific problem, you can consult a gastroenterologist.
3310
people found this helpful
Shared 1 year ago • Featured Tip
MBBS, MD - General Medicine, DM - Gastroenterology, MNAMS
Gastroenterologist, Faridabad
A chronic condition, Irritable Bowel Syndrome (IBS) is a disorder of the large intestine that exhibits symptoms such as bloating, abdominal cramps, gas and diarrhea. The symptoms of IBS can be controlled by making lifestyle changes such as incorporating certain modifications to your diet and reducing or managing stress levels. For severe symptoms, you may require medications.

Symptoms
The symptoms of IBS can vary; some of them are:
Bloated stomach
Abdominal cramps
Flatulence
Constipation or diarrhea
Presence of mucus in the stool
Causes
The exact cause of IBS is not known, but there are certain factors that may act as triggers. There are muscles lining the walls of the intestine that relax and contract in a proper rhythm, thus allowing the passage of food through the intestine. In case of IBS, these contractions tend to be irregular, resulting in gas, bloating and diarrhea.
Some of the factors that can trigger this condition are:
Hormones: Hormonal changes can play a role in triggering IBS. For a woman, the symptoms can worsen during her menstrual cycles.
Stress: Studies show that symptoms of IBS considerably increase if you are subject to increased stress levels over a prolonged period of time.
Other Disorders: In some cases, other underlying conditions such as bacterial overgrowth or infectious diarrhea can cause IBS.
Treatment
The initial step to manage the symptoms of this condition is to make prompt changes in your diet, such as eliminating spicy foods and dairy products, at least till the symptoms subside. It is advised to resort to medications only if the dietary changes fail to yield results.

The various treatments are:
Anti-diarrheal Medications: Anti-diarrheal medication such as 'loperamide' is used to control and manage diarrhea.
Fiber Supplements: Certain fiber supplements such as 'methylcellulose' and 'psyllium' can help in managing constipation.
Antibiotics: Antibiotics are prescribed only if the symptoms result from bacterial overgrowth in the intestine.

If you wish to discuss about any specific problem, you can consult a gastroenterologist.
2851
people found this helpful
View All Feed
Near By Doctors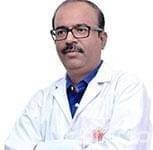 Diplomate of National Board , DM in Gastroenterology , MD in General medicine, MBBS
Gastroenterologist
Book Appointment