Videos (2)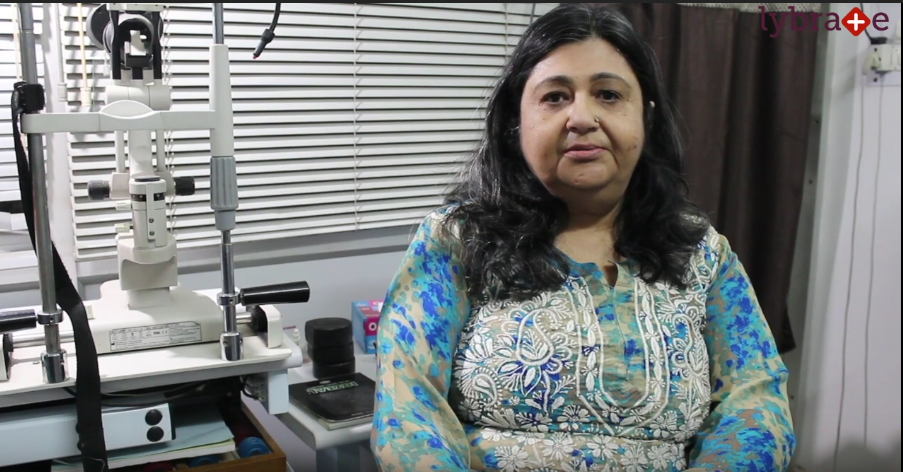 Keratoconus (KC) is a disorder of the eye which results in progressive thinning of the cornea. This may result in blurry vision, double vision, nearsightedness, astigmatism, and light sensitivity. Usually, both eyes are affected. In more severe cases a scarring or a circle may be seen within the cornea.
read more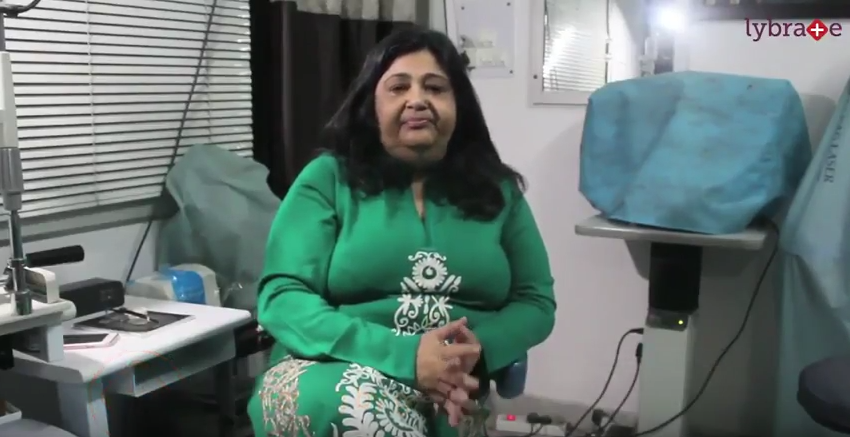 Hello everybody, I am Dr Ruchi I am a private practitioner ophthalmologist in Faridabad and my clinic is in 28 sector in Faridabad. Today I want to tell you all briefly about a disease which is known to be a silent killer or causing silently blindness which is we are finding it very commonly today in people all around the world, it is glaucoma in Hindi we call it as Kala Motia. Glaucoma we are finding it very commonly and noble screening of the patient who is diabetics, hypertensive, high myopia or the high minus power being patient, thyroid patient, migraine patient, anybody 40 + can develop glaucoma. It is necessary that you will have any symptoms for that generally some patients get coloured halos around the light, coloured rings around the lights but sometimes mostly it is seen as very silently keeping in and developing towards blindness, by the time the patient comes to know that he is a glaucoma patient. As a routine screening when the patient comes to our clinic, we do the pressure checkup and it is advised that everybody all these listed people that I have the patient I have told about should go in for a pressure check-up, but pressure check-up alone is not the indication for glaucoma. If the pressure is high, it is only an indication that we should go for the investigation for glaucoma and there are other 4, 5 parameters on which we judge, whether, the glaucoma is to be established a case or not. So I would personally advised everybody, if your doctor suggesting you to go in the direction of investigation for glaucoma do not overheat his advice because do not pay any attention to the advice because it is a silent killer you might not even come to know about it and one day you just turn blind then you come to know that you had glaucoma. It is a little expensive investigation but do not look at the price do investigate and as a routine you must get the pressure check up and the routine screening, we have OCD for that we have perimetry or the field charges for that and the central corneal thickness of the pachymetry that we do for this screening and the gonioscopy. So you must investigate and then we confirm whether you have glaucoma or not, do take care of this and If in case you want to come and visit me you can come and visit at my clinic I have the complete setup for the glaucoma investigations and the treatment for this is drop surgery is the last choice of treatment in this case, initially we just control it with eye drops only. So in case you want to come and meet me, I have two centres one is in 21-c, one is in 28 Sector both have a complete set for glaucoma assessment, you can come and meet me there. Thank you so much.
read more
Personal Statement
My experience is coupled with genuine concern for my patients. All of my staff is dedicated to your comfort and prompt attention as well. Doctor is an active member of Delhi Ophthalmologi...
...more
My experience is coupled with genuine concern for my patients. All of my staff is dedicated to your comfort and prompt attention as well. Doctor is an active member of Delhi Ophthalmological Society (DOS)
More about Dr. Ruchi
Dr. Ruchi is one of the best Ophthalmologists in Sector -28, Faridabad. She has been a practicing Ophthalmologist for 30 years. She has done MBBS, DOMS . You can consult Dr. Ruchi at Dr. Ruchi Pvt Clinic in Sector -28, Faridabad. Save your time and book an appointment online with Dr. Ruchi on Lybrate.com.

Lybrate.com has an excellent community of Ophthalmologists in India. You will find Ophthalmologists with more than 28 years of experience on Lybrate.com. Find the best Ophthalmologists online in Faridabad. View the profile of medical specialists and their reviews from other patients to make an informed decision.
Info
Education
MBBS - Gandhi Medical College Bhopal - 1989
DOMS - Hamidia Hospital Mumbai - 1994
Languages spoken
English
Hindi
Professional Memberships
Delhi Ophthalmological Society (DOS)
HOS
FOS
Location
Book Clinic Appointment with Dr. Ruchi

No.2139, Private Link Road, Sector-28, Landmark : Opposite Mother Dairy Booth

,

Faridabad
Get Directions




Shop No-195, Main Market, Sector-21/C, Near Park Plaza

,

Faridabad
Get Directions
Consult Online
Text Consult
Send multiple messages/attachments. Get first response within 6 hours.
7 days validity
•
₹300 online
Consult Now
Phone Consult
Schedule for your preferred date/time
15 minutes call duration
•
₹500 online
Consult Now
Services
Submit Feedback
Patient Review Highlights
"Very helpful"
2 reviews
"knowledgeable"
1 review
"Well-reasoned"
1 review
"Caring"
1 review
"Professional"
1 review
Reviews
Mansha
Feb 13, 2019
I found the answers provided by the Dr. Ruchi to be very helpful, knowledgeable, well-reasoned, caring and professional. Very nice consultation. I asked for eye problem. Thanks.
Mansha
Feb 11, 2019
Very good consultation. Thanks.
Sumit Baghel
Nov 5, 2018
Good doctor
Verified
Sep 13, 2018
Good
Feed
Most individuals suffer from eye problems sometime in their entire life span. Since our eyes are one of the most important assets and sense organs, periodic check ups are recommended to prevent serious eye problems. Here is a list of 5 primary eye diseases, their causes and cure:
This disease is commonly called pink eye. It involves swelling of the conjunctiva lines inside the eyelids which cover the sclera of the eyes as well.
Causes:
1. May occur because of factors like viruses, bacteria and substances, which cause irritation such as shampoo, smoke, dirt, chlorine in swimming pools.
2. Dust, pollens or similar allergies may cause this disease in sensitive people.
3. This disease is infectious in nature and spreads from person to person.
This disorder may be treated with eye drops, pills or ointments containing antibiotics. Avoid being with other people when affected and also abstain from using contact lenses.
In case of this disease, the optic nerve of the eye is damaged and can lead to loss of vision over time. Build-up of pressure takes place inside the eye.
Causes:
1. Occurs due to intense pressure within the eyes or the intraocular pressure.
2. The extra pressure destroys the optic nerve.
3. Permanent blindness is caused if the disease is not controlled and treated.
Eye drops, laser surgery, and microsurgery are methods for curing glaucoma.
Ocular Migraine
This temporary disease causes loss of vision in one eye and generally does not last for more than an hour. This might happen after a migraine headache.
Causes:
1. Mainly caused due to health-related issues than from eye problems.
2. Also occurs from regular migraines.
3. It is related to spasms caused in the blood vessels of the retina.
This disorder can be cured by using aspirin, epilepsy drugs and blood-pressure medication known as beta blockers.
Retinal vascular occlusion
This disease affects the retina and lowers the supply of oxygen-rich blood.
Causes:
1. Factors such as atherosclerosis, blood clots and blockage in arteries, diabetes, high blood pressure, obesity or smoking lead to this disease.
2. The blood flow to the retina is restricted.
Medicines like blood thinners, eye injects such as vascular endothelial growth can cure this disorder.
Paralysis of the eye muscles occurs. Can occur in more than one of the eye muscles.
Causes:
1. Happens due to interruption of messages sent to the eye from the brain.
2. Caused from muscle disorders.
3. Also caused from migraines, thyroid problems, stroke, etc.
Special eye patches and eyewear are used for treating this disorder, for relieving double vision.
Eye diseases are very common, and a large number of eye diseases can occur from different reasons and causes.
3682
people found this helpful
A cataract is a clouding of the normally clear lens of your eye. For people who have cataracts, seeing through cloudy lenses is a bit like looking through a frosty or fogged-up window.
Clouded vision caused by cataracts can make it more difficult to read, drive a car (especially at night) or see the expression on a friend's face.
Most cataracts develop slowly and don't disturb your eyesight early on. But with time, cataracts will eventually interfere with your vision.
At first, stronger lighting and eyeglasses can help you deal with cataracts. But if impaired vision interferes with your usual activities, you might need cataract surgery. Fortunately, cataract surgery is generally a safe, effective procedure.
Causes of Cataracts-
Cataracts happen when protein builds up in the lens of your eye, making it cloudy. This prevents light from passing clearly through the lens, causing some loss of vision. New lens cells form on the outside of the lens, and the older cells are compacted into the center of the lens, forming the cataract.
Types of cataracts include-
- Age-related cataracts: These cataracts form because of of aging.
- Congenital Cataracts: Babies are sometimes born with cataracts as a result of an infection, injury, or poor development before they were born, or they may develop during childhood.
- Secondary Cataracts: These develop as a result of other medical conditions, like diabetes, or exposure to toxic substances, certain drugs (such as corticosteroids or diuretics), ultraviolet light, or radiation.
- Traumatic cataracts: These form after an injury to the eye.
Other things that can raise your risk of getting cataracts include cigarette smoke, air pollution, and heavy drinking.
Symptoms of Cataracts-
- Clouded, blurred or dim vision
- Increasing difficulty with vision at night
- Sensitivity to light and glare
- Seeing "halos" around lights
- Frequent changes in eyeglass or contact lens prescription
- Fading or yellowing of colors
- Double vision in a single eye
Treatment-
- Surgery: Surgical removal of a cataract is the first and foremost way of dealing with it. The clouded lens is usually removed and then replaced with a new, artificial lens that will give you improved vision.
- Visual Aids: These aids include lens and eye glasses that will help you see better after the surgery. Cataract glasses usually come in thick and heavy structure. Also, intraocular lens and contact lens can be used by adults who have undergone the surgery. The constant need to remove, clean and re apply makes it inappropriate for young children. Low vision aids can be used before surgery as well, to ensure that best use of the remaining vision is made with the help of video enlargement software and other adaptive means.
- Medication: The use of eye drops and other medication can also help in improving vision without the actual surgery for cataract removal. This is a short term solution that can be prescribed by the ophthalmologist whom you visit. The doctor will usually study the extent of the damage and prescribe this kind of medication for cases that are mild. But finally, surgery will have to be carried out as the progression of the cataract is guaranteed in all cases.
- Soft Lighting: At home and at work, you can make use of soft lighting so that there is less pressure on the eye lens. Also, soft lighting will help you see better without the glare blocking your vision in case of the presence of a cataract.
- Avoiding Intricate Work: One must avoid hobbies and work that require unblinking attention or many hours as this can put a strain on the eyes and even lead to severe headaches. This includes painting, embroidery and carving related activities.
Dealing with a cataract is a matter of going in for surgery and making certain lifestyle changes to avoid injuries due to impaired vision.
While red bloodshot eyes may look worrisome at first sight, it is not a cause for concern all the time. There are benign, short-lasting bouts that will disappear on their own to serious medical reasons that could require intervention. Listed below are some common causes and ways to manage red eyes.
- Conjunctivitis - The most common cause of red or pink eye is conjunctivitis- infection of the membrane covering the sclera. The blood vessels are irritated and give the eye a red hue. This is contagious and very common in children, needs to be treated with antibiotic drops based on the cause.
- Allergy - Be it pollen, dust, dander, or some chemicals, the eyes could be sensitive to it and get inflamed and take on a red colour. This can be treated with a combination of prevention by avoiding exposure to the allergen (which causes the allergy) and some antihistamine drops if required.
- Contact lenses - Extended or improper use of contact lenses is the main reason for red eyes in contact lens users. There is reduced lubrication, increased accumulation of dust and microbes if the lens are not removed at frequent intervals. Removal of the lens and visit to the doctor are important for managing this.
- Computer Vision Syndrome - With people spending a large amount of time staring at computer screens and tablets and phone screens, the dryness in the eyes increases, thereby leading to red eyes. The reduced blinking when working on computers also affects the condition. It is therefore very important to take conscious breaks to stare away from the monitors and use special glasses if required. In some cases, eye drops may also be required.
- Occupational Hazard - For people working outdoors, conditions such as dust, heat, smoke, and dry air increase the chances of red eyes. Reducing exposure as much as possible and use of protective eyewear is extremely essential.
- Dry Eye Syndrome - The tear glands produce a constant source of lubrication for the eyes and also cleanse the eyes from the minute dust particles and other irritants. For various reasons, the tears produced may not be sufficient and can lead to red eyes. Artificial tear substitute could be used for managing this.
Some benign reasons like swimming, smoking, lack of sleep, pregnancy, common cold also produce bloodshot eyes.
On the other hand, corneal ulcer, uveitis, ocular herpes, glaucoma, and other medical conditions could also lead to red eyes.
If it persists for more than 2 days, is painful, associated with discharge or sensitivity to light, it is important to seek medical help, especially if associated with injury or trauma. If you would like to consult with me privately, please click on 'Consult.'

3596
people found this helpful
While it's assumed that numerous eye injuries are inflicted at work, just about the same number of them may happen while at home.
Luckily, most eye wounds are preventable. Find ways to prevent eye injuries, as the eyes are very sensitive and delicate.
Here is a list of some of the most common eye injuries and tips on how to prevent them:
- A lot of eye injuries happen from dust particles entering the eyes, causing itching and burning sensation. Protective glasses should be worn when doing any kind of activity in a dusty area with flying particles.
- Pencils, scissors, forks, knives and all similar sharp objects can cause a serious eye injury. Day to day household items like bungee cords, wire coat hangers, rubber bands and fishhooks are capable of causing eye injuries. You must always remain aware and super conscious while using such objects.
- While performing activities such as dusting, sweeping or lawn mowing, make sure to protect your eyes well as dust is involved.
- Children are very curious by nature. Thus, all hazardous stuff like fertilizers, acids should be kept away from their reach. These contain harmful chemicals, which may inflict fatal damage to the eyes.
- Cooking powder and spices like chili powder can cause injury to the eye. Always wash your hands after using these items, so that you don't harm the eyes if you by chance rub them with your hands.
- Precautions should be taken while dealing with heat or boiling water or oil. They may spill and cause damage to the eyes.
- Secure floor coverings and railings. On the off chance that a kid or elderly man lives in your home, use a safety gate at the top and base of stairs, and consider covering sharp furniture edges and corners with a padding material.
- While travelling in a car, abrupt jerking or breaks may cause the head to bump and cause injury to the eye. Always put on your seat belt and do not allow children to sit in the front of a car.
- Many modern toys which are very attractive have got sharp edges because of their fancy design. Abstain children from playing with these kinds of toys.
- Laser pointers, a common fun gadget for children is very harmful and causes permanent damage to the retina. Stay away from laser pointers.
- Wear eye gear to protect your eyes during sports activities. Also wear goggles during swimming as chlorine in swimming pool water damages the eyes.
Eye injuries may happen out of nowhere. You must always remain alert to avoid eye injuries.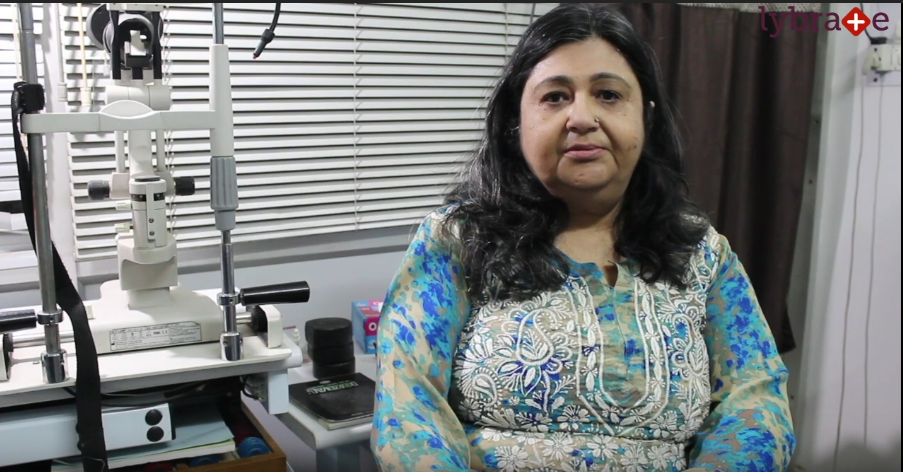 Keratoconus (KC) is a disorder of the eye which results in progressive thinning of the cornea. This may result in blurry vision, double vision, nearsightedness, astigmatism, and light sensitivity. Usually, both eyes are affected. In more severe cases a scarring or a circle may be seen within the cornea.
4138
people found this helpful
All of us agree that healthy habits are absolutely necessary for a high quality of life. It is another story that whether we put them into practice or not. These healthy habits have to be cultivated since childhood for keeping vital organs like eyes in a perfect condition. One's quality of life is closely linked to how well one see and one can take steps now to take care of one's eyes and preserve vision well into old age.
Keep Your Eyesight Sharp and protect your eyesight with the five tips listed below:
Maintain a balanced and healthy diet - It has been scientifically proven that some foods can boost eye health and delay age-related eye changes. One must include eye-boosting vitamins and minerals in diet, such as lutein and zeaxanthin, Vitamin C, Vitamin E; zinc and omega-3 fatty acids to keep one's eyes in best shape. Broccoli, corn, squash, peppers, spinach and kale are the best source for zeaxanthin and lutein whereas citrus fruits, melons, tomatoes and broccoli are great source of Vitamin C. Vitamin E can be found in legumes, wheat germ, nuts and seeds while one can get zinc in found in whole grains, salmon are a great source of omega-3.
Reduce Exposure in The Sun - Sun's ultraviolet rays can increase the risk of developing cataracts, which is most common cause of age-related vision loss in adults. It is very essential to take precautions to shield one's eyes from the sun. One should wear UV protective eyewear or wide brimmed floppy hat for protection from sun.
Quit Smoking - Smoking is not only bad for heart and lungs, it can also damage eyesight. Cigarette smokers are at greater risk of developing both macular degeneration and Glaucoma.
Regular Exercise - Regular exercise keeps waistline trim and eyes sharp. Latest studies have shown that those who led an active lifestyle were seventy percent less likely to develop macular degeneration.
Go for Annual Eye Examination - Regular examination of eyes can give a surprising number of clues about ones overall health. Ophthalmologist can detect a broad set of problems ranging from hypertension to diabetes by doing a thorough examination of ones eye.
One only have one pair of eyes, so it is absolutely necessary to take the proper steps to care for them. By nourishing one's body with the right foods, getting regular exercise and going in for regular eye exams, one can keep vision sharp at any age. If you wish to discuss about any specific problem, you can consult an ophthalmologist.
3984
people found this helpful
Eye Strain is an umbrella term that denotes a number of symptoms that relate to the extended use of eyes as well as discomfort that may come from excessive smartphone and computer use. This condition may or may not lead to significant eye damage and is usually characterised by blurry vision, headaches and a feeling of dryness in the eye as you blink less which creates less tears. This may happen due to the extended use of the eye when you are following objects on a screen or staring at a screen for too long. So, is eye strain the cause of your headaches?
Eye Muscle Imbalance: When there is eye strain which leads to headaches, it can also give rise to eye muscle imbalance which makes it difficult to concentrate with both eyes at the same time. In such cases, one may need bifocal glasses so as to fix the issue and prevent such debilitating headaches to remain on a persistent basis.
Causes: Eye Strain or Asthenopia is caused by concentrating on visually intense tasks like reading from texts that have a fine print, the use of computers and other screens for prolonged periods, and trying to focus on objects in the dark. This can lead to distress of the muscles in this area which can also cause eye strain leading to a variety of symptoms including double imagery and even headaches and mild migraine like conditions.
Diagnosis: Digital eye fatigue and ocular eye strain leading to headaches can be diagnosed by a doctor with the help of regular eye examinations. In any case, one should have the eyes checked at least once a year. This is especially important if your job involves sitting in front of the computer screen for prolonged hours.
Symptoms: There are a variety of symptoms of these headaches that are caused by eye strain. Apart from blurry vision which does not allow the patient to see properly and clearly without glasses, it can also cause headaches with symptoms like nausea and sensitivity to light. Retinal or eye migraines do not necessarily have to come with headaches, but the pressure can be painful enough.
Treatment: To begin with, the best form of treatment for headaches born from eye strain includes prevention which can be done by getting plenty of rest and sleep even as we limit the hours spent in front of the screen. One can also lower the resolution of the screen and make it more ambient. Also, the screen should be placed at a considerable distance from the eyes. The doctor can also prescribe glasses and eye drops for better eye lubrication. Certain eye excercises on specialised exercise machine known as Synoptophore is very helpful at times and may be advised by the doctor.
In case you have a concern or query you can always consult an expert & get answers to your questions!
3776
people found this helpful
Bloodshot eyes indicate the reddening of the eye vessels. They can cause irritation and make the eye swollen. The condition may arise due to allergies, eye infections, allergies, fatigue and other illness of the eye. It does not signify a disease but indicates an eye condition which might have caused the eye to redden. Bloodshot eyes can be encountered in one or both the eyes.
Causes of Bloodshot Eyes:
One of the frequent causes of bloodshot eyes is irritants such as dry air, pollen, pet dander, dust and UV rays of the sun. Shortage of sleep also tends to make the eyes red. Inflammations of the eye can also make them red giving a bloodshot appearance. It can even happen with people who wear contact lens for more than 16 hours without soaking it in the disinfectant. At times excessive dryness can make the eyes red. Some other reasons for the eye to become red include conjunctivitis, blepharitis, glaucoma and corneal ulcer. Another concerning reason of bloodshot eyes is a subconjunctival haemorrhage. While the latter is not dangerous in nature, it can cause significant trouble if proper care is not taken on time.
Symptoms of Red Eyes:
Some of the common signs of bloodshot eyes include watery eyes, foreign sensation, burning feeling, dermatitis, falling of eye lashes, light sensitivity, swollen eyelid, itching of the eye and feeling of irritation of the eye.
The Complications Involved:
In most of the cases, bloodshot eyes do not imply serious complications. In case it happens from conjunctivitis, a person may not be able to go to work, wear cosmetics and come in public places since it is a communicable disease. If bloodshot eyes arise from a serious condition such as glaucoma and trauma, some of the possible complications may involve the following:
Eye scarring

Vision loss due to complete blindness

Spreading of the existing condition to other persons

Eye loss in severe cases
Preventive Measures:
Bloodshot eyes might arise from an array of reasons. While it cannot be totally dodged, some general preventive measures can ensure that such a condition does not arise:
Keeping hands clean by thoroughly washing them with liquid soap

Not sharing personal belongings such as washcloths, linen, and cosmetics

Get immediate medical attention in case of any eye injuries

Stay away from an environment that is full of allergens

Staying away from people who are suffering from infectious eye diseases such as conjunctivitis

Taking a shower immediately after getting in touch with an infected person suffering from conjunctivitis

Wearing eye glasses in a dusty environment
In case you have a concern or query you can always consult an expert & get answers to your questions!
3933
people found this helpful
Blurred vision is most often a sign that you need corrective spectacles for near sightedness, far sightedness or astigmatism but it could also be a sign of a bigger problem including eye diseases or neurological problems. Blurred vision involves the loss of sharpness of vision and objects appearing hazy and out of focus. It can affect one eye or both eyes simultaneously.
Whatever be your age, it is a good idea to consult a doctor as you begin to experience a blurred vision. To measure the extent of your vision problem, a doctor will do a comprehensive eye examination including spatial contrast sensitivity and a standard eye chart test.
Some of the factors that trigger blurred vision are:
Hypermetropia or farsightedness
Astigmatism caused by an irregularly shaped cornea
Presbyopia - the diminished ability to focus on objects due to the hardening of the lens in the eye
Dry eyes or the lack of lubrication on the surface of the eyes
Hormonal changes during pregnancy
Temporary floaters in the eye formed by the liquefying of the gel in the eyes
After effects of Lasik surgery
Eye drops or medication
Overuse of contact lenses
Blurred vision can also be a symptom of a serious condition such as cataract, glaucoma, macular degeneration, diabetic retinopathy and cardiovascular diseases.
Treatment for blurred vision depends on the factors triggering it. Wearing corrective glasses can cure blurred vision caused by myopia, hypermetropia and astigmatism. These conditions can also be treated by Lasik surgery. For blurred vision related to diabetes, check your blood sugar and get it into its optimal range.
Exercises for the eye muscles can also help sharpen vision and lower the rate of eye muscle degeneration. Some of these exercises are:
Alternately focus on an object close to you and another far from you for ten seconds each.
Blink your eyes and hold for two seconds
Roll your eyes clockwise and anticlockwise. Repeat 15-20 times.
Rub your palms together to generate heat and place over your eyes to relax them.
A healthy diet with plenty of vitamin A can help keep your eyes healthy and prevent blurring of vision. Wearing sunglasses can also protect your eyes from harmful UV radiation and lower their rate of wear and tear. Lastly avoid reading in moving vehicles and holding a book too close to your face.
In case you have a concern or query you can always consult an expert & get answers to your questions!
3443
people found this helpful
While spectacles are a fashion statement for some people, for others they are an uncomfortable necessity. Though contact lenses may be a little more aesthetically pleasing they too can be quite uncomfortable and cannot be worn throughout the day. Thankfully, there is a third way to correct vision. Laser sugery or LASIK, it is a popular refractive procedure that can correct common vision problems, such as nearsightedness, farsightedness and astigmatism. This procedure aims at reshaping the cornea so that light entering the eyes can be focused onto the retina for the person to have a clearer vision.
Laser surgery is pain-free and quick in most cases. Usually, it does not take more than 15 minutes to correct vision in both eyes. The results of this surgery can be seen in as little as 24 hours.
The first step of laser surgery to correct vision is to create a thin, circular flap in the cornea. This is then folded back to access the stroma or underlying cornea. An excimer laser is then used to remove some of the corneal tissue.
For people suffering from nearsightedness, the cornea is flattened while for people suffering from farsightedness, the cornea is made steeper. In cases of astigmatism, an irregular cornea is smoothened.
Once the correct gradient has been achieved the corneal flap is put back into place and the cornea is allowed to heal naturally. There are no stitches or bandages required in a laser eye surgery.
You may feel a temporary burning or itching sensation in your eyes immediately after the procedure. It is important not to rub your eyes or place any pressure on them. Your vision may also be cloudy or blurred for the first few hours.
A doctor will usually advise you to rest for a few days after the surgery so that your cornea can heal properly. In a few days, your eyesight should stabilize, though, in a few rare cases, it may take a little longer. You should also avoid any form of strenuous exercising for a few days after the surgery.
Though LASIK surgery has a very high success rate, there are very rare occasions where spectacles may still be needed even after the surgery. Thus LASIK is a choice of treatment for many who seek freedom from glasses. In case you have a concern or query you can always consult an expert & get answers to your questions!
3229
people found this helpful
View All Feed