About
Our entire team is dedicated to providing you with the personalized, gentle care that you deserve. All our staff is dedicated to your comfort and prompt attention as well.
...more
Our entire team is dedicated to providing you with the personalized, gentle care that you deserve. All our staff is dedicated to your comfort and prompt attention as well.
More about New Age Rehabilitation Centre
New Age Rehabilitation Centre is known for housing experienced Physiotherapists. Dr. Jitesh Sharma, a well-reputed Physiotherapist, practices in Faridabad. Visit this medical health centre for Physiotherapists recommended by 40 patients.
Timings
Location
C-3246, Greenfields Colony
Green Fields
Faridabad,
Haryana
-
121010

Get Directions
Photos (5)





Doctor in New Age Rehabilitation Centre

Services
Submit Feedback
Submit a review for New Age Rehabilitation Centre
Your feedback matters!
Write a Review
Feed
Nothing posted by this doctor yet. Here are some posts by similar doctors.
The sciatic nerve is one of the largest nerves in the body. It goes from the lower back all the way down to the base of the leg. When there is a disorder associated with the sciatic nerve, it is known as sciatica. Sciatica, however, does not necessarily need a surgery or a very elaborate procedure to fix the problem. Most commonly, it is treated simply by practising a number of simple exercises. Here are some of the most common exercises prescribed to treat sciatica:
1.Reclining pigeon pose
There are three main forms of the pigeon pose. These are sitting, reclining and forward. It is recommended that if you are just starting your treatment for sciatica that you use the reclining pose. In this pose, you are supposed to hold your left leg in the air at a right angle to your back. Then you are supposed to hold your ankle against the knee. Finally, repeat this stretch with the right leg as well.
2.Knee to opposite shoulder
In this stretch, the starting position is on your backside. You have to have your legs out and feet upwards. From this position, try to bring your right leg towards your left shoulder. Hold this for 30 seconds and then release and relax. Repeat this exercise three times and then repeat the whole procedure with your other leg. Only take your leg as far as it will go.
3. Sitting spinal stretch
At the start of this exercise, sit on the ground with your legs going straight outwards and your feet flexed in the upward direction. Pull your left knee and then put it on the outside of your right knee. Finally, place your right elbow on the left knee so that your body turns to the left. Hold for 30 seconds and then relax before repeating with the other knee.
4. Standing hamstring stretch
Put your foot on an elevated surface such that it is above the floor but not above hip level. Flex your toes forward such that your feet and legs are nearly in a straight line. Bend as far towards the foot as possible. However, do not stretch so far that you feel pain. Finally, repeat this procedure on the other side after release.

1
person found this helpful
Erasmus Mundus Master in Adapted Physical Activity, MPT, BPTh/BPT
Ankylosing spondylitis is a cause of back pain in adolescents and young adults. Ankylosing spondylitis is a form of chronic inflammation of the spine and the sacroiliac joints chronic inflammation in these areas causes pain and stiffness in and around the spine, including the neck, middle back, lower back, and buttocks. Over time, chronic inflammation of the spine (spondylitis) can lead to a complete cementing together (fusion) of the vertebrae, a process referred to as ankylosis. Ankylosis causes loss of mobility of the spine. Pt treatment deep breathing for lung expansion and stretching exercises to improve spine and joint mobility. Are also advised to sleep on a firm mattress and avoid the use of a pillow in order to prevent spine curvature. Aerobic exercise is generally encouraged as it promotes full expansion of the breathing muscles and opens the airways of the lungs.
1
person found this helpful

MBBS, Diploma In Orthopaedics, DNB - Orthopedics, Fellowship In Joint Replacement & Arthroscopy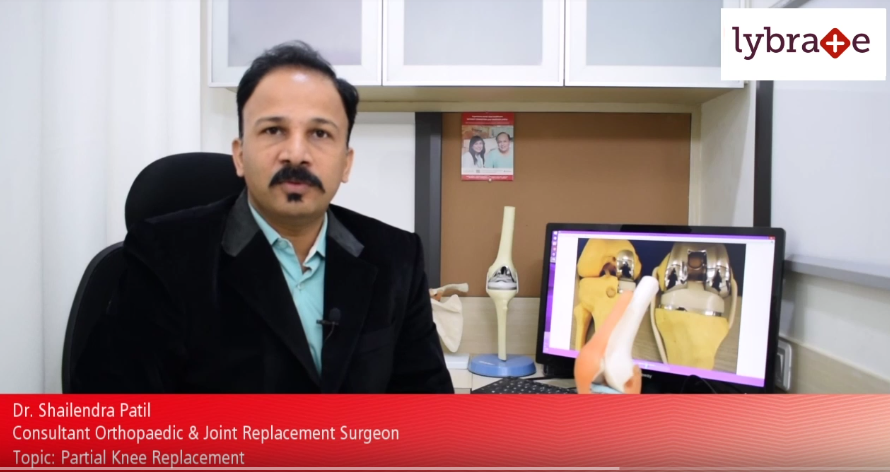 Knee replacement is a surgery wherein an artificial joint is used to replace a diseased, damaged or worn out knee. This surgery is common among people who fall in the age group of 60-80, but recent trends seem to suggest that younger people are opting for this surgery as well. The lifetime of the artificial knee joint is around 20 years, provided the knee is well cared for.
249
people found this helpful
MD, PDCC, MBBS Bachelor of Medicine and Bachelor of Surgery, FPCI
Pain Management Specialist, Delhi
Knee pain is a common phenomenon that plagues most of the people irrespective of their age. It can be the outcome of a torn cartilage or a ruptured ligament. Medical complications, such as infections, gout or arthritis (painful inflammation and stiffness of the joints) can also give way to knee pain.
Minor knee pain can be eased by self-care remedies such as physical therapy or by putting on knee braces. However, few complications might demand surgical repair. Pain can be managed by the pain management specialists.
1. Medications such as naproxen, ibuprofen and acetaminophen can be administered to help remedy knee pain.
2. You can seek relief by massaging your knees with ointments constituting of a number of agents such as capsaicin or lidocaine.
3. Keep away from your usual chores to prevent repetitive strains on the knees, thus, allowing the injury to heal as well as to stay safe from further damage.
4. Applying an ice pack in a towel can ease the inflammation and pain. But do not extend its usage for more than 20 minutes because that might harm the skin and nerves.
5. Compression bandages can inhibit fluid accumulation in the damaged tissues aiding knee alignment stability. Ensure that it is tight enough to render support to your knees without actually obstructing blood circulation.
6. To pacify the swelling, try resting your sore leg on a pillow (the idea here is to keep the affected leg elevated to reduce further pain).
7. Shed off your extra pounds as being overweight increases chances of other disorders such as osteoarthritis problem.
8. Go for regular work outs to enhance and maintain the flexibility of your muscles as excessively weak or abnormally tight muscles can contribute to injuries. Be smart while choosing your method of exercise based on the condition you are suffering from.
Robotic Unicondylar surgery, also known as Partial Knee Replacement surgery, with the assistance of a robotic arm. In this surgery, only one part of the damaged knee is replaced either inside (medial) part, the outside (lateral) part, or the knee cap of the knee.
Surgery to replace the whole knee is known as Total Knee Replacement Surgery.
Description of Robotic Unicondylar Surgery
In this surgery, damaged tissue and the bone of the knee joint are removed. This is done when arthritis is active in only one part of the knee. The areas are exchanged with a man- made implant, called prosthetic. The rest of the knee is preserved. Under this surgery, mostly small incisions are done, hence shorter recovery time.
Anesthesia used before the surgery is as follows:
General Anesthesia: Patient is asleep and pain free during the procedure.

Regional (spinal or epidural) Anesthesia: Patient is numbed below the waist and is also given medicine to relax and make them feel sleepy.
During the surgery, the surgeon makes a cut over the knee about 3 to 5 inches long.
In the knee joint, a small 3D camera and a tiny surgical instrument is placed.
Camera enables the surgeon to see a zoomed in view of the operative area in 360 degrees.
Then after, using the device hand and foot controllers, the surgeon can move the robotic arm slightly, which is attached to the surgical instrument.
Now another surgeon places the operation table in the correct position to verify the alignment of the operative area and the surgical instrument.
Risks Involved in Robotic Unicondylar Surgery:
There are several risks involved while having and after a Robotic Unicondylar Surgery:
Benefits of Robotic Unicondylar Surgery:
There are a number of benefits for Robotic Unicondylar Surgery:
High Accuracy.

A More Natural Knee Motion.

Small Incisions.

Less Pain.

Minimal Blood Loss.

Quick Recovery.

No need to remove Stapes.

All 4 stabilizing ligaments remain intact.
Conclusion:
A Robotic Unicondylar surgery is so minimal that in most cases patients walk within hours of surgery. It is always advisable to consult a doctor before going for surgery.
Erasmus Mundus Master in Adapted Physical Activity, MPT, BPTh/BPT
Right hand pain it might be due to carpal tunnel syndrome, where the pain will be felt in the wrist. You can do hot water fermentation/ wax therapy for shoulder and for the wrist pain (hand pain) you can do ice therapy which will reduce the pain. Treat carpal tunnel syndrome as early as possible after symptoms start. Take more frequent breaks to rest your hands. Avoiding activities that worsen symptoms and applying cold packs to reduce swelling also may help. Other treatment options include wrist splinting, medications and surgery. Splinting and other conservative treatments are more likely to help if you've had only mild to moderate symptoms for less than 10 months. Lifestyle and home remedies these steps may provide temporary symptom relief: •take short breaks from repetitive activities involving the use of your hands. •lose weight if you are overweight or obese. •rotate your wrists and stretch your palms and fingers. •take a pain reliever, such as aspirin, ibuprofen (advil, motrin ib, others) or naproxen sodium (aleve). •wear a snug, not tight, wrist splint at night. You can find these over-the-counter at most drugstores or pharmacies. •avoid sleeping on your hands. If pain, numbness or weakness recurs and persists, see your doctor. Alternative medicine integrate alternative therapies into your treatment plan to help you cope with carpal tunnel syndrome. You may have to experiment to find a treatment that works for you. Always check with your doctor before trying any complementary or alternative treatment. •yoga. Yoga postures designed for strengthening, stretching and balancing the upper body and joints may help reduce pain and improve grip strength. •hand therapy. Early research suggests that certain physical and occupational hand therapy techniques may reduce symptoms of carpal tunnel syndrome. •ultrasound therapy. High-intensity ultrasound can be used to raise the temperature of a targeted area of body tissue to reduce pain and promote healing. Research shows inconsistent results with this therapy, but a course of ultrasound therapy over several weeks may help reduce symptoms.
1
person found this helpful
It means you need to strengthen your muscles. If you do running n don't strengthen your muscles, then you can't gove ue best output. You need to do strength/ weight training at some gym for twice a week (with a gap of 1-2 days) in some gym. Do it for 50-60 mins only. Do not do cardio with strength training. For details you can consult online.
Knee is a hinge joint where the lower leg bone tibia meets the thigh bone femur. During osteoarthritis, cartilage or ligament defects and degenerative arthritis, knee replacement surgery is recommended world-wide to get relief from extreme pain. Knee replacement surgery, also known as knee arthroscopy, is a surgical procedure, in which the affected knee joint is replaced with synthetic material. The most likely candidates for total knee replacement are the patients with severe destruction of the knee joint coupled with progressive pain and impaired function.
Modern technological advances have made computer assisted knee replacement surgery extremely popular around the globe. In this surgery, the surgeon is assisted by a computer to remove the optimum amount and angle of the bone, which otherwise is done by inspecting manually. This is an excellent example of surgery through small incision and it eliminates the chances of human error. A perfect alignment and balance is achieved and hence longevity is also increased to 20 - 30 years. Knee replacement surgery is also specific to gender as the anatomy of male and female patients is different.
There are many types of knee replacements, most common being the total knee replacement or Total Knee Arthroplasty. In addition, there is partial knee replacement, bilateral knee replacement, revision knee replacement and knee arthroscopy.
In knee replacement surgery, the worn out surfaces of joints of knee are replaced with artificial implant of plastic and metal. The lower end of the femur bone is removed and replaced with a metal shell. The upper end of the lower leg bone (tibia) is also removed and replaced with a channelled plastic implant with a metal stem. A plastic ball is also added under the kneecap depending on its condition. These artificial components are commonly referred as prosthesis. The design of these highly flexible implants replicate knee, with the rotating knee replacement implants assist in backward and forward swing of the legs.
Patients whose knee joints have been damaged by either trauma or progressive arthritis should consider total knee replacement surgery. Post-surgical hospital stay after knee joint replacement is usually three to five days. The surgery has a very high success rate and shows dramatic improvement after a month. This improvement is most notable one month or more after surgery. The pain caused by the damaged joint is reduced significantly when the new gliding surface is constructed during surgery. Initially, patient will walk with the help of a walking aid until the knee is able to support full body weight. After six weeks, patient can walk comfortably with minimal assistance. Patients with artificial joints are prescribed to take antibiotics during the course of any elective invasive procedures including dental work. Physiotherapy is an essential part of rehabilitation and it will increase the muscle strength and patient can enjoy most activities, except running and jumping.

MBBS Bachelor of Medicine and Bachelor of Surgery, MS - Orthopaedics, Diploma in Spine & Reconstruction, Fellowship In Primary Joint Replacement, Fellowship in Arthroplasty and Reconstructive Orthopaedic Surgery, Fellowship in Revision Hip Surgery & Adult Reconstruction
Elbow pain may be caused due to a variety of reasons from injuries to fractures and ligament pulls or tears. This is most commonly experienced by people who are into sports, including those who play tennis, golf and other such sports that require intense arm movements.
So, let us look at the six most common reasons behind elbow pain:
Medial Epicondylitis: This condition creates pain in the inner tendon within the elbow and is usually termed as 'golfer's elbow'. It basically occurs due to the constant swinging and throwing motion that a sports person may indulge in. When these movements are repeated on a constant basis, there is wear and tear as well as acute pain in the area. Also, an injury to the wrist can cause this pain in the elbow.
Lateral Epicondylitis: This condition is commonly known as 'tennis elbow'. The affected area under this condition includes the outside tendons of the elbow. This is caused due to swinging, hitting, hammering and punching motions that are repeated too often. It is commonly experienced by cooks, artists, carpenters, automobile workers, and plumbers and people who use heavy tools.
Olecranon Bursitis: This condition is also known as 'student's elbow' and usually occurs due to constant writing and gripping motion which affects the bursae. These are small fluid filled sacs that lubricate the joints even as the protection happens. The symptoms include swelling and pain. There is also risk of infection and redness in this condition.
Osteoarthritis: The cartilage of the joints gets affected in this condition which is the connective tissue that exists in the joints. This condition causes wear and tear of the joints and bones which leads to pain in the various areas including the elbow. Medication and physiotherapy are good measures for treatment.
Fracture: Sometimes, dislocation or fracture may lead to pain in the outstretched arm or elbow. Dislocation may take place when a bone moves from its aligned spot. The symptoms will include obvious swelling and acute pain in the elbow.
Ligament Damage: Strains and sprains in the ligaments within the elbow joint can lead to this damaging condition. Torn or stretched ligaments are the most common outcomes in this kind of injury and damage.
To find out which reason may be the culprit behind your elbow pain, you will need to see a general physician or an orthopaedic specialist who will run you through a series of tests and examinations including X rays, MRI scans and others in order to ascertain the cause and treatment. A sports injury specialist can also help in diagnosis and treatment.
View All Feed
Near By Clinics

4.5
(

48

ratings)
Green Fields, Faridabad,
Faridabad
View Clinic

4.4
(

170

ratings)
Green Fields, Faridabad,
Faridabad
View Clinic
4.6
(

69

ratings)
Green Fields, Faridabad,
Faridabad
View Clinic