About
Our entire team is dedicated to providing you with the personalized, gentle care that you deserve. All our staff is dedicated to your comfort and prompt attention as well.
...more
Our entire team is dedicated to providing you with the personalized, gentle care that you deserve. All our staff is dedicated to your comfort and prompt attention as well.
More about Mihijam Clinic
Mihijam Clinic is known for housing experienced Homeopaths. Dr. Sarfaraz Alam, a well-reputed Homeopath, practices in Dhanbad. Visit this medical health centre for Homeopaths recommended by 64 patients.
Timings
MON-SUN
08:30 AM - 01:00 PM
08:00 PM - 10:00 PM
Location
Bhuli Road, Gate No-1, Wasseypur
Dhanbad,
Jharkhand
-
826001

Get Directions
Photos (1)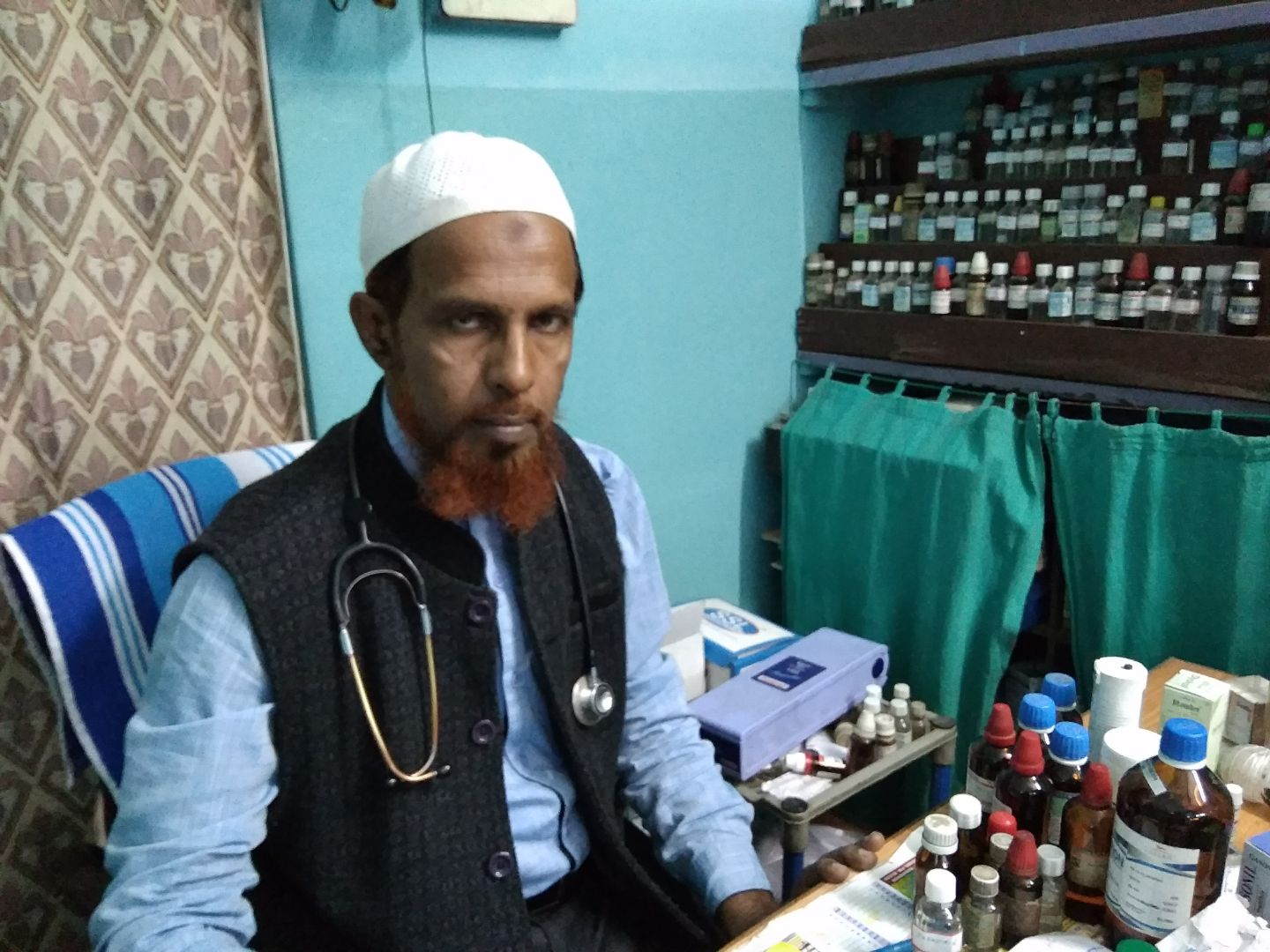 DHMS (Diploma In Homeopathic Medicine & Surgery)
Homeopath
₹300 online
08:30 AM - 01:00 PM
08:00 PM - 10:00 PM
Health Packages
180 Days validity
•
Medicines included
₹5800
30 Days validity
•
Medicines included
₹2500
45 Days validity
•
Medicines included
₹2100
45 Days validity
•
Medicines included
₹2000
Services
Submit Feedback
Submit a review for Mihijam Clinic
Your feedback matters!
Write a Review
Patient Review Highlights
"Professional"
4 reviews
"Prompt"
5 reviews
"Well-reasoned"
4 reviews
"Helped me impr..."
1 review
"Practical"
2 reviews
"Thorough"
1 review
"Nurturing"
2 reviews
"knowledgeable"
15 reviews
"Caring"
6 reviews
"Very helpful"
34 reviews
"Saved my life"
1 review
"Inspiring"
2 reviews
Reviews
Verified
Dec 12, 2017
It was great to visit "Mihijam Clinic" every time with any health issues and get benefits of the experience and expertise of Sir.
Verified
Dec 12, 2017
He is a good Dr. With very good behaviour.As a Dr he is always available for his patients day & night.
Verified
Dec 12, 2017
He is extremly experienced & very freindly with his client and so kind hearted.
Verified
Dec 12, 2017
Perfect daignose, smiling and caring nature. Economy treatment.
Verified
Dec 12, 2017
Medicine given by him cured soon
Verified
Dec 12, 2017
Today I felling better
Verified
Dec 9, 2017
nice
Hussain
May 12, 2018
I found the answers provided by the Dr. Sarfaraz Alam to be prompt, very helpful, practical and knowledgeable. Helped me get rid of my health issues in no time .
Kanika Singh
Mar 17, 2018
I found the answers provided by the Dr. Sarfaraz Alam to be knowledgeable. Thank you doctor...are you sure its piles and not fissure?
Fajaf
Mar 29, 2018
I found the answers provided by the Dr. Sarfaraz Alam to be very helpful, knowledgeable and well-reasoned. Jazakallaha sir..
Wasim
Mar 24, 2018
Dr is good knowledgeable and taking care of patients and answer quick response very nice service
Hemant
Feb 9, 2018
I found the answers provided by the Dr. Sarfaraz Alam to be very helpful. Thanks doctor saheb
Ahmad Ali
Feb 17, 2018
I found the answers provided by the Dr. Sarfaraz Alam to be very helpful. Age 32 weight 64kg.
Suprakash
Jun 12, 2018
I found the answers provided by the Dr. Sarfaraz Alam to be very helpful. my age is 35
Sanskriti
Jul 2, 2018
Dr. Sarfaraz Alam provides answers that are very helpful. Thank you very much doctor.
Verified
Mar 10, 2018
very good experience , he is highly professional in treating diseases.. thanks doc
Swarup
May 16, 2018
Dr. Sarfaraz Alam provides answers that are very helpful. Good
Vijay Sonar
Mar 5, 2018
Dr. Sarfaraz Alam provides answers that are practical. good
Verified
Apr 1, 2018
quick reply action
Verified
Dec 14, 2017
very helpful
Feed
Atopic dermatitis is also known as Eczema. This is a kind of skin ailment that produces boils on the skin due to an inflammation of the dermis or the upper layer of the skin. There are many forms of atopic dermatitis.
Causes
Atopic dermatitis may be caused due to several reasons including a family history of the same, in which it is a genetic problem. It may also be caused when the patient has a weak immune system, which causes a reaction to any kind of disturbance in and around himself or herself, in which it is caused due to environmental factors.
Treatment
Let us find out the various homeopathic means of treating this condition, and understand whether or this form of treatment is efficient or not. One must remember that any kind of homeopathic medicine or other forms of medication must only be prescribed by a certified medical practitioner.
Curing from the roots- The homeopathic way of treatment usually includes curing a problem from the roots rather than merely suppressing the painful symptoms. When medication is used to just suppress the symptoms, the problem continues to persist and becomes even more pronounced when the medication is not in use. For conditions such as atopic dermatitis, the doctor will usually prescribe medicines that will go forth and cure the very root of the problem that may be causing the condition in the first place. While this may be a time taking process, it will be a long term cure and treatment measure for the same.

Working on the immune system- In many cases, conditions like eczema may be borne due to stress-related issues, which usually lead to a weakened immune system. This is an issue that is addressed and treated appropriately by homeopathic medication so that the allergy causing elements may be treated and removed accordingly, even as the immunity is strengthened. This makes homeopathy an effective form of treatment for this condition.

Graphites- This homeopathic medication is used when the symptoms include constipation along with changes in the physical appearance of the skin, which becomes rough and hard.

Mezereum- This medicine is most effective when a crust like formation can be seen around the boils. The medicine is also useful when there is accumulation of pus under the crust.

Sulphur- Many patients suffering from atopic dermatitis complain of intense pain along with a burning and itching sensation, which they cannot seem to contain. This medicine usually helps such kinds of symptoms by soothing the affected area.

Dulcamara- This medicine is most useful if and when the condition becomes worse due to a cold and damp weather, in which case the boils may flare up and lead to the oozing of pus and lots of itching.
In case you have a concern or query you can always consult an expert & get answers to your questions!
5152
people found this helpful
The advent of smartphones has made mobile phones far more pervasive in your life. You can now remain connected with friends and family on social media for much longer, share your life events through pictures and videos, stay on track with professional information and generally remain updated about information from all around the world. However, this constant barrage of information and the over dependence on the smartphone for work and personal affairs has taken epidemic proportions where people are unable to log off. It has now been classified as a general anxiety disorder commonly known as nomophobia which is "the fear or being away from your cellphone".
Addiction and the validity of Nomophobia
While cell phone addiction is a valid disorder, the designation of nomophobia is loosely attributed to the anxiety disorders connected to not being able to use cell phones. It's less of a phobia and more of an addiction as you cannot be without it. These can be better enumerated by the typical symptoms when not being able to use a mobile phone.
Symptoms of mobile phone addiction:
The ability to spend hours and hours on the cell phone without realizing how much time has passed by.
Forced attempts to separate from the cell phone result in more time being spent with it (akin to a drug addiction).
Incremental usages in a number of hours as you end up spending more and more hours on the phone.
Personal and professional lives being hampered due to excessive mobile phone usage.
Surfacing of withdrawal symptoms such as irritability, restlessness, anger and depression.
How mobile phone addiction affects people?
Different age groups are affected differently by mobile phone addiction; although some of the symptoms are fairly common. The effect tends to be far more severe on children and teenagers. Let's look at how different age groups are affected by mobile phone addiction:
Children – Increasingly, younger children are carrying cellphones, especially smartphones. This tends to disrupt their lives as they get easily distracted and thus addicted to chatting with friends and connecting on social media. With children, appetite as well as mental development, is also hindered. In a study in the U.K., it was found that young children with mobile phones had less nutritional intake and thus had lesser and slower physical development than normal. It also affects their eyes. Direct exposure to blue light – like the one that comes from cellphone screens – can cause damage to the retina of the eye.
Teenagers –
Development: Apart from the similar problems mentioned with children, the performance in school tends to suffer the most along with other developmental disabilities in the brain. The human brain is still forming till the age of 25 and many of the finer faculties that develop during the teenage years get badly affected. Holistic development like hobbies, sports, communication skills are greatly hindered.
Information overload: Teenagers also tend to be very impressionable and thus are at a risk of predation from sources all-round the internet. While aggressively watching porn, the adolescent brain is being shaped around a sexual experience that is isolating, visceral, and completely void of any love or compassion. This has the potential to lead to great problems in sexual compulsivity and sex addiction throughout the adolescent boy's life because his brain gets shaped to expect the "heroin-like" porn dopamine rush from all of his real-life sexual experiences.
Peer pressure: Teenagers seek more and more expensive phones in order to compete or to fit in with the crowd. this not only puts more financial strain on the parents but also leads to disharmony at home.
Friends! Let's stay connected: Very often parents complain that their teenager can do nothing else but sit by their mobile phone waiting for calls or text messages. They no longer communicate with family members and its not uncommon! Catching teenagers staying up till early hours of the morning texting or talking with friends. Their studies greatly suffer, hobbies no longer take priority and problems like irritability, poor concentration, bunking classes and other health issues are on alarming rise due to lack of sleep.
Emotional issues: In the era where assignments, notes, outing plans, party invites and important messages are passed on in Whatsapp groups. Getting a phone call or a text message implies an importance, 'Somebody wants Me'!! It boosts the receivers self-esteem and self-worth. The phone also feeds the desire for attention, acceptability and satisfies a teenager's emotional drive.
Life on Social media: Nowadays teenagers are more focussed on their Vitual lives rather than enjoying the real moments. Their Life and happiness is all about social display of every single activity and number of likes and comments on posted pictures/ status.This is particularly true for teenagers who are struggling with their identity and social status. Phone usage does not only increase the opportunity to bond with friends and to organise a social life on the move, it also provides a symbol for acceptance. This is important to a teenager's individuality and confidence. The mobile phone feeds the personal requirements of a teenager - they provide a sense of worth ensuring popularity.
Strained relation with parents: A great number of teens do not let anyone touch their phones. Most teenagers turn rebellious and aggressive when parents try to limit their mobile usage. When they lose their phones, they show signs of aggression which results in constant mood swings, feeling of unhappiness, and irritation on little things.
Adults – Adults, in general, tend to suffer more from disruptions at work as well as problems in their personal lives. Shortening of attention spans, irritable behavior, fatigue, inability to communicate, breakdowns in spousal relationships or even with friends and family are fairly common consequences. However, the biggest concern is the contribution to depression and anxiety which may run into non-mobile phone related extensive disorders as well.
Communication Gap in Marriage: Believe it or not, smartphones are damaging and even ending relationships. If you are emotionally attached to your smartphone and rely on it every waking minute, it may be harming your relationship. Psychologists claim that increasing numbers of people in long-term partnerships are having to compete with their partner's smartphone for attention, making it the 'third wheel' in their relationship. A survey found that almost three quarters of women in committed relationships feel that smartphones are interfering with their love life and are reducing the amount of time they spend with their partner. Spouses spend more time in social networkings like Whatsapp, Facebook and days passby without talking to each other. Do you really remember your spouse's phone number or have you just saved it in your iPhone?
Impact on Child Bearing: Parents stay so busy with their mobiles that they don't spend quality time with their children and fill in the Lacunae by splurging on costly gifts and give them tablets/TV for passing kissing their spare time.
Mobile Use During Driving And Safety Hazards
There is considerable concern that using a mobile phone while driving creates a significant accident risk, to the user and to other people on the road, because it distracts the driver, impairs their control of the vehicle and reduces their awareness of what is happening on the road around them. When using a hand-held mobile phone, drivers must remove one hand from the steering wheel to hold and operate the phone. They must also take their eyes off the road, at least momentarily, to pick up and put down the phone and to dial numbers.While using a hand-held phone, the driver must continue to simultaneously operate the vehicle (steer, change gear, use indicators, etc) with only one hand.
Some tips for de-addiction
Some easy tips that you can follow to start your de–addiction process are mentioned below –
Ensure that the first 30 minutes of the day after waking up are only for you. Don't be tempted to look at the phone immediately after you wake up.
Create specific no phone time zones in a day where no matter how big the urge is, you don't check your phone. These could be during any time of the day and try incrementally stretching the amount of time that you can be without your phone each time.
Use driving as an excuse to turn off your phone. This not only helps in fighting addiction but also lowers the chances of automobile accidents caused due to distracted driving.
Keep a cutoff time for phone usage and switch your phone off at least an hour before your hit the sack. This will stop you from playing late night games and help you sleep better as well. When you feel the urge to check your phone, close your eyes and take a deep breath.
In case you have a concern or query you can always consult an expert & get answers to your questions!
7612
people found this helpful
Homeopathy regards the individual overall. It implies that homeopathic treatment concentrates on the patient as a man and in addition his obsessive condition. The homeopathic remedies for toothache are chosen after a complete individual examination and case-investigation, which incorporates the therapeutic history of the patient, physical and mental constitution and so forth.

A miasmatic tendency (inclination/powerlessness) is frequently considered for the treatment of constant conditions. The homeopathic remedies for toothache given underneath demonstrate the therapeutic affinity yet this is not an entire and clear manual for the treatment of this condition.

The symptoms recorded against every remedy may not be specifically identified with this sickness in light of the fact that in homeopathy general symptoms and constitutional signs are additionally considered for selecting a remedy. To concentrate any of the accompanying remedies in more detail, please visit our Materia Medica area. None of these homeopathic remedies for toothache ought to be taken without expert exhortation.

Homeopathic Remedies for Toothache
Mercurius: Mercurius is presumably more frequently demonstrated homeopathic remedy for toothache than other remedies. It is prescribed in case of extraordinary throbbing toothache because of excited dentine, which is more awful during the evening and in moist climate. The teeth feel stretched and sore, and this soreness influences the entire of the jaw and confront and is more awful from warmth, fairly soothed by delicate rubbing of the face.
Chamomilla: This is an amazing homeopathy remedy for toothache particularly in case of intolerable toothache influencing an entire column of teeth happening in paroxysms, with agonies transmitting to ears.
Belladonna: It is prescribed when a person has toothache from aggravation of dental pulp. A person in agony of blazing and throbbing pain, which is more regrettable around evening time, more terrible on contact, as is biting in nature.
Coffea: This homeopathic remedy will frequently expel the most serious torments of toothache, which nearly drive the patient unhinged. It is a stinging, snapping, irregular agony, more regrettable while biting, more awful from warm drink and altogether eased for a period by holding icy water in the mouth, returning when the water turns out to be warm.
In case you have a concern or query you can always consult an expert & get answers to your questions!
4870
people found this helpful
Due to Diabetic. Thick problem occurs use ARG Nit. 30. Germany twice daily. 15 days then contact me online.
4
people found this helpful
Take Homeopathic medicine. Agnus cactus. 30. 2 drops. 3 times daily. Acid. Phos MT. 10 drops. 3 times with little water.
2
people found this helpful
Being a woman has its own set of physical challenges. With the different anatomical and physiological features, the problems that women face also are different. Three out of four patients with hypothyroidism are women. Male to female ratio of migraine patients is also 3:1. These and various other diseases are predominantly seen in women. In addition to this, there is also the highly sophisticated gynecologic system. This brings its own unique set of diseases like dysmenorrhea, cysts, fibroids, menstrual problems.
Given that a woman's body is quite unique and sophisticated with various organs working in close coordination with each other, let us take a look at how homoeopathy which usually tries to get to the root of the problem and correct the whole system as a whole.
Polycystic ovarian syndrome (PCOS): PCOS has a strong genetic predisposition along with obesity and type 2 diabetes. There are often multiple cysts in the ovaries with irregular menstruation, a higher amount of testosterone, and fertility issues. In homoeopathy, Apis Melllfica, Pulsatilla, Lachesis, Graphites, and Sepia are frequently used based on patient's symptoms.
Irregular menses: What needs to be understood is irregular menses is a symptom of an underlying disease and a detailed history and clinical examination (including ultrasound scanning) are required to nail down the underlying reason. Natrum Muriaticum, Sepia, Pulsatilla, Senecio Aureus, Staphysagria, Cimicifuga, Euphrasia, and Magnesium Carbonicum are some common agents used to manage irregular menses based on underlying causes.
Dysmenorrhea: Menstruation is associated with pain in the abdomen, hips, and thighs in a lot of women. However, this should ideally be a painless process as it is physiologic. In some women, it is also associated with severe cramping, diarrhea, and pain that is relieved with warmth. Pulsatilla, Belladonna, Mag Phos, Nux Vomica, and Cimicifuga are some commonly used agents to help women reduce the pain and relax.
Infertility: Again, like irregular menses, there is a strong reason contributing to infertility which needs to be identified and addressed. Given the social nature of the issue, there is a strong psychological component, and so the couple should engage in a detailed mental and physical constitutional discussion to arrive at a customised regimen. Calcarea Carb, Borax, Aletris Farinosa, Natrum Phos, Pulsatilla, Sepia, Natrum Carb, Agnus Castus, Sabal, Conium are used for managing infertility based on accompanying symptoms.
Thyroid problem: As noted earlier, hypothyroidism is extremely common in women. There is also a strong linkage between infertility, repeated miscarriages, irregular menses, etc. with the thyroid hormone levels. Calcarea Carbonica, Sepia Officinalis, Graphites, Lycopodium clavatum, and Nux Vomica are some commonly used homoeopathy products in hypothyroid women.
Migraine: Another problem seen predominantly in women with strong linkage to menstruation cycles and hormones. Belladonna, Natrum Mur, Sanguinaria, Spigelia, and Glonoine are commonly used.
For these common medical conditions, especially in women, homoeopathy offers more holistic treatment with minimal side effects. It may take a while for the body to respond, but it is definitely advisable. Self-medication is best avoided as each woman is unique.
In case you have a concern or query you can always consult an expert & get answers to your questions!
4558
people found this helpful
Homeopathy treatment solve your problems colchicum. 6. 1drop. 3 times Urtica Urens MT 10. Drops 3timrs with little water. Then contact me.
5
people found this helpful
Morning walk daily. Avoid oily food. Take Homeopathic medicine for better result. And test your thyroid. And send me the report privately.
3
people found this helpful
Right side pain below ribs and heavines take Lycopodium 30. Thrice daily if not relief take Ultrasound of upper abdomen.
2
people found this helpful
Homeopathy medicine pulsatilla 200 twice daily upto 7 days. And test your thyroid T3, T4,TSH. AND Hb %. And then contact me privately.
4
people found this helpful
View All Feed
Near By Clinics