Videos (1)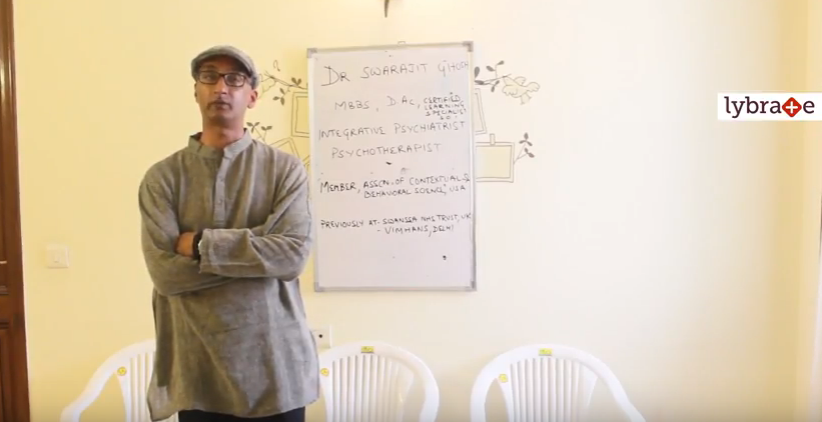 Mental Health is - mental/emotional wellbeing. Being mentally healthy means being peaceful from within, being able to deal with life's challenges and being able to manage emotions and relationships, etc.
There is a lot of misunderstanding about "mental health" and 60% of mentally sick or disturbed people are not taken to doctors or other mental health professionals. Instead, they are taken to astrologers, or tantriks. Some are even punished for being crazy.
In today's highly stressful world people do not have time to think and plan their lives. Because of modern lifestyles and nuclear families people do not have outlets to share their feelings and express their intense emotions.
read more
Personal Statement
I pride myself in attending local and statewide seminars to stay current with the latest techniques, and treatment planning.
...more
I pride myself in attending local and statewide seminars to stay current with the latest techniques, and treatment planning.
More about Dr. Swarajit Ghosh
A renowned Psychiatrist and psychotherapist, Dr. Swarajit Ghosh, has 19 years of experience as a Psychotherapist. He has completed his MBBS from Nilratan Sircar Medical College and DPM in Psychiatry from Wales College of Medicine at Cardiff University in the UK. He serves those battling various mental disorders and takes good care of them. Dr. Swarajit Ghosh has been a resident at VIMHANS in the year 2004-2005. He has been a fellow at Medical College of Wisconsin from 2005 to 2010 and Mental Health Consultant at Insight Open from 2011 to 2015. He provides allopathic treatment for mental illness, behavioral problems, anxiety disorders and provides counseling in matters of grief and depression. He has received the Award for Best Basic Science Presentation from Wisconsin Thoracic Society, Milwaukee in the USA in 2009. Dr. Swarajit Ghosh presently practices at Therapyspace, Sant Nagar, New Delhi. If you are in Delhi and need a Psychiatrist or a psychotherapist, you can book an appointment with him online in a matter of few seconds.
Info
Education
MBBS - Nilratan Sircar Medical College - 1998
Structure of Intellect learning Specialist - Energia Wellbeing - 2015
Membership - Association of Contextual Behavioral Science - 2009
Languages spoken
English
Hindi
Professional Memberships
Association of Contextual and Behavioral Science , USA
Mental Health Innovation Network
Location
Book Clinic Appointment with Dr. Swarajit Ghosh

T 2 Back Lane Deer Park, Hauz Khas Village

,

Delhi
Get Directions




Submit Feedback
Submit a review for Dr. Swarajit Ghosh
Your feedback matters!
Write a Review
Patient Review Highlights
"knowledgeable"
2 reviews
"Very helpful"
1 review
"Prompt"
1 review
"Sensible"
1 review
"Caring"
1 review
"Practical"
3 reviews
Reviews
Khanak
Apr 5, 2017
I am so much benefitted with herdepression treatment, that i am perfectly fine now. Due to my depression my daily activities were suffering. He is a very practical doctor. The atmosphere in the Therapyspace is always so positive and full of life. In order to diagnose my problem completely he asked me a number of questions. Many people gave very positive feedback for therSwarajit Ghosh. The Therapyspace is designed in such a way that every patient feels at ease.
Vaishali
Apr 10, 2017
Initially the symptoms of psychological diagnosis (adult and child) were not that severe but then it became worse. He ensures that he gives enough time to each patient. I must say the hygiene was maintained very nicely in the TherapyspaceIt was so quite pleasant in the Therapyspace. His treatment suited me the best and now I am fine. I was quite impressed with Swarajit Ghosh concept of holistic healing.
Owais
Apr 17, 2017
I felt strange that I was suffering from premature ejaculation. It was so quite pleasant in the Therapyspace. I read about Dr Swarajit Ghosh on one of the social media platform. He never gets frustrated, even when I ask a number of queries. He doesn't just randomly prescribes medicines, but first properly diagnoses the problem. I am really grateful as his treatment has give me a ray of hope.
Rupak Mandal
Mar 22, 2017
Dr. Swarajit Ghosh provides answers that are very helpful, knowledgeable, prompt, sensible and caring. A very helpful and knowledgeable doctor, even without visiting him he has helped me through lybrate at clinic level experience and made our life better at the point of disastrous situation. Shall continue following up with him.
Neer
Jun 10, 2017
I was in too much pain because of mood disorder, but even after consulting a number of doctors, I was not getting any relief. Dr Swarajit's guidance has helped me immensely and has helped gain confidence. His treatmnet suited me the best and I owe him a big thank for the treatment. He is not just friendly but also very motivating.
Jograj
Mar 9, 2017
I consulteddr Swarajit Ghosh for therapy sessions for my anxiety issues. After I took 9 sessions in 2 weeks, already I am feeling better in my condition. My problem has reduced to a certain extent and he is an amazing doctor. I am still continuing the therapy sessions at his clinic Therapy Space in Delhi.
Santan
Jun 1, 2017
In the very first sitting, dr Swarajit Ghosh clearly told me about the p treatment procedure will be in future about my anger managment.his guidance has helped me immensely and has helped gain confidence. At his clinic Therapyspace In delhi
Kshantu
Jul 2, 2017
I stay in Delhi and i had heard about dr Swarajit Ghosh from my friends. He helped me immensely in dealing withanger managment. I have recommended his name to many of my friends he can be consulted at Therapyspace
Jasmira
Apr 18, 2017
I had a small penis size due to which I was very depressed. My brother took me to psyhiatrist, Dr Swarajit. He gave me a ray of hope. I followed his prescription seriously and I am much better than before.
Suchitra Singh
May 27, 2017
really good
Feed
Worrying is a natural tendency among children. While some worrying helps children to excel, too much worrying can lead to anxiety related disorders. From friendship woes to homework to fear of failure, there could be a lot of factors that can lead to anxiousness in a kid. This problem is mostly witnessed in school going, children.
Some of the common symptoms that are seen include the need to be perfectionist, seeking of constant reassurance, getting sick worrying too much and being scared of participating in a group event.
How to prepare your child to overcome anxiety?
Help them prepare: One major cause of anxiousness in a child is ill preparation. Be it tests or essays, if a child has not prepared well, he tends to get nervous and suffers from anxiousness. The solution is to teach them various study techniques such as flashcards and quizzes. If this is done regularly and reviewed meticulously, your child will get over the fear of failing and perform better.
Teach them to focus: Losing focus is a major tendency among kids who tend to suffer from anxiety related disorders. Keeping the concentration going is a major skill that needs to be taught by parents. Kids often go blank during tests thinking others are far smarter than they are. Some good method to tech focus is to teach them reverse counting, slow breathing technique and frequent consumption of water.
Pass on the anxiety: Anxiousness has to be passed in form of something. Therefore, certain activities play great strokes in addressing anxiousness. Teach your kids to distress in the form of TV or teach them to write when they are anxious. This not only takes off anxiety from the equation but also helps a kid to relax without the fear of failure.
Reassurance: Kids suffering from anxiousness often need repeated reassurance about the task in hand. The task here for a parent is to make their kid understand that failure will not impact their relationship with their parents. Often the failure of letting someone down makes a kid anxious. Constant reassurance will curtail the tendency. This being said, parents should ensure that this doesn't become a habit for the kid. The idea is to make them comfortable and not letting your child be dependent on you.
Relaxation techniques: A study published by the Journal of School Counseling argued that kids who practice relaxation techniques are far less likely to suffer from anxiety and stress related disorders as compared to their peers. Some of the relaxation techniques that can be easily learnt and practised include breathing exercises, meditation, yoga and so on. These exercises help children to focus and concentrate more.
2595
people found this helpful
If you're a new mother, chances of you going through postpartum depression are one in four and statistics report that more than 50% of Indian mothers experience it. When your life gets a whole new meaning with parenthood, feelings of sadness, anxiety, and low energy can be somewhat perplexing. That's when you know you are experiencing postpartum depression, and you're not the only one.

What is postpartum depression?
Often termed as 'Baby Blues,' which is a milder version of depression, postpartum depression (PPD) affects new mothers, weeks after childbirth. It is a long-lasting bout of severe depression which directly affects the mother's health and mental condition. It can manifest in the form of sadness, severe mood swings, bipolar disorder, change in appetite, little energy, nonexistent libido among other symptoms.

It's often overlooked as a sign of weakness and fear to embrace parenthood, but it's a bit more severe than that, though curable with proper psychotic treatment. Doctors believe that the depression is caused mostly due to massive hormonal imbalance during pregnancy, and also due to a considerable change in the lifestyle before and after childbirth. The latter sometimes affects fathers as well, as a result of which about 10% fathers experience PPD in their lifetime.

Risk factors involved

Postpartum depression can accentuate suicidal thoughts, mostly in the mother. As stated earlier, it affects the mother's mental state and in many cases, leads her to commit suicide, unless treated with utmost love and care. Furthermore, statistics show that PPD affects many mothers from a low socioeconomic background and they may be 11 times more likely to experience PPD than mothers having a better background.

Treatment
Since it is a type of depression, most cures can be obtained by therapy rather than a mainstream process using medication.
Cognitive behavioral therapy
(CBT) and interpersonal therapy (IPT), are two of the most popular types of treatment that have found the most success among patients. Some doctors opine that PPD and
major depressive disorder
(
MDD
) are different variants of the same depression, and hence, medicate patients accordingly.
One way of handling postpartum depression is by psychotherapy
(which is not as menacing as it sounds!), where the mother, overwhelmed by the new tasks of motherhood, can share her thoughts with a professional
psychiatrist
and get the pressure off her chest.
Postpartum depression is an underrated issue, which has the potential to ruin a new mother's life and can affect the baby's growth as well. Thus, to live the subsequent years depression-free, it is essential for the mother to go through therapy if the symptoms are observed.
1
person found this helpful
Attention deficit disorder is a behavioral disorder that comprises impulsive behavior, inattentiveness and hyperactivity. This disorder tends to affect children more commonly but the symptoms tend disappear as one ages.
The various symptoms of this disorder are:
1. Concentration problems
People affected by this disorder have problems in staying focused in routine tasks. You may have problems in listening to conversations, get distracted easily, overlook various important things and have trouble remembering various things.
2. Being disorganized and forgetting things
You may exhibit symptoms such as having an extremely cluttered desk. You may also experience difficulties in completing projects and forgetting appointments. You may also lose track of time while doing important things.
3. Emotional problems
Various emotional problems such as mood swings, hypersensitivity to criticism, problems in staying motivated and having low self-esteem are common signs of ADD. The disorder may also lead you to be extremely short tempered and be constantlyfrustrated.
4. Hyperactivity
This symptom causes you to be constantly agitated, unable to focus due to a racing mind, fidgeting constantly and talking excessively.
5. Impulsivity
You will exhibit impulsive behavior such as not being able to exercise self-control, blurting out inappropriate comments and have certain addictive tendencies.
Attention deficit disorder can cause various problems in your life. Most of these are related to the following domains:
1. Work related problems
You may constantly feel a sense of underachievement and be unable to meet your work responsibilities. You may be unable to meet deadlines, and face problems in filling paperwork.
2. Relationship problems
This disorder takes a toll on your relationships such as it can create a rift between you and your family. They may feel that you are not sensitive to their concerns.
3. Mental health problems
You may face various mental health problems such as drug abuse, anxiety, self-esteem issues and chronic stress.
The various remedies for this disorder are -
1. Get proper sleep
You should always aim to sleep for at least 6 hours every day. If you are well rested, then you will be more energetic and stress free.
2. Regular exercise
You should exercise on a regular basis to keep yourself fit and healthy. It can also help you avoid problems such as obesity.
3. Improve your relationships
You should schedule time for your loved ones and engage with them. It may contribute to your overall mental well-being.
3977
people found this helpful
Mental illness affects the patient as well as the immediate family. Once the affected member has been diagnosed with a mental illness, his family members find it difficult to accept this situation. They are in a state of denial. This state later gives way to feelings of frustration, resentment, anger and helplessness.
To overcome these feelings, it is important for the family to move beyond the mental illness of its relative and not away from him. The family members must accept the reality that someone among them is ill and it is their duty to help him recover from his mental illness.
Effect of social stigma
Unfortunately, mental illness draws social stigma. Many relatives of mentally ill people who are afflicted do not discuss their predicament with others. The reason is not too hard to discover- large sections of society think that mental illness is something very horrible. Very few people know that psychiatric disorders are treatable and they are as good or bad a disease as others.
Strangely, while the society comes out in support of people suffering from cancer and other life-threatening diseases, in cases of mental illness it adopts a position of aloofness. The underlying thought in the minds of people is that there must be something wrong in the family of the mental illness patient.
The net result is that the family withdraws from the society and gets into a shell. Guests are not invited over on social occasions and it often happens that the family gets into depression.
Coping with frustration and helplessness
Psychiatrists also point out to another range of emotions affecting the family members of a mentally ill person- feelings of frustration, helplessness and anger.
Imagine a situation where a schizophrenic child is unable to perform even normal tasks, such as eating food. The parent will try to convince the child to have her food but the mentally ill child cannot perform even that basic function. Unless the parent understands that this is not a normal child, she will continue to try to feed it. The child will, on the other hand, resist. This will continue till the time when the parent gets frustrated and angry at her child's behaviour. The parent will wonder why her child is not having the food by herself.
This situation will not arise if the parent and other family members accept that the child is ill and needs medical intervention.
This feeling can later lead to a sense of resentment and anger. Family ties can be ruptured because the members would begin to think that their social activities depend upon the medical condition of their sick family member who needs constant attention.
2716
people found this helpful
While being shy in unfamiliar conditions and with unknown people is normal for many people, it is considered a disorder when it starts to interfere with your life and stops you from seeking out new opportunities, meeting people or generally living your life to the fullest. The primary cause for this in most people is the fear of judgment or evaluation in the eyes of the others. Social anxiety may thus interfere with your personal as well as professional goals. Some of the ways you can take care of this problem are mentioned below.
Take help from counseling or therapy: Some people may have serious issues interacting with other people in a social setting or have a fear of the stage although they want to get into public speaking and performance. In such cases, you may need to take the help of a doctor as it becomes necessary in order to be able to fulfill your professional goals.
Have certain objective goals: One of the ways to overcome social anxiety disorder is to be able to achieve certain objective goals, even in social situations where there is no performance pressure. Say for example if you are with a group of people where you feel anxious, make two or three fruitful comments in your opinion in the group. This way, when you feel your voice is heard, it will help reduce social anxiety.
Slowly expose yourself to incremental anxiety situations: One of the best ways to overcome anxiety is to expose yourself regularly to situations that may make you uncomfortable. You can write down a series of situations which have increased your level of anxiety. You can then expose yourself to the situation that scares you the least repeatedly until you become habituated to it. Then you can slowly move up the list and conquer each one of the socially fearful settings, one by one.
Deep breathing and meditation: Meditation has been seen to clear up your mind and embolden you to face difficult situations. Practicing it daily can definitely help you overcome social anxiety. Even before you are about to engage in a large social or public gathering, deep breathing helps relax your muscles and also enables you to become calmer, thus reducing social anxiety.
Self-help manuals: There are a lot of manuals out there which are meant to help you deal with your social anxiety; whether it is in general, with public speaking or in a room full of guests in an informal setting. Generally, these are used in conjunction with therapy from a professional, but you can try certain self-help books which can guide you through a detailed process and help you deal with the social anxiety that you may face in certain situations.
In case you have a concern or query you can always consult an expert & get answers to your questions!
2725
people found this helpful
Mental illness or disorders are not uncommon, and they continue to affect millions of people around the globe irrespective of their ages and sex. Such disorders often require thorough and prolonged treatment, which is extremely challenging and involves a lot of risks as well. If not treated appropriately, it can lead to further worsening of the condition of the affected individual.
To keep affected individuals grounded and on course for an effective treatment, it is essential for their family members to support them. Many people employ psychiatrists, whose expertise in handling mentally unstable individuals, can be the difference between the success and failure of treatments.

Role Of Family In Caring Affected individual-
No matter how distant you feel from your family, it is your one true support system. People with mental conditions are often misunderstood by their own families. But such people need family care, love, and affection the most. Many mentally disturbed people, both young and old, experience worsening symptoms, because no one seems to understand, or even empathize with them. Families can help affected individuals by listening to them without being biased - like taking care of their needs that they can't take care of on their own.

Benefits of Family Involvement
The benefits that the mentally ill individual gets from family involvement, have far-reaching positive consequences on the overall effectiveness of treatment. First and foremost, the chances of recovery are highly increased. The rates of hospitalization and chances of relapse decrease significantly. In addition to this, the adherence to the choices of treatment is readily enhanced. A lot of money is saved as well, as family support often leads to an improvement in conditions within a short space of time. Whereas, without family support, the treatment may be prolonged.

Support of the Psychiatrist
Apart from the complete support of the family members, the psychiatrist plays an important supporting role that can significantly increase the chances of successful treatment. Psychiatrists undergo the study of psychiatry, a branch of medicine that deals with diagnosis, study, prevention and treatment of disorders related to the mental health of human beings.
A psychiatrist conducts a detailed clinical assessment of the mentally ill individual and chalks out a treatment plan accordingly. The family can help as per the directions of the psychiatrist, and hence the support is quite vital. Psychiatrists regularly conduct counseling sessions to assess the condition of the affected individuals, so that they can recover soon.
Recovery may be difficult initially, but with support systems like families and psychiatrists, the problems are bound to be resolved eventually.
2410
people found this helpful
A healthy mind in a healthy body! We have all heard the saying, but do we actually live by it. Though we try to eat a balanced diet, exercise regularly, and practice an overall healthy lifestyle to keep ourselves physically fit, but do we pay enough attention to keeping our mind healthy? The answer would be, not really. Here are a few compelling reasons that will drive us to do so:
To deal with troubles in your personal life: Whether it's an accident or a life loss of someone close to you, or any other strong personal issue, it may not affect your physical health but leaves a deep cut on your mental health. People often try and keep such things to themselves without realising that this would worsen the situation further. It is, however, best to seek help from mental health professionals or talk to someone close to you. If left unattended, these troubles may leave you isolated and detached, leading to problems in personal life.
To prevent damaging your physical health: There is a strong connection between the body and the mind. If body suffers the mind bears it effects and vice-versa the other will bear its effects. Often suffering from depression, anxiety and stress for long leads to heart attacks or strokes and sometimes even disrupts the immune function of the body. Sleep disorders, digestion issues that can impair your physical health are often the result of poor mental health.
To retain your productivity and functionality: Believe it or not, when you fail to nourish your mental health, it also reduces your productivity by making you lethargic and less inclined to participate in any physical activities. Being stressed or depressed due to the issues in life can significantly affect your productivity and functionality at work.
To stop yourself from developing unhealthy addictions: Poor mental health leads to developing unhealthy habits. From smoking excessively to becoming an alcoholic or taking drugs, people often engage in these practices to cope with mental issues. However, if you care about your mental health, you may be in better position to judge the harmful effects of these habits and therefore refrain from developing them.
To lead a happy and long life with friends and family: Various studies have shown that compared to people with mild mental issues and troubled emotional states, it is people with happy lives and sound mental health that live longer. It is advised to care for your mental health as the ignorance of the same may result in anxiety, stress and depression. This will not only hamper your communication with your family and friends but leave you disconnected from others and yearning for loneliness.
Remember, good health can only be achieved when there's a perfect balance between the mental health and the physical health. When any of these conditions get compromised, the overall health starts to deteriorate. Therefore, stay physically and mentally healthy to ensure over-all well-being. In case you have a concern or query you can always consult an expert & get answers to your questions!
2431
people found this helpful
Personality refers to the enduring and habitual patterns of behaviour, cognition, emotion, motivation and ways of relating to others. In simpler terms, it's the persona we have for the world to see and interact with. If these patterns or ways of relating with others become nonadaptive or pathological, a personality disorder develops.

Borderline Personality Disorder (BPD) is such a disorder of personality that causes mood swings, self-esteem issues, impulsive behavior and recurrent self-harm behaviour. It is very difficult to lead a normal life with these varied psychological issues.

The symptoms begin to appear from early childhood but they take a serious form only when one reaches adulthood. Issues with behavior and emotion are difficult to treat, people suffering from this illness should be willing to spend a lot of time and be dedicated towards his/her recovery. Through treatments and therapies, they do make significant improvements over time.

Causes

The exact cause of borderline personality disorder is not known but various reasons have been hypothesised as possible aetiology. Neuro-chemical disturbance in the brain, genetic vulnerability, some kind of childhood trauma like abandonment, death, neglect and/ or sexual abuse are probable causes of the disease. Prolonged and chronic stress/ anxiety may also lead to triggering of BPD symptomatology in vulnerable individuals later in life.

Symptoms
Prolonged dysthymia/ sadness
Feeling lonely/ misfit
Emotional dysregulation or Frequent mood swings
Significant interpersonal issues
Self-Injurious behaviour like making cuts in skin, burning, pricking etc
These symptoms are warning signs of borderline personality disorder and should be paid attention to:
Abandonment issue - People suffering from BPD have serious abandonment issues. They have an intense fear that they would be left alone and often act out to restrict their love ones from leaving. Sometimes their strategy is to not get too close to protect themselves from being left alone, so they appear aloof.
Disturbed self-image - People have self-esteem issues, they sometimes love or hate themselves or see themselves as evil. They have unclear goals, views, beliefs and often end up changing their friends, lovers, jobs, sexual identity frequently.
Dysfunctional relationships - It is very difficult to maintain a normal relationship for people with personality disorder. They tend to have quick short-lived relationships and get put off very easily which leads to a lot of heartbreak.
Suicidal tendencies and frequent self-harm behaviour like cutting skin using blades/ sharp objects are common.

Drugs and alcohol abuse, eating disorders and sexual promiscuity are other forms of self-destructive behaviour commonly encountered in this population. Extreme aggression, delusions, transitional Psychotic states are other possible symptoms of BPD.

Love and support from family and friends are crucial for patients suffering from this disease. Prolonged counseling sessions, therapies and the effort to break away from the chronic gloomy thoughts will definitely lead one to a better life.
In case you have a concern or query you can always consult an expert & get answers to your questions!
3959
people found this helpful
Alcohol Withdrawal Syndrome is the name given to the symptoms seen in you if you consume heavy doses of alcohol frequently and then suddenly quit or reduce your alcohol intake considerably. These symptoms may surface anytime between six hours to a few days after you last drank.

Common symptoms of alcohol withdrawal syndrome:
Hallucinations
Immense sweating
Sweating
All these symptoms may worsen over a few days and may even last till a few weeks.

What is the root cause?

Alcohol arouses your nervous system. In case you are a heavy drinker, your body gradually gets dependent on alcohol, and cannot adapt too easily to the lack of alcohol after you have abruptly quit. This is the root cause of Alcohol Withdrawal Syndrome (AWS).

Who is at risk?

You are at the maximum risk of AWS if you are an alcohol addict, or you cannot gradually cut down on its intake.

How do doctors diagnose AWS?

Usually, doctors will search for a few symptoms in you, like irregular heart rate,
dehydration
, fever, and tremors or minor fits. A toxicology screen also helps your doctor finding out the levels of alcohol in your body.
How is AWS treated?
Treatment depends on the severity of the symptoms. Usually are:
1. Home Care -
Mild symptoms of AWS can be treated at your home. You need to go for your regular routine checkups and tests. You may also have to go to rehabilitation programs for recovering alcoholics.
2. Hospitalization -
If your symptoms are more severe, you may have to be treated in a hospital, where you will be monitored and kept on a fluid diet to help prevent dehydration.
3. Medications -
You can also be treated with sedatives.
Do you recover fully?
Usually, chances are that you will fully recover from AWS. If you quit drinking, take your medicines on time, and lead a healthy life thereafter. However, sleep disturbances and
fatigue
may persist. But, if you have severe symptoms of AWS, you should seek medical care as soon as possible to prevent any further fatal complications.
In case you have a concern or query you can always consult an expert & get answers to your questions!
4169
people found this helpful
Delusional disorder refers to the condition in which an individual experiences non-bizarre delusions that are beliefs in things that aren't actually true. The delusions involve situations that take place in real life like being deceived or stalked, conspired against, etc but in actuality, these situations may be highly exaggerated or not true at all as they involve the misinterpretation of experiences or observations. This health problem tends to take place during the middle or later part of your life and is said to affect women more than men.
What are the symptoms associated with this condition?
There are certain signs that you can look out for to easily identify this condition and there are:
Delusional thoughts lasting one month and above
Lack of schizophrenia symptoms except delusions associated with the olfactory and tactile systems
One's behavior and normal functioning doesn't witness any kind of impairment
Duration of mood symptoms is short compared to the length of the delusions
Disorder is not brought on by the use of substances or any medical condition
Commencement of the disorder can vary from teenage years to later part of adulthood
What causes it to happen?
The root cause of the disorder is still not known, but experts are of the opinion that a variety of biological, genetic, environmental and psychological factors can cause it to occur.
Some of these causes include:
Genetics: It's said that this disorder can be passed on from parents to children. Additionally, it's more common in individuals whose family members suffer from schizophrenia or one of its types.
Psychological/ environmental: In addition to drug and alcohol abuse, delusional disorder can also be set off by stress.
Biological: Abnormalities in certain parts of the brain can lead to this problem. Areas of brain associated with thinking and perception have been found to be connected to delusional symptoms.
In case you have a concern or query you can always consult an expert & get answers to your questions!
3760
people found this helpful
View All Feed