Videos (3)
Personal Statement
My favorite part of being a doctor is the opportunity to directly improve the health and wellbeing of my patients and to develop professional and personal relationships with them. Doctor...
...more
My favorite part of being a doctor is the opportunity to directly improve the health and wellbeing of my patients and to develop professional and personal relationships with them. Doctor is an active member of All India Ophthalmological Society
More about Dr. Ravi Thadani
Dr. Thadani is a well-known ophthalmologist in New Delhi. He has over 35 years of experience in his field which makes him one of the most trusted ophthalmologists currently in practise. Over the decades of his professional career, he has had countless patients to whom he has provided expert treatment and care. Being a very proficient ophthalmologist, Dr. Ravi Thadani is adept at treating all kinds of diseases and disorders associated with the human eye. He is a specialist in eye problems and has both medical and surgical experience in the field of ophthalmology. His skills as an ophthalmologist allow him to diagnose and treat significant problems such as cataracts, glaucoma, and partial or complete blindness. Dr. Ravi Thadani has an active association with the All India Ophthalmological Society. Dr. Ravi Thadani can be reached for a consultation at Ravi Eye Clinic in Tilak Nagar, New Delhi. As an ophthalmologist, he takes a keen interest in directly improving the health and wellbeing of his patients and developing professional and personal relationships with them as their doctor. An appointment with him is sure to help you find an easy and effective solution to all your eye troubles for good.
Info
Education
MBBS - RNT Medical College, Udaipur - 1981
MS - Ophthalmology - RNT Medical College, Udaipur - 1986
Languages spoken
English
Hindi
Awards and Recognitions
Paper Presented In RNT Medical College
Professional Memberships
All India Ophthalmological Society
Delhi Ophthalmological Society
Delhi Medical Council
Location
Book Clinic Appointment with Dr. Ravi Thadani

B-8, Ganesh Nagar-Tilak Nagar, Metro Pillar No. 543, Janakpuri

,

Delhi
Get Directions




+1

Consult Online
Text Consult
Send multiple messages/attachments. Get first response within 6 hours.
7 days validity
•
₹300 online
Consult Now
Phone Consult
Schedule for your preferred date/time
7 minutes call duration
•
₹500 online
Consult Now
Video Consult
Schedule for your preferred date/time
7 minutes call duration
•
₹500 online
Consult Now
Health Packages
360 Days validity
•
Medicines included
₹6000
30 Days validity
•
Medicines included
₹6500
7 Days validity
•
Medicines included
₹5000
30 Days validity
•
Medicines included
₹25000
7 Days validity
•
Medicines included
₹2000
7 Days validity
•
Medicines included
₹700
30 Days validity
•
Medicines included
₹8000
Services
Submit Feedback
Submit a review for Dr. Ravi Thadani
Your feedback matters!
Write a Review
Patient Review Highlights
"Very helpful"
10 reviews
"Well-reasoned"
1 review
"knowledgeable"
6 reviews
"Practical"
3 reviews
"Professional"
1 review
Reviews
Divita
Feb 28, 2017
My problem was such that it required a number of sessions, and I must say after all the sessions, I am feeling much better now. I am so much benefitted with his eye check-up, that i am perfectly fine now. Both Dr Ravi Thadani and staff were very helpful. The guidance of Dr Ravi Thadani gave me has helped me immensely with my situation. Due to my eye pain my daily activities were suffering. But after following his prescription I am completely fine now.
Krutharth
Jan 2, 2017
Overnite my eye infection aggravated. Dr Ravi Thadani guidance has helped me immensely and has helped gain confidence. The interior of the Ravi Eye Foundation was no nicely done, it was so clean. I was having this eye infection, but the symptoms were not very visible. Even after my treatment with my old doctor, I never felt so much relief, but Dr Ravi Thadani has treated my completely. He is quite knowledgeable Ophthalmologist.
Sanchay
Jan 20, 2017
Dr Ravi Thadani is very courteous and behaves very aptly with elder patients. The entire Ravi Eye Foundation is very nicely designed. During the treatment, Dr Ravi Thadani supported me a lot. His guidance has helped me immensely and has helped gain confidence. Due to my eye pain my daily activities were suffering. I searched this doctor online and saw his reviews. His guidance gave me has helped me immensely with my situation.
Pallavini
Jul 11, 2017
With the help of his treatment for red eyes I am feeling so great. My case was extremely serious, but he really handled it very nicely. The staff was very attentive to my needs. He is very talented and seasoned doctor. I was having this red eyes, but the symptoms were not very visible. I have consulted so many doctors , but no one was able to solve my red eyes.
Devak
Apr 1, 2017
Due to my lasik surgery treatment i am feeling very great. He is very courteous and behaves very aptly with elder patients. Overall lasik surgery treatment was very effective. The friendliness of staff is the best in the Ravi Eye Foundation. The best thing about Dr Ravi Thadani is that he prescribes limited no. of medicines.
Devani
Apr 23, 2017
I was having very bad thoughts regarding my squint. Dr Ravi is a very practical doctor. Even after my treatment with my old doctor, I never felt so much relief, but Dr Ravi has treated me completely. As someone I knew, consulted him and they referred us. The overall atmosphere in the Ravi Eye Foundation is very soothing.
Maharanth
Jun 26, 2017
he did my lasik surgery. The entire Ravi Eye Foundation is very nicely designed. The overall atmosphere is very soothing. I searched Dr Thadani online and saw his reviews. He is very courteous and behaves very aptly with elder patients.
Champak
Jul 14, 2017
Thanks to Dr Ravi for provising me the laser treatment for my eyes. I was fed up of wearing spectacles and after the suregry provided by him, I am perfectly fine. He is really a great ophthalmologist.
Priya Maheshwari
Mar 26, 2015
Great Doctor. Good Service
Feed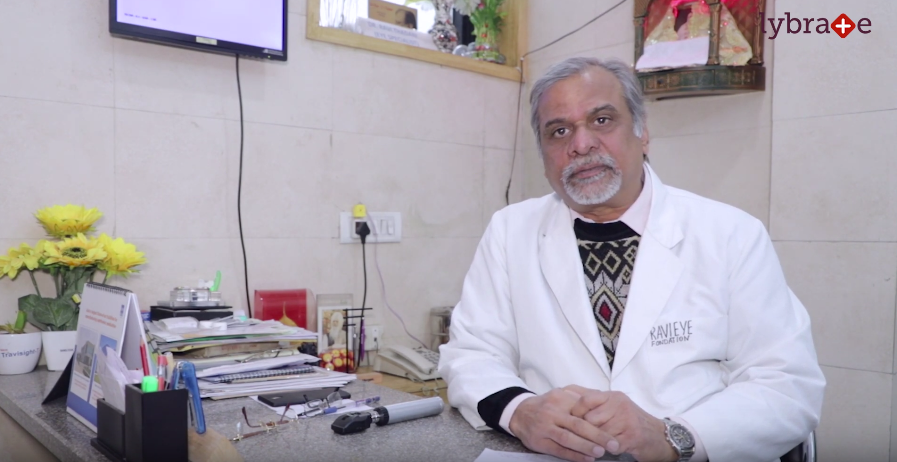 While spectacles are a fashion statement for some people, for others they are an uncomfortable necessity. Though contact lenses may be a little more aesthetically pleasing they too can be quite uncomfortable and cannot be worn throughout the day. Thankfully, there is a third way to correct vision. Laser surgery or LASIK, it is a popular refractive procedure that can correct common vision problems, such as nearsightedness, farsightedness and astigmatism.
4242
people found this helpful
A common headache can have a number of reasons behind it, such as defective vision, hetrophoria or convergence deficiency, etc. Now, the question arises as to how they can cause headache. Read on to know more...
Q. Why should defective vision cause headache?
To attain a perfect vision, eyes with defective vision have to make sustained extra efforts, which results in headache. Even if the refractive error is very small, it can be the cause of headache. More prolonged the working and smaller the print, higher the incidence of headache.
Q. Can this occur at all ages?
Yes, it can occur at all ages. However, with age, the resistance decreases and hence elderly people are more prone to get headache. More the use of computer, mobiles, TV or prolonged studies precipitates headache
Q What is Hetrophoria?
Normally, both eyes always remain parallel, but in some cases, eyes have slight tendency to develop minor squint, may be convergent or divergent. This is called Hetrophoria or Latent squint. Such patients have to take extra strain to keep the eyes straight
Q. What is convergence deficiency?
For reading, both eyes have to converge and if there is weakness of convergence, extra strain has to be put on the eyes, which cause headache.
Q. What is the ideal method of refraction in young patients, I,e below 40 years?
Ideal method is to dilate the pupil with Tropicasyl plus drops. This has the advantage that the doctor can see the retina and Optic Disc. This is important to exclude any involvement of brain as the cause of headache. It also relaxes accommodation and hence provides correct refraction. In cases of Hypermetropia, it is extremely essential to dilate the pupil.
Q. What is the role of Autorefractmeter (a computer) in refraction?
It is a very important instrument to provide correct refraction, but it cannot be totally relied upon. Some opticians rely on it and give wrong numbers.
Q. What is acceptance Test?
You have refracted the eyes with Autorefractmeter or Streak Retinoscope but exact power is what a patient accepts. This is very important.
Q. What is astigmatism?
There is a difference in refraction in different meridians and it is important that a cylinder number is prescribed in correct axis. This is a difficult task and needs lot of experience.
Q. Is it important to correct astigmatism?
To relieve headache and strain on the eyes, it is very important that exact cylinder is prescribed.
Q. What is the role of exact centring of Optical Lenses?
.You may give correct number, but if the centre of the Optical lenses and cornea do not coincide, satisfactory results are not obtained. To dispense correct lenses is a big art and the Optician must be qualified and well experienced.
Q. Does the quality of lens affect the visual comfort?
Yes, it is important that quality of lenses should be good, preferable fibre lenses which are Ant reflect coated. Crizal coating with capability to block the UV rays are very popular.
Conclusion: Refractive errors are important cause of headache and needs proper examination of the eyes, preferably after dilating the pupil. Astigmatic error even if too small may be the cause of headache. Spectacle dispensing is an art and a patient must select proper optician. Spectacles if advised for constant use must be used constantly to get full relief.
4279
people found this helpful
If you are diabetic then it is important that you visit your ophthalmologist for regular check-ups. Diabetes is known to be one of main causes for blindness across all age groups. If you suffer from bouts of blurred vision then it is not likely due to a long term vision problem. It is temporary and usually occurs due to fluctuating blood sugar levels in the body.
How diabetes affects your eyes?
The lens of your eyes can swell if you are a diabetic, and this can impair your ability to see causing blurry vision. In order to rectify this problem, it is important for you to get your blood sugar levels under optimal levels. This entire procedure of reducing blood sugar levels may take three months or more.


Eye problems that are caused by diabetes
The major eye problems that can occur due to diabetes are
Cataract: Cataract occurs when the lens of your eyes become foggy or cloudy. Although cataract mostly occurs to people who are middle aged or above sixty, you can get affected by this disorder at an earlier age if you are diabetic. Also, the deterioration or clouding of the lens progresses at a much faster rate than usual. Cataracts lead to an inability to focus as the retina is covered by cloudy layer.
Glaucoma: This is another disorder that can occur due to diabetes. This is characterized by the buildup of pressure in the eye due to the fluids within it not draining properly. This intense pressure damages the nerves and blood vessels in the eyes, thus impairing your ability to see.
Diabetic Retinopathy: Diabetic retinopathy is a disorder characterized by damage to the vessels in the retina that carry blood. It can occur if you have either of the type 2 or type 1 diabetes. If not treated in time it can lead to blindness.
If you have a history of diabetes or even borderline diabetic tendencies, it is highly advisable to constantly check your blood sugar levels and also get your eye checked at regular intervals, especially if you feel even the minutest vision problems.
3999
people found this helpful
A person is said to have great vision more in the metaphorical way than in the literal sense. However, having both is just so important, especially as the ability to see reduces as a person gets older. Old age comes with its own set of problems, and vision loss is one of them. If kept in check from an early age, however, vision loss can be deferred indefinitely.
While a person's eyesight is likely to deteriorate over the course of his life, there is a lot which can be done in an effort to make sure that this is not the case. To start with, it makes good sense to be regular with eye check-ups. After a person attains the age of sixty, he or she should have a doctor take a look at his or her eyes on a yearly basis. There is no point trying to conserve eye sight if a person is too late in taking corrective action. By paying a visit to the ophthalmologist, a person will get to know the exact problem that he is suffering from.
A good diet which is rich in the nutrients which improve a person's eye sight does go a very long way in the long run. A person should make sure that is diverse enough to take care of the needs of a person and should include grapefruit, strawberries as well as berries and nuts.
One of the main things which can be done in order to preserve the health of a person's eyes until he or she reaches an advanced age is to stop smoking in all forms. As a matter of fact, tobacco leads to cyanide entering the blood stream and this does a lot of damage to the eyes. In fact, quite a few irreversible conditions of the eye are caused due to this.
Exercise is said to be good for a person at any age for a variety of reasons and it is really good for even the eyes, though the link may not be immediately so clear. It reduces the risk of age related degeneration by up to 70 per cent!
What is really interesting about a person's eyes is that they can be signs of trouble in other parts of the body. For example, if a person has blurry vision, they should get checked for diabetes. Also, eyes which do not produce enough natural lubrication can show a risk of rheumatoid arthritis and perhaps even thyroid disease.
All in all, a person's eyesight is so crucial to his or her overall health and wellbeing. We have only one pair of eyes, so we might as well take care of them! In case you have a concern or query you can always consult an expert & get answers to your questions!
3831
people found this helpful
If health is lost, everything is lost and your eyes are one of the most essential parts of your health. Good eyesight is the key to a happy life. But in order to maintain good eyesight, it is important to keep a few things in mind. However, aging causes several disorders related to eyes.
Here's what you should do to continue life till the fullest with healthy eyes even in your sixties:
Check your diet: For healthy eyes, you should take care of your diet first. Include foods rich in vitamins A and C, such as green leafy vegetables and fish in your diet. Omega-3 fatty acids are also necessary for good vision as they improve the health of Macula, which is responsible for central vision. Alcohol and unsaturated fats are harmful for the macula. High-fat levels in the body obstruct proper flow of blood through arteries. Thus, eyes also suffer due to low oxygen supply.

Quit smoking at the earliest: Smoking poses great threat to your eyes. It increases the level of oxidative stress. This is harmful for the eyes.

Exercise: Regular exercise improves the blood circulation in our body. Thus, sufficient blood reaches the eyes which further aids sufficient supply of oxygen.

Use sunglasses: Protect your eyes from ultraviolet rays. Wear sunglasses when you are travelling outdoors as UV rays are extremely y harmful for the eyes.

Don't overstrain your eyes: Avoid sitting in front of the television and computer for too long. Keep the computer below the eye level. Keep the screen at a distance. Remember to blink frequently and keep the colour format not too bright or saturated.

Rinse your eyes: Wash and rinse your eyes regularly with cold water to get rid of dust particles.

Be alert: In case of any injury related to the eye, seek immediate medical help. Don't ignore the injury.

Visit your doctor: It is important to get your eyes checked by a professional at least once in every two years. The doctor should watch and examine your pupil by dilating it. He must assess the fact that whether you are vulnerable to any eye disease or not and take necessary steps.

Check your spectacles or lenses: It is important that you keep the spectacles or lenses up to date. Visit your doctor to check the power of your lens. Keep a tab on the changing power.

Rubbing your eyes: Avoid rubbing your eyes if any particle gets into it. You should rather splash water to keep it intact.
In case you have a concern or query you can always consult an expert & get answers to your questions!
3687
people found this helpful
This is a condition which can be caused in the delicate folds of the skin over the eye called the eyelid. The eyelids usually protect us from extreme light, and the entrance of other debris as well as against injuries to the delicate interiors of the eyes. The eyelid may get irritated or experience varied sensations like prickling, burning or itching, with a dull ache or sharp pain due to many reasons. This discomfort and irritation is usually caused by inflammation. Let us learn more about this condition.
Eyelid Inflammation: Blepharitis or eye inflammation is a condition that causes eyelid irritation because of allergic reactions as well as infections, dandruff in the eyelashes and eyebrows, pollutants and varied other causes. Also, poor hygiene can lead to the growth of eyelash lice which can also enter the eyes and lead to inflammation and irritation of the eyelids. A malfunctioning oil gland can also cause this kind of problem along with side effects of certain kinds of medication.
Types of Inflammation: This condition can be of two types :- anterior and posterior. Anterior eye inflammation causes irritation in that part of the eyelids which are outside the eyes where the eyelashes are situated. Dandruff and allergic reactions can also cause this kind of irritation. Posterior eyelid inflammation is a condition that can be found in the inner rims and corners of the eyes where malfunctioning oil glands found in the follicles of the eyelashes can cause this problem leading to blurry or cloudy vision as well.
Symptoms: Apart from irritation and not being able to close the eyes properly, there are many other symptoms of this condition. These symptoms include sensitivity to glares of light, oily eyelids, burning and itching sensation, and a feeling that some particles have entered your eyes and formed a crust on your eyelashes.
Checking for an Infection: Many of these symptoms can point at the presence of an infection, especially when accompanied by fever and headaches. Yet, irritation can also just be a cause of simple inflammation or due to the entry of a foreign body into the eye. Still, it is always best to get the symptoms checked by an ophthalmologist who will conduct a detailed eye exam along with lab tests based on blood samples in order to ensure that there is no bacterium or virus infecting the body.
Treatment: Steroids and antibiotics will be used only when there is an infection. As a home remedy for this condition, you can apply a warm wash cloth and clean your eyes frequently.
In case you have a concern or query you can always consult an expert & get answers to your questions!
3642
people found this helpful
Bloodshot eyes aren't exactly the best feature of a person! When a person's eyes are bloodshot, it is quite easy to 'see' that something is wrong! Eyes are possibly the most delicate organs of the body, and are all the more vulnerable to infections such as 'subconjunctival haemorrhage'. However, as dour as such terms may sound, there is a lot which really should be known about them!
The eye has a thin layer which goes by the name of the conjunctiva, which covers a part called the sclera. Many a times, especially in the case of children, if an injury unfortunately occurs in the eye, there are chances that it may form subconjunctival haemorrhage.
The reason why this occurs is that there are some of the very small blood vessels in a person's eye break. The reason for this, apart from an injury could also be on account of a sudden increase in the blood pressure of the person. This usually takes place due to some very strenuous lifting exercise but also can occur due to laughing or sneezing!
The occurrence of a subconjunctival haemorrhage can also be closely linked to the consumption of pills which thin the blood such as aspirin.
Treating Subconjunctival Haemorrhage
Now, considering the fact that such a haemorrhage has the potential to look quite scary, it may be natural for a person to react proactively. However, in many cases this is not required at all. As a matter of fact, the issue clears up within a couple of weeks at the maximum and a week and a half, on average. If this does not happen to be the case, it is a signal that a medical professional should take a look at the patient's eye.
In many instances, a person may not even get to know that he or she is suffering from a subconjunctival haemorrhage as there is no effect on the vision of the person and he or she would probably get to know that this is the case by taking a look in the mirror or being informed of his or her eye looking red.
In order to treat a subconjunctival haemorrhage in an effective manner, the first thing to be done by a person is to avoid any medication which could be causing it. Also, it is quite important not to rub one's eye as this really does slow down the healing process.
Artificial tears help soothe the eye but they do not hasten the rate of repair. A subconjunctival haemorrhage may occur, but if a person follows the right steps, his or her vision can consistently remain 20/20!
In case you have a concern or query you can always consult an expert & get answers to your questions!
3530
people found this helpful
Cataracts are a common eye problem experienced by the elderly. In some cases, babies may also be born with cataract as a congenital defect or it may develop as a result of conditions such as diabetes. Cataracts can affect one or both eyes and is characterized by the clouding of the lens in the eye. This can make it difficult to see clearly and if not treated in time can lead to blindness.
Common symptoms of cataract include:
Blurred vision
Changes in the perception of colour
Increased sensitivity to glares
Double vision
An eye examination is the first step to diagnosing cataracts. To confirm a diagnosis the doctor will also dilate the pupil to check the lens. Most cataracts can be easily treated with surgery. This surgery involves the separation of the cataract from the lens and its removal after which an intraocular lens implant is placed in the eye. In cases where this cannot be used, corrective contact lenses or glasses will need to be used. One of the most popular methods of cataract surgery is known as phaco surgery or phacoemulsification.
This surgery involves making two, small incisions on the eye where the cornea meets the sclera. This is then used to create a circular opening in the lens through which a probe is inserted into the eye. Sound waves or laser is then used to break the cataract into small pieces. This is then removed from the eyes and an intraocular lens implant is put in its place. Stitches are rarely required for this surgery and it is usually performed as an outpatient procedure while the patient is under local anaesthesia. When treating cataract, both eyes are usually not addressed simultaneously.
This surgery is usually pain free. The operated eye may be bandaged overnight and the patient will be given a protective eye shield to be worn for a week. The doctor will ask you to get a check up 2-3 days after the surgery where they can evaluate the clarity of the lens, overall health of the eye, eye pressure and visual acuity.
Cataract surgery is generally considered to be a safe surgery but like any other surgery there are risks involved. Some of the possible complications of this type of surgery include:
Pain and redness of the eye
Vision problems
Swelling of the eye
Discharge from the eye
Flashes or floaters in the patient's vision
In case you have a concern or query you can always consult an expert & get answers to your questions!
3838
people found this helpful
If you suffer from vision loss and have to wear spectacles in order to see clearly you may be considering lasik surgery. Lasik surgery can be used to treat near sightedness, far sightedness and astigmatism. It involves reshaping the cornea with the help of a laser beam. This is an outpatient procedure where you can get back to work in a day or two.
To be able to undergo a lasik surgery, you must be:
Aged 18 or more
Suffer from nearsightedness, farsightedness or astigmatism
Lead an active lifestyle
Be in general good health
Have strong tear production
Have thick corneas
Before the surgery begins, numbing eye drops are applied to prevent any discomfort during the procedure. The surgery itself involves the creation of a thin flap in the cornea. This is the folded back to reveal the corneal tissue below. If you suffer from nearsightedness, an excimer laser is used to flatten the cornea while if you suffer from nearsightedness, it creates a steeper cornea. In cases of astigmatism, the cornea is smoothened into a normal shape. Once this has been done, the flap is laid back in place and the cornea is allowed to heal naturally. An uncomplicated lasik surgery for one eye usually takes less than five minutes. You may feel some pressure on your eyes and hear a steady clicking sound while the laser is in use.
You may feel temporary burning or itching immediately after the procedure. Do not in any condition rub your eyes to relieve this sensation. Also, do not attempt to drive and have somebody else drive you home. The blurred vision and haziness will clear by the next morning. You may also experience heightened sensitivity to light and may see halos around lights. The whites of your eyes may also look bloodshot for a few days. In most cases, vision improves immediately but in a few rare cases, it could take several weeks or longer.
Though you can return to work the next day, it is a good idea to take a few days off. Also refrain from strenuous activities of any sort for a week after the surgery. Take the medication prescribed by the doctor regularly and do not change the eye drops without consulting him first. Avoid using makeup or cream around the eye for up to two weeks after the surgery to minimize the risk of infection. You should also avoid using swimming pools or hot tubs for 1-2 months after the surgery. In case you have a concern or query you can always consult an expert & get answers to your questions!
3466
people found this helpful
View All Feed