Personal Statement
To provide my patients with the highest quality healthcare, I'm dedicated to the newest advancements and keep up-to-date with the latest health care technologies.
...more
To provide my patients with the highest quality healthcare, I'm dedicated to the newest advancements and keep up-to-date with the latest health care technologies.
More about Dr. Rajiv Singla
Dr. Rajiv Singla is a renowned Geneticist in Dwarka, Delhi. You can visit him at EAR N TONE Speech Therapy and Hearing Aid Clinic in Dwarka, Delhi. Book an appointment online with Dr. Rajiv Singla and consult privately on Lybrate.com.

Lybrate.com has an excellent community of Geneticists in India. You will find Geneticists with more than 28 years of experience on Lybrate.com. You can find Geneticists online in Delhi and from across India. View the profile of medical specialists and their reviews from other patients to make an informed decision.
Info
Languages spoken
English
Hindi
Location
Book Clinic Appointment with Dr. Rajiv Singla
Dr Lane, 9A, DDA Flats, Pocket 2, Sector 6, Dwarka, Delhi

,

Delhi
Get Directions
Submit Feedback
Submit a review for Dr. Rajiv Singla
Your feedback matters!
Write a Review
Feed
Nothing posted by this doctor yet. Here are some posts by similar doctors.

MBBS, DNB - Obs & Gynae, Diploma In Reproductive Medicine (Germany), Fellowship In Laparoscopy, Fellowship in Reproductive Medicine & ART, Hysteroscopy advanced traraining training
Chromosomal abnormality happens when a cell has too many or too few chromosomes. The most common form of chromosomal anomaly is Down's syndrome. If a parent has a chromosomal anomaly, she/he will pass it on to the child. PGD or Pre-implantation Genetic Testing aims to select only the embryos with normal chromosomal count and only these embryos are implanted to achieve a healthy pregnancy and bring down the number of children affected with a chromosomal anomaly.
The risk of Aneuploid pregnancy:
The older a woman is when she tries to conceive (aged 35 or more), the higher the risk of Aneuploid pregnancy (carrying a baby with genetic or chromosomal abnormality). Most of these pregnancies end in miscarriages and the few that come to term produce babies with chromosomal abnormalities.
Causes of Chromosomal Abnormality:
Usually, chromosomal abnormalities occur due to an error in the cell division. Meiosis refers to the cell division, which the sperm and the egg undergo during the development procedure. Normally, meiosis breaks the chromosomal material into two equal halves, so that each of the parents contributes 23 chromosomes to the pregnancy. However, when the number of chromosomes in the cell goes up or down than the normal, it results in genetic/chromosomal anomalies.
PGD Procedure for a Chromosomal Anomaly:
If a couple elects to go for Pre-implantation Genetic Diagnosis, they have to undergo ICSI Cycle. ICSI cycle initiates a fertilization cycle to produce embryos. When the embryos reach upto day 5 and blastocyst are formed, they are biopsied and further sent to genetic lab for detecting the chromosomal abnormalities. The embryos are incubated for the entire duration of the genetic screening. Only the embryos that the genetic test clears are implanted. PGD never reveals the gender of the embryo.
PGD can help detect the single genetic disorders that may lead to the following ailments:
• Cystic fibrosis
• Muscular dystrophy
• Tay-Sachs
• Sickle cell anaemia
• Thalassemia
• Turner syndrome
PGD is a revolutionary science that can help root out incurable disorders linked to genetics. It ensures that pregnancy is sustained until term and a healthy baby is born.
3472
people found this helpful

MD - Ayurveda, Bachelor of Ayurveda, Medicine and Surgery (BAMS)
MD-PhD, FIPS, Fellow of Academy of General Education (FAGE), DPM, MBBS
At birth, babies with Down syndrome usually have certain characteristic signs, including: flat facial features. Small head and ears. Short neck. Bulging tongue. Eyes that slant upward. Oddly shaped ears. Poor muscle tone.
डाउन सिंड्रोम क्रोमोसोम के कारण होने वाले एक आनुवांशिक समस्या है. गर्भ में भ्रूण को एक कोशिका में कुल 46 गुणसूत्र यानि क्रोमोसोम मिलते हैं जिसमें से 23 गुणसूत्र माता से व 23 गुणसूत्र पिता से प्राप्त होते हैं. पर कभी-कभी भ्रूण या शिशु को एक अतिरिक्त गुणसूत्र क्रोमोसोम 21 मिल जाता है जिस कारण उसे हरेक कोशिका में 46 के बजाय 47 गुणसूत्र हो जाते हैं. इसी स्थिति को डाउन सिंड्रोम कहते हैं. डाउन सिंड्रोम के साथ पैदा होने वाले बच्चे में चेहरा कुछ चपटा, कान छोटा या जीभ बड़ा या इसी तरह के अन्य शारीरिक अंतर देखने को मिलता है. डाउन सिंड्रोम वाले बच्चे का शारीरिक व मानसिक विकास देरी से होता है. इसके साथ ही ऐसे बच्चे को ह्रदय, आंत, श्वास संबंधी समस्या भी होती है. इस आलेख में हम डाउन सिंड्रोम के लक्षण, कारण व इलाज से संबंधित चर्चा करेंगे.

डाउन सिंड्रोम के लक्षण-
डाउन सिंड्रोम से ग्रसित अधिकांश बच्चों के मांसपेशियाँ व जोड़ ढीले व कमजोर होते हैं. सामान्य बच्चों की तुलना में डाउन सिंड्रोम से पीड़ित बच्चे के बुद्धि का स्तर भी कम रहता है व इनका शारीरिक व मानसिक विकास देरी से होता है. ऐसे बच्चे देर से बैठना, देर से चलना व देर से बोलना शुरू करते हैं. डाउन सिंड्रोम वाले बच्चे कई तरह के जन्म दोष के साथ पैदा हो सकते हैं. डाउन सिंड्रोम वाले कई बच्चे ह्रदय, श्वास या आंत से संबंधित समस्या के साथ भी पैदा होते हैं. ऐसे बच्चे में हार्ट समस्या, श्वसन समस्या, अल्जाइमर या कैंसर की समस्या भी हो सकती है. डाउन सिंड्रोम वाले बच्चे में चेहरे पर विशेष लक्षण देखने को मिलते हैं. ऐसे बच्चे में छोटा मुंह, कान छोटा, आँखों के ऊपर तिरछापन, जीभ बड़ा, चेहरा सपाट, चौड़े हाथ, छोटी उँगलियाँ इत्यादि देखने को मिलता है. ऐसे बच्चे में रीढ़ के हड्डी में विकृति भी देखने को मिलती है. कुछ बच्चे में पाचन के समस्या या किडनी की समस्या या देखने व सुनने की क्षमता भी कम पाये जाते हैं.

डाउन सिंड्रोम के कारण-
सभी बच्चे में जीन उसके माता व पिता दोनों से मिलते हैं. ये जीन उनतक गुणसूत्र के माध्यम से पहुँचते हैं. गर्भ में बच्चे को हर कोशिका में अपने माता से 23 व पिता से 23 कूल 46 गुणसूत्र मिलते हैं. पर कई बार एक गुणसूत्र ठीक से अलग नहीं हो पाते हैं और बच्चे में 2 के बजाय 3 या एक अतिरिक्त गुणसूत्र (गुणसूत्र 21) पहुँच जाते हैं. इस प्रकार इस स्थिति में इनके हर कोशिका में 46 के बजाय 47 गुणसूत्र यानि क्रोमोसोम होते है. गुणसूत्र के इसी समस्या को डाउन सिंड्रोम कहते हैं व इसी अतिरिक्त गुणसूत्र के कारण ही बच्चे कई तरह के जन्म दोष के साथ पैदा होते हैं या बच्चे का मानसिक व शारीरिक विकास सही ढंग से नहीं हो पाता है. डाउन सिंड्रोम की स्थिति क्यों होती है इसके पीछे के सही कारण स्पष्ट नहीं है.पर यह देखा जाता है कि यदि महिला देरी से गर्भधारण करती है यानि 35 वर्ष की उम्र या इसके बाद बच्चा पैदा करती है तो बच्चे में डाउन सिंड्रोम की संभावना ज्यादा होती है. इसके अलावा महिला को या उसके किसी भाई या बहन हो डाउन सिंड्रोम है तो उसके बच्चे को भी डाउन सिंड्रोम होने की संभावना रहती है. यदि महिला पहले डाउन सिंड्रोम से पीड़ित बच्चे को जन्म दी है तो उसके द्वारा आगे जन्म दिये जाने वाले बच्चे को भी डाउन सिंड्रोम होने की संभावना अधिक होती है.

डाउन सिंड्रोम का इलाज-
जब भ्रूण गर्भाशय में है तभी जाँच द्वारा यह पता लगाया जा सकता है कि बच्चे को डाउन सिंड्रोम है या नहीं. यदि जाँच से यह स्पष्ट होता है कि बच्चा डाउन सिंड्रोम से पीड़ित है तो गर्भाशय में ही इसका निदान किया जा सकता है. पर बच्चे के जन्म के बाद डाउन सिंड्रोम का कोई इलाज नहीं है. ऐसे बच्चे को प्यार व सहारा की ही जरूरत होती है. ऐसे बच्चे के माँ-बाप को चिंता नहीं करनी चाहिए व इस बीमारी के लिए किसी को दोष नहीं देना चाहिए. माँ-बाप को परेशान होने के बजाय बच्चे के साथ प्यार से पेश होना चाहिए और उनको आगे बढ़ने में सहारा बनना चाहिए. डाउन सिंड्रोम से पीड़ित बच्चे व वयस्क भी आज अच्छी जिंदगी जी रहे हैं. ऐसे लोगों को आगे बढ़ने के लिए बस प्यार और सहारा की जरूरत होती है. डाउन सिंड्रोम से पीड़ित बच्चे भी अन्य बच्चे की तरह सारा काम कर सकते हैं बस उन्हें माँ-बाप व अपने परिवेश से थोड़ा सपोर्ट की जरूरत होती है. ऐसे बच्चों को स्पीच थेरोपी, फिजियोथेरोपी व अन्य तरीकों से सहायता की जा सकती है.
Difficult to opine online without actually seeing the reports. But if reports say 100% trisomy 21 affected fetous then no point in continuing.
1
person found this helpful
Its a genetic defect and nothing can be done to cure it but I will suggest you to accept whatever it is and even the child can live longer
1
person found this helpful
Hello lybrate-user, thank you for the question. If the risk in quadruple test is above the cut off for Trisomy21, then I would suggest a confirmatory test for the same. The confirmation can be done either by Amniocentesis or by Noninvasive prenatal test (NIPt). Amniocentesis is the USG guided procedure of drawing amniotic fluid which has fetal cells. These fetal cells can be examined for fetal chromosomes. It is a 100% test. The procedure related risk of miscarriage is very less- about 1 in 500. There is not much pain. NIPT confirms Down Syndrome up to 99.6%.it is done from mother's blood and hence no risk of procedure related miscarriage. But I think if your doctor has recommended Amniocentesis, then you should go for it. We Routine ly do it. It's a 10 mins procedure and is important for confirming the Trisomy21. I hope this is helpful.
2
people found this helpful
Down's Syndrome is a chromosomal disorder (impairment in genetic/chromosome function) which is confirmed by karyotype/genetic labs-study, parents require genetic counselling, IQ/psychological/developmental tests-periodical follow up-with child specialists, psychiatrists, psychologists, special education, training as may be required
1
person found this helpful
It is very hard to tell if the child will have down's syndrome or not. It is only time that will tell and for that matter of fact, it is only chance and please think positively about the situation. The chances are very less and even if it turns out to be so, downs kids are trainable. I hope this helps. Take care and have a lovely day!
View All Feed
Near By Doctors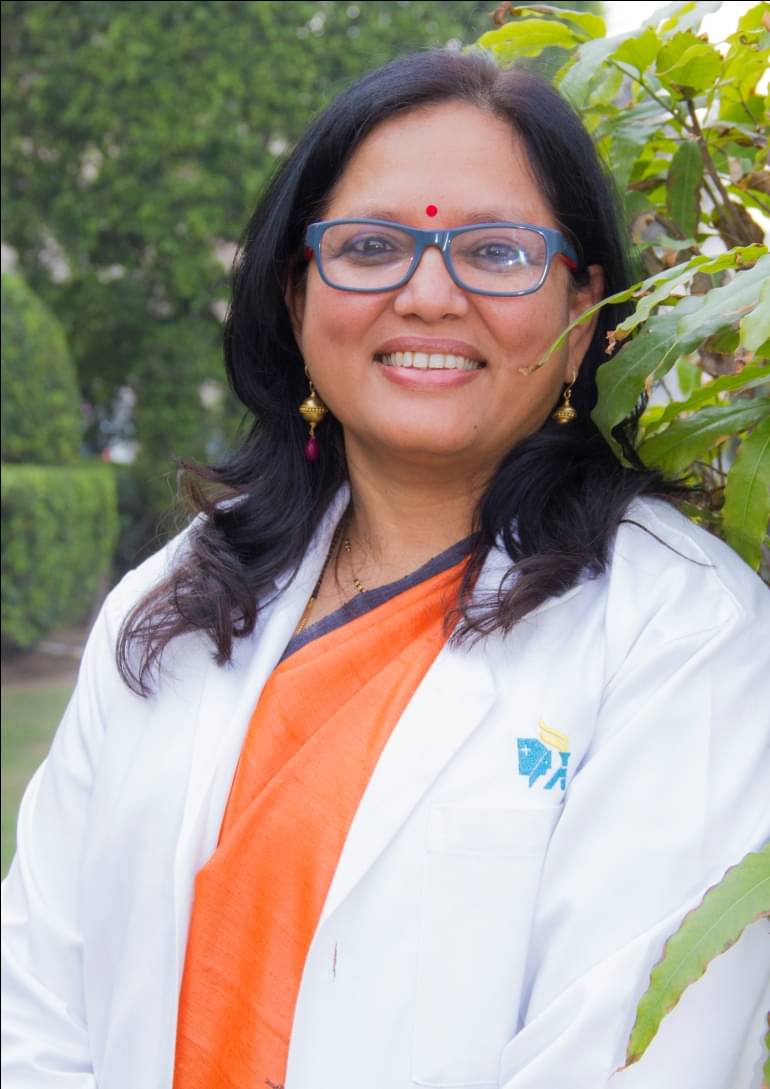 DM - Medical Genetics, MS - Obstetrics and Gynaecology, MBBS
Geneticist
Fortis Hospital- Shalimar Bagh,
Book Appointment