Personal Statement
I'm a caring, skilled professional, dedicated to simplifying what is often a very complicated and confusing area of health care.
...more
I'm a caring, skilled professional, dedicated to simplifying what is often a very complicated and confusing area of health care.
More about Dr. Navneet Sharma
Dr. Navneet Sharma is one of the best Radiologists in Vasundhara Enclave, Delhi. He has done MBBS . He is currently practising at Dharamshila Hospital and Research Centre in Vasundhara Enclave, Delhi. Book an appointment online with Dr. Navneet Sharma on Lybrate.com.

Lybrate.com has top trusted Radiologists from across India. You will find Radiologists with more than 26 years of experience on Lybrate.com. You can find Radiologists online in Delhi and from across India. View the profile of medical specialists and their reviews from other patients to make an informed decision.
Info
Location
Book Clinic Appointment with Dr. Navneet Sharma
Vasundhara Enclave Near:New Ashok Nagar Metro Station, Delhi

,

Delhi
Get Directions
Dharamshila Marg, Vasundhara Enclave Landmark : New Ashok Nagar Metro Station

,

Delhi
Get Directions
Services
Submit Feedback
Submit a review for Dr. Navneet Sharma
Your feedback matters!
Write a Review
Feed
Nothing posted by this doctor yet. Here are some posts by similar doctors.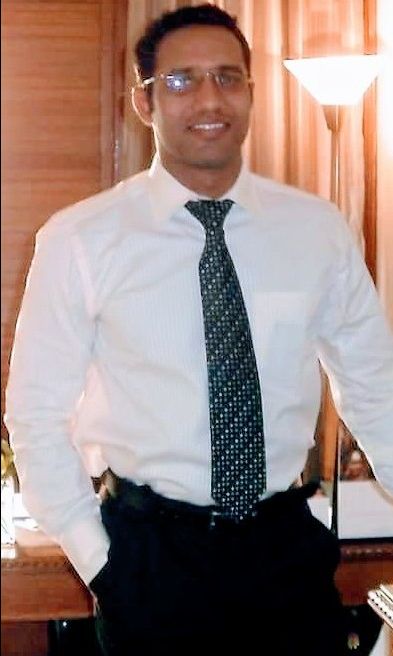 MBBS Bachelor of Medicine and Bachelor of Surgery, MS - Orthopaedics, DNB - Orthopedics/Orthopedic Surgery
Usually slipped disc problem resolves without surgery with proper mixture of medication, rest and physiotherapy.in large percentage of slip disc patients.
Though not very common, but herniated disks or bone spurts in the vertebrae of the neck might take too much space and compress the nerves branching out from the spinal cord which may lead to severe pain in the neck.

MBBS Bachelor of Medicine and Bachelor of Surgery, MS - General Surgery
These two words are enough to instil anxiety and assumptions in the minds of many. Replete with prejudices, myths and malpractices, this disease is more feared than managed or treated. For example, how often have women wondered if wearing a bra can cause breast cancer? How often have your spouse or a loved one talked themselves out of a diagnosis, because they were shy of the procedure, and also because they thought that there was no way they could have the disease? How often have they concluded that they need to get their breasts removed knowing a close blood relative had the disease or undergo an extremely painful chemotherapy regime if they were diagnosed with breast cancer?
Wondering and presuming these things isn't their fault- it's because of the general lack of awareness and hence, several myths the disease brings in its wake. In this section, we answer some of the most common myths surrounding breast cancer, in detail. It is of utmost importance to make women aware of these myths since this often leads to bad practices such as avoiding proper check-ups, which ultimately culminates into the delay in diagnosis treatment breast cancer, which can prove to be fatal.
Myth: Breast cancer risk is very low.
Fact: This misconception is one of the leading causes of a late diagnosis in India. Breast cancer is the most common cancer in Indian women, and according to the National Cancer Registry Program of India, it accounts for 27% of all cancer in women, as of 2012. About 1.5 lakh new cases are diagnosed every year of which, 0.75 lakh cases succumb to the disease within the 1st five years. India has the dubious distinction of having the highest incidence-to-mortality conversion in the world attributed to lack of awareness about symptoms, late-stage detection and poor treatment outcomes. In our country, this disease occurs at a much younger, premenopausal age, that is, the average age of around 45 in India as compared to 65 in the West. Approximately 1 in 22 Indian women carries a lifetime risk of developing the disease. Also, approximately 1 in 3 breast cancers will be identified as a triple negative breast cancer which is a aggressive breast cancer and is most prevalent in Indian women, compared to the 10-15% risk in other ethnicities.
Owing to the assumption that the risk is low and that cancer occurs at a much later age group, middle-aged women at a higher risk of breast cancer shy away from diagnosis and do not get annual mammograms done. In fact, according to a study carried out in Oldham, England in 2010, only 35% of Asian women were likely to attend the routine check-up done by National Health Service of England, as opposed to 70% of non-Asian women. The reasons behind shying away from getting an annual check-up done after 40 years of age could be ignorance, financial reasons, discomfort with the check-up procedure or anxiety of the reports. Regardless, this inertia in undergoing routine medically advised check-up of the breasts can result in missing an early diagnosis which then decreases the chances of effective treatment of the disease. At our clinic, we have seen cases where breast cancer has been diagnosed at a very early stage because the women underwent annual mammograms, and thus could be easily managed and cured. It is our humble request to all the women to break their inhibitions and get an annual breast check-up done under the supervision of a breast cancer expert after the age of 40.
Myth: If a woman is diagnosed with breast cancer, her breasts will be removed (mastectomized).
Fact: If breast cancer occurs, then there is 80% chance that the breasts will not be removed. Most women will have a single cancerous lump in their breast and the breast can always be saved by a well-planned, cosmetic surgery. Breast reconstruction is done in the same procedure with the same anaesthesia, resulting in better-looking breasts and cosmetics as they can be lifted and shaped according to the patient's desire. A questionnaire conducted by our centre reported no depression and out of 147 patients surveyed, most were very satisfied with the reconstruction outcomes (94%). Mastectomy, or breast removal surgery, is performed in few percentages of patients- may be 20%, where there are multiple tumours. Therefore, it is of utmost importance that a woman does not fear the outcome of a diagnosis and delay getting examined altogether. Such bad practice can result in an advanced-stage breast cancer, which could have been diagnosed at an early stage and treated, now being treated by mastectomy, owing to the consequent delay in treatment.
Myth: General health check-ups are excellent for every diagnosis, including breast cancer.
Fact: This is one of the biggest and most dangerous myths. General health check-ups cannot diagnose any cancer, let alone breast cancer. Therefore it is pivotal for a woman to get a mammogram and clinical breast examination done at a specialized breast health centre, under the care of specialists and professionals. National expert panels do not recommend general health check-ups. The Canadian Task Force on the Periodic Health Examination as well as the United States Preventative Service Task Force, recommended focused health checks, as opposed to general ones, in 1979 and 1989, respectively. One review published in the Cochrane Library by Krogsbøllet al. in 2012 reported that "general health checks did not reduce morbidity or mortality, neither overall nor for cardiovascular or cancer causes", based on the trials that they conducted. According to an article published in 2015, in which a joint analysis was undertaken by medical liability insurers (Doctors Co. and CRICO, USA), amongst the 562 malpractice claims between 2009 to 2014, 39% related to the alleged negligent treatment of patients, including misinterpretation of diagnostic studies in general health check-up schemes.
In general, it is believed that about 48% of the delayed-diagnosis cases involved radiology, with primary care physicians or other clinicians have misread or misinterpreted the radiology report. General health check-ups is also a scheme by hospitals to pick up patients for treatment, with surgeons performing open breast biopsies (i.e, a surgical procedure where a cut is made through the skin to expose and remove tissues), which is an obsolete diagnostic modality for breast cancer. In fact, in America, according to sources, a doctor doing an open breast biopsy is liable to lose his registration. The biopsies should be done after careful radiological investigation and are only minimally invasive needle biopsies. Due to such myths and malpractices, women are afraid to present themselves for diagnosis, because they fear that every lump will be removed with a surgery. The fact is that out of 100 women presented with lumps, maybe 1 or 2 actually need a surgery.
Myth: Chemotherapy and radiation therapy should be avoided as they are extremely painful.
Fact: Both these types of therapies have been exaggerated to be 'worse than death itself'. This is absolutely not true. Chemotherapy has improved leaps and bounds with drugs that are much easier to tolerate as they are targeted, which means that they predominantly affect the cancer cells and not the normal ones. Earlier, the known side effects of chemotherapy were nausea, vomiting, reduction of blood counts, and infections. Today with current improvements in the drugs with chemotherapy as well as antidotes against complications, chemotherapy has become extremely safe and the side effects have substantially reduced. In fact, some determined women take chemo and go to work. The only major, common side effect of chemotherapy as of today is the hair loss which is a temporary and reversible phenomenon A daycare facility is extremely proficient with the treatment, with most of the regimens needing just 5 hours or less. Many hospitals admit patients for chemotherapy, more for financial gains than an actual need for inpatient admission procedures. At our facility, chemotherapy is a procedure requiring maximum 5 hours, with loungers and personalized TVs, a counsellor and a nutritionist for free, private consultation in a spa-like ambience.
There are fewer side-effects of radiotherapy as well if done by adept radiotherapists and physicists with extremely sophisticated and state-of-the-art equipment. Both these procedures are extremely safe, with the woman not even needing hospitalization.
Myth: Wearing a bra, antiperspirants and deodorants can cause breast cancer.
Fact: It is due to the existence of these myths that the focus has been shifted from the actual risk factors to such obsolete ones. None of the aforementioned items has been shown to cause breast cancer. The real risk factors leading to breast cancer are of two types: the modifiable and the non-modifiable. The modifiable risk factors include alcohol, smoking, sedentary lifestyle, obesity, birth control pills, hormone replacement therapy, not breastfeeding and not having children or having them late. The non-modifiable ones include genetics, having a family history of breast cancer, older age, exposure to radiation, race and ethnicity, early menarche and late menopause. Most of the modifiable risk factors can be avoided if one took care of their health, diet and got sufficient exercise.
Myth: If a woman has a family history of breast cancer, she is likely to develop breast cancer as well.
Fact: While it is true that women who have a family history of breast cancer are at a higher risk of getting the disease, it is also true that most women who have breast cancer have no family history of the disease. Statistically, only 10% of the women diagnosed with breast cancer have a family history.
So what should you do if you have a family history of this disease?
That depends on your relation to that particular family member.
If you have a first-degree relative with breast cancer, that is, if your mother, sister or daughter developed breast cancer under the age of 50, you should consider some form of regular diagnostic breast imaging as well as genetic testing.
When should you consider it?
Starting ten years before the age of your relative's diagnosis.
Having a first-degree male relative with breast cancer- however rare, but a clinically observed phenomenon also raises a woman's risk of getting breast cancer.
If you have a second-degree relative with breast cancer, such as a grandmother or an aunt, your risk increases moderately, however, definitely not as much if you had a first-degree relative with breast cancer.
If you have multiple generations diagnosed with breast cancer on the same side of the family, or if there are several individuals who are first-degree relatives to one another or several family members diagnosed at the age of 50, you should be careful, as you have an increased probability of having a defective breast cancer-causing gene, given your breast cancer-prone family history.
In such scenarios, you should consult with a breast cancer specialist and undergo appropriate genetic testing only after prior genetic counselling of the family.
Breast cancer is a type of cancer, which occurs due to the development of cancerous cells in breasts. Women are usually affected by breast cancer and breast cancer is one of the most common forms of cancer after skin cancer. Usually fatal if not diagnosed in its early stage, breast cancer is a very serious medical ailment. Read on more to find all about the different symptoms, causes, preventive measures and treatment of breast cancer.
Symptoms: Breast cancer has few distinct characteristics and if you have a few or all the following symptoms you could be more likely to suffer from breast cancer.
The formation of a lump in your breast, which is different from the surrounding tissue and usually more thickened.
The discharge of bloody fluid material from the nipples.
Sudden change of the size, shape and appearance of the breast.
Certain distinct changes to the skin over the breast for example an indentation in the skin similar to that of a dimple.
Appearance of an extra nipple which is inverted.
If the darkened area around the nipples known as the areola is flaking or peeling off.
Causes: Studies and researches remain inconclusive on what causes breast cancer. Breast cancer occurs due to abnormal division of the cells located in the breast, which over time accumulate and form lumps. They

Risk factors: There are certain factors, which increase the probability of contracting breast cancer. Increasing age, personal and family history of breast cancer, obesity, radiation exposure, pregnancy at an older age, postmenopausal hormone therapy are some of the factors that increase the chances of breast cancer.
Treatment: Several forms of surgical methods exist to treat breast cancer. Depending on the condition and spread of the disease a suitable surgery is performed. These include mastectomy, lumpectomy, axillary lymph node dissection and removal of both breasts. Other forms of treatment include chemotherapy or the use of high doses of drugs to destroy cancerous cells. Radiation therapy where X-rays are used to destroy the cancer cells is also effective.
3363
people found this helpful
Dear lybrate-user its great that despite of slip disc you are playing tennis, it's a good exercise for body and building strength, you please start some cold packs for back and neck 10 min 3 times a day at both places, you might be having disc bulges at cervical region as well. So meet your nearest doctor for evaluation and management if cold packs not helping.
Injuries in spinal disc are mostly due to cumulative mechanical disturbances. Medicines cannot correct the issue. It just gives you relief but not cure.

M.Sc. in Dietetics and Food Service Management , Post Graduate Diploma In Computer Application, P.G.Diploma in Clinical Nutrition & Dietetics , B.Sc.Clinical Nutrition & Dietetics
Dietitian/Nutritionist, Mumbai
An umbilical or belly button hernia occurs when a part of the intestines or the abdominal lining protrudes through an opening in the abdominal muscles. The protruding intestines may get squeezed or strangulated resulting in the blood supply getting cut off. Surgery may be required in serious cases of umbilical hernia. Doctors often suggest a special diet for umbilical hernia patients as this helps to prevent further complications.
Foods to avoid
Certain foods are not recommended for people with an umbilical hernia and should be avoided.
These include:
White refined flour foods made from white refined flour have a low fiber content. Eating these foods may cause constipation and should therefore be avoided. This is because constipation causes straining of the abdominal muscles during bowel movements and may cause further protrusion of the intestines through the abdominal muscles in the region of the belly button.
Low fiber fruits and vegetables the low fiber content in these foods can also lead to constipation. Examples of fruits and vegetables with low fiber content include skinless raw fruits, cooked fruits, and canned or cooked vegetables without seeds, hulls or skin.
Fatty foods foods with a high fat content should be avoided. This is because obesity results in greater pressure on the abdominal muscles and can increase the risk of umbilical hernia. Examples of foods with a high fat content include fatty meat such as pork, whole milk, butter, cream, margarine and fried foods.
Sugar limit your calorie intake by cutting down on foods such as pastries, cakes, chocolates and soda pop. Limiting your sugar intake will also help you to lose some weight, taking pressure off your abdominal region.
Foods to include
A special diet is required after umbilical hernia surgery. This will help you to minimize your convalescence time. The special dietary requirements include:
Fruits fresh fruits that have high fiber content and are rich in antioxidants should form a part of every meal. The high fiber content will ensure that you do not get constipated and the antioxidants will help protect your body and boost your immune system. Try to eat different types of fruits so as to get adequate amounts of different vitamins. Citrus fruits, berries, and apples are some examples of fruits with a high fiber and vitamin content.
Vegetables these too have a high fiber content that will guard against the dangers of constipation after an umbilical hernia surgery. They also have high levels of vitamins and minerals and should also be included with every meal.
Lean meat meat is a source of protein, which is essential to the repair of damaged tissue. Lean meat like poultry and fish is an excellent source of low fat protein. Have one good source of low fat protein with every meal.
Low fat dairy products these are a good source of protein and can be alternated with lean meats to provide your body with sufficient protein.
High fiber breakfast foods will aid digestion and so your breakfast should consist of foods made from whole wheat flour, wheat germ, oatmeal, or bran.
9
people found this helpful
Breast cancer begins when cells in the breast start to get out of control. These cells are mostly in the form of a tumor that can be regularly seen on an x-ray or felt as a lump. The tumor is dangerous (malignant) if the cells attack the surrounding tissues or spread to far off zones in the body. Breast cancer happens mostly in women, yet men can get it, as well.

This is how breast cancer can spread:
Bosom cancer can spread through the lymph framework
The lymph framework includes lymph nodes, lymph vessels, and lymph liquid found all throughout the body
Lymph nodes are little, bean-shaped accumulations of immune system cells that are connected by lymph (or lymphatic) vessels. Lymph vessels resemble little veins, with the exception of that they transport a liquid called lymph (rather than blood) far from the breast
Lymph contains tissue liquid, waste items, and immune system cells. Breast cancer cells can enter lymph vessels and start to develop into lymph nodes
A large portion of the lymph vessels of the breast deplete into the:
Lymph nodes under the arm (axillary hubs)
Lymph nodes around the neck bone (supraclavicular and infraclavicular lymph hubs)
Lymph nodes inside the neck close to the breast bone (inner mammary lymph hubs)
Following are some of the causes of breast cancer:
Hormones play a part in creating breast cancer disease; however exactly how this happens is not completely known
Ordinary breast cells get to be distinctly carcinogenic in view of changes (transformations) in DNA
Yet, most DNA changes identified with breast cancer are gained in breast cells during a woman's life as opposed to having been acquired
Qualities that accelerate cell division are called oncogenes
Tumor silencer qualities are typical qualities that back off cell division, repair DNA oversights, or advise cells when to bite the dust
Certain acquired DNA transformations (changes) can drastically increase chances for building up specific growths and are in charge of a large number of tumors that keep running in few families
Some of the treatments of breast cancer include:
Health alterations: Body weight, physical action, and eating routine are all connected to breast tumor, so these may be territories where you can make a move.
Restorative alternatives for women at expanded hazard: For women who have certain hazard components for breast growth, for example, a family history; various restorative alternatives may counteract breast cancer.
Medications to lessen hazard: For women at expanded danger of breast cancer, medications, for example, tamoxifen and raloxifene, can reduce the hazard. However, these medications can have their own dangers and symptoms.
Preventive surgery: In case that you have a solid family history of breast cancer, you can talk with your specialist about hereditary testing. This test addresses changes in qualities that increase the danger of breast cancer; for example, the BRCA qualities. In case you have a hereditary change from a family with a transformation, however, have not been tried, you could consider surgery to bring down your danger of tumor.
In case you have a concern or query you can always consult an expert & get answers to your questions!
4570
people found this helpful
Breast Cancer is the most common cancer of females in urban cities. It is a curable disease if detected early. The usual age of presentation is usually after 40 to 50 years of age, though it is becoming common in earlier age as well. This could be due to many factors like late marriages, older age of pregnancy, diet and lifestyle, etc. The usual presentation is a swelling or lump in the breast, not associated with pain. That is the reason why females are advised regular self-breast examination, clinical breast examination and annual mammograms for screening purpose in order to detect early breast cancers. Many times, the breast lump is associated with blood stained discharge from the nipple. There can be skin changes on the breast like thickening, crusting or sometimes itching. If the skin lymphatics get blocked, there may be pitting and or dimpling of the skin too. There may be lumps felt in the armpit felt too. Many times the lump is not noticeable or felt and felt by chance during a bath. These are some of the commonest presentations. The lady should immediately consult a doctor and get evaluated in such scenario. Many women are at increased risk of developing breast cancer like those who have a positive family history especially first degree relatives like mother& sister. Breast cancer is usually a disease of women but 1% of cases are also seen in men.
If a lady feels any such lump she should immediately bring it to the attention of a doctor or oncologist who can do the necessary evaluation and investigations. Breast cancer is curable if detected early, hence the importance!
The primary modality of treatment is surgery followed by chemotherapy and or radiotherapy and or hormonal treatment depending on the report of the specimen after the surgery. Many times if the lump cannot be operated upfront, initially chemotherapy and or targeted therapy can be given to shrink the tumor for better resectability.
People should be aware that having cancer is not the end of life. It can be treated like many other diseases and the most important thing is awareness and early detection for a durable cure.
View All Feed