Personal Statement
I believe in health care that is based on a personal commitment to meet patient needs with compassion and care.
...more
I believe in health care that is based on a personal commitment to meet patient needs with compassion and care.
More about Dr. Keerthi Prathi
Dr. Keerthi Prathi is an experienced Dentist in Rohini, Delhi. She has been a practicing Dentist for 10 years. She has completed BDS . You can visit her at Aum Badrinath Dental & Physiotherapy clinic in Rohini, Delhi. Don't wait in a queue, book an instant appointment online with Dr. Keerthi Prathi on Lybrate.com.

Lybrate.com has a nexus of the most experienced Dentists in India. You will find Dentists with more than 33 years of experience on Lybrate.com. You can find Dentists online in Delhi and from across India. View the profile of medical specialists and their reviews from other patients to make an informed decision.
Info
Education
BDS - Andhra pradesh University - 2009
Languages spoken
English
Hindi
Location
Book Clinic Appointment with Dr. Keerthi Prathi
Services
Submit Feedback
Submit a review for Dr. Keerthi Prathi
Your feedback matters!
Write a Review
Feed
Nothing posted by this doctor yet. Here are some posts by similar doctors.
Saving a fallen tooth can be useful. Try to keep it in place while you seek immediate medical attention. If that is not the case, try wrapping the tooth in a piece of plastic or soaking it into milk and call for immediate dental service.
3
people found this helpful
What is dental implants procedure?
Dental implant surgery is performed depends on the type of implant and the condition of your jawbone. The major benefit of implants is solid support for your new teeth, a process that requires the bone to heal tightly around the implant.

During surgery to place the dental implant, your oral surgeon makes a cut to open your gum and expose the bone. Holes are drilled into the bone where the dental implant metal post will be placed. Since the post will serve as the tooth root, it's implanted deep into the bone. After the abutment is placed, your gums must heal for one or two weeks before the artificial tooth can be attached. Once your gums heal, you'll have more impressions made of your mouth and remaining teeth.
Hello Lybrate user the best option to treat gap in between teeth is through braces. Invisialign are given in cases where patient does not want to wear braces. The only advantage of invisialign is it's less visibility. Results are always better with the braces only, because the movement of teeth can be controlled by the dentist only with the help of wires. Hope this helps.
Oil pulling is an age-old remedy rooted in Ayurvedic medicine that uses natural substances to clean and detoxify teeth and gums. It has the added effect of whitening teeth naturally and evidence even shows that it may be beneficial for gum health and that certain oils may help fight harmful bacteria in the mouth! What is Oil Pulling? Oil pulling seems to be a practice with a plethora of anecdotal support but a lack of extensive scientific studies (though there are some… see below). Most sources do agree that oil pulling is safe, but debate how effective it is. Though more research is needed to determine any scientific backing to oil pulling, I've noticed the benefits personally and dozens of readers swear by its effectiveness as well. In fact, in my original research, I found hundreds of testimonials online from people who experienced benefits from oil pulling, including help with skin conditions, arthritis, asthma, headaches, hormone imbalances, infections, liver problems and more. Though I've done this for a few years, my only personal experience is with increased oral health (no plaque) and less sensitive (and whiter!) teeth. I've heard several experts explain how bacteria and infection can enter the blood through the mouth, it does make sense that addressing these infections could have an impact in other parts of the body, I just haven't had personal experience with this. At the very least, I think that oil pulling can be very beneficial and has no downside as long as a quality oil (that is high enough quality to eat) is used and it is done correctly. Oil pulling is a very inexpensive therapy that could potentially have great benefit on oral health, so I see no downside to trying it and I have used it myself for several years. How to Oil Pull The concept is incredibly simple. Basically, a person swishes a couple teaspoons of a vegetable based oil (coconut, sesame or olive) in the mouth for 20 minutes and then spits it out and rinses well. Oil pulling is best done in the morning, before eating or drinking anything, though Dr. suggests that it can be done before each meal if needed for more severe infections or dental problems. Oil Pulling Instructions Put 1-2 teaspoons of oil into the mouth. The oil traditionally used in oil pulling is organic sesame oil, and this is also the oil that has been the most studied for use in oil pulling. It is also possible to do oil pulling with organic coconut oil or pre-made coconut oil chews. Whichever oil you choose, place 1-2 teaspoons in the mouth. I also pour a few drops of Brushing Blend (naturally antibacterial) into the mix. Swish for 20 minutes. Oil Pulling Therapy, as this is long enough to break through plaque and bacteria but not long enough that the body starts re-absorbing the toxins and bacteria. The oil will get thicker and milky as it mixed with saliva during this time and it should be creamy-white when spit out. It will also double in volume during this time due to saliva. At first, it can be difficult to make it the full 20 minutes, and I didn't stress if I could only swish for 5-10 minutes when I first started. Spit oil into the trash can. Especially if you have a septic system like I do don't spit into the sink! The oil may thicken and clog pipes. Do not swallow the oil as it is hopefully full of bacteria, toxins and pus that are now not in the mouth! Rinse well with warm water. Warm water seems to clean the mouth better (my opinion). I swish a few times with warm water to get any remaining oil out of my mouth. Some sources recommend swishing with warm salt water. Brush well. I prefer to brush with Brushing Blend to make sure any remaining bacteria is killed. This can also be done with coconut oil, which is naturally antibacterial and has a milder taste that other oils. Anyone with a sensitivity to coconut oil or coconut products should avoid using coconut oil in this way. Sesame oil was traditionally used in the Ayurvedic tradition and is another great option, just make sure to use an organic sesame oil. Is Oil Pulling Safe? Thankfully, this is one point that all sources seem to agree on! Some sources claim that oil pulling doesn't have the benefits often attributed to it or that it doesn't actually detoxify the mouth, but all of them agree that it shouldn't hurt anything. All of the oils that are often used are completely edible and considered to be healthy when eaten, so they aren't problematic when swished in the mouth. The only potential danger I've seen is if the oil is swallowed after it has absorbed any bacteria or toxins from the mouth. When I asked my own dentist about oil pulling, I was told that while the research is lacking, it could be considered an effective and safe alternative to mouthwash and that there shouldn't be any harm to trying it. What Oil Should Be Used for Pulling? It depends. If the goal is whitening the teeth, I've found coconut oil to be most effective (especially when combined with this unusual remedy). Coconut oil is also slightly more effective at removing certain bacteria from the mouth, including the Streptococcus mutans bacteria that is known for causing dental caries (source). Sesame oil is recommended by most sources (though this is partially because it was one of the more widely available oils when the practice first started years ago) and it is also the most well studied and considered safe for those who are not allergic to sesame seeds. Olive oil is sometimes used, though some sources claim that it is too harsh for the teeth. The main thing is to avoid using any high Omega-6 or chemically created oils like vegetable oil, canola oil, soybean oil, corn oil, etc. Who Can Do Oil Pulling? Children: Several practitioners I've asked about this said that oil pulling is safe for kids once they are old enough not to swallow the oil. Pregnancy: I've done oil pulling during pregnancy but I was also doing it regularly before I got pregnant. I asked a midwife and she said that it is generally considered safe for pregnant women, especially after the first trimester. Oral health is especially important during pregnancy so I've always been glad to have an extra way to keep my teeth and gums healthy while pregnant and just consider it like brushing or using mouthwash. (Purely anecdotal- I haven't had a cavity, even while pregnant, since I started oil pulling and my oral health routine). As with anything, check with a doctor or midwife before doing oil pulling, especially if pregnant. Nursing: Generally considered safe but check with a dentist or doctor to be safe. Dental Issues: I got the ok to do this from my dentist and doctor with several (non-amalgam) fillings in my mouth but I'd check with a doctor or dentist to be sure, especially if you have any metal fillings, crowns, or dental problems. Note: Some people supposedly notice a detox reaction for the first few days of using oil pulling that usually includes mild congestion, headache, mucous drainage or other effects. I personally didn't notice any of these effects, but have read cases of others who did.
3
people found this helpful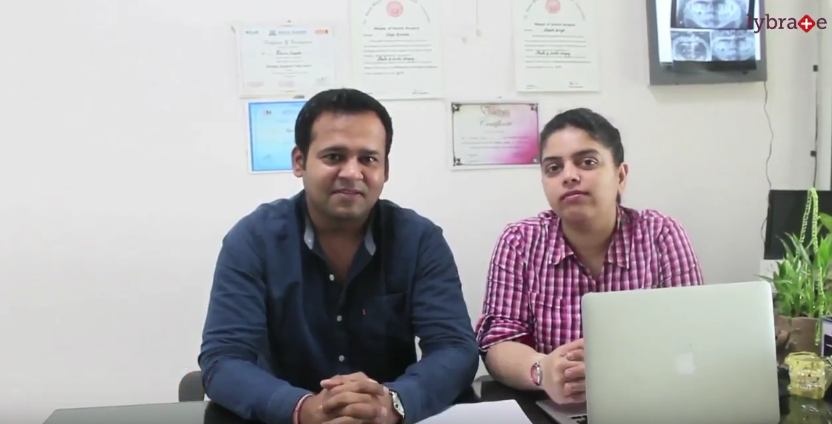 Hello, I am Dr. Deepak Singh.
Hello, I am Dr. Divya Swarup.
We are practicing orthodontics at Braces and Roots. Orthodontics is the branch of dentistry which deals with the treatment and correction of mal right teeth and jaws. Today let's talk about braces treatment or in simple words the procedure to correct irregularly positioned teeth in the mouth. The only natural process to correct malpositioned teeth is through Orthodontic Therapy that is braces. There are various other options as well but they will certainly compromise the natural tooth structure integrity to some extent always. So if we say teeth are irregularly placed that is various malalignments, which causes major issues.
Firstly, it becomes unaesthetic, not very pleasant to look at. The aesthetic concern is very important as it raises the overall confidence of a person. Having a pleasing and confident smile is very necessary from psychological point of view. To talk, smile and laugh without being overtly concern about one's teeth and their appearance is very necessary. Peer pressure in today's world may otherwise lead to depression, feeling of neglect and unwantedness. Unaesthetic and pleasing smile is the simplest solution to avoid psychological concerns.
Secondly and the more important issue is the function that is when teeth are malaligned and not properly positioned, they prevent proper cleaning to be done which leads to the secondary damage to the gingival, inflammation causing loss of perinatal attachments and finally bone loose leading to untimely tooth loss. Another problem in tooth function due to malocclusion is deferment of a deep bite that is, when the lower teeth are completely covered by the upper teeth, in such cases the lower teeth starts hitting against the upper teeth causing perinatal damage leading to early tooth mobility being developed. When the lower teeth hit against the upper teeth the incisal edges that is the upper edges of the lower teeth becomes attrited and sensitivity in teeth develops. Attrition of the lower teeth leads to the loss of proper bite and causes the collapse bite in the posterior region leading to various other complications one of them being TMDs that is Temporomandibular Disturbances. The lower teeth even start touching the palate of face causing trauma to the palate leading to bleeding from the parietal surface. So if we see just a simple thing like malalignment of teeth can lead to various complicated problems.
Now let's see the various options in these braces treatments. Traditional braces are metallic braces. These come in various sizes, shapes. The smaller the size, the smoother the bracket design, the more comfortable it is for the patient. Metallic braces are very common. Next options are tooth-colored braces or ceramic braces. These are again of two types. One being disliked translucent one which is polycrystalline and second is the totally transparent braces that are monocrystalline. So the aesthetic concern of the patient is taken care of when ceramic braces are chosen.
Metallic braces in comparison are not as aesthetic and as pleasing to look at. With ceramic braces, the wires that are used are also tooth colored. Hence the aesthetic concern being taken care of. The next option for braces is Lingual Braces. Lingual Braces are the braces that are placed on the inner aspect of the tooth that is on the lingual surface. Again these braces are not visible while talking while smiling and hence they are practically invisible.
Next, there are Self-Ligating Brackets. In this, the wire is engaged directly in the braces without the help of an elastic module or ligature wire which generally holds the bracket or the wire inside the bracket. This wire component might cause slight discomfort to the patient which is not included in the self-ligating brackets. The time duration per appointment also decreases in self-ligating braces. The last option being invisible option for Orthodontic treatment is the aligners. These are the most prevalent today. These are thin transparent plastic-like materials which is worn over the tooth. This aligner therapy is the most aesthetic option today. Finally, if we see, all these treatment options will help us in achieving the ideal occlusion and a perfect smile.
Orthodontics braces are the perfect treatment modality for achieving the desired smile and occlusion. Orthodontic treatment as earlier thought is not just limited to the growing children or the young age group. Adult orthodontic is very common and highly successful today. So whenever you decide and whatever age it is, it's never too late. Hoping to create a beautiful smile for you and your family members. Visit us at our clinics soon, at Braces and Roots and Smile Square.
4733
people found this helpful

BDS, MDS - Oral & Maxillofacial Surgery, Advanced course in maxillofacial sugery
It can be cure by taking painrelievrs Antiinflammatory Mouth rinse with anesthetic Corticosteroids apply on tongue Zinc supplements you can take Visit to dentist for check up.
Kindly get scaling done and if you want you can also get bleaching done. Brush your teeth twice daily using correct brushing technique to maintain your oral hygiene. Those black dots can be caries which you need to get removed and filled.
2
people found this helpful

BDS, MDS - Oral & Maxillofacial Surgery, Advanced course in maxillofacial sugery
Can you send a picture of inside mouth n of the tongue with cuts do u consume tobbaco in any form give details
View All Feed