Personal Statement
My favorite part of being a doctor is the opportunity to directly improve the health and wellbeing of my patients and to develop professional and personal relationships with them. Doctor ...
...more
My favorite part of being a doctor is the opportunity to directly improve the health and wellbeing of my patients and to develop professional and personal relationships with them. Doctor is an active member of MEMBER INDIAN SOCIETY OF VETERINARY SUGEONS, MEMBER INDIAN SOCIETY OF VETERINARY SUGEONS
More about Dr. Anil K.Sood
Dr. Anil K.Sood is one of the best Veterinarians in Jangpura, Delhi. He has over 38 years of experience as a Veterinarian. He is a MVSc, B.V.Sc & A.H . He is currently associated with Petaids Veterinary Centre in Jangpura, Delhi. You can book an instant appointment online with Dr. Anil K.Sood on Lybrate.com.

Lybrate.com has a nexus of the most experienced Veterinarians in India. You will find Veterinarians with more than 43 years of experience on Lybrate.com. You can find Veterinarians online in Delhi and from across India. View the profile of medical specialists and their reviews from other patients to make an informed decision.
Info
Education
MVSc - College Of Veterinary Sciences Bikaner - 1980
B.V.Sc & A.H - College of veterinary sciences ,bikaner - 1980
Languages spoken
English
Hindi
Awards and Recognitions
SPL. ADVISOR TO NATIONAL ZOOLOGICAL PARK NEW DELHI
Professional Memberships
MEMBER INDIAN SOCIETY OF VETERINARY SUGEONS
Location
Book Clinic Appointment with Dr. Anil K.Sood
Services
Submit Feedback
Submit a review for Dr. Anil K.Sood
Your feedback matters!
Write a Review
Feed
Nothing posted by this doctor yet. Here are some posts by similar doctors.
Asked for female, 23 years old from Gwalior

Check if the injection is an antibiotic you should not miss the third dose I suggest. It is happened so leave it, need not worry too much. As your dog suffered with jaundice previously give Liv-up syrup to help recovery from the jaundice. Give liquid diet along with your regular diet to destress the liver.
Shared 3 years ago • Featured Tip

Pets become overweight for very simple reason. they eat more calories than what they can spend. Owners are responsible to ensure and regulate proper calorie intake and expenditure.
Factors contributing to obesity are-
Food type: Feeding carb rich and excessive fatty food has cumulative effect leading to obesity.
Neutering - calorie requirements reduce post neutering as the metabolic rate lowers. controlled intake and regular activity helps to keep obesity at bay.
Diseases - Hypothyroidism, Cushing's Disease (excess intrinsic steroids), diabetes etc

Adverse effects of obesity:
Early onset of osteoarthritis/joint disease
Breathing difficulty in short snouted breeds like pugs
Heart disease/high blood pressure
Pancreatitis/hepatitis in cats

Obesity in Pets is completely preventable disease. Cost of managing a obese pet can be financially as well as emotionally taxing. Its always better to prevent than cure!!!!
13
people found this helpful
Asked for female, 30 years old from Mumbai
Hello Miss Khan.. we may not be able to help you here as it requires proper check up... You may need to go to a veternary doctor nearby.
Asked for Female, 32 years old from Kolkata

MBA (Healthcare), MVSc, B.V.Sc. & A.H.
Hello. You need not worry about infection from your pet unless you have had it vaccinated and you are active and healthy. There are certain blood tests which are indicative of infection, but only done is risky patients. For more details consult me.
Shared 8 months ago • Featured Tip
Bleeding pets often suffer blood loss as a result of trauma. If bleeding is severe or continuous, the animal may lose enough blood to cause shock (loss of as little as 2 teaspoons per pound of body weight may cause shock). Emergencies may arise that require the owner to control the bleeding, even if it is just during transport of the animal to the veterinary facility. Pet owners should know how to stop hemorrhage (bleeding) if their pet is injured.
Techniques to stop external bleeding:-
The following techniques are listed in order of preference.
1) Direct pressure:--gently press a compress (a pad of clean cloth or gauze) over the bleeding absorbing the blood and allowing it to clot. Do not disturb blood clots after they have formed. If blood soaks through, do not remove the pad; simply add additional layers of cloth and continue the direct pressure more evenly. The compress can be bound in place using bandage material which frees the hands of the first provider for other emergency actions. In the absence of a compress, a bare hand or finger can be used. Direct pressure on a wound is the most preferable way to stop bleeding.
2) Elevation:--if there is a severely bleeding wound on the foot or leg, gently elevate the leg so that the wound is above the level of the heart. Elevation uses the force of gravity to help reduce blood pressure in the injured area, slowing the bleeding. Elevation is most effective in larger animals with longer limbs where greater distances from wound to heart are possible. Direct pressure with compresses should also be maintained to maximize the use of elevation. Elevation of a limb combined with direct pressure is an effective way to stop bleeding.
3) Pressure on the supplying artery:-- if external bleeding continues following the use of direct pressure and elevation, finger or thumb pressure over the main artery to the wound is needed. Apply pressure to the femoral artery in the groin for severe bleeding of a rear leg; to the brachial artery in the inside part of the upper front leg for bleeding of a front leg; or to the caudal artery at the base of the tail if the wound is on the tail. Continue application of direct pressure.
4) Pressure above and below the bleeding wound:-- this can also be used in conjunction with direct pressure. Pressure above the wound will help control arterial bleeding. Pressure below the wound will help control bleeding from veins.
5) Tourniquet:--use of a tourniquet is dangerous and it should be used only for a severe, life-threatening hemorrhage in a limb (leg or tail) not expected to be saved. A wide (2-inch or more) piece of cloth should be used to wrap around the limb twice and tied into a knot. A short stick or similar object is then tied into the knot as well. Twist the stick to tighten the tourniquet until the bleeding stops. Secure the stick in place with another piece of cloth and make a written note of the time it was applied. Loosen the tourniquet for 15 to 20 seconds every 20 minutes. Remember this is dangerous and will likely result in disability or amputation. Use of a tourniquet should only be employed as a last-resort, life-saving measure!
6) Internal bleeding:--internal bleeding is a life-threatening condition, but it is not obvious like external bleeding. Any bleeding which is visible is external.
Internal bleeding occurs inside the body and will not be seen. There are, however, external signs of internal bleeding:
• the pet is pale (check the gums or eyelids).
• the pet is cool on the legs, ears, or tail.
• the pet is extremely excited or unusually subdued. If any of these signs are evident, the pet should be immediately transported to a veterinary facility for professional help. Remember: internal bleeding is not visible on the outside.
1
person found this helpful
Asked for female, 23 years old from Aurangabad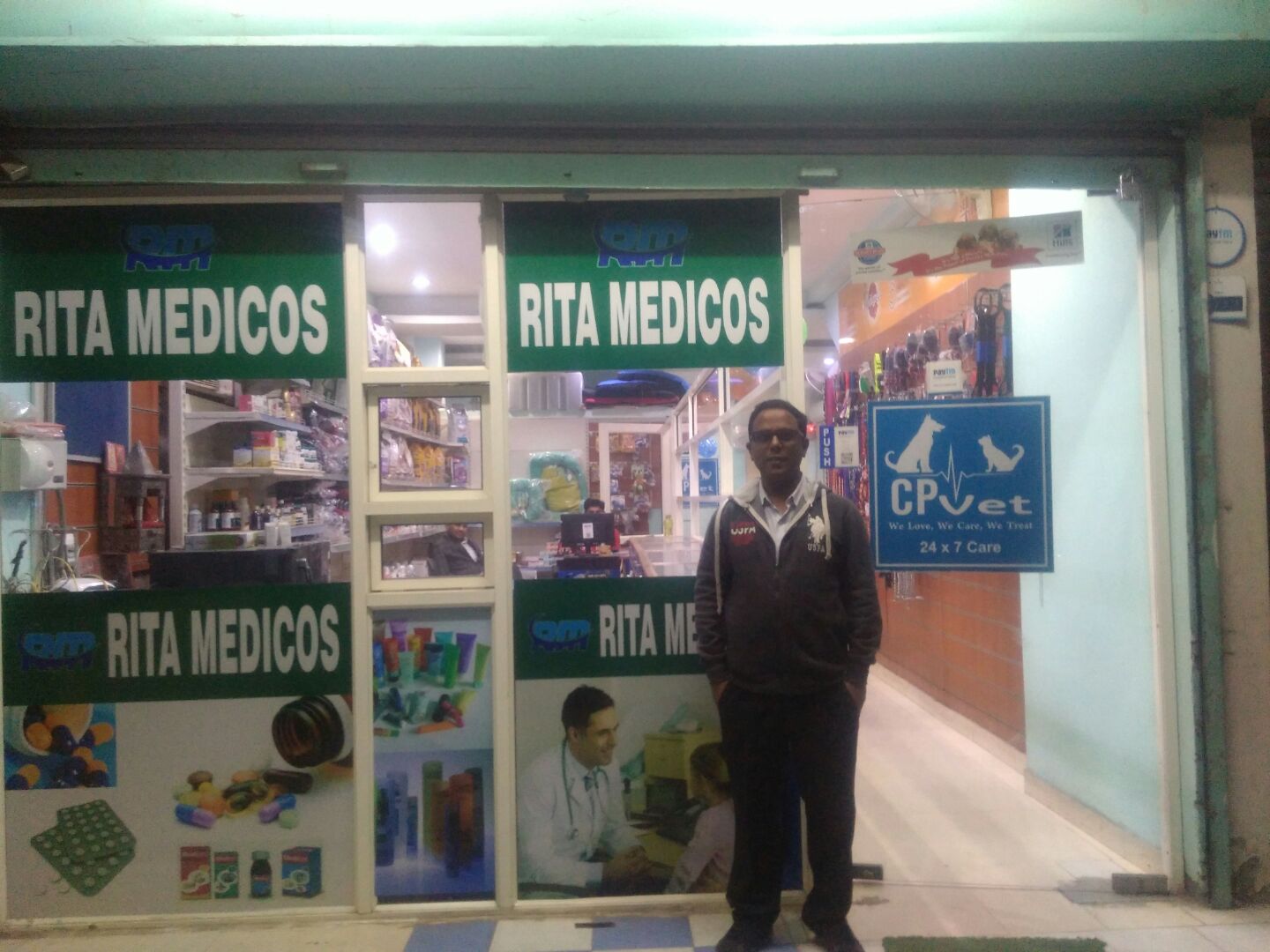 bachelor of veterinary & Animal Husbandary
I would suggest better not to delay further, take it vet and get it checked thoroughly otherwise it will be difficult to save the cat. At for now, if can get royal canin recovery canned food, try now itself. Hopefully cat will eat immediately.
1
person found this helpful

Master of sciences, B.V.Sc. & A.H.
Please rule out cancerous growth with your vet and biopsy . and if it is so never operate as he is of 14 years we can't do much leave it as along as it is . or consult your vet
Shared 8 months ago • Featured Tip
Vaccination in dog

टीकाकरण की प्रकिया एक ऐसा उपाय है जिससे, कुत्तो में होने वाली कुछ प्रमुख विषाणु एवं जीवाणु जनित जानलेवा एवं लाइलाज, बीमारियों जैसे कैनाइन डिस्टेंपर, हेपेटाइटिस, पार्वो वायरस, लेप्टोस्पायरोसिस, रेबीज तथा केनल कफ़ आदि से बचाव के लिए समय समय पर कुत्तों के शरीर में टीका लगाया जाता है,जिससे इन रोगों के खिलाफ रोगप्रतिरोधक क्षमता का शारीर में विकास हो जाता है और हमारा पालतू जानवर एक सिमित अवधि तक इन बिमारियों के घातक प्रभाव से बचा रहता है |
कुछ टीकाकरण संबंधी सामान्य प्रश्नो के जबाब -

१- क्या सभी उम्र के कुत्तो का टीकाकरण जरूरी होता है?
हाँ। आमतौर पर १. ५ महीने (४५ दिन) के उम्र से ऊपर सभी कुत्तो का नियमित समय पर टीकाकरण करना जरूरी होता है यदि किसी कारण वश नयमिति या कभी कराया ही न गया हो तो किसी भी उम्र से टीकाकरण शुरू किया जा सकता है।
२. छोटे बच्चो को किस उम्र से टीका का पहली खुराक देना शुरू करना चाहिए?
४५ दिन के उम्र से ही टीके की पहली खुराक देना बेहद जरूरी होता है
३. क्या सभी छोटे पप्स को टीकाकरण के पहले पेट के कीड़े देना जरूरी होता है -
हाँ। बहुत से परजीवी ऐसे होते है जो माँ के पेट से ही या दूध के जरिये से बच्चे के शरीर में प्रवेश कर जाते है जिससे शरीर को कमजोर कर देते है और जब टीका लगाया जाता है तो कमजोरी के वजह से उतना अच्छा शरीर में प्रतिरोधक छमता का विकास नहीं हो पता इसलिए पहले ऐसे परजीवीओ को नष्ट करना जरूरी होता है
४. क्या होता है टीकाकरण का सही उम्र और समयांतराल?
१. पहली खुराक -जन्म के ६ -८ सप्ताह के उपरांत(कैनाइन डिस्टेंपर, हेपेटाइटिस, पार्वो वायरस, लेप्टोस्पायरोसिस, पैराइन्फ़्लुएन्ज़ा हेतु)
२. बूस्टर खुराक या दूसरी खुराक - प्रथम खुराक के २-३ सप्ताह बाद ; फिर दूसरी खुराक के ठीक एक साल बाद वार्षिक खुराक साल में एक बार पूरी उम्र तक लगवाते रहना चाहिए।
३. तीसरी खुराक - रेबीज वायरस हेतु- प्रथम खुराक जन्म के ३ माह के उपरान्त।
४. बूस्टर खुराक या चौथी खुराक - तीसरी खुराक के २-३ सप्ताह बाद ; फिर तीसरी खुराक के ठीक एक साल बाद वार्षिक खुराक साल में एक बार पूरी उम्र तक लगवाते रहना चाहिए।
५. क्या बूस्टर खुराक देना जरूरी होता है या नहीं?
जन्म के साथ ही माँ से प्राप्त एंटीबाडीज और प्रथम दूध से मिलने वाली सुरछा कवच कुछ सप्ताह तक नवजात के खून में मौज़ूद रह करअनेको बीमारयों से सुरछा प्रदान करती है परन्तु समय के साथ साथ इनकी मात्रा बच्चे के शरीर में कम होने लगती है। जिससे बीमारी होने की आशंका बढ़ जाती है इसलिए लगभग ४५ दिन के बाद टिका का प्रथम खुराक देते है यद्पि ये पता नहीं रहता की माँ से मिलने वाली सुरछा का असर किस स्तर का है जिससे आमतौर पर ये स्तर अधिक होने पर प्रथम खुराक से बच्चे के शरीर में टीकाकरण की गुणवत्ता को बाधित करती है, जो की पप्पस में रोगप्रतिरोधक क्षमता उत्पन्न करने में असक्षम हो जाता है इसलिए कुछ सप्ताह बाद टीकाकरण के दूसरी खुराक दे कर टीकाकरण से रोगप्रतिरोधक क्षमता करने के उद्देश्य को प्राप्त करते है ऐसी दूसरी खुराक को बूस्टर खुराक कहते है।
६. क्या है टीकाकरण की सही खुराक देने के मात्रा:
डॉग चाहे किसी भी उम्र, भार, लिंग अथवा नस्ल के हों उनको समान मात्रा में टीकाकरण का खुराक दिया जाता है
७. क्या है टीकाकरण का सही तरीका:
टीकाकरण खाल के नीचे:कैनाइन डिस्टेंपर, हेपेटाइटिस, पार्वो वायरस, लेप्टोस्पायरोसिस, पैराइन्फ़्लुएन्ज़ा तथा रेबीज जैसी बीमारियों की रोकथाम के लिए खाल के नीचे दिया जाता है
नथुनों में:केनल कफ़ का टीकाकरण कुत्ते के नथुनों में दवा डाल कर किया जाता है
८. क्या सभी टीके एक ही प्रकार के होते है:कुत्तों में टीकाकरण दो प्रकार की होती है
१. कोर टीकाकरण - टीकाकरण जो सभी कुत्तों के लिये आवश्यक है. यह उन बिमारीयों में दिया जाता है जो आसानी से फैलती हैं अथवा घातक होती हैं जैसे रेबीज, एडीनोवायरस, पार्वोवायरस, और डिस्टेंपर.
२. नान कोर टीकाकरण – उपरोक्त ४ बिमाँरीयों (रेबीज, एडीनोवायरस, पार्वोवायरस, और डिस्टेंपर) के टीकाकरण को छोड़कर अन्य सभी नानकोर टीकाकरण माना जाता है | यह उन बिमाँरियों से सुरक्षा प्रदान करता है जो वातावरण के अनावरण अथवा जीवनचर्या पर निर्भर करती है जैसे लाइम डिजीज, केनलकफ और लेप्टोस्पाइरोसिस.
९. एक सफल टीकाकरण करने के बाद क्या फिर भी टीकाकरण विफल हो सकता है?हाँ।
टीकाकरण के विफलता के कारण कुत्ते में बीमारी होने के निम्नलिखित मुख्य कारण हो सकते है –
१. टीकाकरण के दौरान कुत्ते की रोगप्रतिरोधक क्षमता का सम्पूर्ण रूप से कार्य न करना |
२.आयु – कम उम्र के जानवरों की प्रतिरक्षा प्रणाली पूर्णतः विकसित नही होती और बड़े आयु के जानवरों की प्रतिरक्षा प्रणाली कई कारणों से अक्सर कमज़ोर या क्षीण हो जाती है |
३. मानवीय चूक (टीके का अनुचित संग्रहण या अनुचित मिश्रण)- टीकों का संग्रहण एवं इस्तेमाल भी निर्देशानुसार ही होना आवश्यक है | सूरज की रोशनी,गर्म तापमान टीके के प्रभाव को नस्ट कर सकता है | टीके का मिश्रण पशु में टीकाकरण के तुरंत पहले तैयार करना चाहिए | टीके खरीदने के पहले पता करना चाहिए कि टीकों को उचित तापमान एवं देखभाल से रखा गया है या नहीं |
४. डीवार्मिंग – टीकाकरण करने के पहले पेट के कीड़े मारने के लिए डीवर्मिंग करना आवश्यक है, वरना इस तरह का तनाव टीकाकरण के प्रभाव को कम कर सकता है |
५. गलत सीरोटाईप / स्टेन का इस्तेमाल – प्रतिरक्षा प्रतिक्रिया बहुत विशिष्ट होती है | अतः टीके में होने वाली जीवाणु या विषाणु की सही स्टेन होनी चाहिए वरना उससे उत्पन्न होने वाली प्रतिरक्षा जानवर में सही तौर पर सुरक्षा नहीं कर पाती |
६. अनुवांशिक बीमारियाँ – कुछ जानवरों में आनुवंशिक बिमारियों की वजह से सभी रोगों के लिए प्रतिरोधक छमता सामान्य तौर पर कम ही उत्पन्न हो पाती है |
७. वैक्सीन की गुणवत्ता – टीके में प्रतिरक्षा प्रणाली को प्रोत्साहित करने के लिए प्रयाप्त मात्रा में प्रतिजनी की मात्रा होना चाहिए वरना टीकाकरण के बाद प्रतिरक्षा प्रतिक्रिया प्रयाप्त नहीं होती है |
८. पुराने या अवधि समाप्त टीके – पुराने टीकों में आवश्यक प्रतिजनी गुण समाप्त या कम हो जाता है | इस तरह के टीके लगाने से जानवरों को बेमतलब तनाव दिया जाता है |
९. टीकाकरण का अनुचित समय – टीका निर्माता के निर्देशों के अनुसार टीकाकरण का समय (उम्र एवं मौसम के अनुसार), लगाने का तरीका एवं मात्रा तथा दोबारा लगाये जाने की अवधि, इत्यादि निश्चित होता है |इन निर्देशों का पालन सही समय पर न करने से टीकाकरण विफल या निष्क्रिय हो जाता है |
१०. पोषण की स्तिथि- कुपोषण की वजह से जिन पशुओं में पोषक तत्वों की कमी रह जाती है उनमे टीकाकरण के बाद भी प्रतिरोधक छमता सामान्य तौर पे कम ही उत्पन्न हो पाती है |
10. क्या वैक्सीन लगते समय कुत्ते पर कोई दुस्प्रभाव हो सकते है? हाँ
कुछ कुत्तो प्रतिरोधक छमता अधिक सक्रिय होने की वजह से कुछ सामान्य लचण जैसे ज्वर, उल्टी, दस्त, लासीका ग्रंथियों का सूजना, मुख का सूजना, हीव्स, यकृत विफलता और कभी -कभी मौत भी हो सकती है।
1
person found this helpful
View All Feed