About
Provide the best solutions for your beauty & wellness
...more
Provide the best solutions for your beauty & wellness
Location
Photos (10)










View All Photos
Amenities
Parking
Cafeteria
Waiting Lounge
Credit Card
Reception
Ac Rooms
Network Hospital

Doctor in Amatrra Skin & Hair Clinic


master in dermatology
Dermatologist
Specialities
Dermatology
Aims to deliver the highest quality of care to patients with skin disorders
Patient Review Highlights
"knowledgeable"
2 reviews
"Very helpful"
1 review
Feed
Shared 2 weeks ago • Featured Tip
In most cases, you can easily blame excess hair on your face on your hormones. Male hormones called androgens are responsible for the development of certain 'manly' features like deepening of voice or production of sperm. And the one hormone behind all this is called testosterone. But women produce testosterone too, albeit in smaller quantities. If, for some reason, this hormone's level increases in women, it leads to increased sex drive, irregular menstrual cycle and yes, excessive facial and body hair.
One of the main causes of high levels of male sex hormones in premenopausal women is Polycystic Ovary Syndrome (PCOS), a condition which causes cysts to grow around the edge of the ovaries (the organs which produce eggs and sex hormones). PCOS also results in excessive hair growth, acne and weight gain. Some women are stuck with this condition in the post menopause stage too, when the hormonal imbalance fails to rectify itself after menopause has passed.
Besides blaming it all on the hormones, here are some other causes you should know about:
Hereditary condition: Blame your genes Cushing's Syndrome or Acromegaly - rare hormonal disorders. An Ovarian tumor Treatment Usually, cosmetic remedies are enough to get rid of unwanted or excess hair. So you may not have to go out of your way to handle this problem unless you have a special case.
Being obese (weight gain is a side effect of PCOS too, so this is a slightly tricky one)
Most cases can be treated with:
Waxing: This is a pretty much standard procedure
Bleaching: Can work for areas you don't want to shave
Hair removal creams: Try and test out to see which one suits you
Shaving: Not the most womanly thing to do, but it is quick and easy. Mind the stubble between the shaves
Laser treatment: A powerful beam of single color light is used to destroy the hair from its root
3916
people found this helpful
Dark circles can be because of many reasons lack of water, genetic and stress dsrk circles can be treated with creams and fillers.
1
person found this helpful
Shared 2 months ago • Featured Tip
Hereditary Angioedema is a rare skin related disorder and as the name suggests it is also a genetically inherited condition. This condition mainly afflicts the throat, abdomen and the limbs of the patient, with a certain kind of swelling. This swelling can become fatal if not treated on time. Here is everything you need to know about the condition and its treatment.
Causes: A rare genetic mutation of the SERPING1 gene can cause this condition. Usually, this gene is known to produce C1 esterase inhibitor, which is a kind of blood protein. This blood protein is an important element of one's immune system and is usually involved in the biochemical reactions that control the body's response to inflammation causing elements. This is done when the blood protein produces a hormone known as Bradykinin. If this blood protein does not function in a normal manner, then there is excessive production of this hormone, which leads to swelling and inflammation.
Type One: There are various types of Hereditary Angioedema that can affect various parts of the body. Type one is one of the most common kinds and can be found on the face, hands, abdomen, throat, as well as feet and genitals of the patient. The severity and frequency of attacks cannot really be predicted and the patient may suffer from attacks throughout his or her life. The best way to treat this type of Hereditary Angioedema is with the help of antihistamine drugs and prednisone which can fight allergic attacks.
Type Two: This kind of Hereditary Angioedema has the same symptoms as type one and is caused by a malfunction of the C1 inhibitor, rather than the Bradykinin hormone as one can see in type one. This condition can also be treated with anti-allergy drugs.
Type Three: This is very rare kind of Hereditary Angioedema. In fact, medical science is yet to find a conclusive body of knowledge that can point to the exact causes and symptoms of this condition. Coagulation is one of the main causes recognised so far. This condition is much more common in women than it is in men, and it usually shows up as facial swelling.
Timely Treatment: While there is no cure for this condition, one can prevent a flare up of the symptoms by taking C1 inhibitors and Bradykinin receptors as well as enzyme inhibitors. It is important to get early treatment for the symptoms and to have constant access to a hospital and its emergency unit. One should also keep track of attacks and symptoms and get regular check-ups done by a doctor to detect the earliest signs of the same to avoid fatalities. In case you have a concern or query you can always consult an expert & get answers to your questions!
3899
people found this helpful
Shared 2 months ago • Featured Tip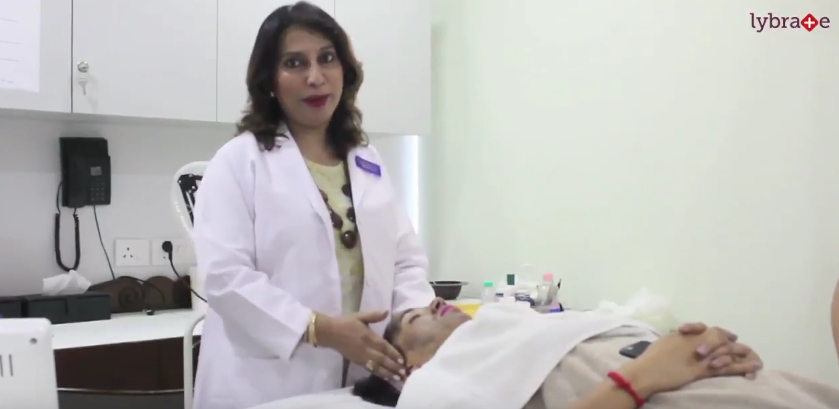 Carbon Peel is a non-invasive, completely painless laser-based skin treatment that quickly and effectively treats a variety of skin imperfections, with no side effects or patient downtime and with immediate results.
3773
people found this helpful
Shared 4 months ago • Featured Tip
Have you been noticing that some parts of your skin have turned dark and dull recently? Do you have ugly blotches and spots developing on your skin that keep on worsening? These may indicate that you have been affected by a medical condition known as skin darkening. Also known as hyperpigmentation, it is commonly caused by the overproduction of a pigment known as melanin. Although skin darkening is not a harmful condition, it demoralizes an affected person.
Types of Hyperpigmentation:
There are several types of hyperpigmentation or skin darkening. They are:
Lentigenes: This type of skin darkening refers to on the dark brown or black marks on skin surface.
Solar Lentigenes: This type of skin darkening includes sun spots, age spots or liver spots. These are spots, which are caused due to exposure to the sun.
Causes of Skin darkening:
There are several conditions, which may lead to the occurrence of skin darkening or hyperpigmentation. They include the following:
Hereditary factors: Some inherited factors present since birth may be responsible for the change in the skin complexion and the development of patches.
Skin disorders: Several skin disorders may cause the darkening of the skin, resulting into the formation of blotches and the skin becoming thicker.
Vitamin deficiency: Insufficient consumption of essential vitamins such as vitamin A, E, C and B complex may result in darkening and roughening of the skin. Vitamin deprivation also makes the skin look dull. Liver disorders: Certain liver disorders are also responsible for hyperpigmentation. A dysfunctional liver may lead to darkening of the skin.
Hormonal changes: Hormonal changes within our body and during pregnancy in women may also cause skin darkening.
Exposure to UV rays: Overexposure to the harmful ultraviolet rays of the sun may lead to skin tanning. This causes overproduction of melanin, which in turn results in skin darkening.
Prevention:
There are several ways in which you can prevent skin darkening. They include the following:
Avoid exposing yourself directly to the rays of the sun.
Try to apply sunscreen every time before you go out in the sun.
You should drink plenty of water and always keep yourself hydrated.
Try to abstain from consuming too much of spicy, oily and rich foods.
You must intake a lot of fruits and vegetables, which are rich in vitamin A, B, C, and E.
There are many options for treating the hyperpigmentation, from skin lightening peels to lasers. A properly planned customized skin care routine and treatment options can minimize, the pigmentation on your skin dramatically.
3853
people found this helpful
Shared 4 months ago • Featured Tip
The skin on your scalp renews its cells like every other skin cell on your body. They restore every twenty-four days by forming new types skin cells underneath the old cells to reveal the new ones eventually. Dry skin and dandruff are caused due to many reasons, however, are different than each other. Here are a few signs and causes that separate the two:

Dandruff
Dandruff is not caused by dryness but instead an excessive amount of oil. In a few people, the yeast begins to feast upon the excessive oil and dead skin cells on the scalp, making the skin cells shed off and form flakes on the head. Here are a few reasons why dandruff is caused:
Excessive intake of sugar, fat, starch
Improper nourishment
Heredity problems
Allergies or sensitive skin
Lack of rest
Emotional anxiety
Hormonal changes
Poor well-being
Dry scalp
Dry scalp is caused because of loss of oil and moisture from the skin and can be caused because of certain shampoos, cleansers, climate, water, or even your eating routine. Signs and side effects include itching and tingling and little white flakes that fall off excessively.

Here are a few ways in which you can fight dry skin:
Dry scalp can be dealt with by using normal cures, for example, apple cider vinegar since help in normalizing the pH on your scalp and remove the flakes and residue left behind by shampoos, conditioners, and other hair items.
You can likewise do a light scalp message using regular oils, for example, additional virgin olive oil, jojoba oil, and so on.
Yogurt and honey can help the hair recover by hydrating them and adding dampness to your scalp to fight the dry scalp.
Here are a few ways in which you can treat dandruff on your scalp:
Wash your hair consistently with a delicate shampoo to decrease the amount of oil on your scalp. qIn case that your dandruff is more serious or a normal shampoo doesn't work, try an anti-dandruff shampoo. Most dandruff shampoos contain solutions like Pyrithione zinc and Selenium sulfide that kill the fungus on your scalp or evacuates flaky skin.
Pyrithione zinc: It contains antifungal properties that kill the bacterial growth on your scalp that causes the flakes to appear.
Selenium sulfide: This helps in diminishing the signs of dandruff growth and keep an excessive number of skin cells from being killed along with it. In case you have coloured hair, ask your specialist before using the dandruff shampoo containing selenium sulfide. It can change the shade of your colour.
In case you have a concern or query you can always consult an expert & get answers to your questions!
4056
people found this helpful
Shared 6 months ago • Featured Tip
Melasma is a common skin problem where the skin becomes patchy brown, tan, or there is blue grey facial skin discoloration. It is also known as chloasma or mask of pregnancy. It occurs in women during the reproductive years and occurs rarely in men. It is primarily related to external sun exposure, external hormones like birth control pills and internal hormonal changes seen during pregnancy. Women with Melasma have a history of daily or intermittent sun exposure.
Symptoms of Melasma: Melasma causes patches of discoloration, which are darker than typical skin colour. It occurs symmetrically with matching marks on both sides of face. It normally appears on the upper cheeks, upper lip, forehead and chin. It can also occur on the other areas of one's body which are often exposed to sun. Skin discoloration is not physically harmful, but it can affect the self-confidence of a person. Darker skinned individuals are more at risk as compared to fair skinned individuals. Melasma is associated with oestrogen and progesterone sensitivity, thus it can be triggered by birth control pills, pregnancy and hormone therapy. In few cases, stress and thyroid disease can also cause Melasma. Women taking hormone replacement therapy during menopause are also at high risk of getting Melasma
Diagnosis of Melasma: A visual exam of the affected area is sufficient to diagnose Melasma. The doctor will perform the wood's lamp examination that uses ultraviolet (UV) light to look at the skin closely. However, the doctor may perform a biopsy to check for any serious skin conditions.
Treatment of Melasma: When Melasma is caused by pregnancy or birth control pills, it disappears on its own. One can use creams containing hydroquinone or prescribed topical steroids, which can lighten the tone of the affected areas. Other options include chemical peels, dermabrasion and microdermabrasion which will remove the upper layers of skin and help lighten dark patches. In cases of severe Melasma, doctor may suggest laser treatments to remove the dark pigment.
It is quite possible that Melasma will clear up with treatment, there are things one must do to not to aggravate the condition and minimize appearance of the discoloration. These include usage of makeup to cover areas of discoloration, wearing sunscreen daily or wearing a hat with wide brim to provide shade to the face. The patients with Melasma are known to be at a lesser risk for Melanoma. Even if Melasma disappears, it can strike back especially if preventive measures regarding exposure to sun are not followed. Resolution with strict sun avoidance and topical bleaching creams can take sufficient time and patients should expect slow, but gradual lightening.
In case you have a concern or query you can always consult an expert & get answers to your questions!
3543
people found this helpful
Shared 6 months ago • Featured Tip
Finding the perfect skin care routine for yourself is no easy task, it requires knowledge about your skin. It also requires you to go through various skincare products and a trial and error method to find suitable products. Maintaining a healthy skin is an indicator of your general health and hence cannot be taken lightly.
In order to determine the perfect skin care routine, you must first determine the type of skin you have. Usually the skin types are classified as dry skin, oily skin and combination skin (a mixture of both oily skin and dry skin). Dry skin is characterized by tightness and flakiness; it turns parched on washing and you need constant moisturizing. Oily skin is characterized by presence of large pores and oiliness in the skin. This skin type is also prone to acne and pimples. Combination skin type is characterized by an oily t-zone (nose, chin and forehead) with dry cheeks.
Based on identifying the skincare type, now your focus should be on putting together a skincare routine that keeps your skin fresh and healthy. Here are some tips to find the perfect skincare routine based on your skin type -
Oily skin: Oily skin is characterized by excessive oiliness in the skin and thus you need to keep your face clean at all times. Use a mild cleanser to clean your face twice a day so as to keep those pores unclogged. If the pores get clogged with impurities then inflammation occurs resulting in acne. Focus on using water based moisturizers so that the skin remains oil free.
Dry skin: Dry skin is characterized by parched skin that feels flaky at times, so restrict cleaning your face excessively as it will strip away the natural oils. Use oil based moisturizers to moisturize your skin after washing it. Eat a lot of protein based food to keep your skin healthy.
Combination skin: Combination skin is a mixture of both oily and dry skin. The oily parts of the skin need attention similar to the oily skin routine. Wash your skin with a gentle cleanser and avoid using harsh soaps. Apply moisturizes only to dry areas of the skin as it may aggravate flare ups if applied to the oily parts.
In case you have a concern or query you can always consult an expert & get answers to your questions!
3138
people found this helpful
View All Feed